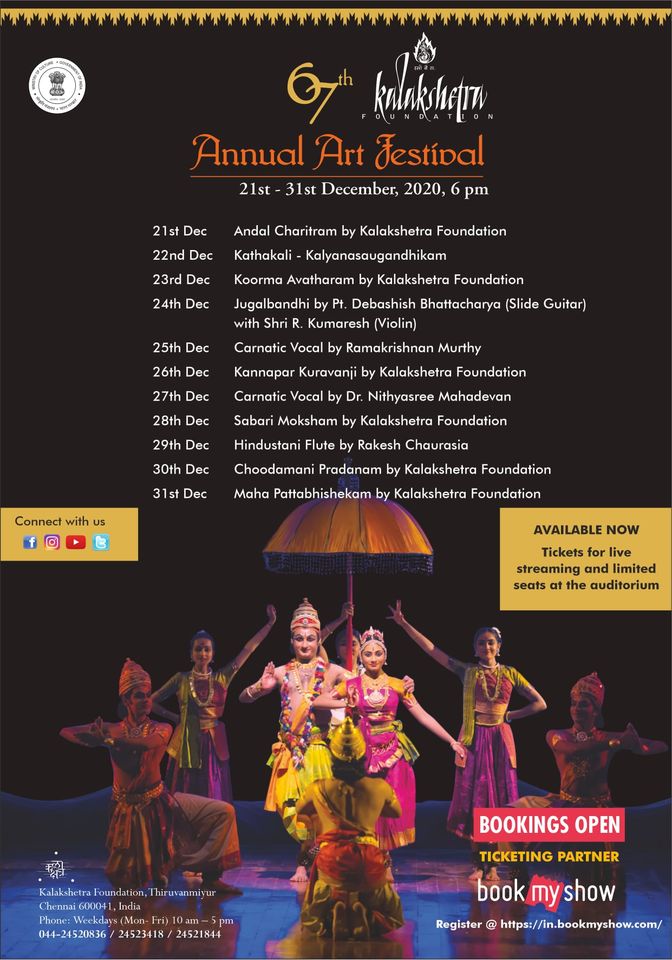 Event Details:
Kalakshetra Foundation will be reaching out to the Rasika's and bringing the gamut of classical productions choreographed by legendary Rukmini Devi along with classical music presentations by stalwarts right to your homes during this year's 67th Annual art festival from December 21st to December 31st.
Do not miss to watch the classical programs in the comfort and safety of your homes being live-streamed direct from the Bharata Kalakshetra auditorium.
80 tickets per day available for viewing the show at the auditorium.
Book in advance to avoid disappointments.
Serving with the true spirit of art – Kalakshetra – the temple of the arts.
The 3 dance dramas and 3 parts of the Ramayana Series of Kalakshetra are featured in the festival. As a revival project " Andal Charithram" will be presented. The festival will also feature a Kathakali performance, two Carnatic music concerts, Violin-slide Guitar Jugalbandi, and an instrumental Hindustani concert.
Kalakshetra will be organizing its National seminar 'Kala Samprekshana'- The art of seeing art on 22nd & 23rd December 2020. This will highlight the practice, tradition, and history through a series of lectures and demonstrations and this years' theme will be – The True Spirit of Art.
Event Date / Time:
December 21st to December 31st.
Time: 6 PM
Location: Kalakshetra Foundation, Thiruvanmiyur, Chennai