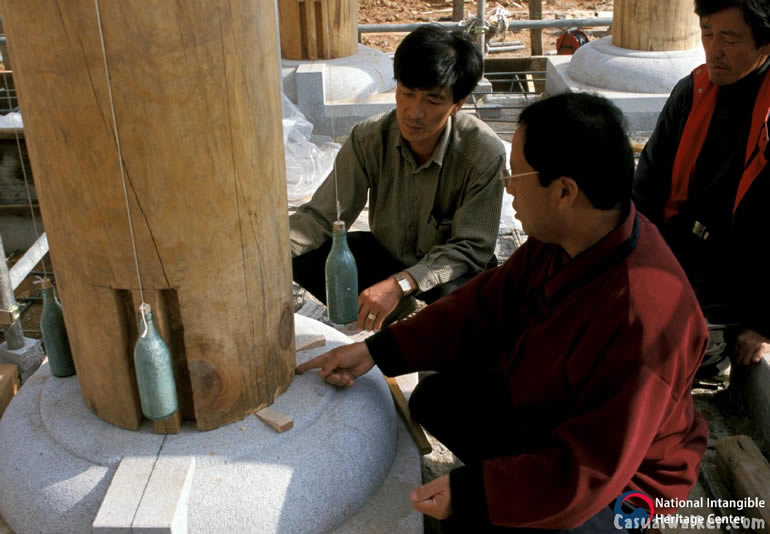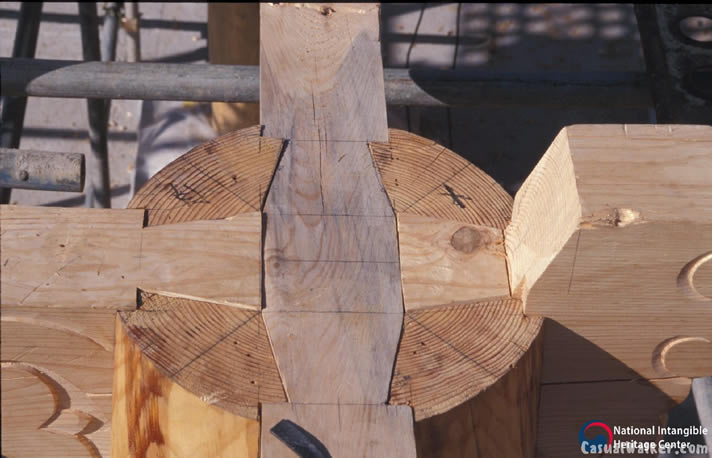 Event Details:
InKo Centre is delighted to present The Cultural Heritage series which aims to focus episodically on introducing and celebrating singular aspects of Korea's cultural traditions. In the second episode of this series, we focus onDaemokjang – traditional Korean wooden architecture. Cultural heritage can be tangible or intangible. Tangible cultural heritage refers to things that we can store or physically touch. Examples of tangible cultural heritage include traditional clothing, tools, buildings, artwork, monuments, and modes of transportation. Intangible cultural heritage refers to things that are not physical items but exist intellectually. Intangible cultural heritage includes oral traditions songs, rituals, values, superstitions and myths, beliefs, social practices, and the knowledge and skills to produce traditional crafts. The Intangible Cultural Properties (?????) are aspects of intangible culture that the government of South Korea has officially designated for preservation under the supervision of South Korea's Cultural Heritage Administration. Exceptional individuals are designated as the holders or invaluable repositories of these craft or performance traditions, and are referred to and supported as Living National Treasures.
The term Daemokjang refers to an artisan working in the field of carpentering and is derived from 'Mokjang' or 'Moksu' (carpenter). A Daemokjang is a master architect/builder who has a lifetime of carpentry, design, and engineering skills. The Daemokjang is in charge of the entire construction process, including the planning, design, and construction of buildings and the supervision of subordinate carpenters or joiners.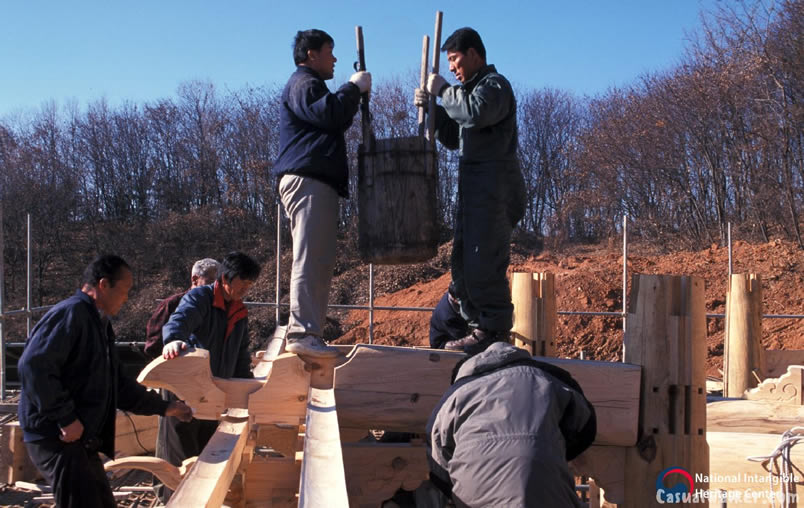 In traditional architecture, all that is built is viewed as living things that must stand intact for at least a millennium. The wooden structures created are smooth, simple, and unadorned – distinctive features of traditional Korean architecture. The traditional construction processes require both technical skills to design the building with consideration to its size, site, and function and the aesthetic appeal in terms of selection of construction materials, cut and shape the wood, and assembling and interlocking the separate wooden pieces without using nails, creating the buildings that stand intact for centuries.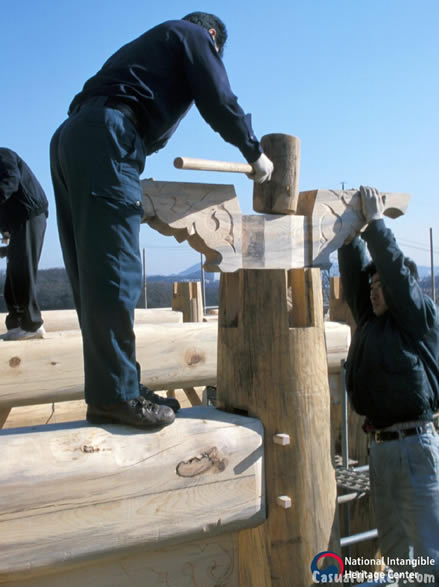 The art and science of Daemokjang have been handed down from generation to generation and takes decades of education and field experience to master. In working to restore monumental buildings using traditional techniques, Daemokjang practitioners reinterpret the beauty of traditional architecture with their artistic creativity and re-create it with their technical skills.
Daemokjang has been safeguarded as Korea's national cultural heritage since its designation as the 74th Important Intangible Cultural Properties of Korea in 1982. It was recognized by UNESCO on the Representative List of the Intangible Cultural Heritage of Humanity in 2010.
About the National Intangible Heritage Center, Republic of Korea:
 The National Intangible Heritage Center's mission is to retrieve Korea's intangible cultural heritage from the past, to preserve it, and to increase its value for future generations. Set up in 2013, The National Intangible Heritage Center (NIHC) is located in Jeonju, a city known for its traditional music, architecture, and cuisine. NIHC is the first complex administrative institution for safeguarding and transmission of Korean Intangible Cultural Heritage.
NIHC has various facilities such as permanent/special exhibition galleries, performance halls, archives, international conference rooms, learning spaces. The primary roles of NIHC are safeguarding, transmitting, and fostering Korea's Intangible Cultural Heritage through research, archiving, exhibitions, performances, educational programs, support for the Masters of Intangible Cultural Heritage practices, and extension of the market for traditional crafts. We present, in association with the National Intangible Heritage Centre, Republic of Korea, a film on the unique art and scientific brilliance of Daemokjang.
 About InKo Centre
InKo Centre is a registered, non-profit society supported primarily by TVS Motor Company Limited and Hyundai Motor India Limited; the Korean Association in Chennai, and a host of Indian and Korean companies based in Chennai. The Centre works in close co-operation with the Embassy of the Republic of Korea, New Delhi; the Korean Cultural Centre, New Delhi, and the Consulate General of the Republic of Korea in Chennai. InKo Centre, since its inception in 2006 works consistently with key organizations in Korea and in India, with an aim to build long-term sustainable intercultural partnerships between the two countries.
Event Date / Time:
Thursday, 19 November 2020
Time: 6.00 p.m. IST
Location: Online