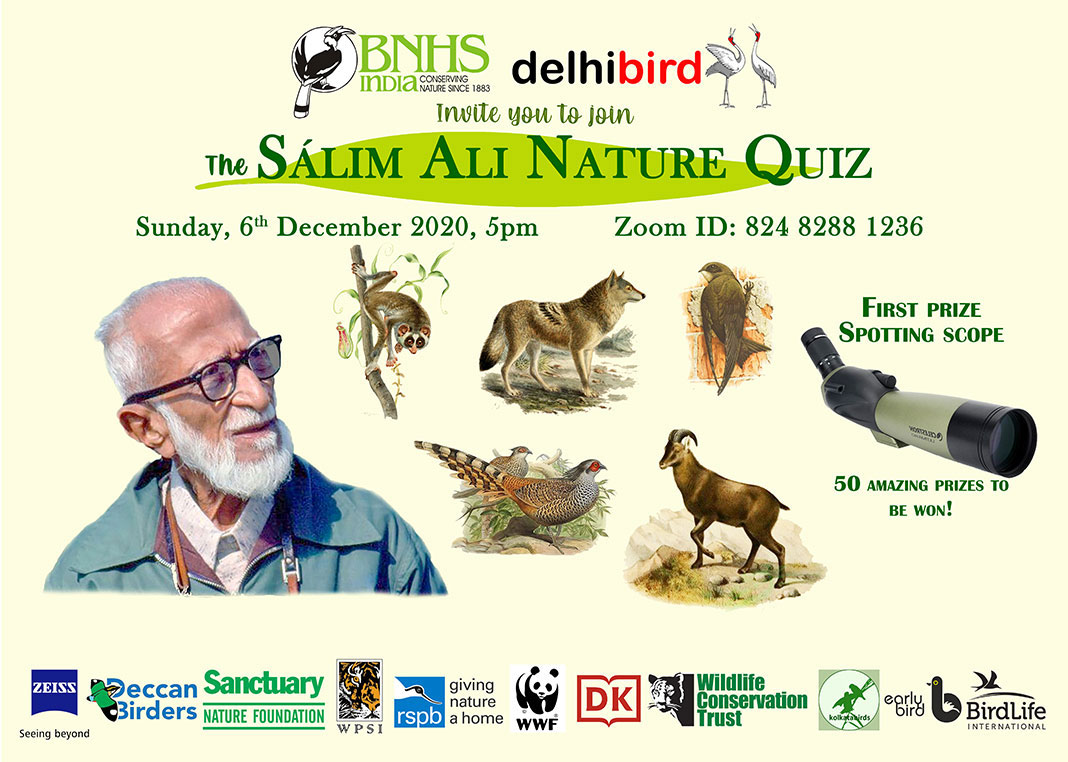 Event Details:
The delhibird Foundation is back with yet another exciting nature quiz in association with the Bombay Natural History Society.
And this time it's in honor of the Birdman of India – Dr. Salim Ali. Block your calendars for the Dr. Salim Ali Nature Quiz on 6th December 2020 @ 5 pm.
Sunday the 6th of December 2020, Come one Come all to the Salim Ali Nature Quiz
Quiz for the whole family. No pre-registration needed.
The Quiz will be hosted on zoom and it would also be streamed live on Facebook by our partners. You could participate in the Quiz in real-time from zoom or from Facebook. You will need to open the page in zoom or Facebook on your computer and will need to keep your mobile phone with you for the answers.
Win Prizes from ZEISS, DK Books, Sanctuary Asia, WWF, Early Bird, WPSI, VLCC, BNHS
The grand prize is a Spotting Scope sponsored by Wildlife Conservation Trust. The first 50 winners will get a prize – we have fantastic nature books from DK India, BNHS, Sanctuary Asia, Ashima Kumar and Hema Maira, Mugs and Flasks from WWF, Binocular Harness from ZEISS India, Pens from Hindustan Times, pocket guides and flashcards from Early Bird, T Shirts and Caps from WPSI, Wellness products from VLCC, Gifts from Atul Jain
Please log in at sharp 5pm on sunday on zoom or facebook. It will be live streamed of the following facebook pages:
@delhibird – The Indian Bird Network
@earlybirdindia
@ZEISSNatureIndia
@sanctuaryasiapage
Event Date / Time:
December 6
Time: 5:00 PM
Location: Online
Zoom Id: https://us02we824 8288 1236