Bakkiyam Ramasamy's (பாக்யம் ராமசாமி) Appusamy (அப்புசாமி) / Bhagyam Ramasamy Appusamy – Seethapatti (சீதாப்பாட்டி), Books Series – Best Tamil Comedy & Most hilarious Novels & Stories – Book Review
– fun-filled laughter tamil books series for all ages
| | |
| --- | --- |
|  CasualWalker's Rating for Bakkiyam Ramasamy's Appusamy – Seethapati Books Series: | |
| 9.8 – Superb Awesome |   |

The famous Tamil comical couple Appusamy (அப்புசாமி) and Seethapatti (சீதாப்பாட்டி) story series, was created by the great humourist author and journalists Bakkiyam / Bhagyam Ramasamy (பாக்யம் ராமசாமி). His actual name is Sundaresan, who is popularly known under his pen name Bakkiyam Ramasamy which is a combination of his mother's name – Bhagyam, and his father's name – Ramasamy. He has written more than 500 stories under his own name and pseudonym. Bakkiyam Ramasamy's birthplace is Jalakandapuram of Salem district. He worked at Kumutham Tamil Magazine for more than 37 years as an assistant editor and later as a joint editor.
Bakkiyam Ramasamy's stories have won prizes in the short story competition organized by the "Tamil Writers Association" and in the competitions organized by the Literary Thought and Trichy Tamil Writers Association. He has also written various staged plays. He mostly uses his pen name Bhagyam Ramasamy only for his Tamil comedy series, novels, and stories.
About Appusamy & Seethapatti Tamil Comedy Story Series:
Appusamy – Seethapati Comedy Stories are Bakkiyam Ramasamy's world-famous best works. In 1963, his first story was published in Kumudam magazine. The stories have been in print for over four decades, and many of them have been turned into television shows and stage plays. A humor club in Chennai has been named after the eternal comical protagonists of the series as the "Appusami-Seethapatti Humour Trust".
An incredibly couple Appusami-Seethapatti are the core of this series. An aged couple – Appusami, who is an unemployed, carefree old man, a Madras- Tamil slang peaking Thatha and spends most of his time playing with neighborhood kids. His wife – Seethapatti is an intellectual extremely articulate in English and spends her time socializing at clubs. She is the president of Pattigal Munnetra Kazhagamam (PaMuKa) club. Appusamy thatha always gets into trouble, and he is supported by his close friends called the Rasagundu – shortly calls as 'Rasam' and Bhima a gambler.
Bakkiyam Ramasamy's all Appusamy & Seethapati Tamil Comedy Story Series revolves around these incredibly fun-filled and easy-going characters. Appusamy & Seethapati Tamil Comedy Story is a fun-filled Hilarious Tamil Book Series to make you laugh out loud.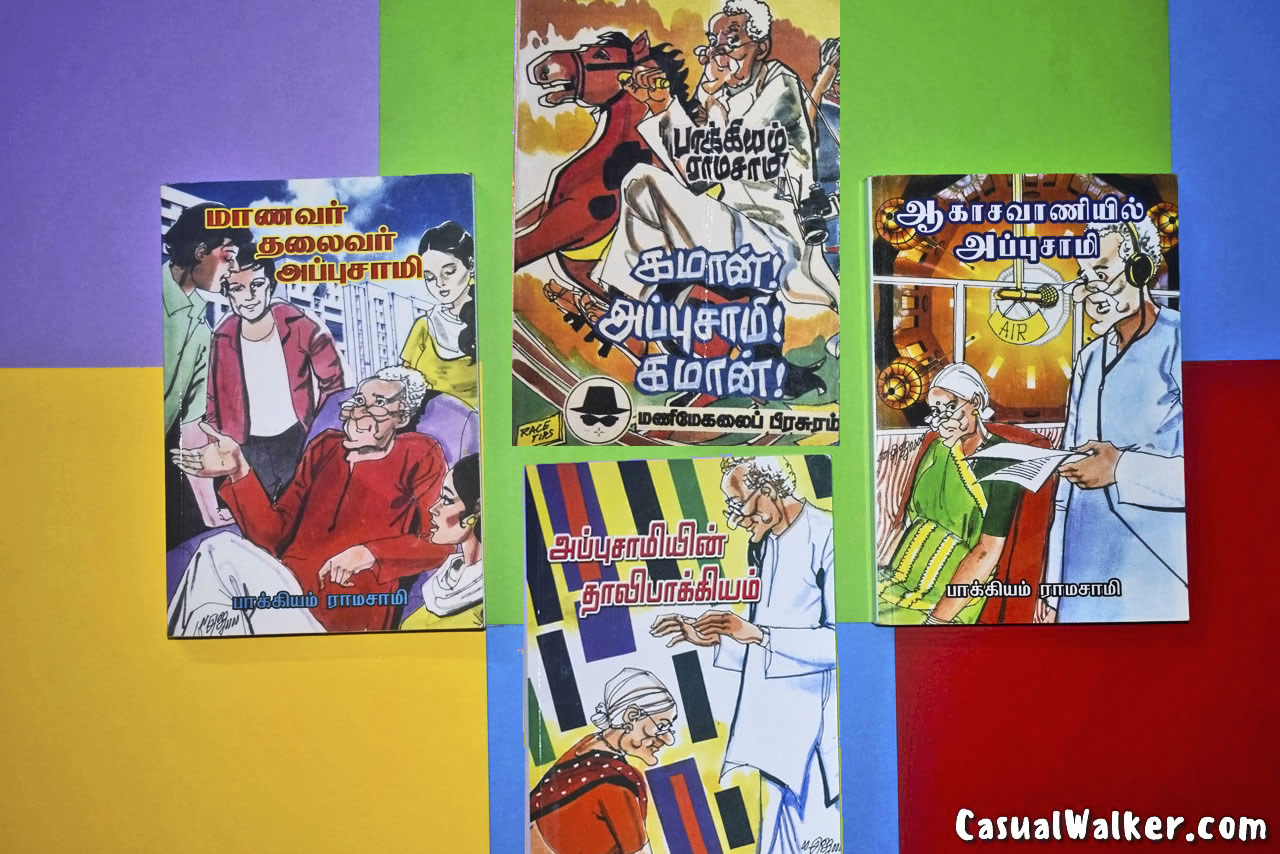 Bakkiyam Ramasamy's notable Appusamy & Seethapati Tamil Comedy and Hilarious Story Series are:
Maanavar Thalaivar Appusamy – மாணவர் தலைவர் அப்புசாமி
Appusami Varisu Thedukirar – அப்புசாமி வாரிசு தேடுகிறார்
Appusami Hee… Hee… Kathaigal – அப்புசாமி ஹி ஹி கதைகள்
Appusamiyin Colour TV – அப்புசாமியின் கலர் டிவி
Appusamiyum Africa Azhagiyum – அப்புசாமியும் ஆப்ரிக்கா அழகியும்
Appusamiyum 1001 Iravugalum – அப்புசாமியும் 1001 இரவுகளும்
Sundakkai Sithar Appusami – சுண்டக்காய் சித்தர் அப்புசாமி
August Thiyagi Appusamy – ஆகஸ்ட் தியாகி அப்புசாமி
Veerappan Kaattil Appusami – வீரப்பன் காட்டில் அப்புசாமி
Appusamiyum Arputha Vilakkum – அப்புசாமியும் அற்புத விளக்கும்
Appusamiyum Azhagi Pottiyum – அப்புசாமியும் அழகி போட்டியும்
Appusami Padam Edukkiraar – அப்புசாமி படம் எடுக்கிறார்
Appusami Paritchai Ezhuthukirar – அப்புசாமி பரிட்சை எழுதுகிறார்
Seethapattiyin Sabadham – சீதாபாட்டியின் சபதம்
Appusamiyin Thaali Bakkiyam – அப்புசாமியின் தாலி பாக்கியம்
Aakasavaniyil Appusami – ஆகாசவானில் அப்புசாமி
Appusami Divorce Ketkirar – அப்புசாமி டிவோர்ஸ் கேட்கிறார்
Human Bomb Appusami – ஹியூமன் பாம்ப் அப்புசாமி
Rajini Illathil Ragalai – ரஜினி இல்லத்தில் ரகளை
Appusami 80 – அப்புசாமி 80
Appusami Virumbiya Arputha Kattalaigal – அப்புசாமி விரும்பும் அற்புத கட்டளைகள்
Appusami Thairiyasami – அப்புசாமி தைரியசாமி
Appusamiya? Sirippu Samiya? – அப்புசாமியா? சிரிப்பு சாமியா?
Aadhaar Attaiyum Appusamiyum – ஆதார் அட்டையும் அப்புசாமியும்
Koondukkul Appusami – கூண்டுக்குள் அப்புசாமி
Appusami Seitha Kidney Thaanam – அப்புசாமி செய்த கிட்னி தானம்
Appusamiyum Hipnotisa Poonaiyum – அப்புசாமியும் ஹிப்னோடிச பூனையும்
Appusamiyum Bharathi Naarkaaliyum – அப்புசாமியும் பாரதி நாற்காலியும்
Maanavar Thalaivar Appusamy – மாணவர் தலைவர் அப்புசாமி & Aakasavaniyil Appusami – ஆகாசவானில் அப்புசாமி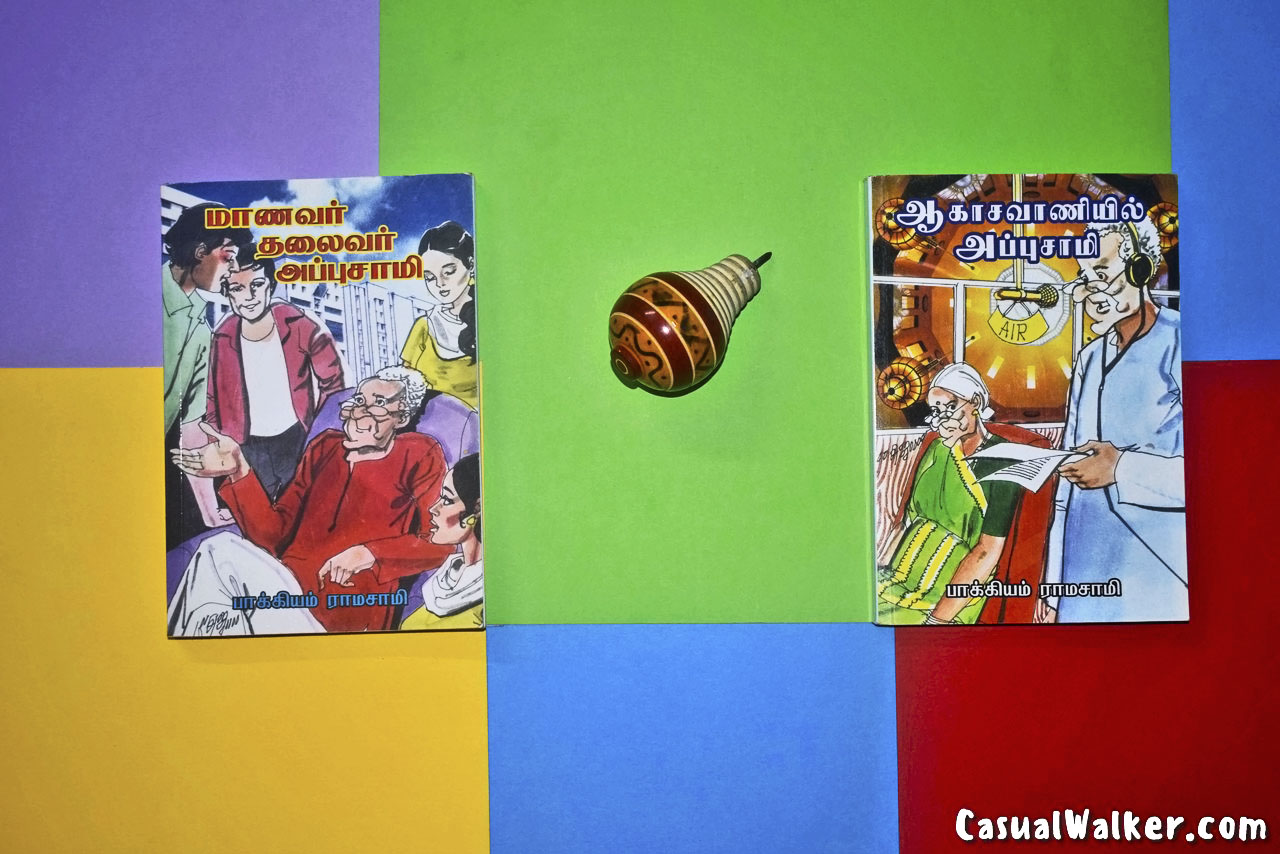 Appusamiyin Thaali Bakkiyam – அப்புசாமியின் தாலி பாக்கியம் & Appusami Divorce Ketkirar – அப்புசாமி டிவோர்ஸ் கேட்கிறார்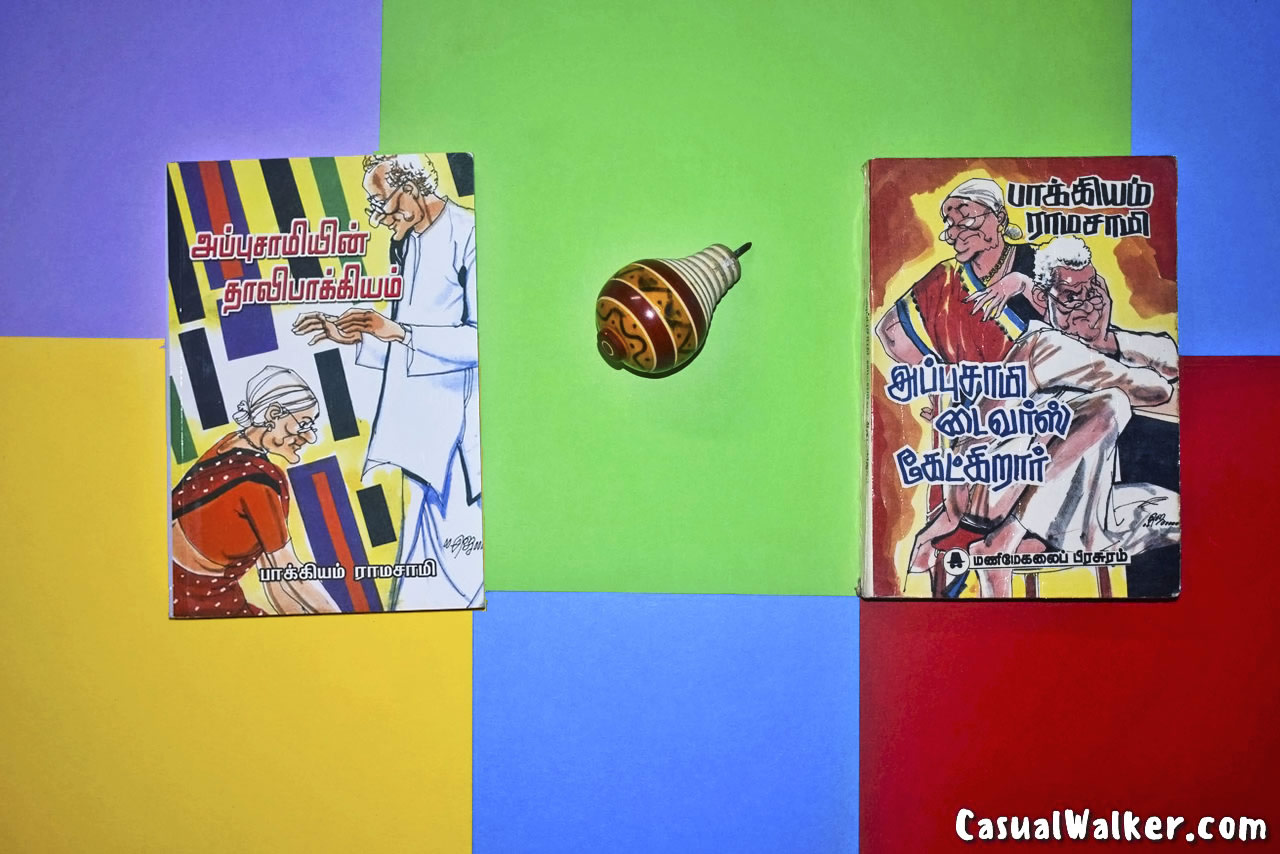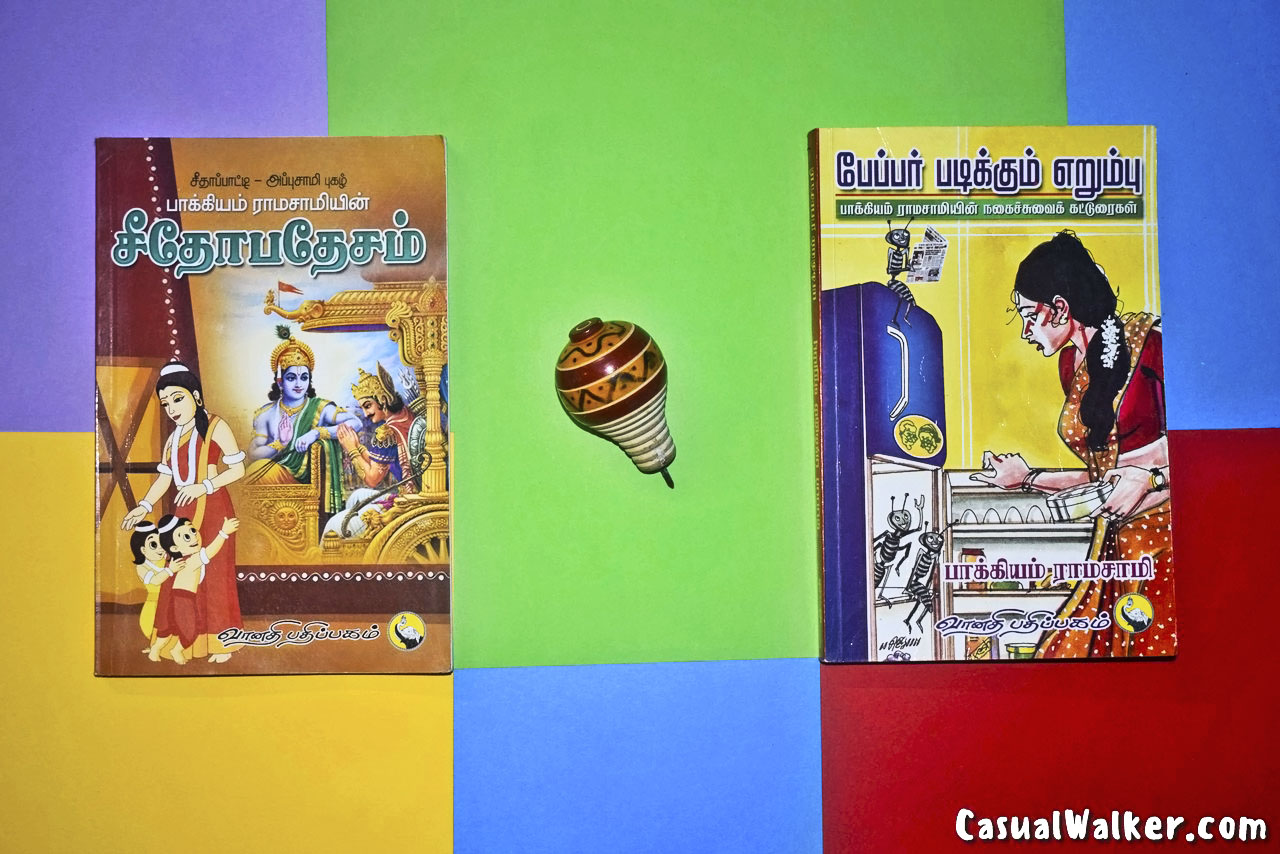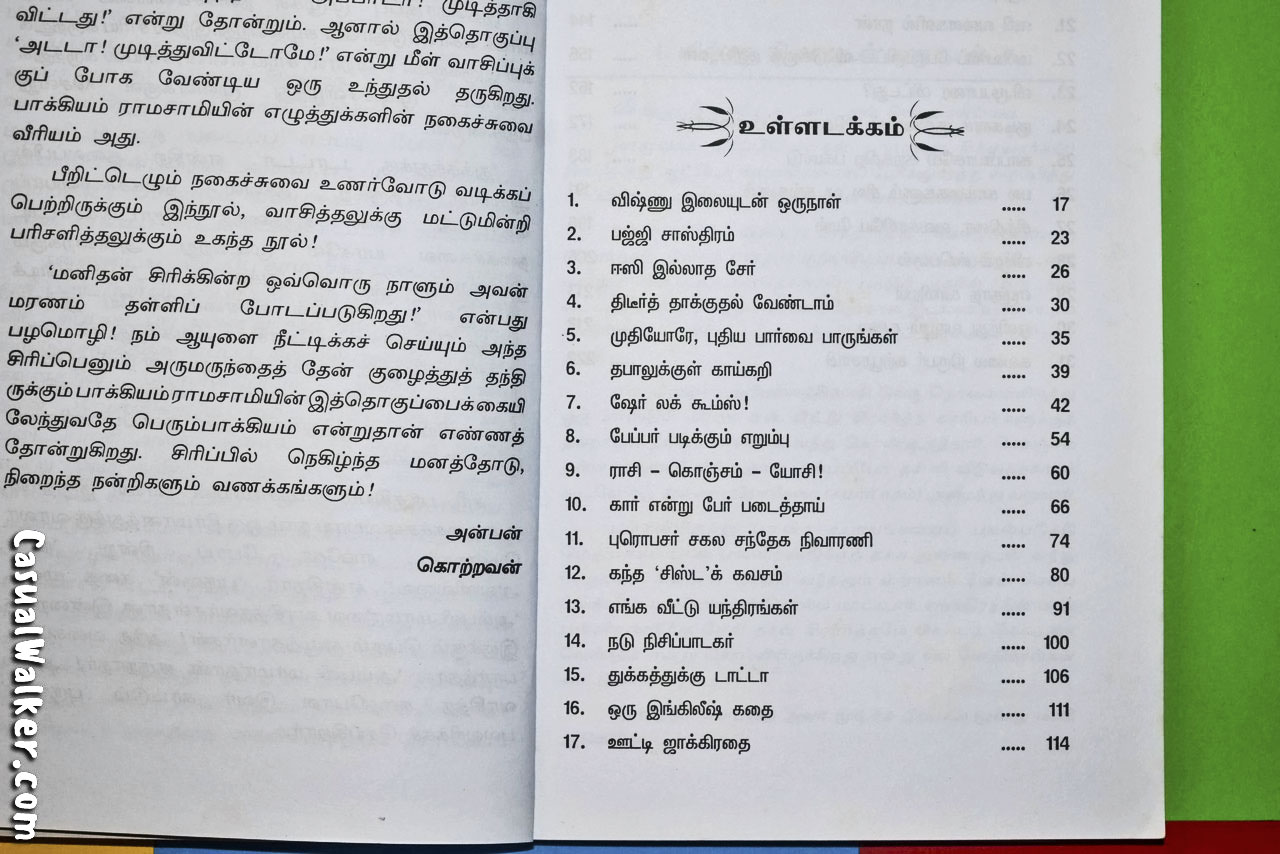 A short excerpt from his book "Paper Padikkum Erumbu" to know about his most hilarious & fun-filled writting style about the "Art of Making Bhaji"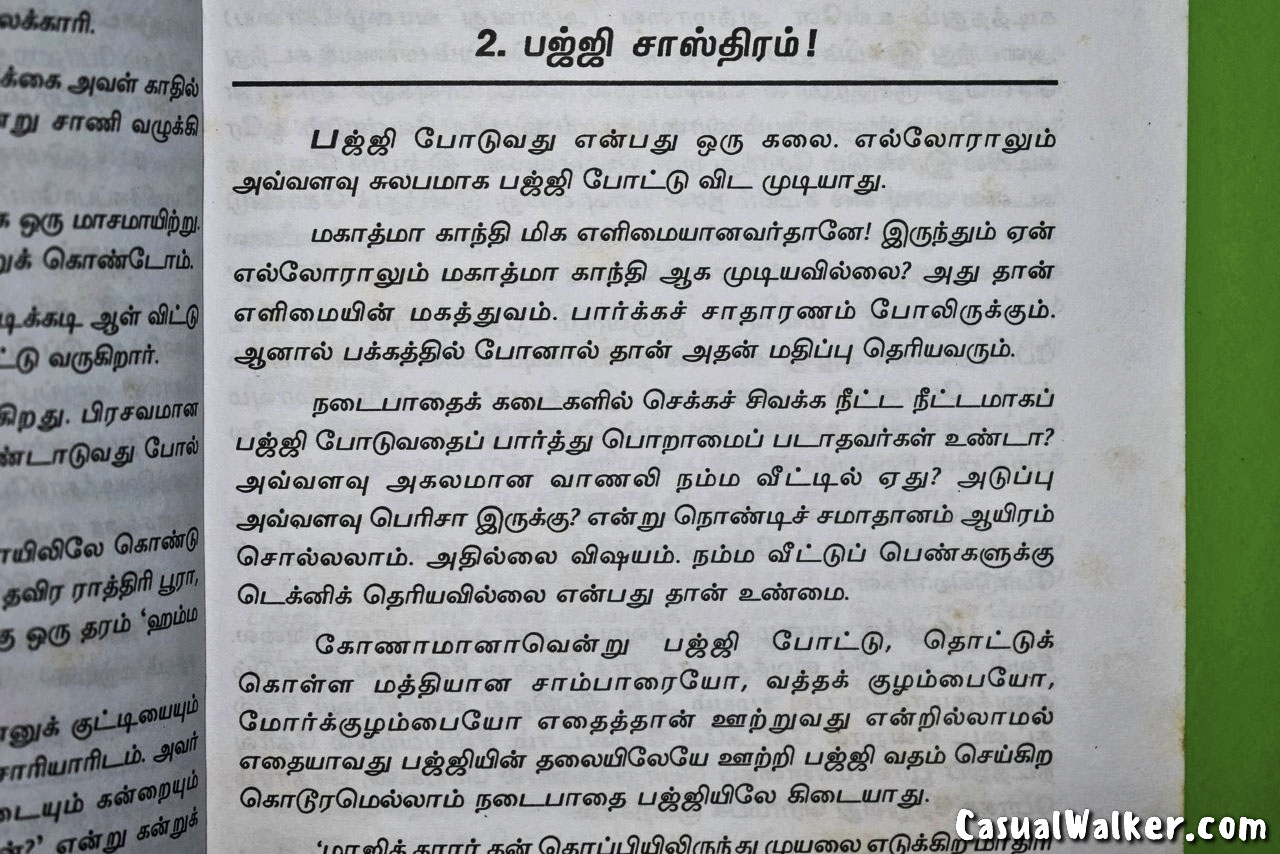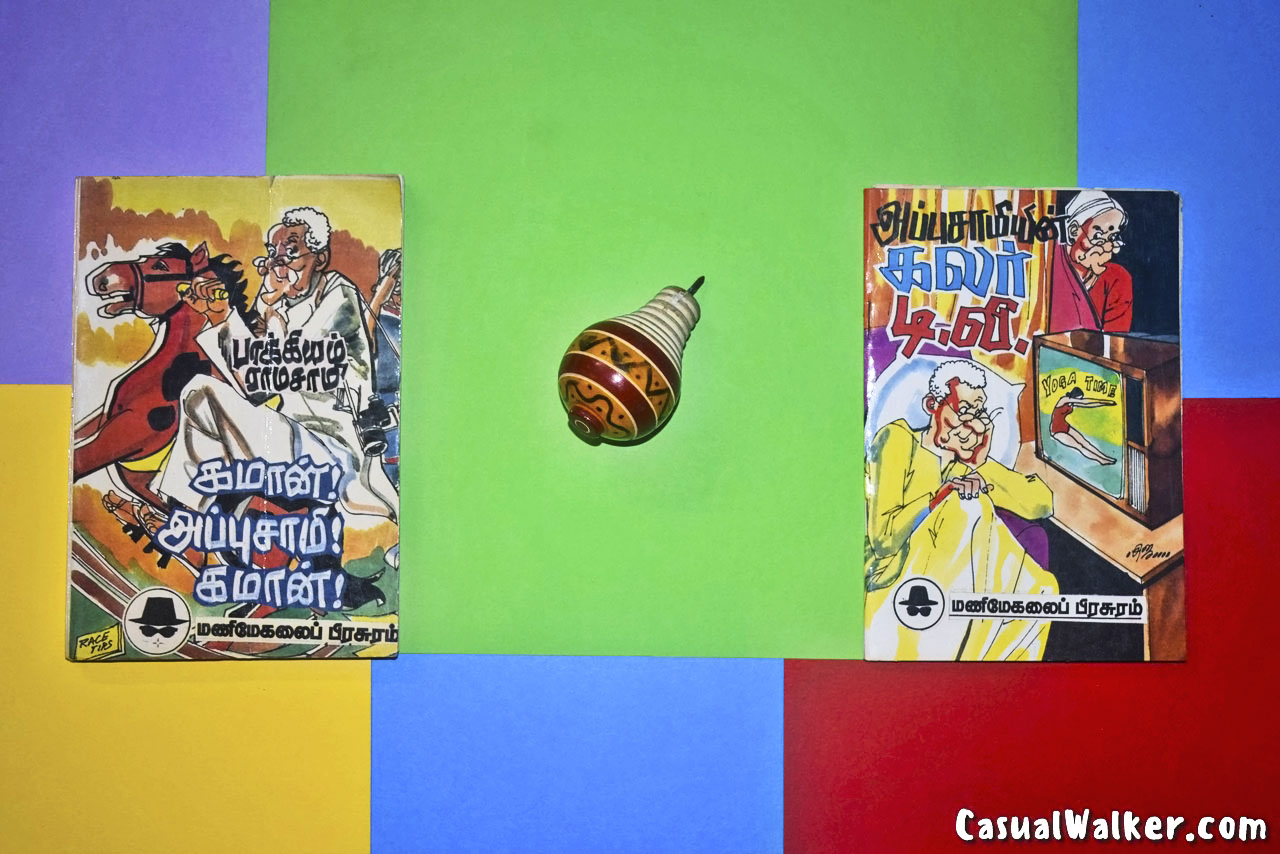 August Thiyagi Appusamy – ஆகஸ்ட் தியாகி அப்புசாமி & Seethapattiyin Sabadham – சீதாபாட்டியின் சபதம்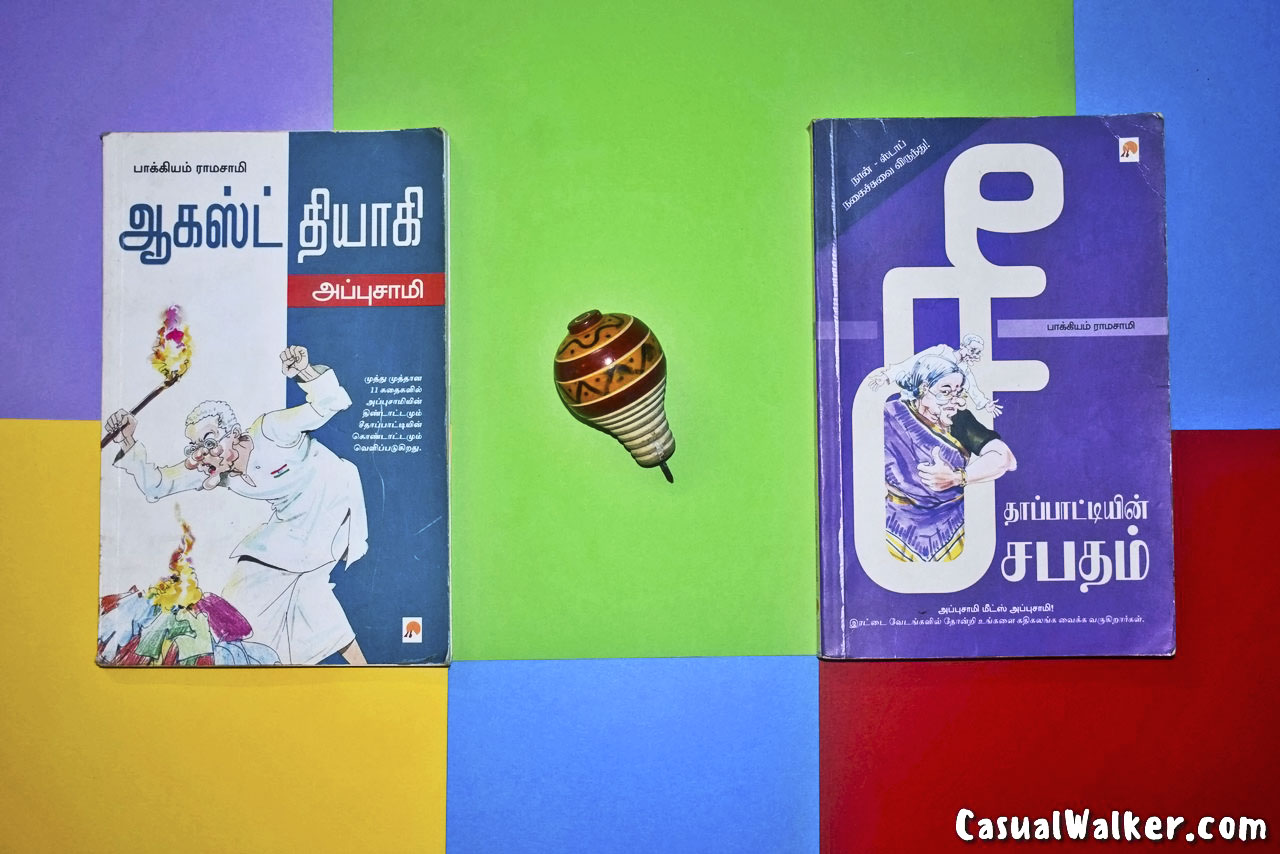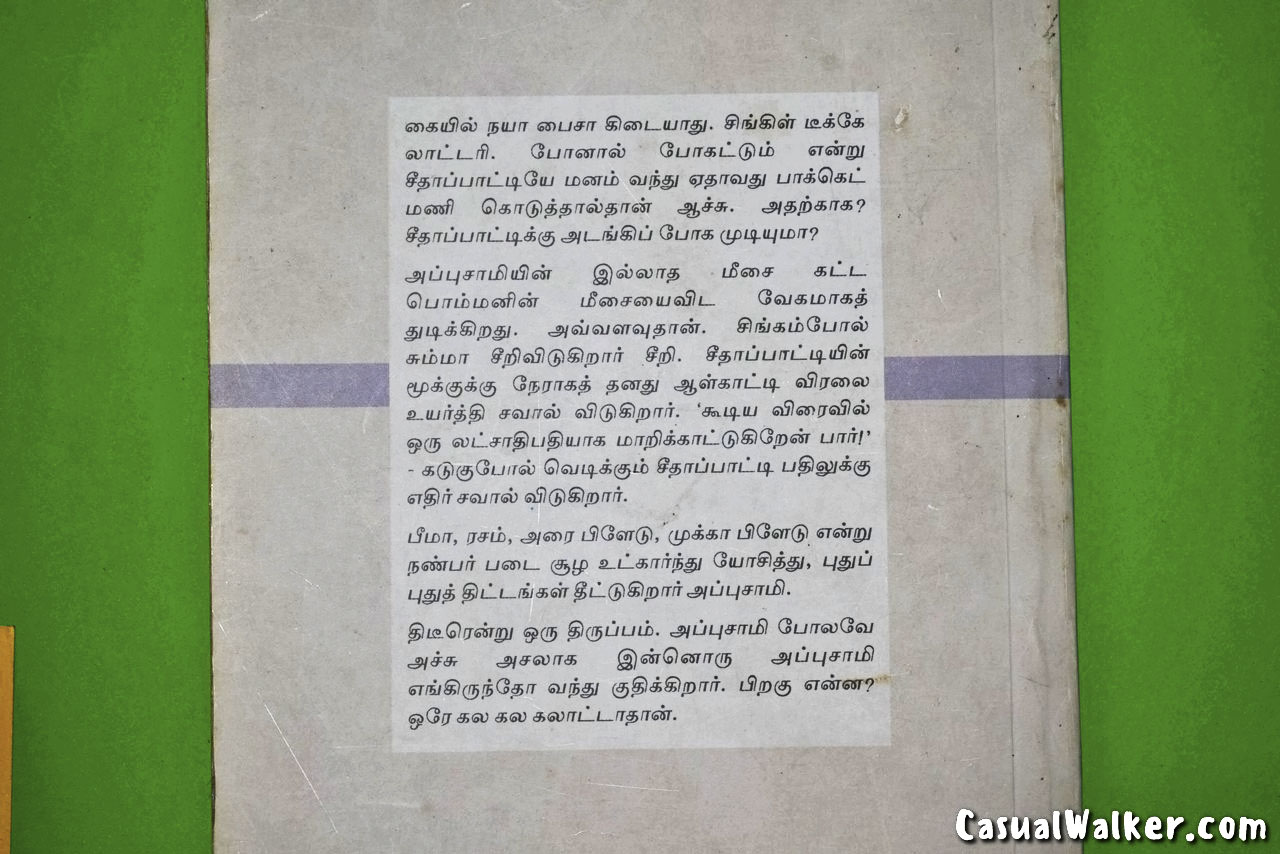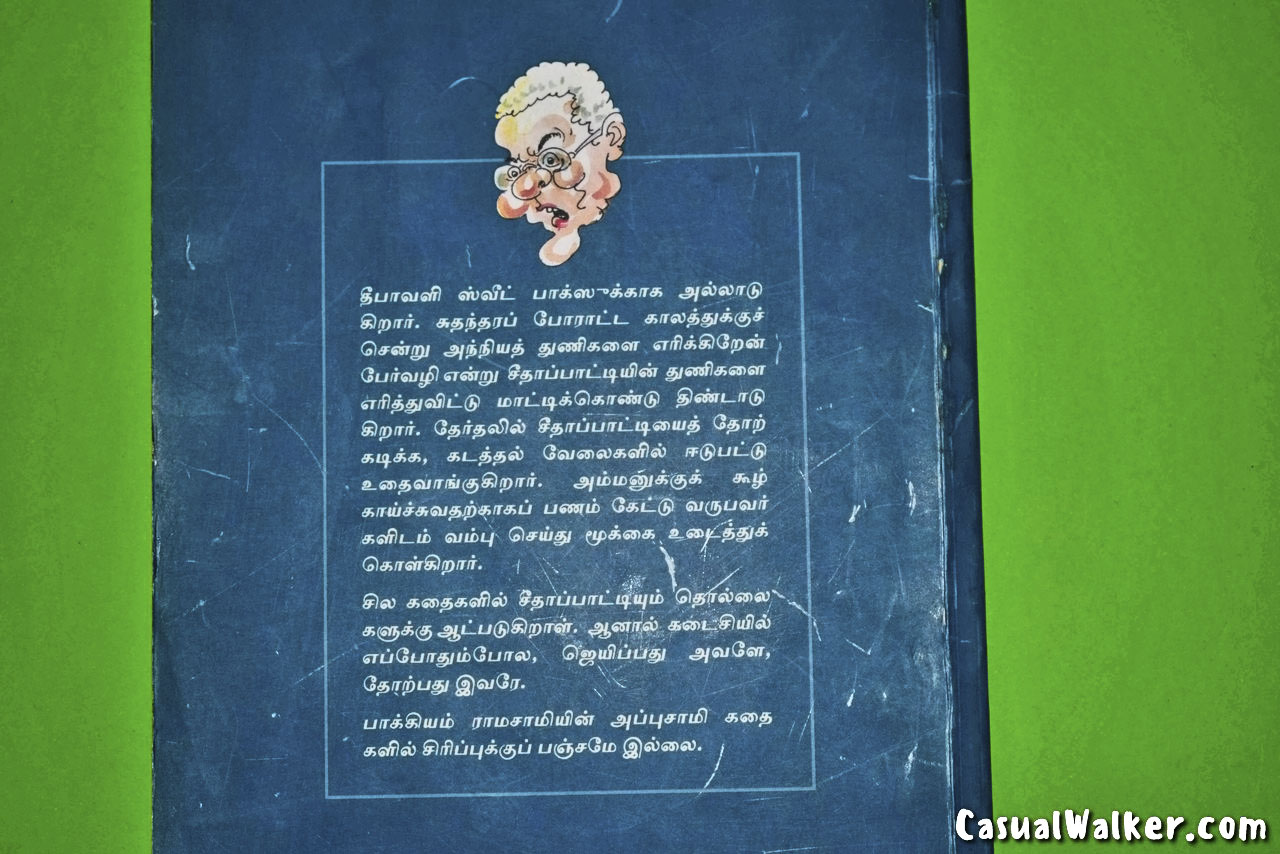 You can buy Bakkiyam Ramasamy's – Appusamy Seethapati Book Story Series from Vanathi Pathippakam (வானதி பதிப்பகம்), (கிழக்கு பதிப்பகம்) – Kizhakku Pathippagam, Poompuhar Pathippagam (பூம்புகார் பதிப்பகம்), Manimekalai Prasuram (மணிமேகலை பிரசுரம்) or you can get it online at Amazon.com & Pustaka:
Similar Posts related to Tamil Books you may like:
Best Motivational & Personality Development Books in Tamil for Young Students & Adults – Dr. M. S. Udhayamurthi's Self-Help Tamil Books – Nenjamme Anchade Nee, Ennangal, Vetrikku Muthalpadi
Rajaji's Chakravarthi Thirumagan & Vyasar Virundhu – The Best Tamil Books on Ramayanam & Mahabharatham for Young Students