Travels Through South Indian Kitchens by Nao Saito – Wonderful & Best book on South Indian Kitchens, It's Layout and Famous Food Recipes
– travel diary exploring recipes & kitchens in south india
| | |
| --- | --- |
|  CasualWalker's Rating for Travels Through South Indian Kitchens by Nao Saito : | |
| 9.5 – Superb Awesome |   |

Nao Saito is a Japan-based Architect and Designer from UNI DESIGN in Tokyo, and a graduate from Japan's Waseda University. Nao Saito's cookbook and travelogue called "Travels Through South Indian Kitchens" wonderfully explore the famous recipes, and it's kitchens throughout South India. The book was published by Tara Books, an Award-winning, Independent Handmade Publishing House based in Chennai.
Nao Saito who traveled to India for a 3-month residency at Tara Books publishing house in Chennai by the invitation of Gita Wolf, the founder of Tara Books Publishing House. In Chennai, Nao Saito who got curious about discovering the South Indian culinary tradition and culture and its people through the kitchens. In this book, Nao Saito records the chronicles of more than 22 flavors of various South Indian kitchens and it's famous recipes. Her study came up with this visually richly perceptive travelogue, exploring the floor plans, recipes with beautiful illustrations, and photographs.
According to Nao Saito, kitchen space is not just a fixed physical structure, but it is also fluid, shaped by the way in which people use it for their cooking process and gives us an insight into the lives of people that cook them.
Each of the chapters in the book beautifully speaks about various types of kitchen's cooking from it's culture-rich perceptive from the different parts of South India like the expanding kitchen, kitchen with many hands, rainbow kitchen, family kitchen, harvest kitchen, organic kitchen, the girl's kitchen, the bachelor's kitchen, Chettinad kitchen, School kitchen, powercut kitchen and the secret of South Indian kitchen.
If you are looking out for a minimal, quick, and best book on South Indian Kitchens and it's famous food recipes, then this is one of the best books in the series. You can buy the book – Travels Through South Indian Kitchens by Nao Saito book at Tara Books website.
Check out and enjoy our photo captures of the book – Travels Through South Indian Kitchens by Nao Saito.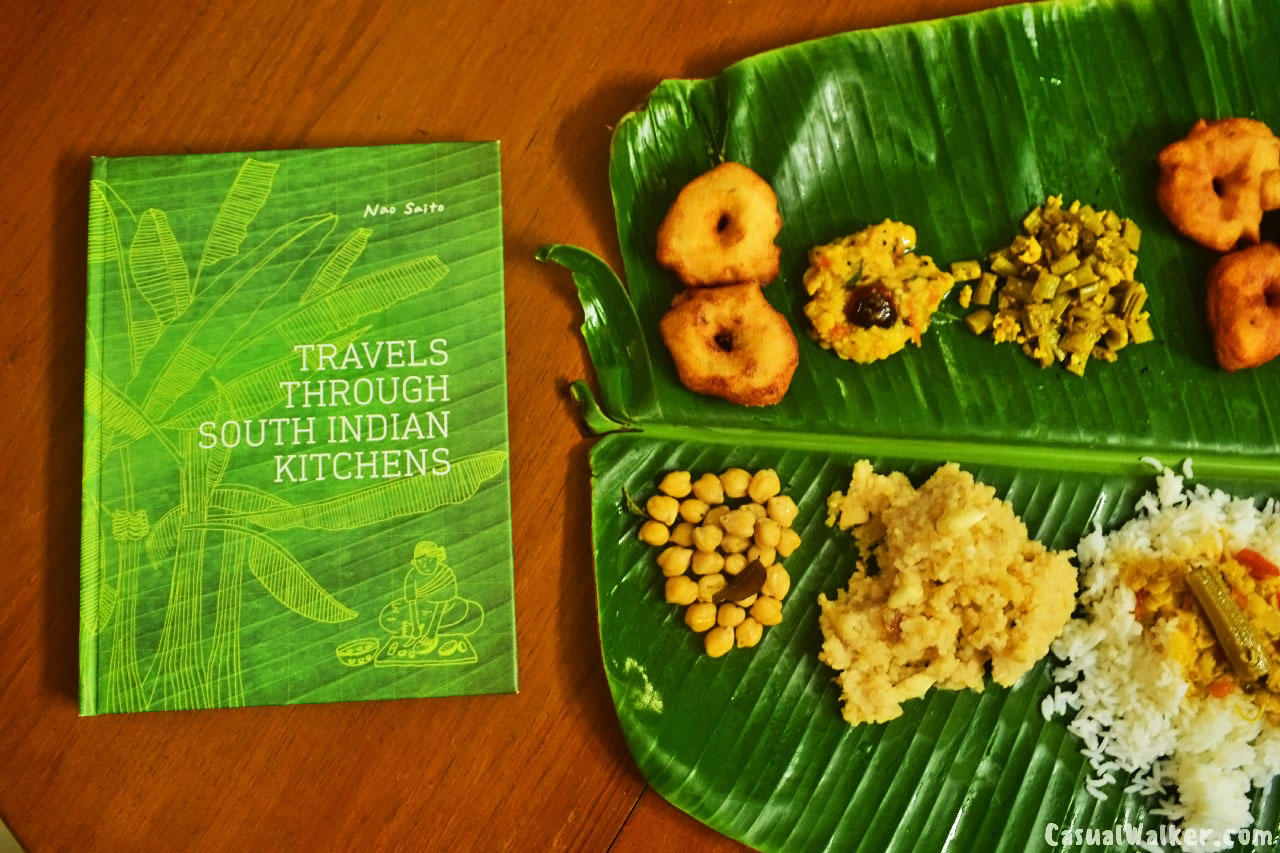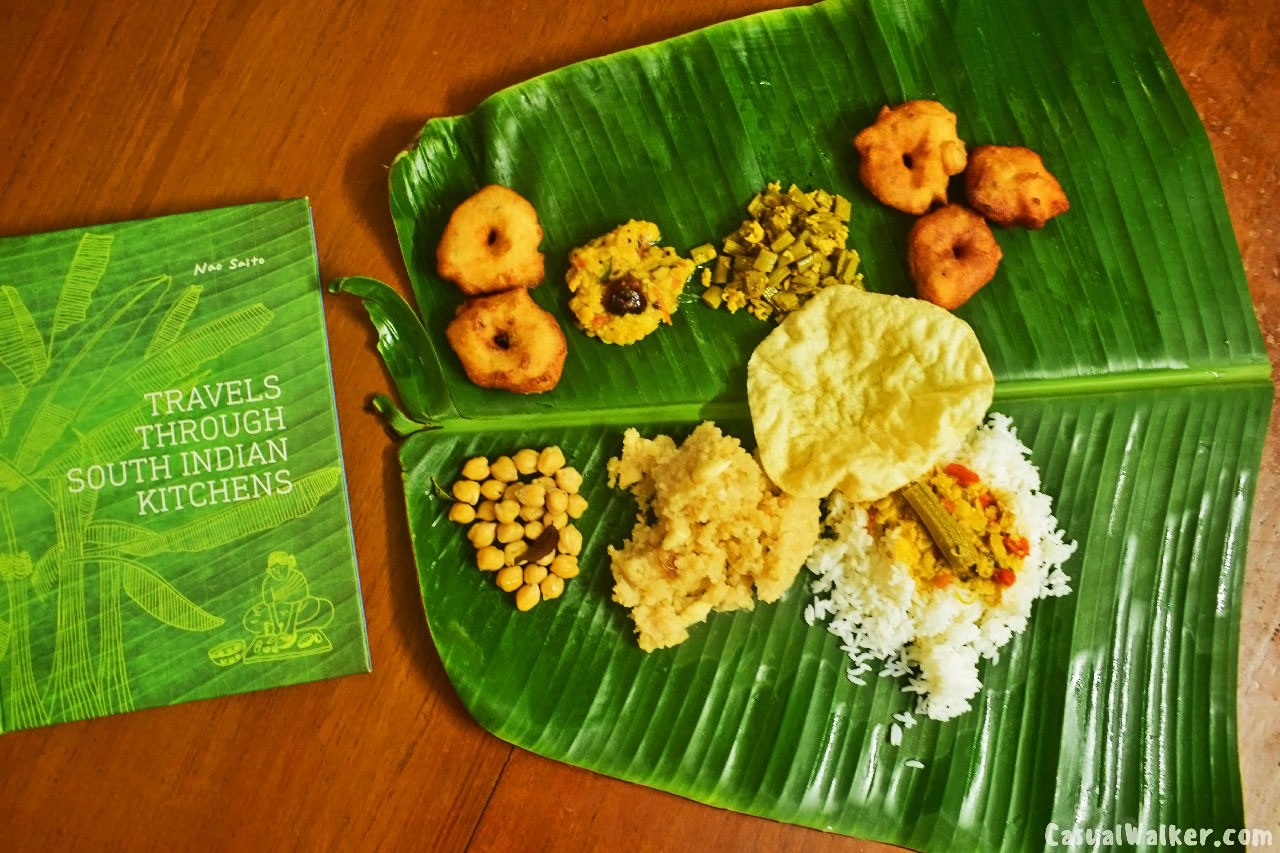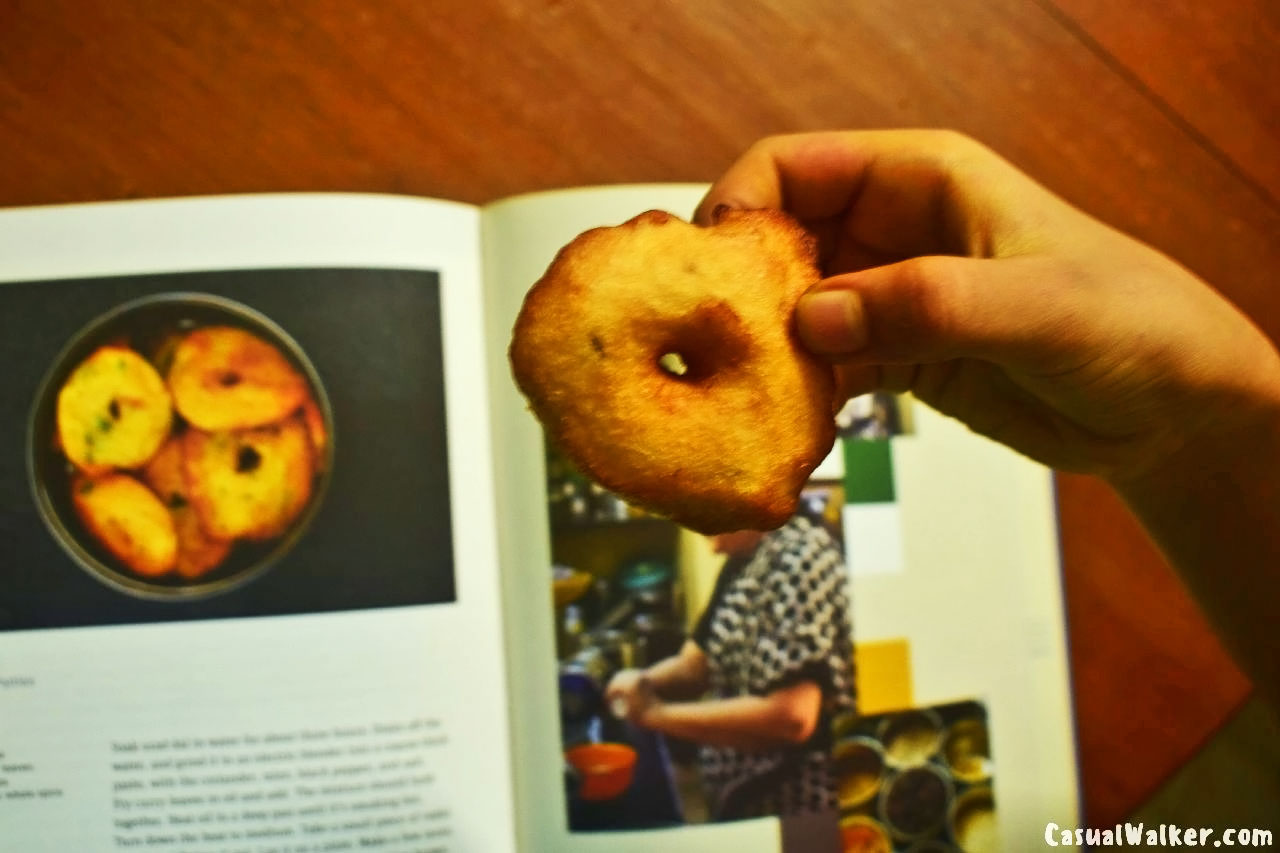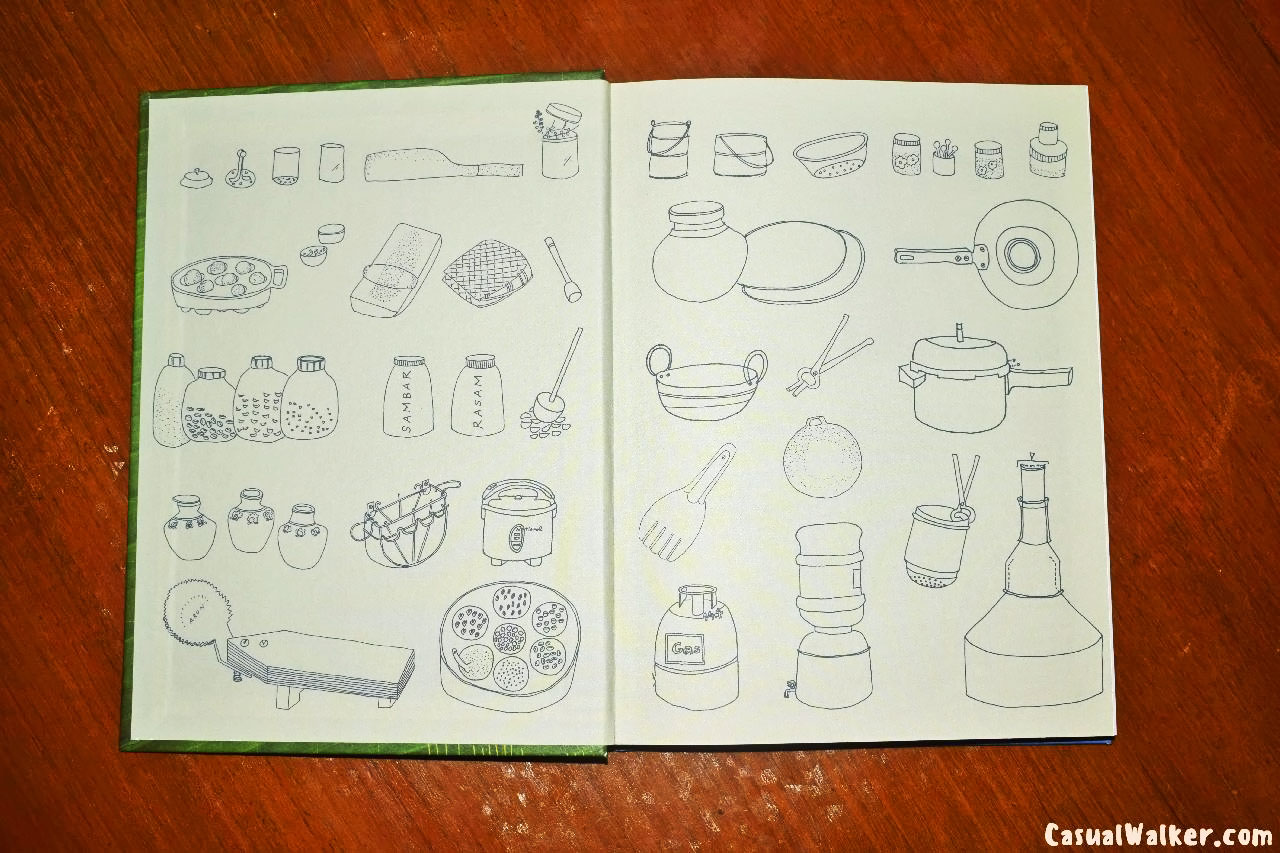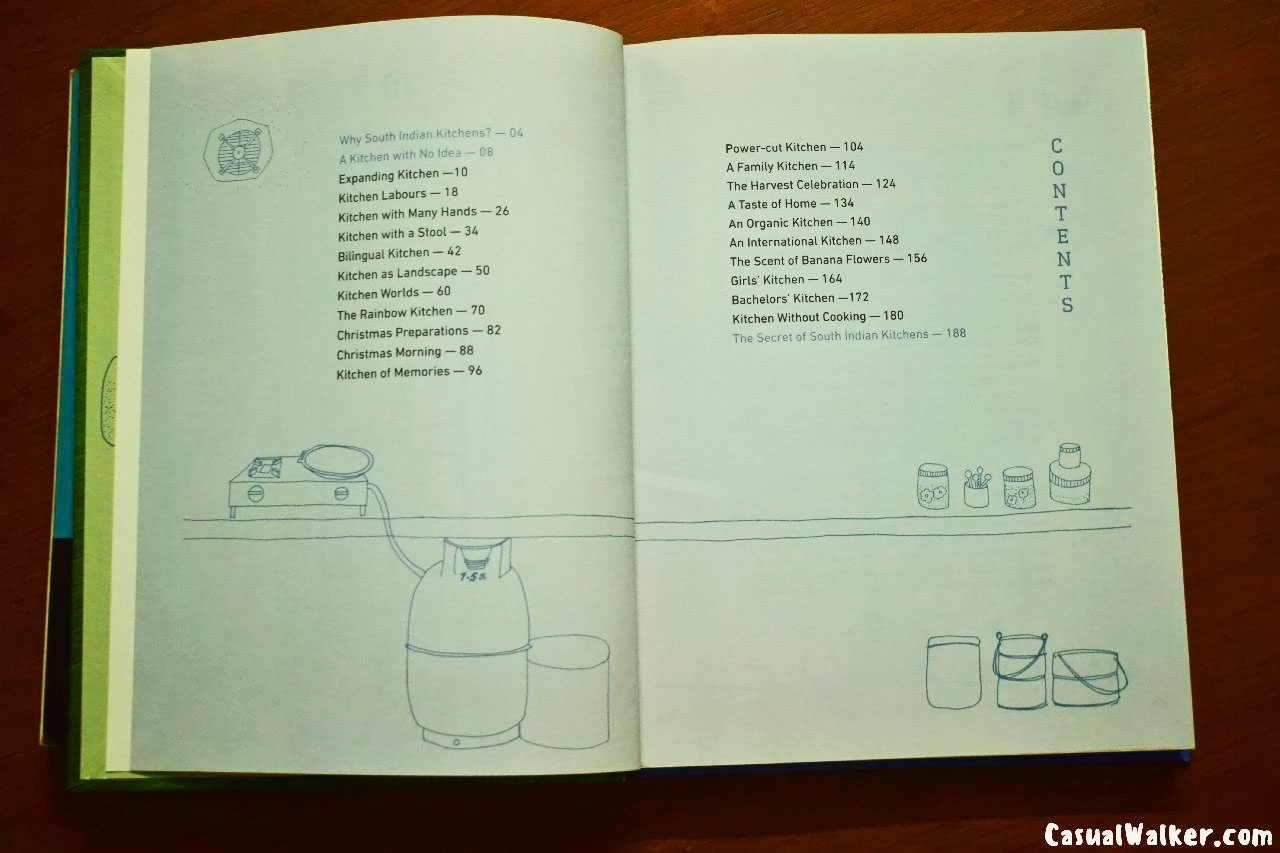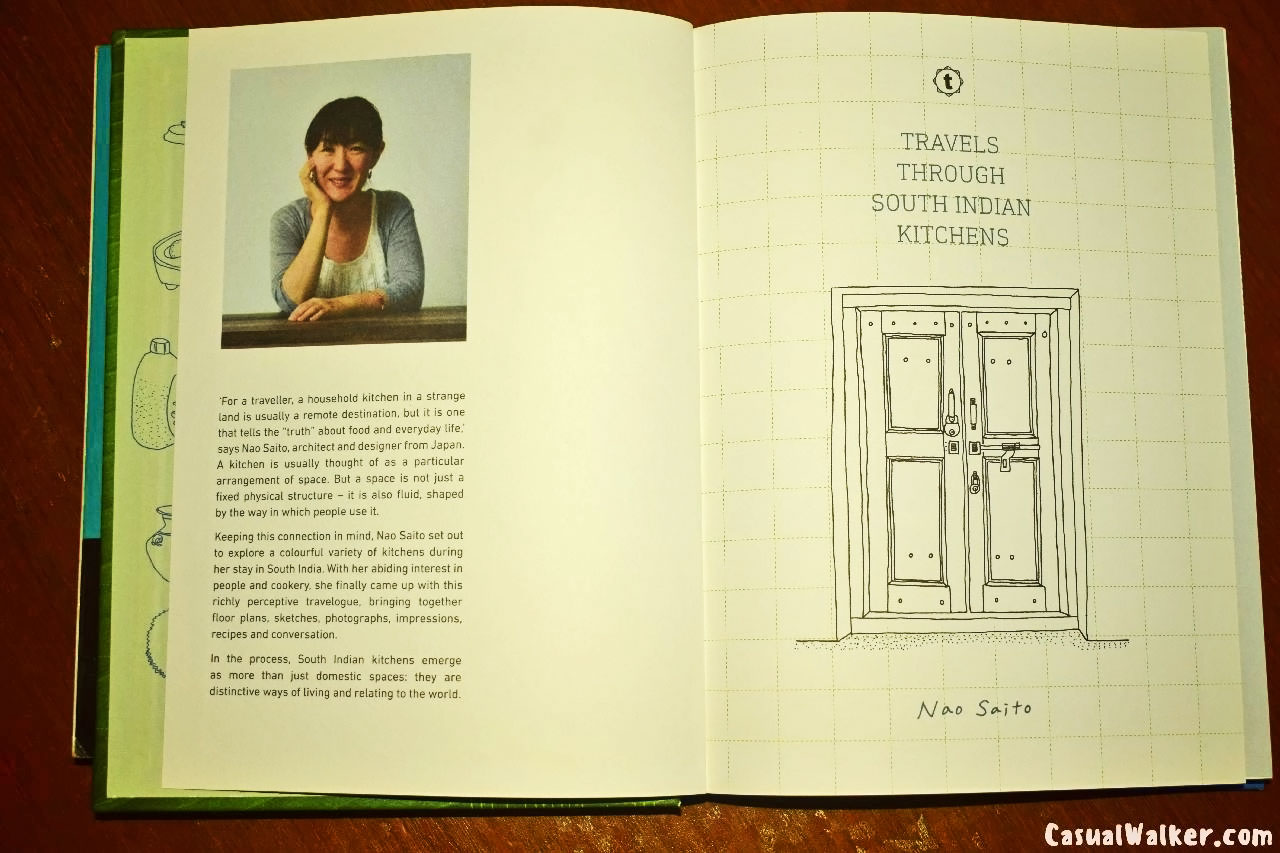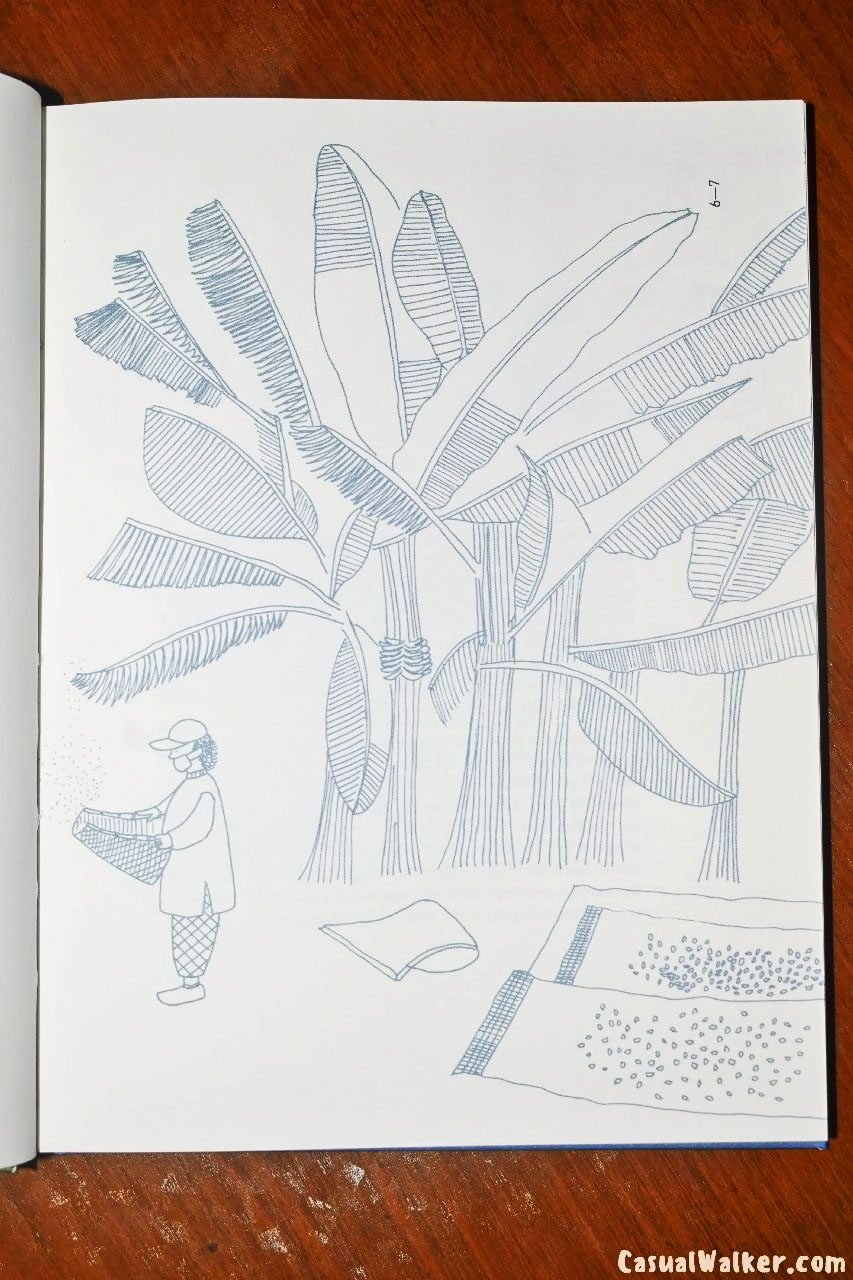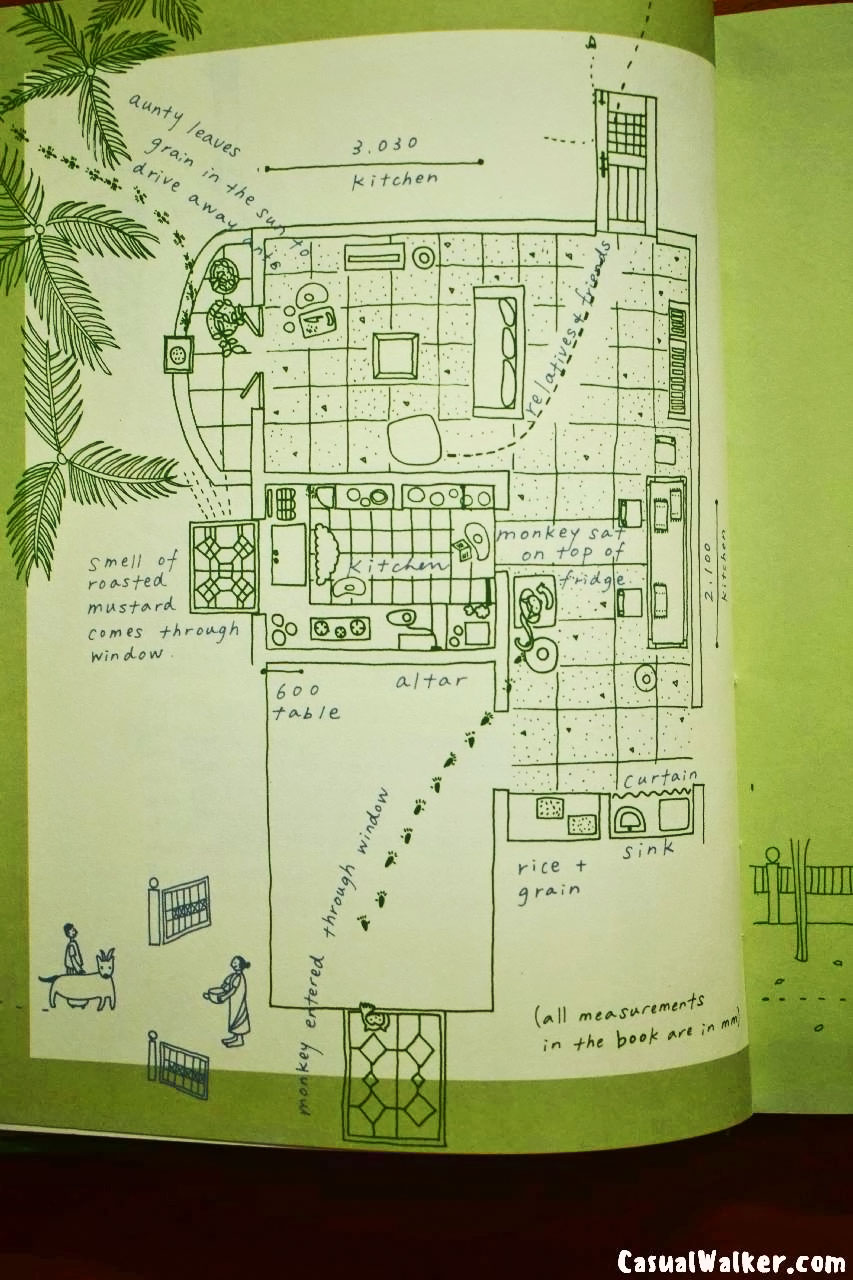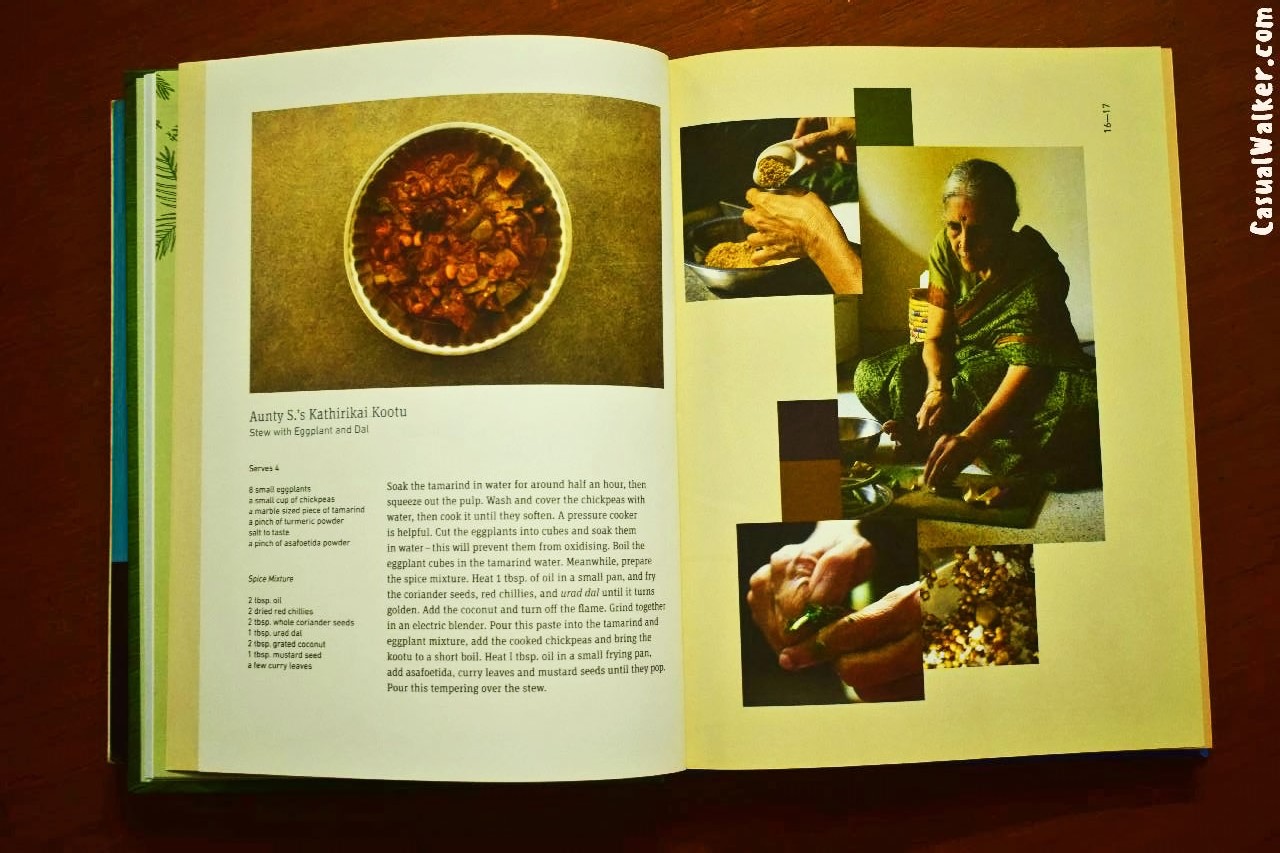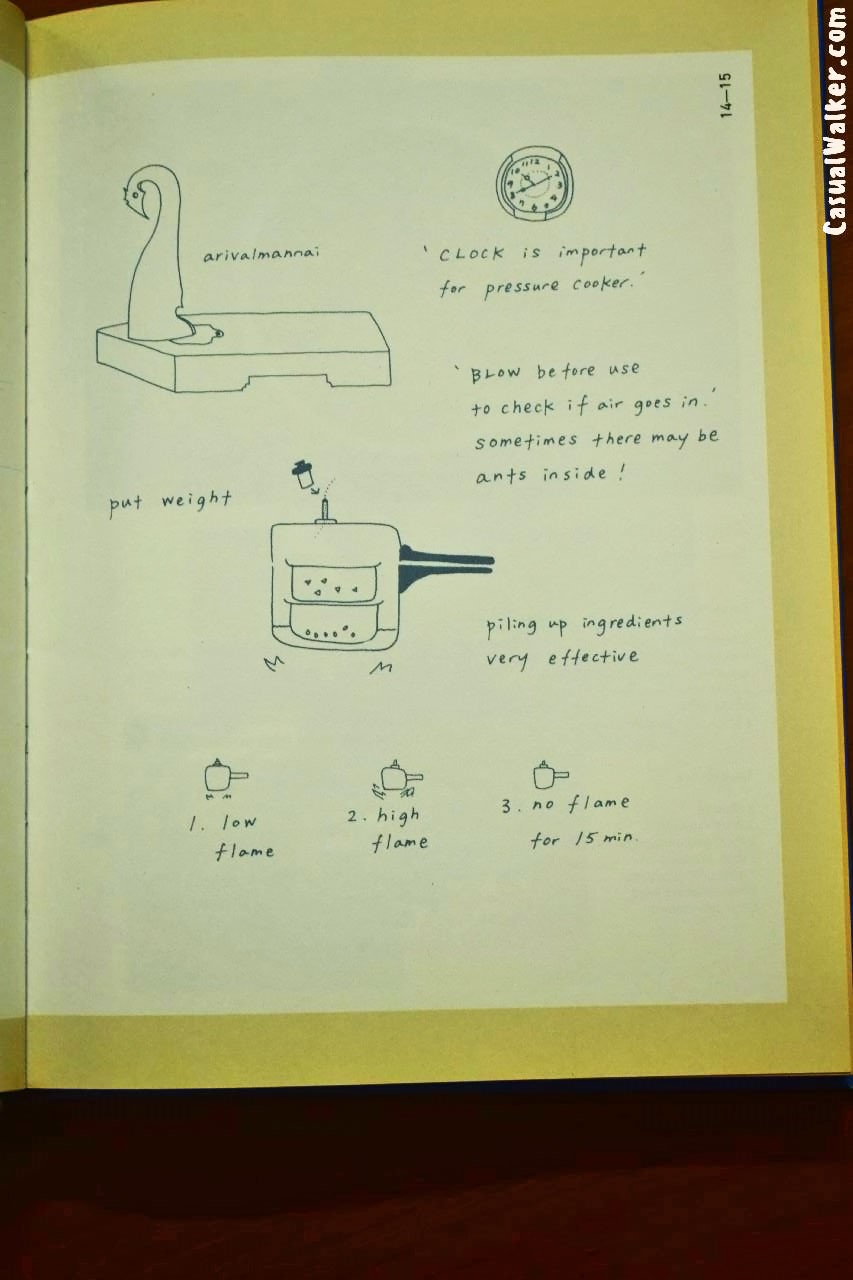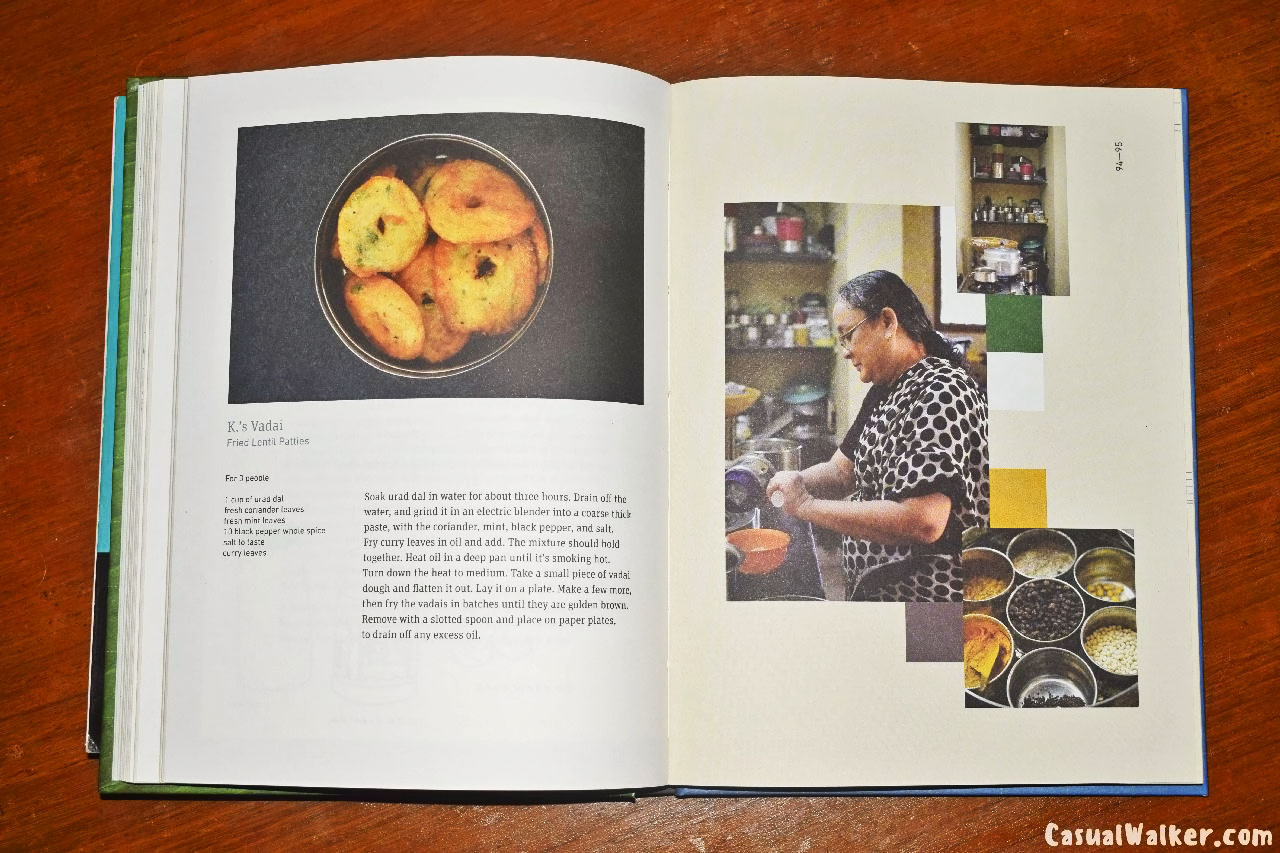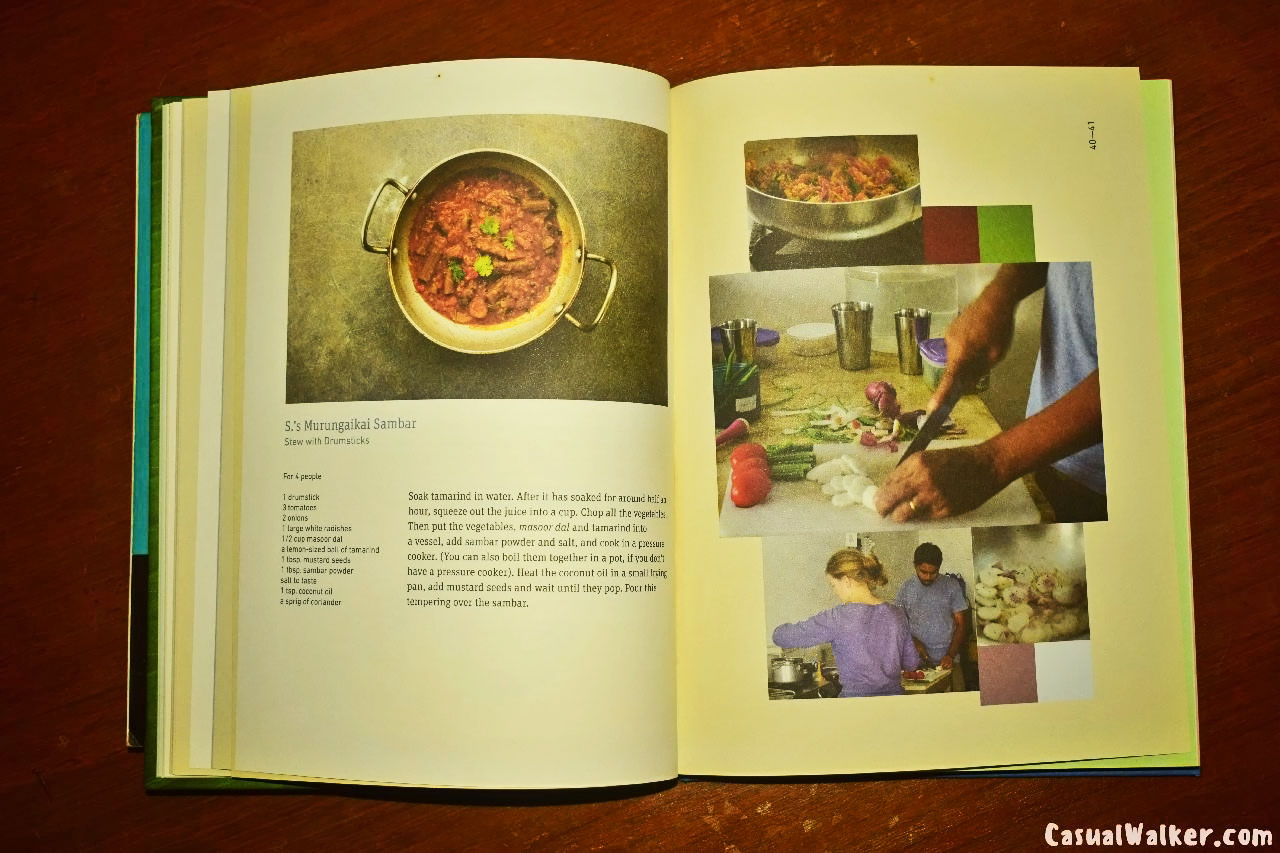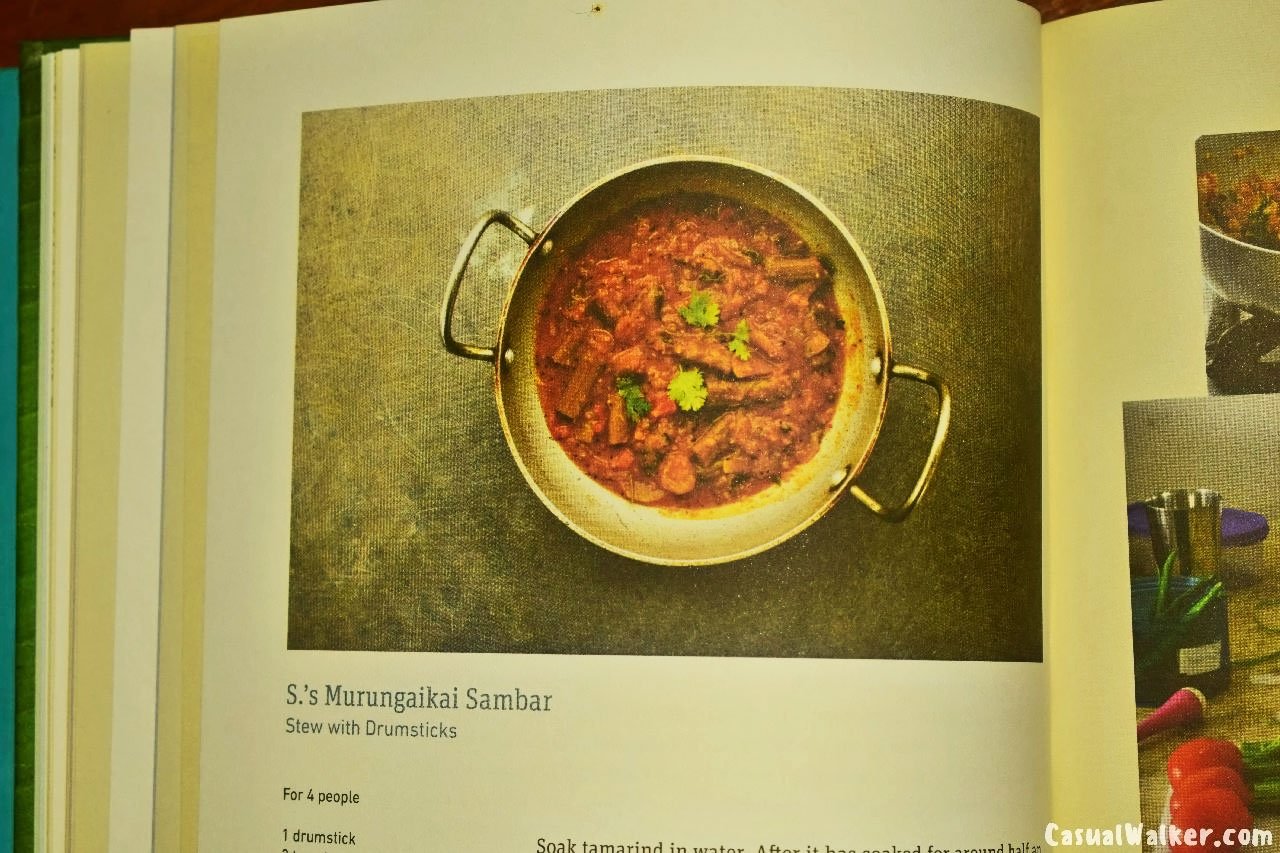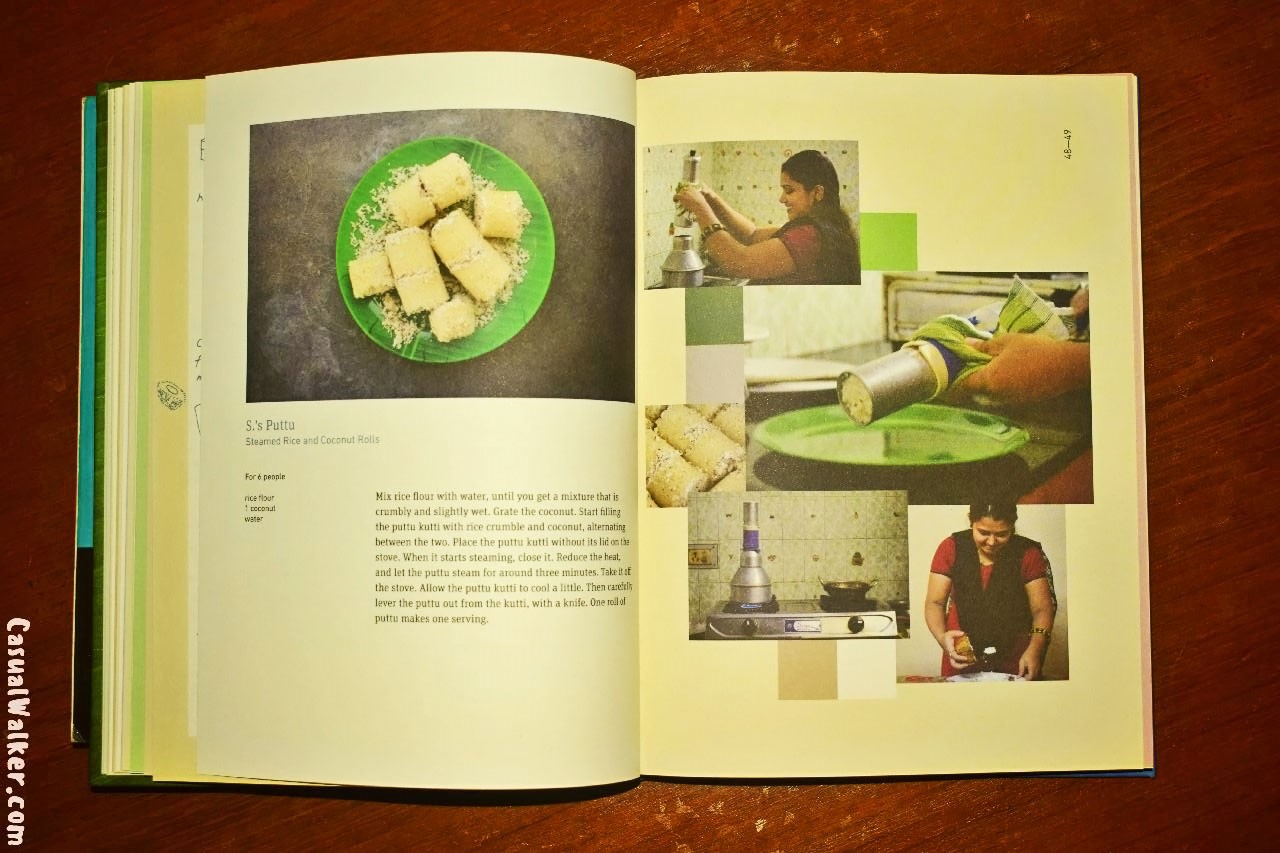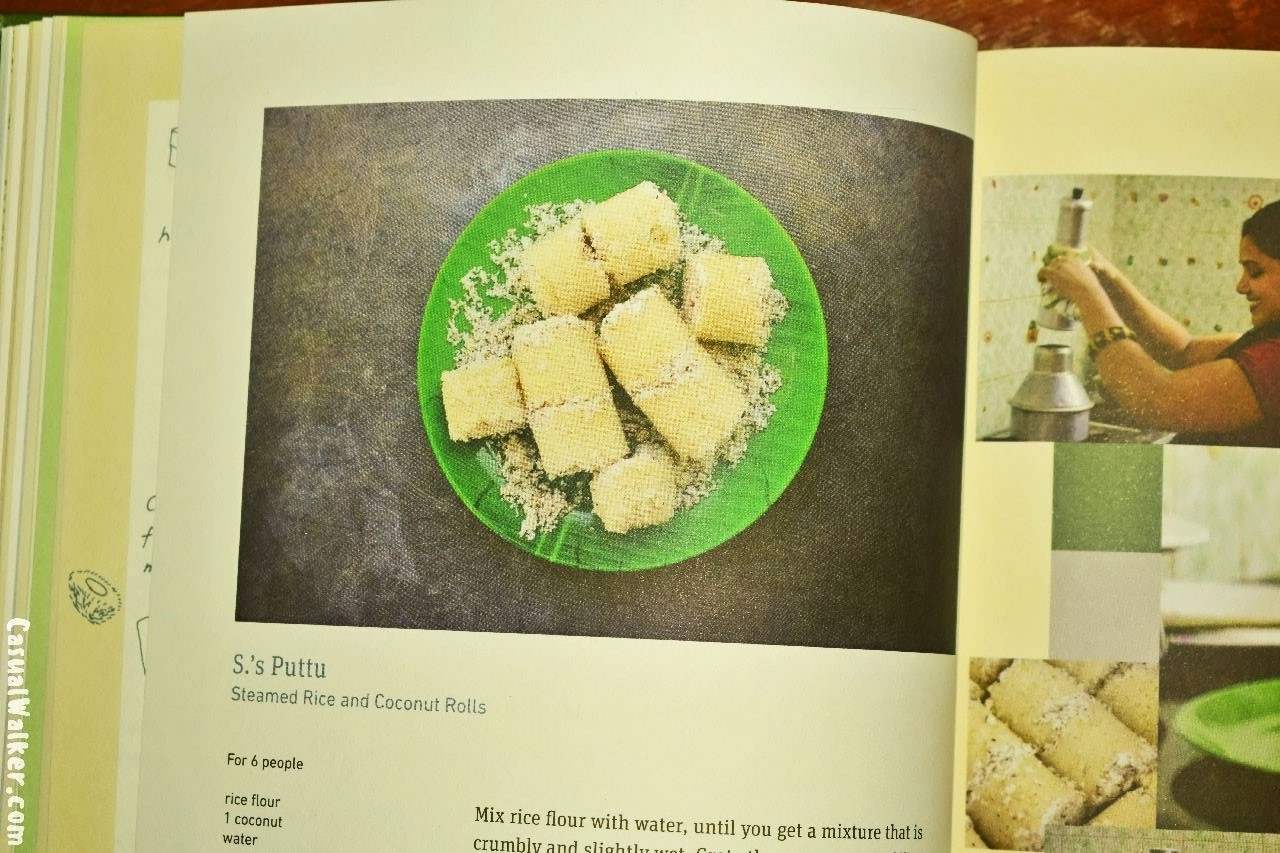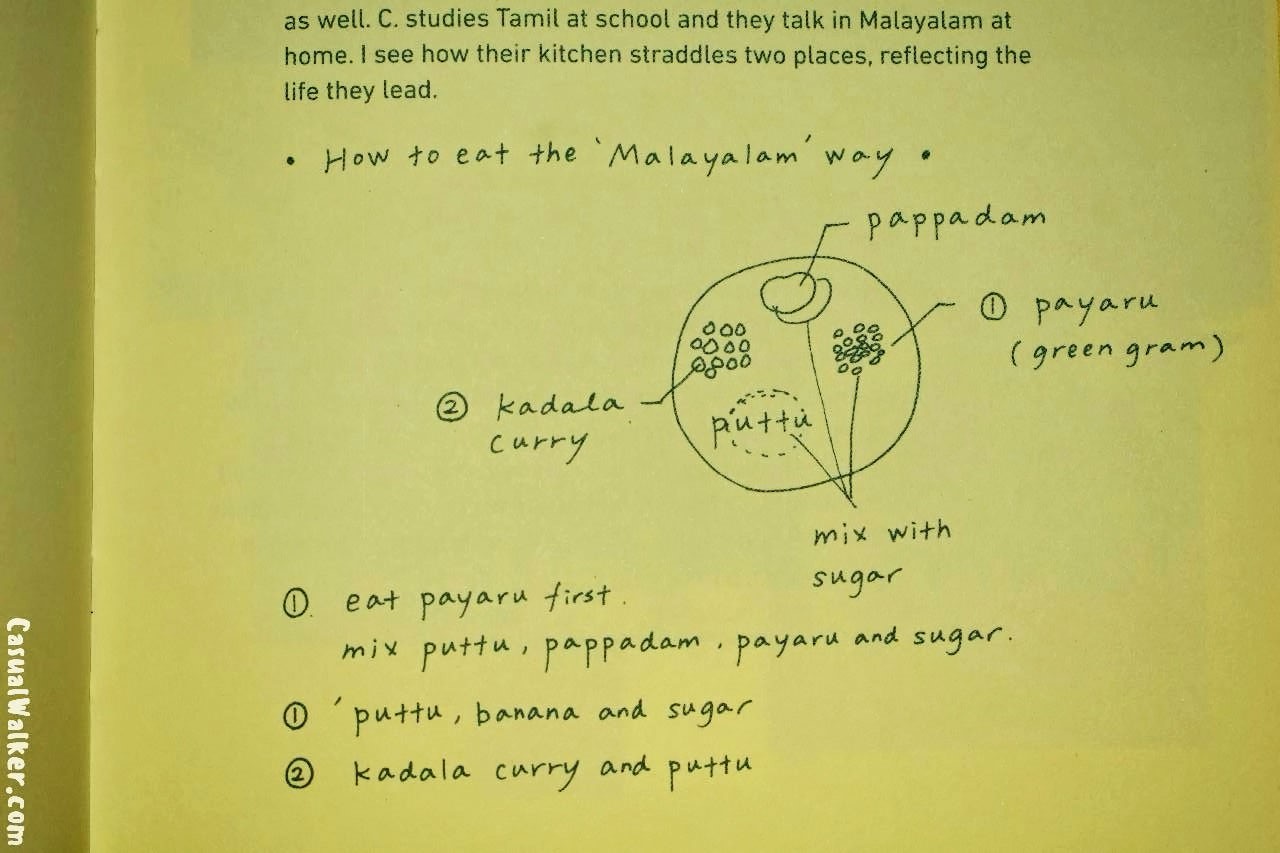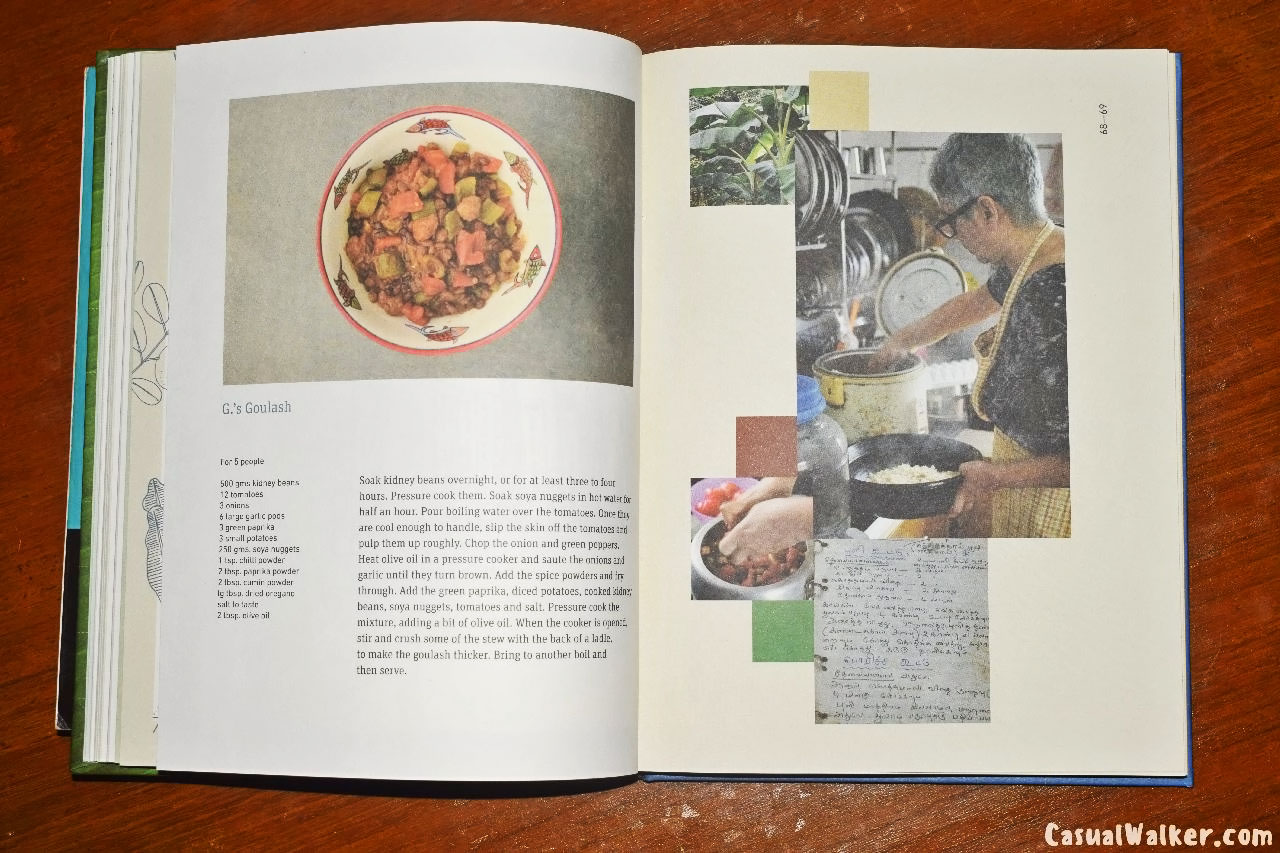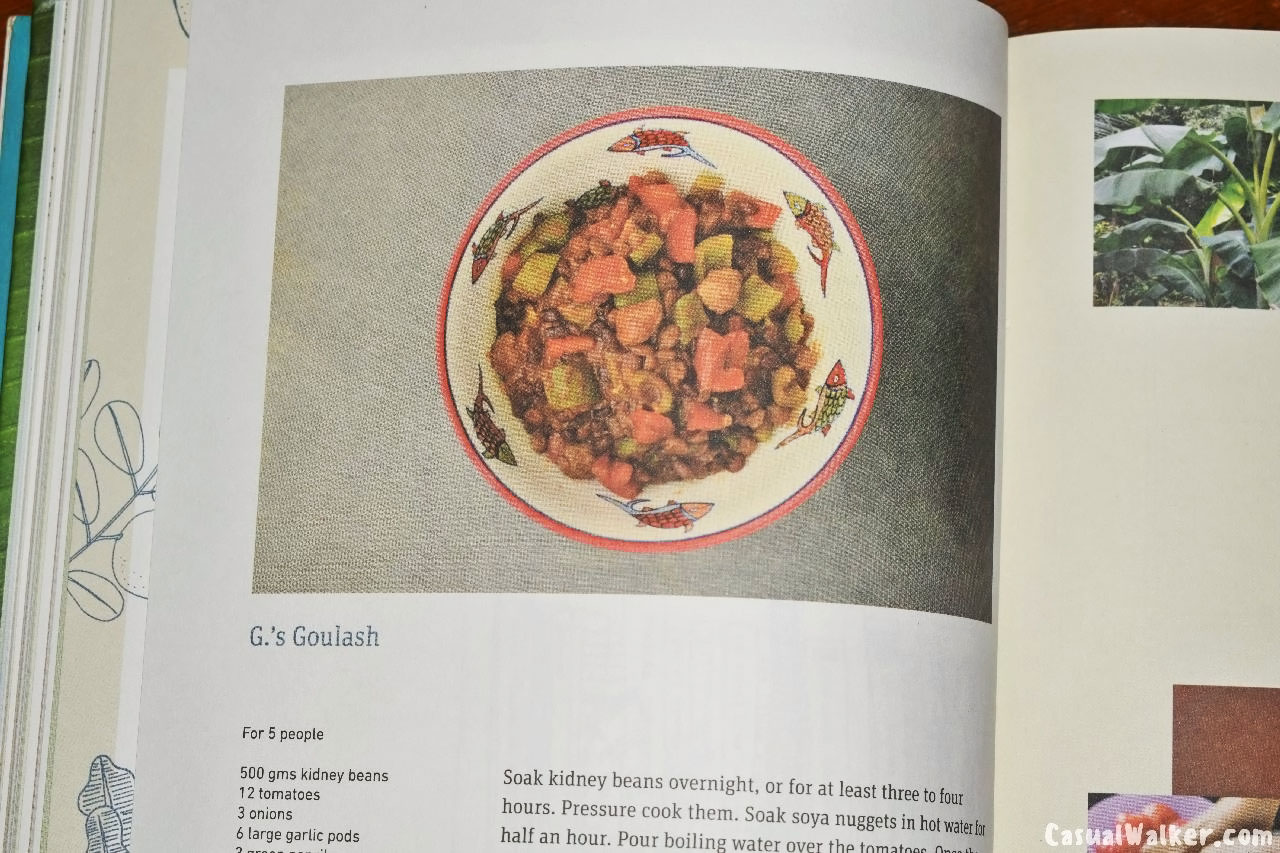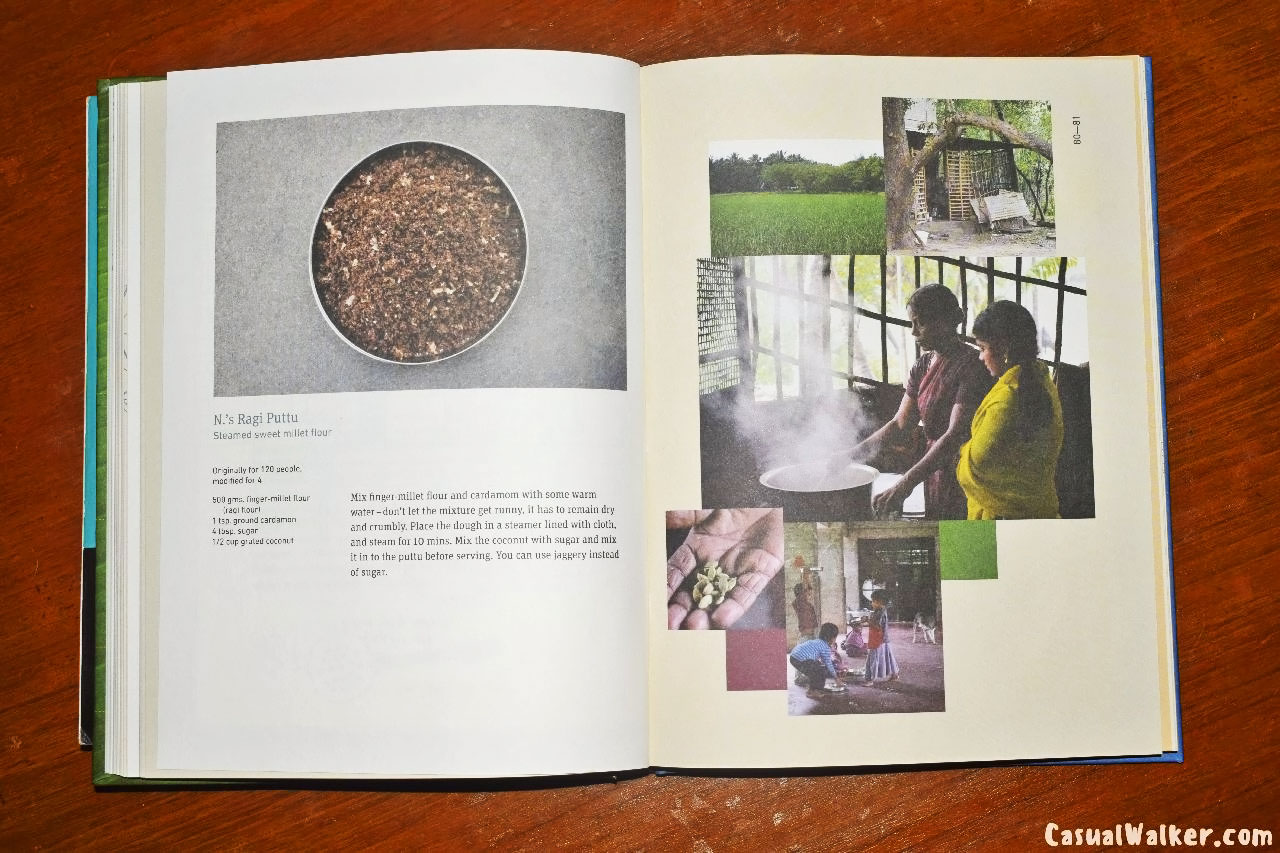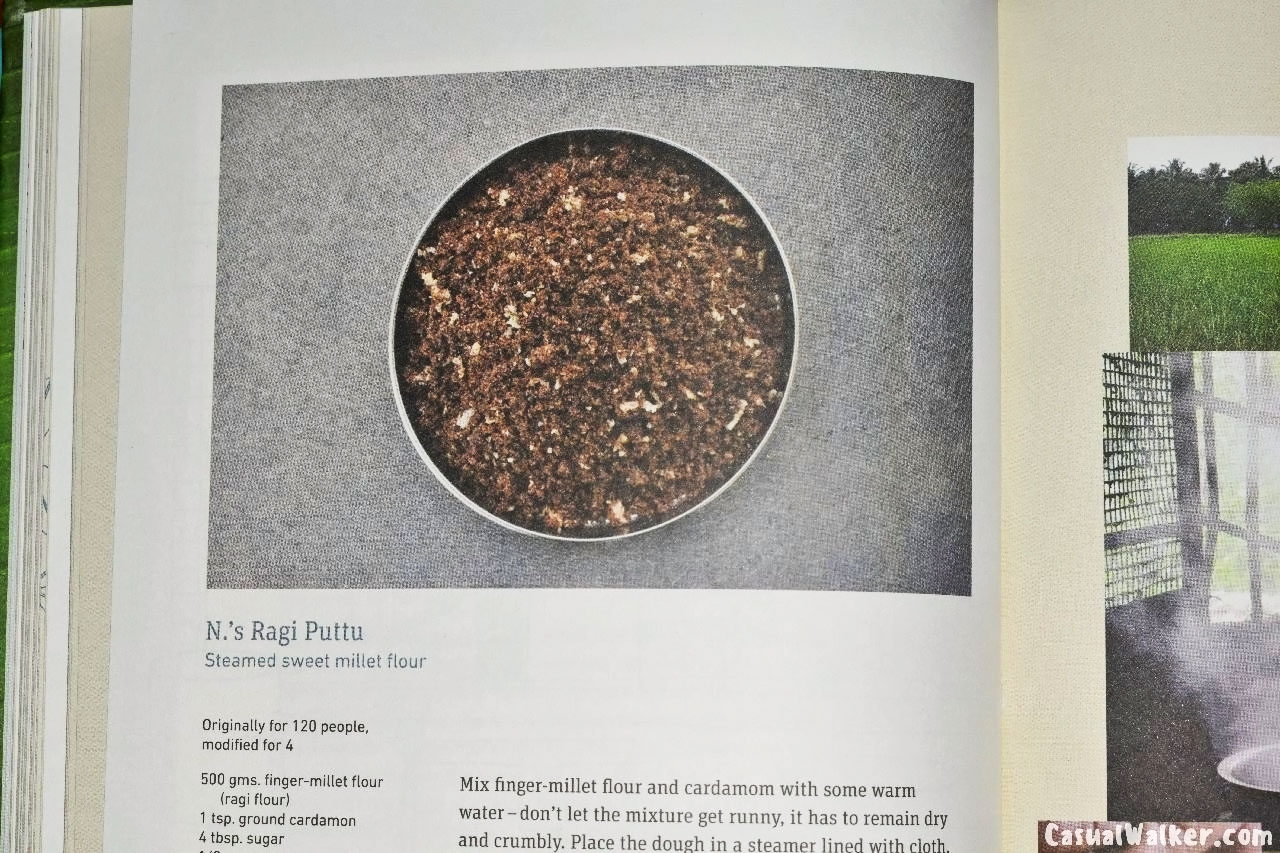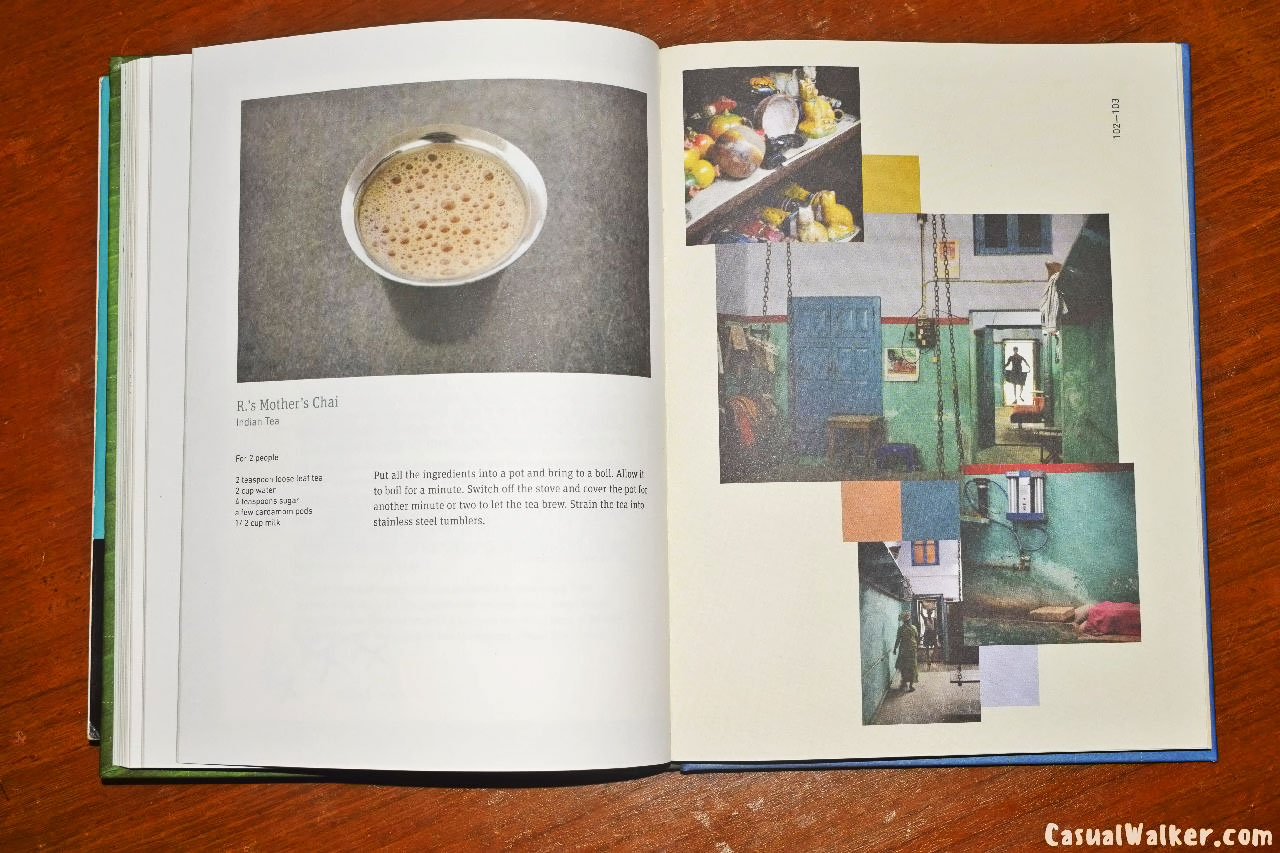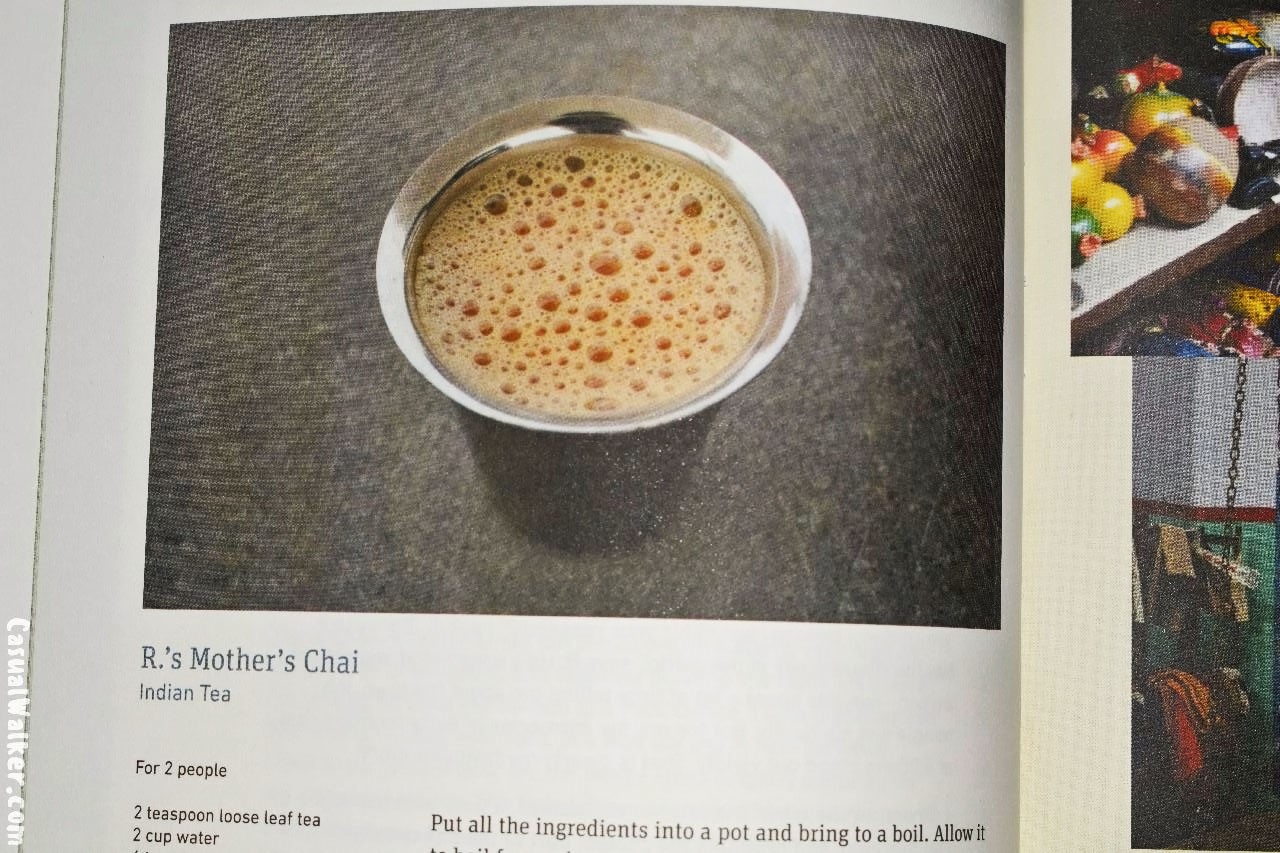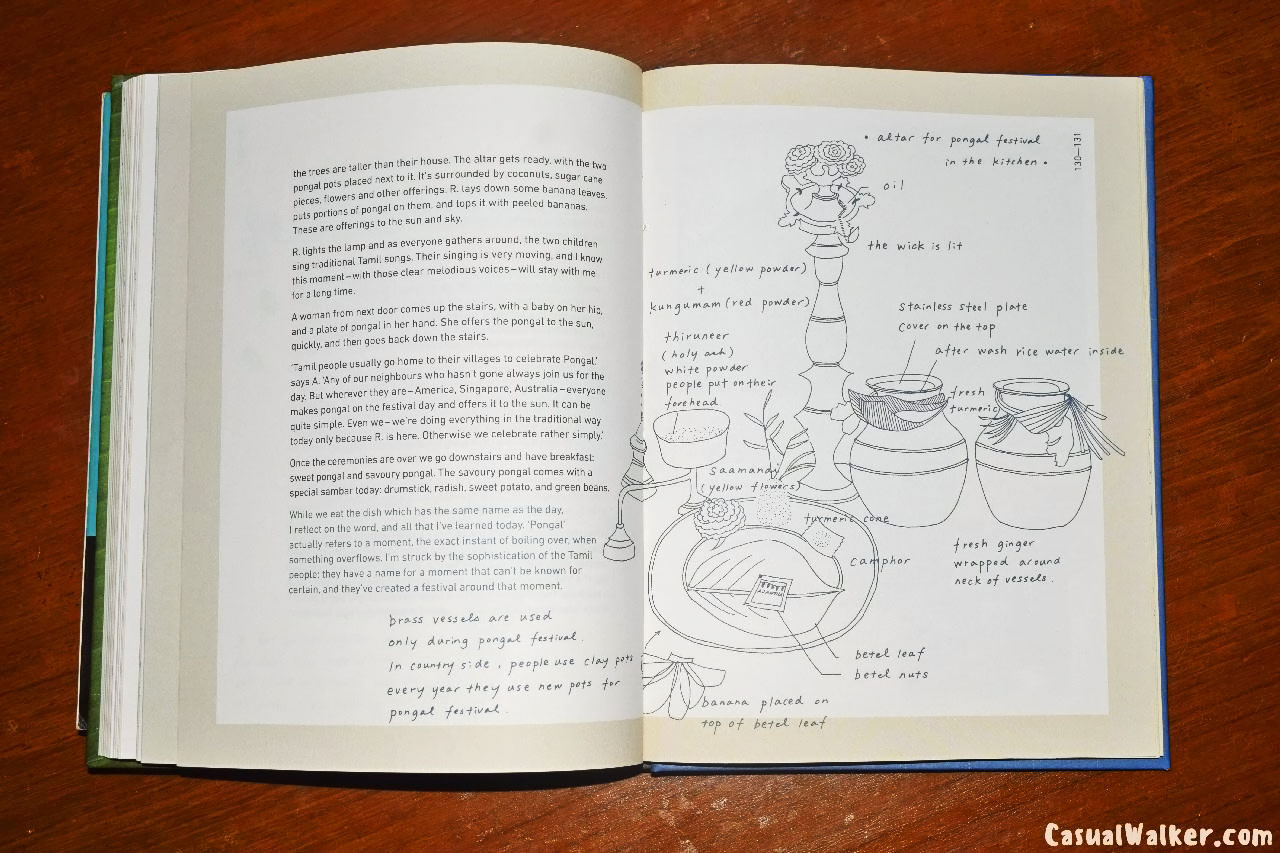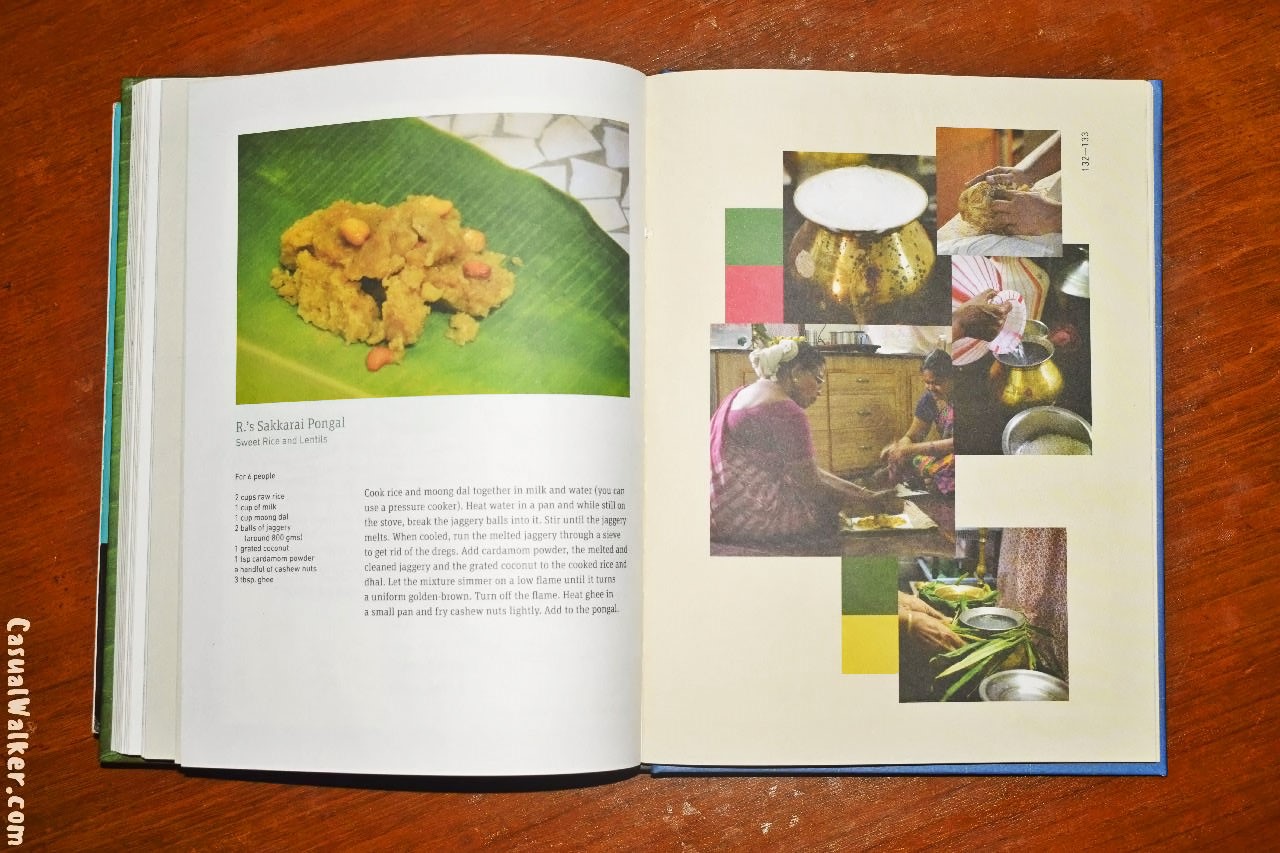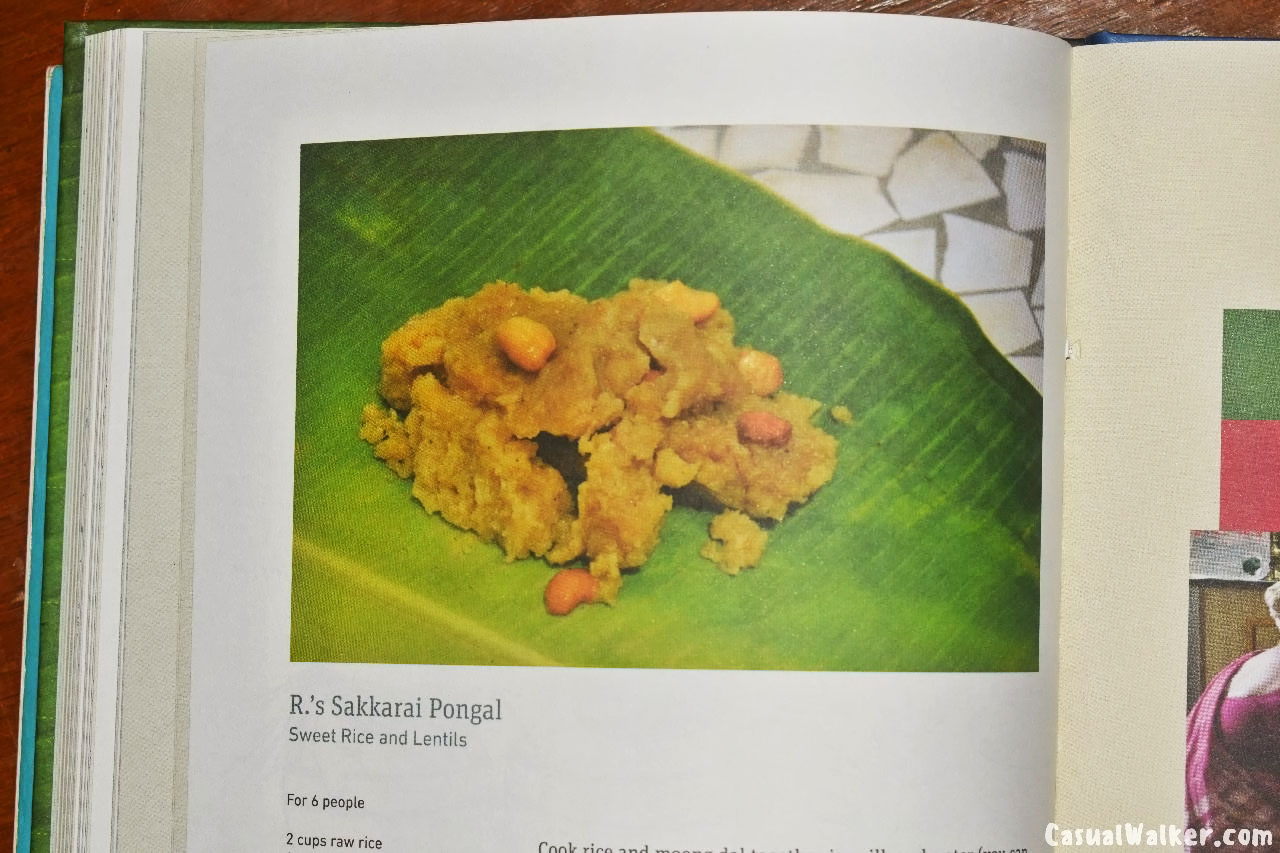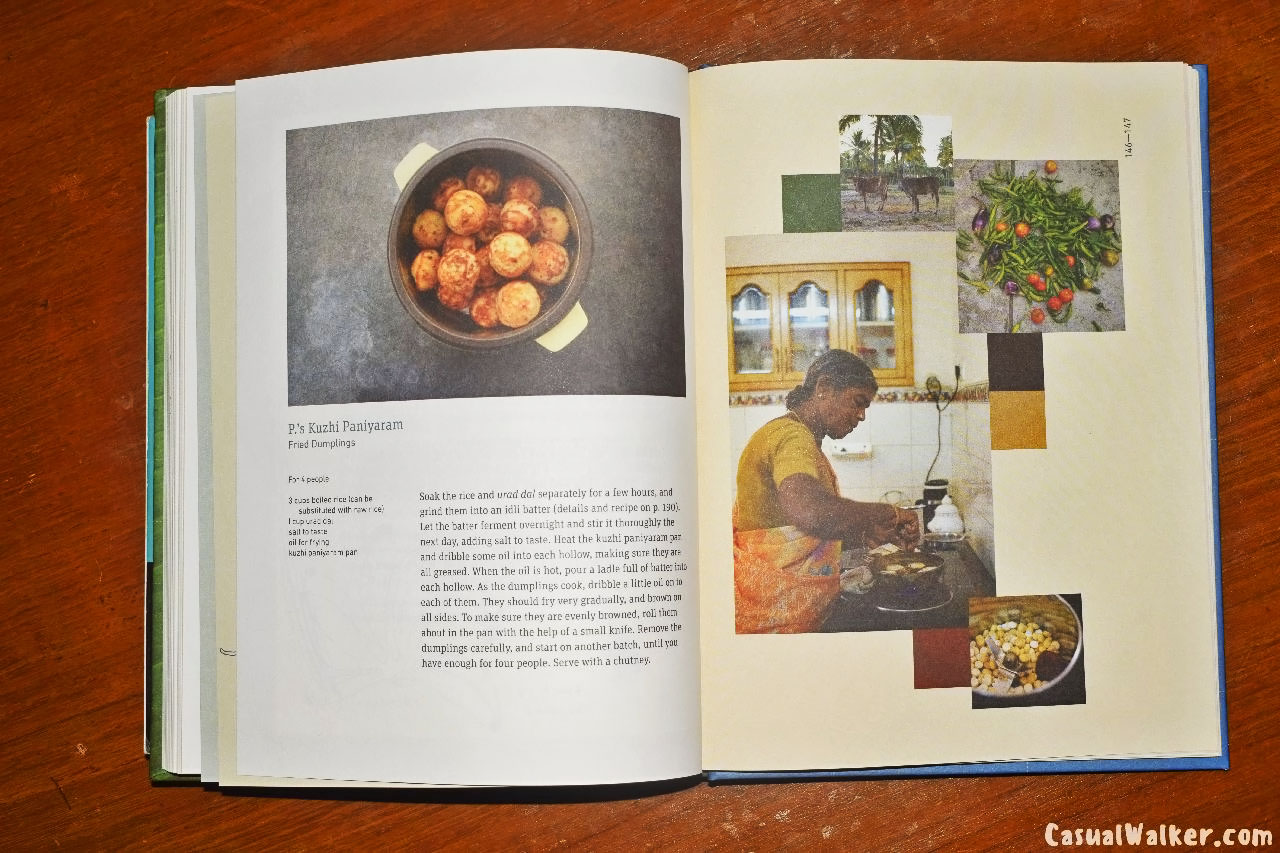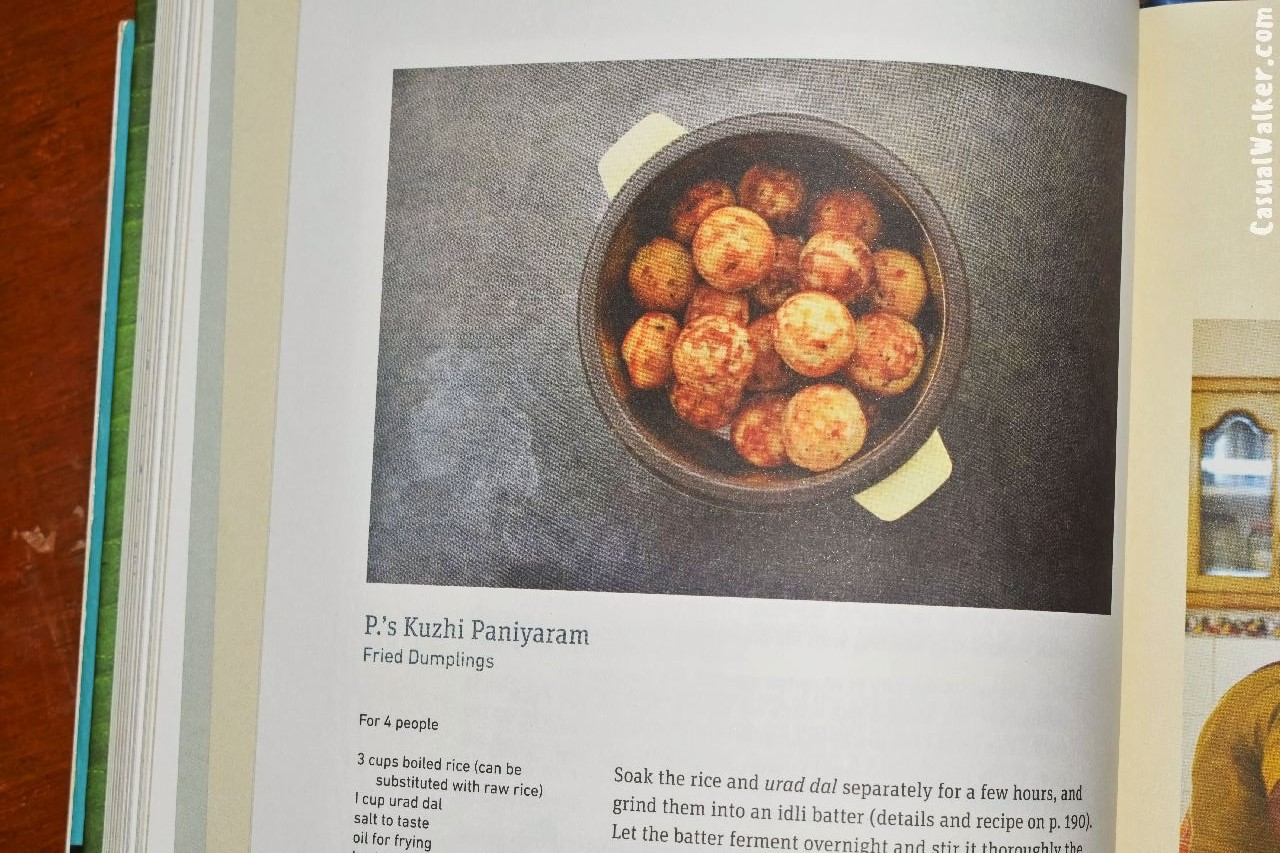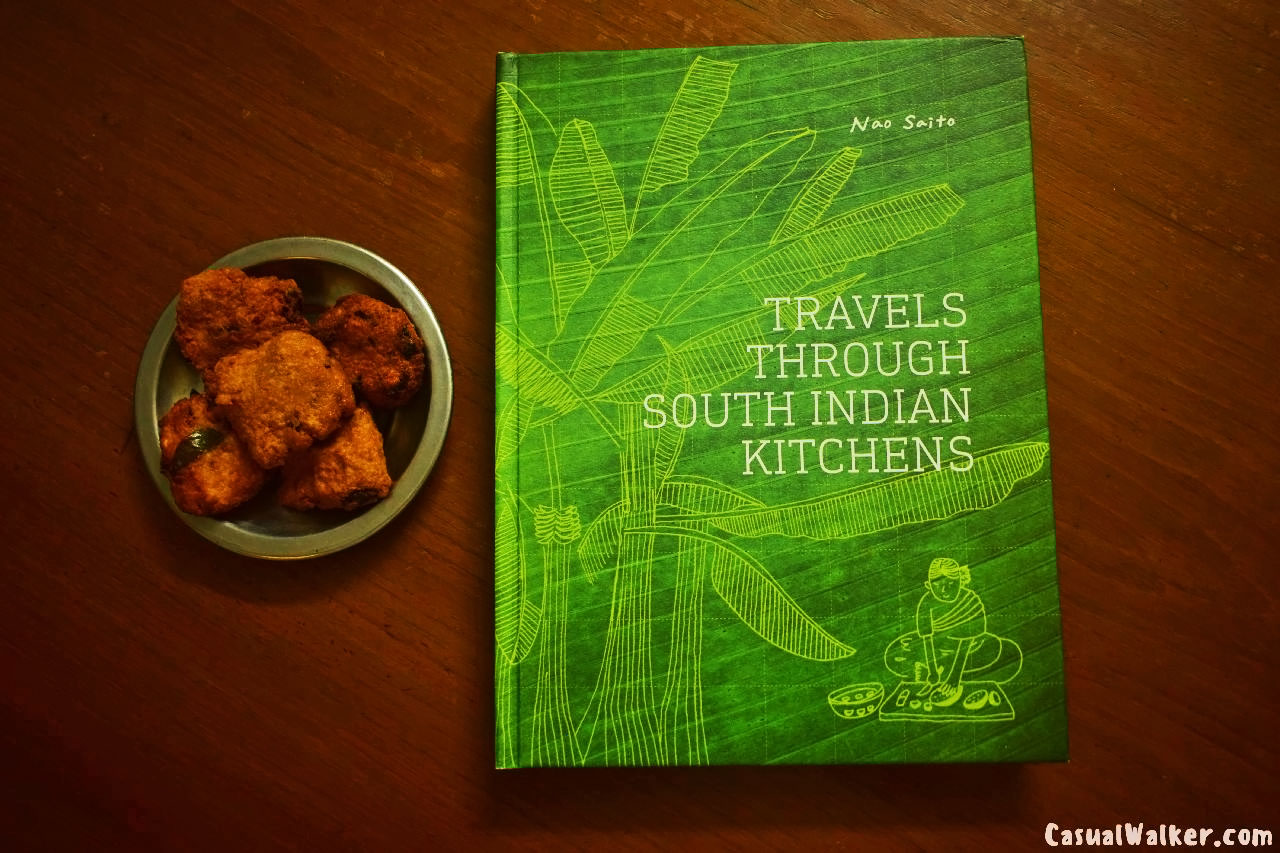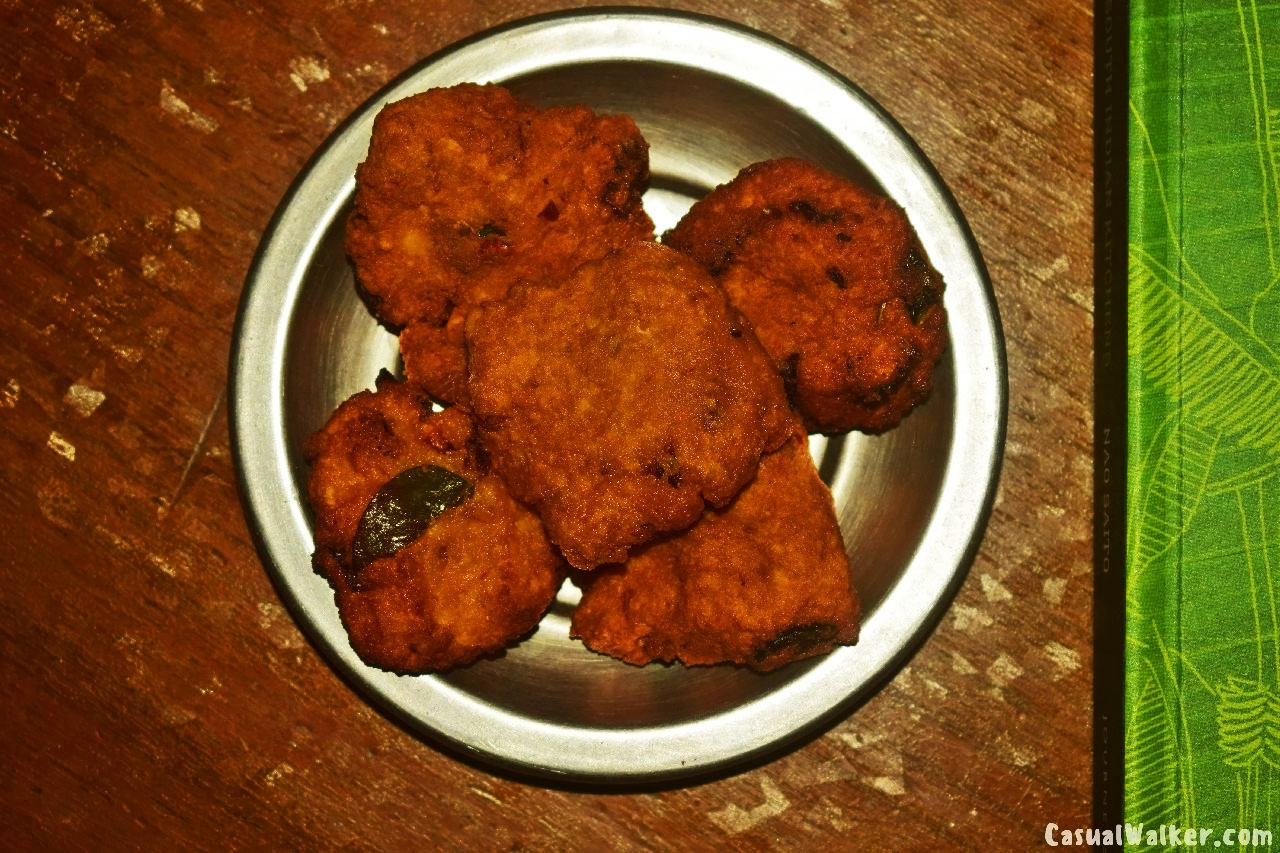 Support CasualWalker
Our Padayatra on Travel + Traditions + Culture
If you like CasualWalker photo stories, useful and joyful, please consider donating to us and supporting our tremendous hours of Travel + Culture Photo walks and works. Your support and donation greatly encourage us to continue contributing and documenting our photo stories. Thank you.


Also check out Similar Interesting Photo Stories:
Tara Books – Independent Handmade Publishing House in Chennai Visit, Travel Guide
The Book and the Arts – A Publishing Journey: Tara Books Exhibition on 25-year engagement with Books Publishing at InKo Centre, Chennai
The Japan Foundation's Contemporary Wood-Carved Netsuke – An Japanese Miniature Sculptures Art Exhibition, Chennai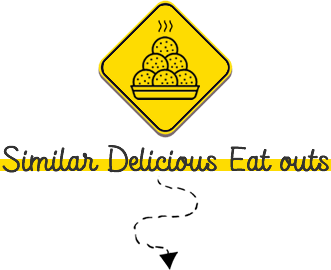 Similar Famous Delicious & Tasty Eat outs:
Mylapore Jannal Kadai – Window Mylapore Jannal Kadai, Window Bajji Stall – Best Bajji, Bonda, Somosa, Sweets & Snacks Shops in Mylapore – Travel Guide, Review
Sri Karpagambal Kapali Sweet Stall, Mylapore – Best Medhu bonda, Mini Samosa, Vazhakkai bhajji, Onion Pakoda, Samosa, Medhu Vadai, Masala Vadai, Sweets & Snacks Shops in Mylapore, Chennai – Travel Guide, Review
Iruttukadai Halwa Shop, Tirunelveli, Best & Famous Original Halwa Shop in the World – Travel Guide, Review
Soundaram's Chettinad Sweets and Snacks, Karaikudi – Best Place To Buy Chettinad Sweets & Snacks – Visit, Travel Guide (Updated)
Thirumayilai Varukadalai Nilayam, Mylapore – best Shop to buy Peanuts / Groundnut, Kadalai Urundai / chikki, thaen mittai & Pori Urundai in Chennai – Travel Guide, Review
Selvi Stores – Speciality Foods, Mylapore – Best traditional, handmade food Podi Idly, Pulikachal, and Kozhukattai (Modaks) Shops in Mylapore, Chennai – Travel Guide, Review
Sri Annapoorani Sweets, Mylapore – Best Bajji, Bonda, Somosa, Sweets & Snacks Shops in Mylapore, Chennai – Travel Guide, Review
Mylapore Ganapathy's Butter & Ghee – Best Pure Uthukuli Cow Ghee, Butter, Vathal, Vadam, Maavadu / Pickle shop in Mylapore, Chennai – Travel Guide, Review
Mami Mess / Mami Tiffen Stall / Mami Tiffin Stall, Mylapore – famous and oldest traditional eateries for Tiffin and Lunch in Mylapore
Best Food Trucks in Chennai – Finding the Top Food on Wheels in Chennai – Visit, Travel Guide
Cothas Coffee Shop, Mylapore – oldest and iconic coffee brand & coffee brewery in mylapore