Iruttukadai Halwa Shop, Tirunelveli, Famous & Best Original Halwa Shop in the World – Travel Guide, Review
– famous original tirunelveli halwa sweet shop photo coverage
| | |
| --- | --- |
| CasualWalker's Rating for Iruttukadai Halwa Shop, Tirunelveli: | |
| 9.8 – Great / Excellent | |
Recently visited the orginal Tirunelveli Iruttukadai Halwa Shop,  the best and world famous Halwa Shop in Tirunelveli. The mouth melting Iruttu Kadai Halwa prepared by wheat milk and pure ghee in a traditional way. There is no machine used to squeeze the milk from wheat and ghee also brought from local farmers. You can see the crispy coating on the halwa on next day which we cannot see on other types of halwa. This gives a different taste to Iruttu Kadai halwa. Uniqueness in taste could be mainly attributed to "Thamirabarani" river water.
The Tirunelveli Iruttukadai Halwa was established by a Rajasthan family about a century ago and still it is run by their own family. This shop doesn't carry any name board or branding outside their shop. But still they are world popular for their mouth melting high-quality taste.
The shop takes its name from the dim light interiors, when the shop was started a century ago. The shop used to operate on Candlelight and hence the name "Iruttu Kadai" – which means "Dark Shop" in Tamil. as the shop was operated with minimal lighting.
Generally the Tirunelveli Iruttukadai Halwa Shop opens at 5:00 PM on every day and Halwa is pre-packed for sale. Usually gets sold out in about a couple of hours where people stand in a long queue to buy. The Shop is just opposite to the famous Nellaiappar siva Temple. The Shop is still with the classic wooden plank shutter.
The Tirunelveli Iruttukadai Halwa is available in 1kg and half kg packages.
To get the instant trail taste, we can also buy "leaf Halwa" from them for just INR 10, the delicious small quantity halwa rolled with a banana leaf.

How to Reach Thirunelveli Iruttukadai Halwa:
Shop is just Opposite Thirunelveli historical Nellaippar Temple
Address: No 140, N Car St, (Opposite to Nellaipar Temple) Tirunelveli Town, Tirunelveli, Tamil Nadu 627006
Timings: All days opens at 5 P.M, closes within couple of hours. Sunday Holiday.
On Road:  Thirunelveli City is well connected to roads of all other main cities.
On Train: Nearest Railway Station Tirunelveli Junction (Railway station Station code – TEN).
On Flight: Nearest Airport Thoothukudi Airport.
Check out and enjoy our photo captures of the original Iruttukadai Halwa Shop, Tirunelveli.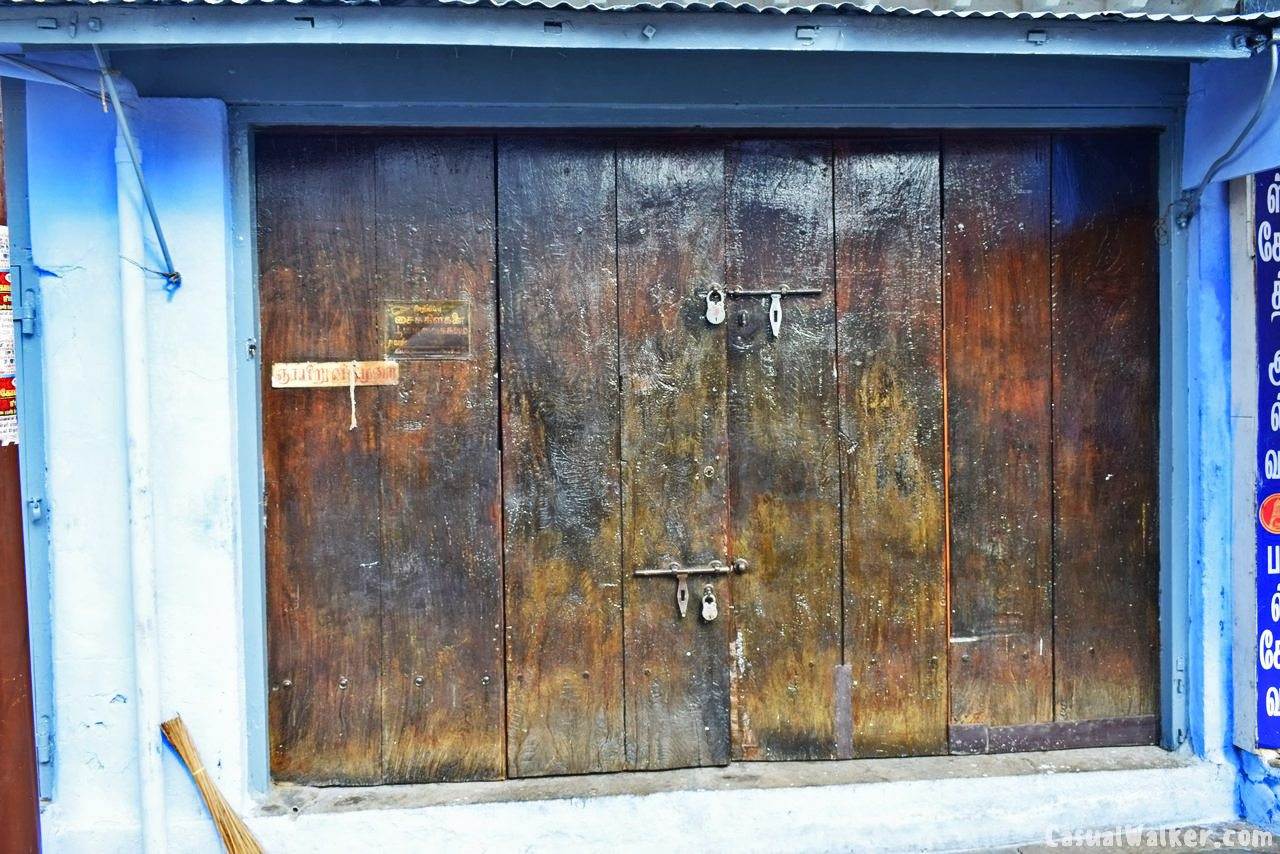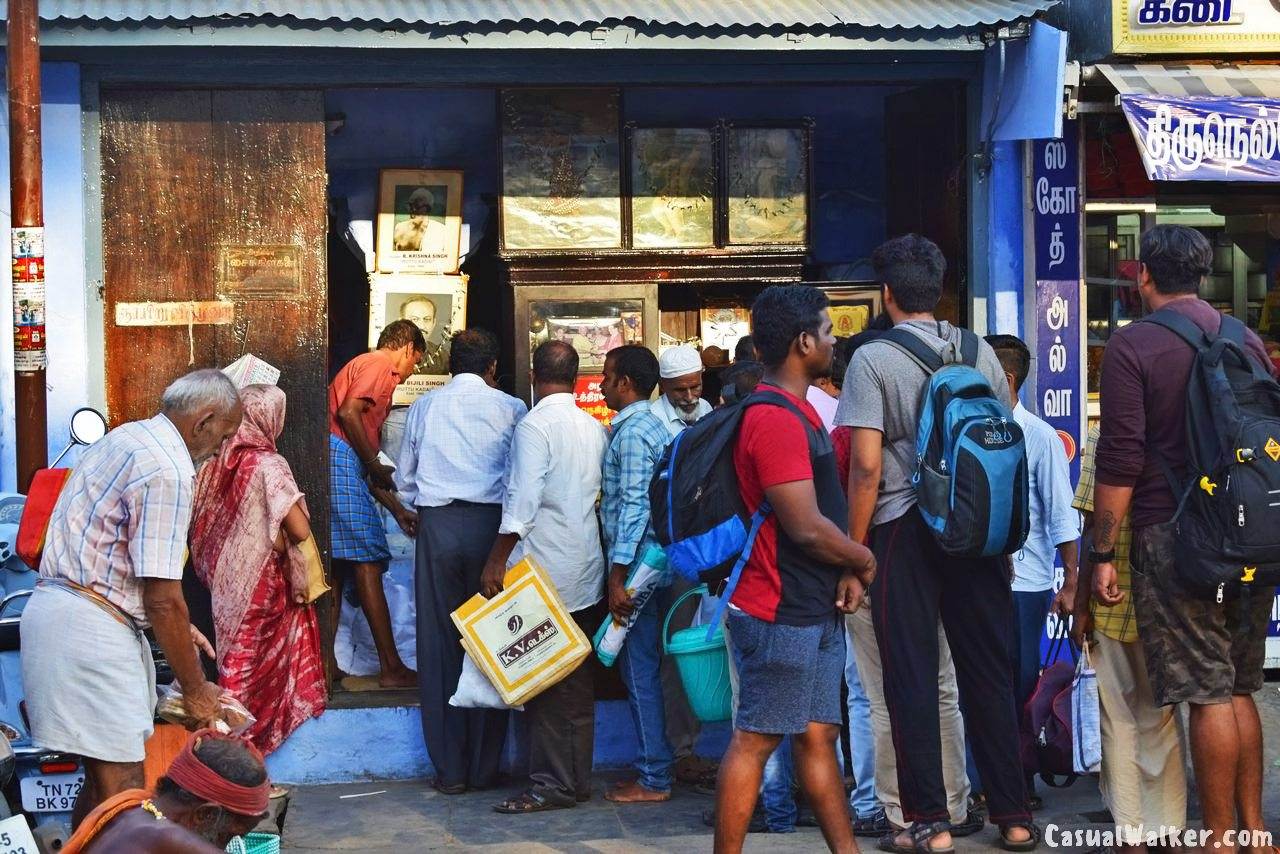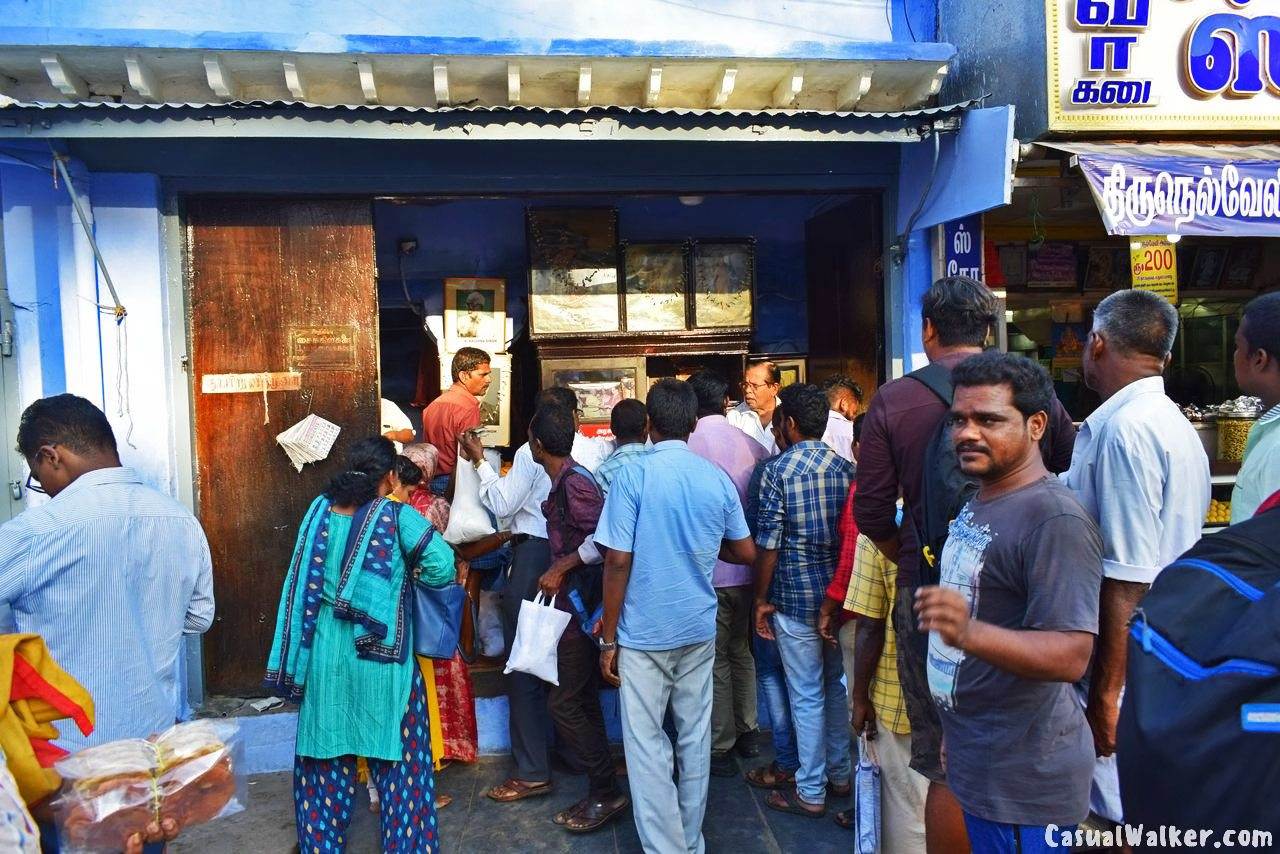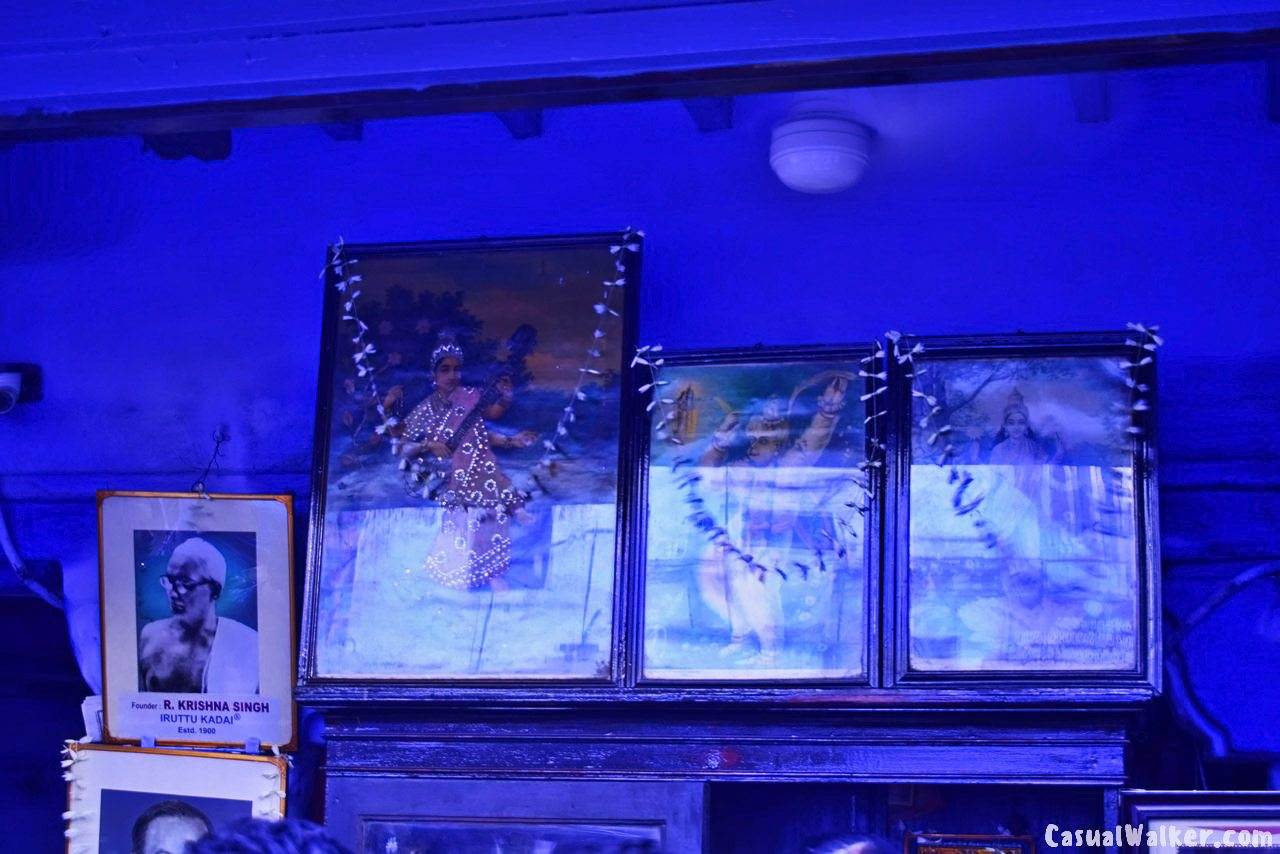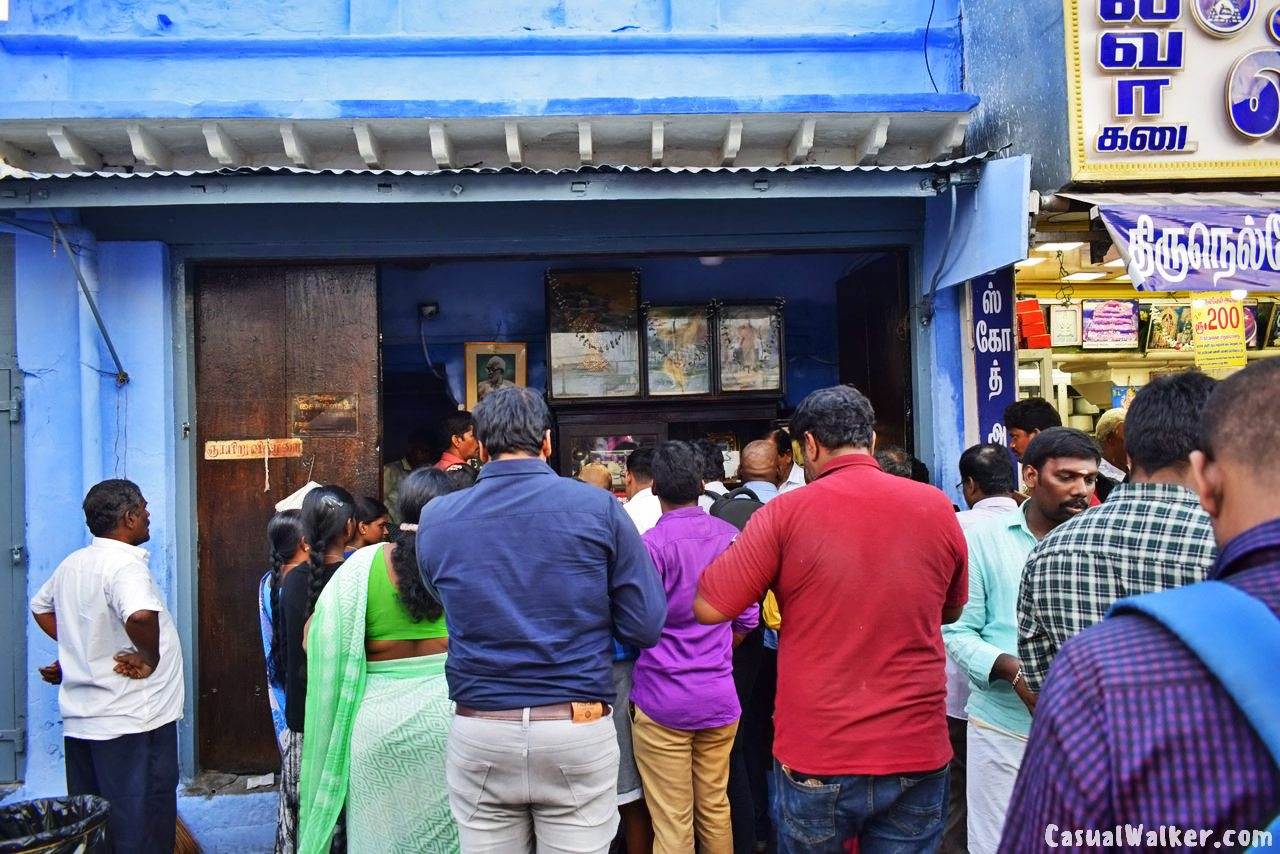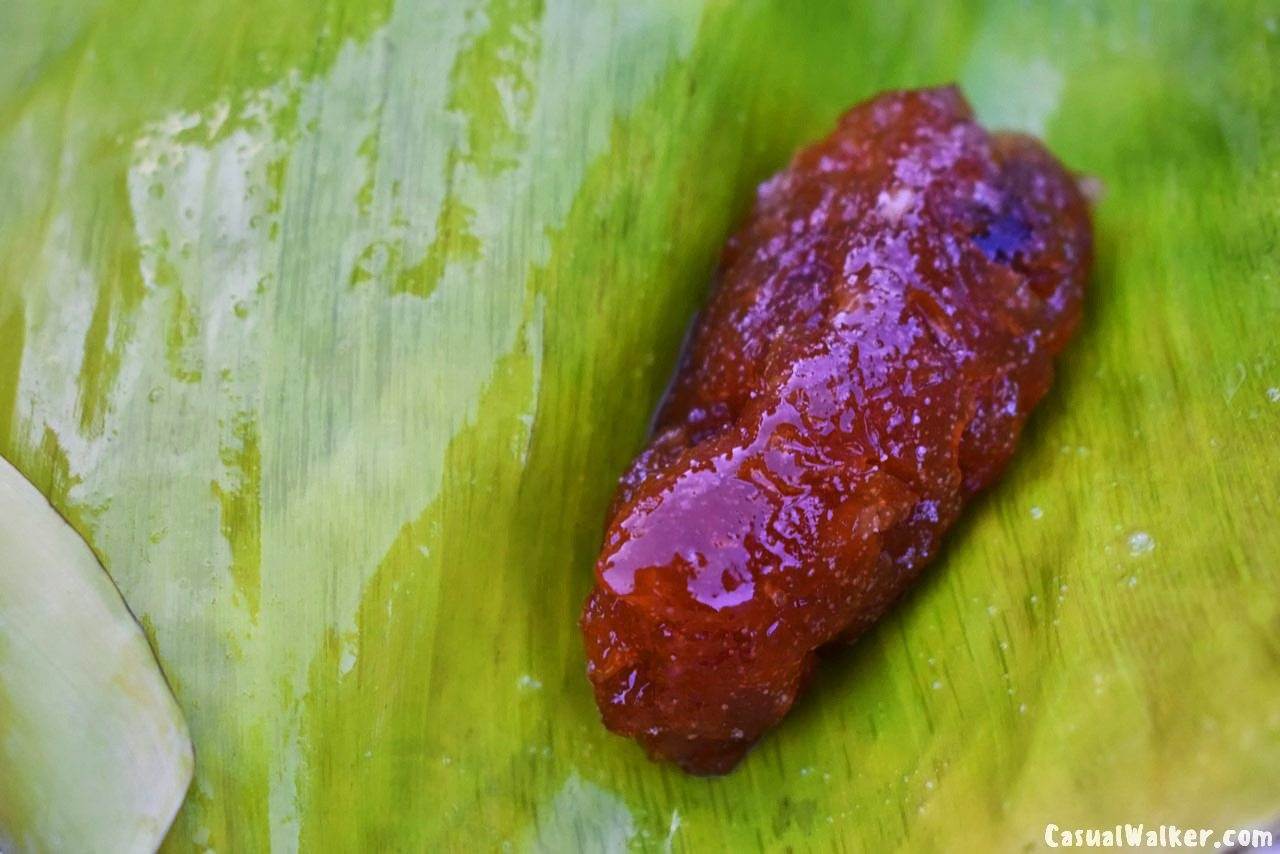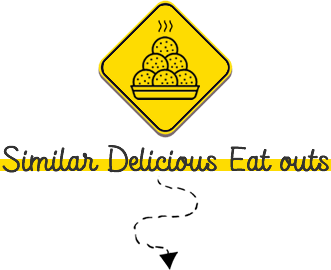 Similar Famous Delicious & Tasty Eat outs:
Andavar Ashoka Halwa shop in Thiruvaiyaru in Thanjavur / Tanjore district, Best & Famous Original Ashoka Halwa Shop in the World – Travel Guide, Review
Mylapore Jannal Kadai – Window Mylapore Jannal Kadai, Window Bajji Stall – Best Bajji, Bonda, Somosa, Sweets & Snacks Shops in Mylapore – Travel Guide, Review
Sri Karpagambal Kapali Sweet Stall, Mylapore – Best Medhu bonda, Mini Samosa, Vazhakkai bhajji, Onion Pakoda, Samosa, Medhu Vadai, Masala Vadai, Sweets & Snacks Shops in Mylapore, Chennai – Travel Guide, Review
Soundaram's Chettinad Sweets and Snacks, Karaikudi – Best Place To Buy Chettinad Sweets & Snacks – Visit, Travel Guide (Updated)
Thirumayilai Varukadalai Nilayam, Mylapore – best Shop to buy Peanuts / Groundnut, Kadalai Urundai / chikki, thaen mittai & Pori Urundai in Chennai – Travel Guide, Review
Selvi Stores – Speciality Foods, Mylapore – Best traditional, handmade food Podi Idly, Pulikachal, and Kozhukattai (Modaks) Shops in Mylapore, Chennai – Travel Guide, Review
Sri Annapoorani Sweets, Mylapore – Best Bajji, Bonda, Somosa, Sweets & Snacks Shops in Mylapore, Chennai – Travel Guide, Review
Mylapore Ganapathy's Butter & Ghee – Best Pure Uthukuli Cow Ghee, Butter, Vathal, Vadam, Maavadu / Pickle shop in Mylapore, Chennai – Travel Guide, Review
Mami Mess / Mami Tiffen Stall / Mami Tiffin Stall, Mylapore – famous and oldest traditional eateries for Tiffin and Lunch in Mylapore
Best Food Trucks in Chennai – Finding the Top Food on Wheels in Chennai – Visit, Travel Guide
Cothas Coffee Shop, Mylapore – oldest and iconic coffee brand & coffee brewery in mylapore
Kalathi Rose Milk Shop, Mylapore – Best and Oldest Cool Drinks and Rose Milk Shop in Mylapore