Batu Caves / Batu Malai Sri Subramaniam Temple History, Timings – The Famous Lord Murugan Temple In Gombak, Selangor, Kuala Lumpur, Malaysia – Visit, Timings, Travel Guide, Videos (Updated)
– world famous tallest lord murugan's statue cave temple
The Batu Caves Lord Murugan Statue is one of the tallest Hindu deity statues in the world after Garuda Wisnu Kencana, the Vahana / Vehicle Mount of Lord Vishnu in Indonesia, and Lord Shiva's Kailashnath Mahadev  Statue in Nepal. That massive statue is built based on the Indian sculptor tradition. The Batu Caves / Batu Malai Lord Murugan temple's statue, located at the steps entrance, stands at 130 feet (42.7m) tall and is considered the world's tallest statue of Lord Muruga. Batu Caves is one of the oldest limestone mountain hills that inside has a series of caves and cave temples in Gombak, Selangor, Malaysia. The Batu Cave Lord Murugan temple is at a distance of 17 KM Kuala Lumpur
The Statue was first opened to the public on 2006 January of Thaipoosam month, the Thaipoosam festival is celebrated for Lord Murugan all over the world on full moon day of Tamil month "Thai", which comes between the month January to February. This Lord Murugan statue was constructed under the guidance of Thiruvarur Thiyagarajan Sthabathy from Tamil Nadu.
Video Source: Astro Ulagam
History of Batu Caves / Batu Malai Lord Murugan Temple:
In 1890, prominent Tamil wealthy businessman Sri Thamboosamy Pillai is the man who is responsible for raising the Sri Maha Mariamman Temple in Kuala Lumpur was also raised this famous Lord Kartikeya Batu Cave Murugan temple.
In search of to raise a temple for Lord Murugan, Sri Thamboosamy Pillai along with his friends Sri Thiruvengadam Pillai and Sri Kanthapa Thevar founded 400 million old Batu Cave and because of it's 'Vel'- shaped – the Lord Murugan powerful weapon at the entrance of the cave and decided to build Lord Muruga Temple at this location. The idol of Lord Murugan was raised in 1888 during the Thai poosam festival.
Initially, around 1920 the wooden steps are craved in the help of easy climbing to reach the temple, which was replaced by 272 concrete steps with help of devotees offerings. Recently in the 2018 year, the different color painted steps added a gorgeous and beautiful overlook to the temple. The temple complex consists of three main caves and a few smaller caves. The main biggest one is where the Lord Murugan's temple cave with of high ceiling at a height of 400m from the ground level.
The other caves are at the base of the hill one is an art gallery cave and another is a museum cave full of Hindu shrines and paintings related to the story of Lord Murugan's victory over the demon Soorapadman. The name Batu cave is derived from the Sungai Batu or Batu River flows in the surrounding area.
The Dark Cave can be seen beneath the Temple Cave. Trips can be organized via the Nature Society of Malaysia for visiting of Species of fauna that belonged to the cave. The Ramayana Cave is located in the extreme left. The cave comes alive with vibrant lighting and statues that line the walls, representing the Lord Rama's story and life.
Video Source: Astro Ulagam
Video Source: Astro Ulagam
The three other famous Lord Murugan temples in Malaysia are Kallumalai Temple in Ipoh, Tanneermalai Temple in Penang, and Sannasimalai Temple in Malacca.
Thaipusam / Thaipoosam Festival at Batu Caves / Batu Malai Murugan temple:
This Murugan temple is world-famous for it's a celebration of the annual Hindu festival of Thaipusam / Thai Poosam festival which attracts millions of Lord Murugan's devotees all over the world during this festival day. Thaipoosam Festival festival was celebrated in commemoration of the triumph of good over evil to remark the full moon day of Thai month – January 14 to February 14.
During this festival, thousands of Lord Murugan's devotees fulfill their vows here by taking "Kavadi" – an offering by carrying containers of milk by the devotees of Lord Murugan from all over the world. Some devotees also fulfill vows by having their bodies pierced by Vel's in different sizes. The Thaipoosam festival at this Batu Caves temple is celebrated very grandly, where the entire area is filled with colorful and mesmerizing chanting of "Vel vel", "Vetri Vel, Vera Vel" and "Arohara" to get the blessings of the Lord Murugan.
Video Source: Astro Ulagam

Batu Caves / Batu Malai Lord Murugan Temple Opening Timings / Hours:
Batu Caves / Batu Malai Lord Murugan Temple Open Timings: Daily, 06:30 AM – 8:30 PM
Address: Batu Caves, Sri Subramaniam Temple, Kuala Lumpur, Malaysia
Batu Caves / Batu Malai Lord Murugan Temple Telephone: +60 3-6189 6284  / +603 2287 9422
Check out and enjoy photo and video captures of Batu Caves / Batu Malai Sri Subramaniam Temple, History, and Timings in Gombak, Selangor, Kuala Lumpur, Malaysia.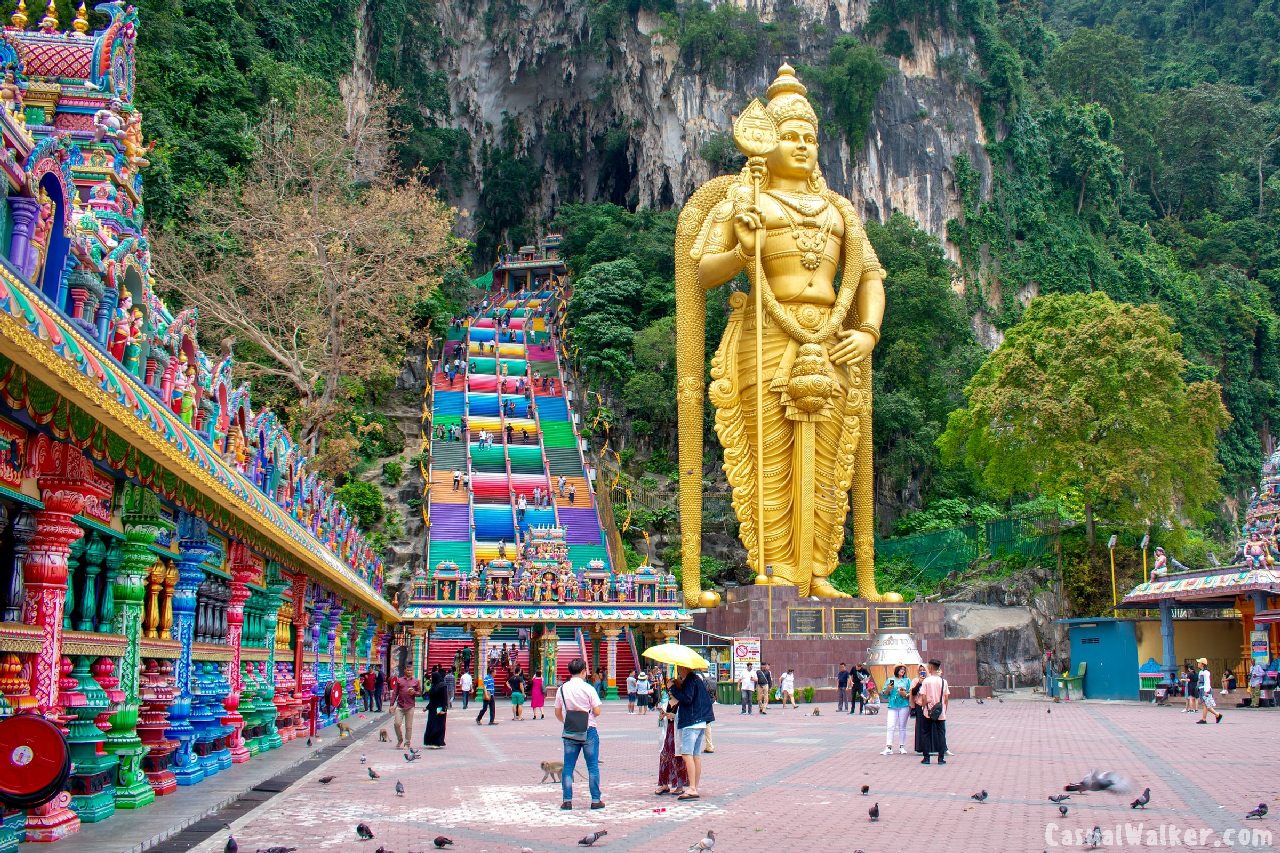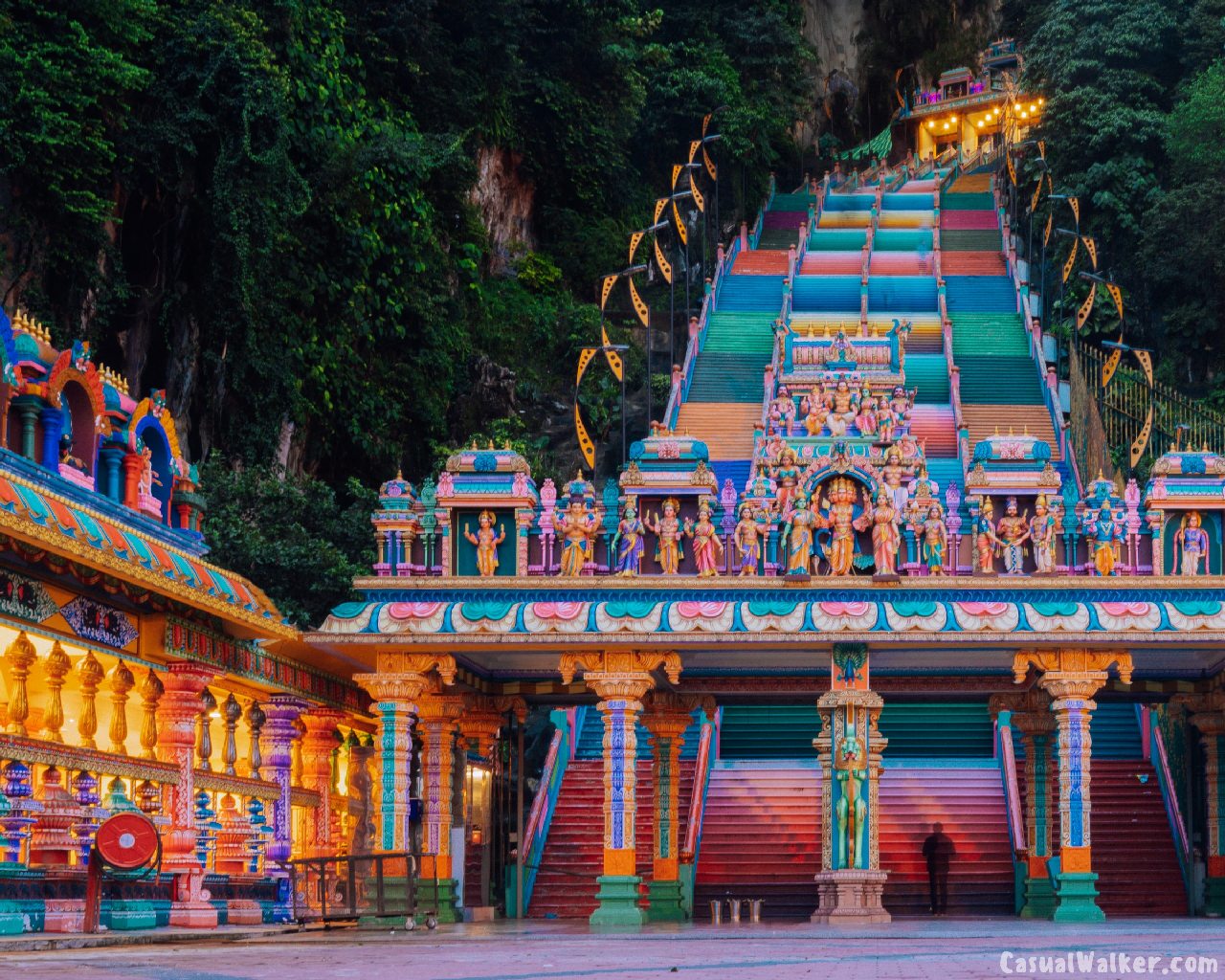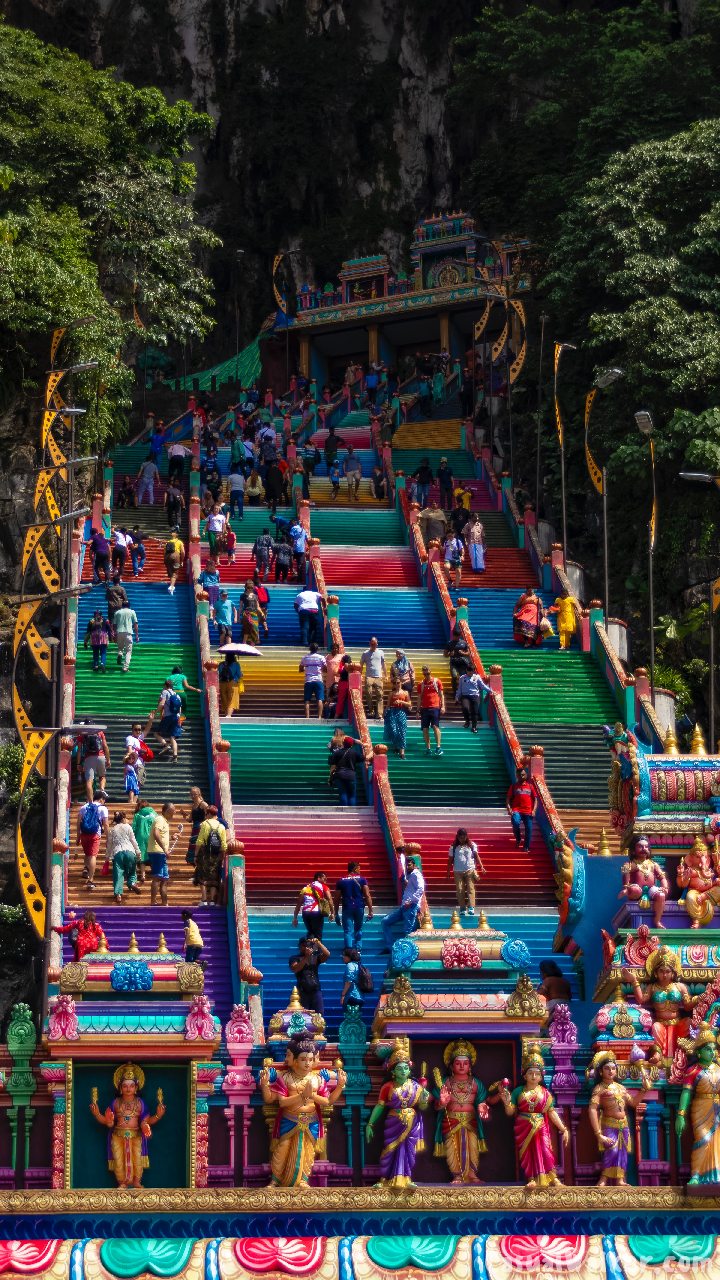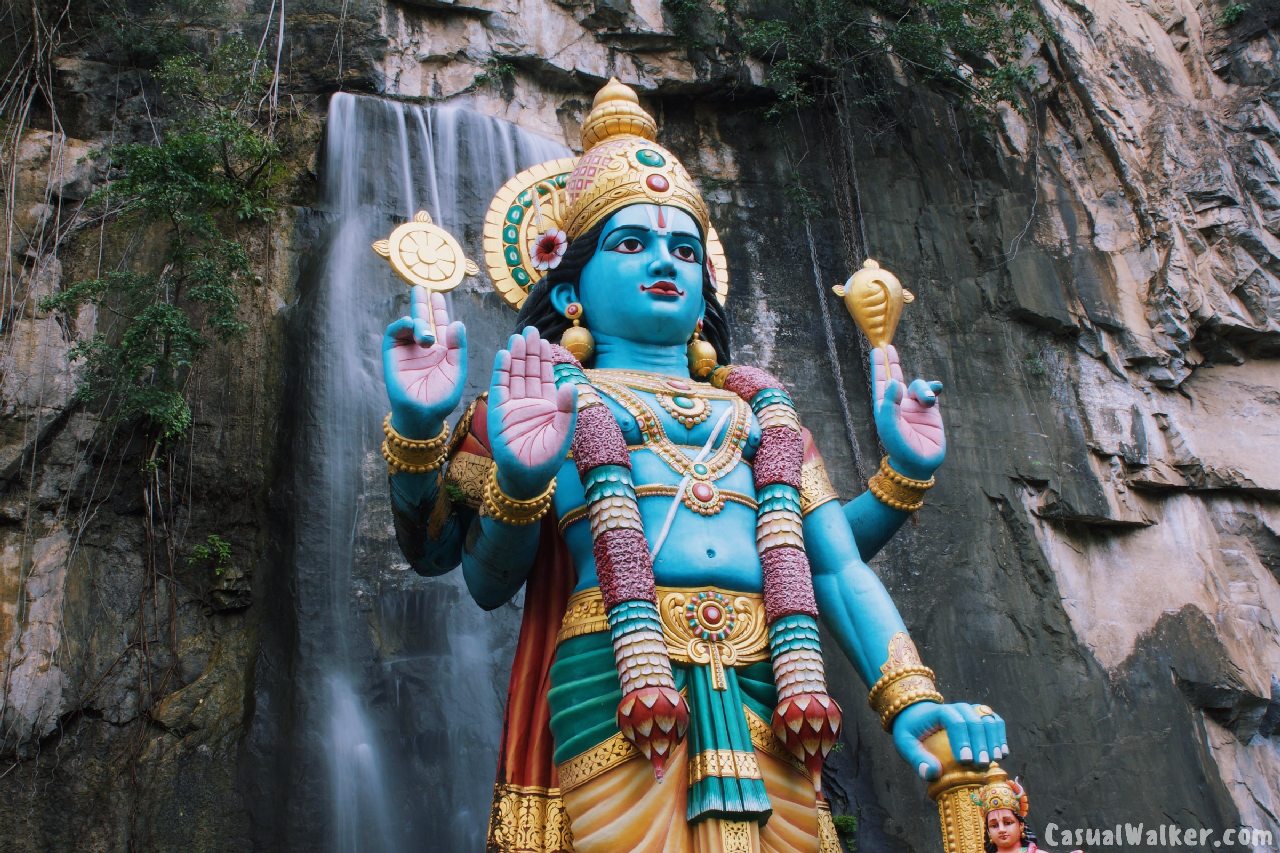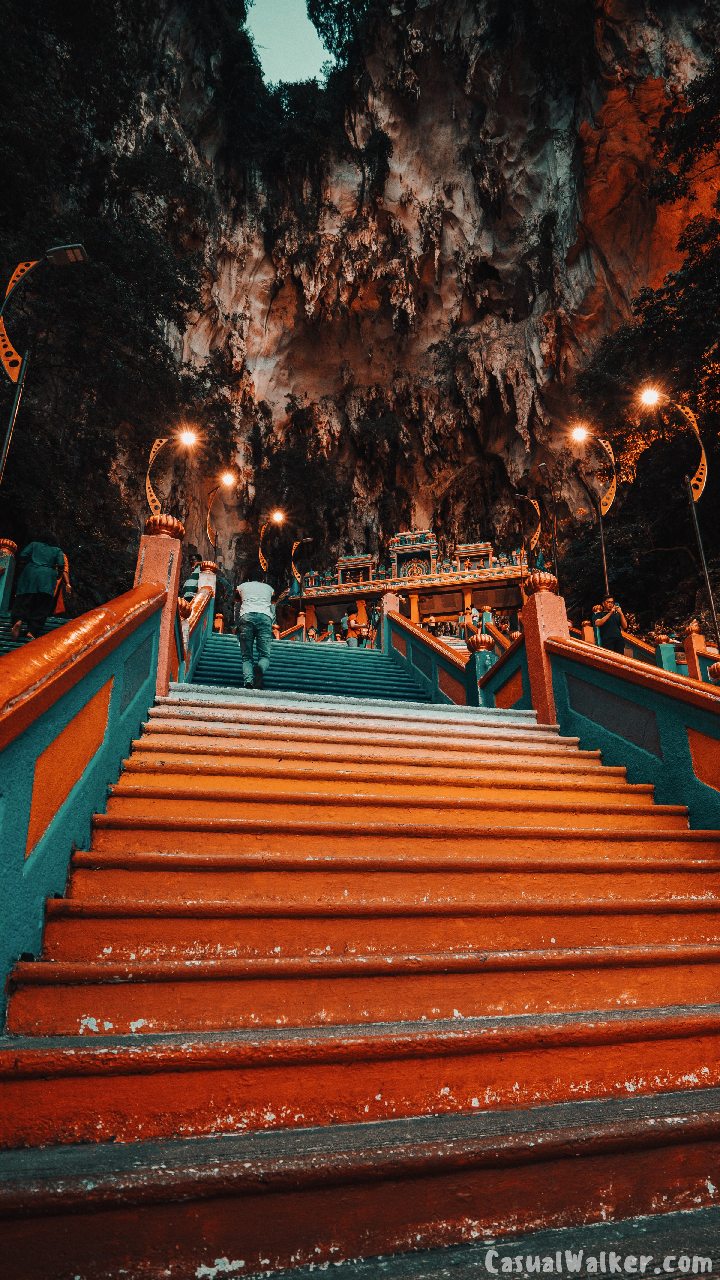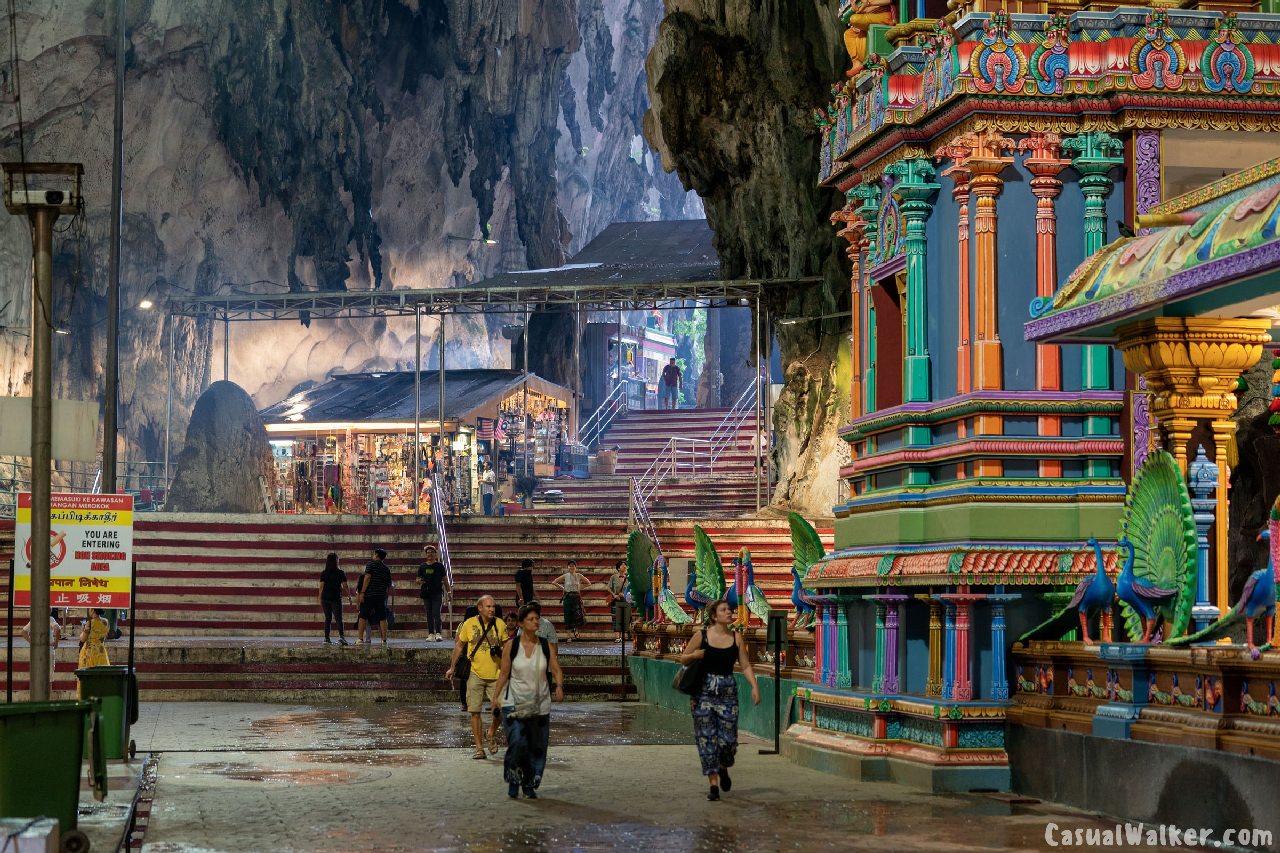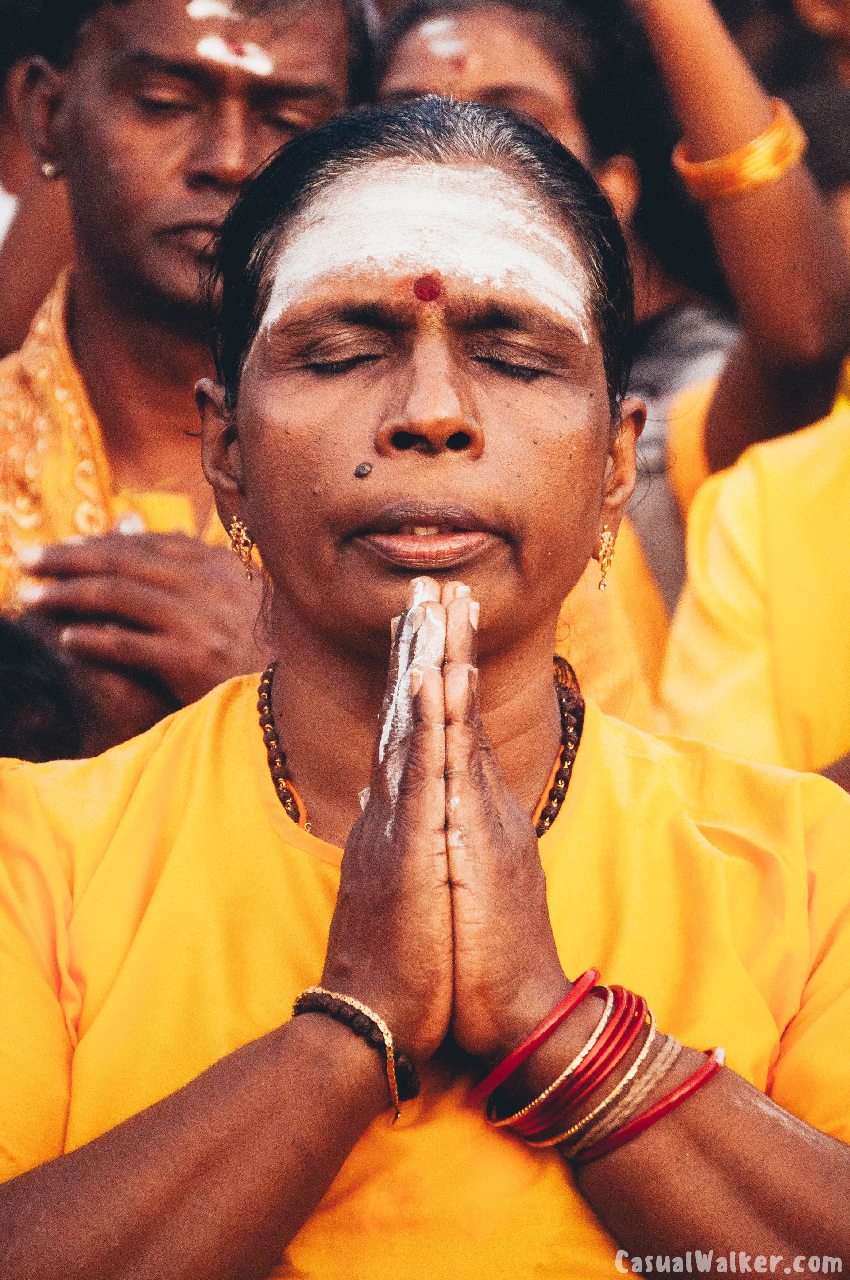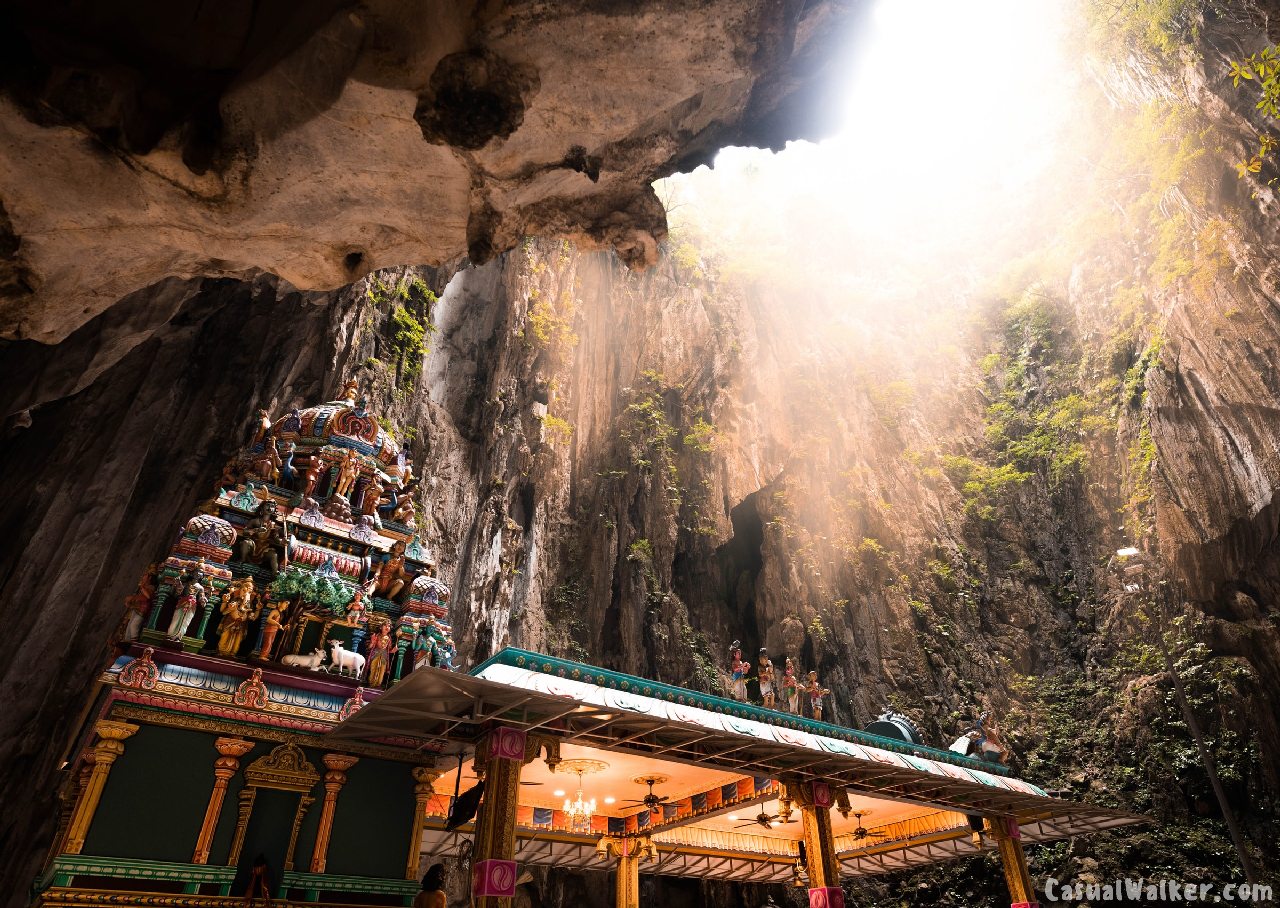 Support CasualWalker
Our Padayatra on Travel + Traditions + Culture
If you like CasualWalker photo stories, useful and joyful, please consider donating to us and supporting our tremendous hours of Travel + Culture Photo walks and works. Your support and donation greatly encourage us to continue contributing and documenting our photo stories. Thank you.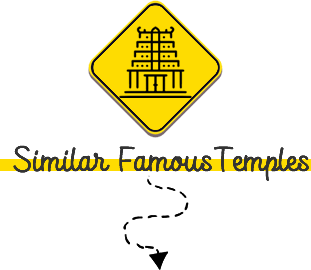 Similar Famous Lord Murugan Temples you may like to Visit:
Sri Thirumalai Kumaraswamy Temple, at Panpozhil Tenkasi, Tirunelveli, One of the famous Hill Temple of Lord Murugan – Visit, Travel Guide
Ratnagiri Arulmigu Balamurugan Temple, One of the Ancient Lord Murugan Temple built in 14th Century on the hilltop of Ratnagiri Kilminnal in Vellore – Visit, History, Temple Timings, Contact Number, Travel Guide
Kunnakudi / Kundrakudi Shanmughanathar Murugan Temple, Tirupattur – Best & Famous Murugan Temple In Chettinad, India – Visit, Travel Guide (Updated)
Subramanya Temple, Mahabalipuram / Mamallapuram – The Oldest Lord Murugan temple in the World- Visit, Travel Guide
Thiruchendur Lord Murugan – Arulmigu Subramaniaswamy Temple, Tiruchendur, Thoothukudi – Best & Famous Murugan Temple in India – Visit, Travel Guide (Updated)
Sri Rana Bali Murugan Temple in Peruvayal at Ramanathapuram – Best & Famous Murugan Temple In India – Visit, Travel Guide (Updated)
Kumarakottam Murugan Temple, Kanchipuram – Best & Famous Murugan Temple In India – Visit, Travel Guide
Pazhamudircholai / Pazhamudircholai Murugan Temple, Arupadai Veedu Temple Madurai – Best & Famous Murugan Temple In India – Visit, Travel Guide
Pillaiyarpatti Pillaiyar Temple / Karpaka Vinayakar Temple, Tiruppathur – Best & Famous Ganesha Temple In Chettinad India – Visit, Travel Guide