Ratnagiri Arulmigu Balamurugan Temple / Arulmigu Balamurugan Tirukkovil, One of the Ancient Lord Murugan Temple built in 14th Century on the hilltop of Ratnagiri Kilminnal in Vellore – Visit, History, Temple Timings, Contact Number, Travel Guide
– famous lord murugan temple renovated by swami bala murugan adimai

Ratnagiri Arulmigu Balamurugan Murugan Temple / Arulmigu Balamurugan Tirukkovil is an ancient Lord Murugan temple located on the hilltop of the Ratnagiri Kilminnal in Vellore near Arcot of Ranipet district. This temple is referred to and sung by Arunagirinathar a Tamil Saiva saint-poet, way back in the 14th century as:
"Rathinakiri Vazh Murugane Ilaya Vaaramarar Perumaley"
which means Lord Murugan, the God of Devas resides in the Ratnagiri hills
At this temple We can get the blessings of Lord Murugan in two forms where one is Lord Murugan in Thirukkolam – Marriage pose seen along with his wives Goddess Valli and Go Devasena and the other is Lord Murugan in Gurukkolam. The garbhagriha and the current idol of the main deity Lord Bala Murugan were installed in a chariot that is made of granite, which is modeled according to the Chola temple architecture.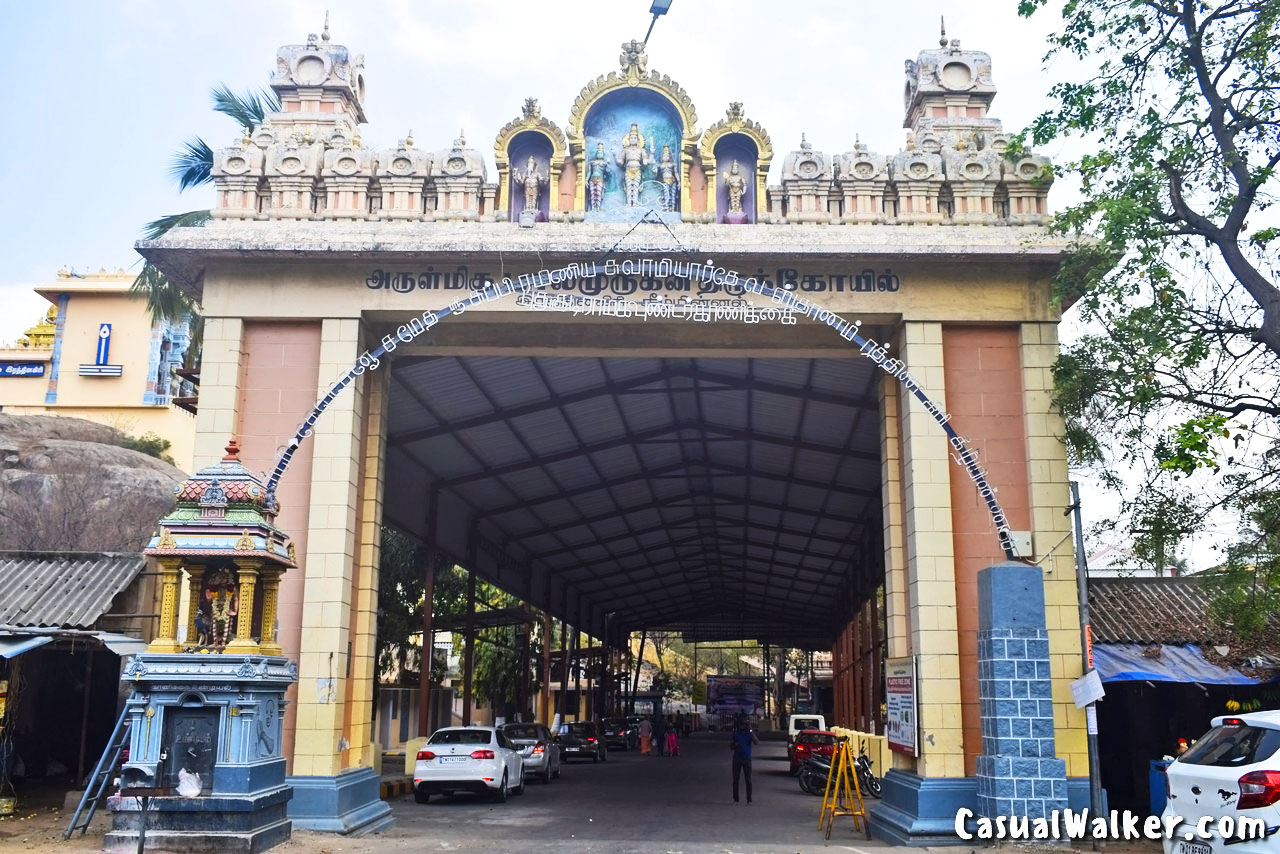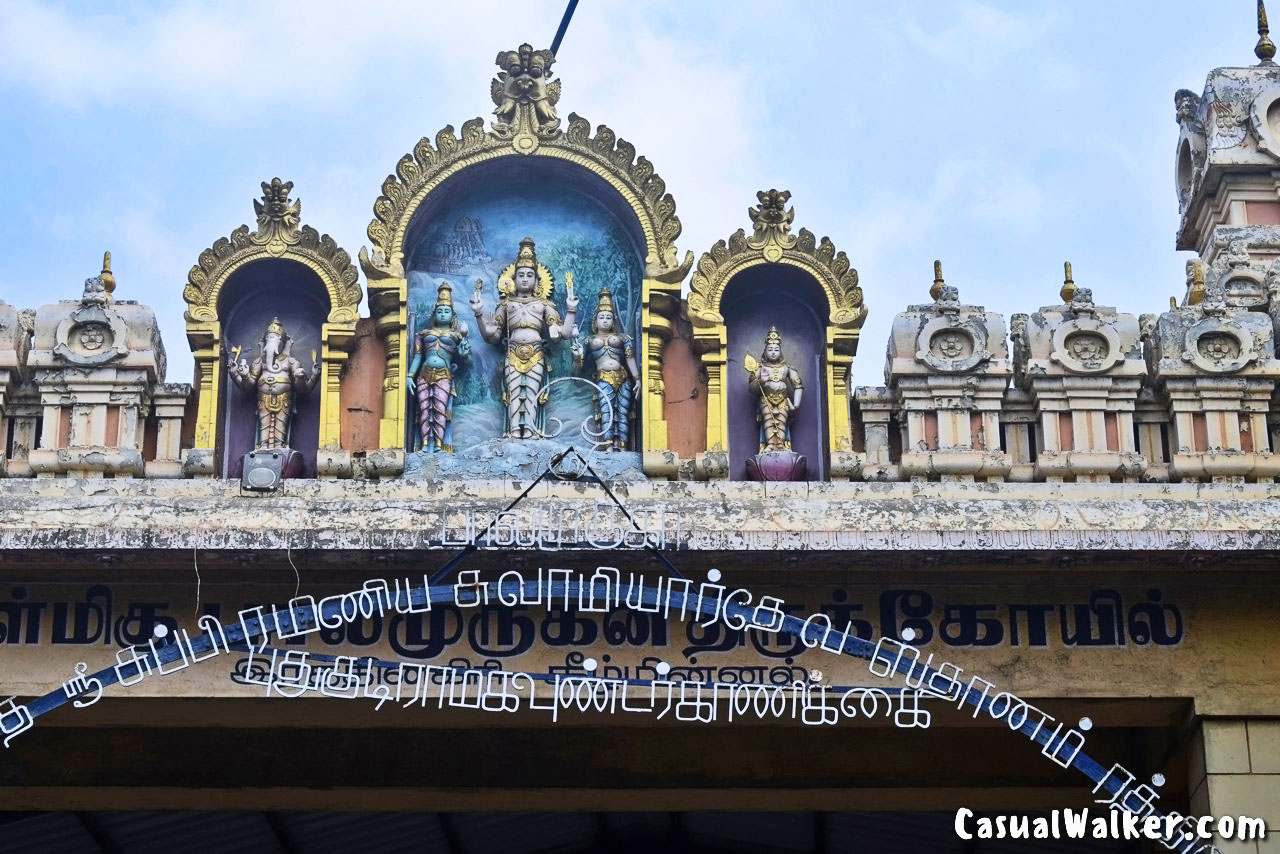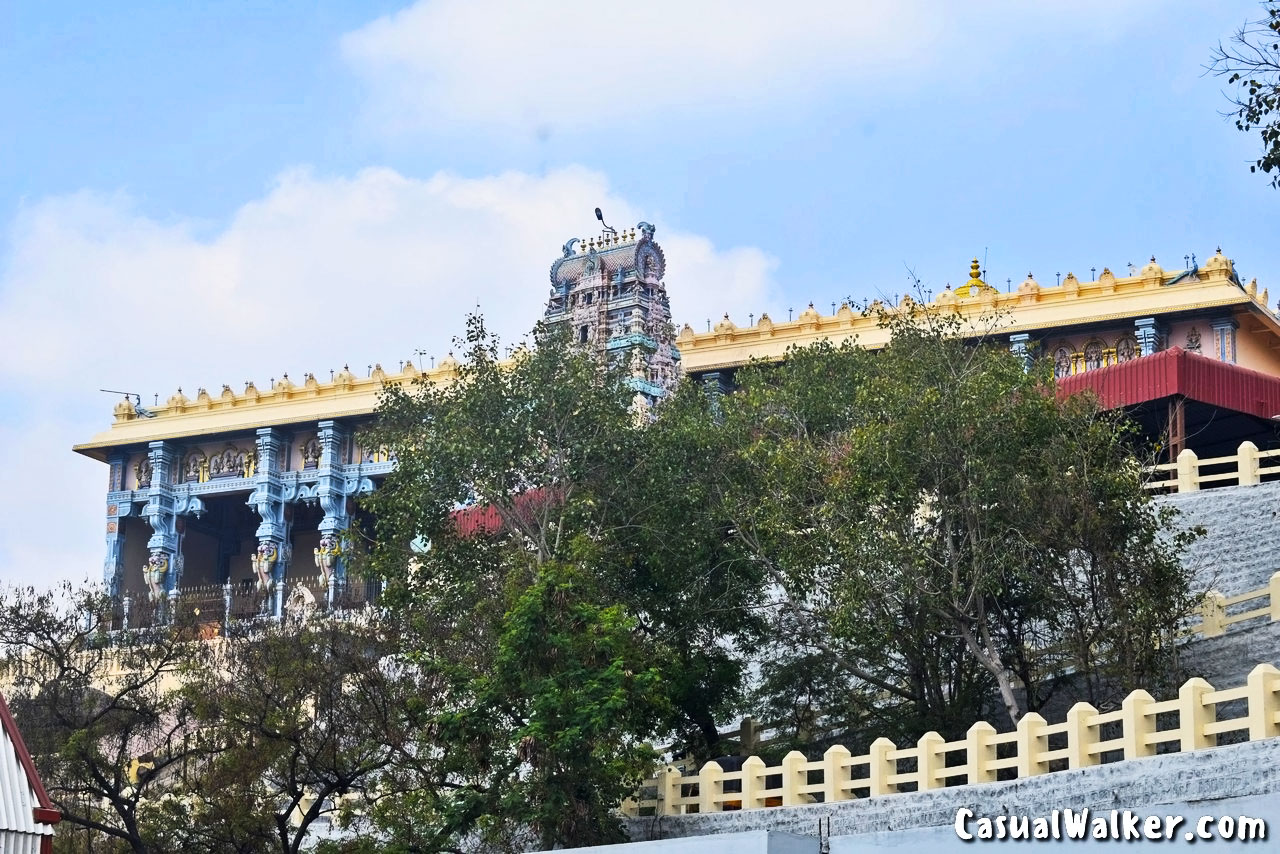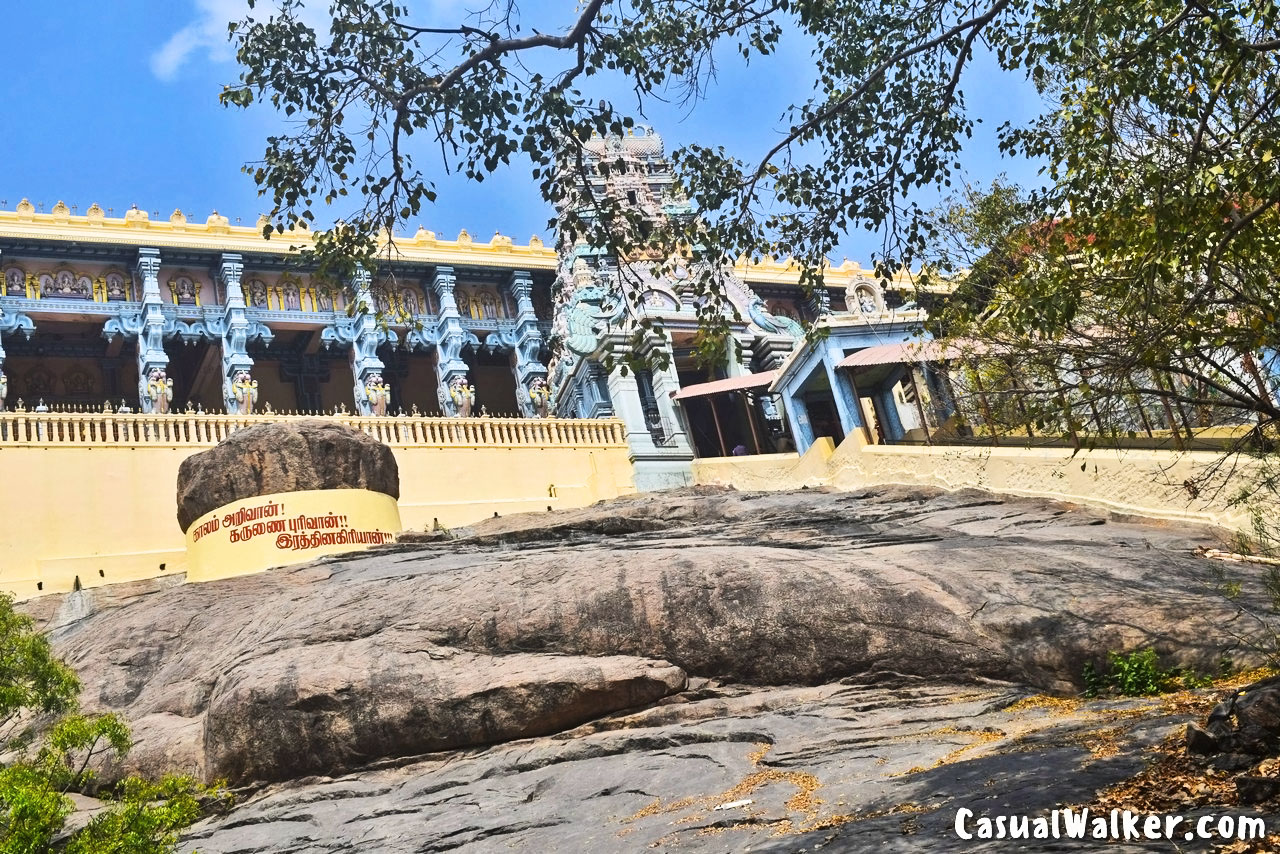 This temple was built in the 14th century and was renovated in the year 1980 and maintained by the grace of Swami Bala Murugan Adimai. This ancient temple was transformed into its current form by the vision of Swami Bala Murugan Adimai.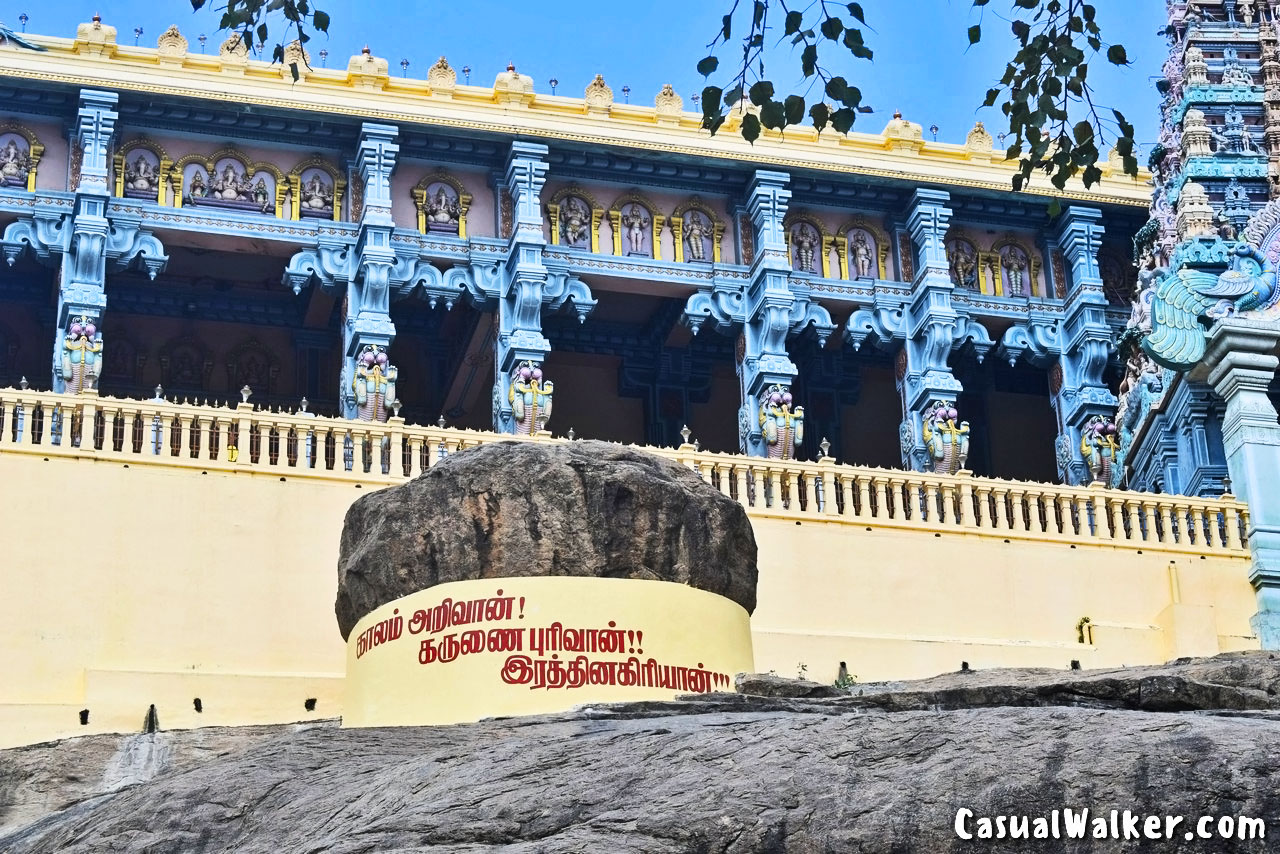 There are around 150 steps to reach the top of this temple.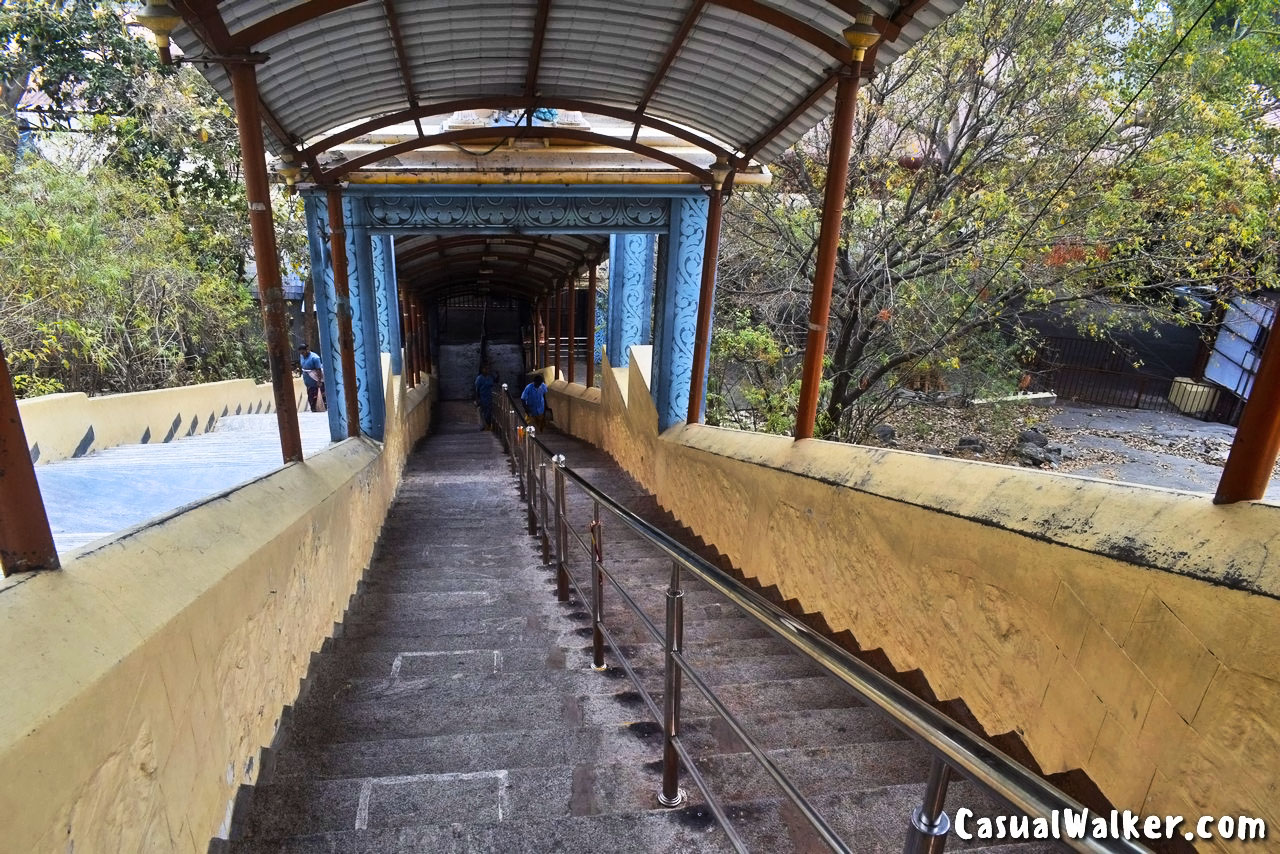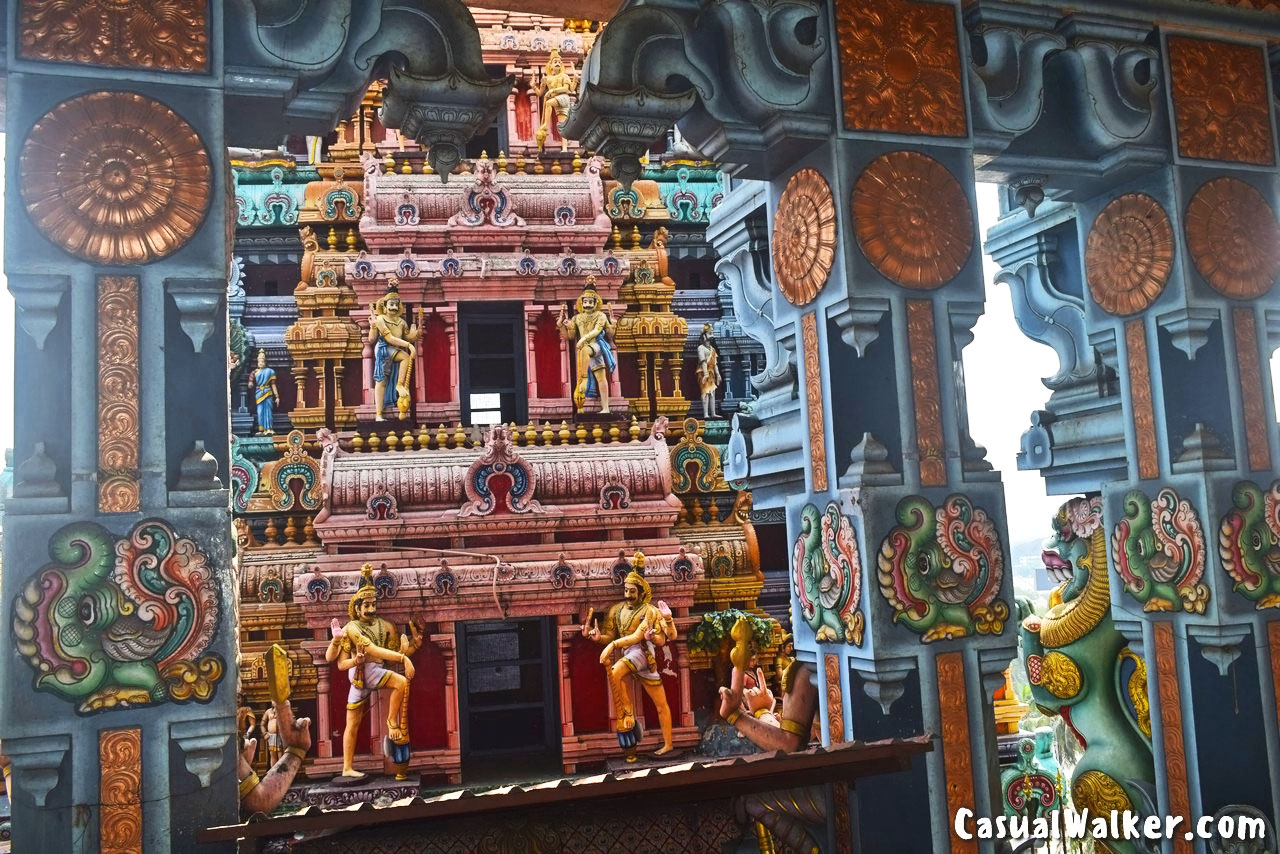 This temple is situated on the left bank of the Palar River which was initially housed only a sand shrine. Over time, the shrine is said to have turned to stone and continues to be a center of religious devotion for the locals at this location.
At the entrance of this temple, we can find the huge tower, where we can get the blessings of Lord Ganesha, Lord Dakshinamurthy, Lord Brahma, Goddess Durga, and Lord Chandikeshwara are installed on the surrounding walls of this temple. There are 2 temples for Lord Vinayaka, one on top of the hill and another at the bottom of the hill.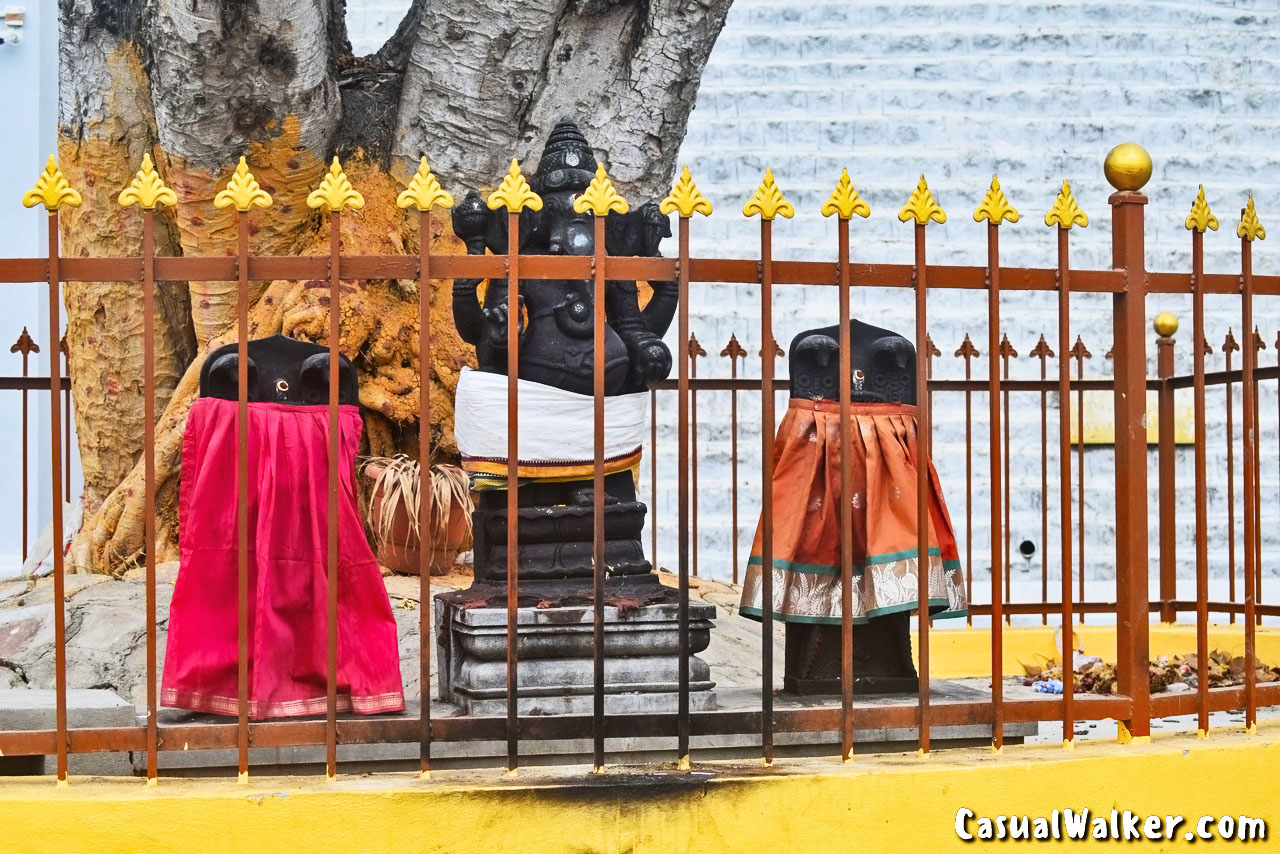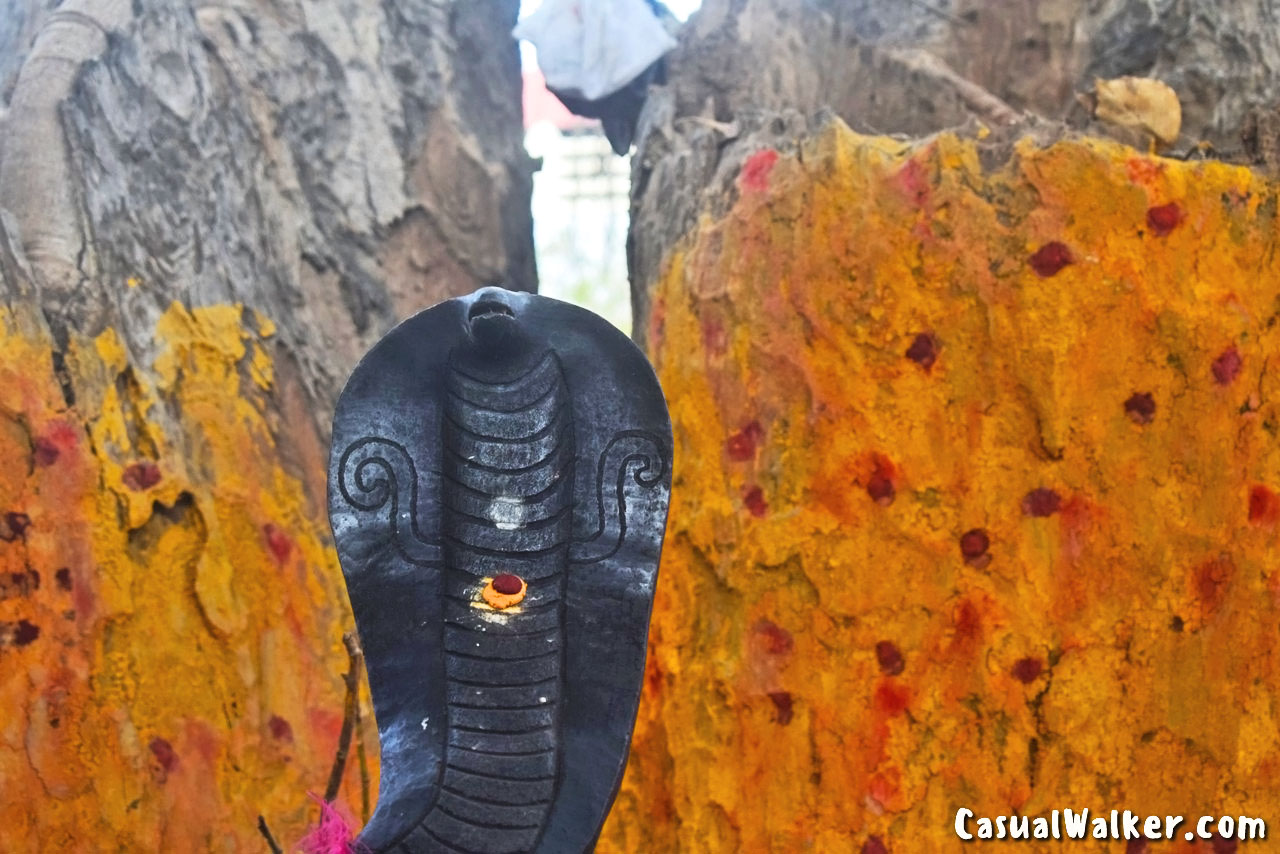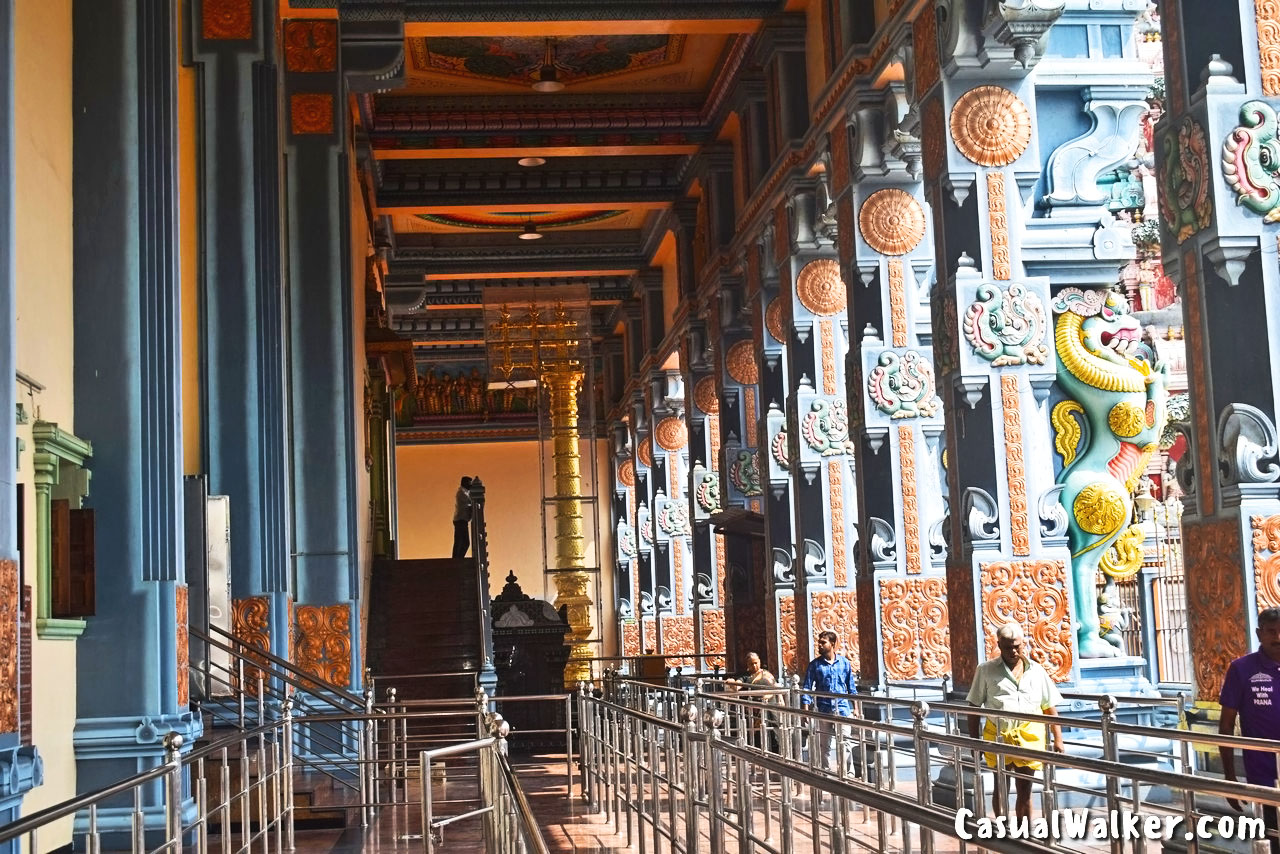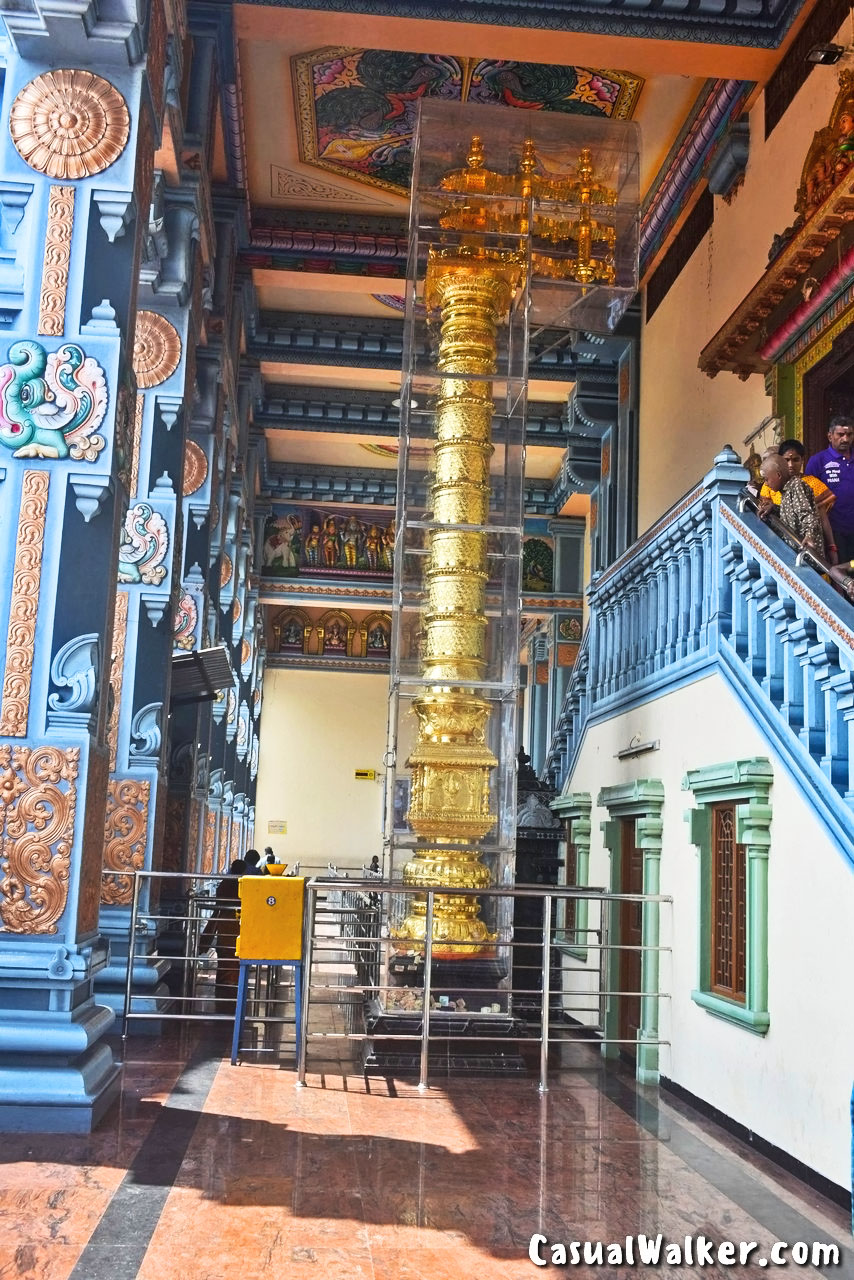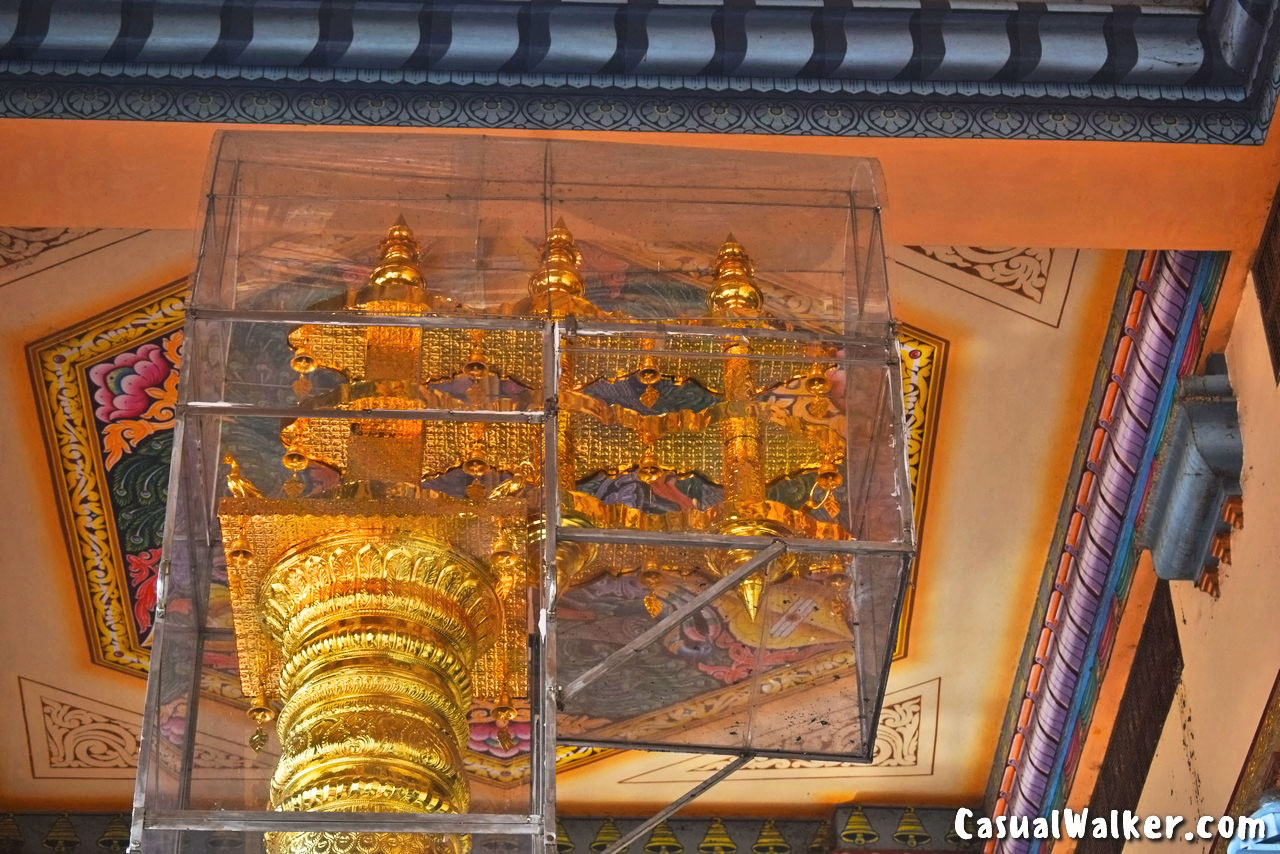 Swami Bala Murugan Adimai's Life History at Ratnagiri Arulmigu Balamurugan Temple, Kilminnal in Vellore:
Way back in 1968, while the Ratnagiri temple was smaller and the priest of this temple was out of patience since he was not paid for the past few months due to this he was not able to perform his daily worship service in the main shrine of the temple.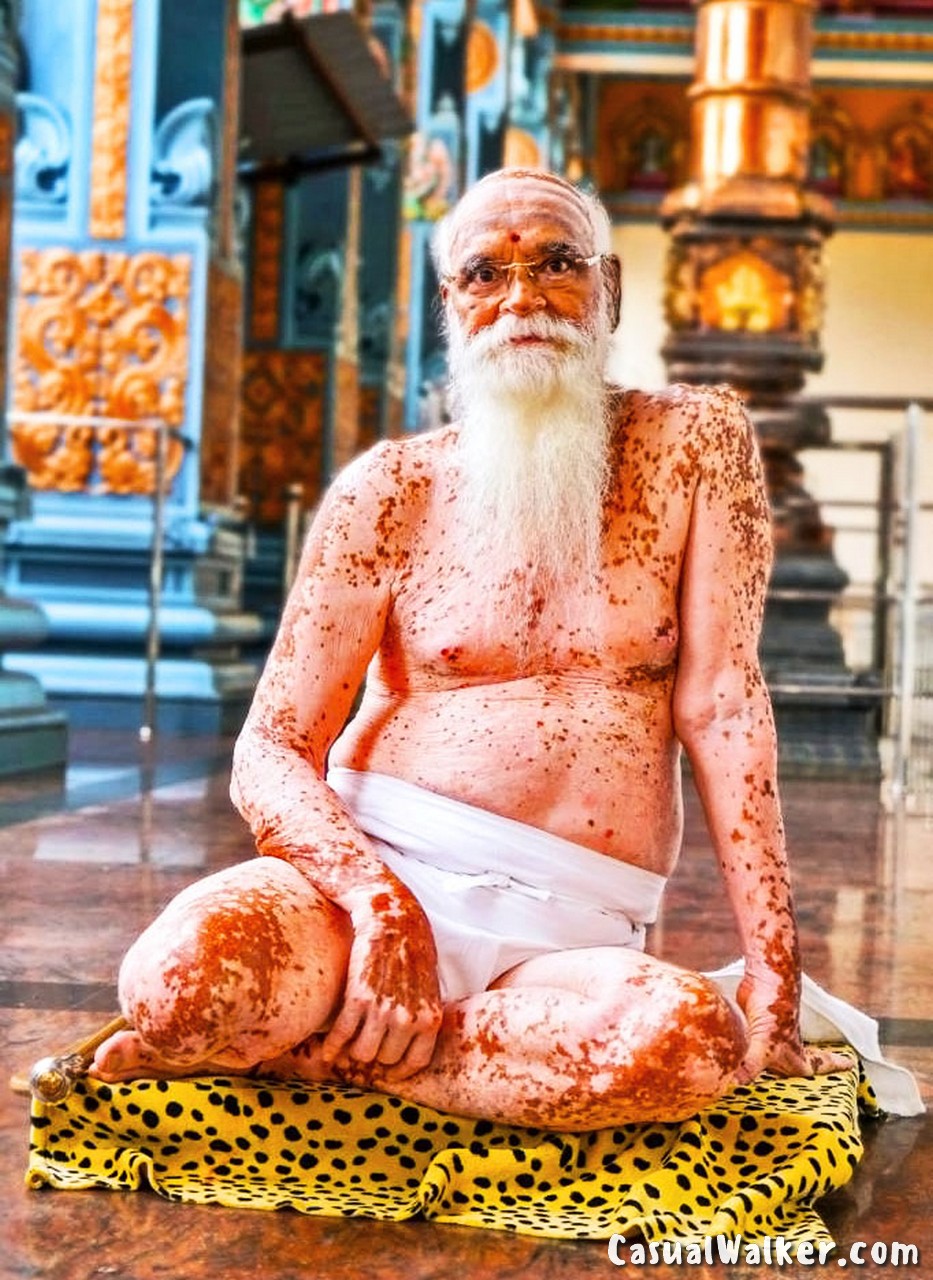 About this time 27 years old Sachidanandan (Swami Bala Murugan Adimai) while on his way to work as a clerk in the Electricity Board Department, he climbed to this Rathinagiri Hill to offer his prayers to Lord Murugan. But he was shocked and very sad to see that the lamps and incense at this temple were not lit, but also fresh flowers and sacraments had not been gathered and prepared.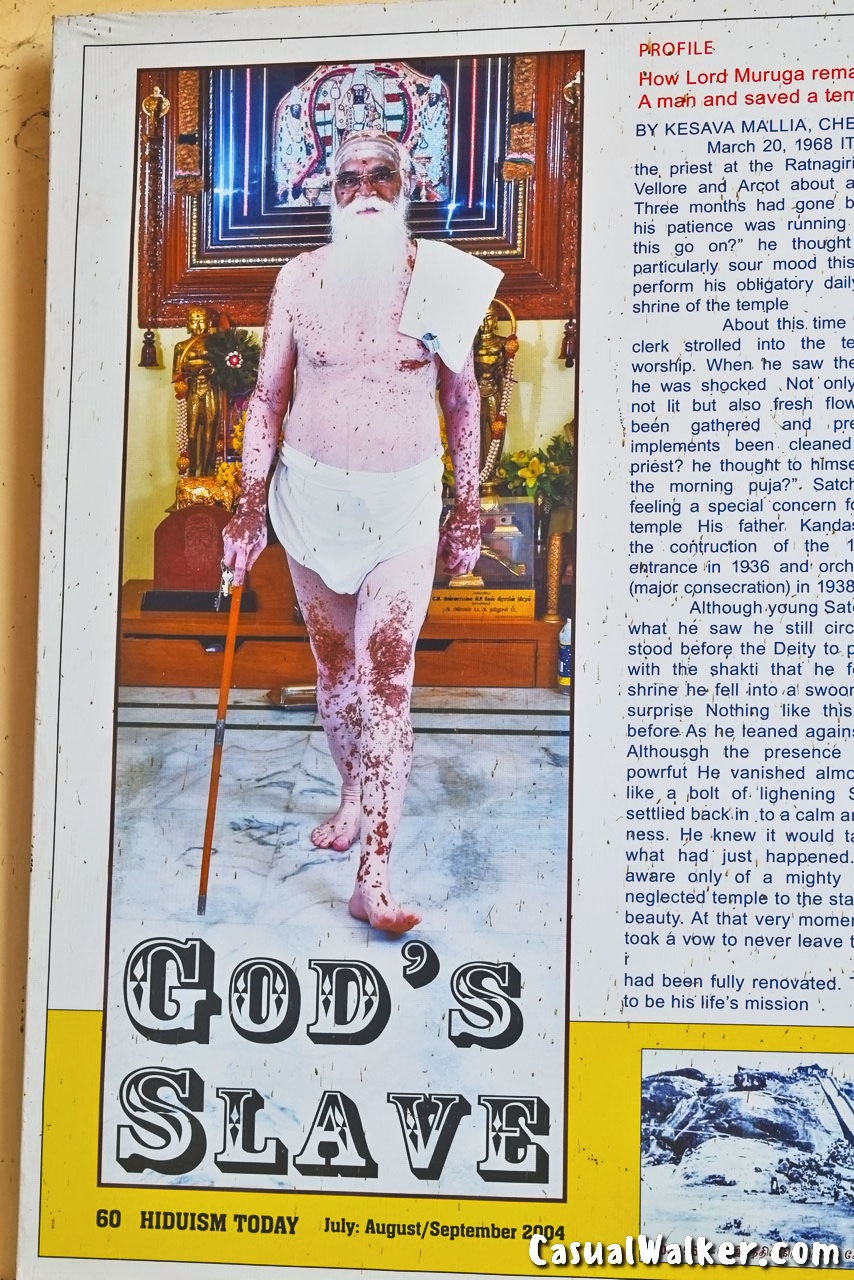 When he asked the priest who was doing puja to burn a little camphor for Aradhana. He said, "We have no camphor and no incense."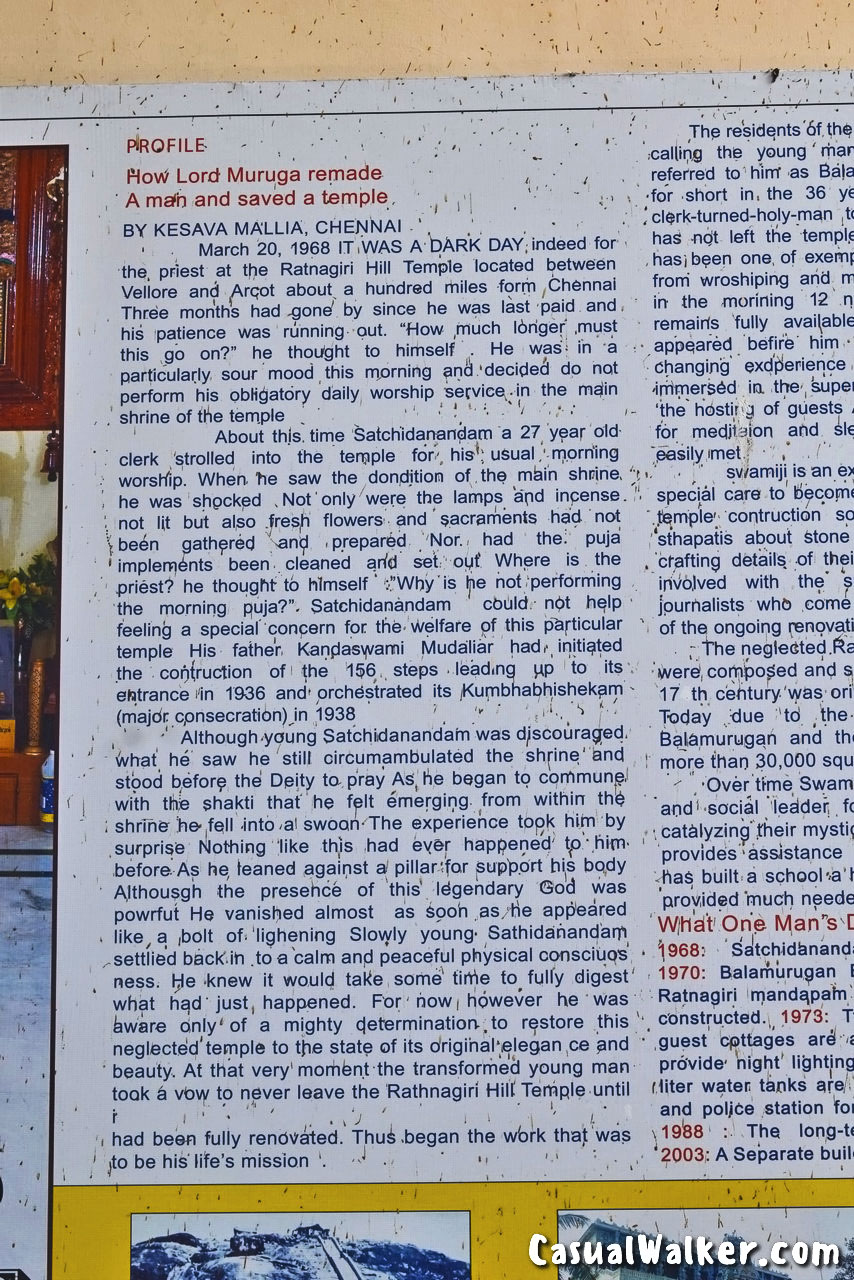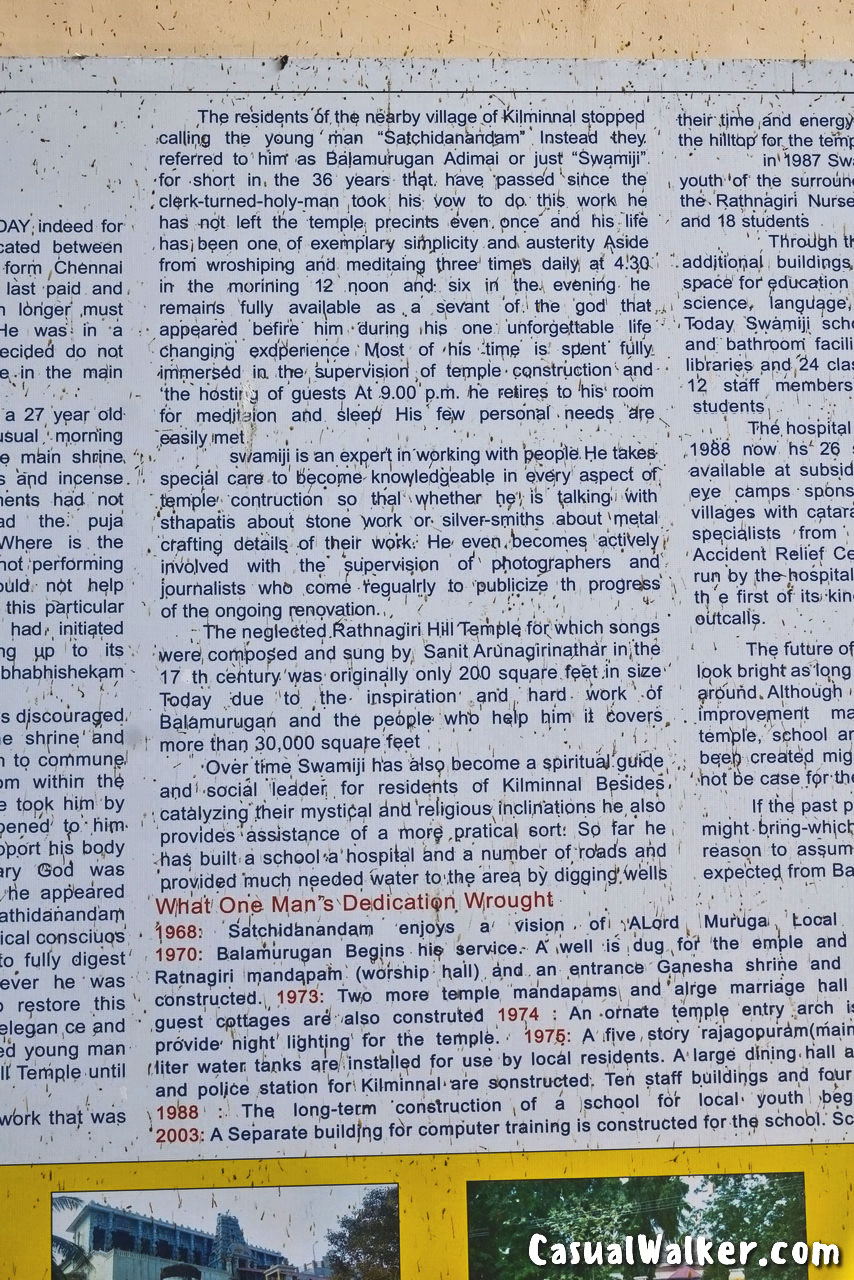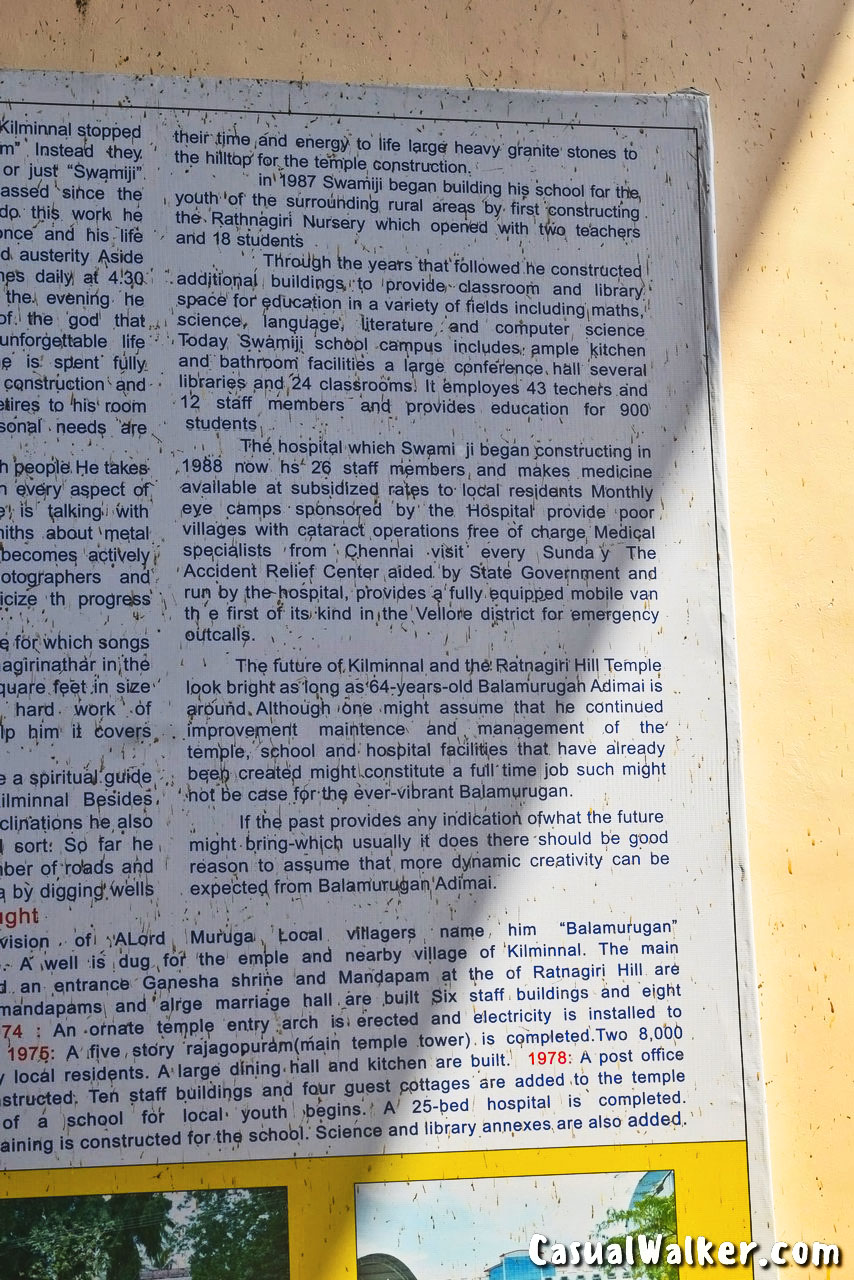 So he walked around the shrine with a heavy heart and was suddenly overcome with divine awakening. As he leaned against a pillar for support, his body quivered with bliss as his head filled with a golden light. Slowly Satchidanandam settled back into a calm and peaceful physical consciousness, he dressed in a loincloth. He took a sacred vow not to leave until the Ratnagiri temple was restored to be as glorious as the Lord's Aru Padai Veedukal.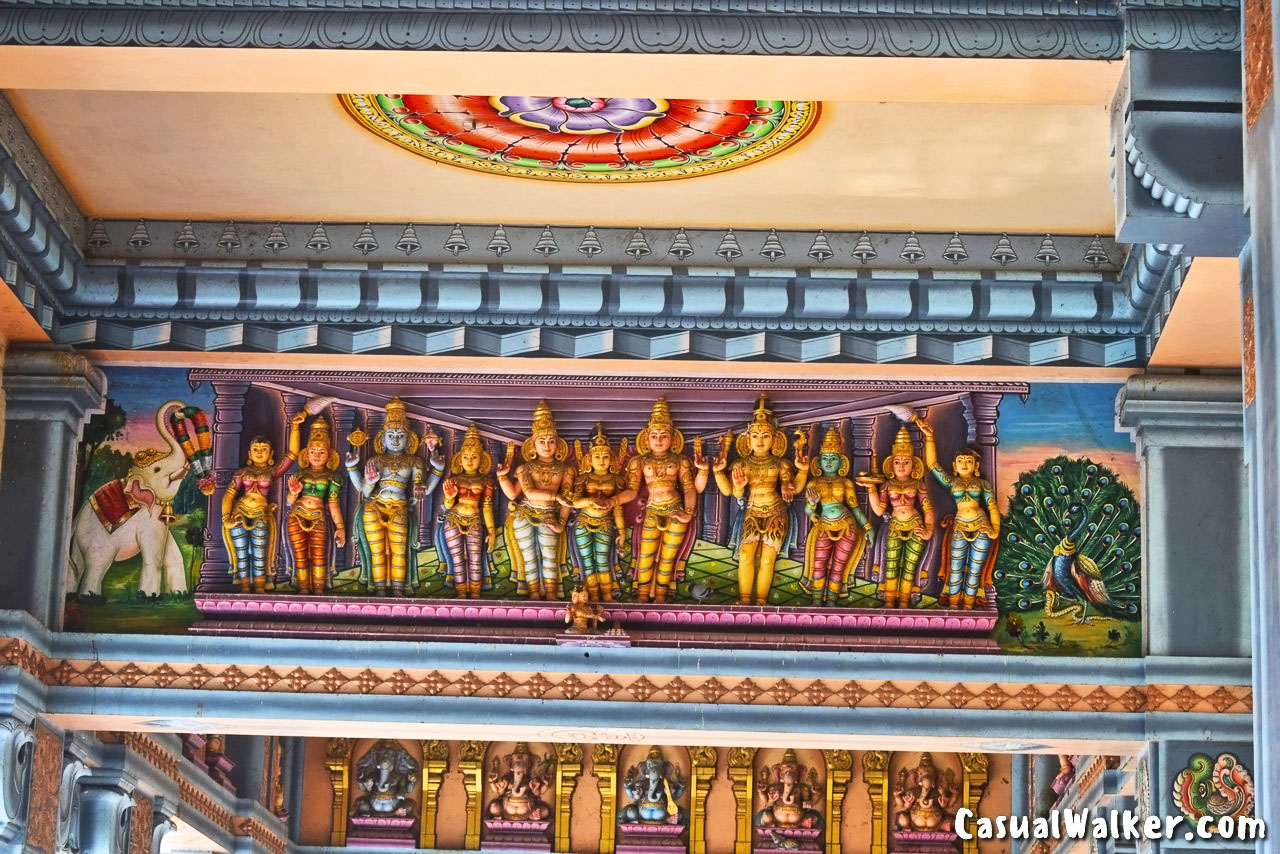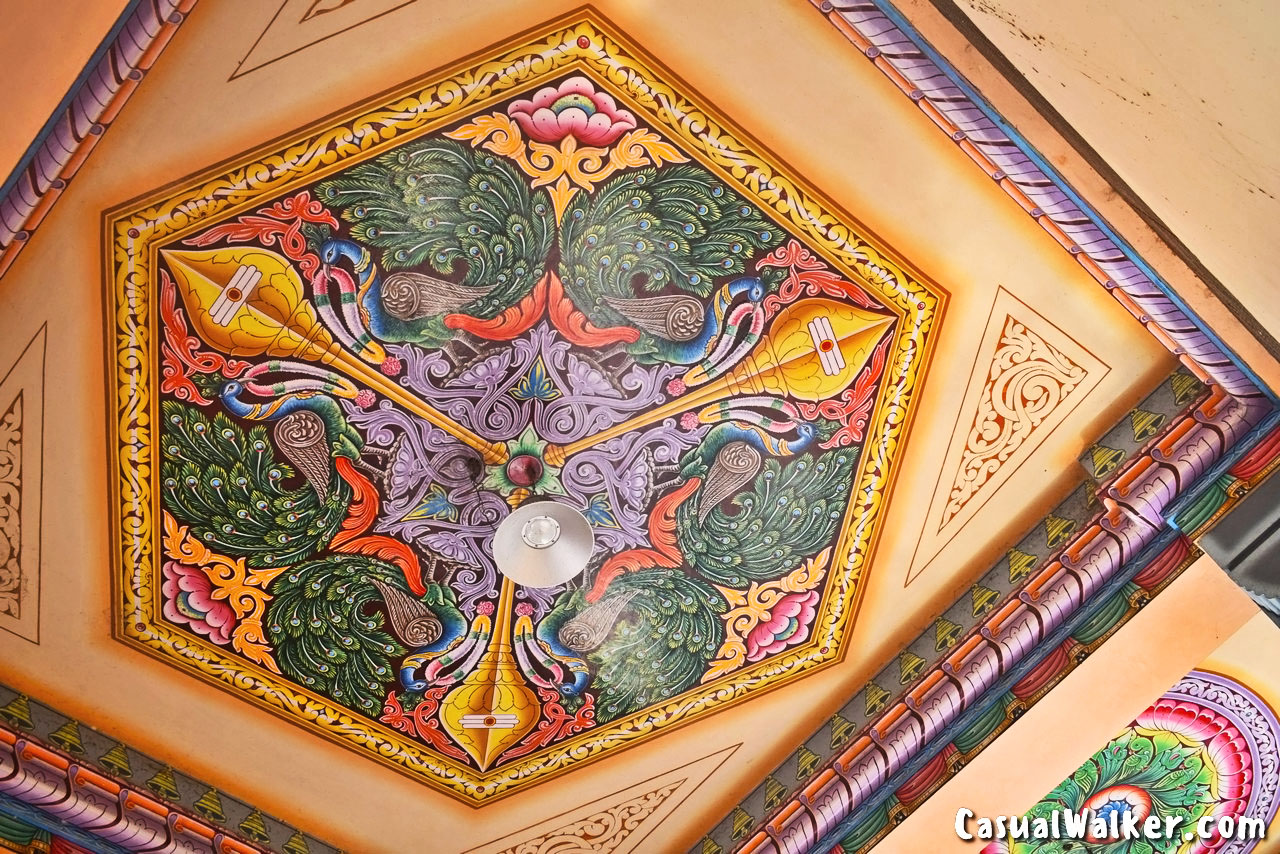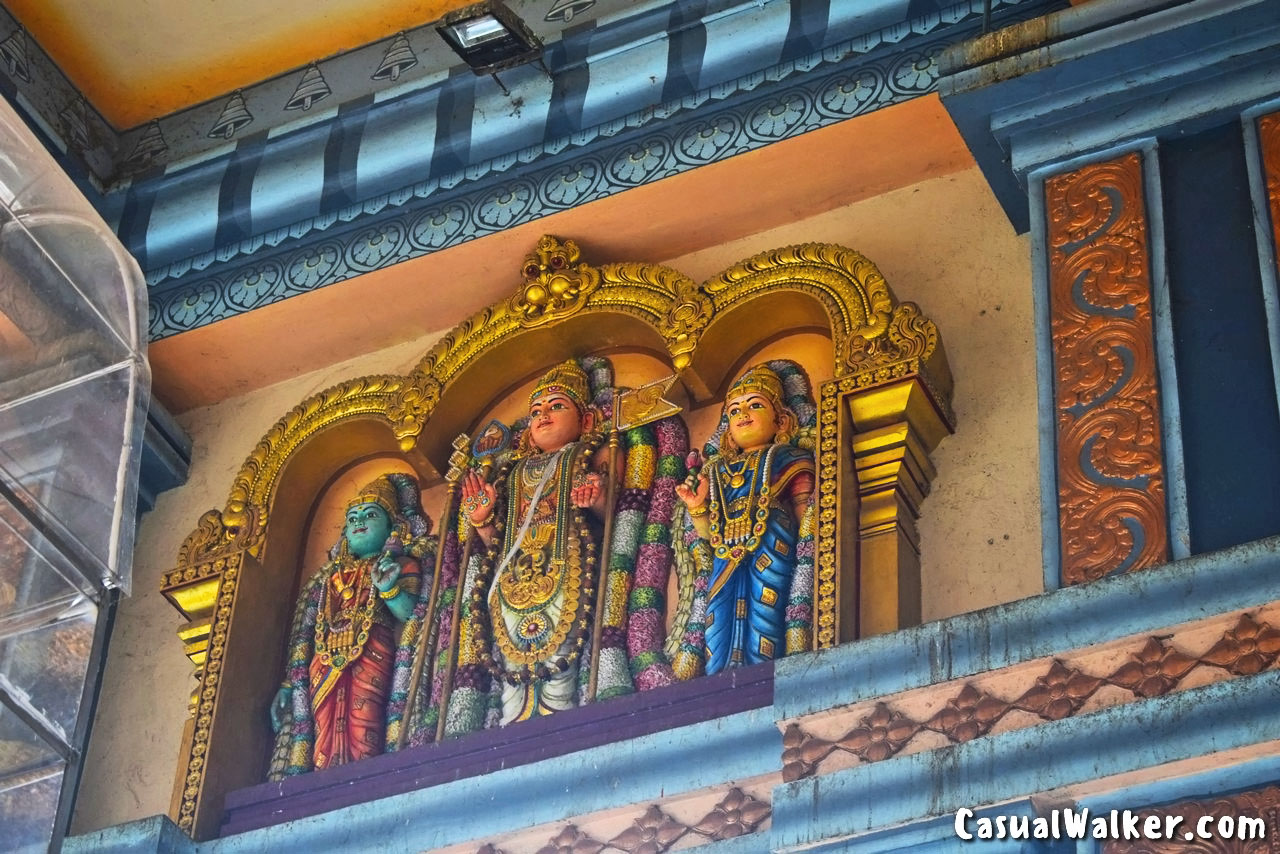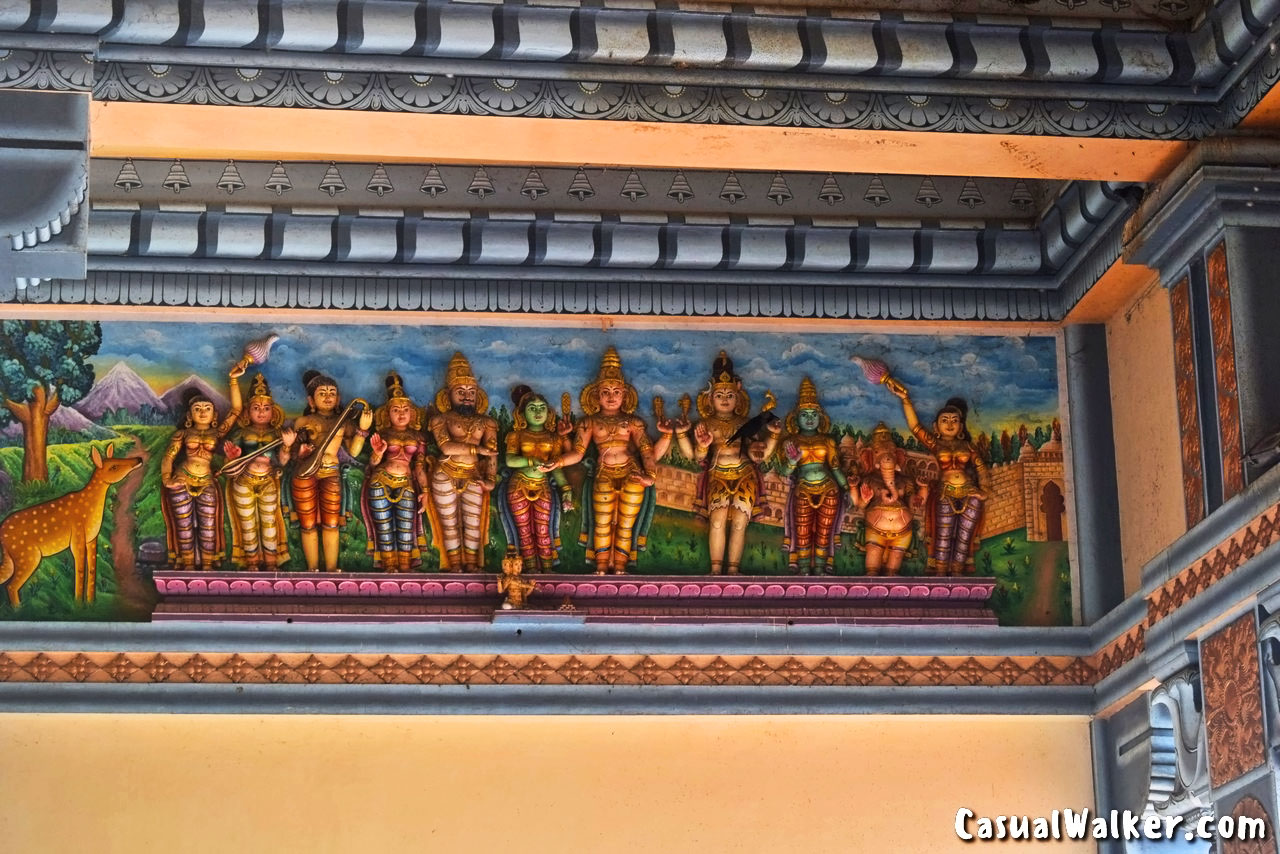 From that day onwards he has been observing maunam veratham (silence vow) and doing his prayers at this temple. When devotees visit this temple, he offers them food and hospitality.
His life's work started at this Ratnagiri temple towards this great vision. The young man Satchidanandam was started addressed by the inhabitants of the neighboring village of Kilminnal as Swami Balamurugan Adimai.
In further years Swami Balamurugan Adimai never left the Rathinagiri temple and his life has been one of exemplary simplicity and austerity. As a servant of Lord Murugan who appeared before him during his one unique life-changing experience.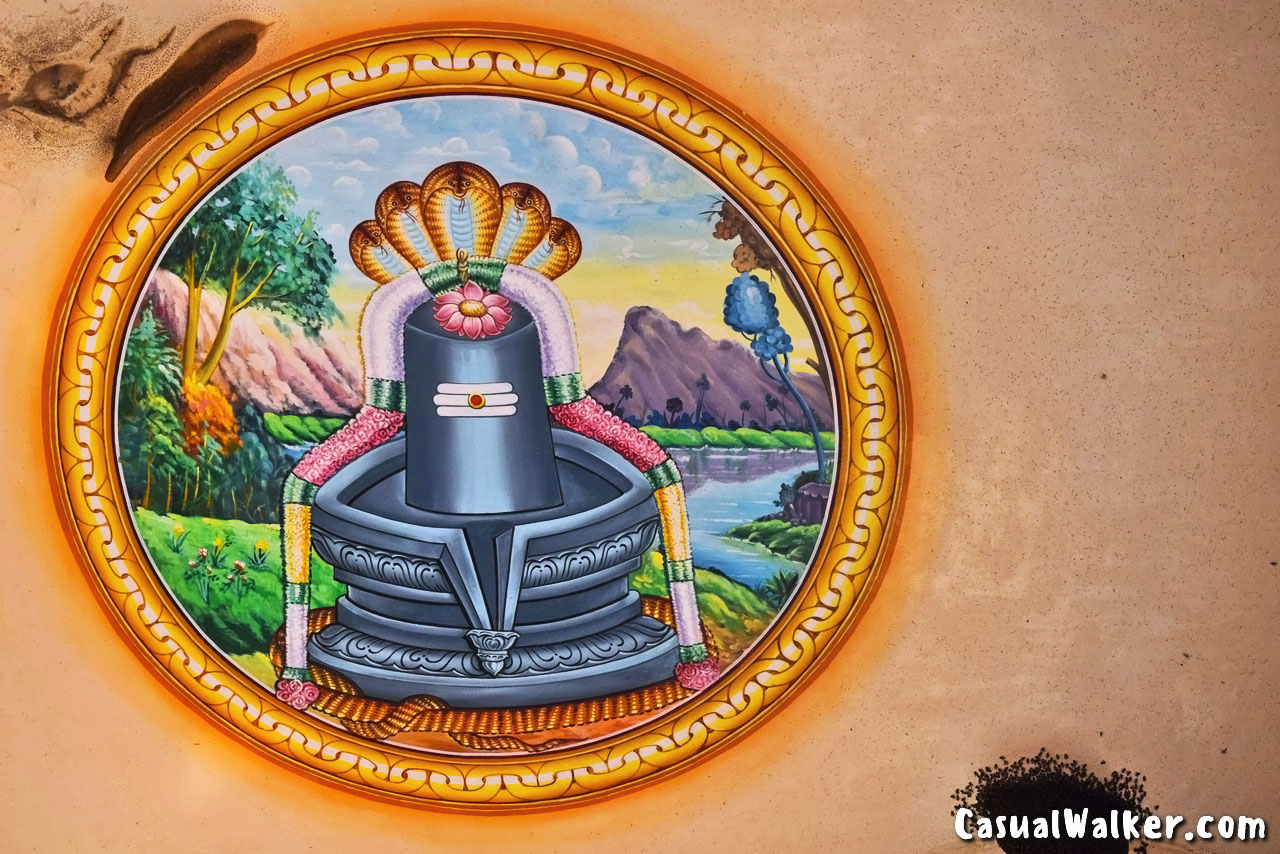 The song, sung and composed by Arunagirinathar in the 14th century, was originally only 200 square feet in size. Thanks to Swami Balamurugan Adimai and those who supported his great mission, it now spans more than 30,000 square feet as a result of their inspiration and hard work of devotion.
Now we can see the change in the status of the temple. He strongly believes that "it is not I but the Lord Murugan's grace".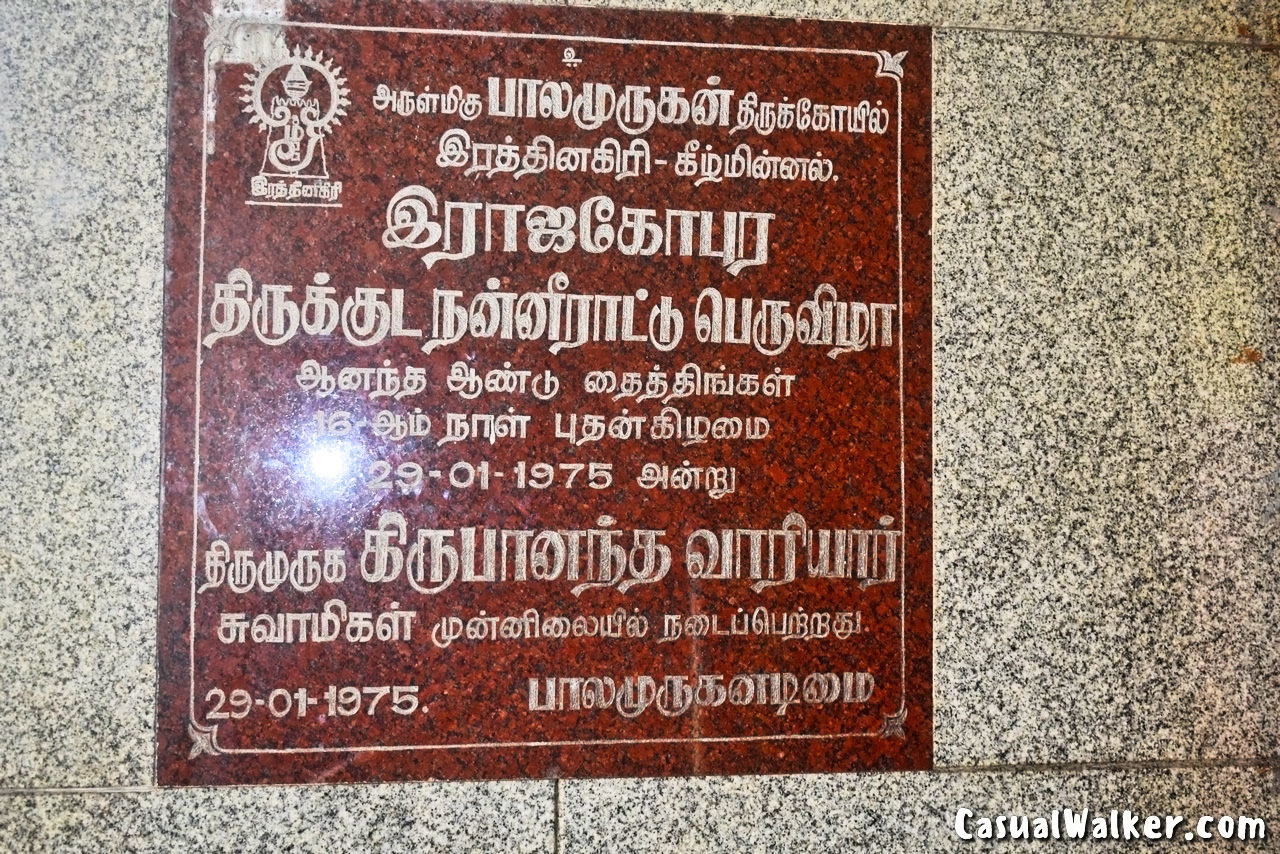 Swamiji also evolved into a Kilminnal resident's spiritual mentor and social activist. He has so far constructed a hospital, a school, and a number of roads, dug wells, and built enormous water storage tanks to give the region much-needed water supply.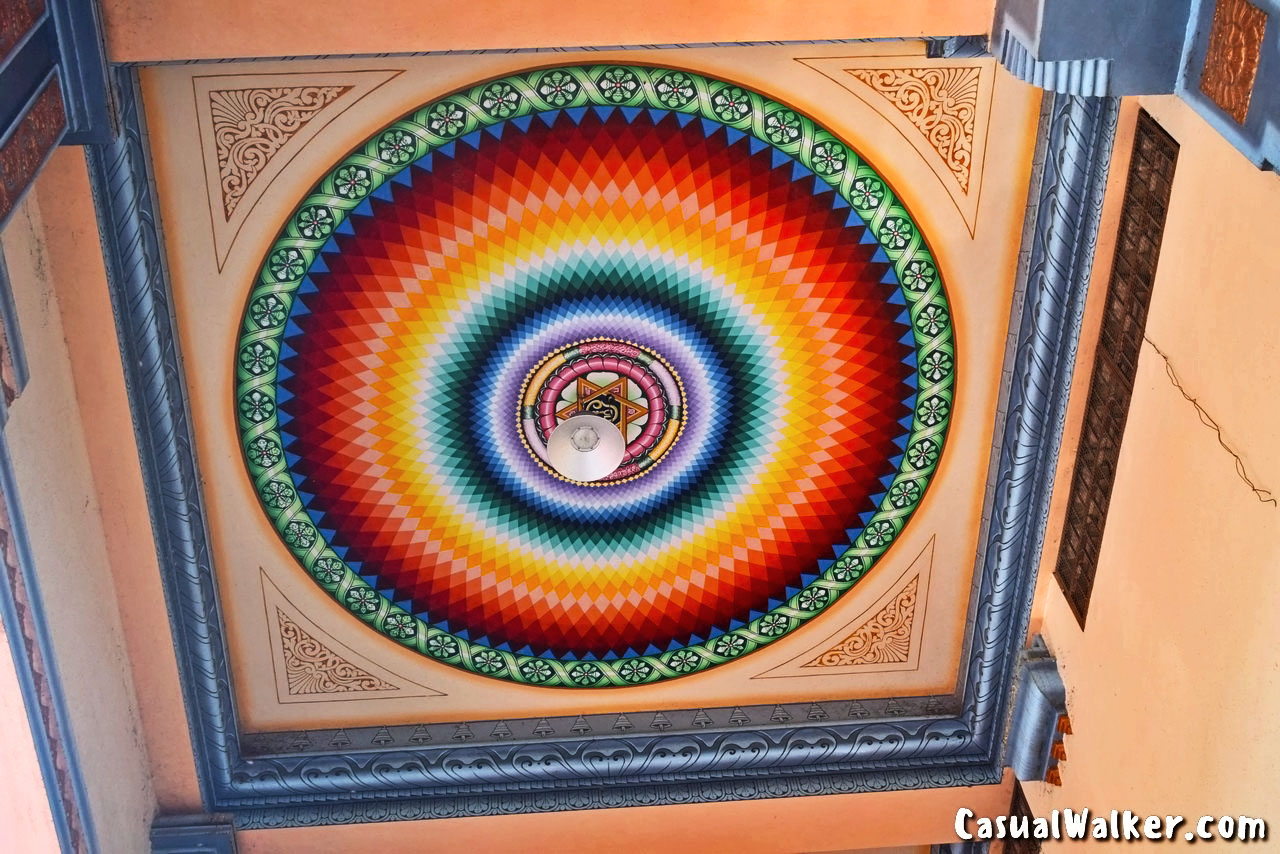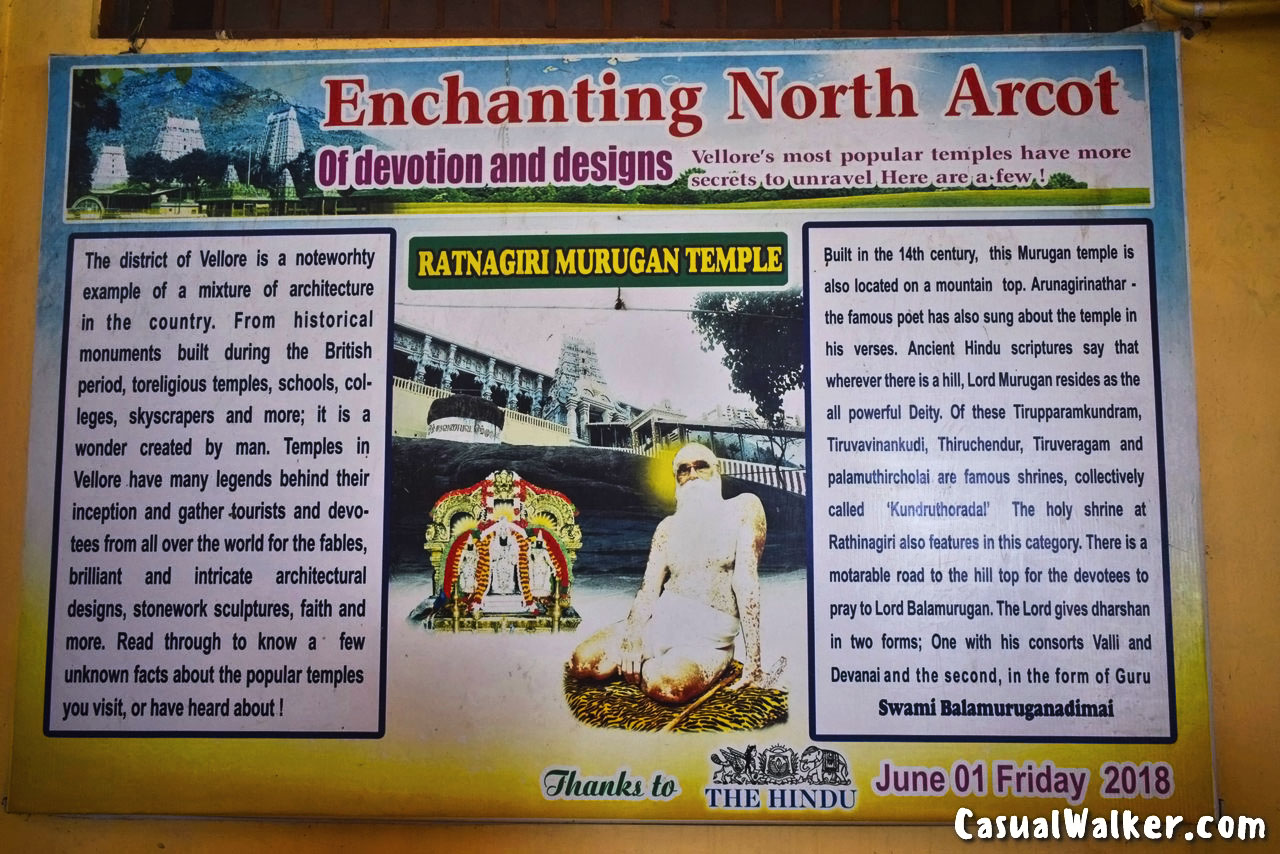 The hospital facility, whose construction Swamiji started in 1988, currently has 26 employees and offers locals discounted access to medicine. The facility sponsors monthly eye camps that offer free cataract surgery to underprivileged people. Medical specialists from Chennai visit every Sunday.
Now Rathinagiri Bala Murugan Temple has become one of the world-famous and notable Lord Murugan's temples in South India.
Temple Tank – Theppekulam at Ratnagiri Arulmigu Balamurugan Temple, Kilminnal in Vellore
The official Ratnagiri temple's teppakulam – Temple Tank was recently wonderfully renovated through the donation of Lord Murugan's devotees all around the world.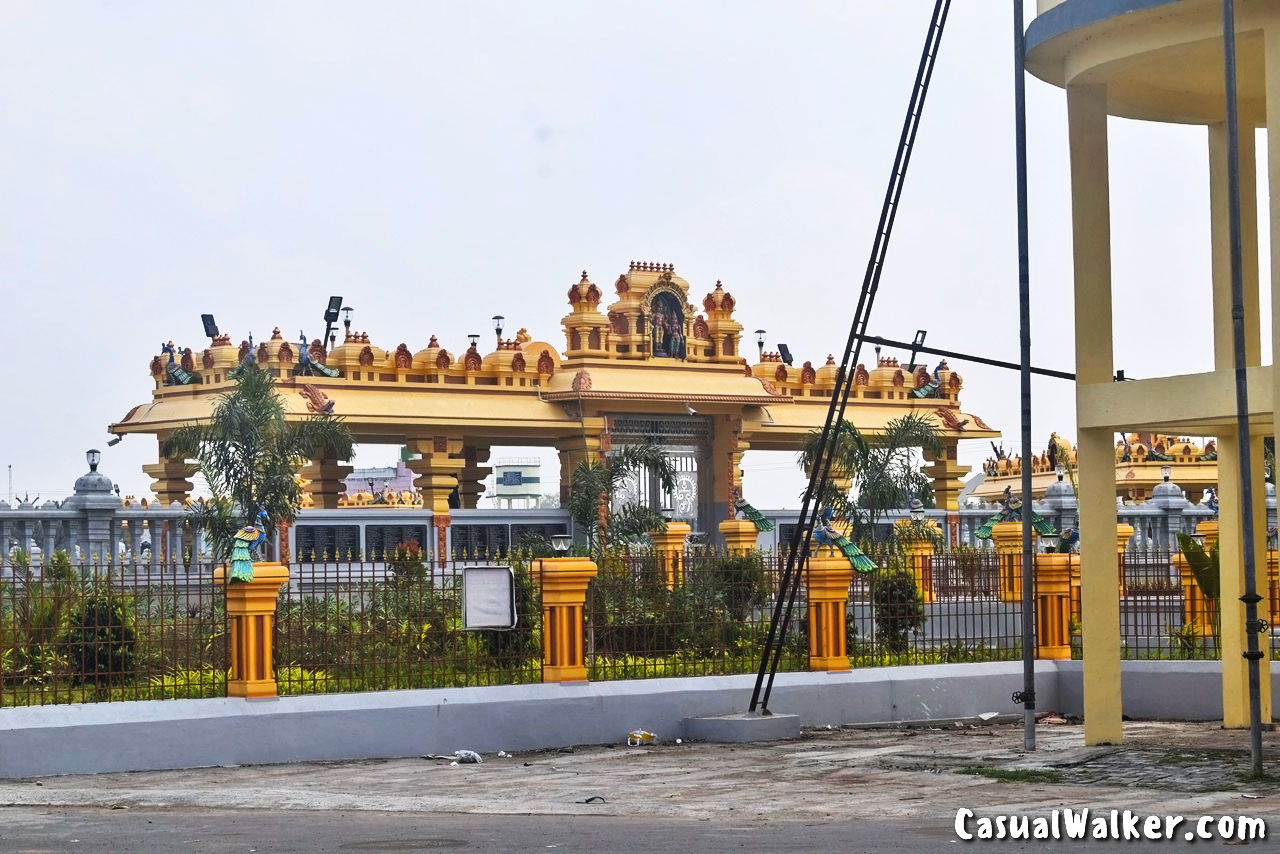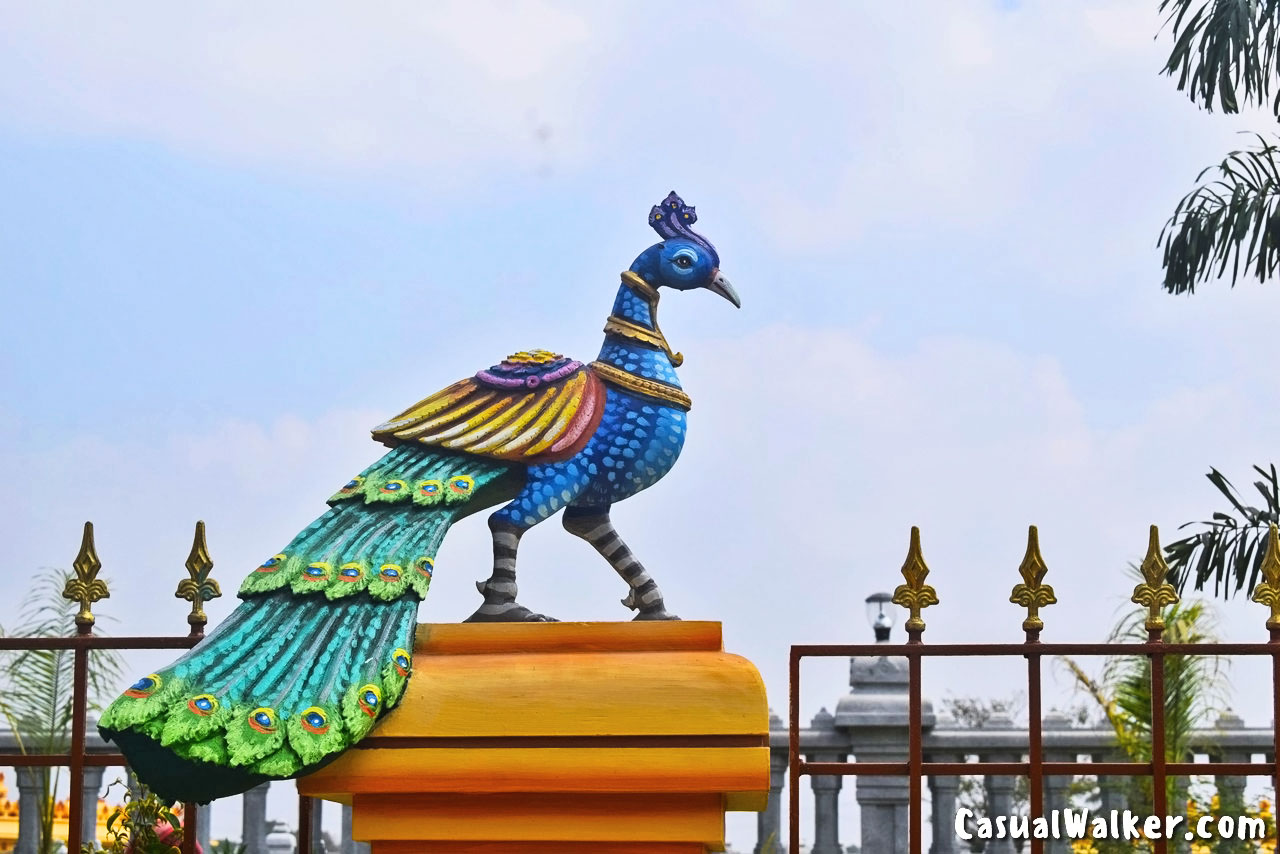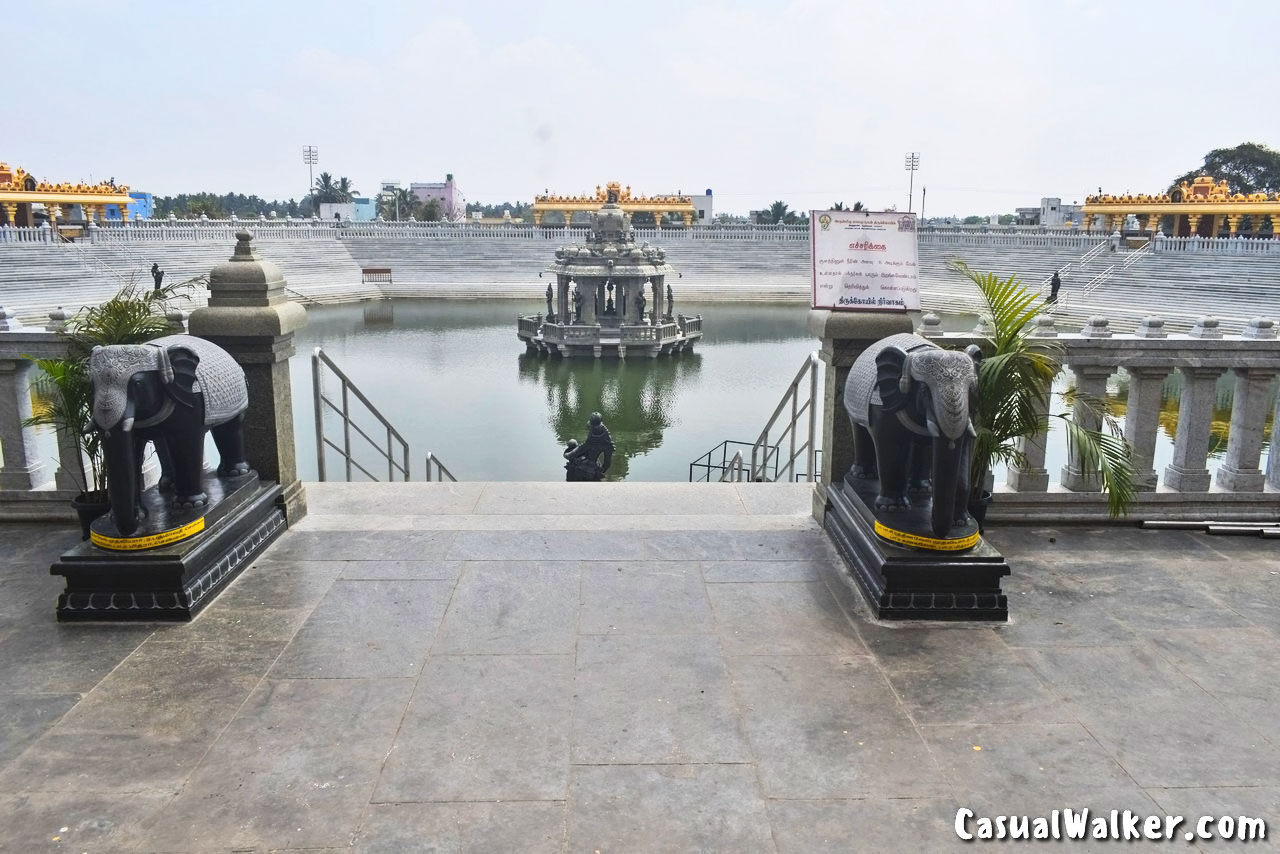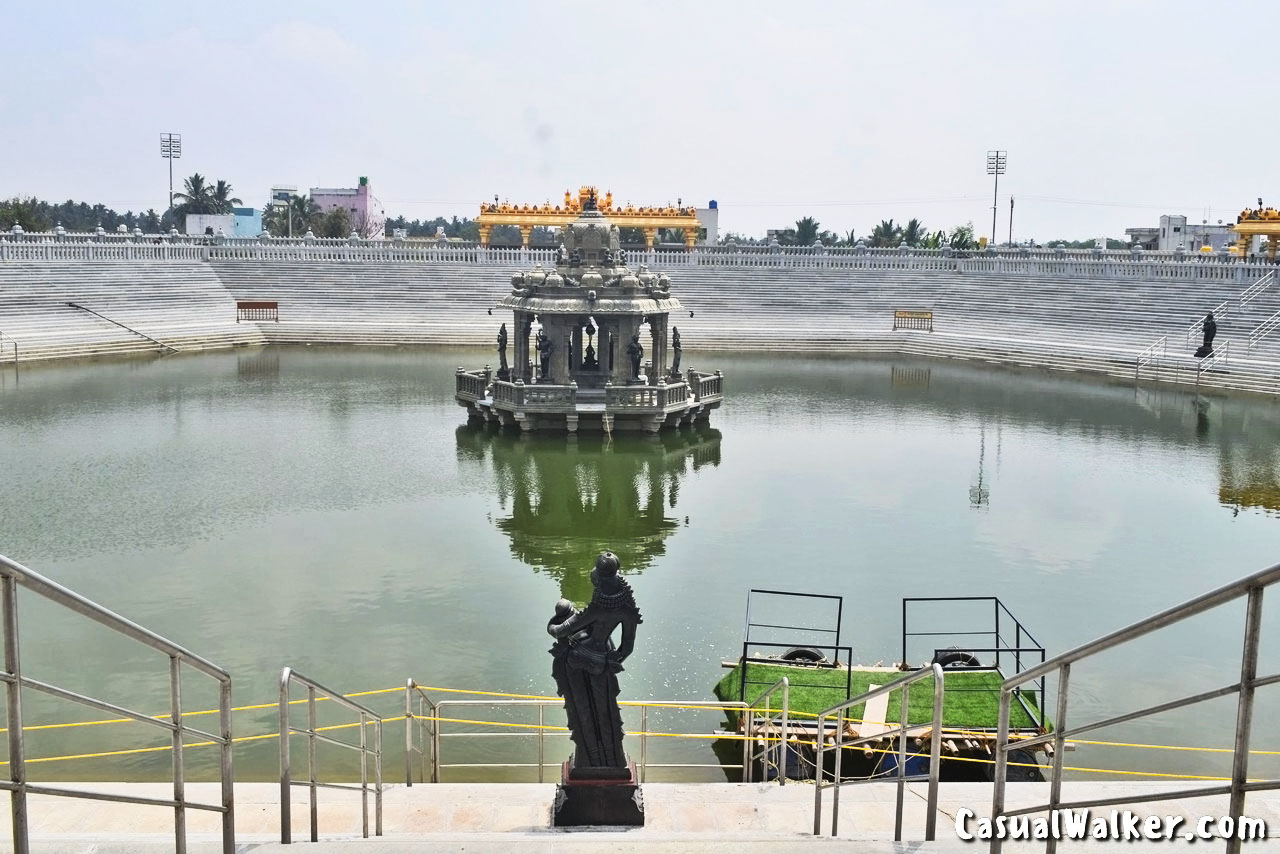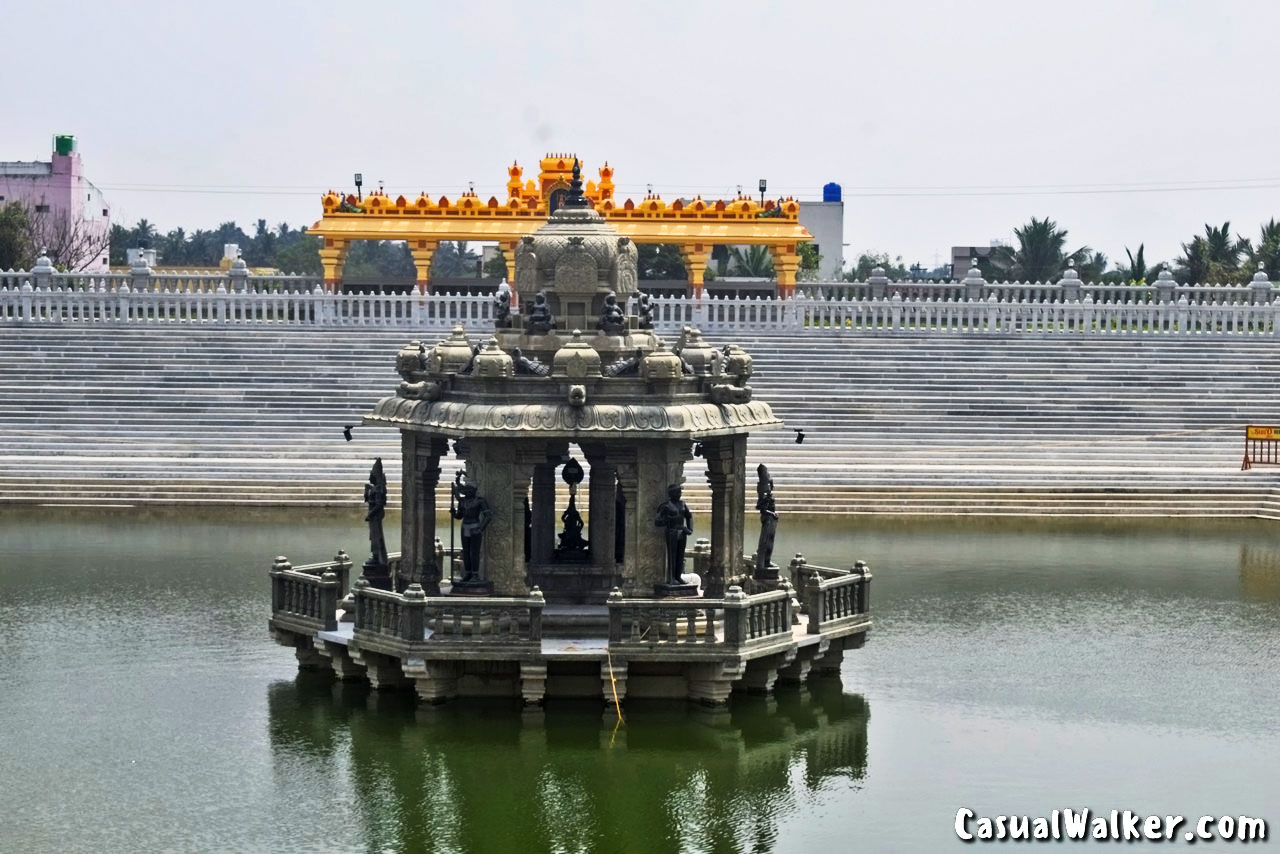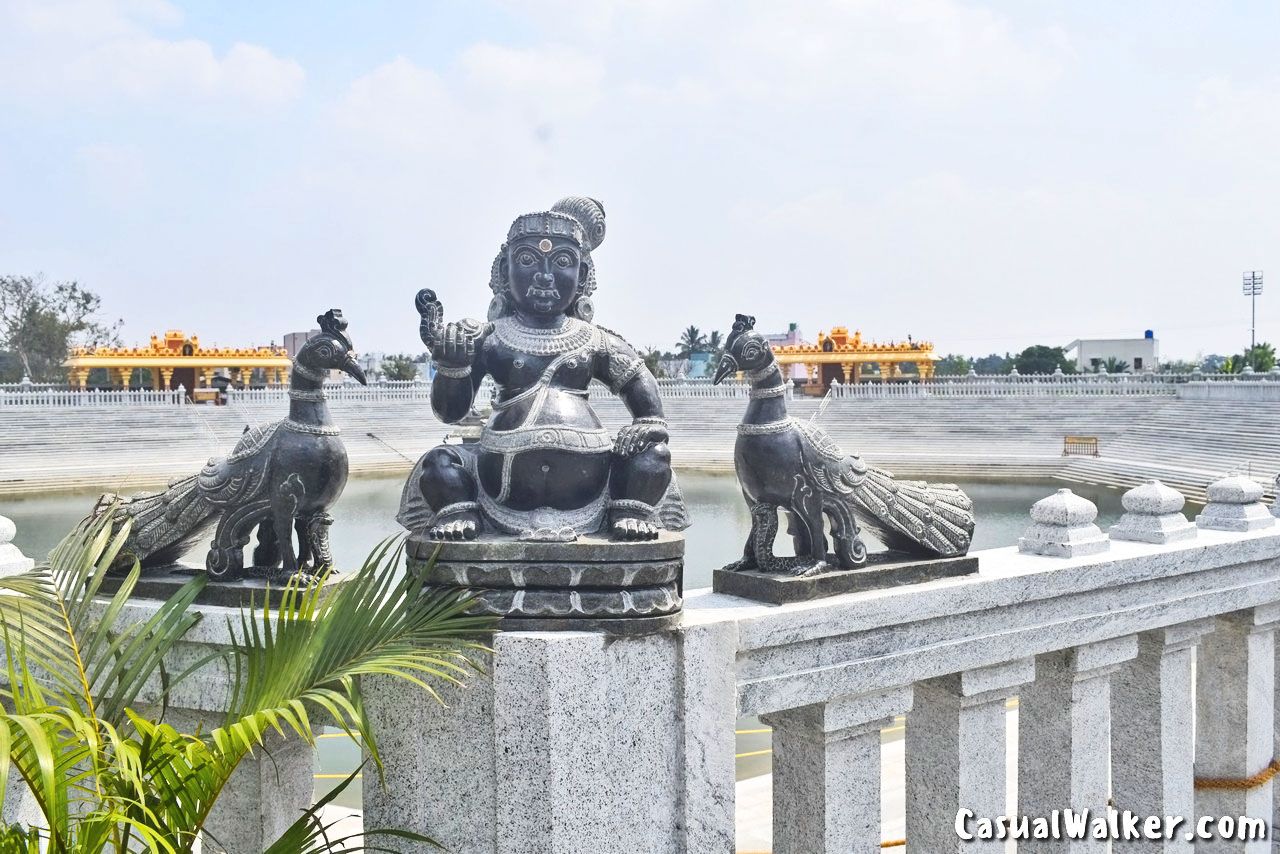 Festivals at Ratnagiri Arulmigu Balamurugan Temple, Kilminnal in Vellore :
All Lord Murugan festivals are celebrated with proper rituals at this temple
Adi Krittikai celebrations – the Lord Murugan's Birthday
Adi Velli – the auspicious Friday in the month of August or September
Kanda Shashti celebrations – for Six Days
Navaratri festival – Nine Nights of the Goddess Festival
Panguni Uttiram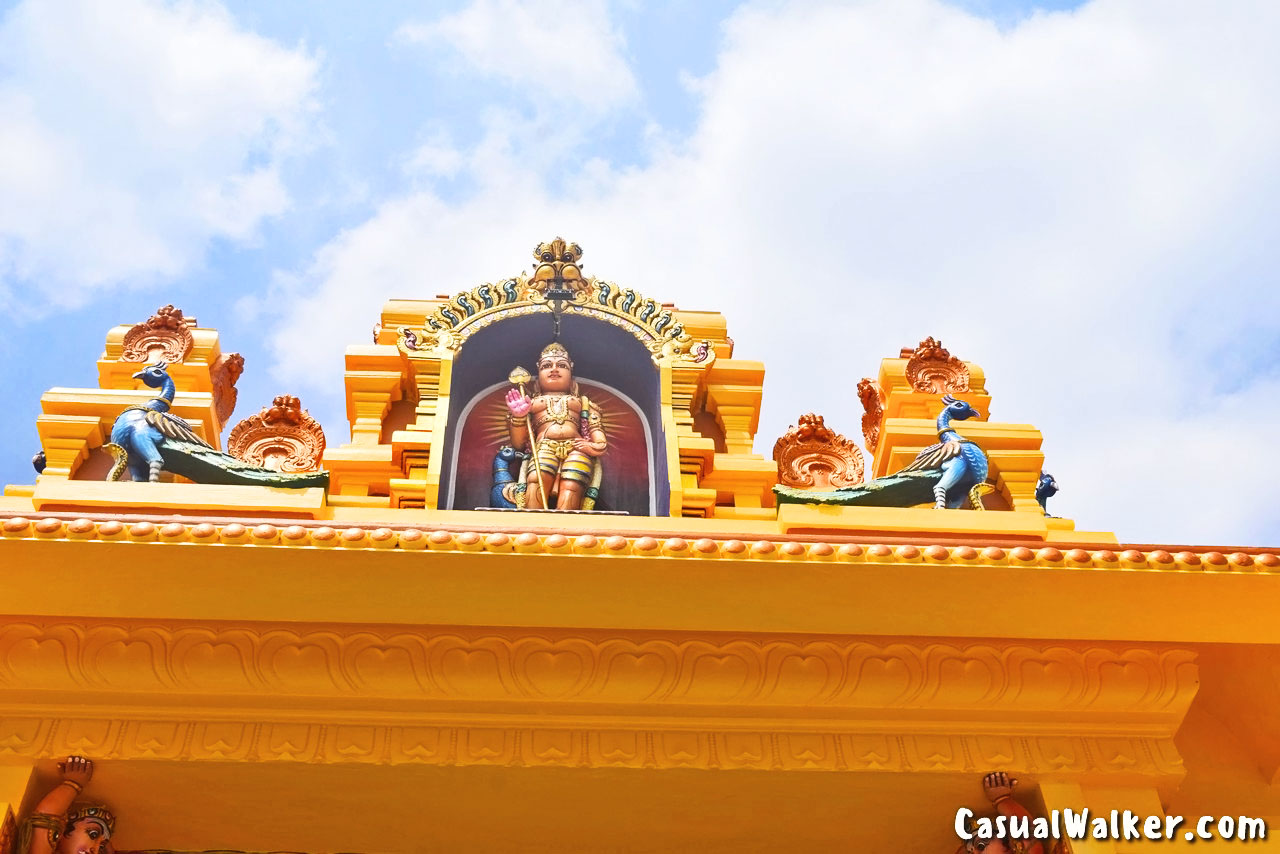 Every year the anniversary of Swami Bala Murugan Adimai's enlightenment day is on the 20th of March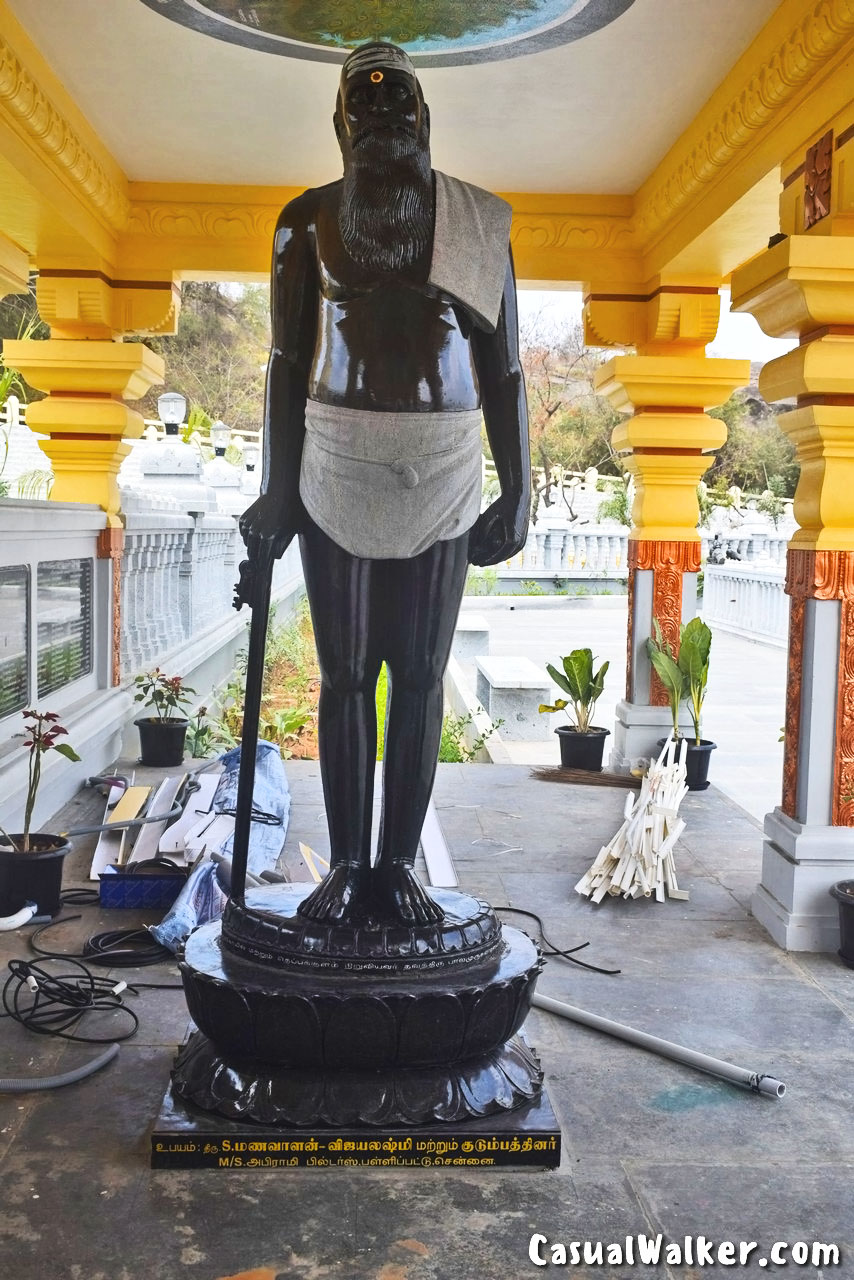 Travel Tips for Ratnagiri Arulmigu Balamurugan Temple, Kilminnal in Vellore:
Ratnagiri Arulmigu Balamurugan Temple Address: Ratnagiri Arulmigu Murugan Temple, Ratnagiri Kilminnal, Vellore – 632517
Contact number:  4172 266350 (Temple) / 4172 266330 (Office)
Ratnagiri Arulmigu Balamurugan Temple timings:  Morning: 6:00 AM to 1:00 PM / Evening: 4:00 PM to 8:00 PM
Moolavar : Balamurugan
Urchavar : Shanmugha
Thayar : Valli and devasena
Theertham : Arumugam Float – Arumugam Theppam
Know to be : 500-1000 years old
How to reach Ratnagiri Arulmigu Balamurugan Temple, Kilminnal in Vellore:
Ratnagiri Balamurugan Temple is an ancient temple located on top of a hillock in Ratnagiri on the Vellore – Chennai National Highway. We can reach the top of the hill by auto/car or by climbing the stairs. For those who are not in a position to climb, there is a small hill road with 2 hairpin bends with a car park on top. From the car park, one can get to the temple with around 20 steps.
On Road:- The district is well connected to all the important cities and is located at a distance of 400 m from Ratnagiri Bus Stop
On Railway: The temple is located at a distance of 17 km from Vellore Town Railway Station
On Airway: The nearest airport is Chennai Airport which is about 130 km from Vellore.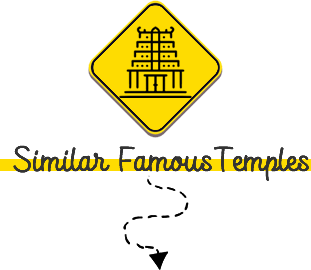 Similar Famous Lord Murugan Temples you may like to Visit:
Thiruchendur Lord Murugan – Arulmigu Subramaniaswamy Temple, Tiruchendur, Thoothukudi – Best & Famous Murugan Temple in India – Visit, Travel Guide (Updated)
Batu Caves / Batu Malai Sri Subramaniam Temple History, Timings – The Famous Lord Murugan Temple In Gombak, Selangor, Kuala Lumpur, Malaysia – Visit, Travel Guide, Videos
Kunnakudi / Kundrakudi Shanmughanathar Murugan Temple, Tirupattur – Best & Famous Murugan Temple In Chettinad, India – Visit, Travel Guide (Updated)
Subramanya Temple, Mahabalipuram / Mamallapuram – The Oldest Lord Murugan temple in the World- Visit, Travel Guide
Sri Rana Bali Murugan Temple in Peruvayal at Ramanathapuram – Best & Famous Murugan Temple In India – Visit, Travel Guide (Updated)
Kumarakottam Murugan Temple, Kanchipuram – Best & Famous Murugan Temple In India – Visit, Travel Guide
Pazhamudircholai / Pazhamudircholai Murugan Temple, Arupadai Veedu Temple Madurai – Best & Famous Murugan Temple In India – Visit, Travel Guide
Pillaiyarpatti Pillaiyar Temple / Karpaka Vinayakar Temple, Tiruppathur – Best & Famous Ganesha Temple In Chettinad India – Visit, Travel Guide