Vallal Dr. Alagappar Museum & Tamil Cultural Museum at Alagappa Puram, Karaikudi, Sivaganga: Museum to Sir Alagappa Chettiar – the Great Philanthropist & Founder of Alagappa University and To Know the History of Classic Tamil & Chettind Culture / Traditions – Visit, Timings Travel Guide
– museum about the glorious history & achievements of sir. alagappa chettiar
| | |
| --- | --- |
| CasualWalker's Rating for Vallal Dr. Alagappar Museum & Tamil Cultural Museum at Karaikudi, Sivaganga: | |
| 9.9 – Great / Excellent | |

Vallal Dr. Alagappar Museum is a Museum dedicated to Sir Alagappa Chettiar, an educationalist, philanthropist, and Businessman. This Museum is opened at the Alagappa University campus in Karaikudi, Sivaganga district to mark the celebration of the 108th birth anniversary of Sir Alagappa Chettiar.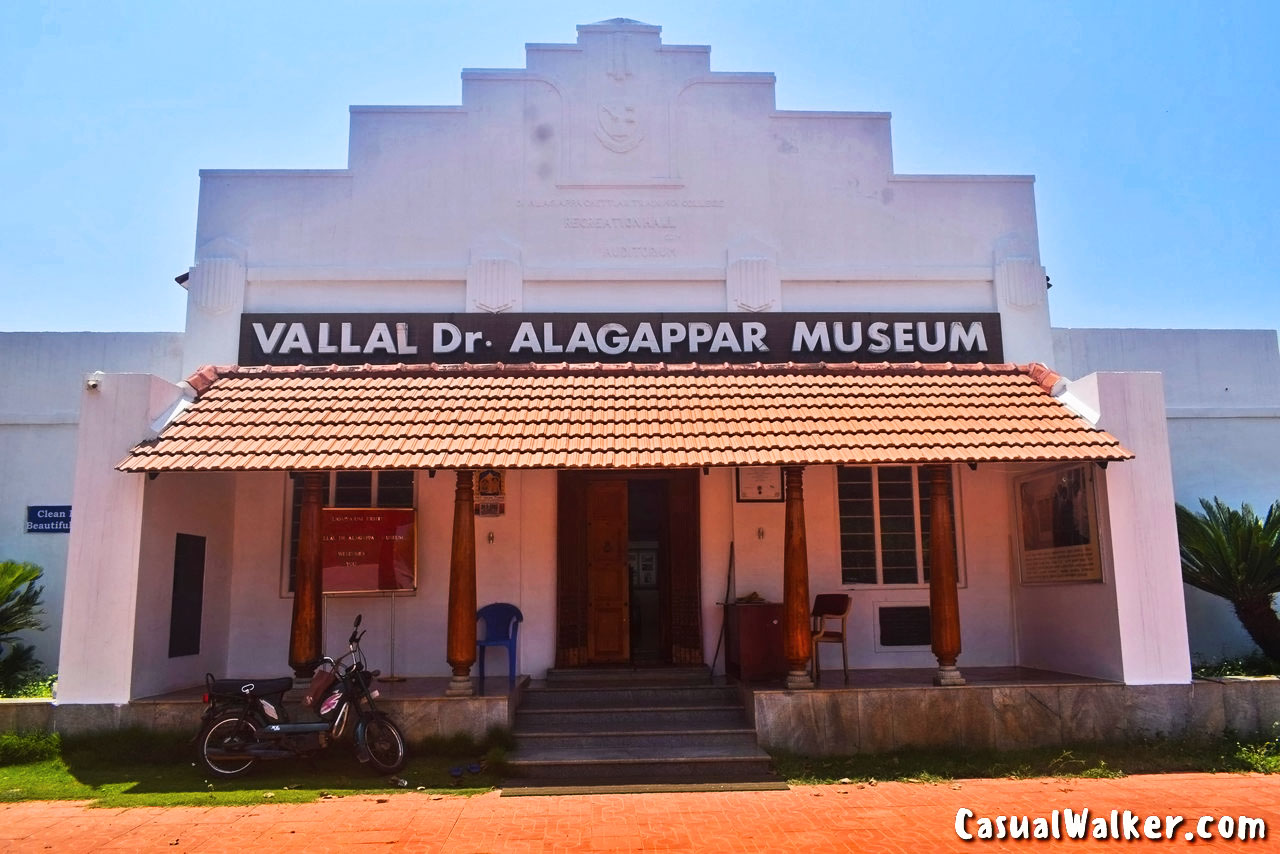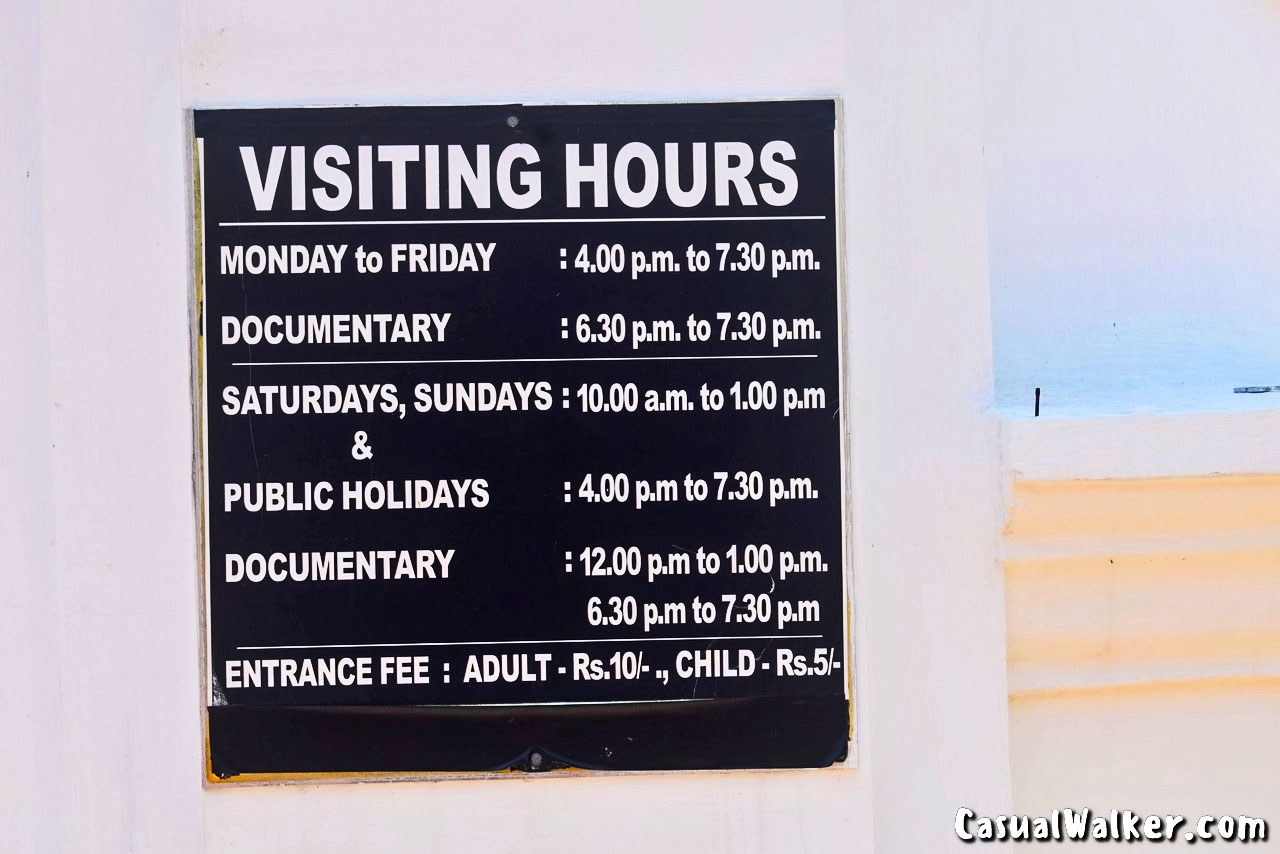 Sir Alagappa Chettiar is the founder of the world-famous Alagappa University and also received one of the highest civilian awards in India – the "Padma Bhushan" award in 1956 for his greatest contribution.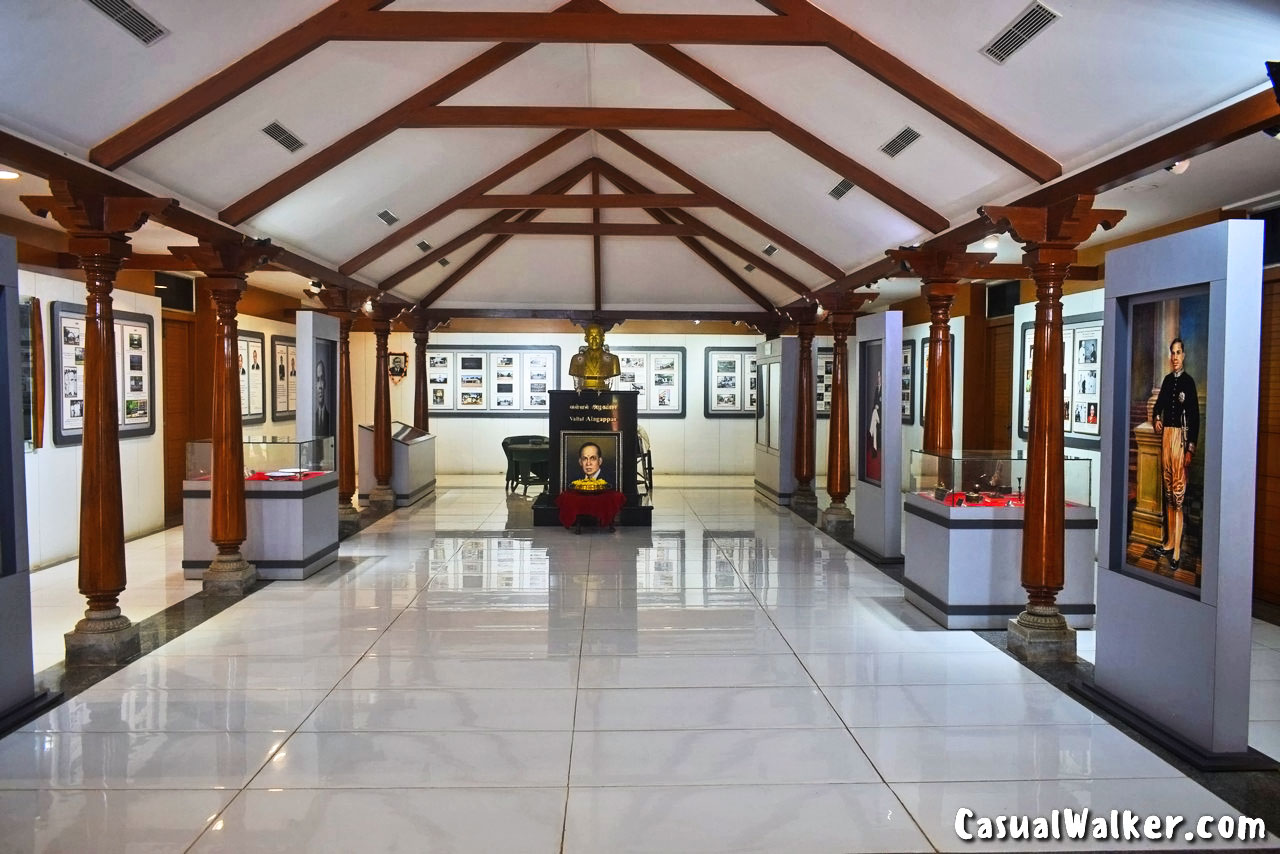 At the Vallal Dr. Alagappar Museum museum, we can find the various historical photographs and memoirs of Sir Alagappa Chettiar, his life and achievements, and different types of objects and belongings used by him which are highly antique. This museum is well maintained by the Alagappa University trust and family.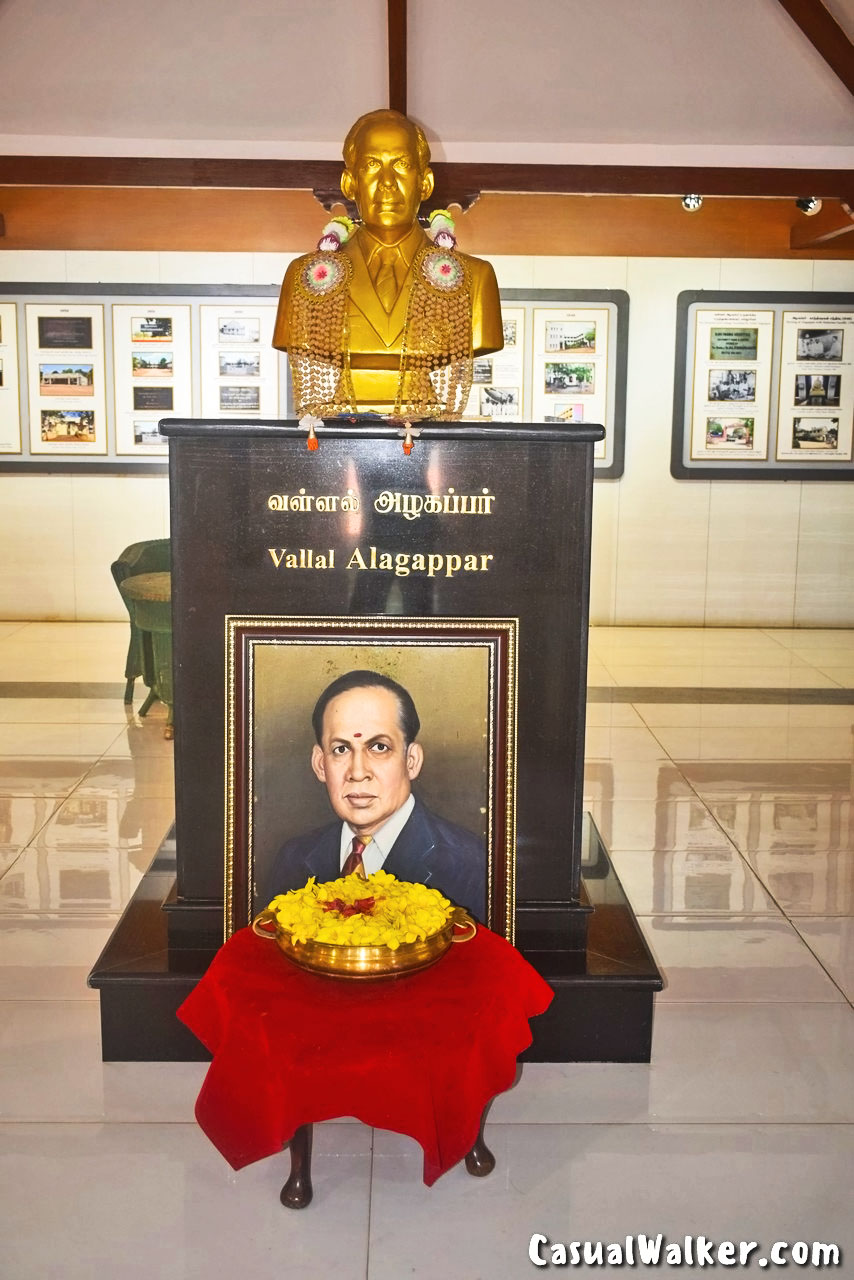 Life History of Sir Alagappa Chettiar:
Padma Bhushan Sir K.V.A.R. (Kottaiyur Veerappa Alagappa Ramanatha) Alagappa Chettiar, is India's legendary businessman, greatest philanthropist, and visionary who had converted the entire Karaikudi region into a world-famous educational hub. He was awarded India's highest category award Padmabhushan award in 1956 for his generous contribution.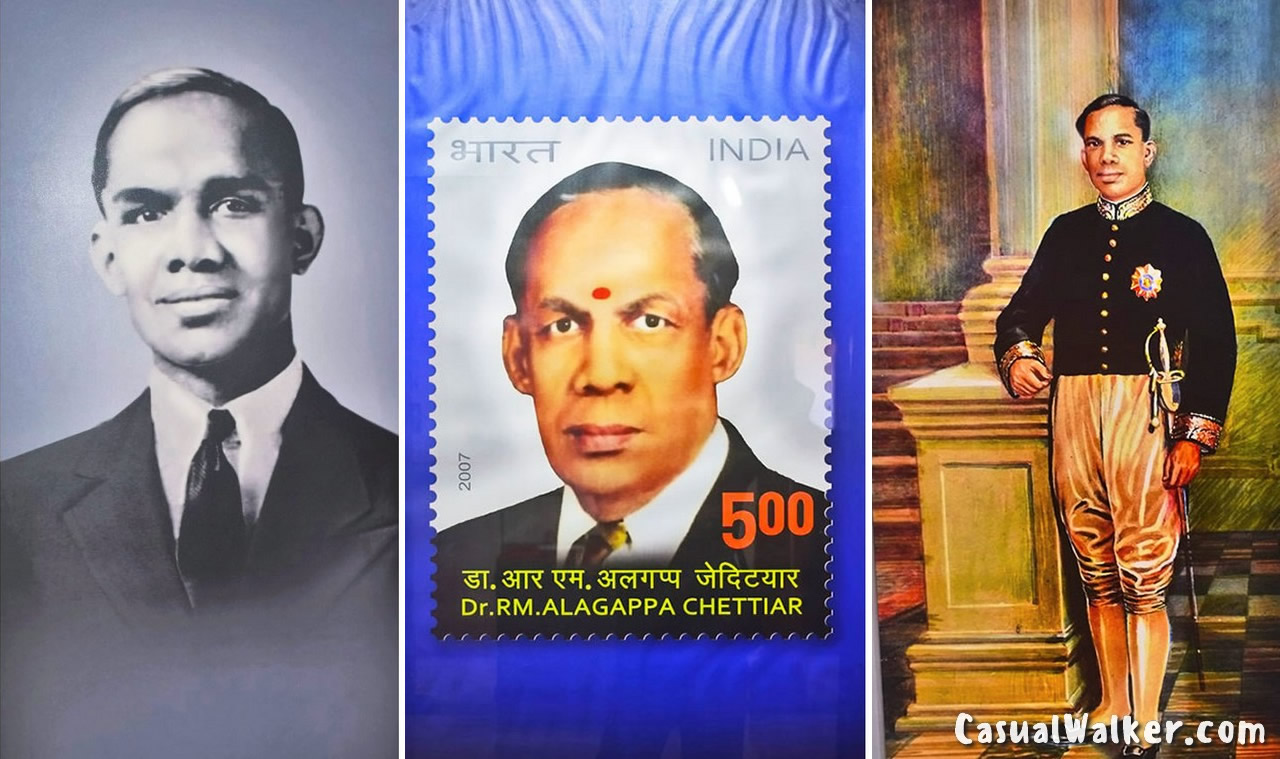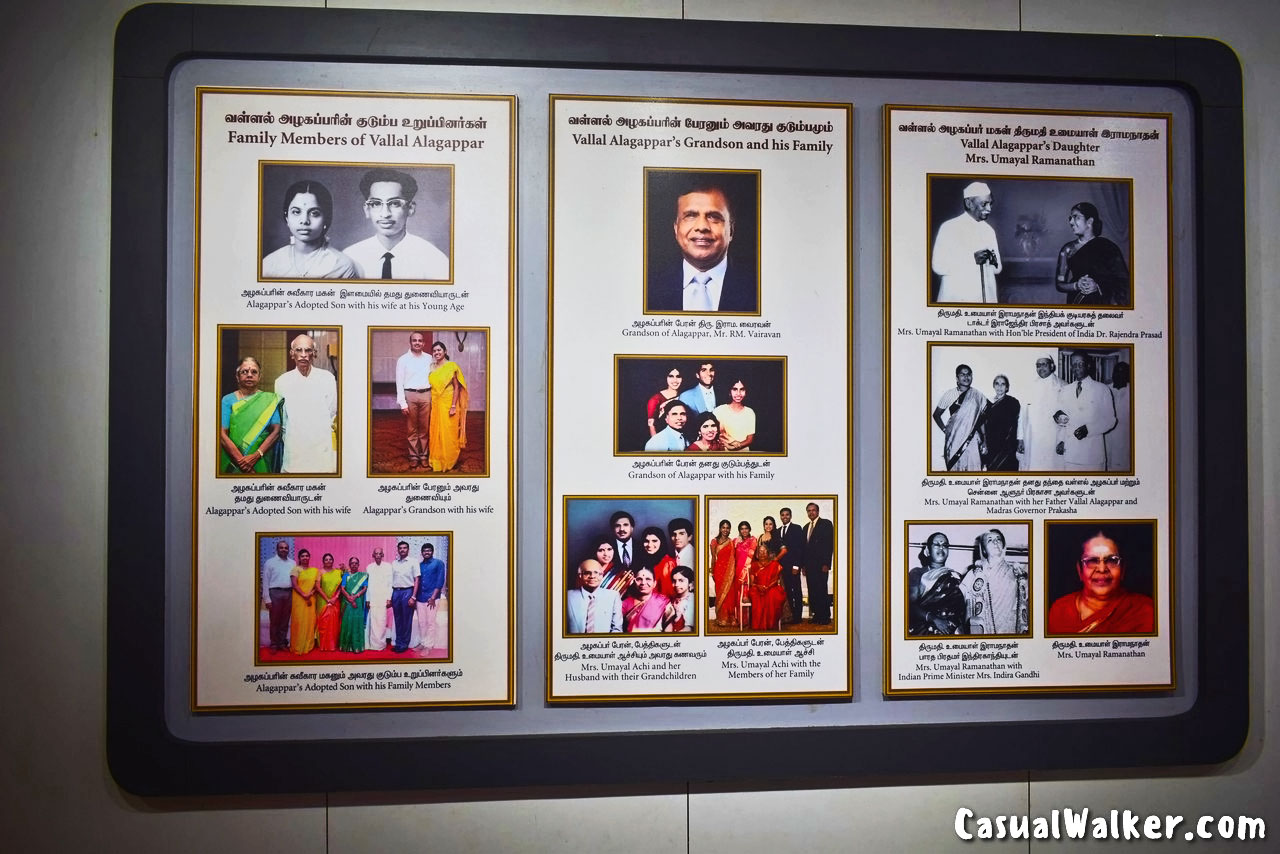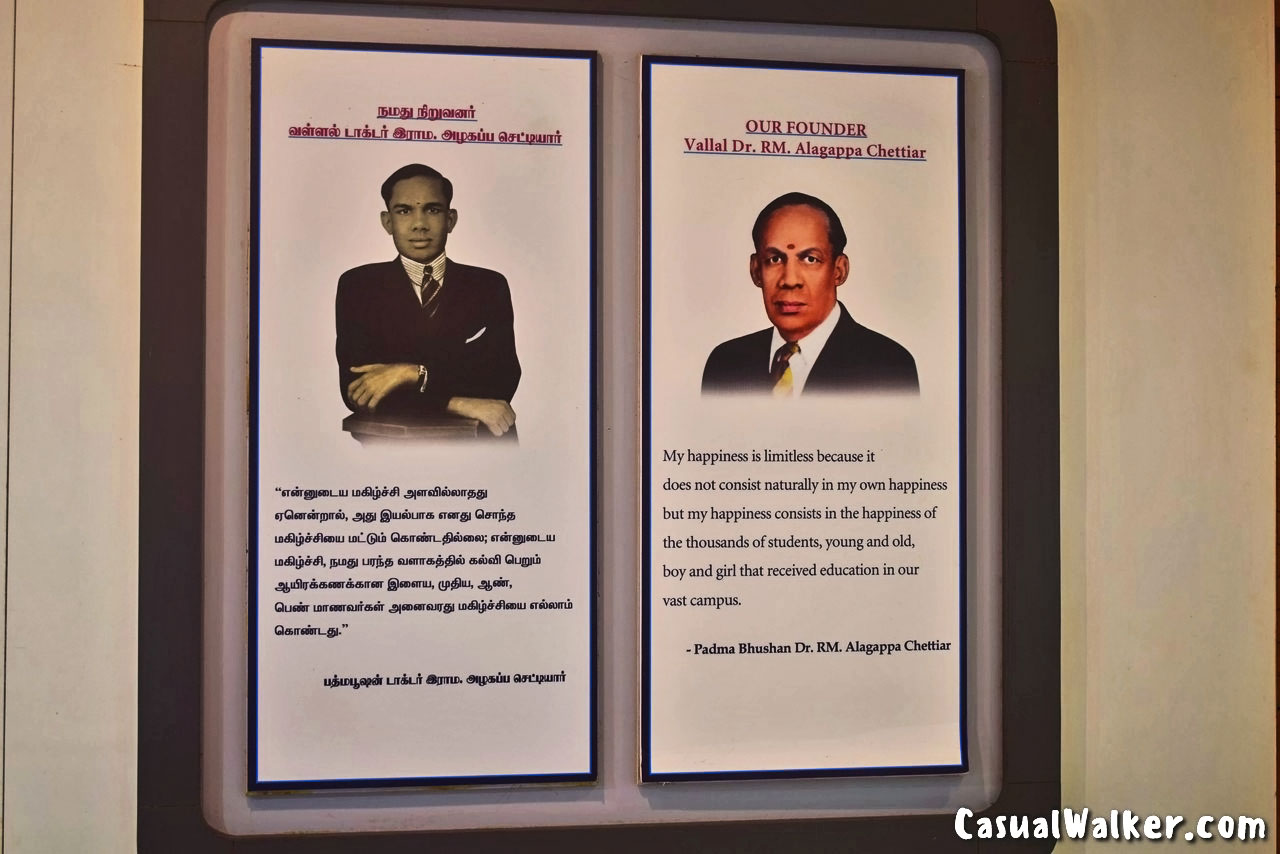 Sri Alagappa Chettiar was born near Kottaiyur of Karaikudi in Sivagangai District. He was born on April 06, 1909, his family is a very traditional Nattukottai Nagaratar (Chettiar) community, he did his schooling in Sri Meenakshi Sundareswarar school located in Karaikudi and then did his higher education in Chennai (Madras).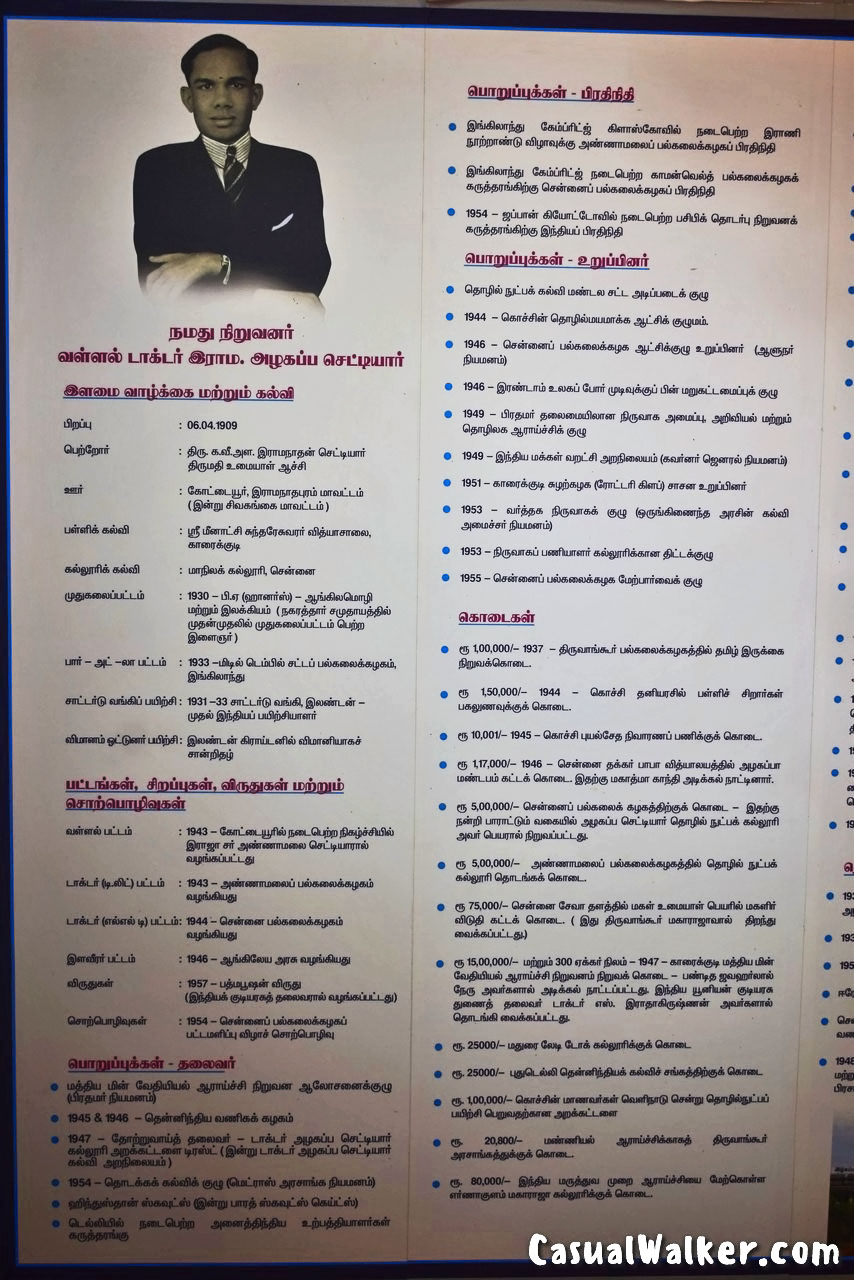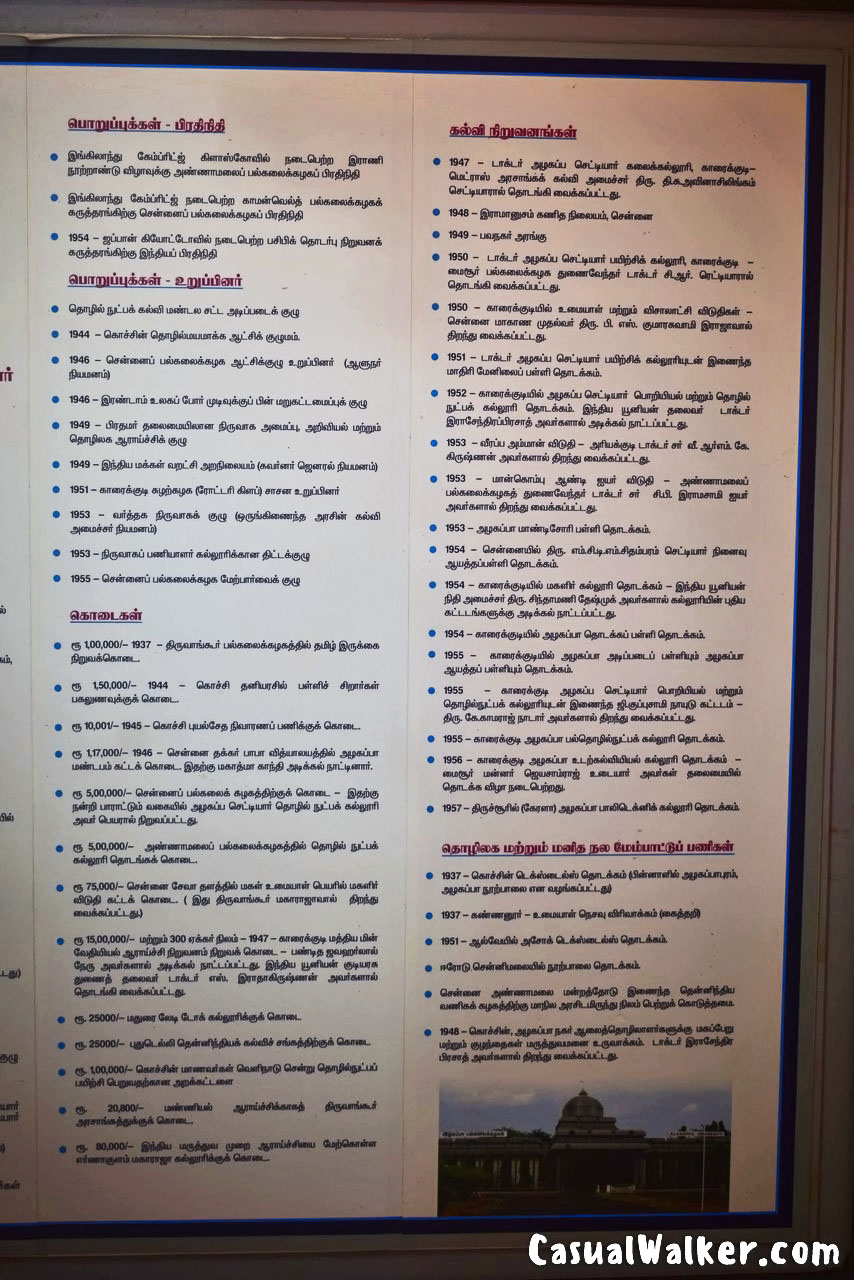 He attended Presidency College in Chennai, where he became highly connected to Sri Sarvepalli Radhakrishnan, a model teacher who later on became the President of India. He was the first Nattukottai Nagarathar to receive an M.A. in English Language and Literature in 1930, at the early age of 21 years.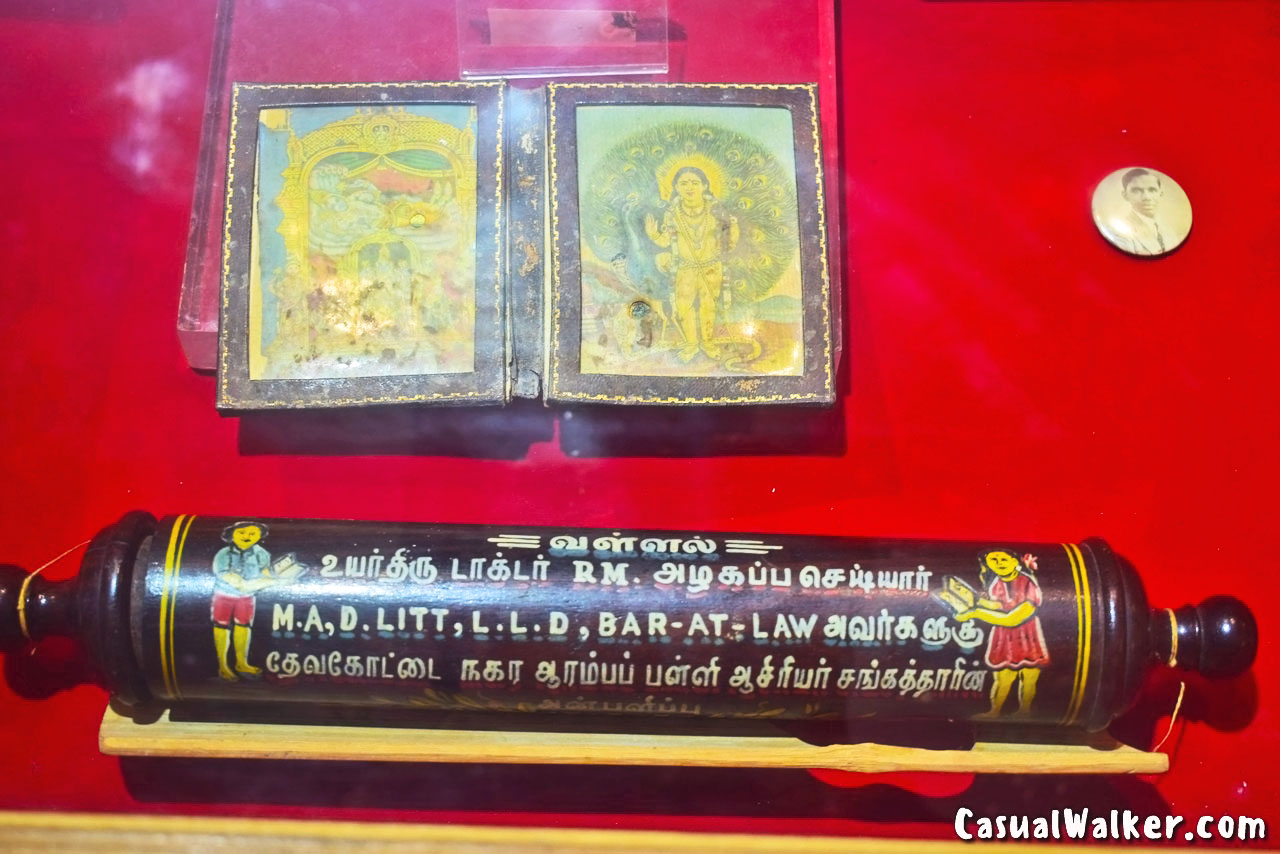 After his graduation, he moved to England to pursue his study of Law. Being naturally adventurous, he received a pilot certificate in Croydon, London. He started as the first Indian trainee at the London-based Chartered Bank during this time.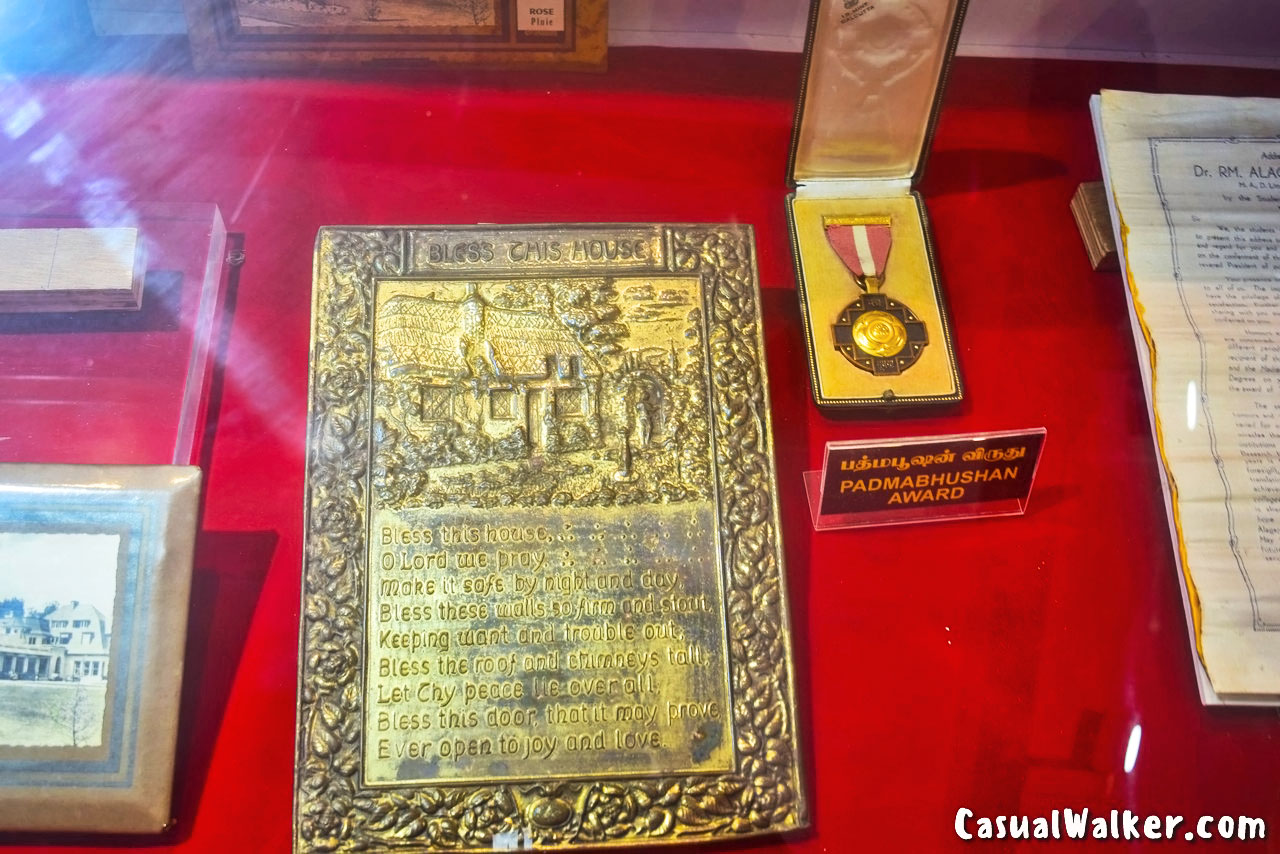 Sir Alagappa Chettiar proved himself a versatile business tycoon by doing business in Kerala, the rubber industry in Malaysia, Bombay, Madras, Calcutta, and other cities. When in one occasion he got an opportunity to attend the Madras University function, and then he was selected as the vice chancellor of Madras University.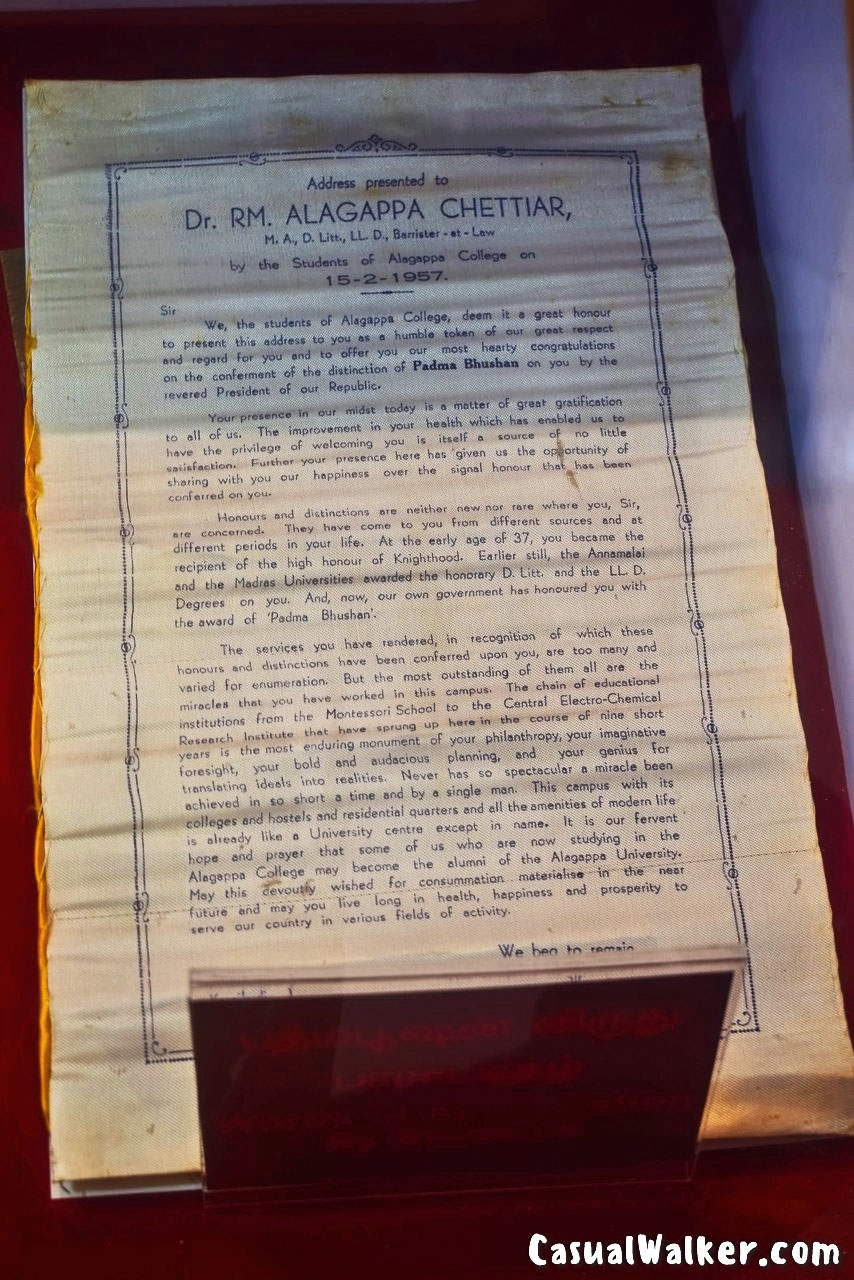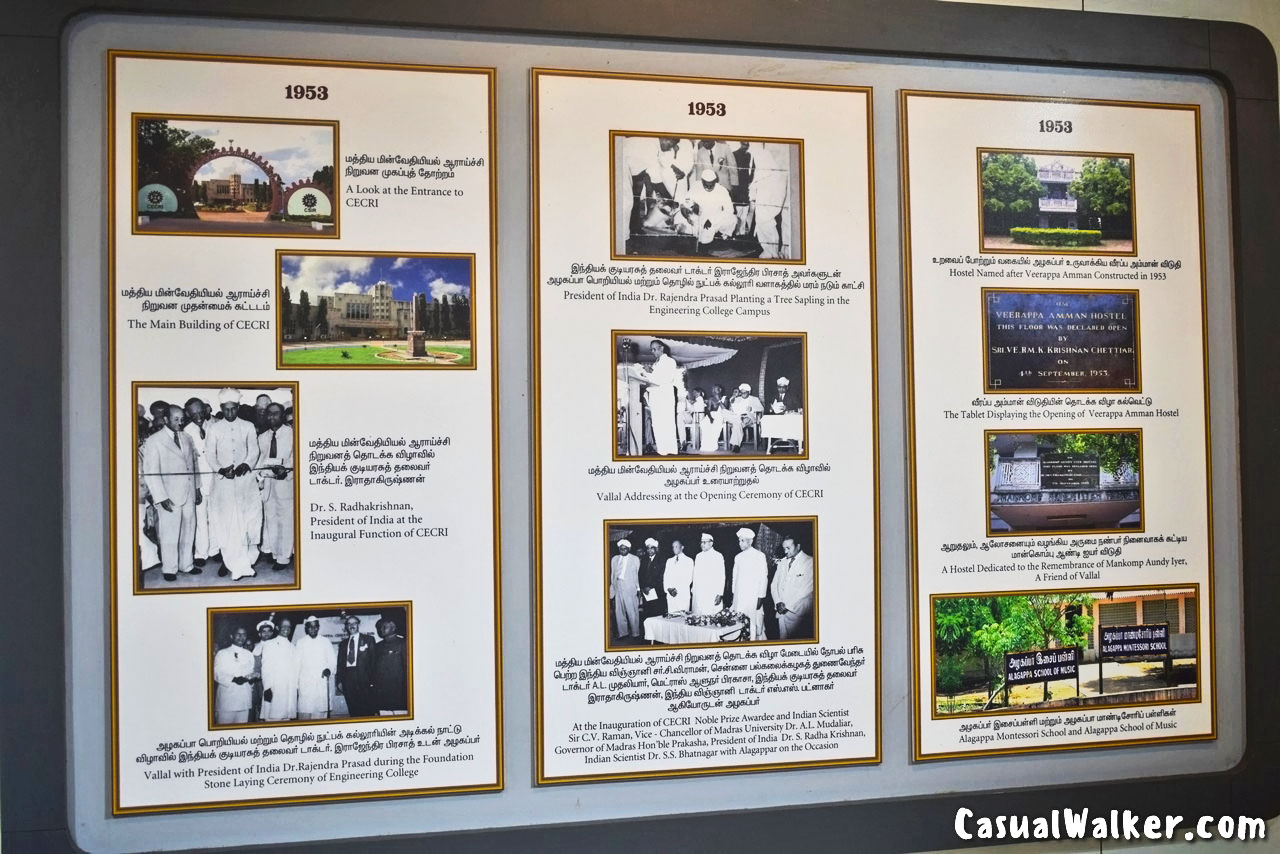 In a function held in Chennai in 1947, Madras University Vice-Chancellor Lakshmanaswamy Mudaliar called for – "For India to be freed from ignorance, rich people should come forward to start colleges in backward areas". Accepting the note, Sir Alagappa Chettiar presented a check for 1 lakh INR to start a college in his hometown and got permission from the Vice-Chancellor.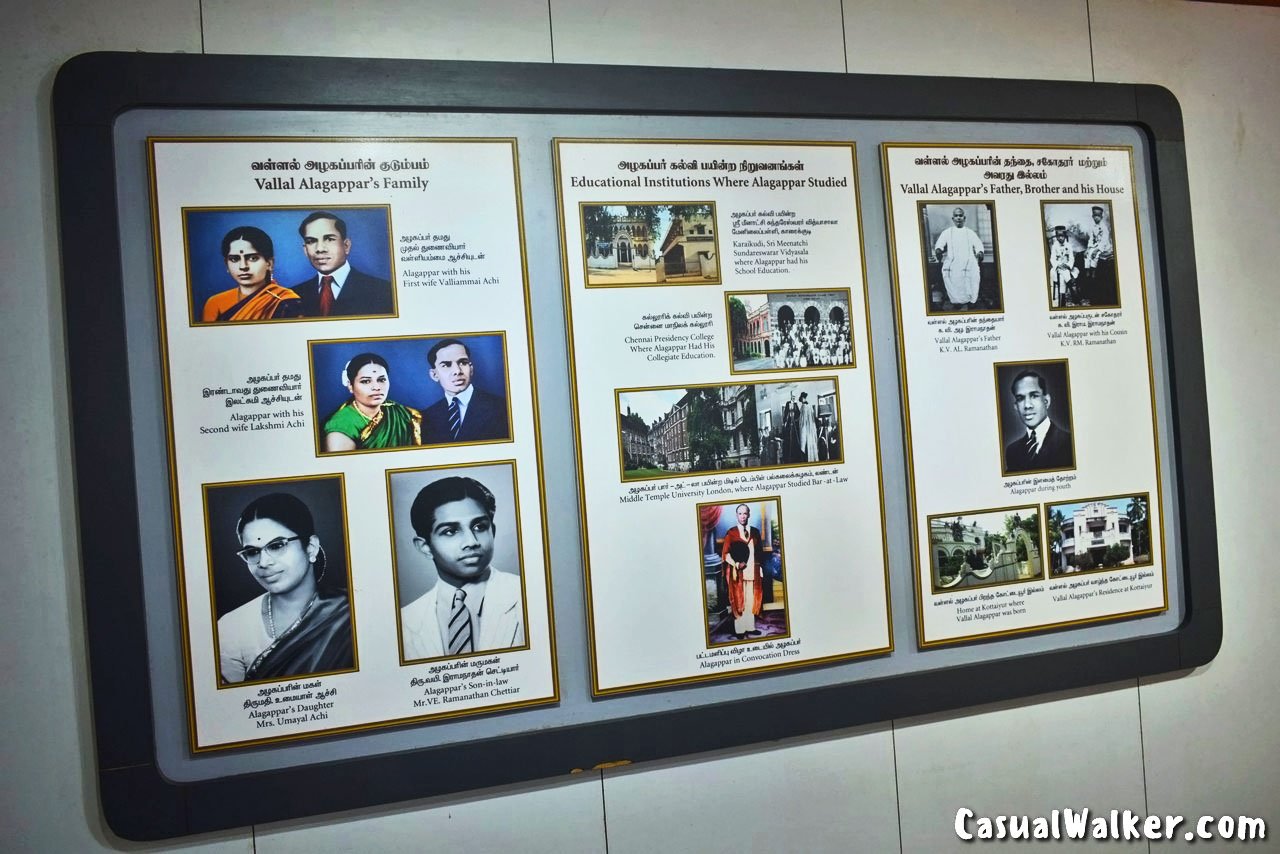 Sir Alagappa Chettiar got an introduction by the then Indian Prime Minister Sri Jawaharlal Nehru and on the basis of that friendship, he convinced Prime Minister Jawaharlal Nehru to house the famous Central Electrochemical Research Limited (CECRI) which is one of the Government's National Research Institutes inside the heart of the Alagappa University's campus in Karaikudi by donating 300 acres of land, Nehru praised him as the "socialist boss".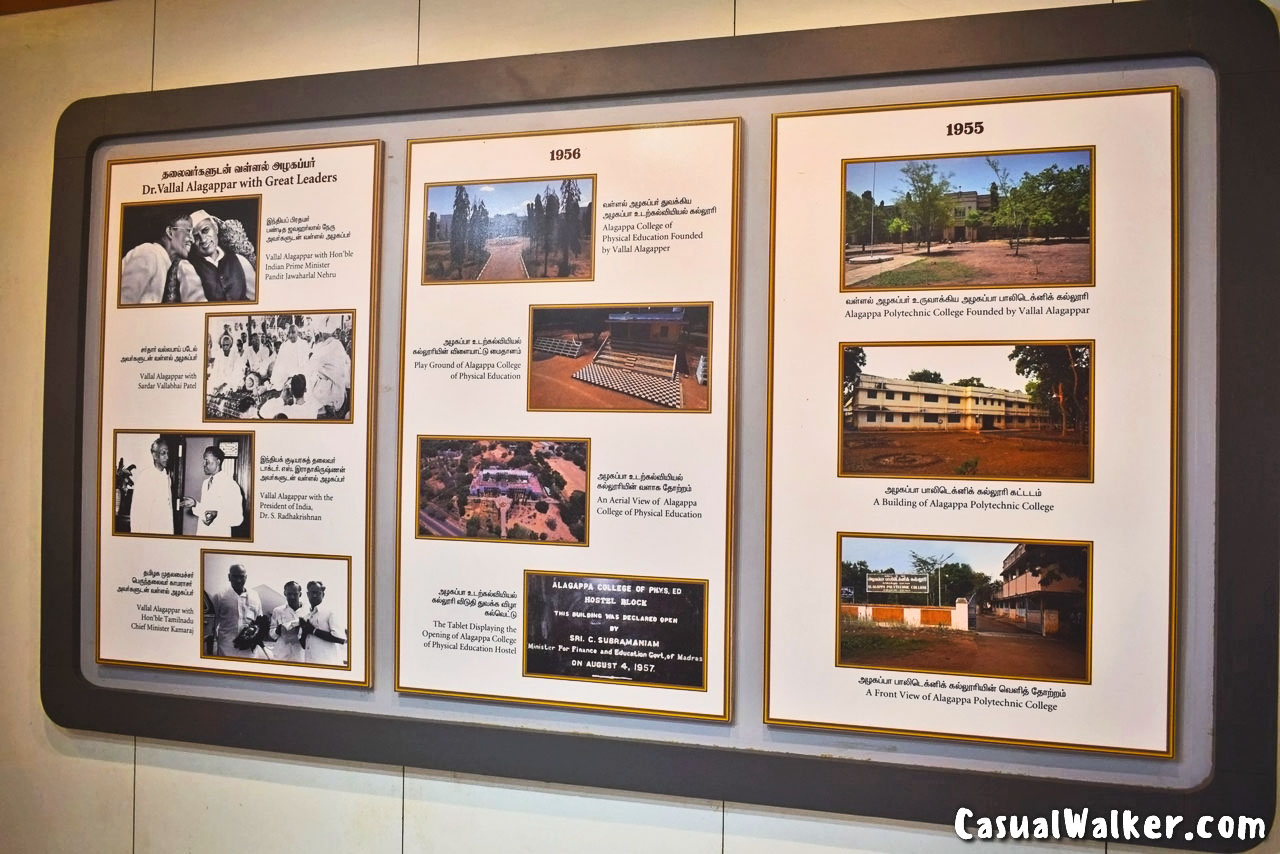 On January 14, 1953, Sri Sarvepalli Radhakrishnan, who was a vice president at the time, remarked, "In his lifetime he has built a monument for himself and you only have to look around."
Sir Alagappa Chettiar's efforts and generosity towards education have flourished today as Alagappa University is spread over a thousand acres in Karaikudi. Perhaps his greatest act of generosity was donating his own opulent home in Kottaiyur to establish the Women's College at Kottaiyur village.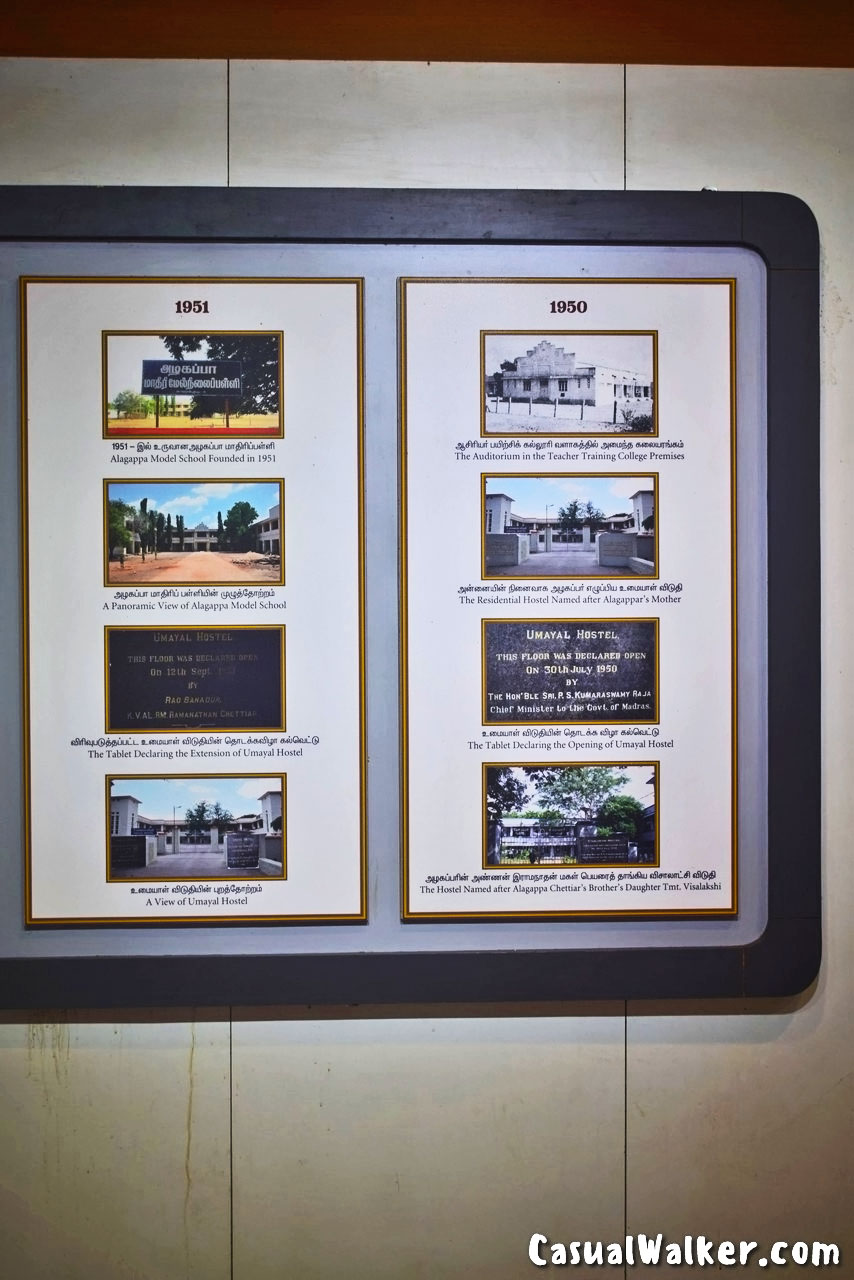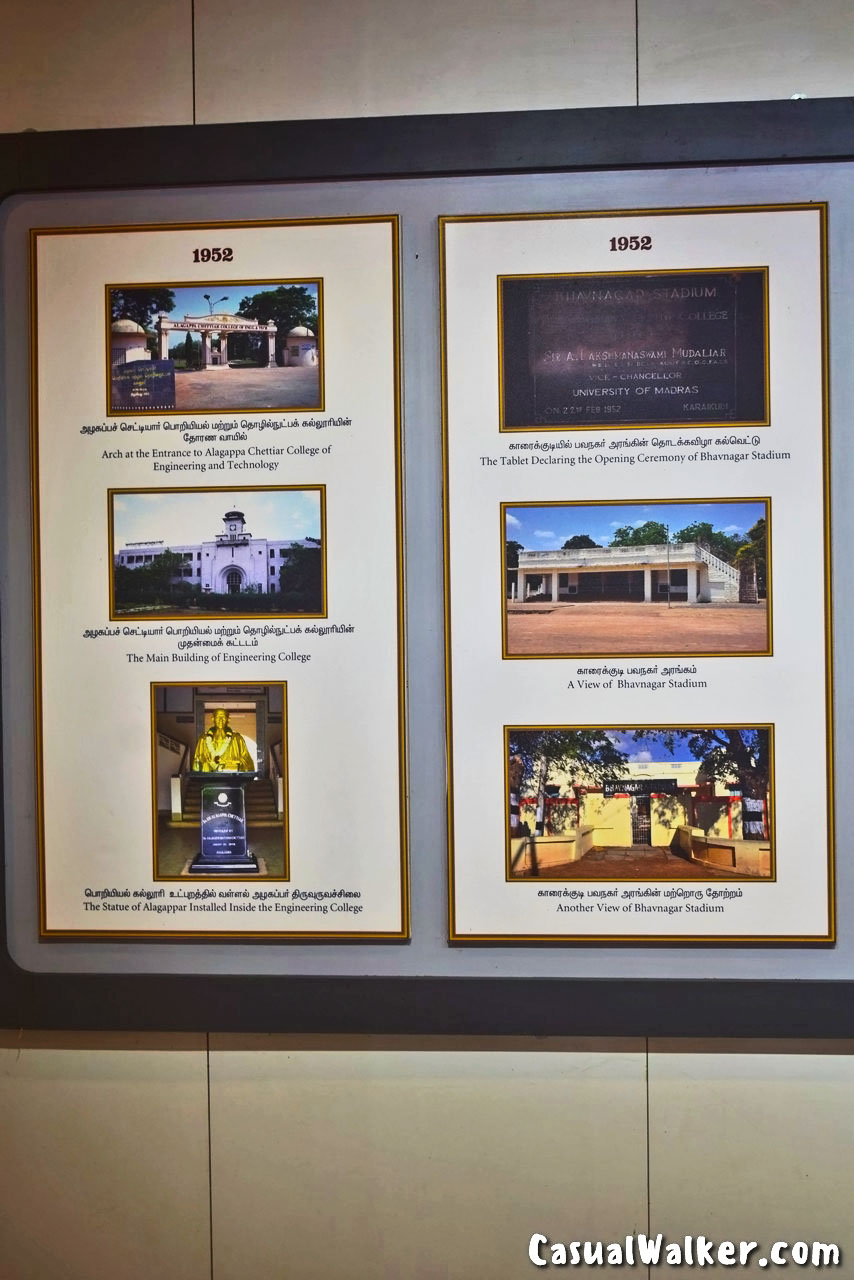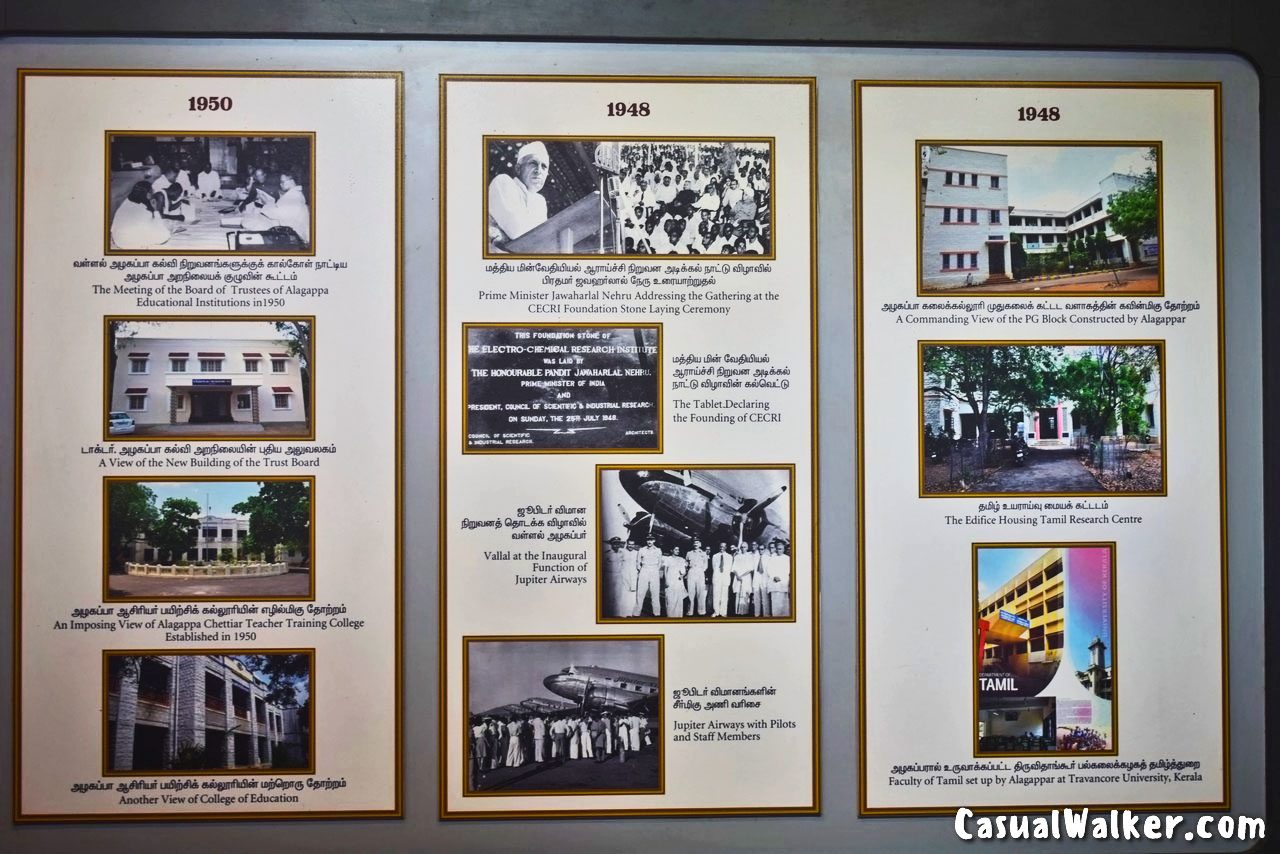 Sir Alagappa Chettiar has generously donated his entire wealth to the development of education. At that time the educational institutions were in big cities like Chennai, Trichy, and Madurai. People belonging to the inner part of the areas like Karaikudi, Tirupathur, and Sivagangai were not able to get higher education. Sir Alagappa Chettiar changed this and transformed Karaikudi from a mere grove of bushes, into a hub of a great education zone.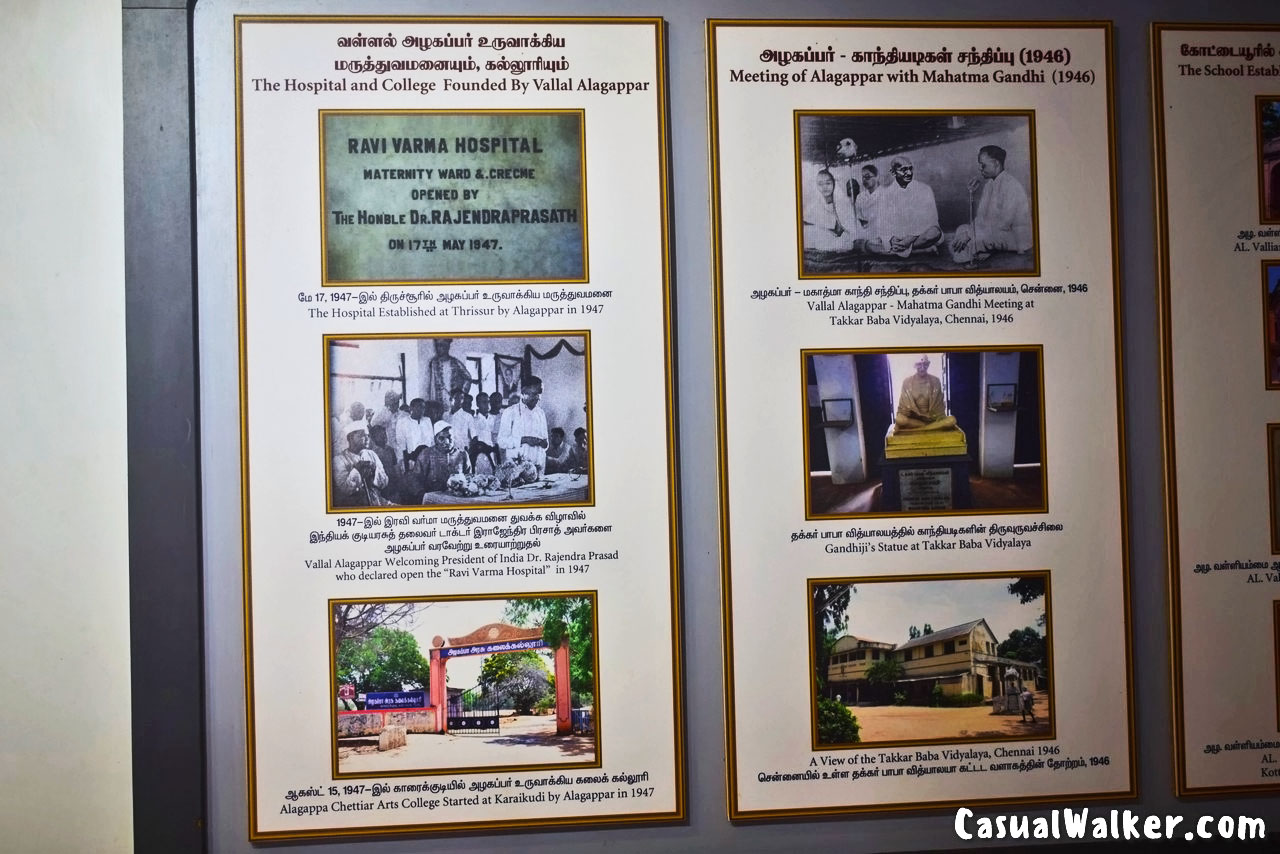 Some of the key educational institutions started by Sir Alagappa Chettiar are Women's College, Engineering College, and Teacher Training College.
Sir Alagappa Chettiar also organized the establishment of Alagappa Engineering College in Karaikudi. Apart from these, Montessori School for Kindergarteners, Preparatory School, Aadar School called Model School, High School, Arts College, Teacher Training College, Polytechnic, Gymnasium School, and Music School were also formed due to Sir Alagappa Chettiar's efforts.
Based on the institutes established by him, Tamil Nadu Government created Alagappa University in 1985.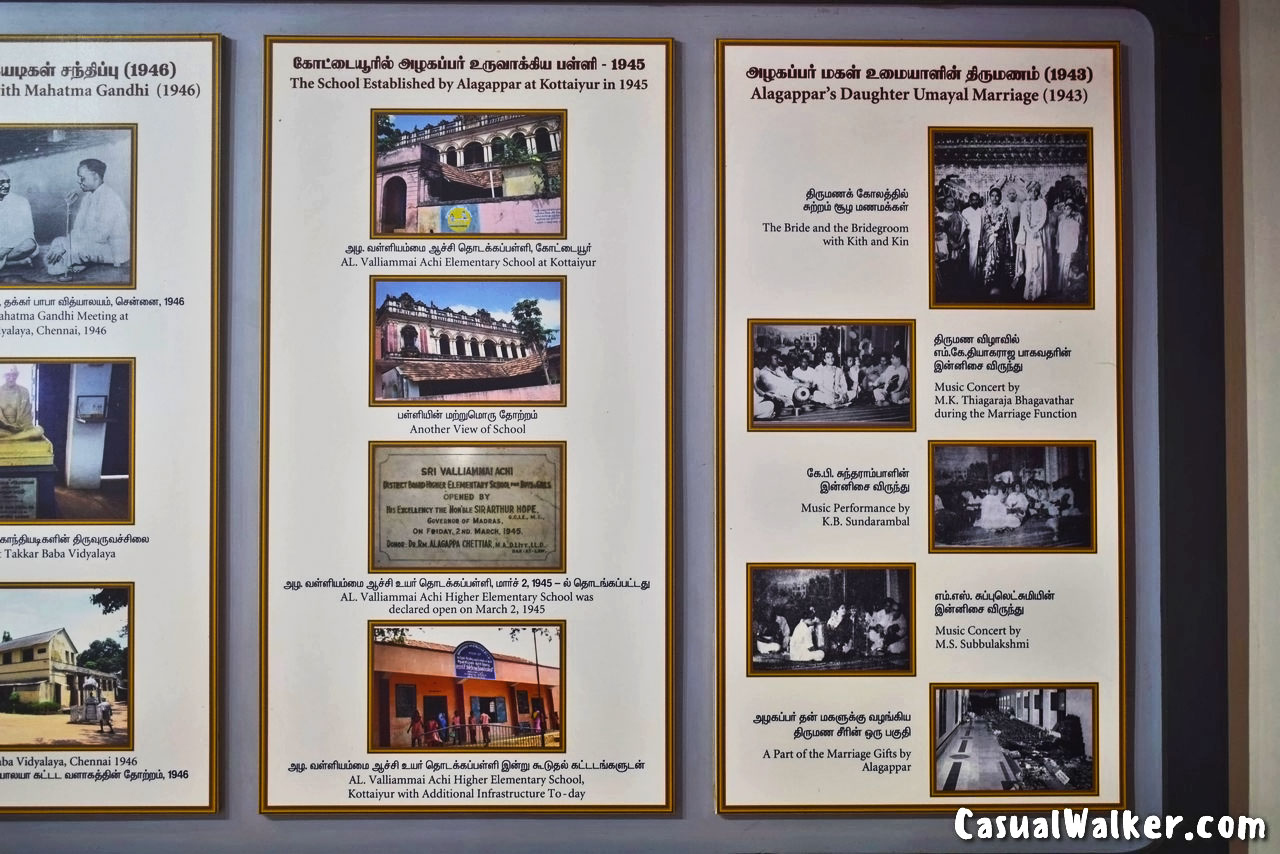 For his contributions to aesthetics, Annamalai University in 1943 and Madras University in 1944 awarded him the title of "Doctorate." Sir Alagappa Chettiar also received the honorific title "Sir" in 1946. He received the "Padma Bhushan" from the Indian government in 1956.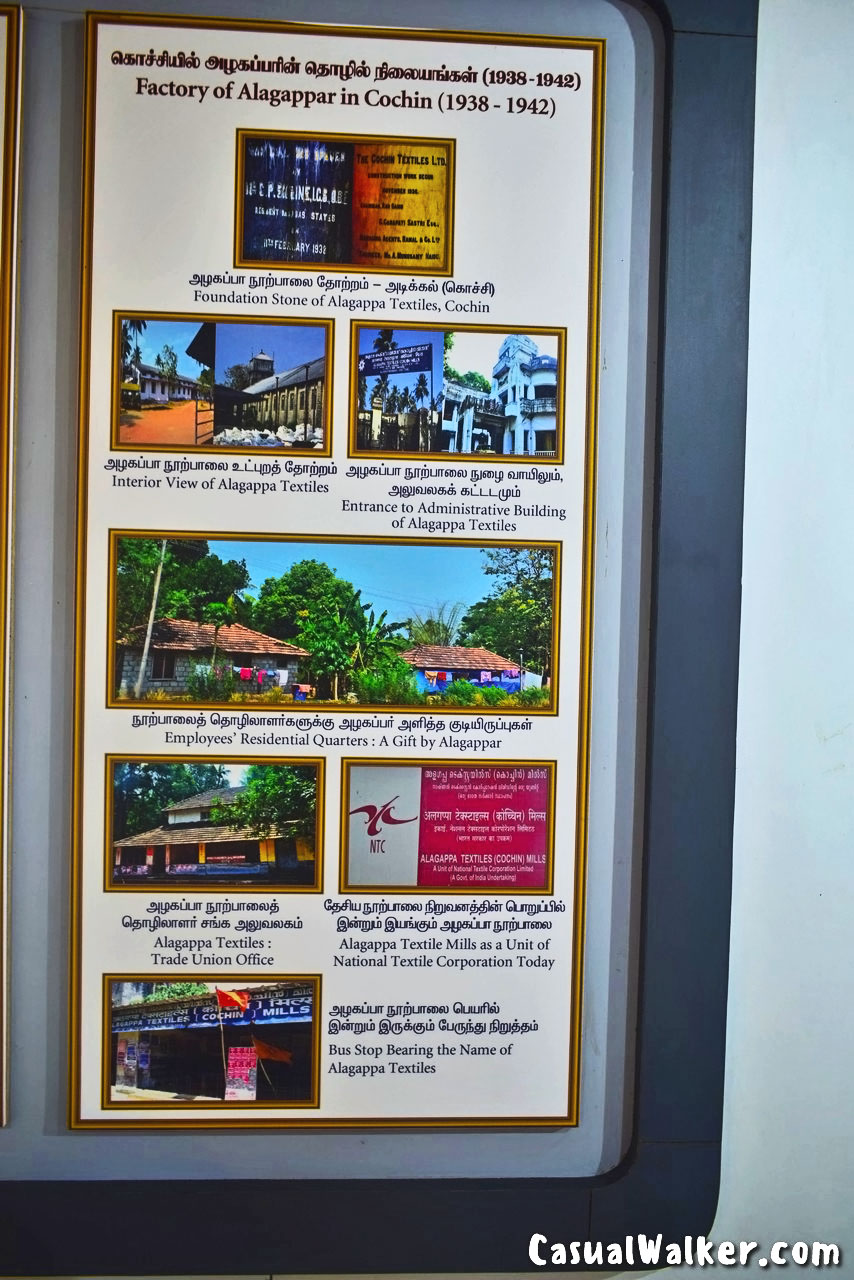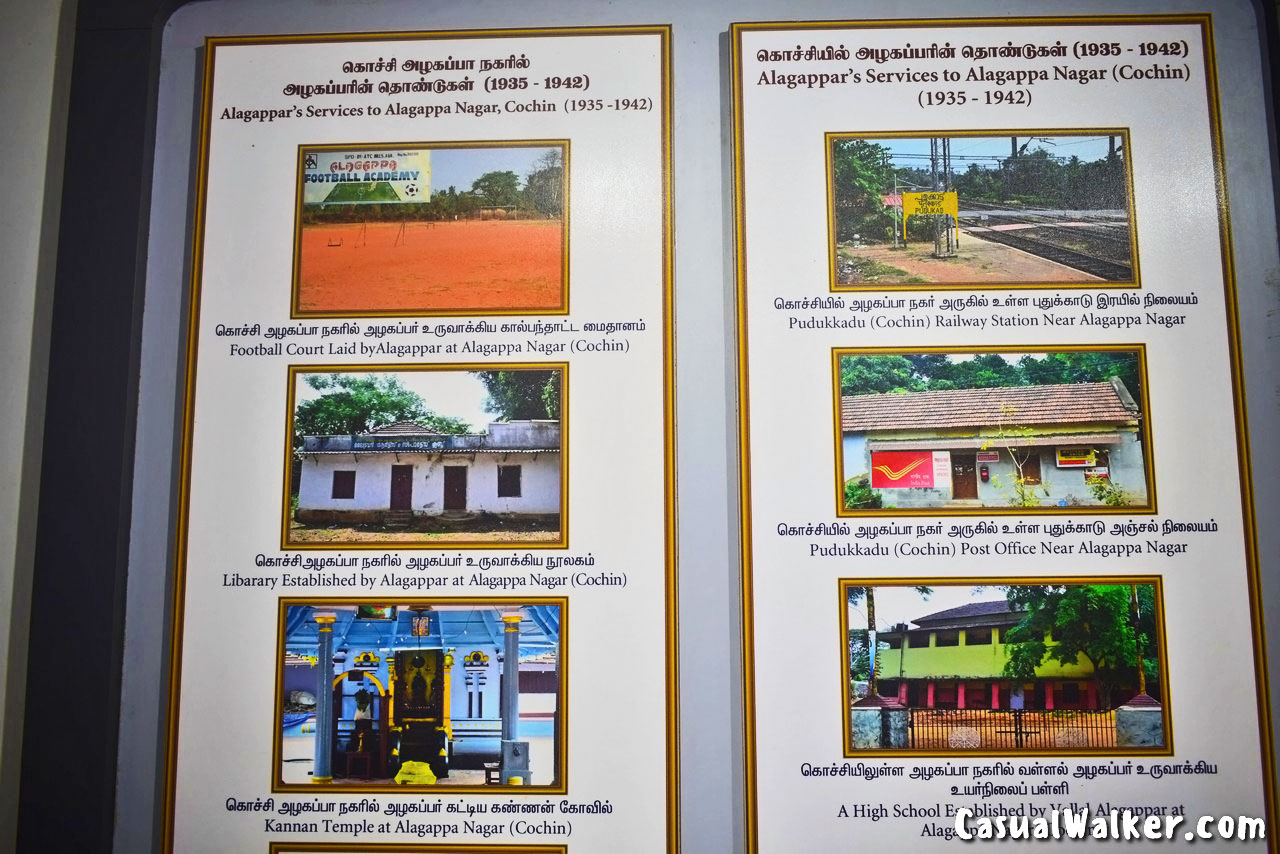 Sir Alagappa Chettiar's had a long list of donations to various social and charitable organizations and educational institutions. Sir Alagappa Chettiar pooled all his assets and established a charity. He wrote in his will that the entire income should be spent on education. Because of this, people called him 'Vallal Alagappar'. The students who studied at the university he founded are today spread all over the world and add to the reputation of the institution.
Alagappa Museum is one great outcome of the institute, a must-visit place in Karaikudi to know more about Sir Alagappa Chettiar and also about the entire Chettinad and Tamil Culture and Traditions.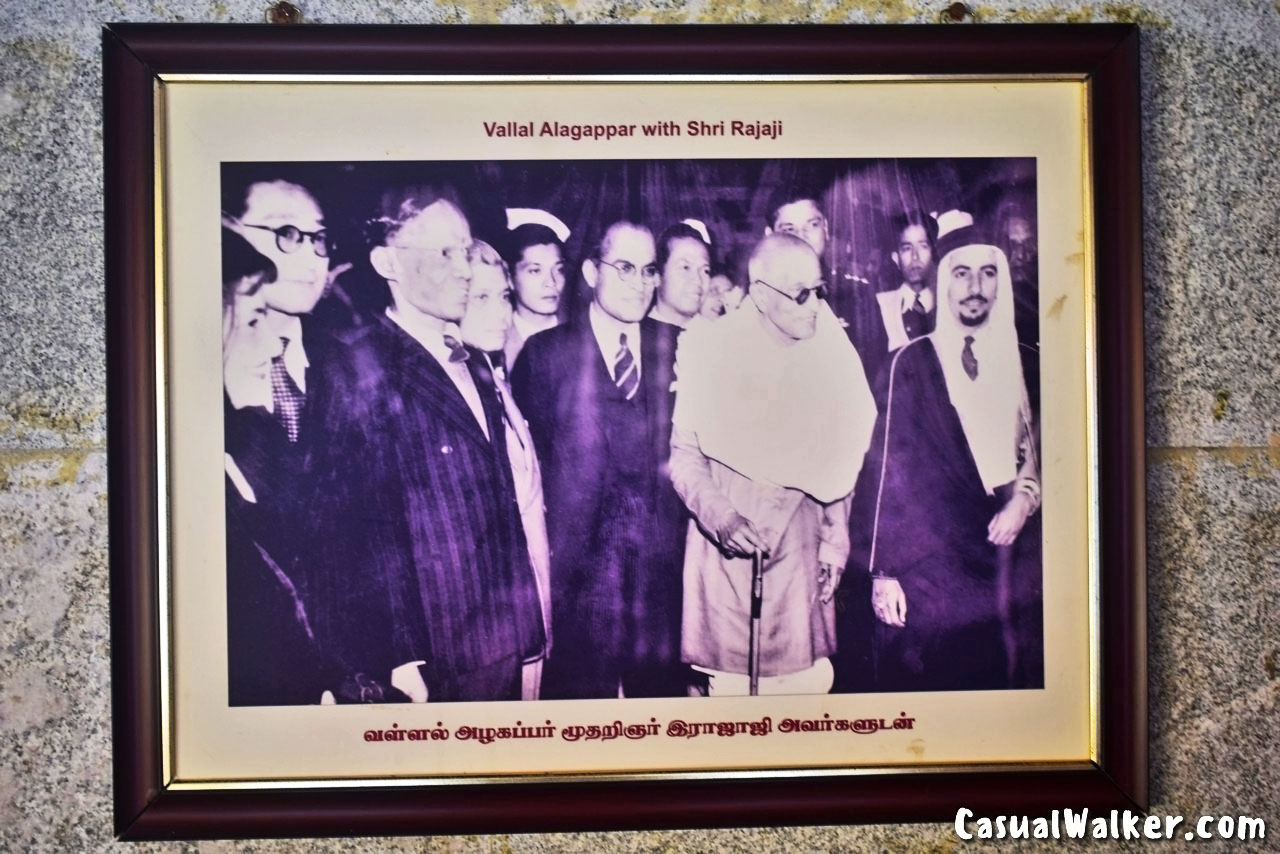 Tamil Cultural Centre at Vallal Dr. Alagappar Museum
Vallal Dr. Alagappar Museum also has a "Tamil Cultural Center", which showcases the history of Classic Tamil and Chettind Culture and Traditions.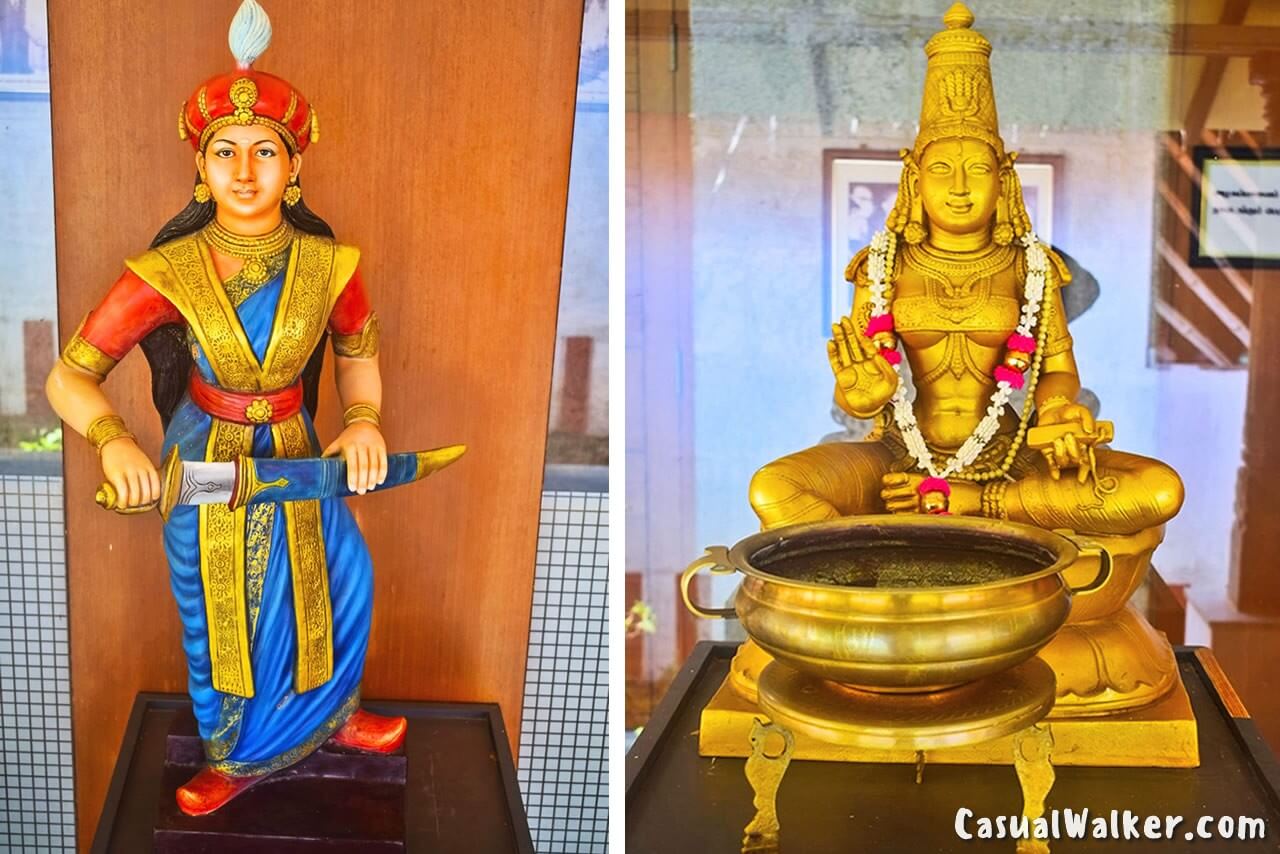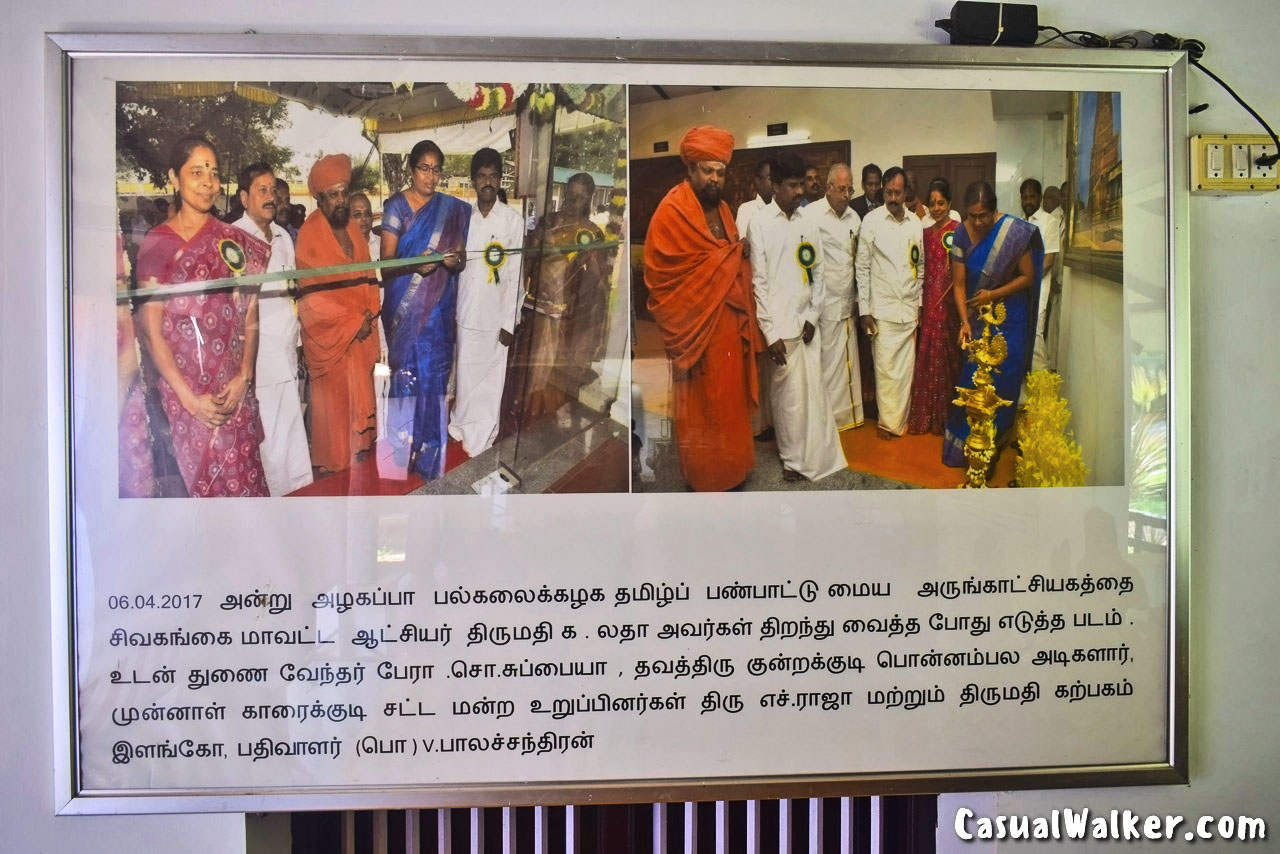 It was established to nurture, preserve and propagate the rich Tamil tradition and culture. The center is gathering, cataloging, and displaying proof of great Tamil culture's long history.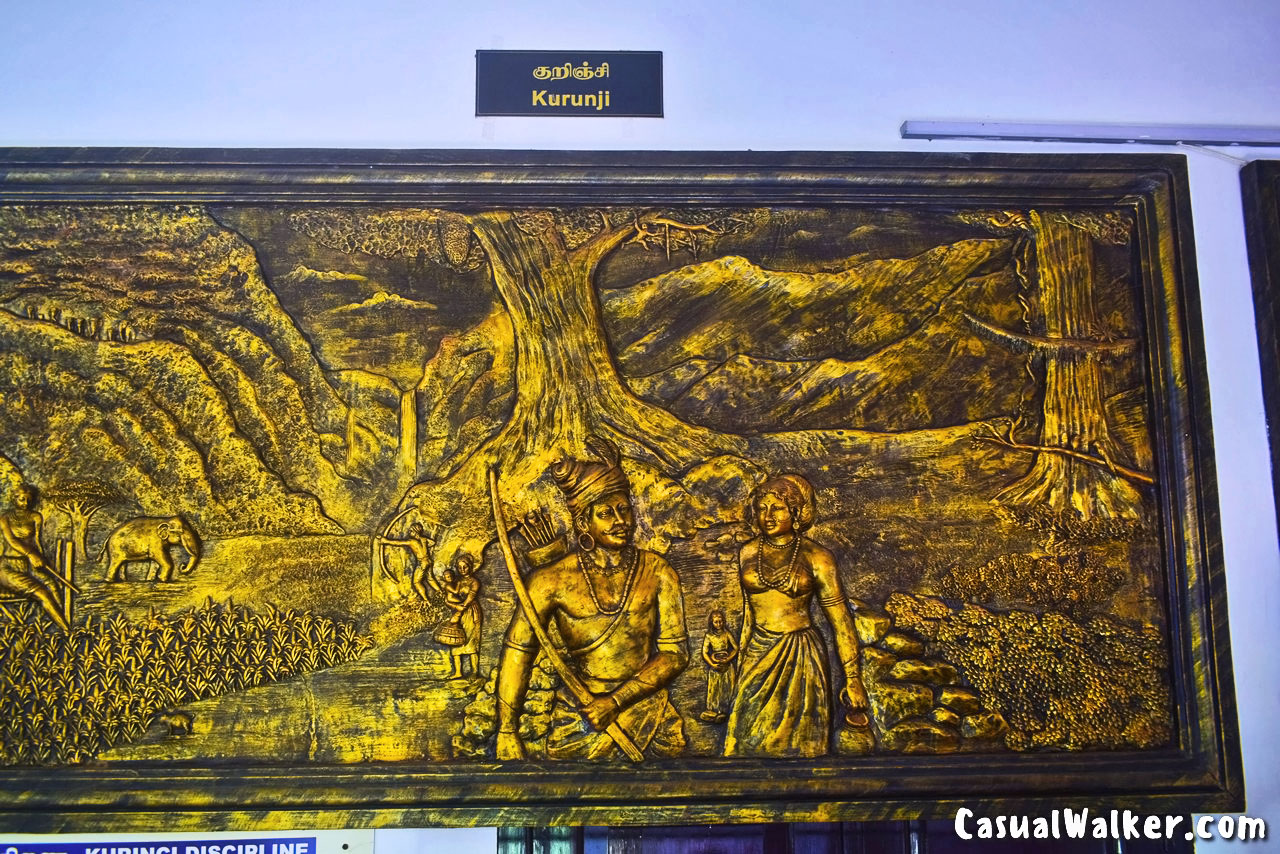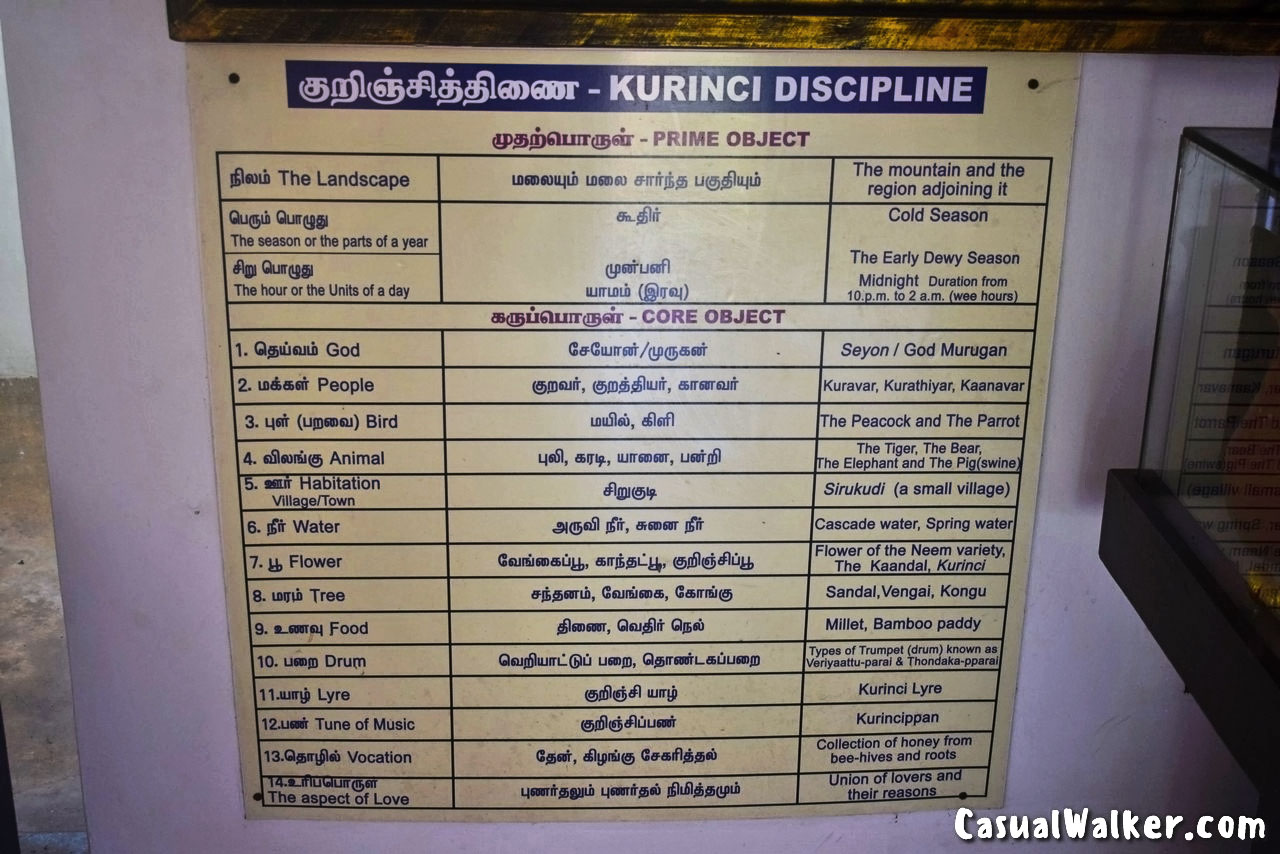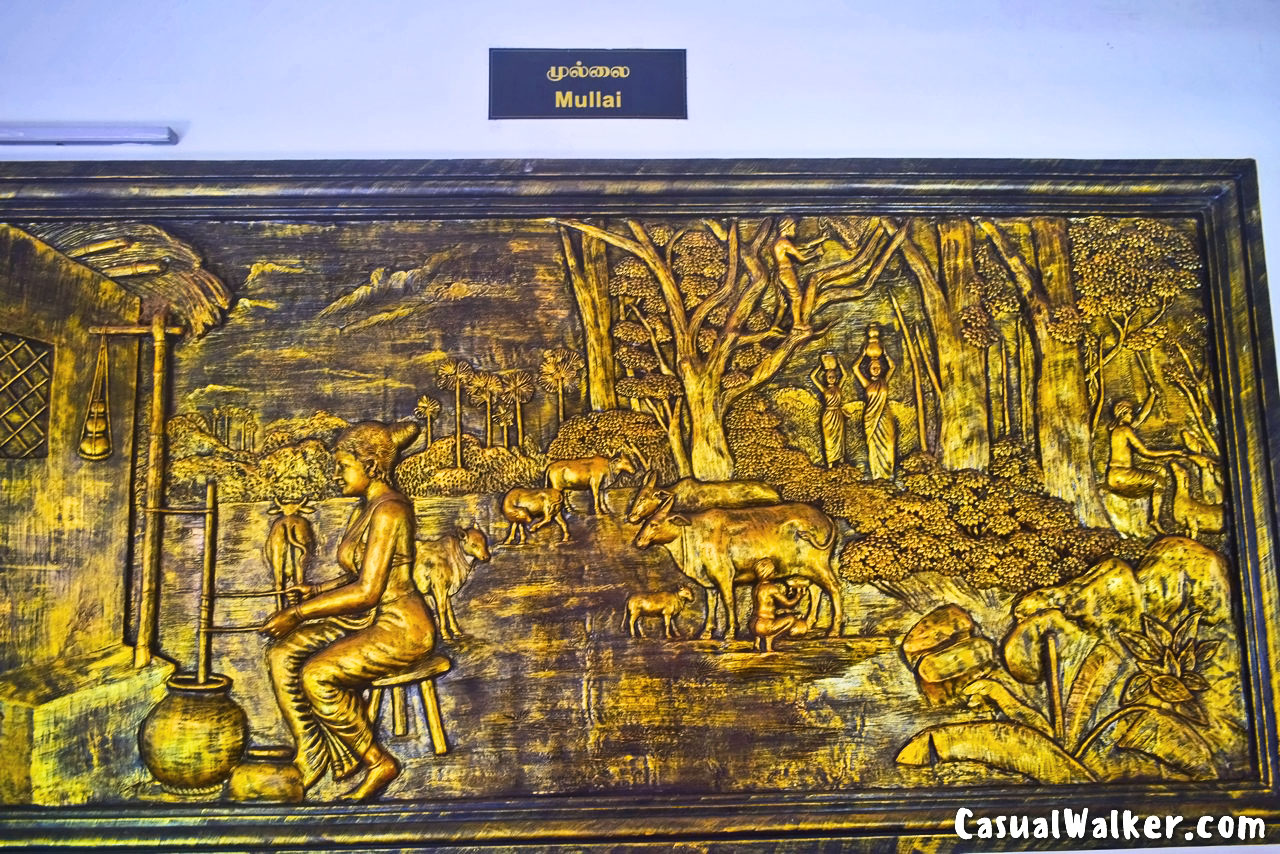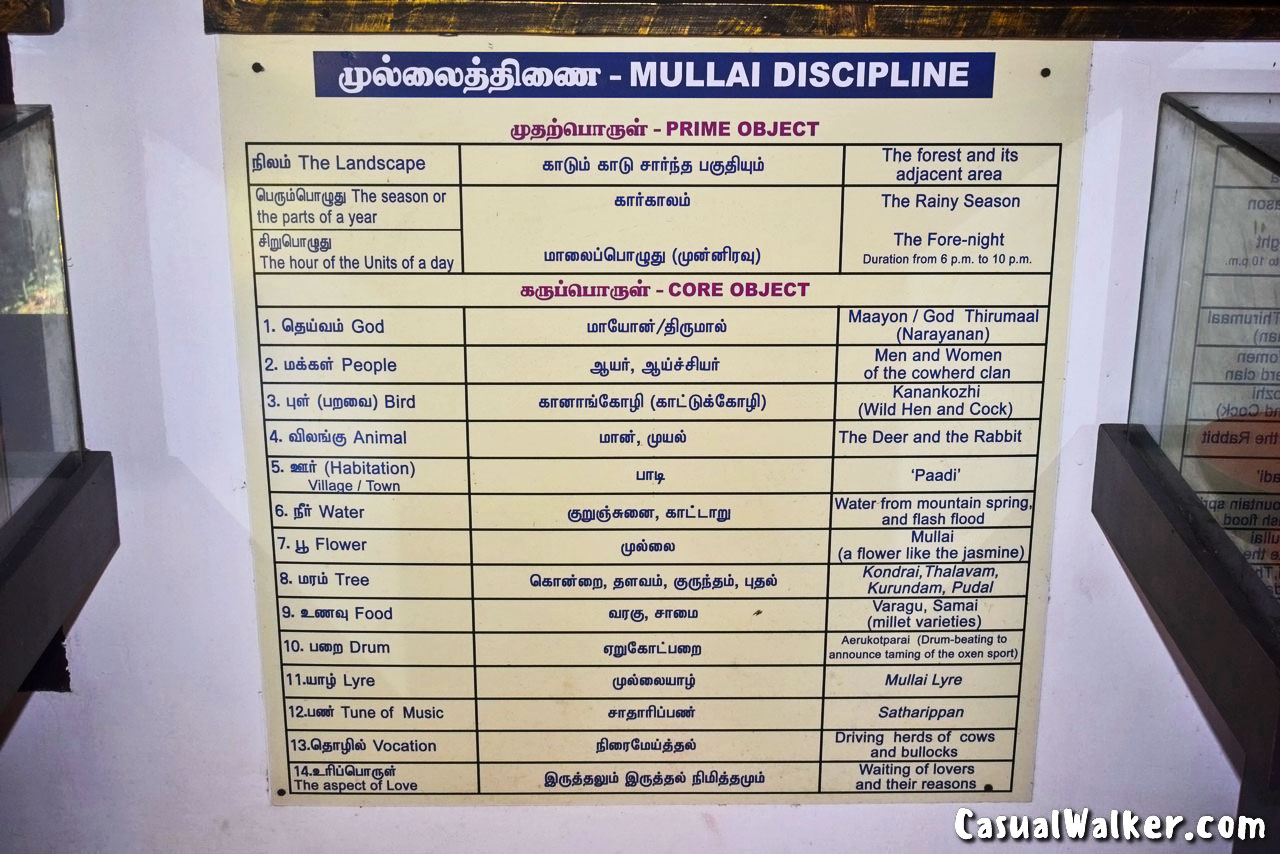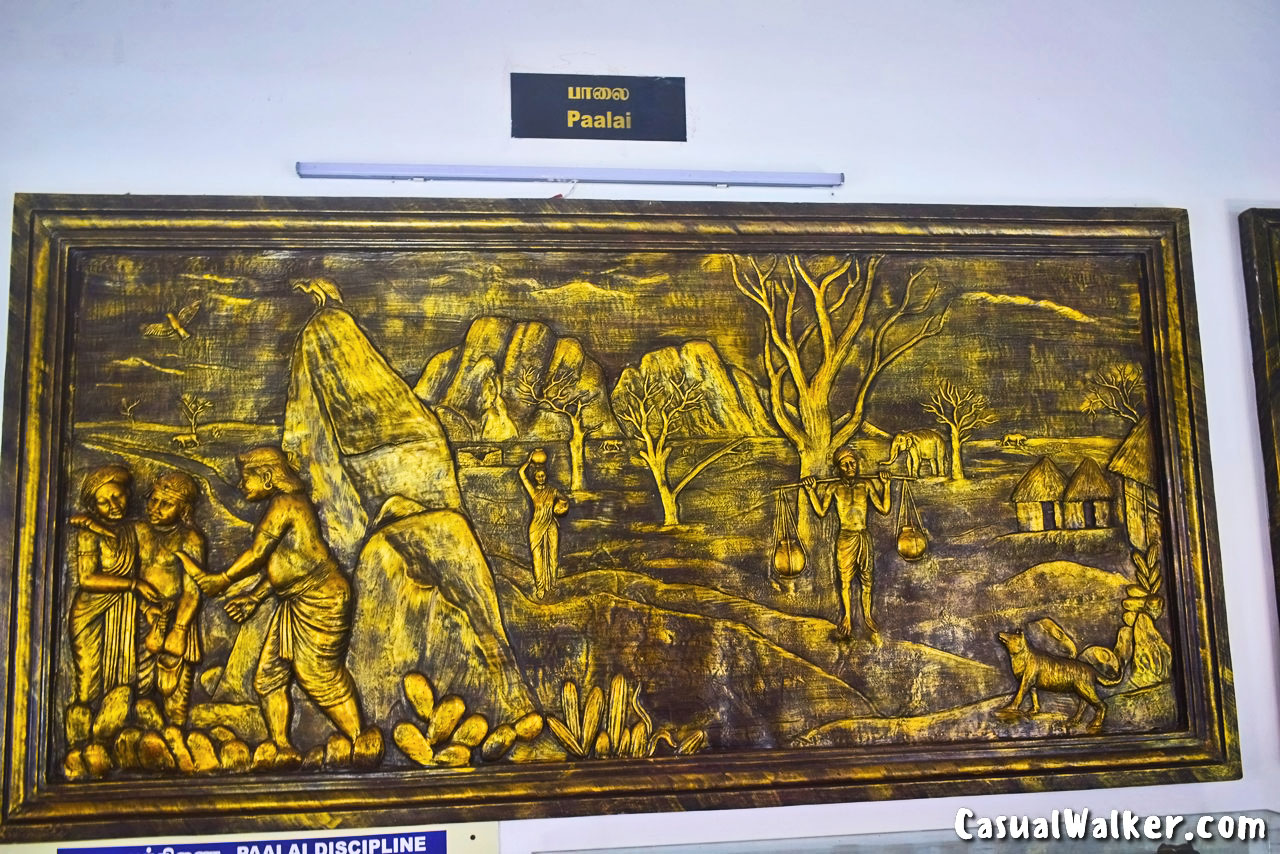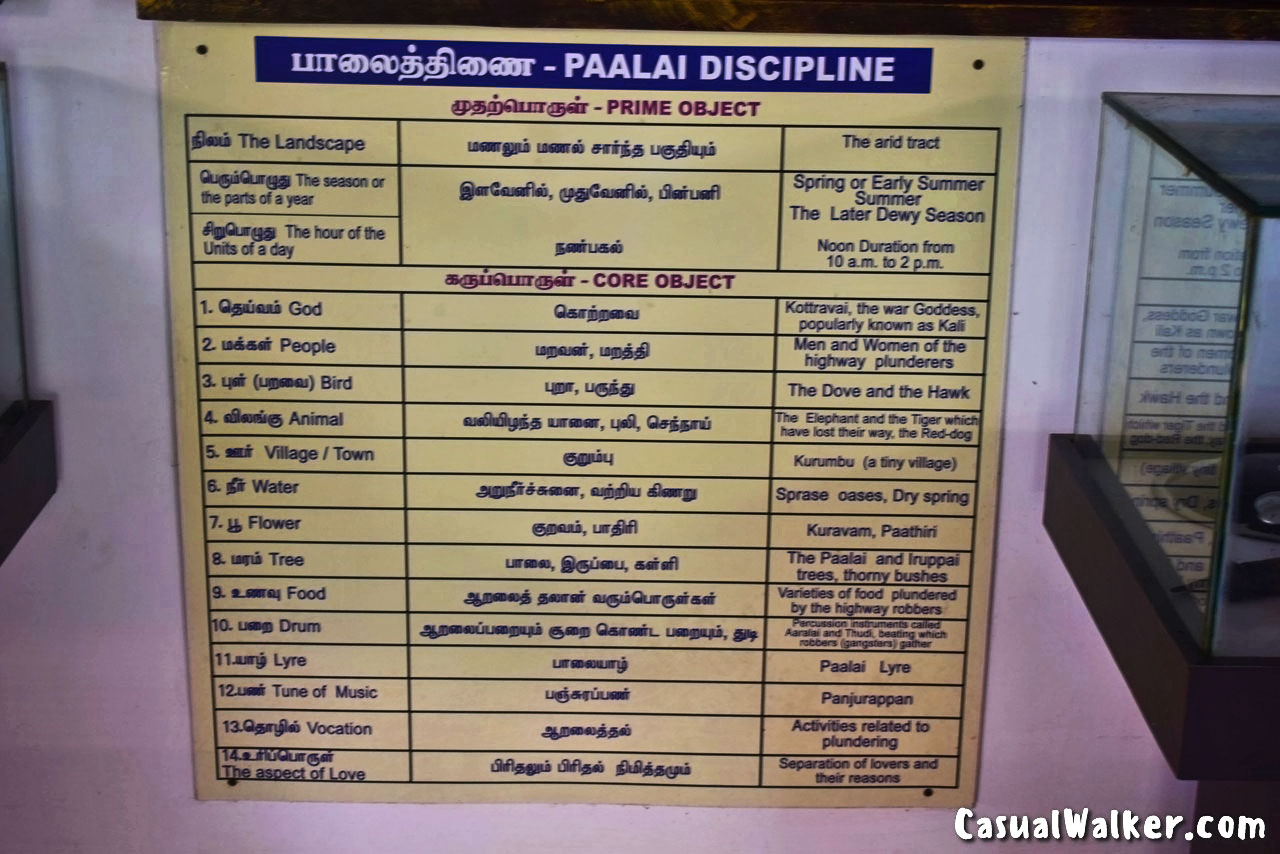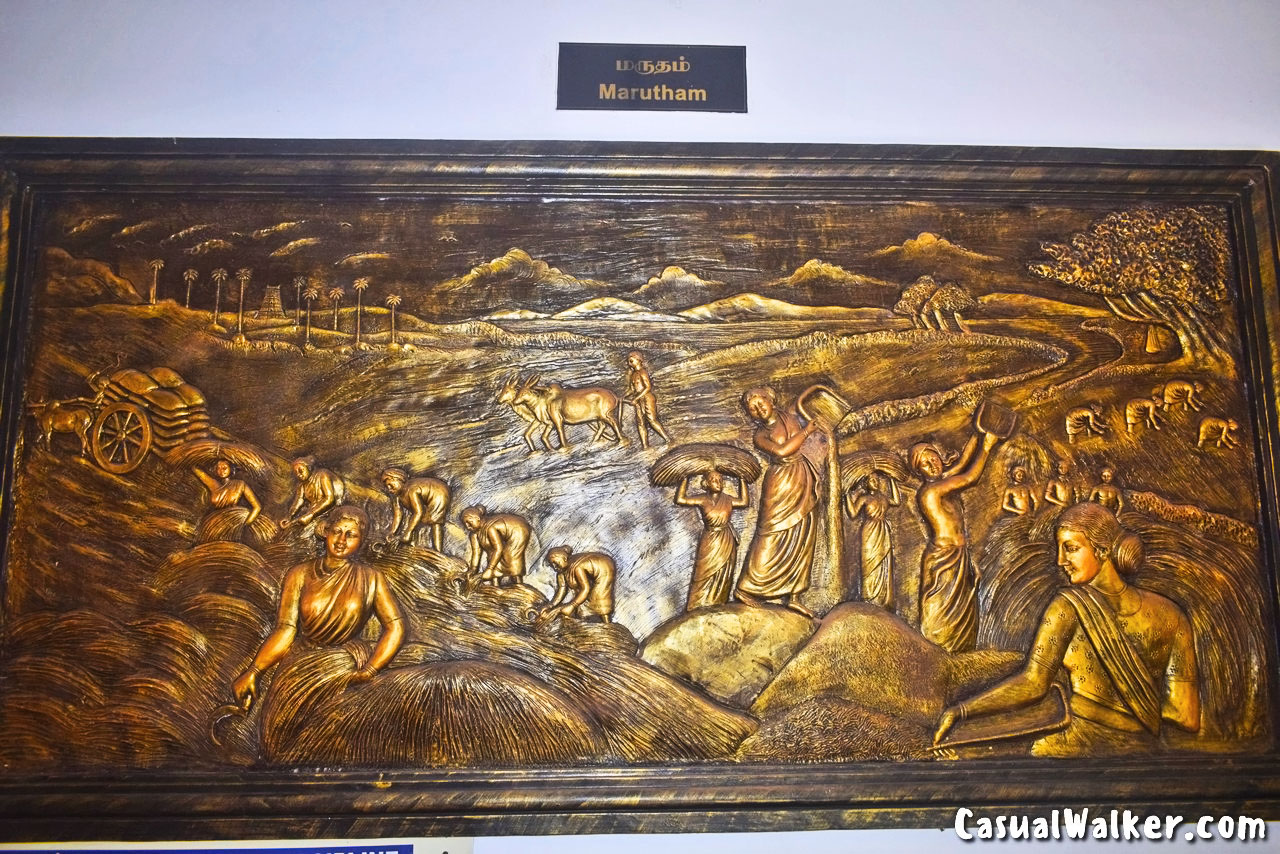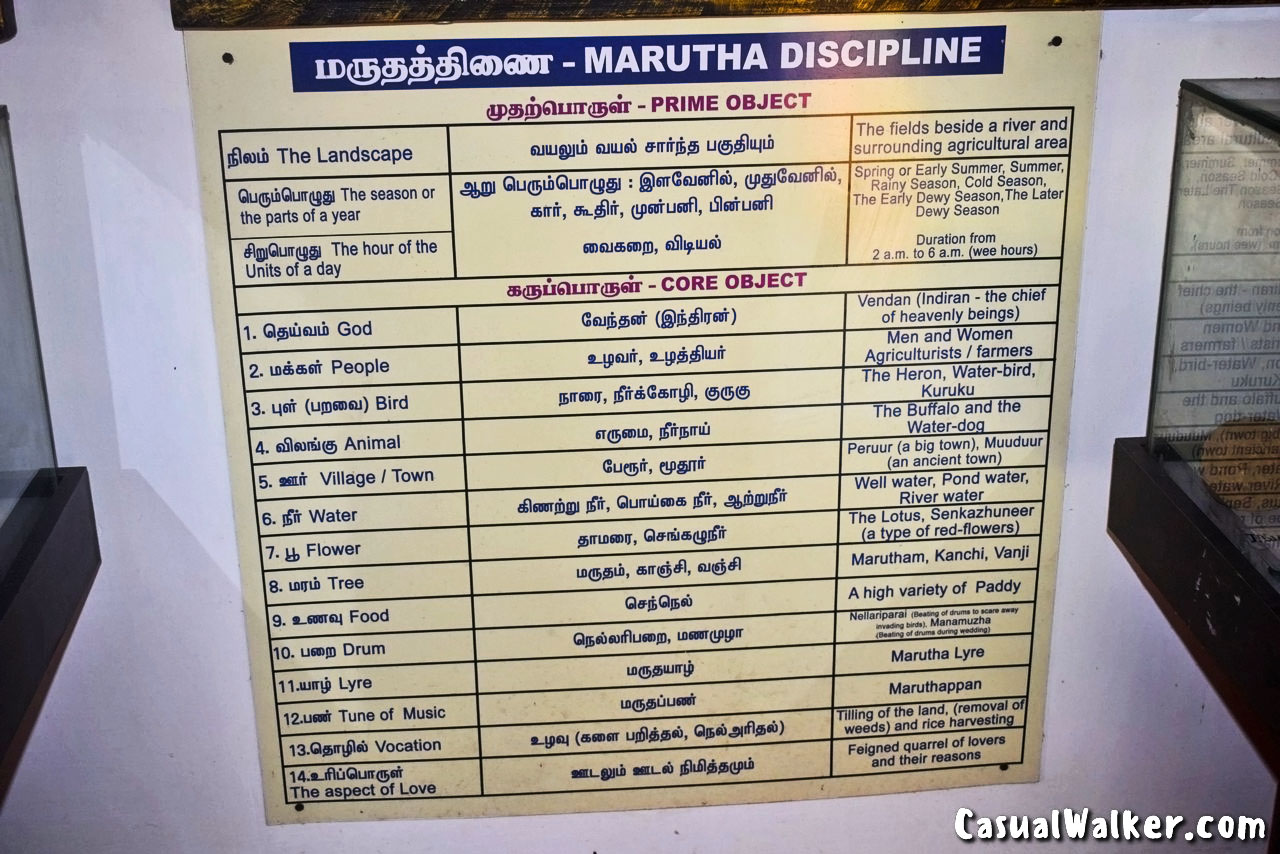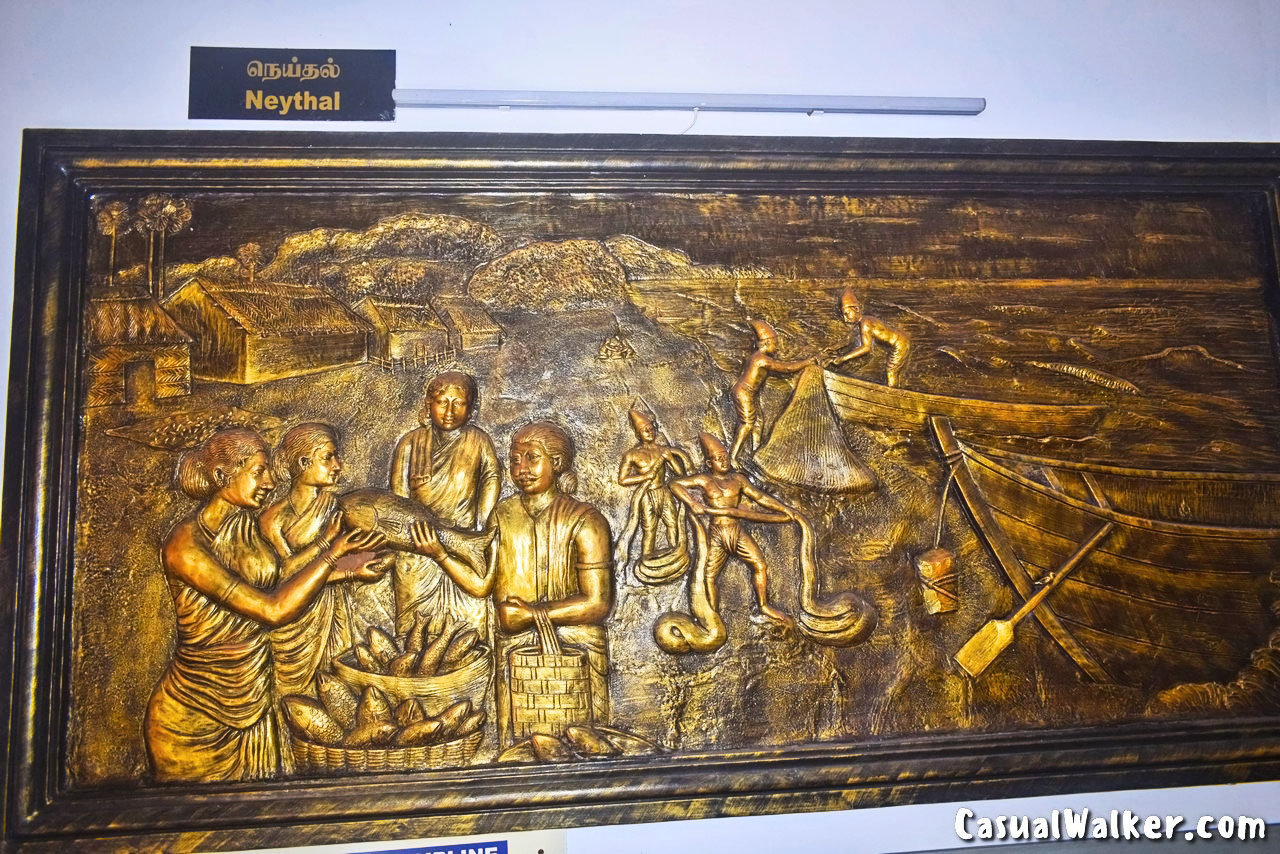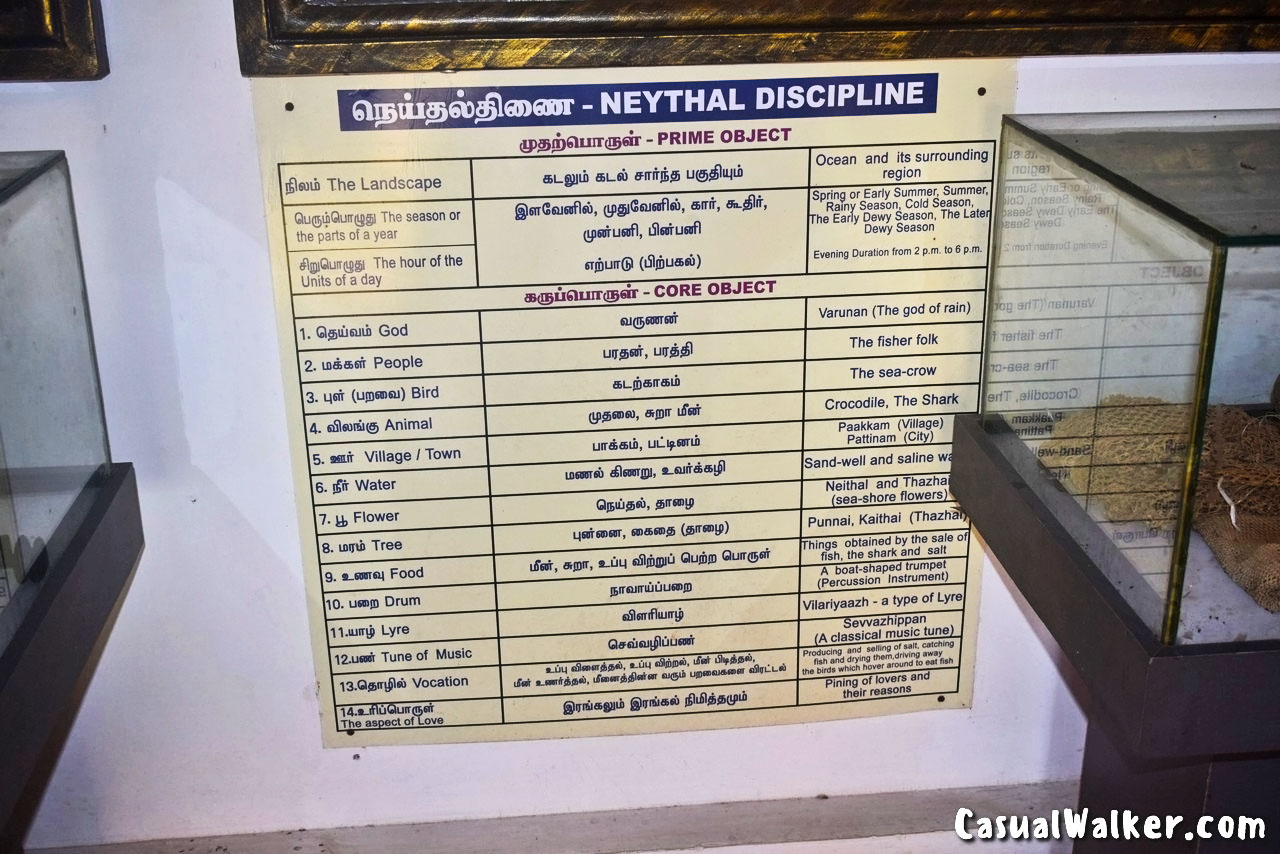 Models of the ancient Tamils' thatched dwellings and the 1,000 years old Thanjavur Big Temple are among the displays.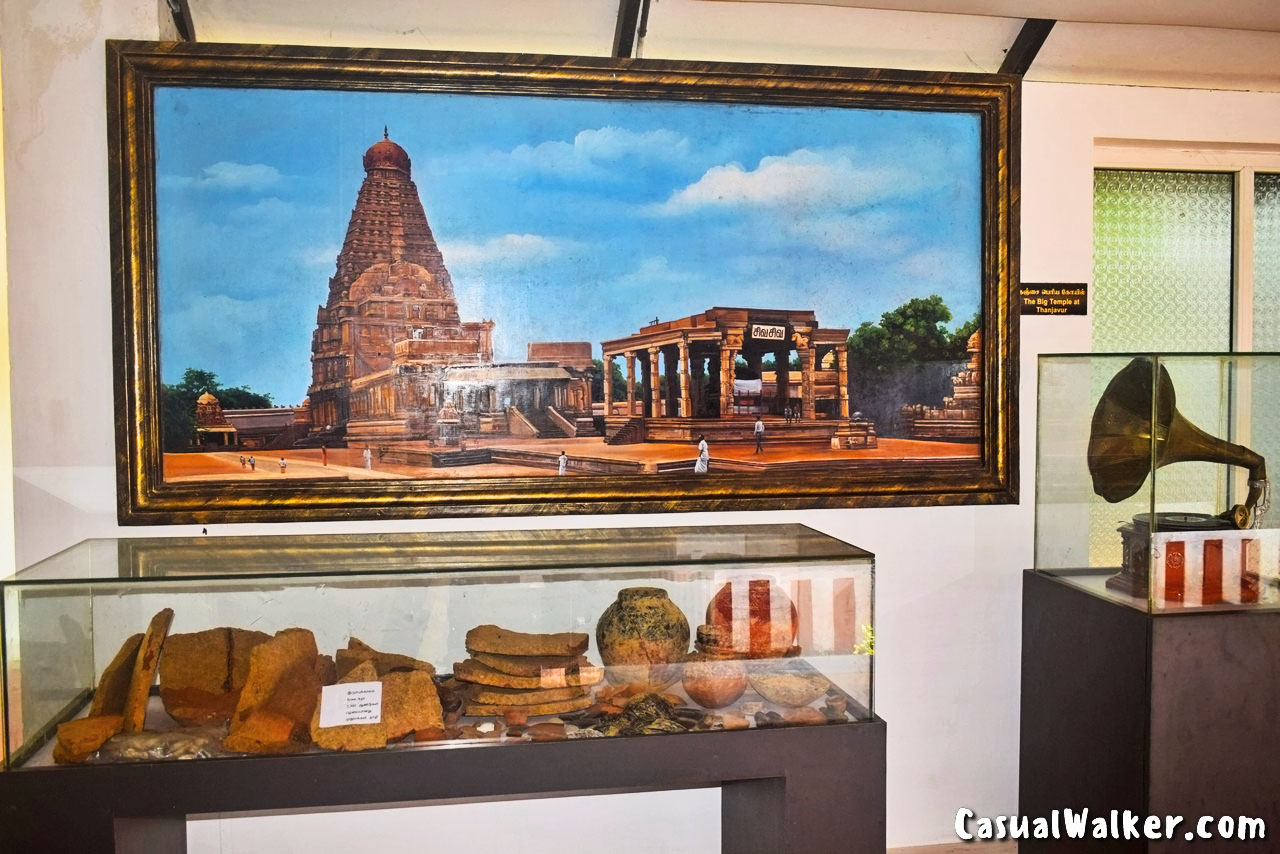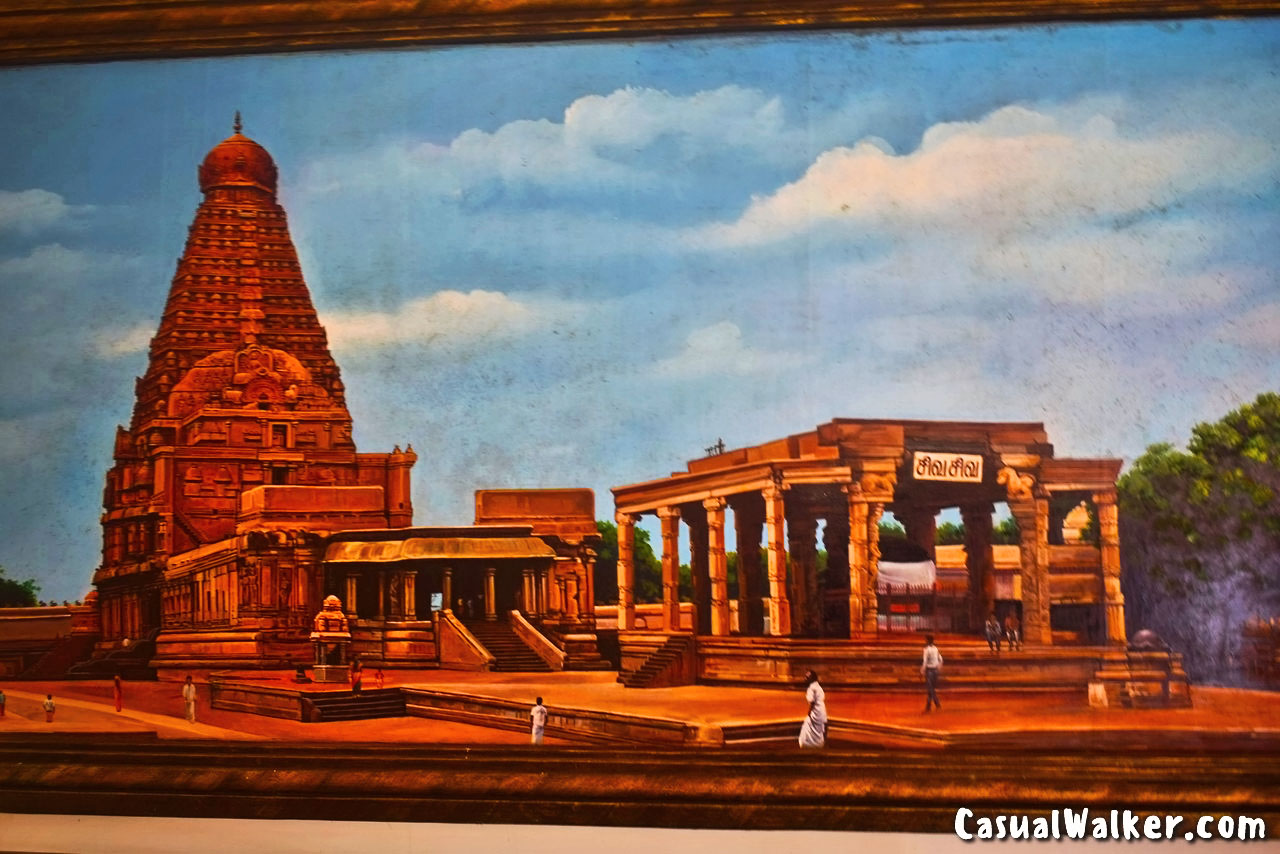 The greatest Chera, Chola, and Pandiya Kings of Tamil Nadu are also depicted along with their great history.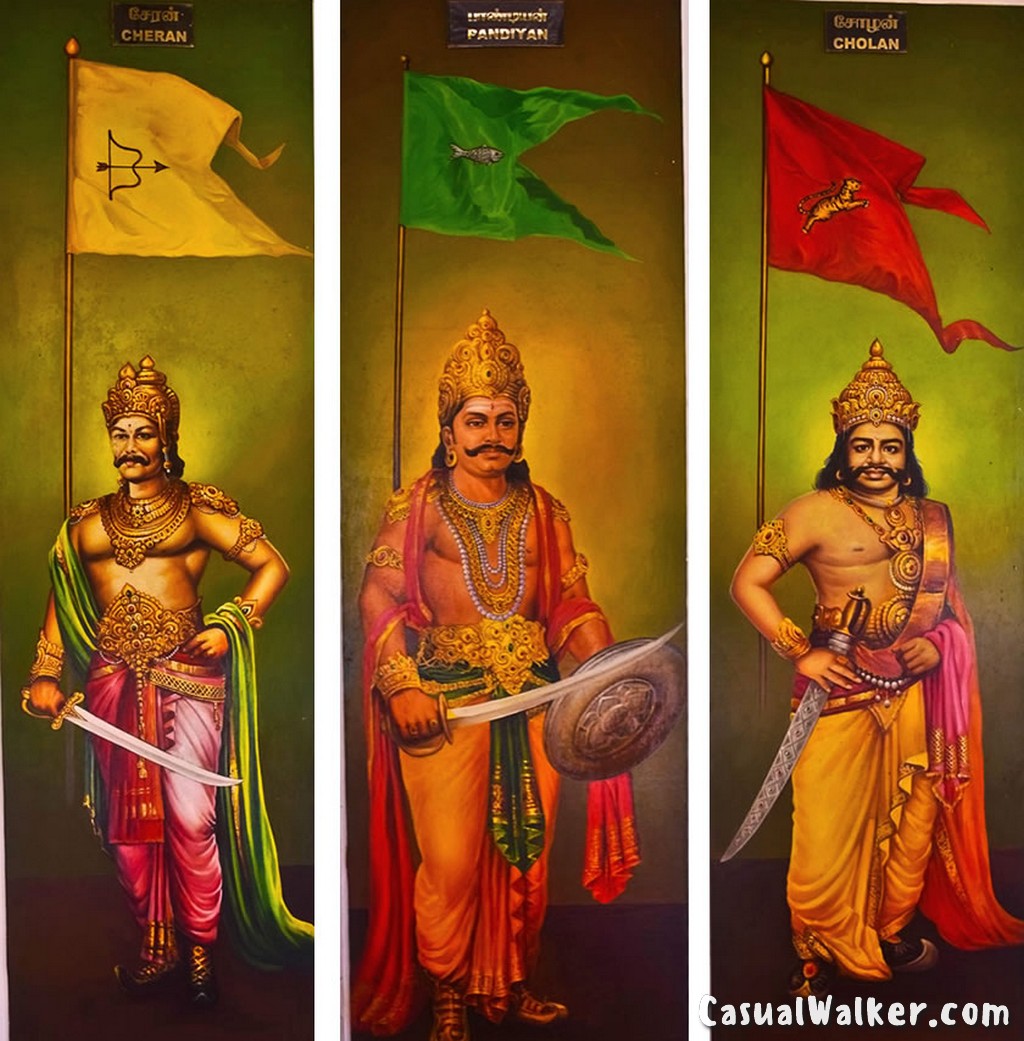 At this museum, we can find antique and vintage items and objects used by the Tamil communities.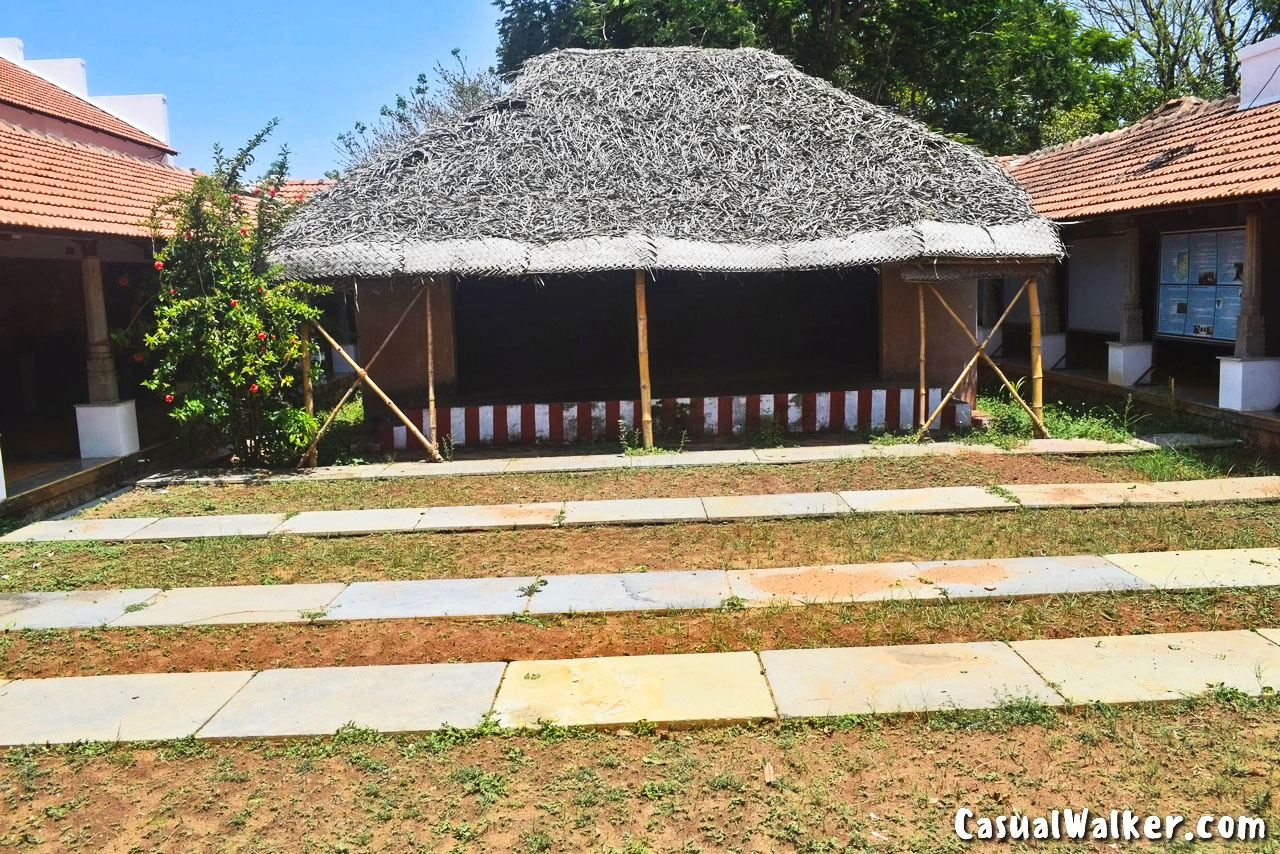 It has also showcased the early Tamil communities' various agricultural tools, and cooking items utilized.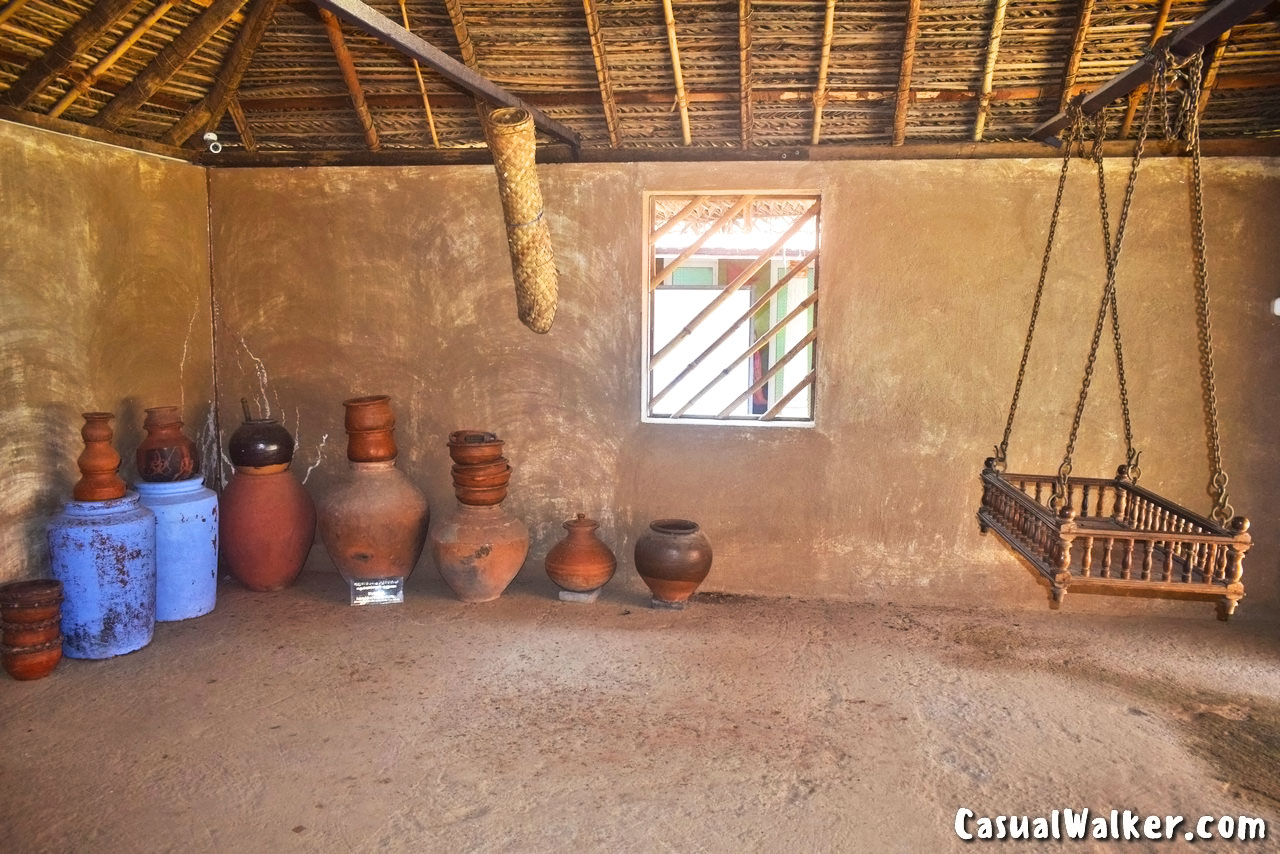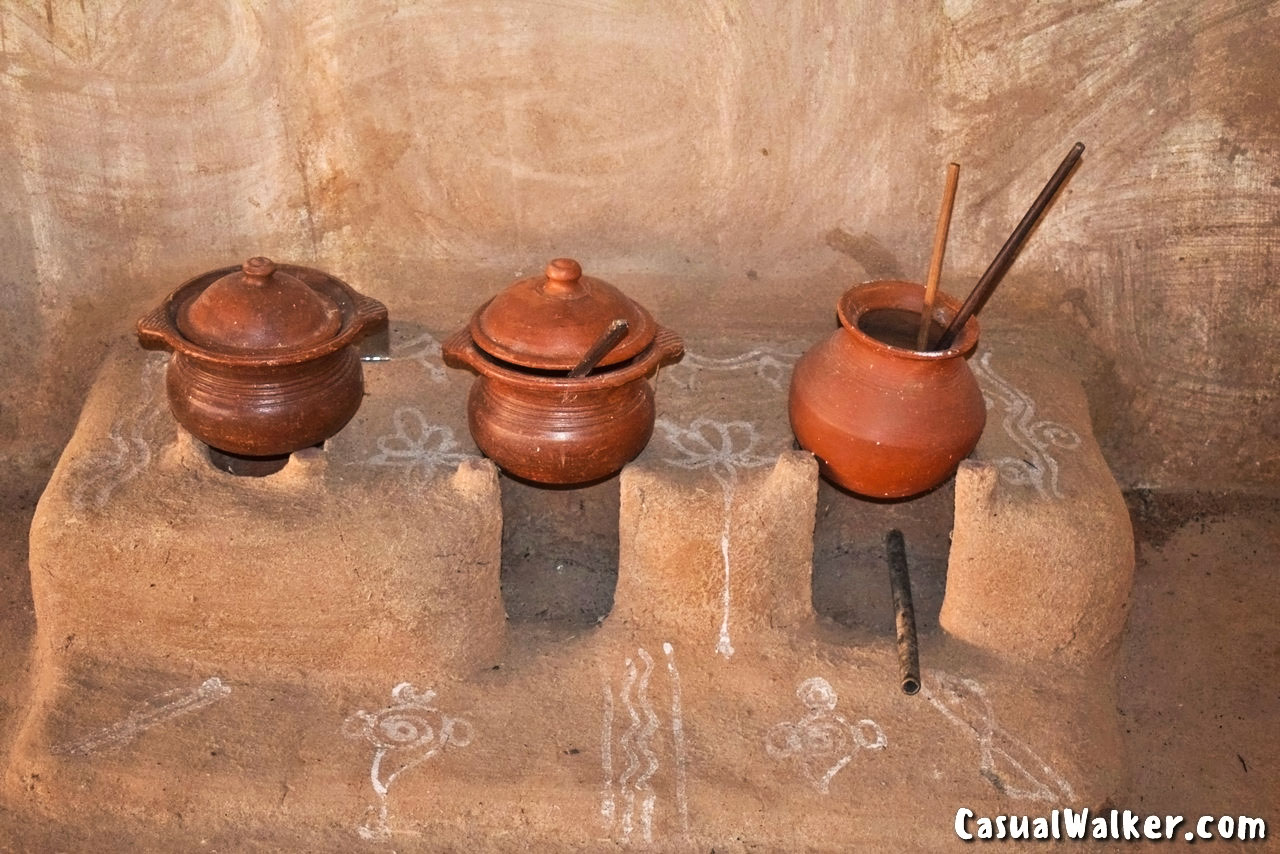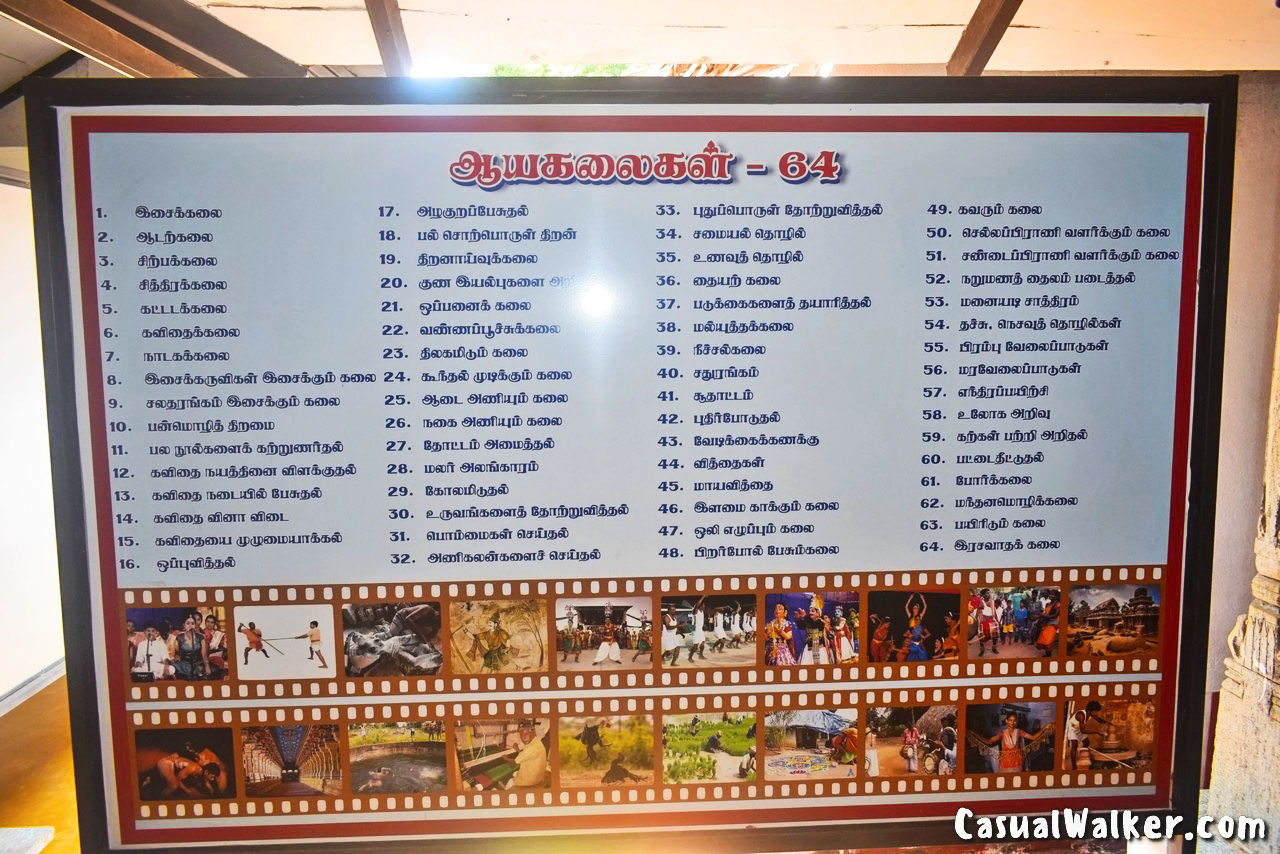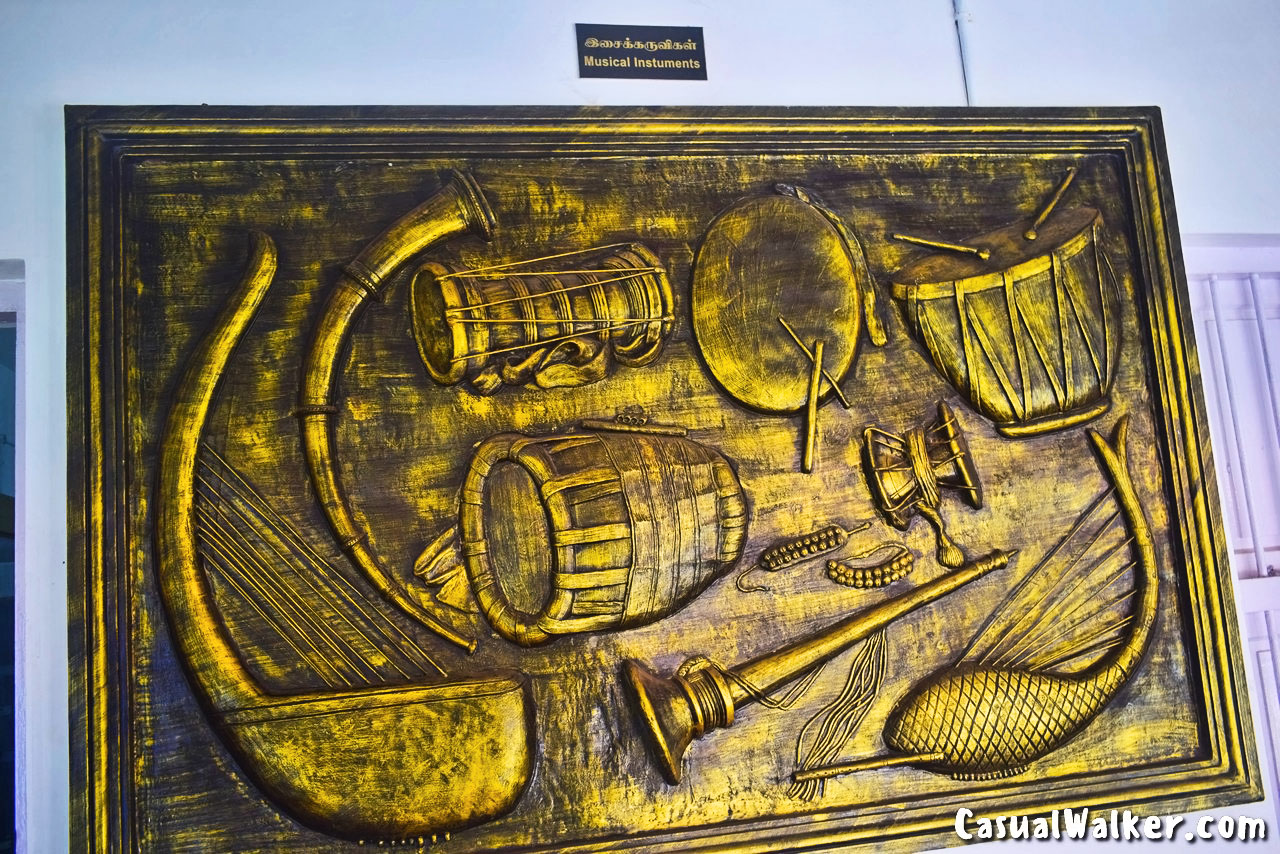 At this museum, we can find antique and vintage items and objects used by the Chettinad communities.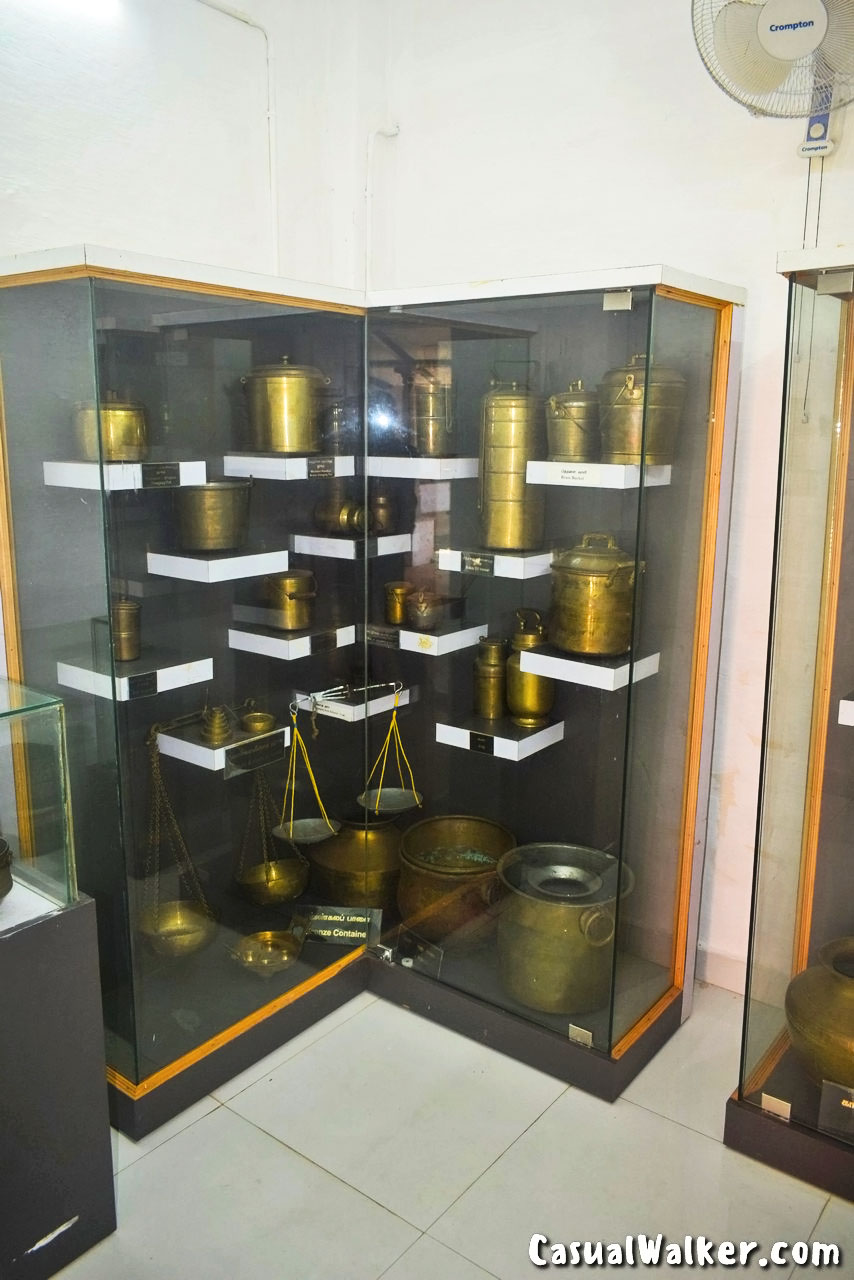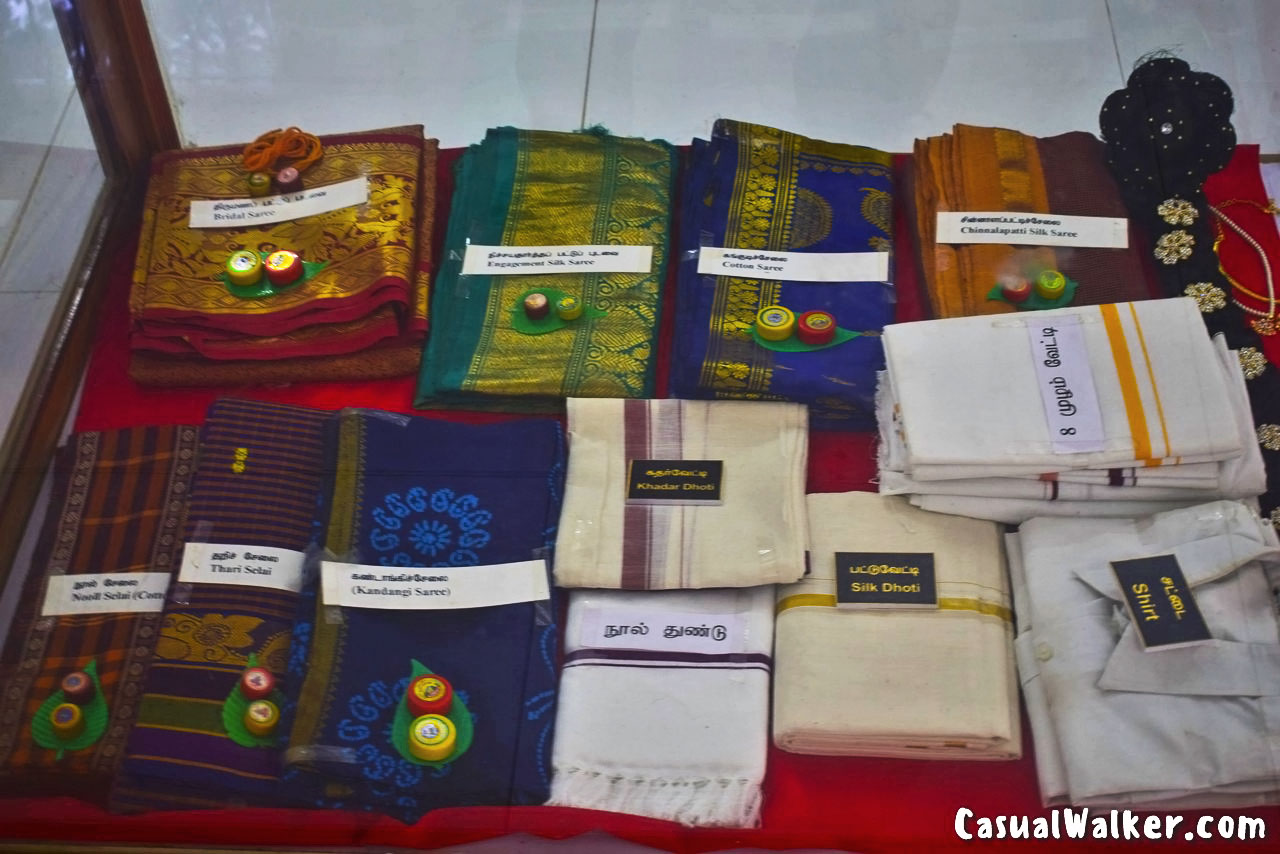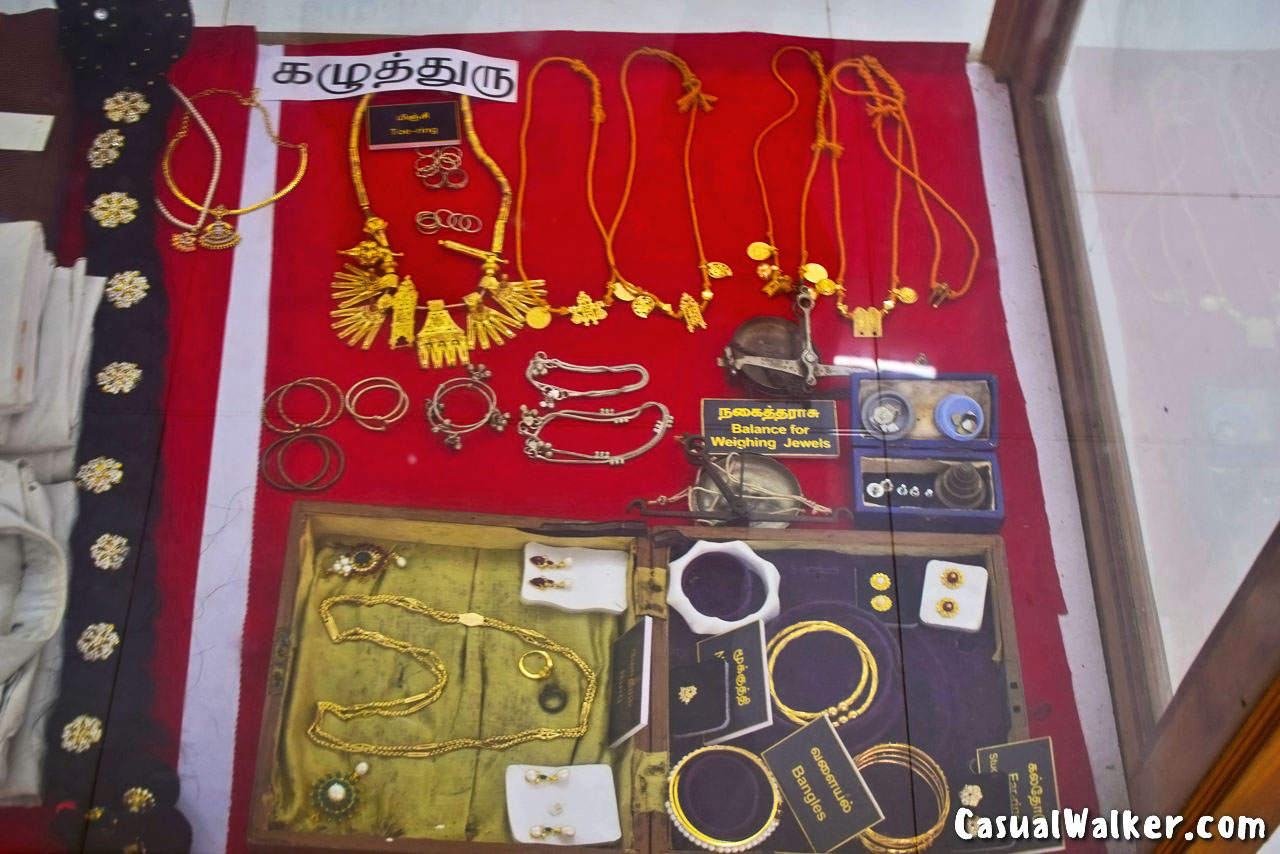 Other things on display include artifacts, such as sports equipment, musical instruments, dress materials, tools for different occupations, weapons used in battle, food, earthen containers, school supplies, and a bullock cart.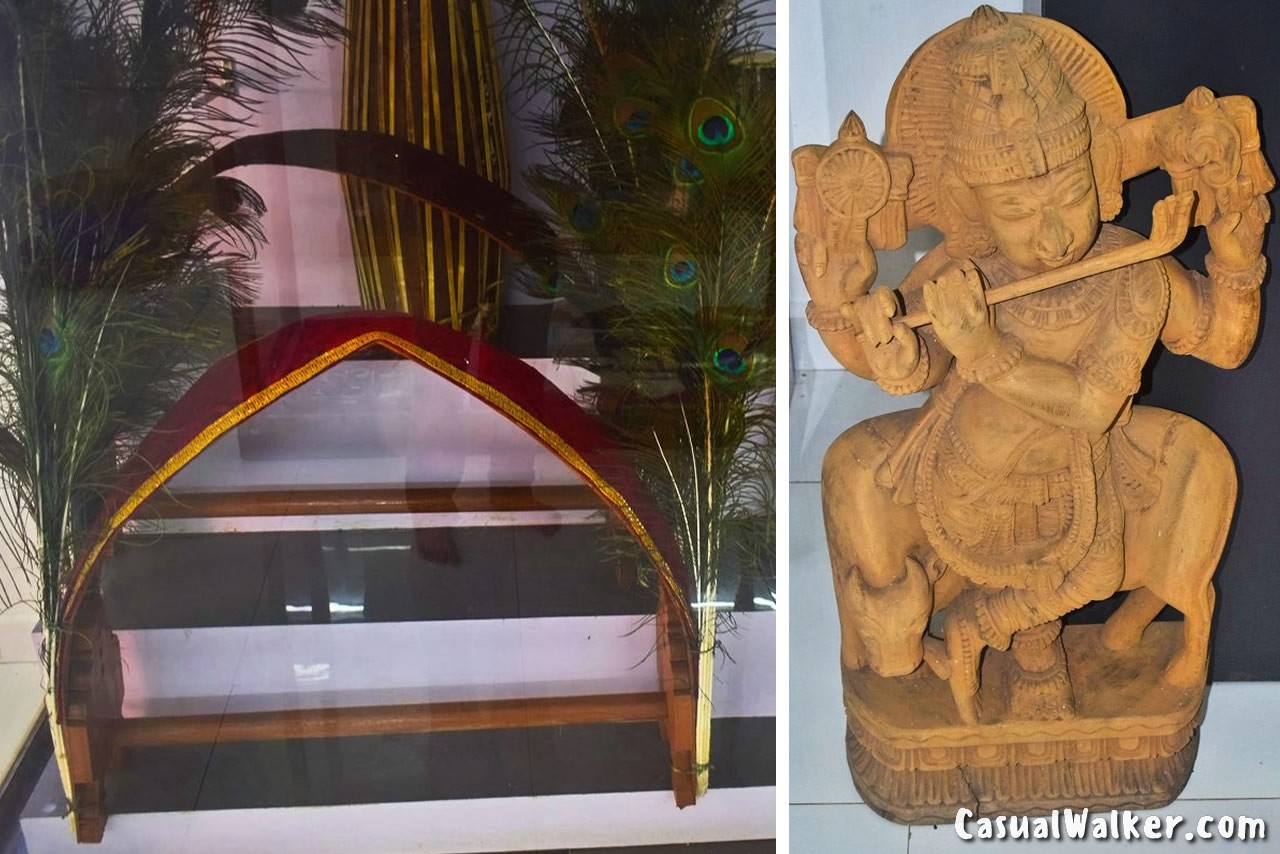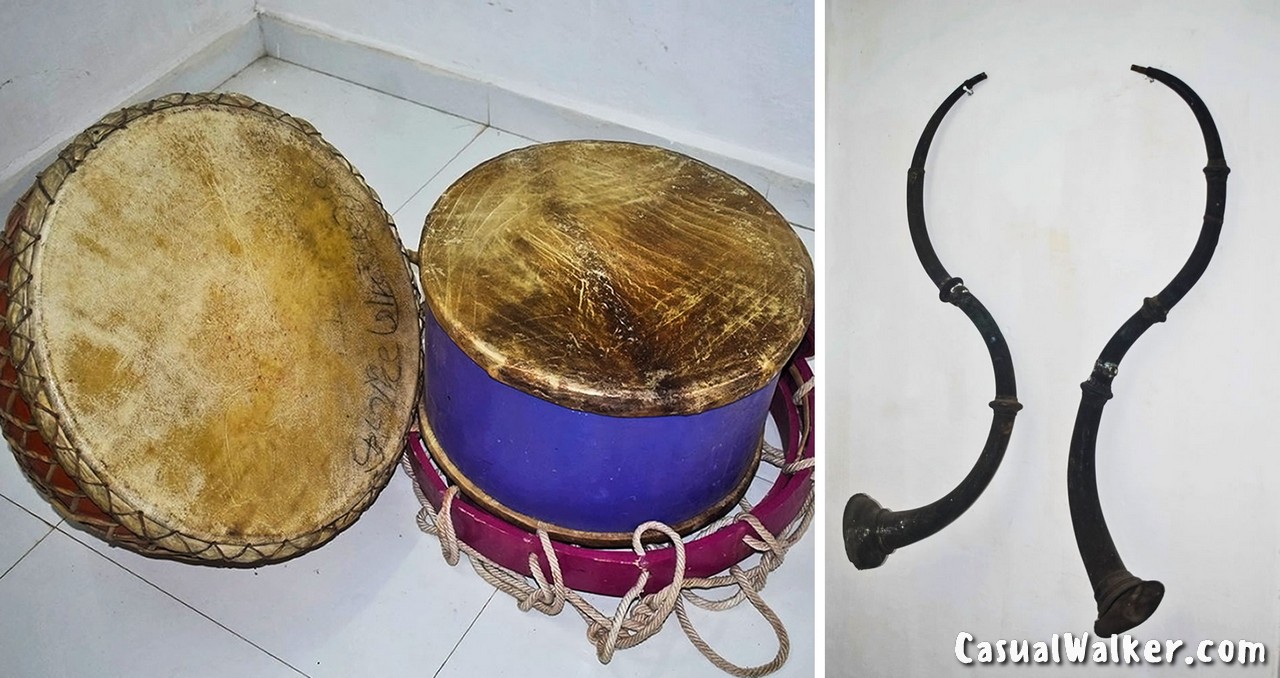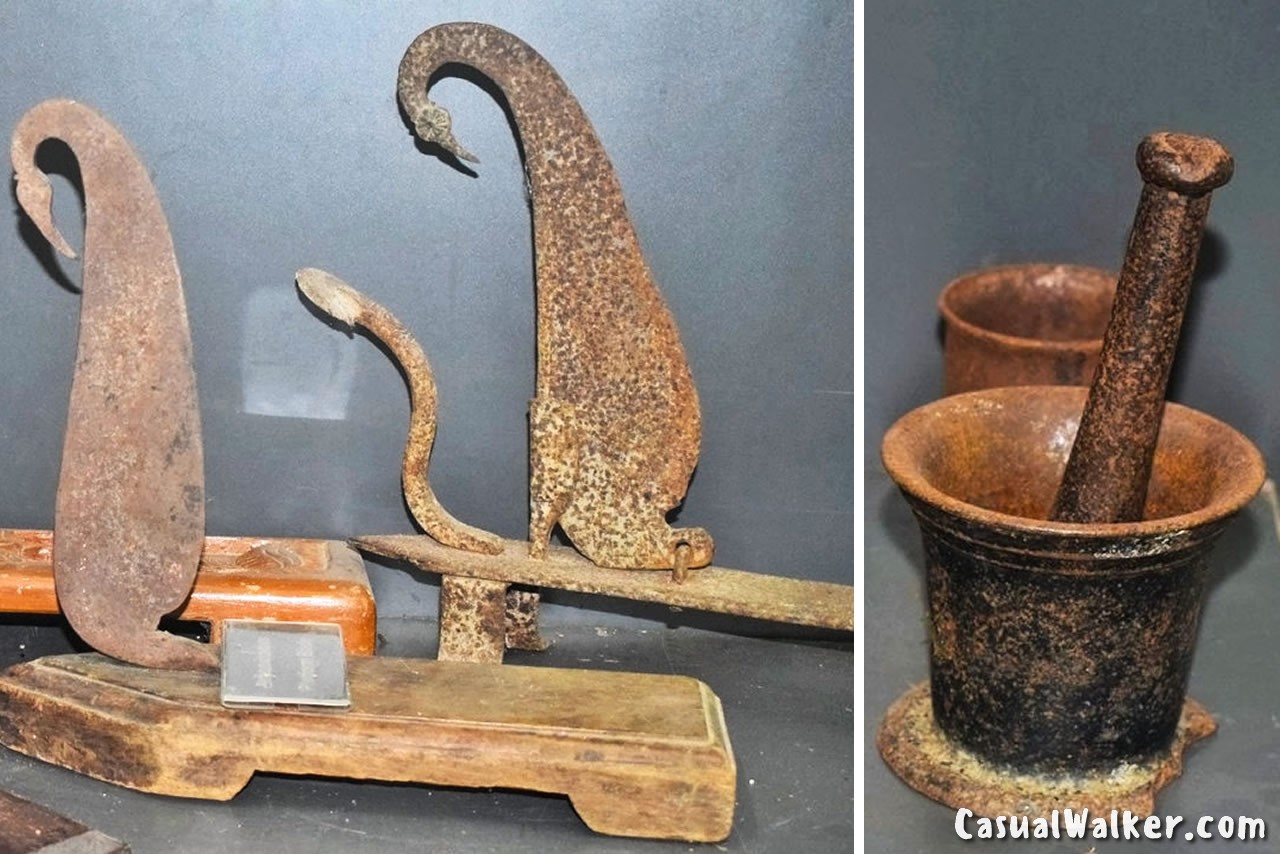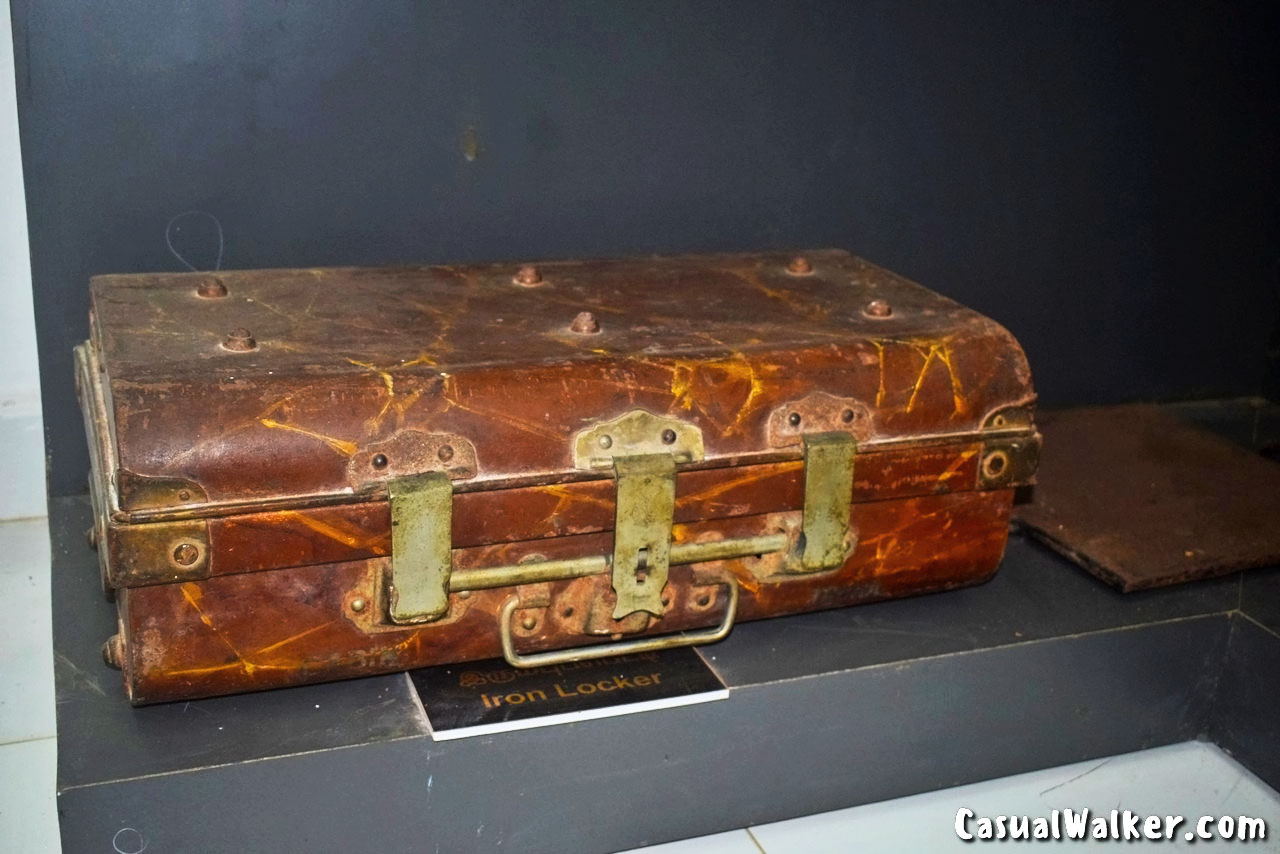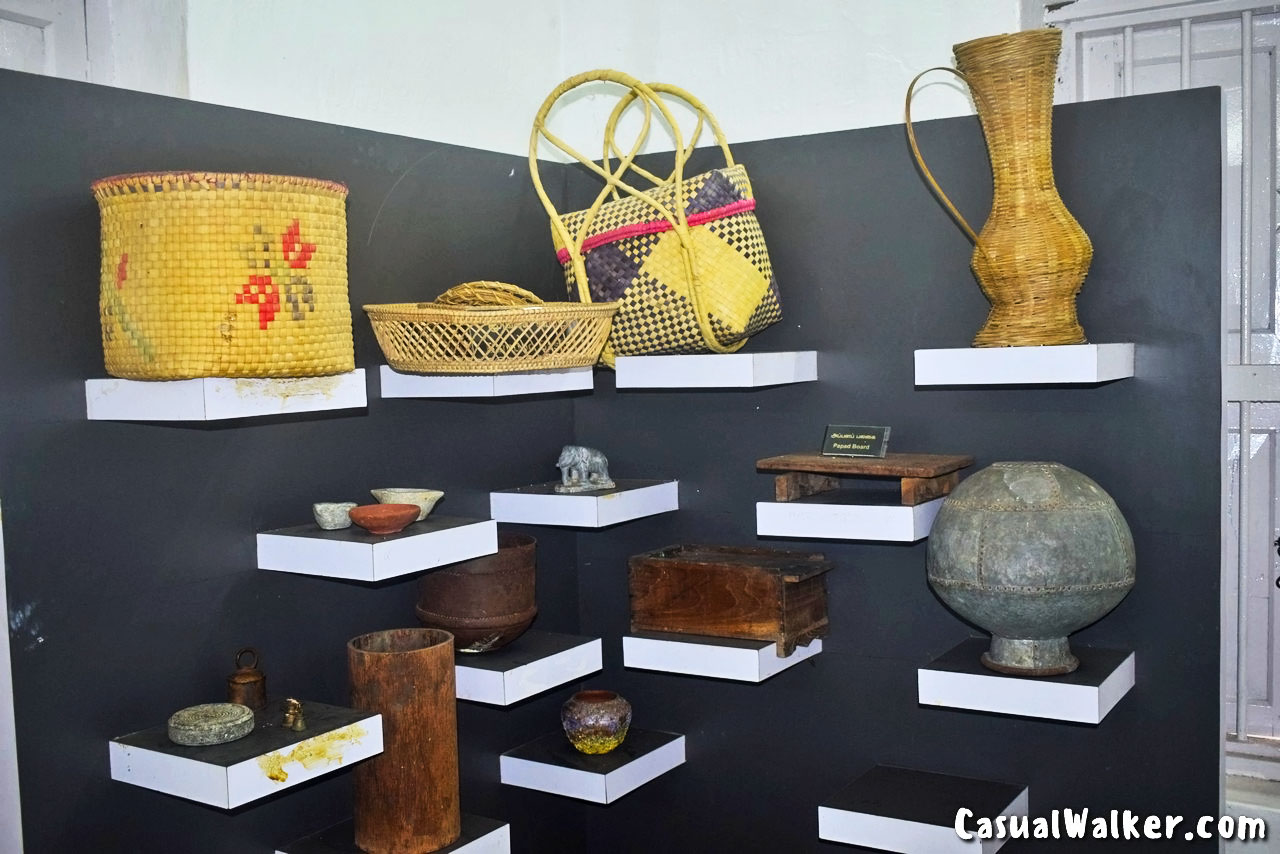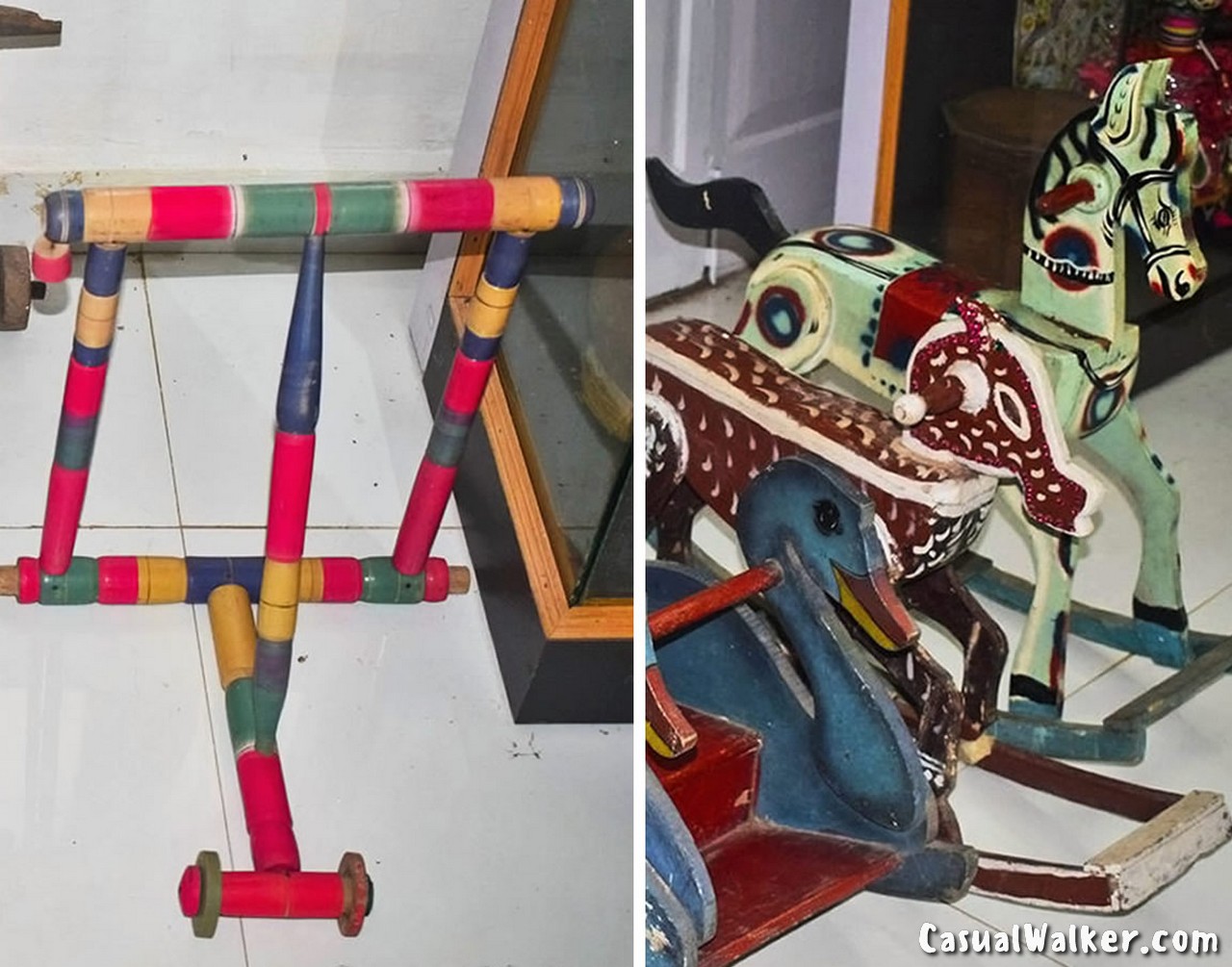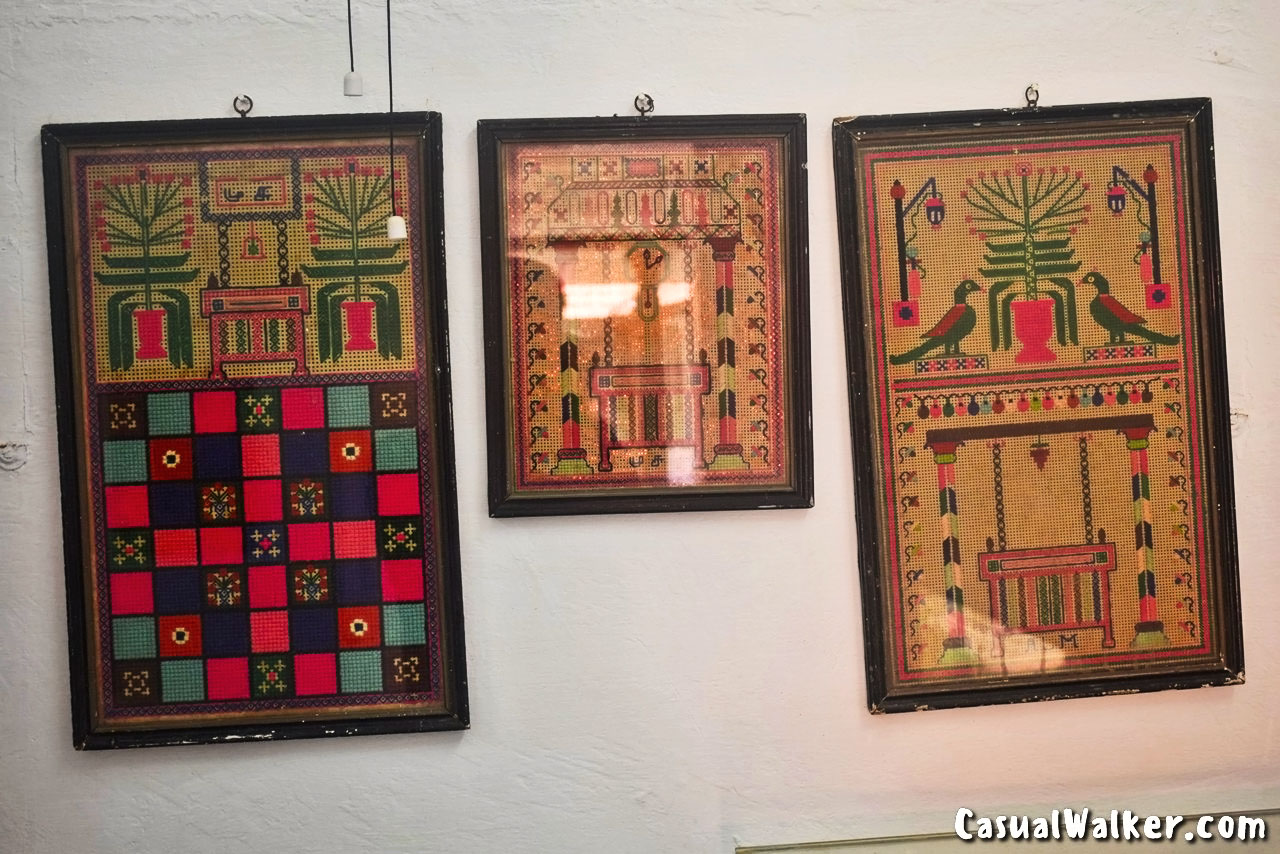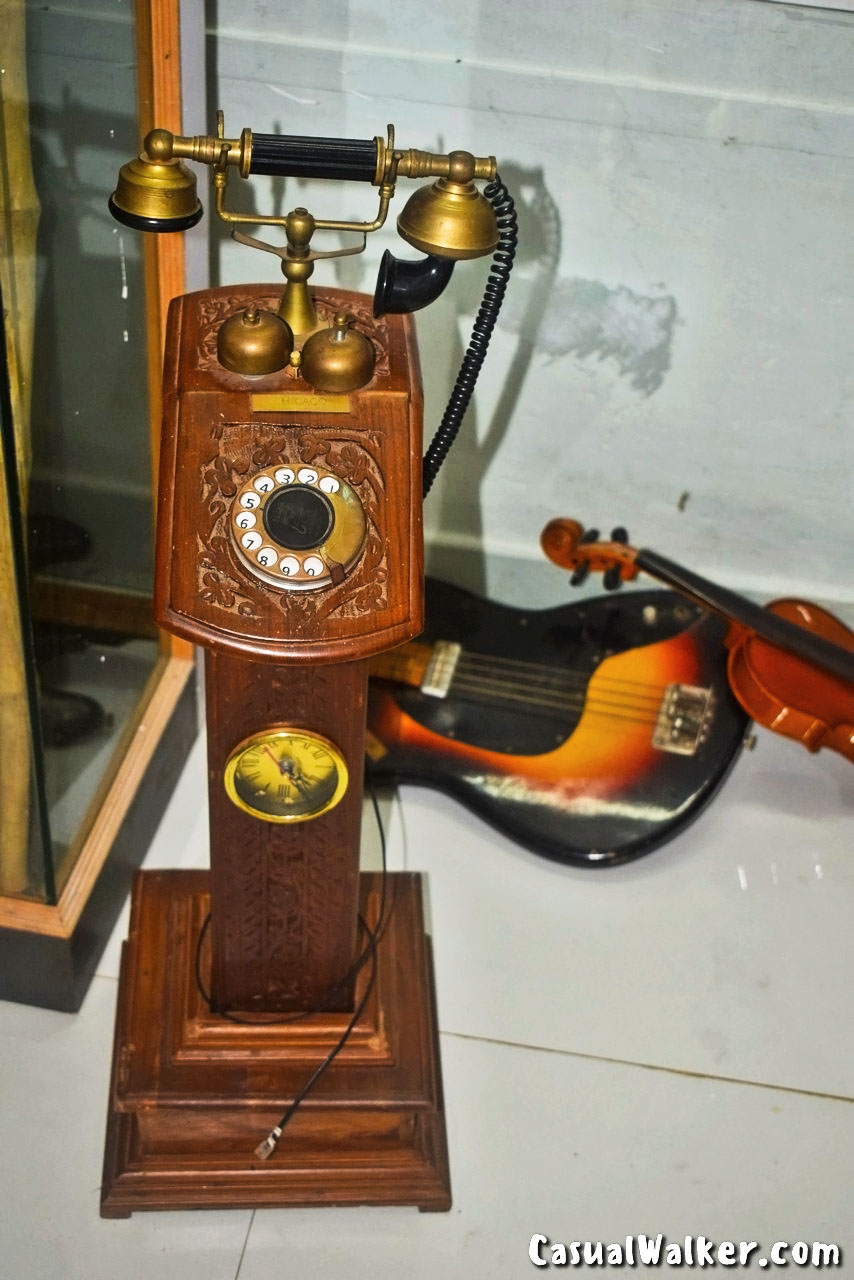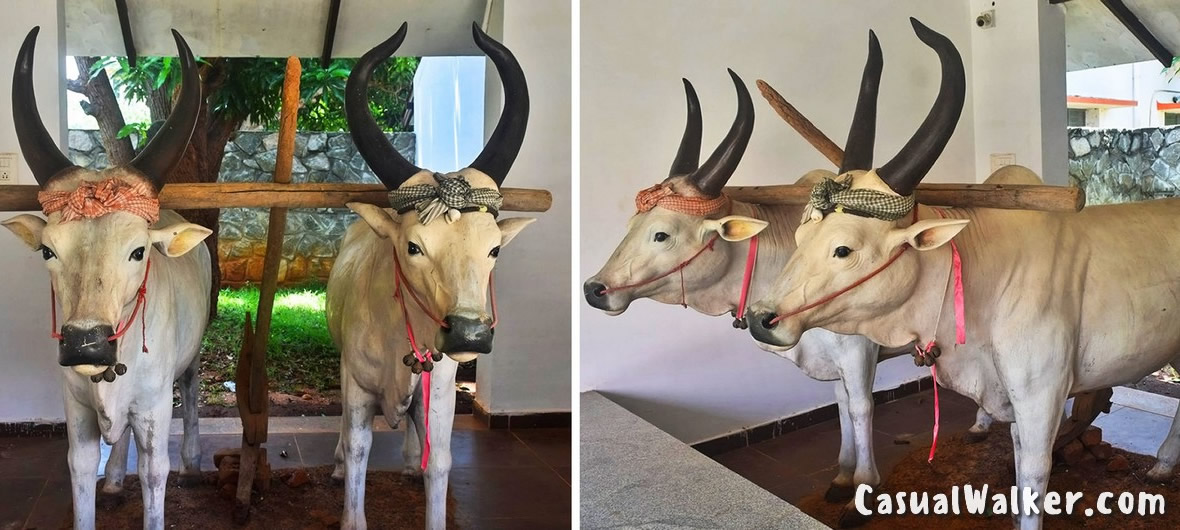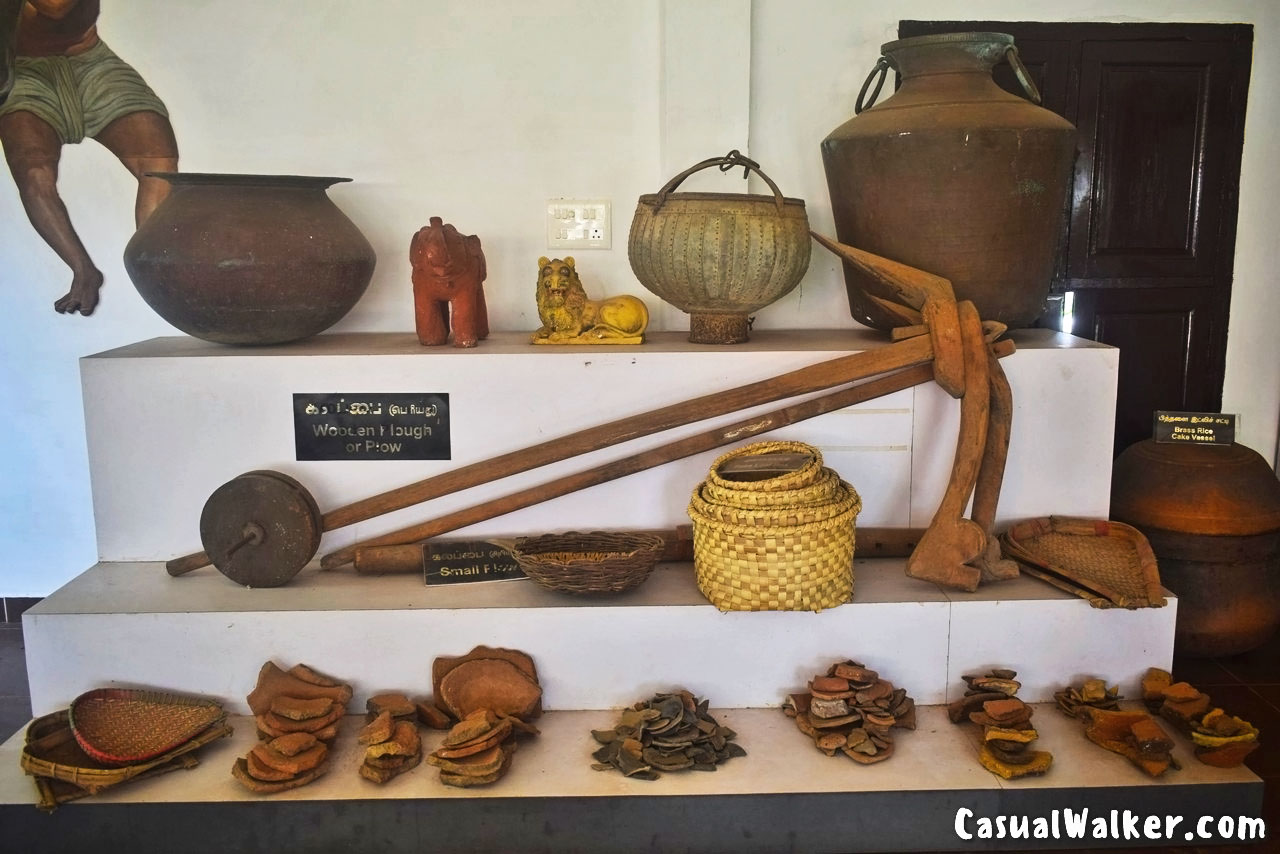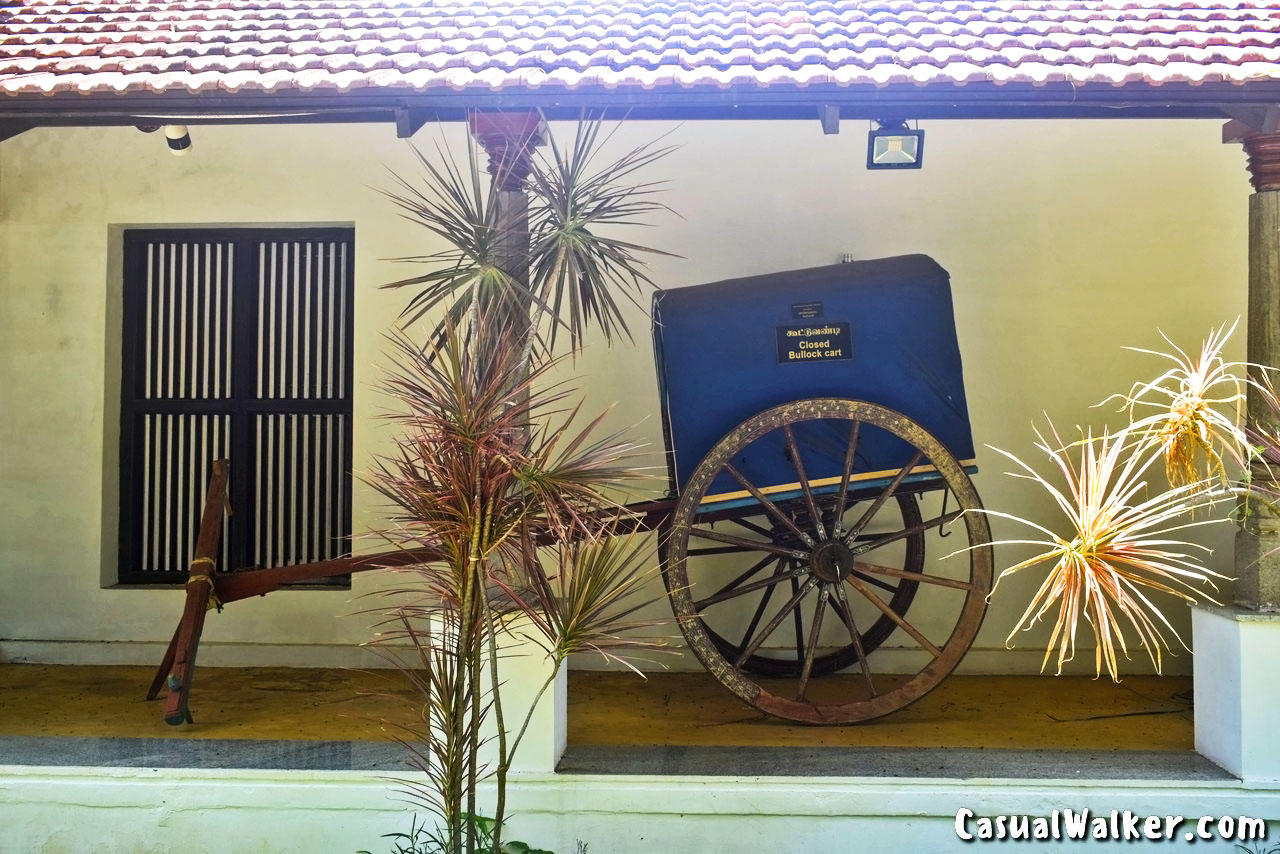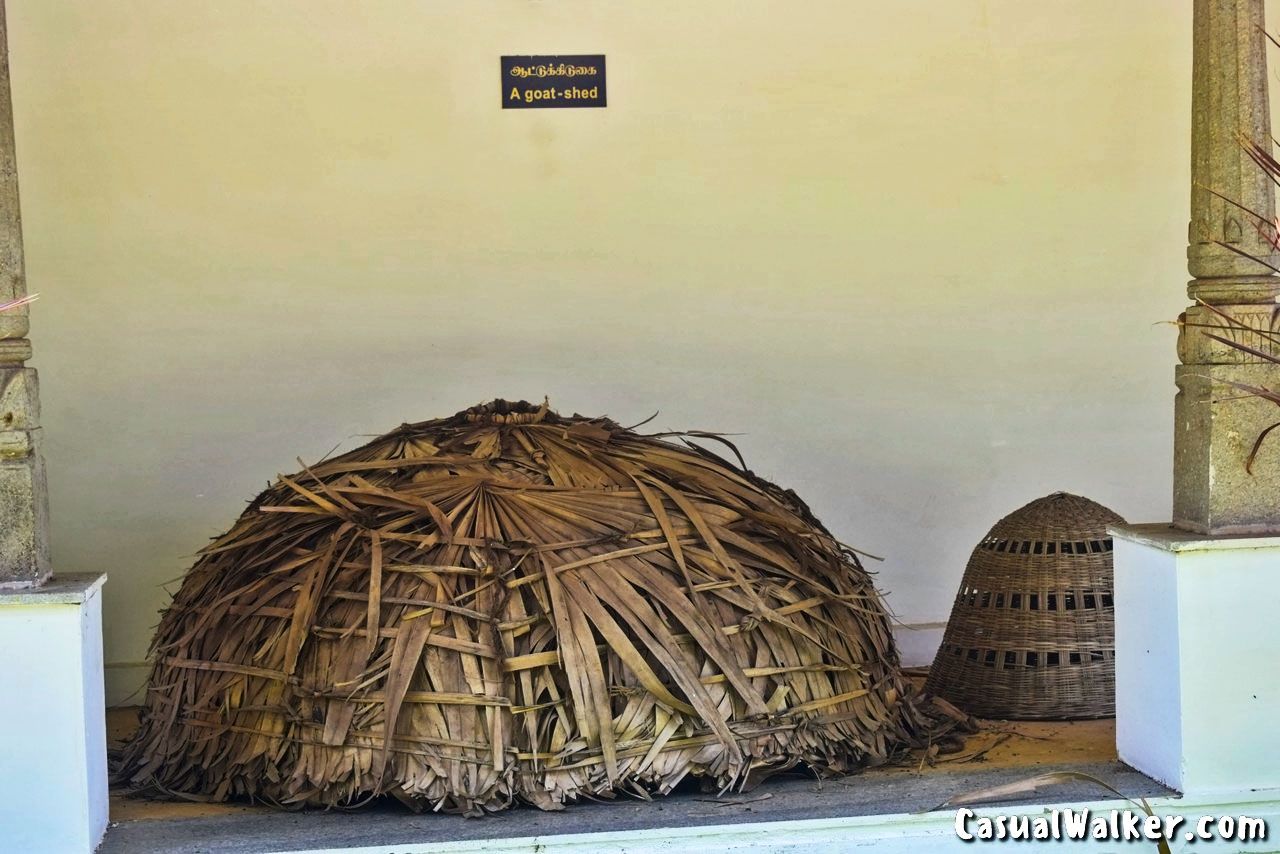 How to reach Vallal Dr. Alagappar Museum & Tamil Cultural Center in Karaikudi:
Vallal Dr. Alagappar Museum & Tamil Cultural Center Address:  3QHQ+MJJ, Alagappa Puram, Karaikudi, Tamil Nadu 630004.
Vallal Dr. Alagappar Museum & Tamil Cultural Center Timings:
Mon to Fri and Public Holidays: 4:00 PM to 7:30 PM
Saturday and Sunday: 10:00 AM to 1:00 PM
Vallal Dr. Alagappar Museum Documentary Film Timings:
Documentary Film is showcased between 6:30 PM to 7:30 PM on Monday to Friday and 12:00 PM to 1:00 PM, on Saturday and Sunday.
Transport for Dr. Alagappar Museum & Tamil Cultural Center in Karaikudi :
Road: Taxis, buses, and hired cars are easy ways to get around.

Railway Station: Karaikkudi Junction railway station (station code KKDI).
Nearest Airport: 87km towards Tiruchirappalli International Airport (Code: TRZ) and 81km towards Madurai International Airport ( Code IXM).


Check out Similar Interesting Museum Photo Walks You May like:
Museum for the man who knew infinity – Ramanujan Museum Royapuram, Chennai, India -Travel Guide, , Timings
Bharathiyar Illam / Bharathi Museum at the Subramanya Bharathiyar's House, Triplicane / Thiruvallikeni, Chennai – Visit, Travel Guide, Timings
Vivekananda Memorial at Kunthukal Beach, Pamban in Rameswaram – dedicated to Swami Vivekananda, to mark his return after his famous speech at Parliament of the World's Religions in Chicago – Visit, Travel Guide
Dr. A.P.J Abdul Kalam National Memorial at Peikarumbu in Dhanushkodi Road, Rameswaram – dedicated to the People's President & the Most Inspiring Man of India – Visit, Travel Guide
Azadi Ka Amrit Mahotsav – Photo Exhibition by Indian Government, Bureau of Outreach & Communication : Celebrating the glorious History of Indian Independence, Freedom movement, Freedom Fighters
Heritage Centre and Aerospace (HAL) Museum Bangalore / Bengaluru Tour, Travel Guide
Dakshinachitra Heritage Museum in Muttukadu, Chennai : The Living History Museum – Best South Indian Museum on Arts, Architecture, Crafts, and Traditions – Visit, Travel Guide (Part 2)
Krishnamurti Foundation India (KFI), Vasant Vihar, Chennai – founded by Jiddu Krishnamurti, the greatest modern philosopher, thinker, religious teacher – Visit, Travel Guide (Updated)
Theosophical Society International Headquarters, Adyar Chennai Visit, Travel Guide (Updated)
Vintage Bicycle Exhibition by Pro-Bikers & Cycling Yogis in Chennai – History of Bicycles from India & Around the world
Madras Literary Society library, Chennai – One of the Oldest library in India – Visit, Travel Guide
Heritage Centre | Indian Institute of Technology (IIT) Madras Campus, Chennai – Learn the History of IIT Madras – Visit, Travel Guide
Vyasarpadi Vinayaka Mudaliar Chathiram / Bommai Chatram / Chitra Chathiram in South Mada Street, Mylapore – An 150 years Old Doll House & Art Museum Open yearly Only for 10 days of Panguni Uthiram festival – Visit, Open Timings Travel Guide