Basha Halwa Wala – 100 Years Old Best Traditional Dum Ka Roat Halwa Sweet Shop in Triplicane, Chennai – Menu, Travel Guide, Review (Updated)
– authentic dum ka roat shop in chennai
| | |
| --- | --- |
|  CasualWalker's Rating for Basha Halwawala, Triplicane Chennai : | |
| 9.4 – Great / Excellent |   |

Basha Halwawala, the 100 years old sweet shop in Jam Bazaar, in Triplicane, Chennai, is most famous for its "Dum Ka Roat" – a halwa delicacy that is crusty on the outside and hot and soft on the inside. Basha Halwawala is one of the best places to have various varieties of tasty halwa sweets in the Chennai area.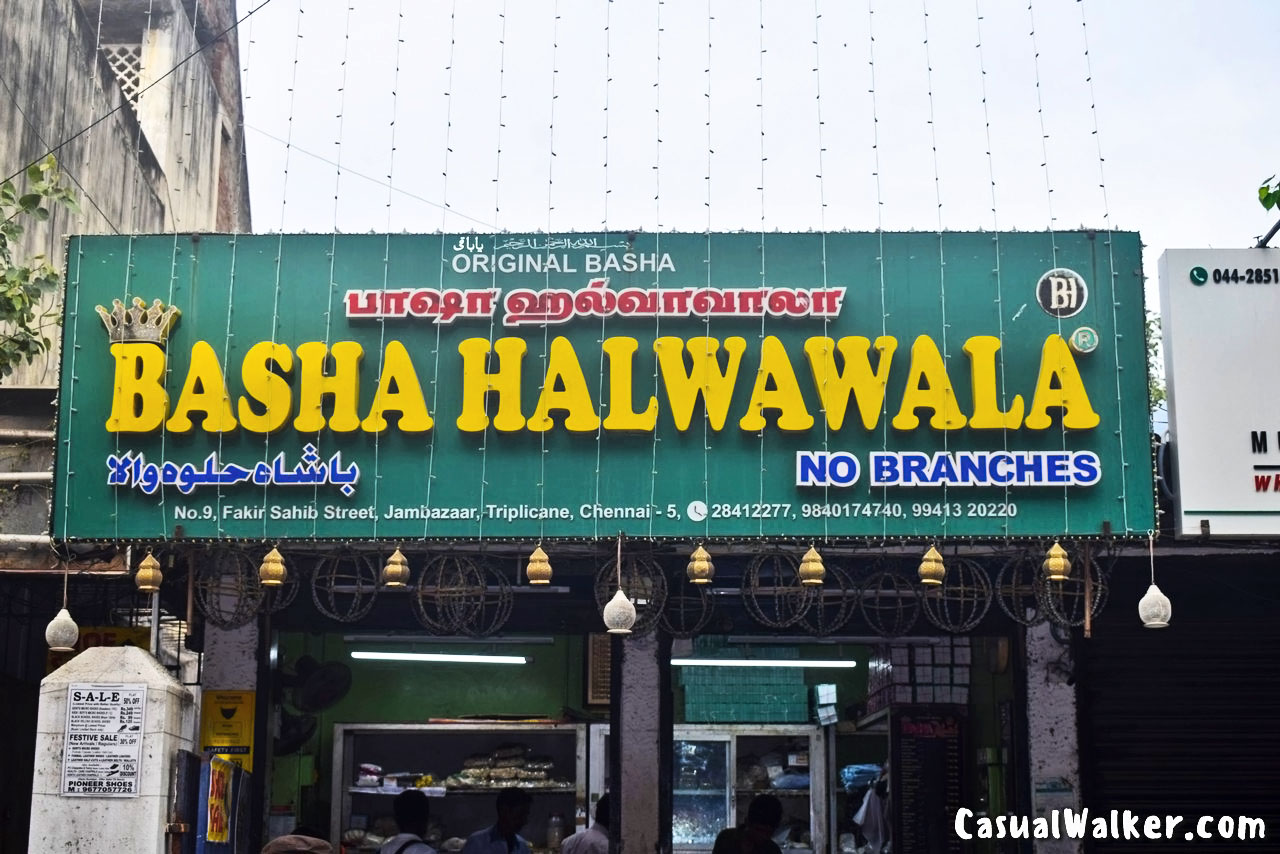 The rates at Basha Halwa Wala are reasonable and the shop is always crowded with regular customers. This small outlet exists for decades with no other branches. This shop specialty still maintains its traditional taste and also it's their traditional vintage way of packing them in cardboard boxes.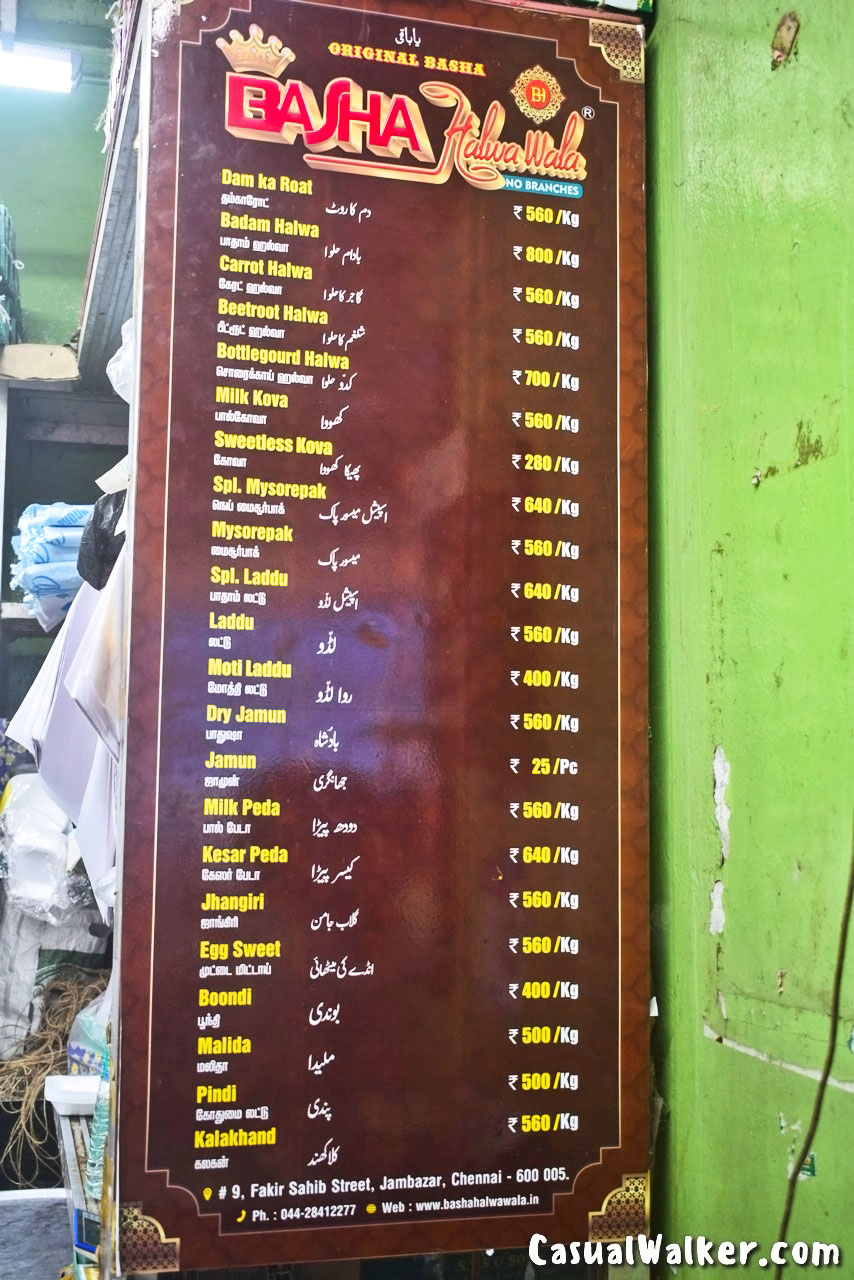 Basha Halwawala's Authetic Dum Ka Roat:
Basha Halwawala's authentic Dum Ka Roat lured halwa lovers towards it and the shop is one of the landmarks of Triplicane in Chennai. Dum Ka Roat is basically a baked semolina pudding.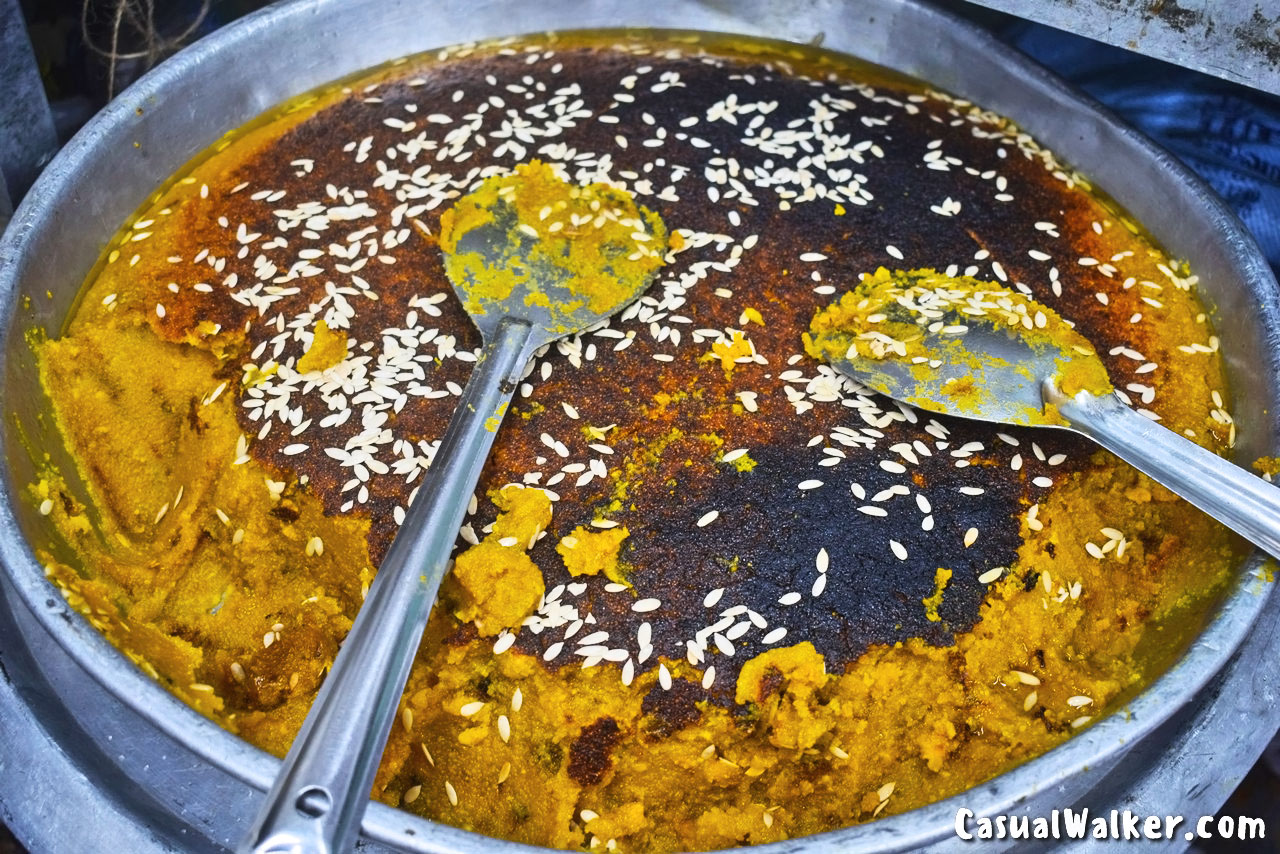 This hot, fresh, gooey, crispy pumpkin seed delight Halwa Dum Ka Roat was must try dessert and its texture is really super tasty and awesome.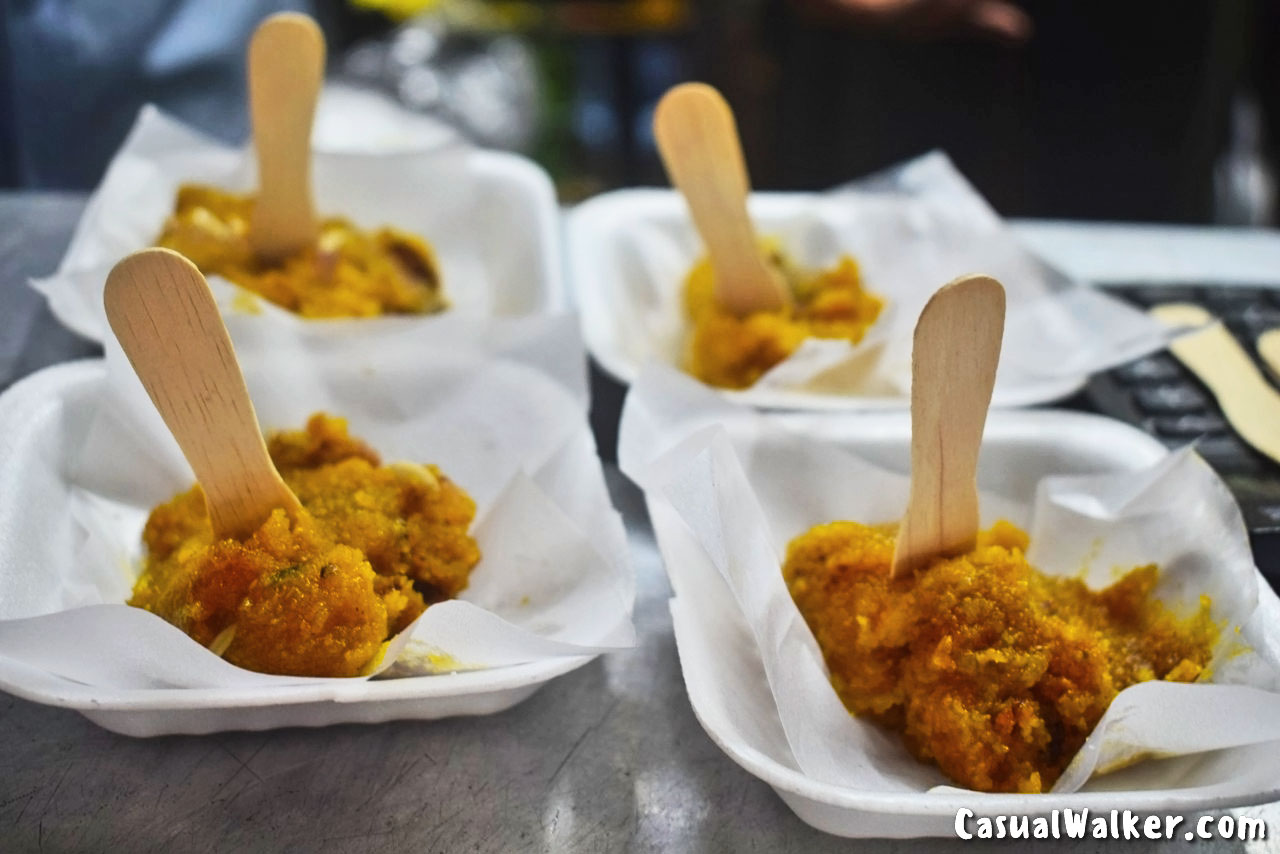 They also mastered the art of making the carrot halwa and bottle gourd halwa. Carrot halwa was almost liquid, drenched in ghee, and purely yummy.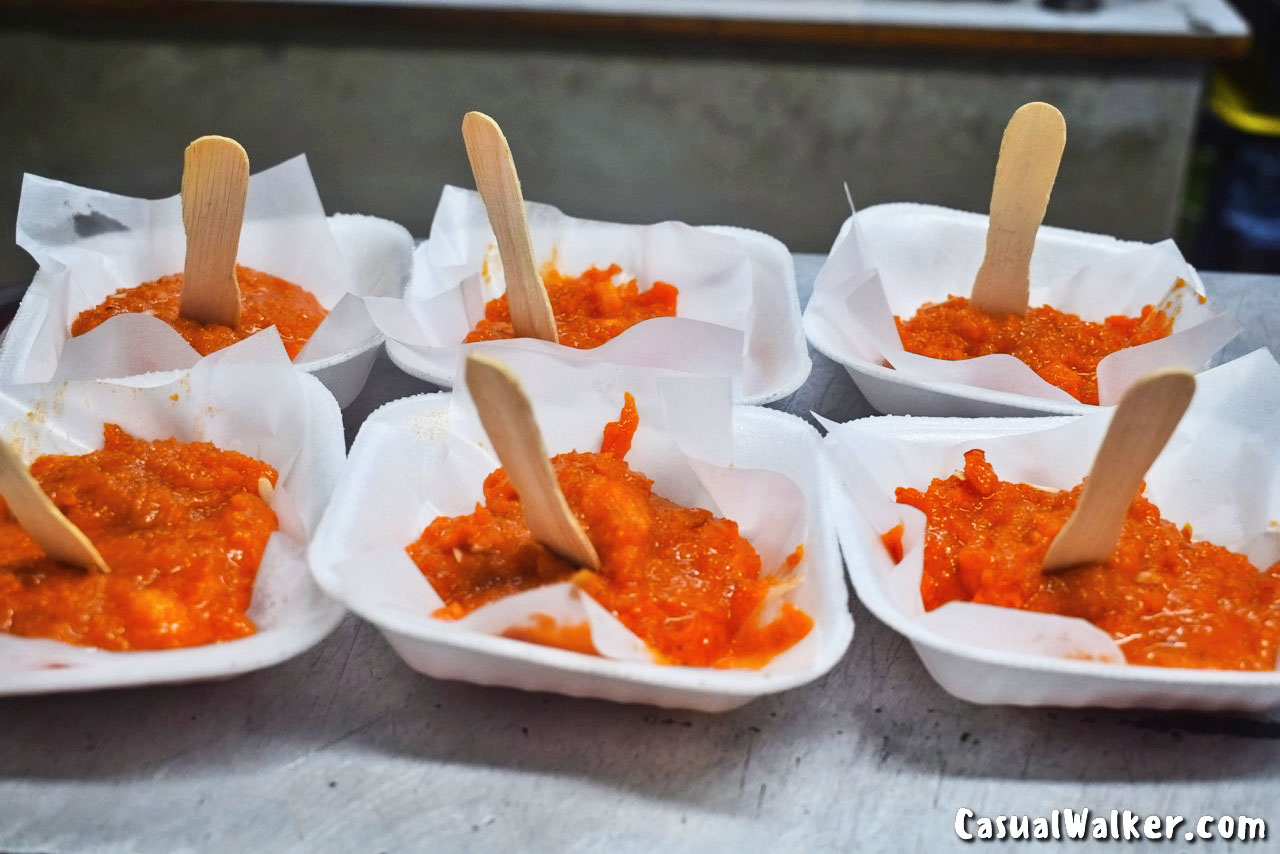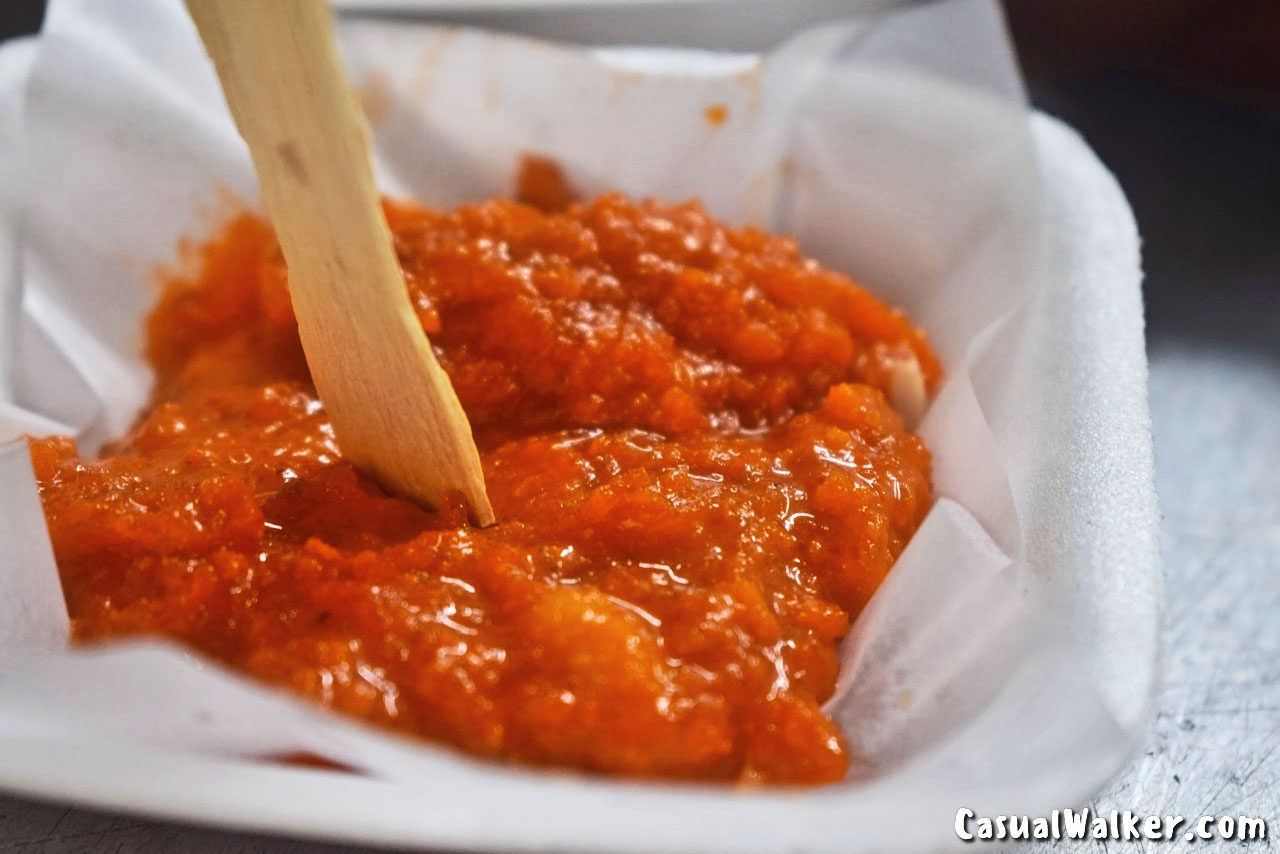 Basha Halwa Wala also boasts of a special dish called Ande Ke Mithai – a dessert made with eggs. Beetroot halwa, Poosani halwa, badam halwa, and Long-sized Gulab Jamun are equally super.
Long Jamun stuffed with Kova soaked in sugar syrup is a wonderful mouth-watering alongside regular items such as Paal and Pika Kova, Mysore Paak, Laddu, Baadusha, Pedas, and juicy fat Jangris.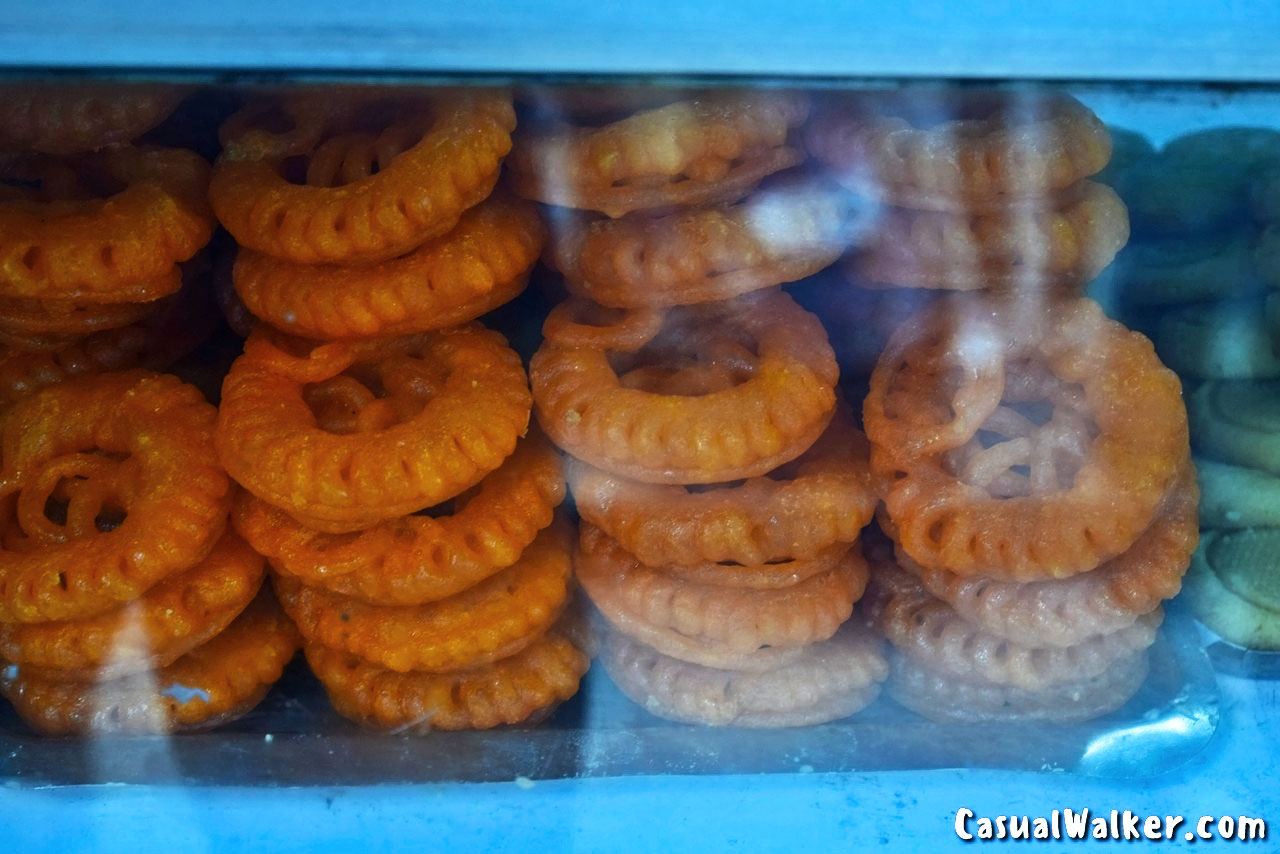 The 82-year-old traditional Basha Halwawala sweet shop is in the 4th generation and states that "there is no secret ingredient to the Dum Ka Roat and the trick lies entirely in the using coal dum baking of the dish, a process which takes 3-4 hours and the secret lies in the way it's made".
The shop is easily accessible, it is left to the popular mall "Express Avenue" and nearer to Jam Bazaar police station.

Travel Guide to visit Basha Halwawala, Triplicane Chennai:
Basha Halwawala Address: No. 9, Fakir Sahib Street, Ellis Puram, Jambazar, Triplicane, Chennai – 600005.
Contact Number: 044 2841 2277 / 98401 74740
Basha Halwawala Timings:
Saturday to Thursday: 10:00 AM–10:30 PM
Friday: 10:00 AM – 1:00 PM, 2:00 PM – 10:30 PM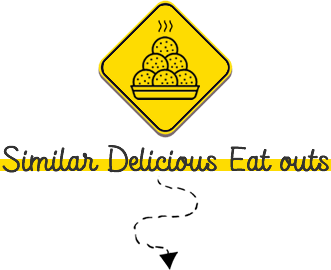 Similar Famous Delicious & Tasty Eat-outs:
Iruttukadai Halwa Shop, Tirunelveli, Best & Famous Original Halwa Shop in the World – Travel Guide, Review
Rathna Cafe – 75 Years Old Best Authentic Sambhar Idli Restaurant in Triplicane, Chennai – Menu, Travel Guide, Review
Thanigaivelan Inippagam – 45 Years Old Best Onion Pakoda Kadai & Traditional Sweets & Snacks Shop in Triplicane, Chennai – Travel Guide, Review
Hema Milk Depot – 50 Years Old Best Masala Milk / Kadhai Doodh and Badam Milk Shop in Triplicane, Chennai – Travel Guide, Review
Mylapore Jannal Kadai – Window Mylapore Jannal Kadai, Window Bajji Stall – Best Bajji, Bonda, Somosa, Sweets & Snacks Shops in Mylapore – Travel Guide, Review
Sri Karpagambal Kapali Sweet Stall, Mylapore – Best Medhu bonda, Mini Samosa, Vazhakkai bhajji, Onion Pakoda, Samosa, Medhu Vadai, Masala Vadai, Sweets & Snacks Shops in Mylapore, Chennai – Travel Guide, Review
Bharathi Mess, Triplicane Chennai : Best Vegetarian Mess in Triplicane – Named after the Great Poet & Indian Independence Activist Shri Mahakavi Subramania Bharathi – Menu, Travel Guide, Review
Soundaram's Chettinad Sweets and Snacks, Karaikudi – Best Place To Buy Chettinad Sweets & Snacks – Visit, Travel Guide (Updated)
Thirumayilai Varukadalai Nilayam, Mylapore – best Shop to buy Peanuts / Groundnut, Kadalai Urundai / chikki, thaen mittai & Pori Urundai in Chennai – Travel Guide, Review
Selvi Stores – Speciality Foods, Mylapore – Best traditional, handmade food Podi Idly, Pulikachal, and Kozhukattai (Modaks) Shops in Mylapore, Chennai – Travel Guide, Review
Sri Annapoorani Sweets, Mylapore – Best Bajji, Bonda, Somosa, Sweets & Snacks Shops in Mylapore, Chennai – Travel Guide, Review
Mylapore Ganapathy's Butter & Ghee – Best Pure Uthukuli Cow Ghee, Butter, Vathal, Vadam, Maavadu / Pickle shop in Mylapore, Chennai – Travel Guide, Review
Mami Mess / Mami Tiffen Stall / Mami Tiffin Stall, Mylapore – famous and oldest traditional eateries for Tiffin and Lunch in Mylapore
Best Food Trucks in Chennai – Finding the Top Food on Wheels in Chennai – Visit, Travel Guide
Cothas Coffee Shop, Mylapore – oldest and iconic coffee brand & coffee brewery in mylapore (Updated)
Kalathi Rose Milk Shop, Mylapore – Best and Oldest Cool Drinks and Rose Milk Shop in Mylapore