Tamil Nadu International Kite Festival (TNIKF) organized by Tamilnadu Tourism Development Corporation (TTDC) & Global Media Box, at TTDC Ocean View, ECR, Mamallapuram : One of the Biggest International Kite Festival in Asia – Visit, Travel Guide (Updated)
– more than 200 kites from the world's professional kite flyers

| | |
| --- | --- |
| CasualWalker's Rating for Tamil Nadu International Kite Festival (TNIKF) at East Coast Road (ECR), Mamallapuram : | |
| 9.8 – Superb Awesome | |
The spectacular Tamil Nadu International Kite Festival (TNIKF) was wonderfully organized by the Tamil Nadu Tourism Department (TTDC) in association with Global Media Box at TTDC Ocean View on East Coast Road (ECR), Mamallapuram which is located around 57 km from Chennai. This kite festival is one of the Biggest International Kite Festival in Asia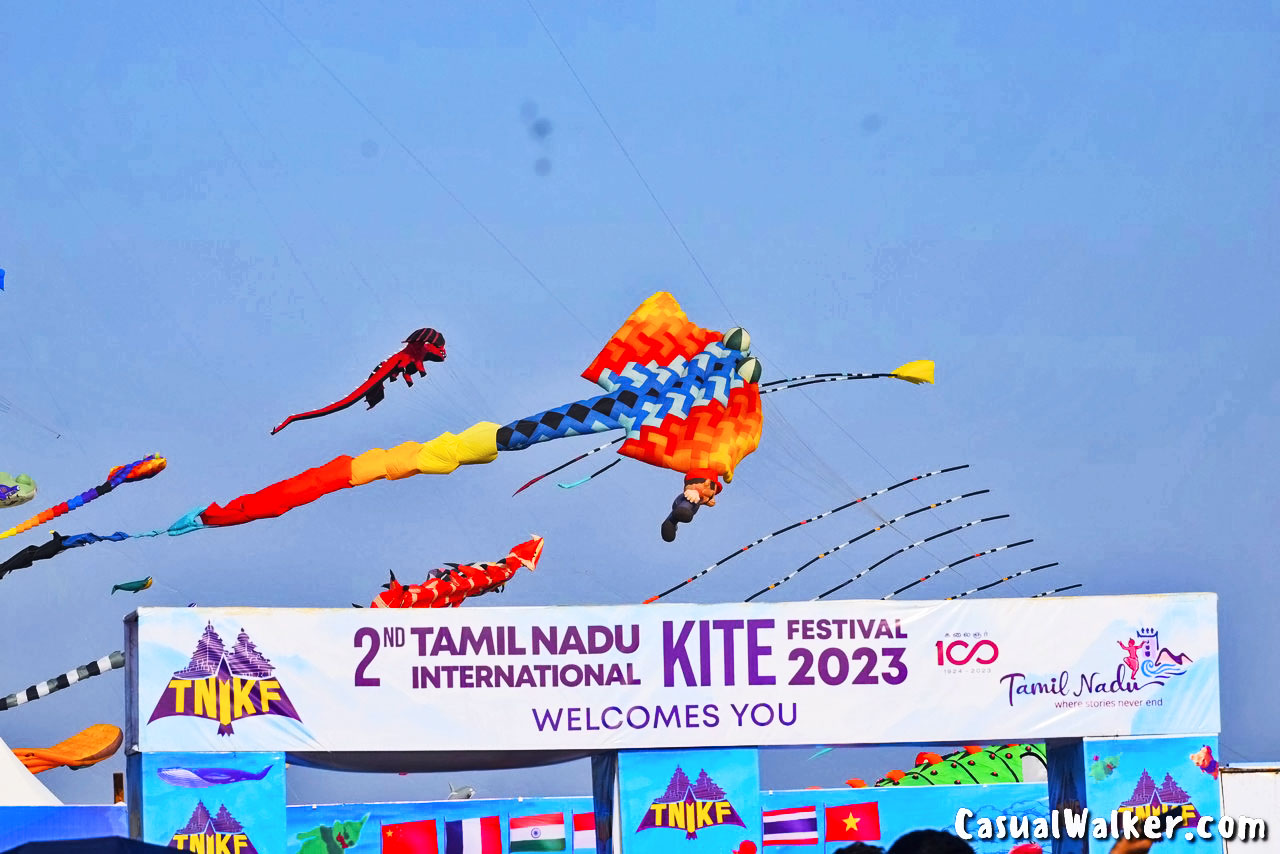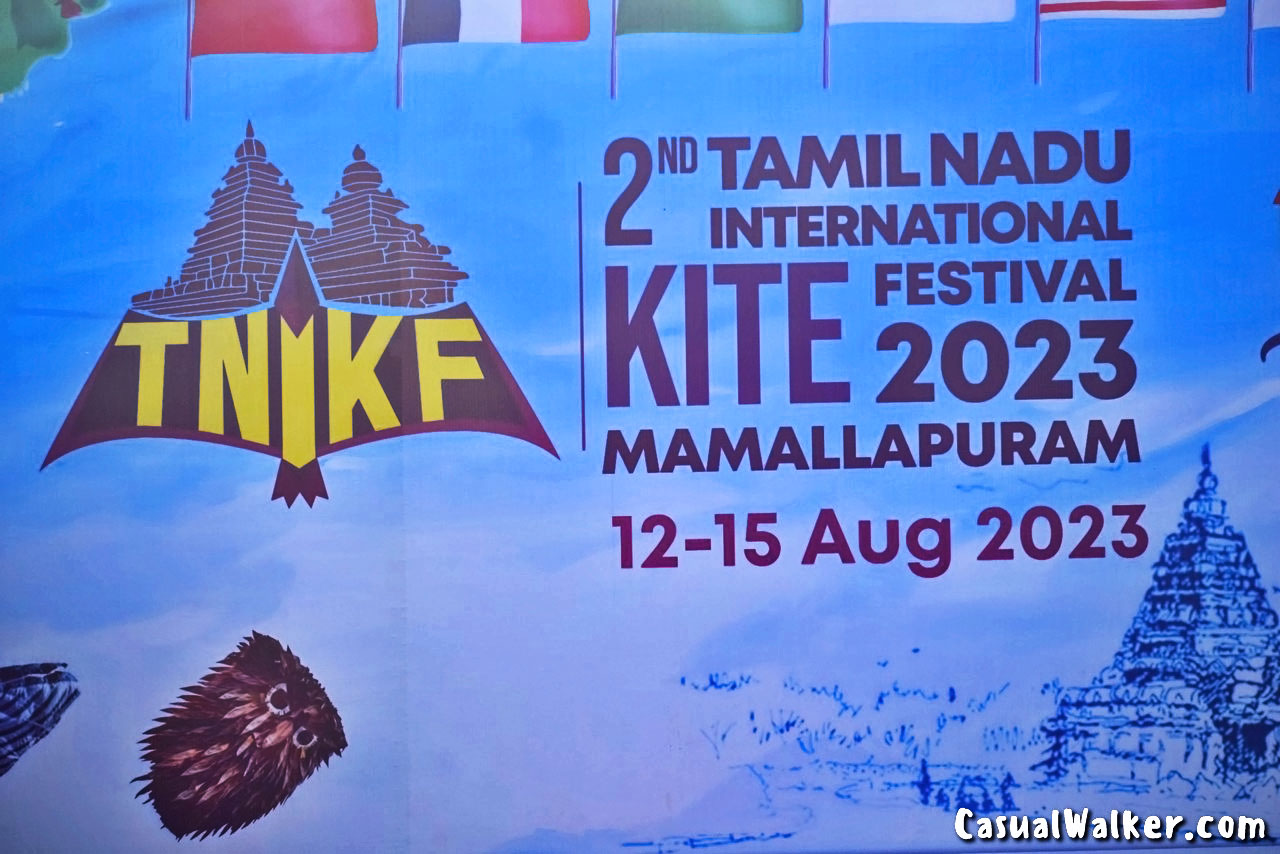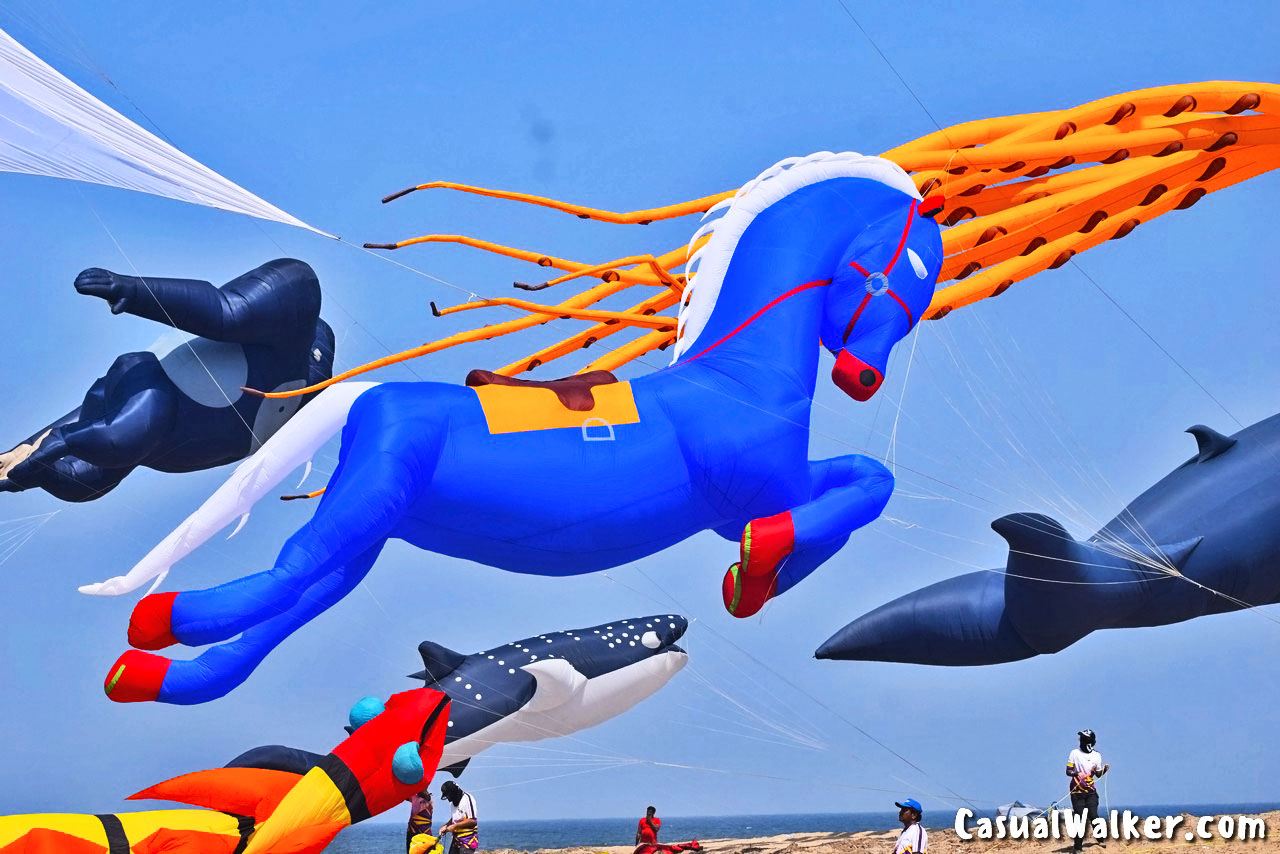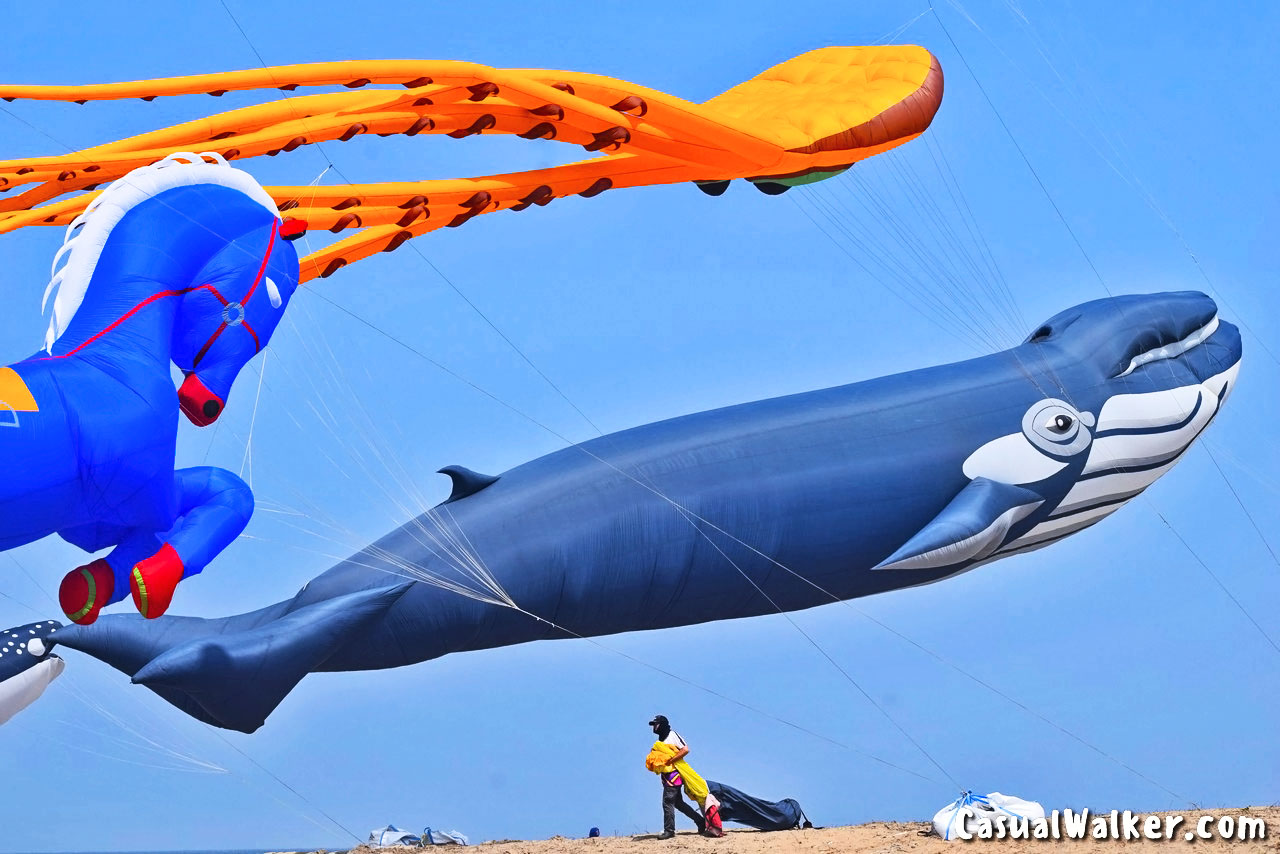 The TDC Ocean View area is spread across 14 acres along the seashore, which makes it a super ideal place to fly kites. This Kite festival's theme is "Aquarium in the Sky: Save Marine Life," to create awareness about the importance of preserving our oceans and marine ecosystems.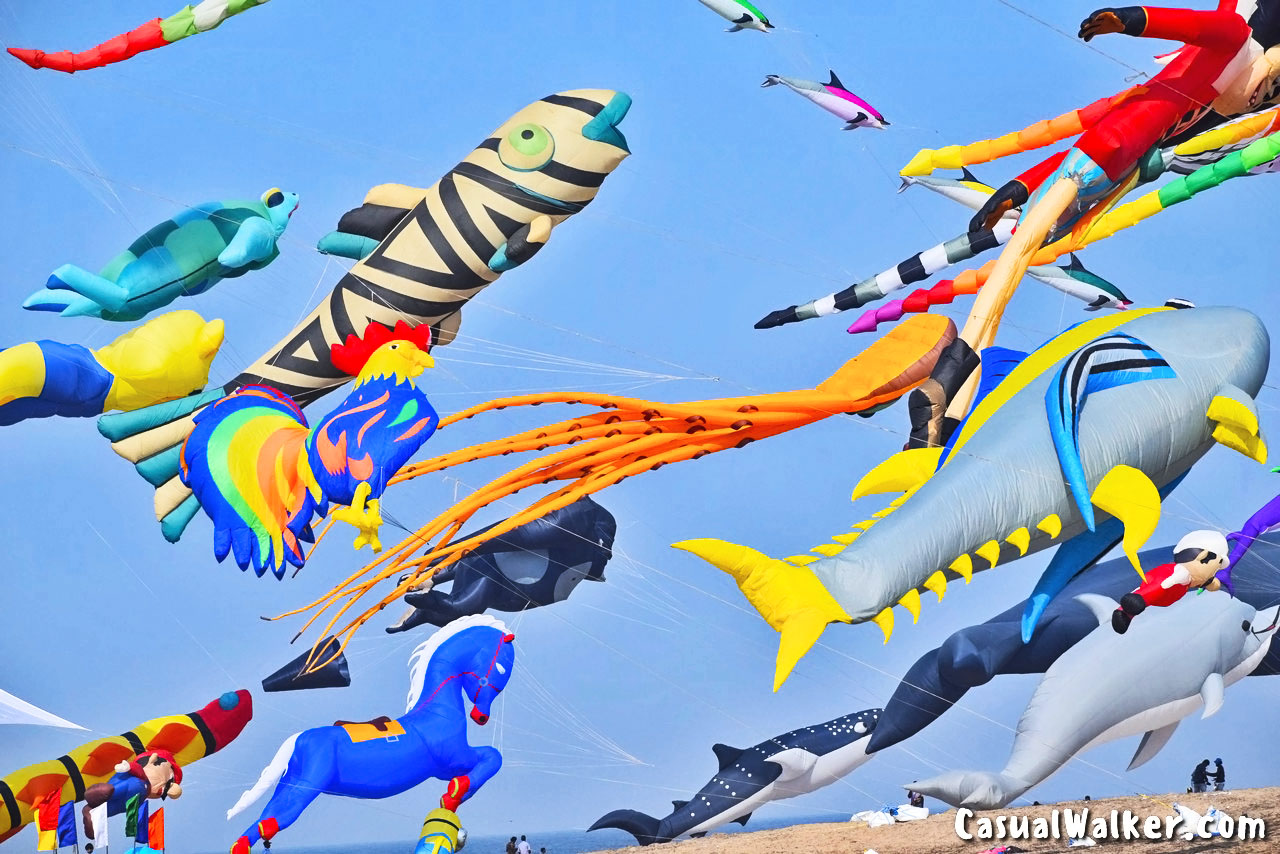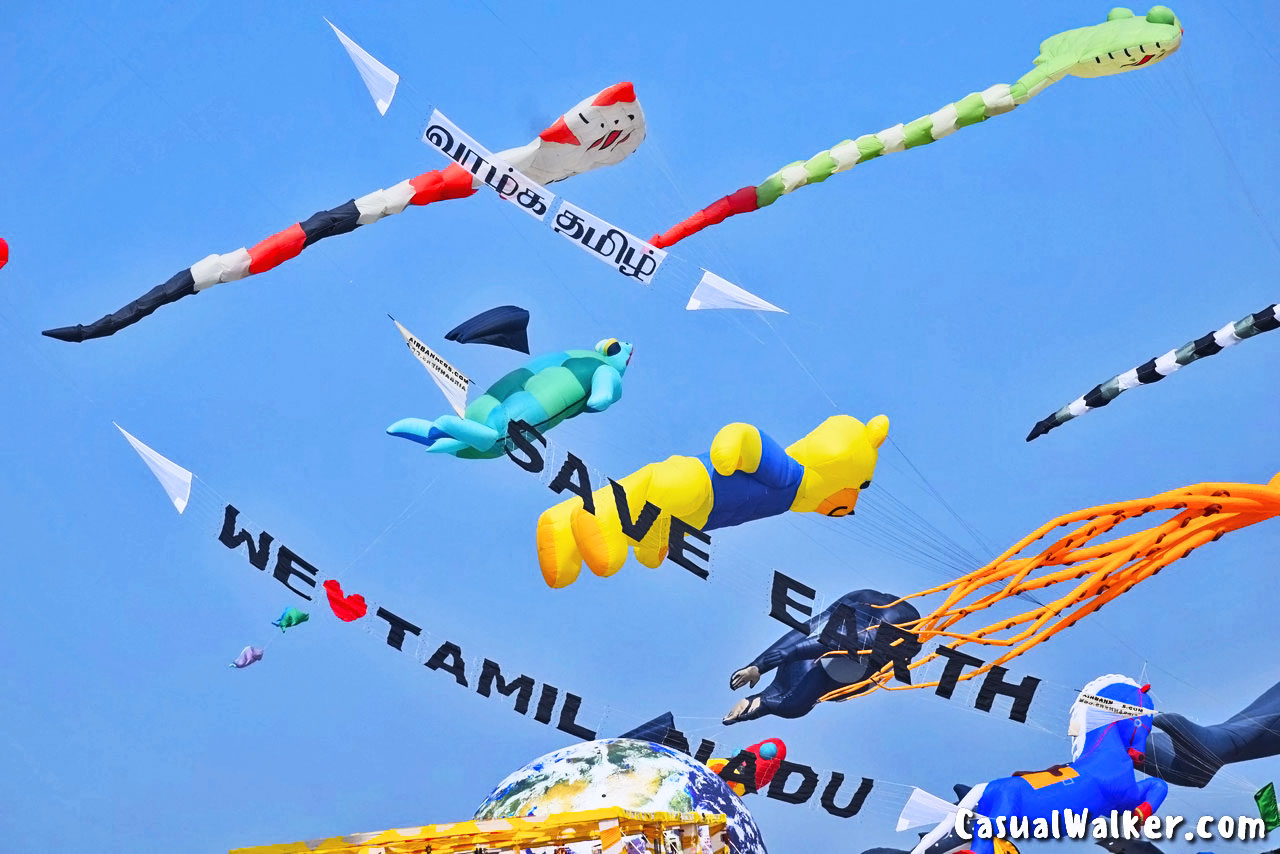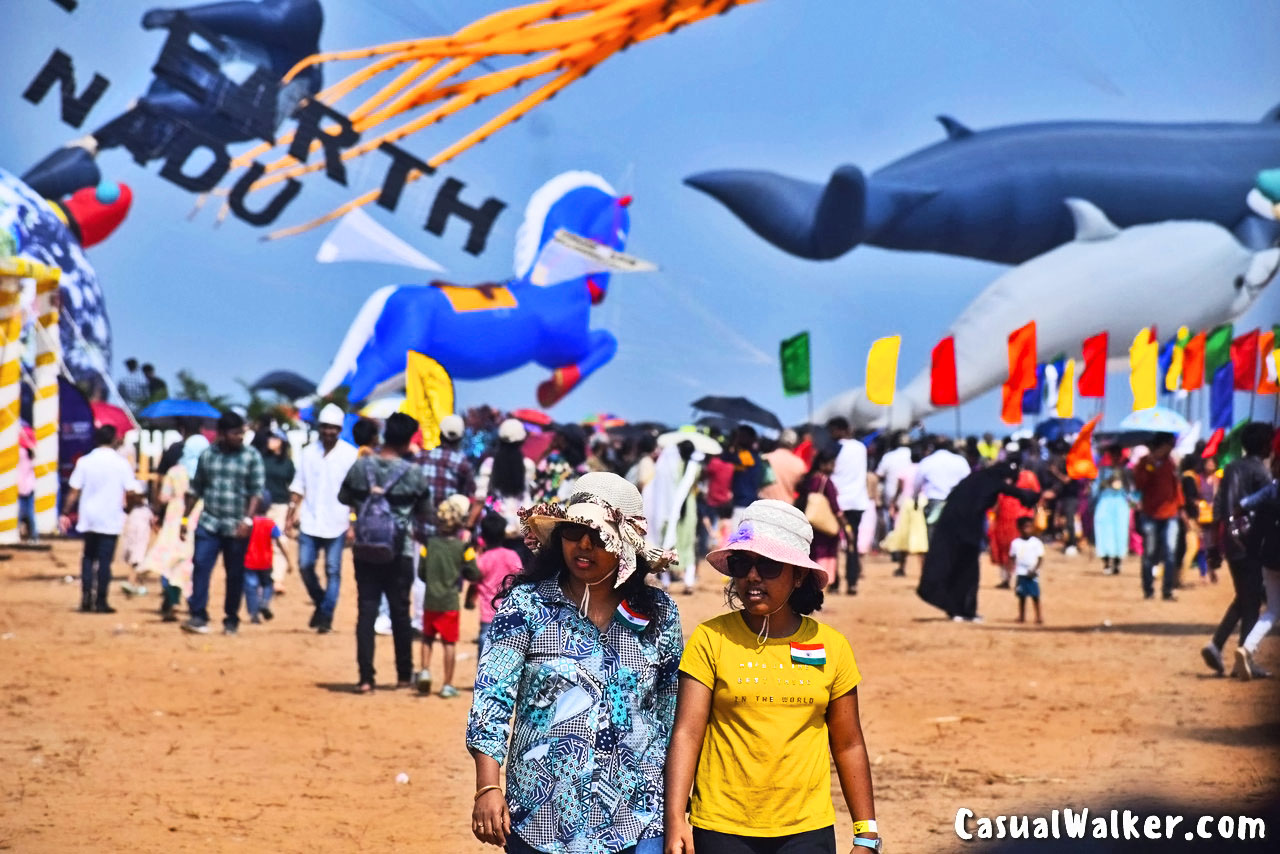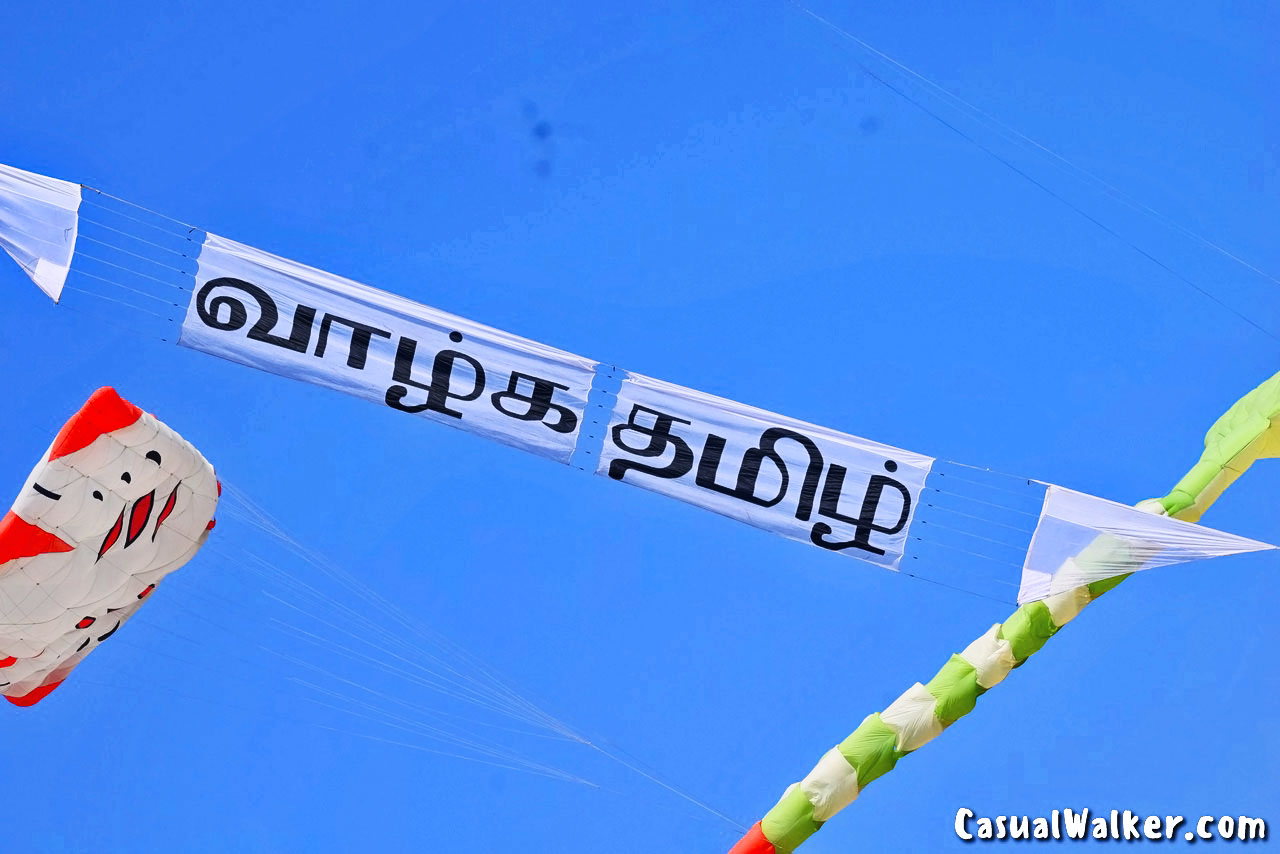 This International Kite Festival (TNIKF), was participated by the world's professional kite flyers from various countries, including Thailand, Malaysia, India, and USA. Also had a great display of handcrafted kites from 8 countries. More than 200 kites from renowned international teams showcased their artistic and acrobatic skills in the skies of Chennai.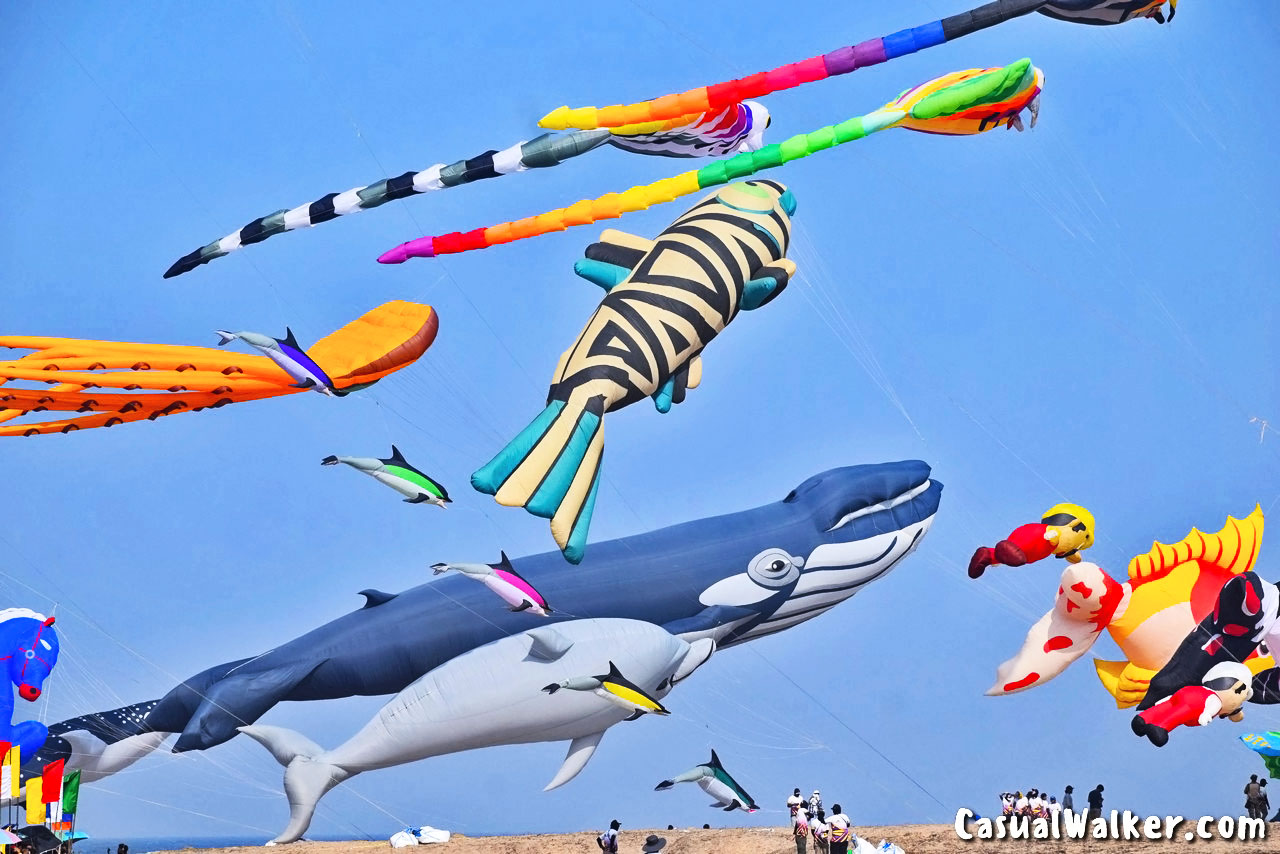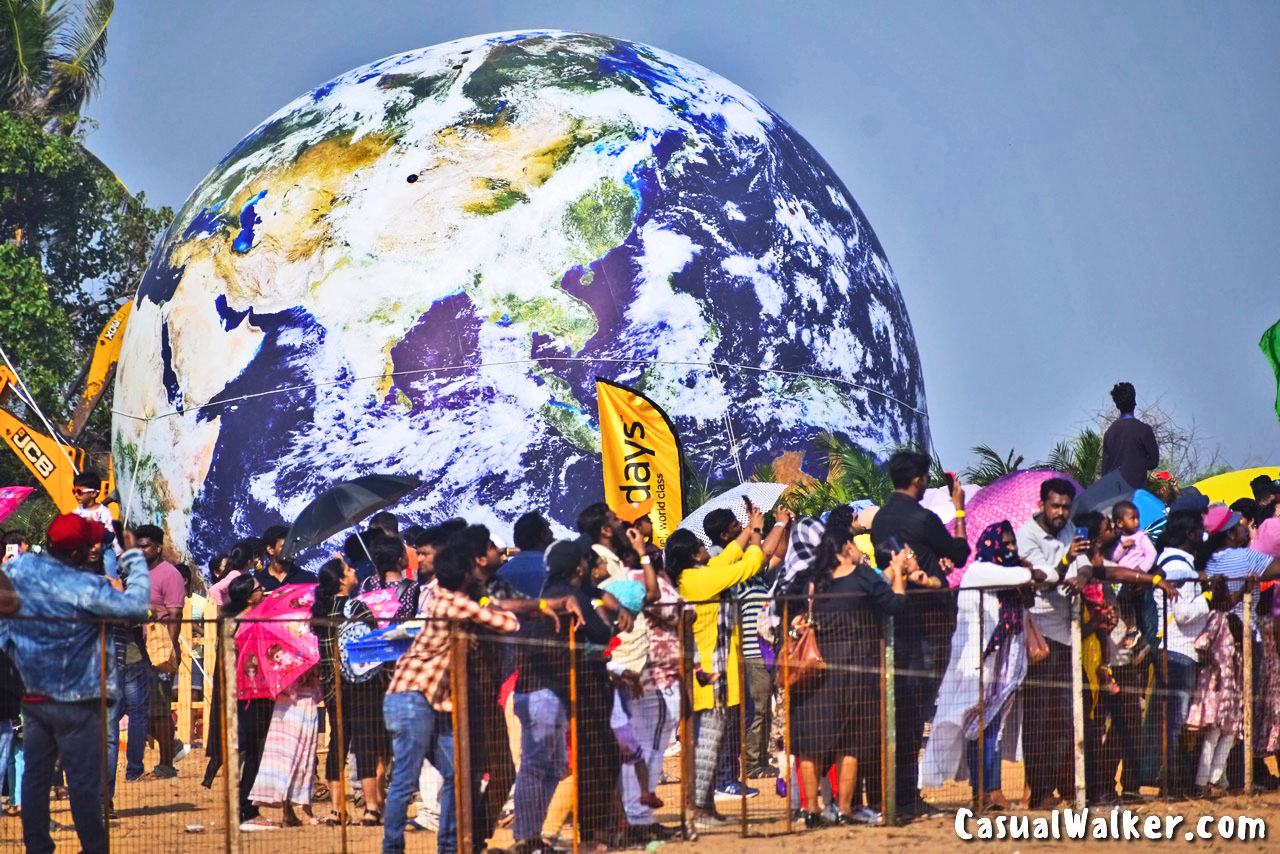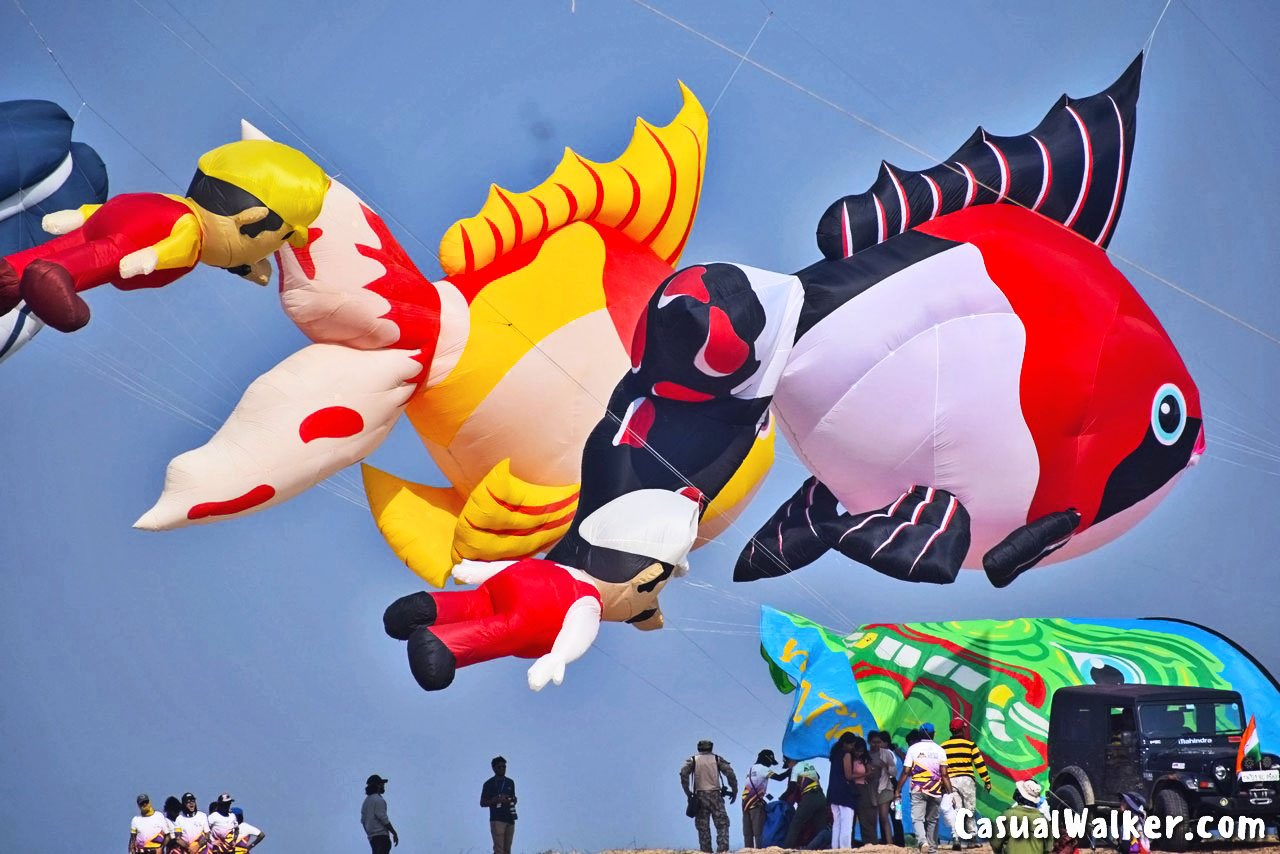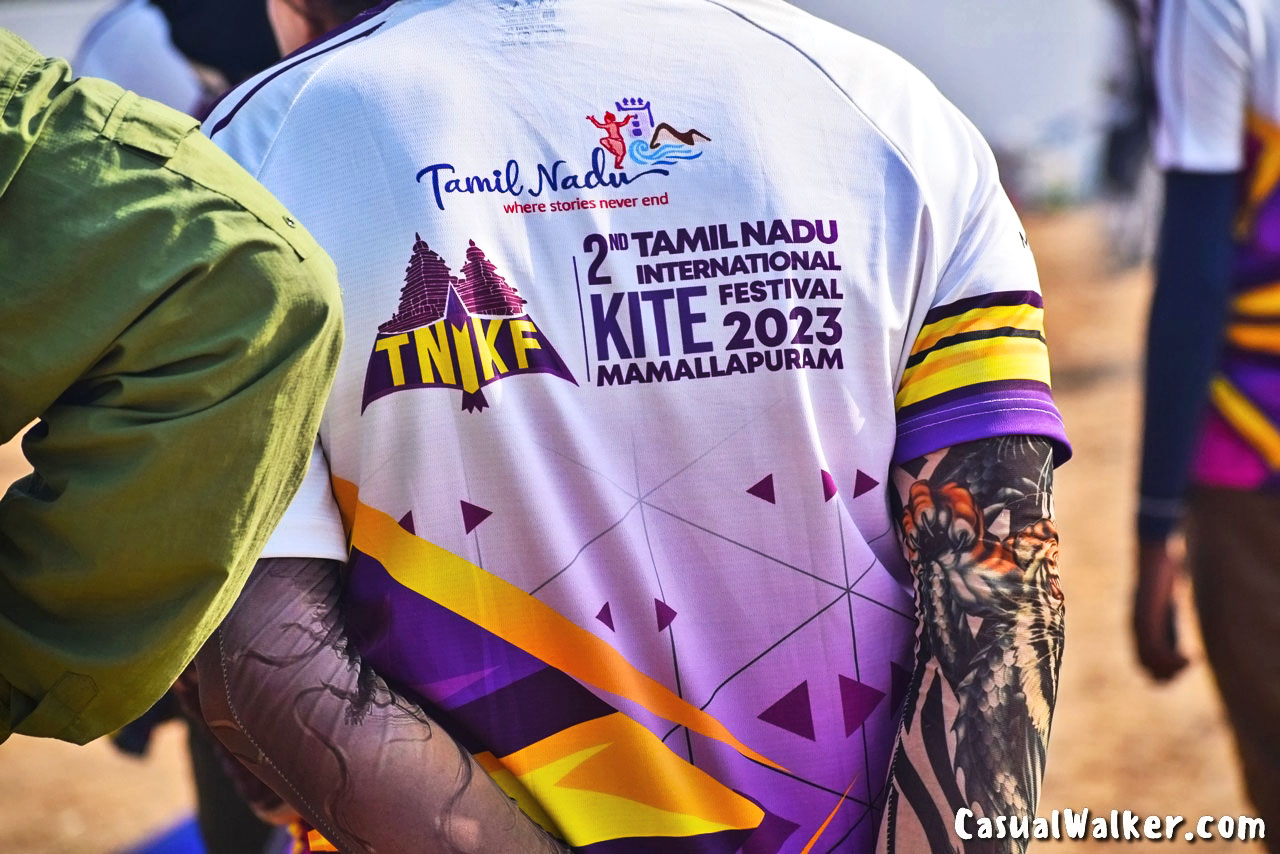 The festival showcased skilled kite makers and flyers from across the world to exhibit their innovative styles and dazzle the spectators with extremely colorful large unique kites.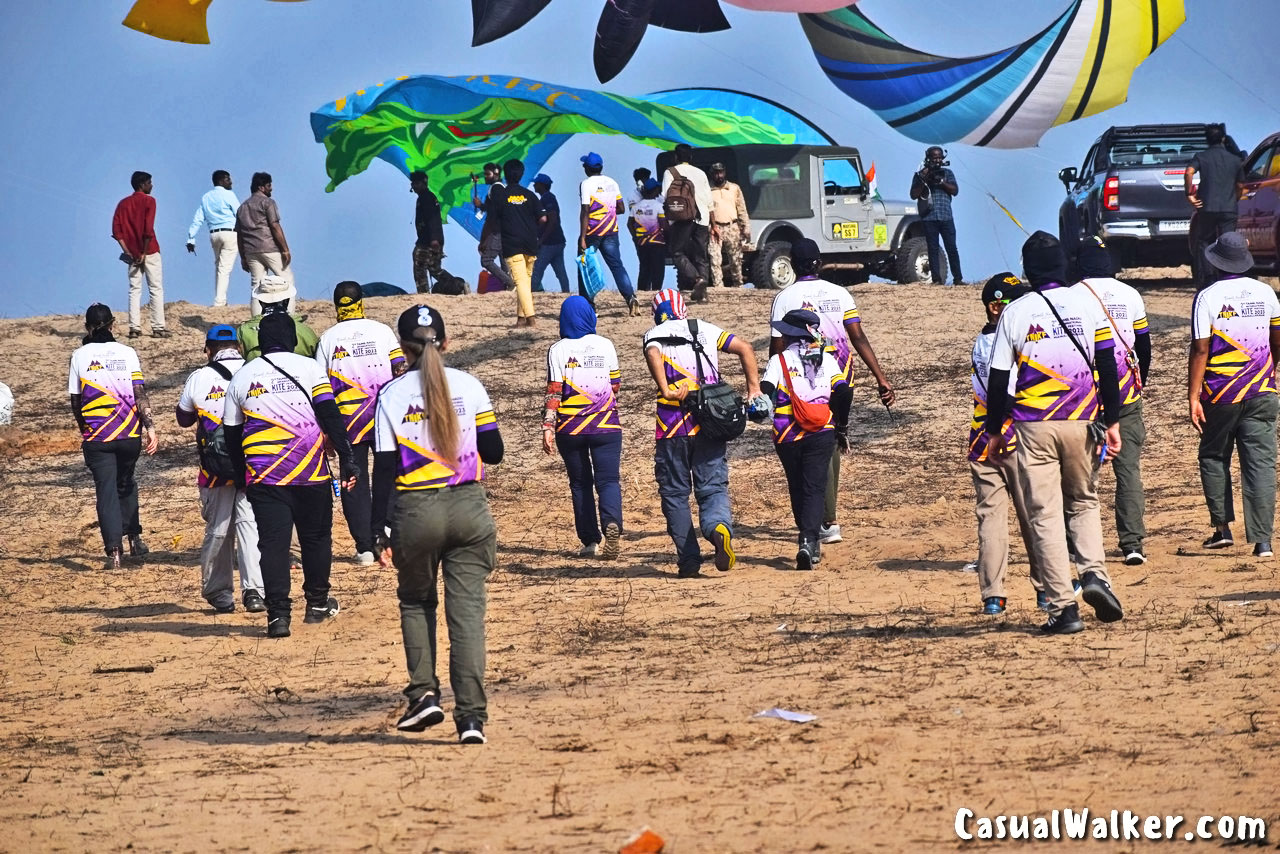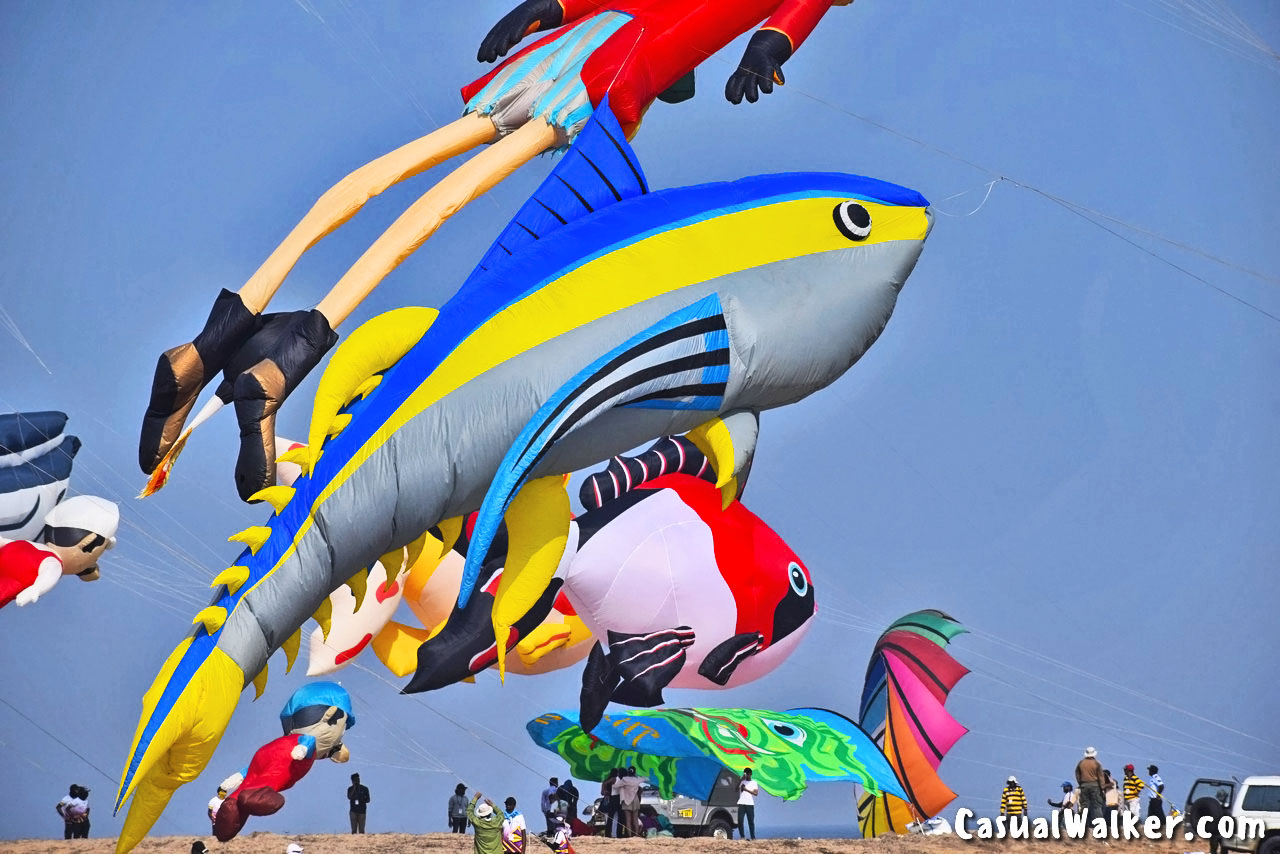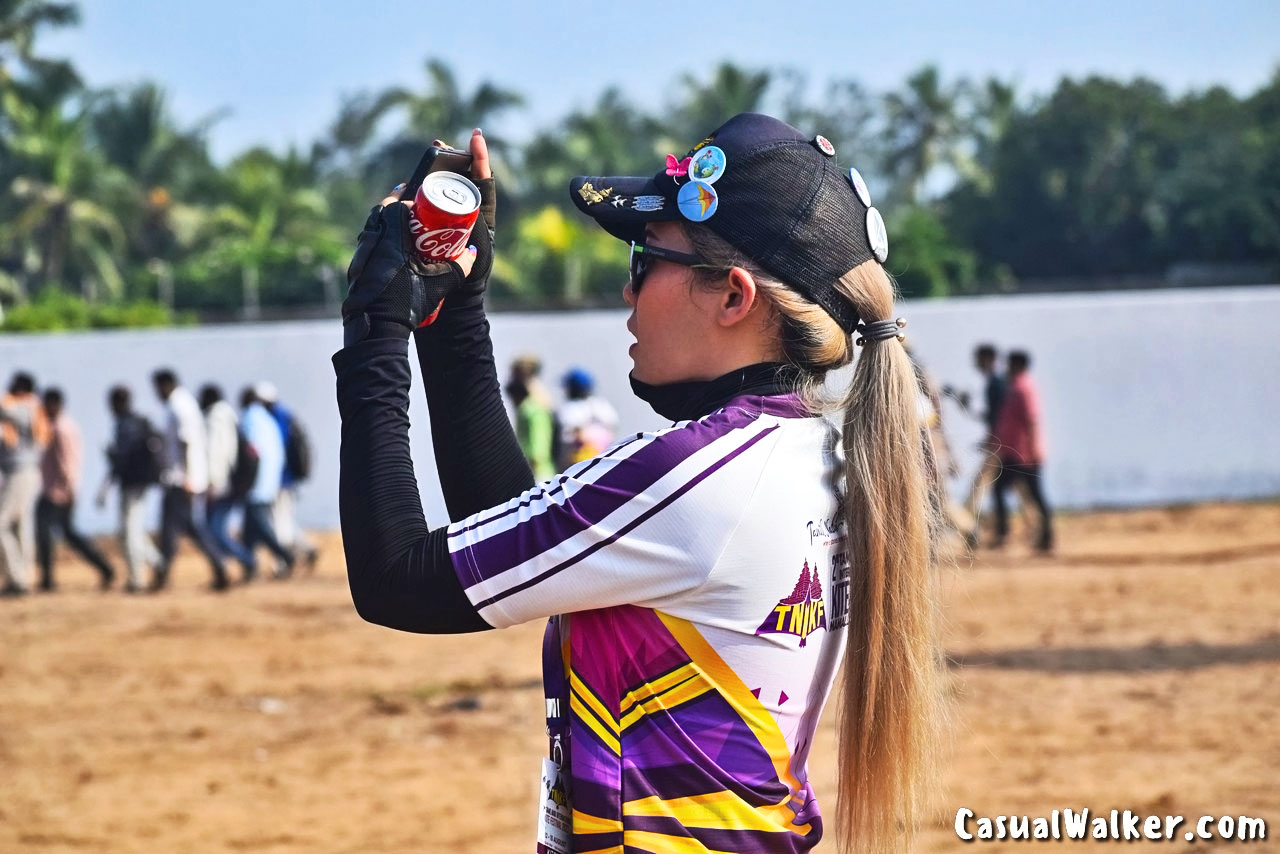 These kites are like helium-filled balloons that would be tied by rope to the ground. These balloons can fly up to a maximum of 25 feet.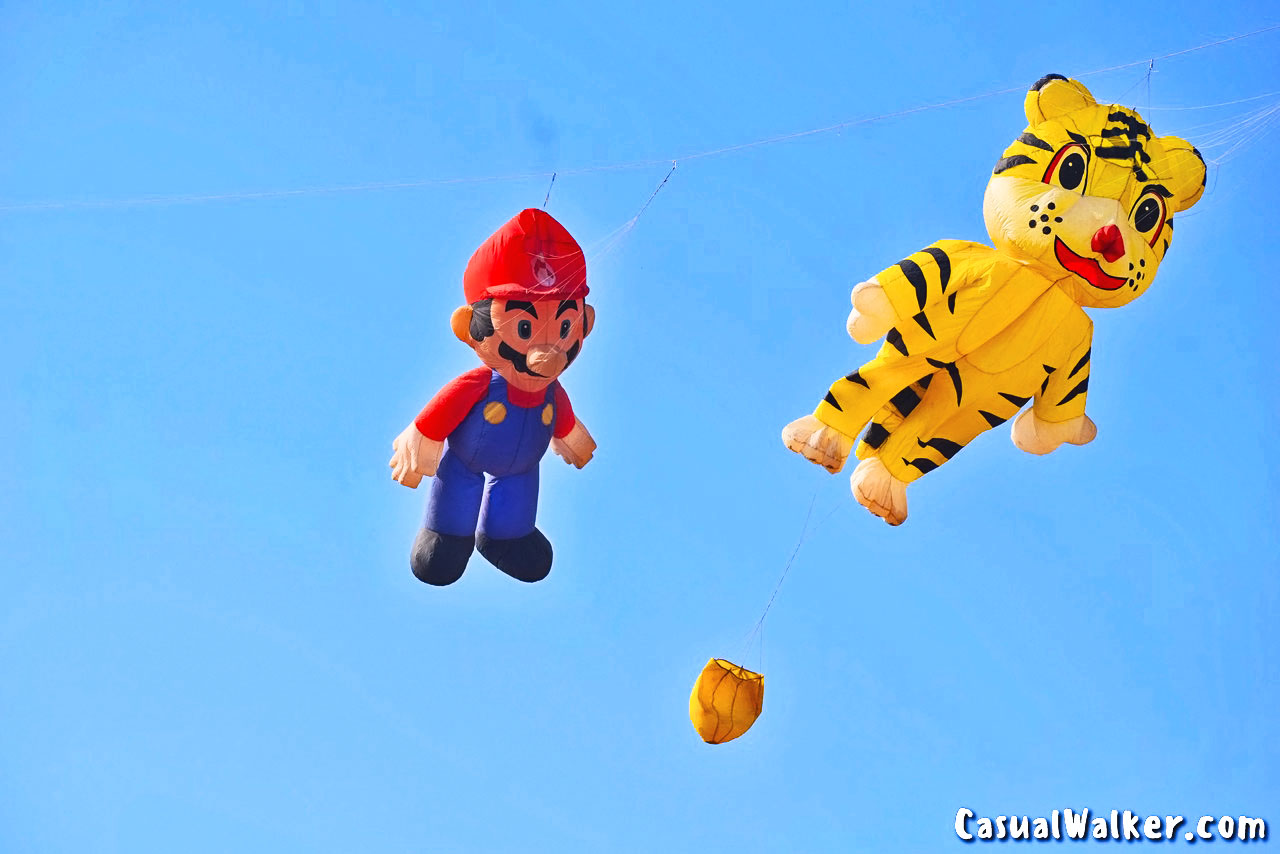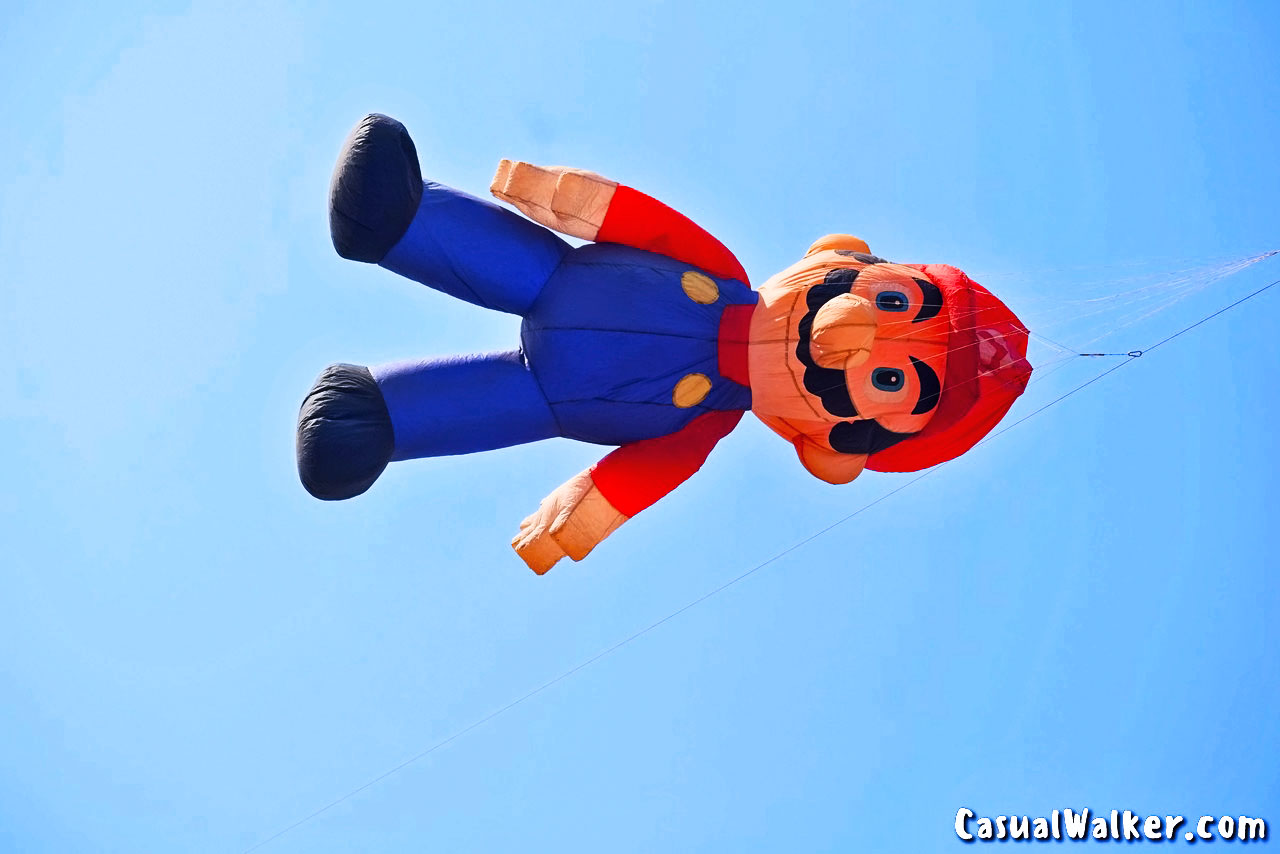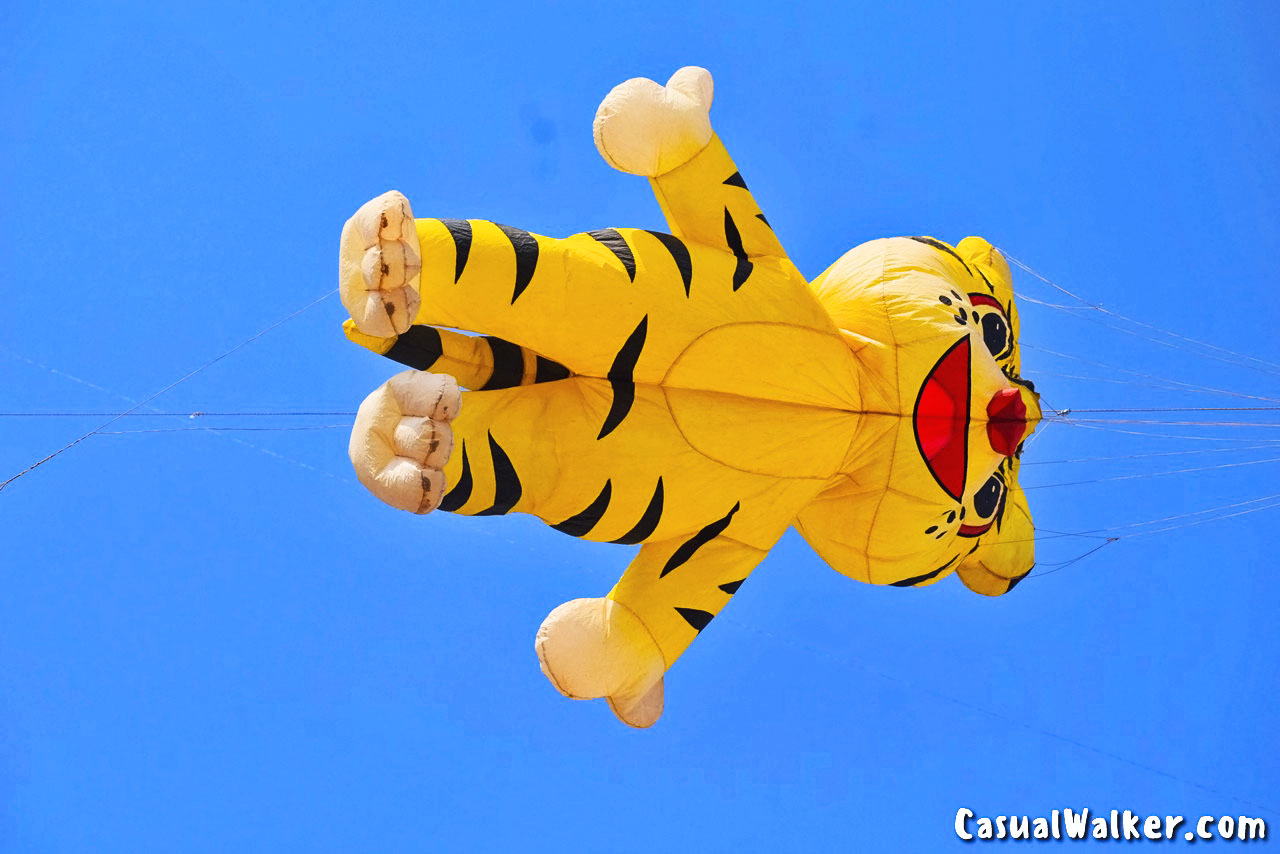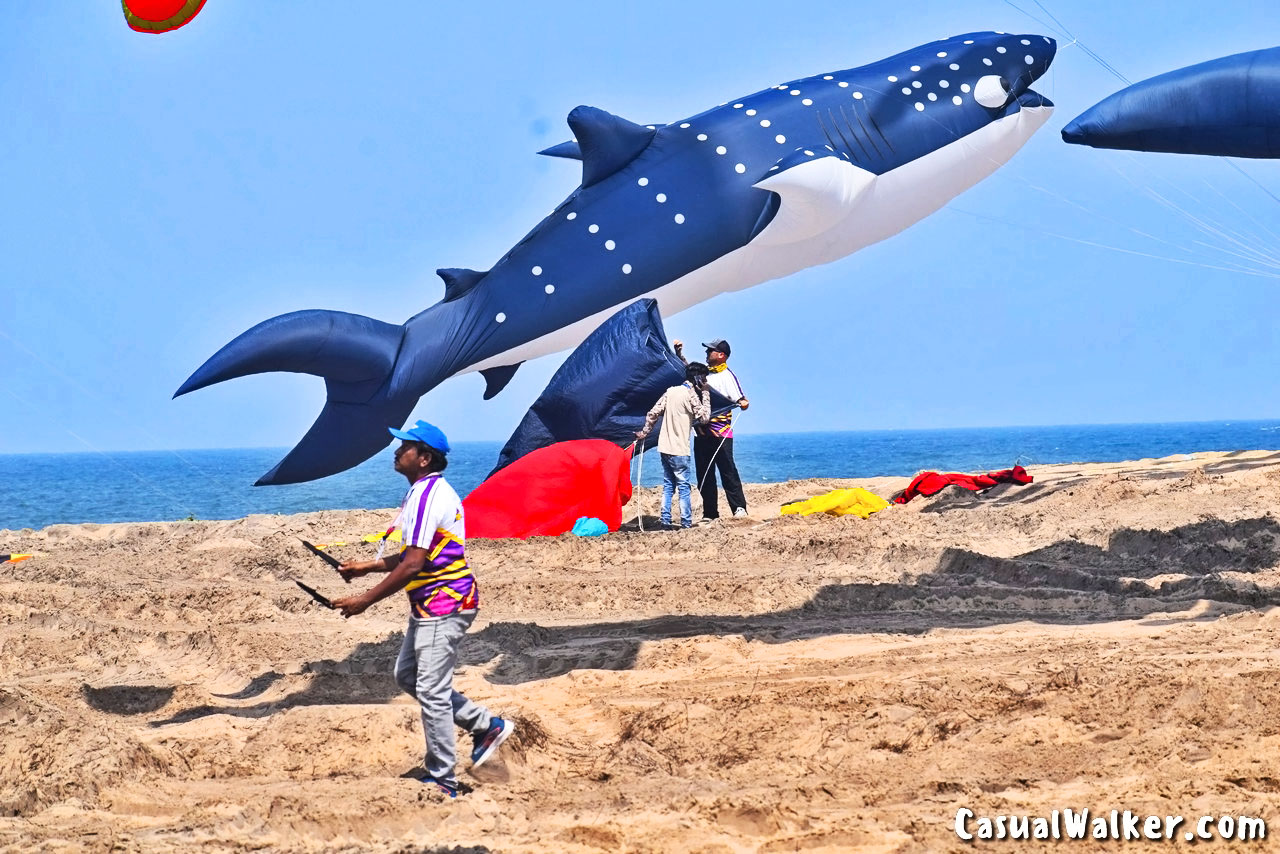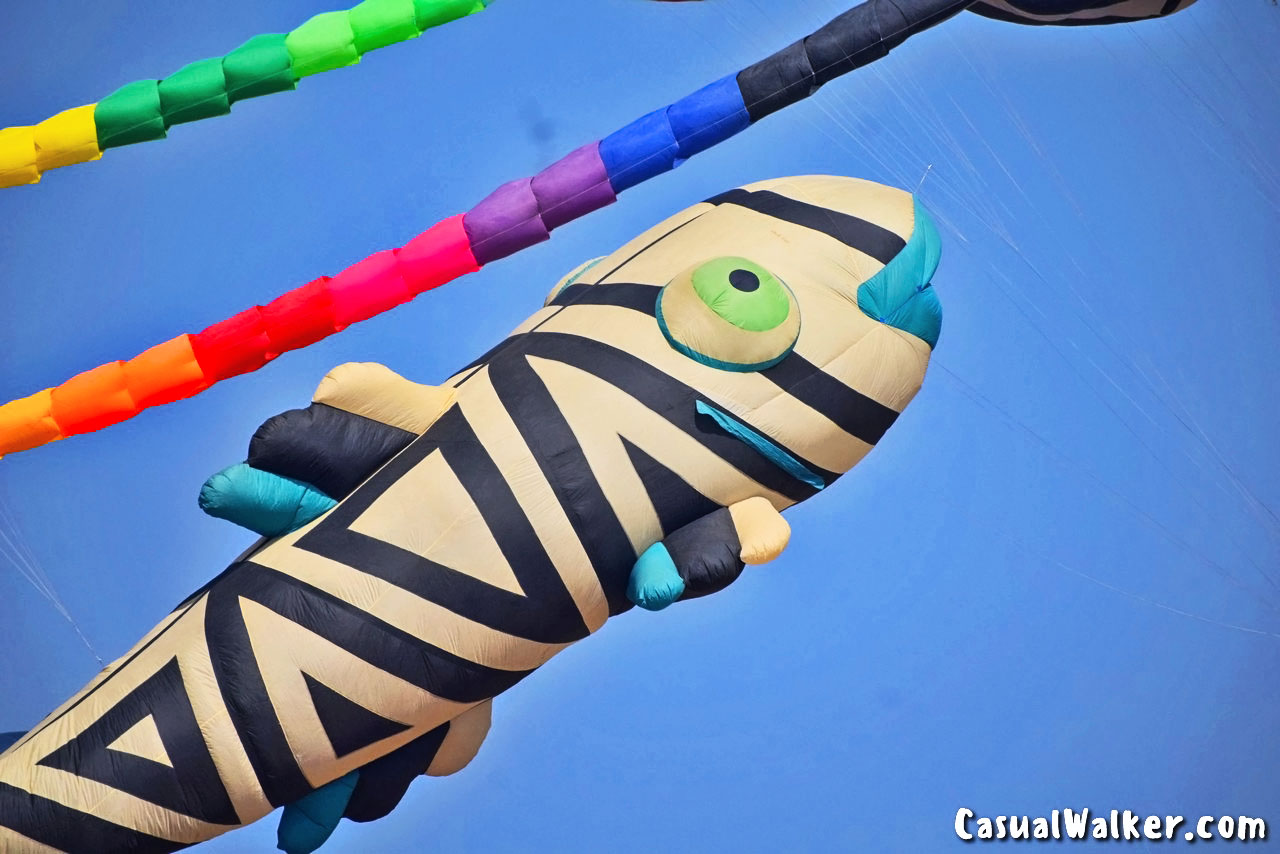 This edition of the International Kite Festival is anticipated by peers as it is held on a long- weekend along with the 77th India's Independence Day celebration.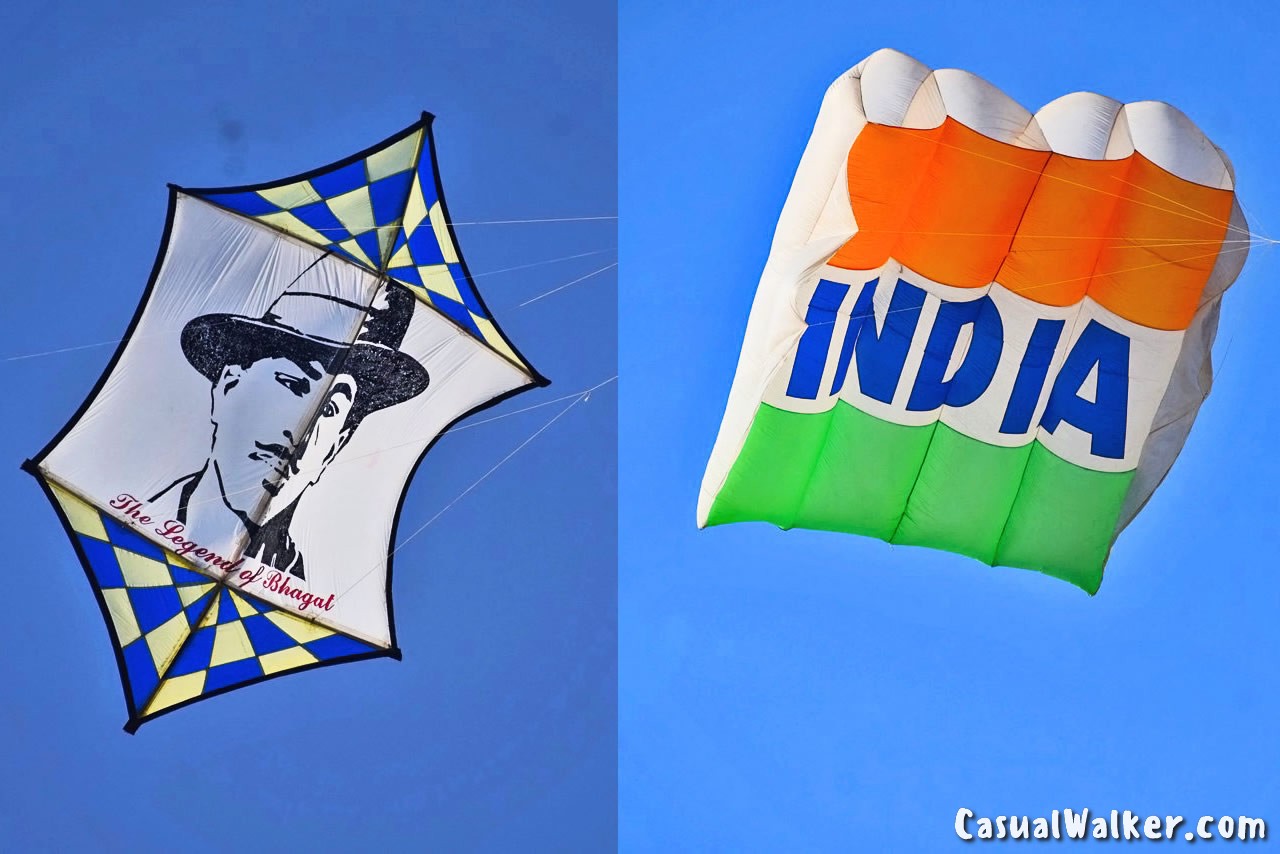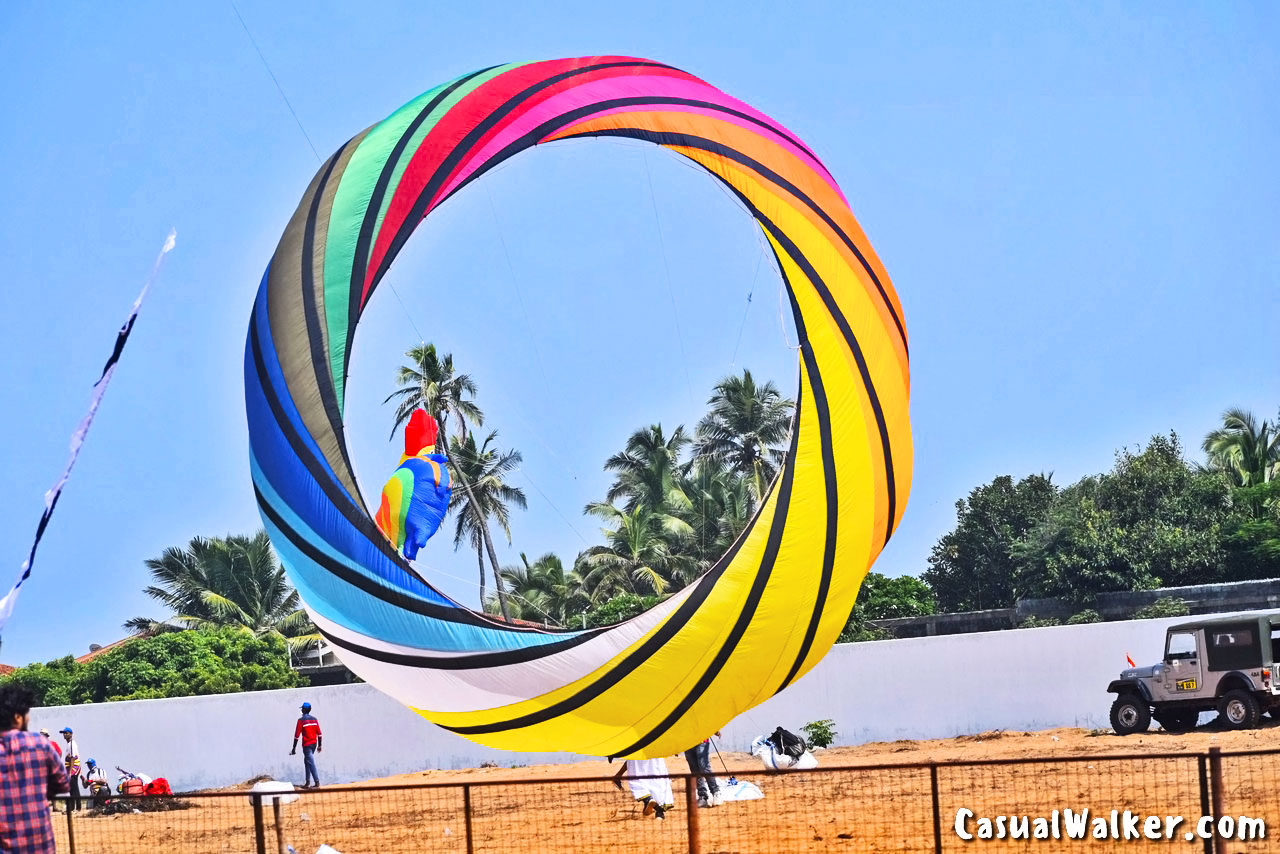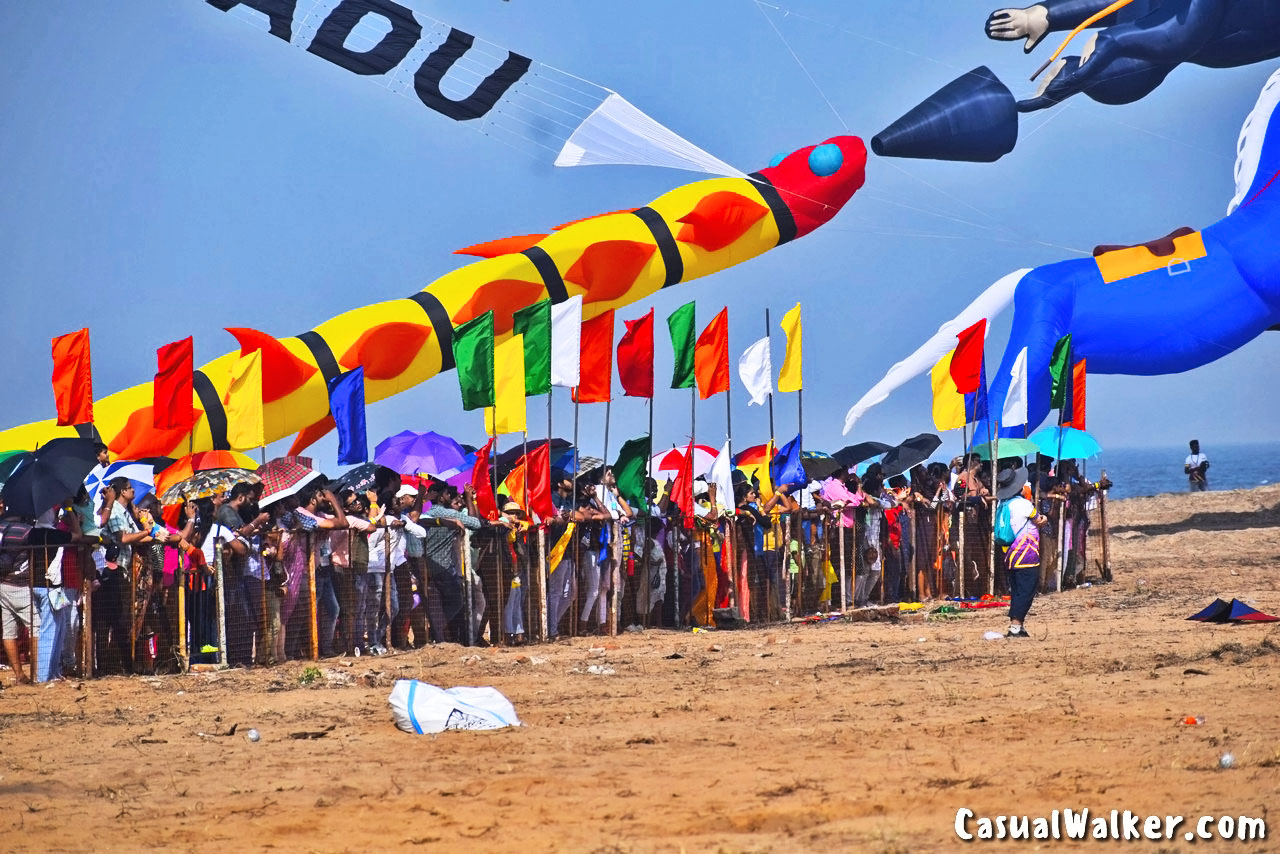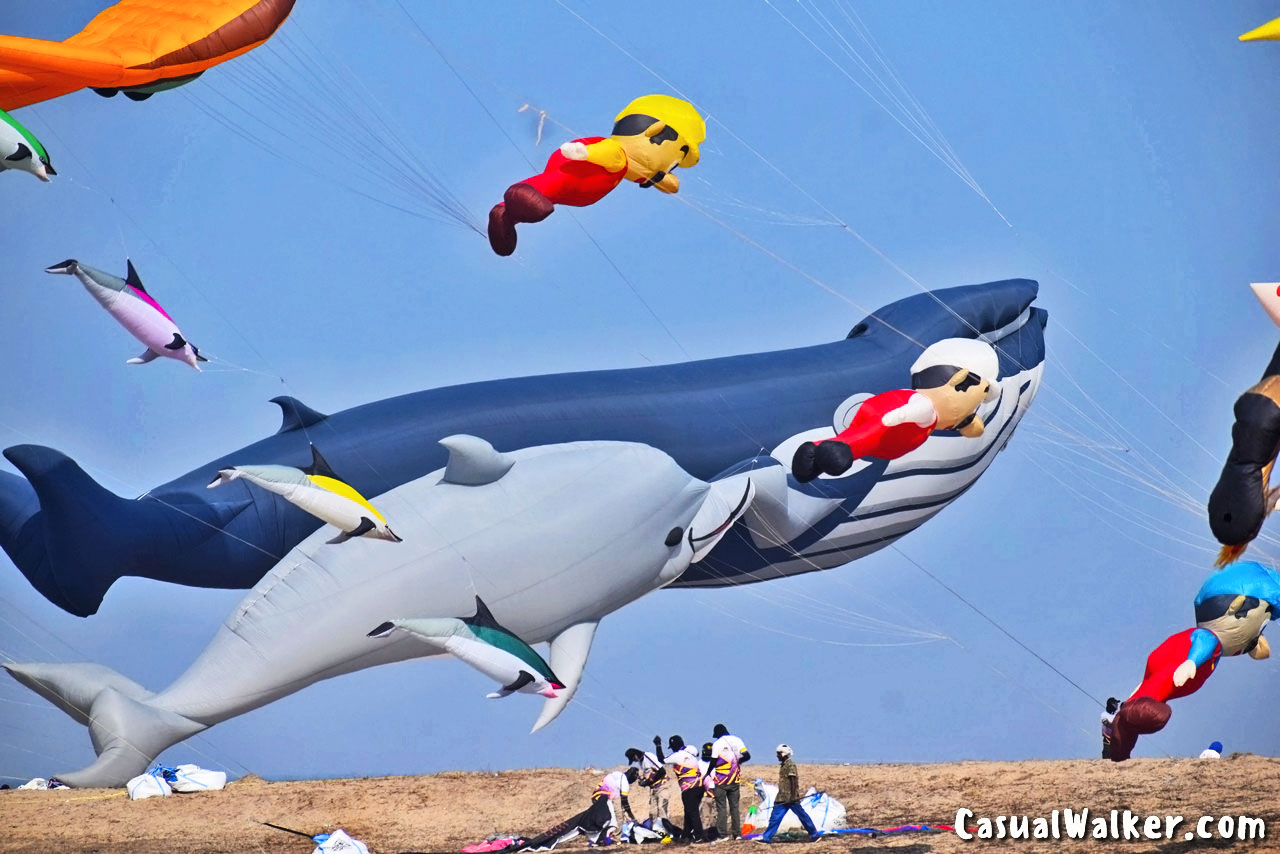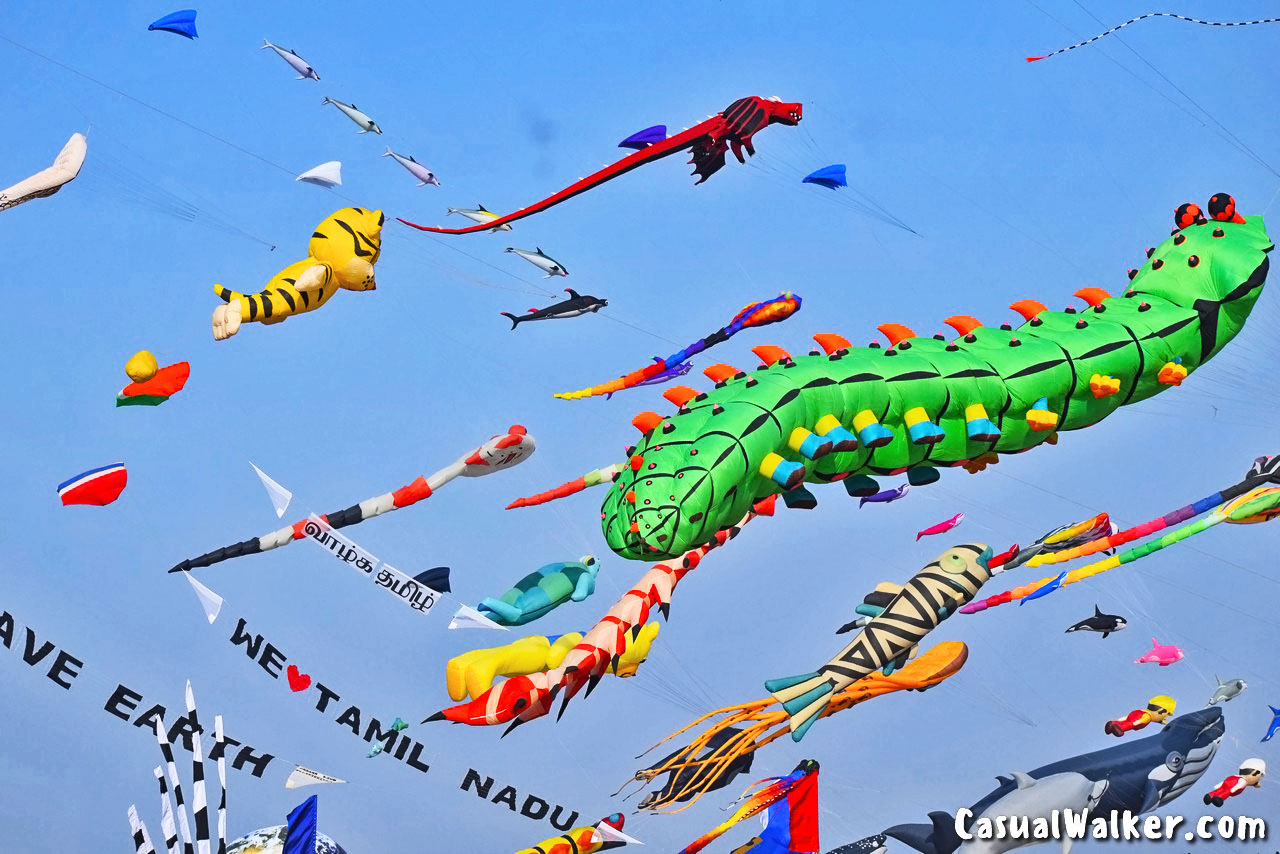 The festival also had live music performances by DJ Black, Sam Vishal, Premgi Band, Anand Aravindakshan, Rakshita Suresh, Priya Jerson, Motta Maadi Music Band and Couple DJ, Lip-smacking Food stalls, and kid's play areas.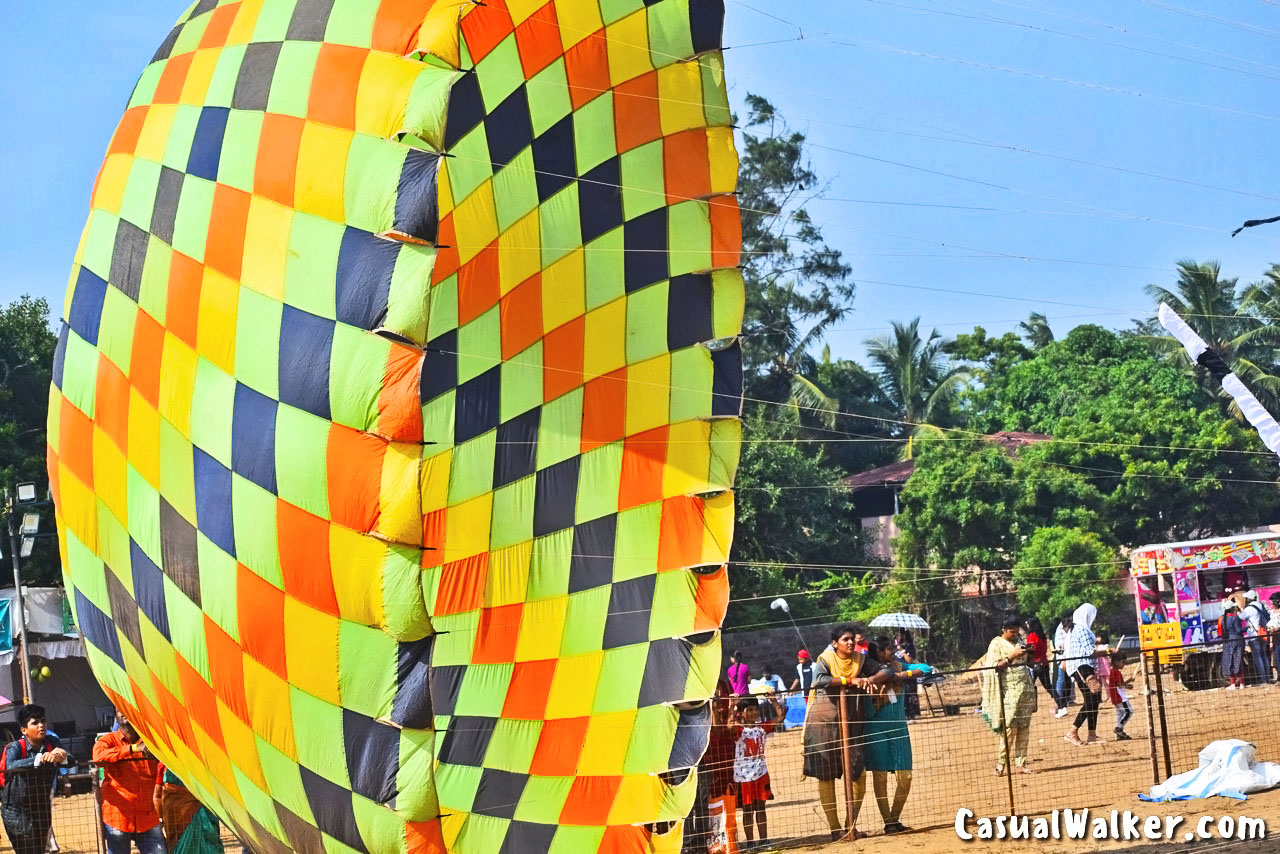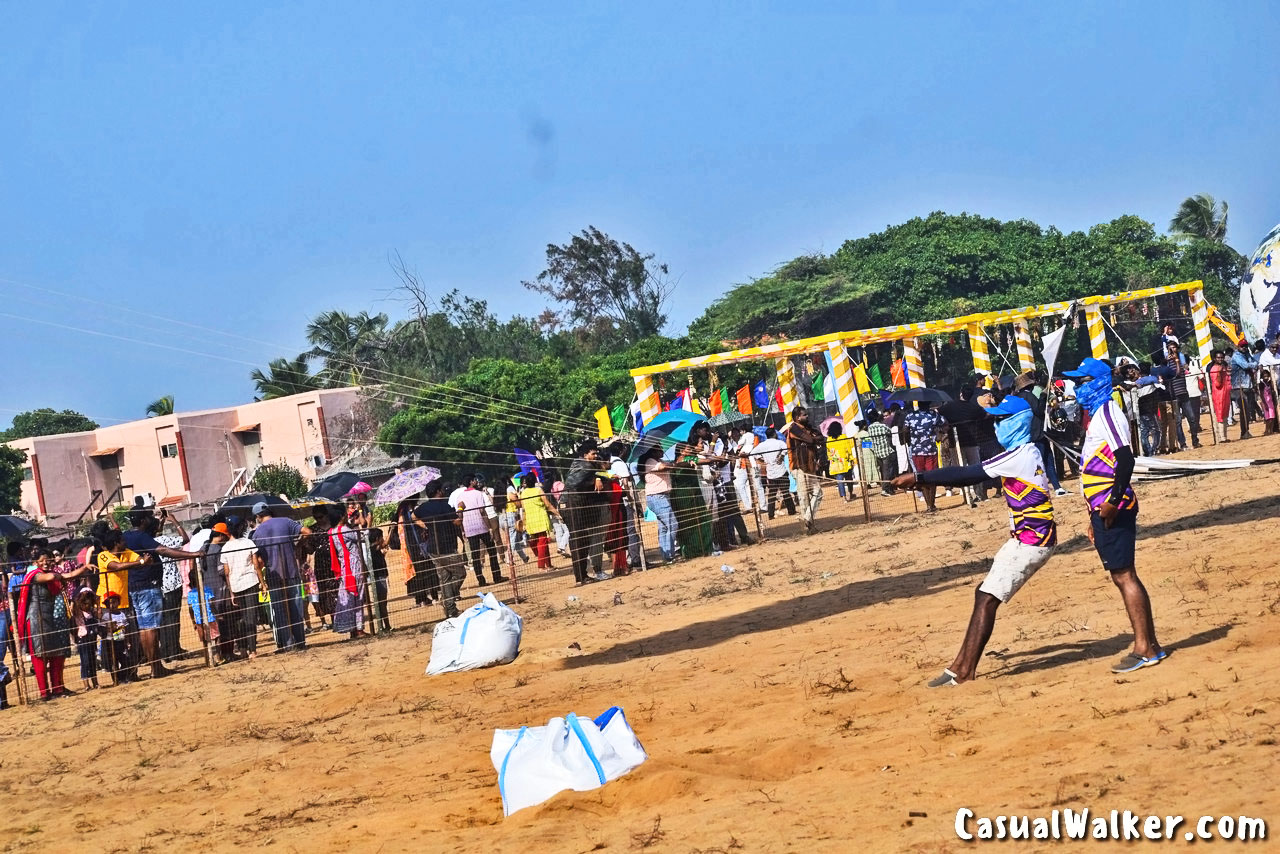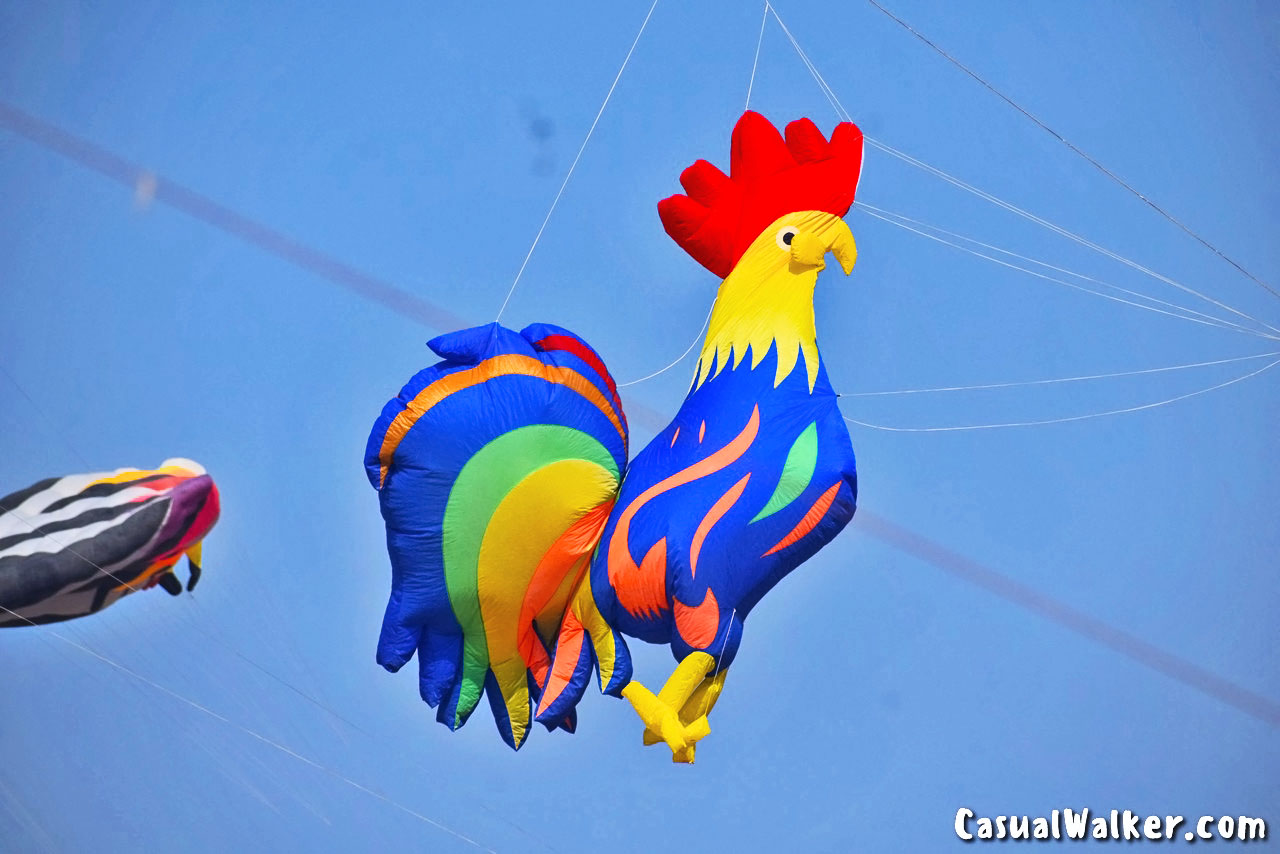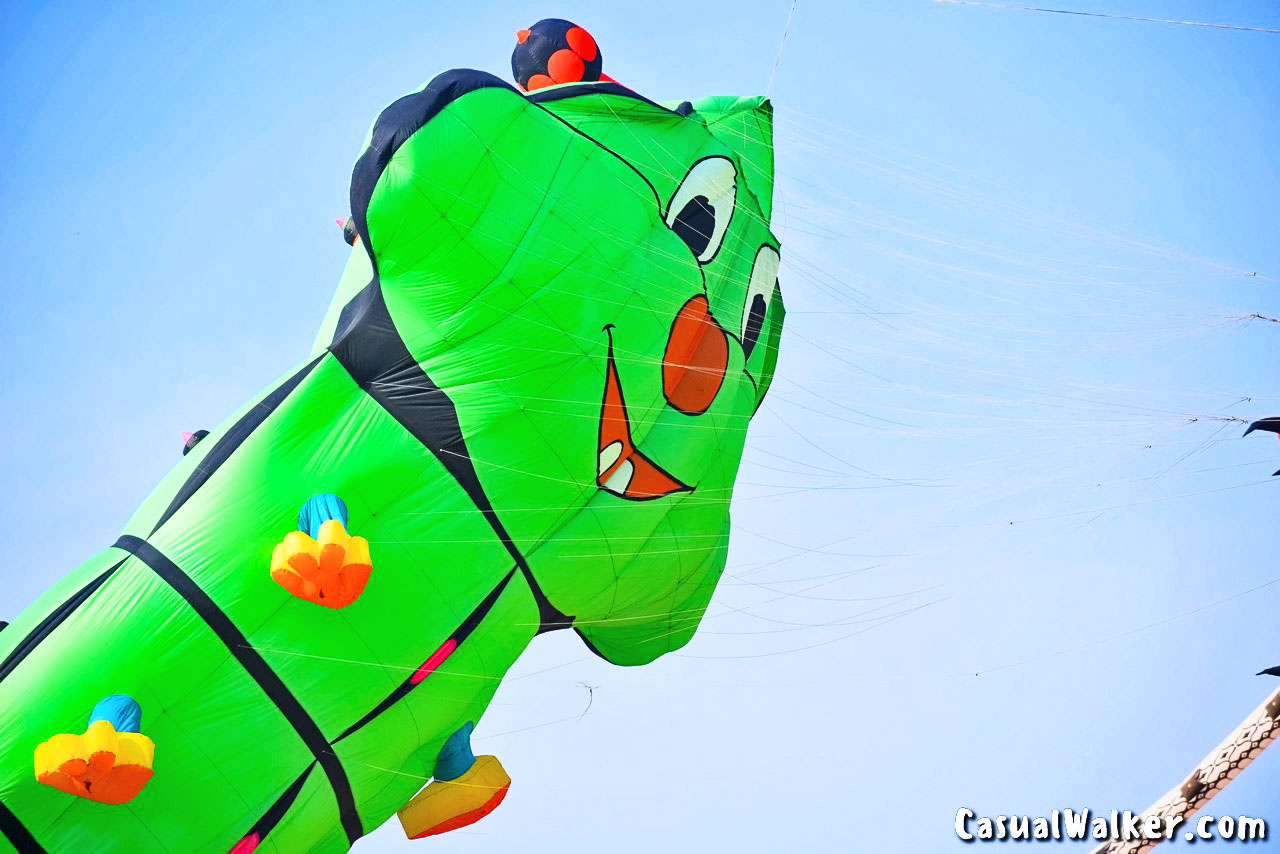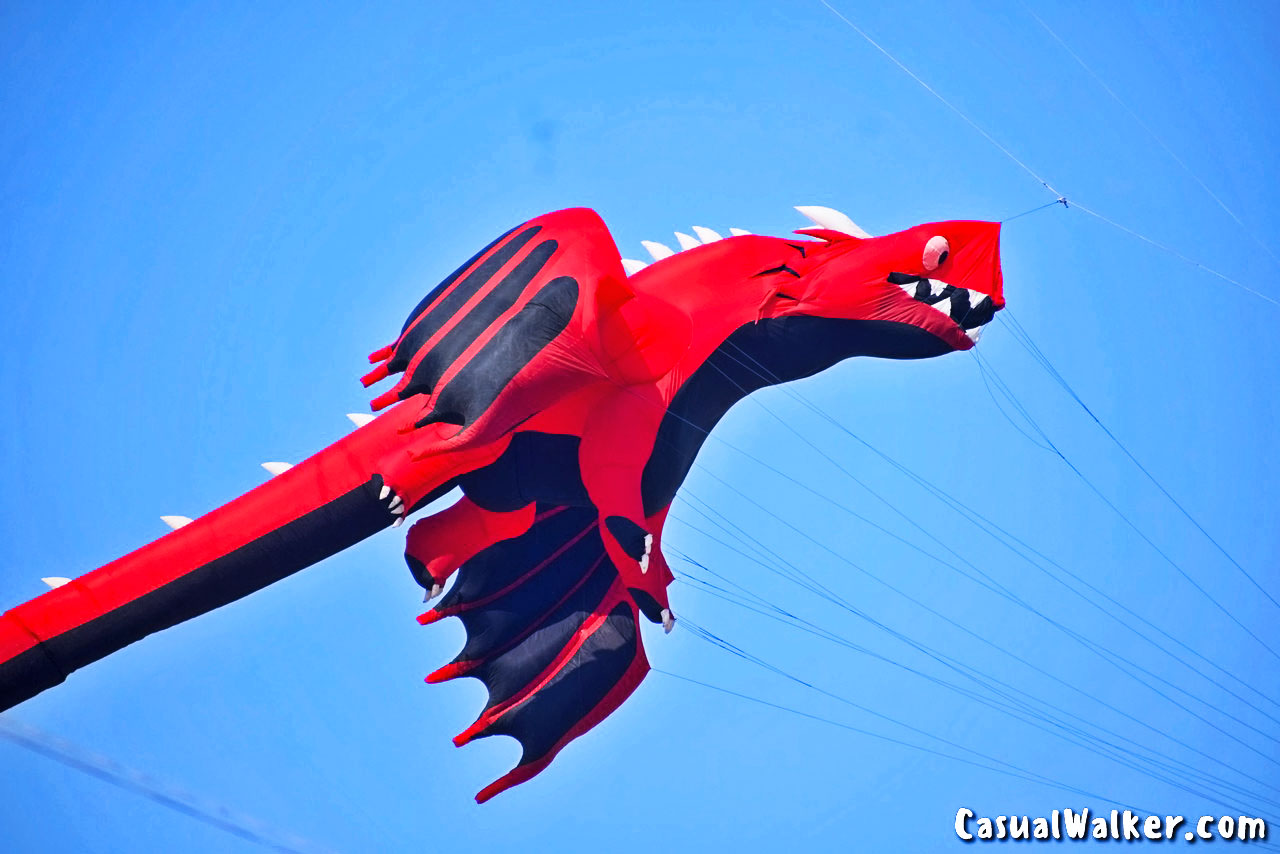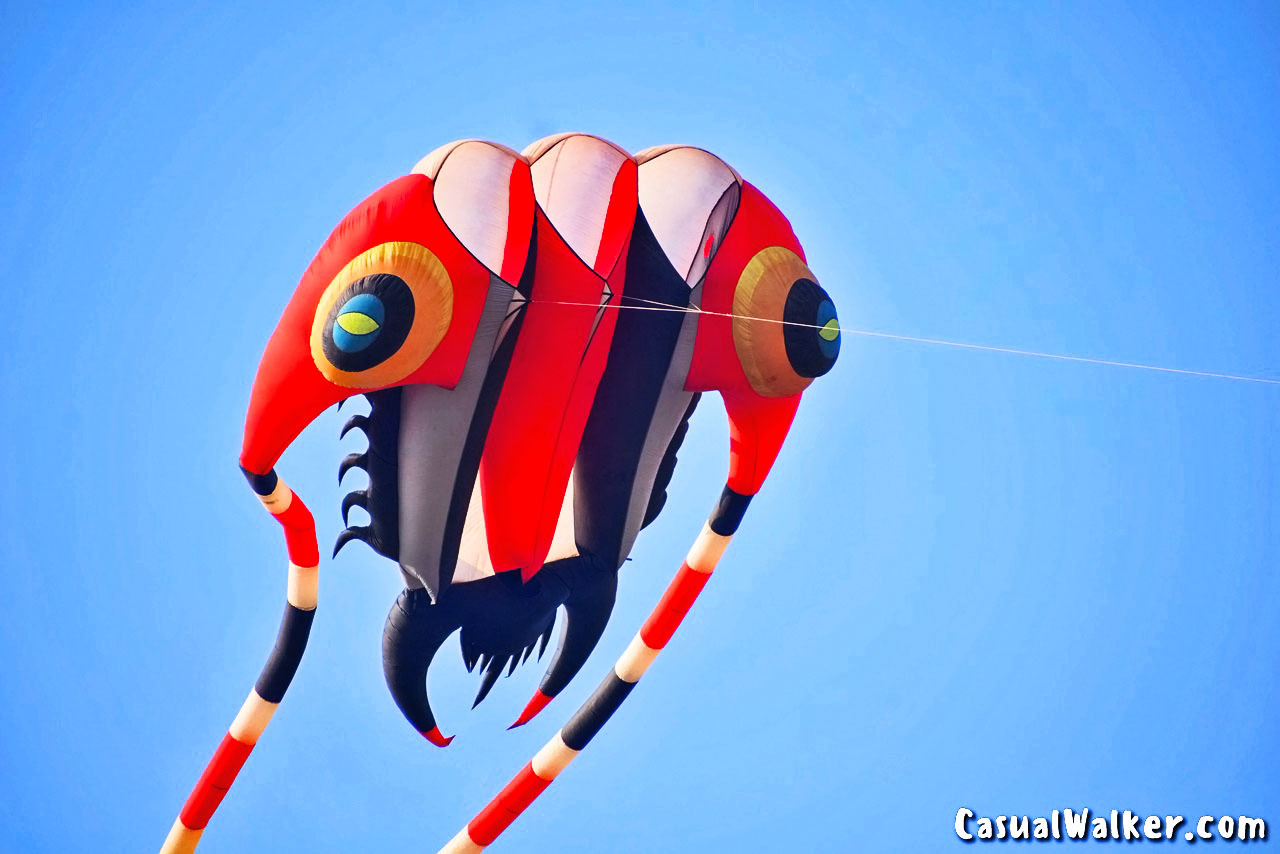 Also, check out Our Similar Interesting Photo Stories:
The Great Mango Festival by Hanu Reddy Mango Tourism at Hanu Reddy Raghava Farms in Othivakkam, Kanchipuram : An Event to Celebrate the King of Fruits & Best Place to Buy Fresh / Organic Mangoes in Chennai – Visit, Travel Guide
Chennai Food Festival – Oorum Unnavum organized by UNHCR & OFERR in Semmozhi Poonga, Chennai – To Taste the Famous Delicious Foods of Sri lanka, Myanmar (Burma), and Afghanistan in Chennai
Kathakali Festival 2019, Bhava Bhavanam – Rajasooyam (Thekkan), Kalakshetra Foundation, Chennai – Most Famous & Traditional dance from Kerala, India
Art Fest Chennai – An Art Exhibition to showcase vibrant colorful canvas artworks at Nageswara Rao Park in Mylapore, Chennai
DakshinaChitra Folk Dance Festival – South-Indian Traditional Folk Dance Performances of Karagattam, Kalai Attam, Oyilattam, Mayilattam, Thappattam, Poikalkuthirai, Silambattam at DakshinaChitra Heritage Museum, Chennai
Manga Hokusai Manga – An Japanese Manga Comics Exhibition in Chennai : Approaching the Master's Compendium from the Perspective of Contemporary Comics
India Handmade Collective, Chennai – Exhibition of Handmade Artisanal Products, Naturally dyed Khadi Garments, Accessories, Organic Plants, Seeds, Sweets & Snacks
Food Walk in Triplicane organized by Tamilnadu Tourism Development Corporation (TTDC) & Madras Inherited: Discovering the Famous & Best Restaurant, Mess, Sweet & Snacks, Masala Milk Shop in Triplicane – Visit, Travel Guide
Madras Heritage Motoring Club's Chennai Heritage Auto Display 2021 – Largest Vintage, Classic Cars and Bike Exhibition in India
The Sundaram Finance Mylapore Festival 2020 : Largest Pulli Kolam Contest & Rangoli Contest at North Mada Street, Mylapore – Visit, Travel Guide
The Japan Foundation's Contemporary Wood-Carved Netsuke – An Japanese Miniature Sculptures Art Exhibition, Chennai
BAPASI 46th Chennai Book Fair 2023 – South India's largest book exhibition (Updated)