DakshinaChitra Folk Dance Festival – South-Indian Traditional Folk Dance Performances of Karagattam, Kalai Attam, Oyilattam, Mayilattam, Thappattam, Poikalkuthirai, Silambattam at DakshinaChitra Heritage Museum, Chennai (Updated)
– during the pongal, aadi perukku, village & ayyanar festival
| | |
| --- | --- |
| CasualWalker's Rating for DakshinaChitra South-Indian traditional folk dance performances : | |
| 9.7 – Superb Awesome | |

DakshinaChitra is one of India's best Heritage Museum, which is a project of the Madras Craft Foundation (MCF), a non-profit organization – for the promotion and preservation of the heritage and cultures of South Indian states like Tamilnadu, Karnataka, Kerala, and Andhra Pradesh.
DakshinaChitra regularly organizes various South-Indian traditional folk dance performances with much enthusiasm to mark the celebration of the Pongal festival, Aadi Perukku festival, Tamil New Year festival, Dussehra / Vijayadashami, Village festival, and Ayyanar festival.
During these festivals, artists from various famous groups perform traditional folk dances like Karagattam is performed in praise of the Rain Goddess – where the performers balance a decorated pot on their head, Kalai Attam is the dance of the false-legged bull – where the performers balance themselves on the wooden legs, Oyilattam, Mayilattam, Thappattam, Poikalkuthirai, Kokkilikattai, Silambattam, Periyakombu, Velurmelam, and Saattaikuchchi.
DakshinaChitra regularly also conducts various workshops on Silambattam and Oyilattam.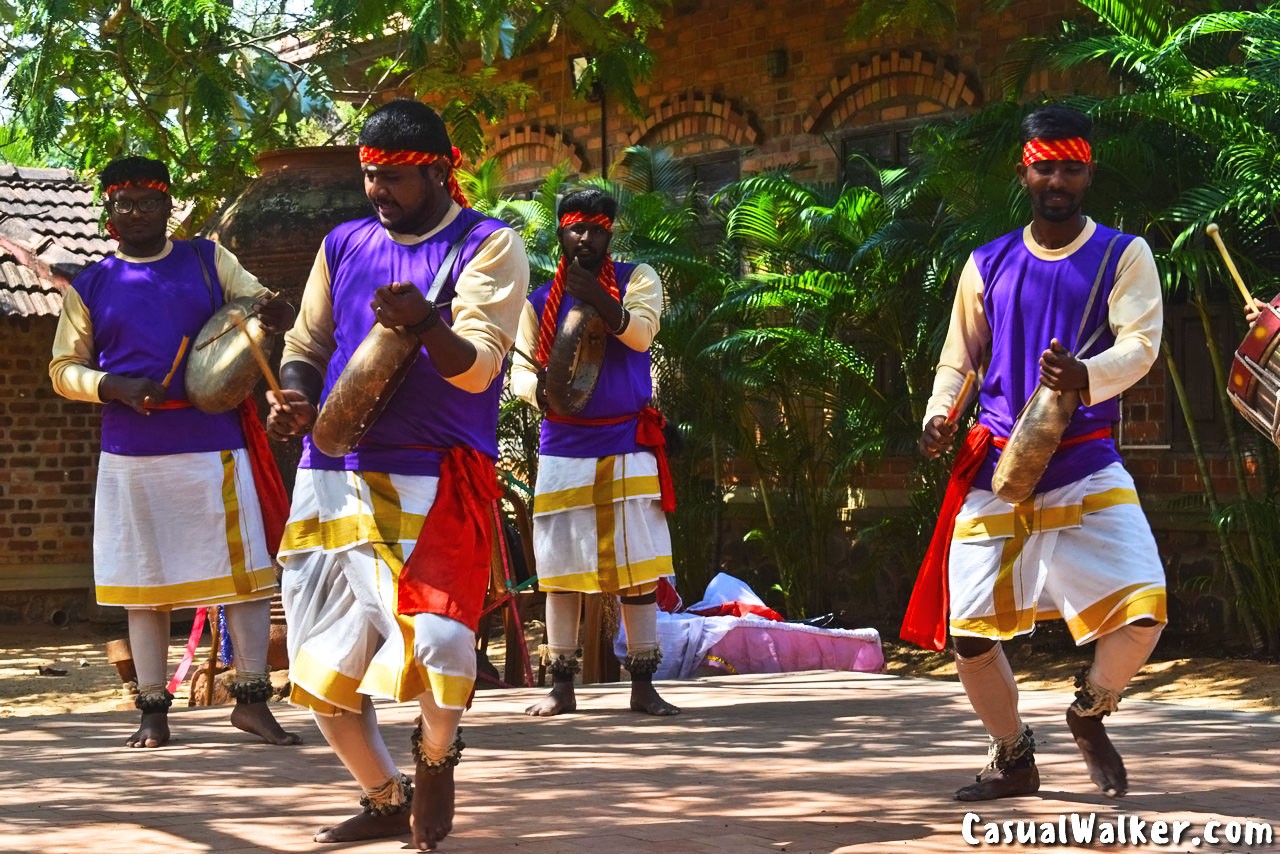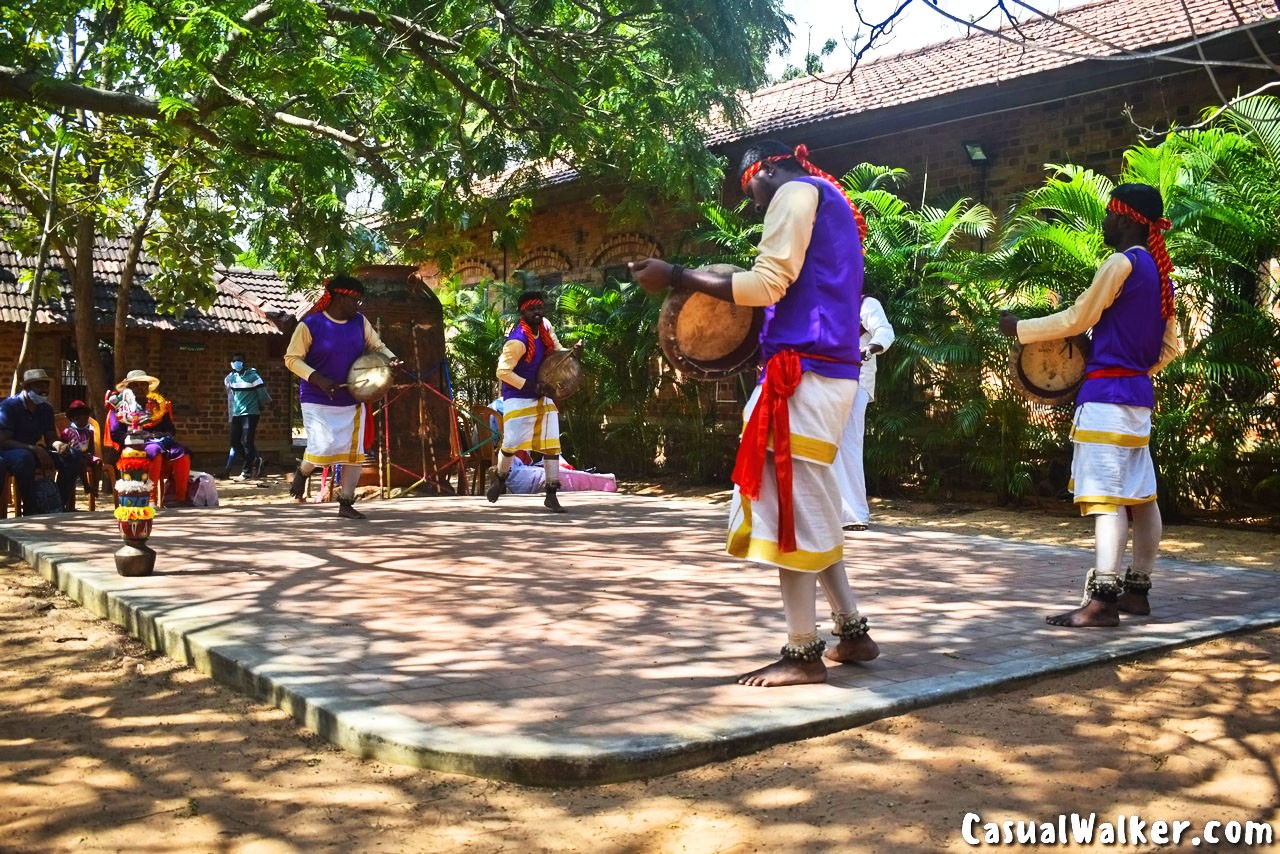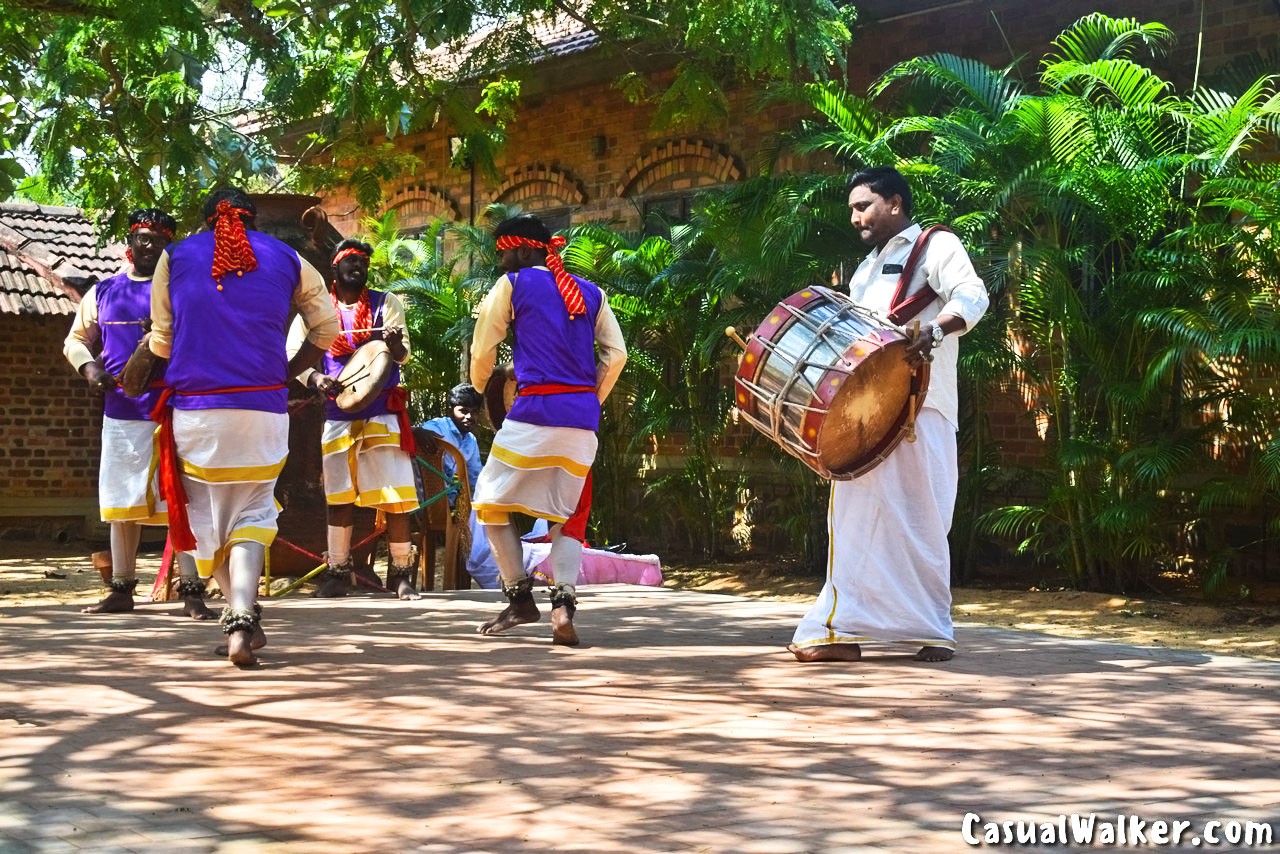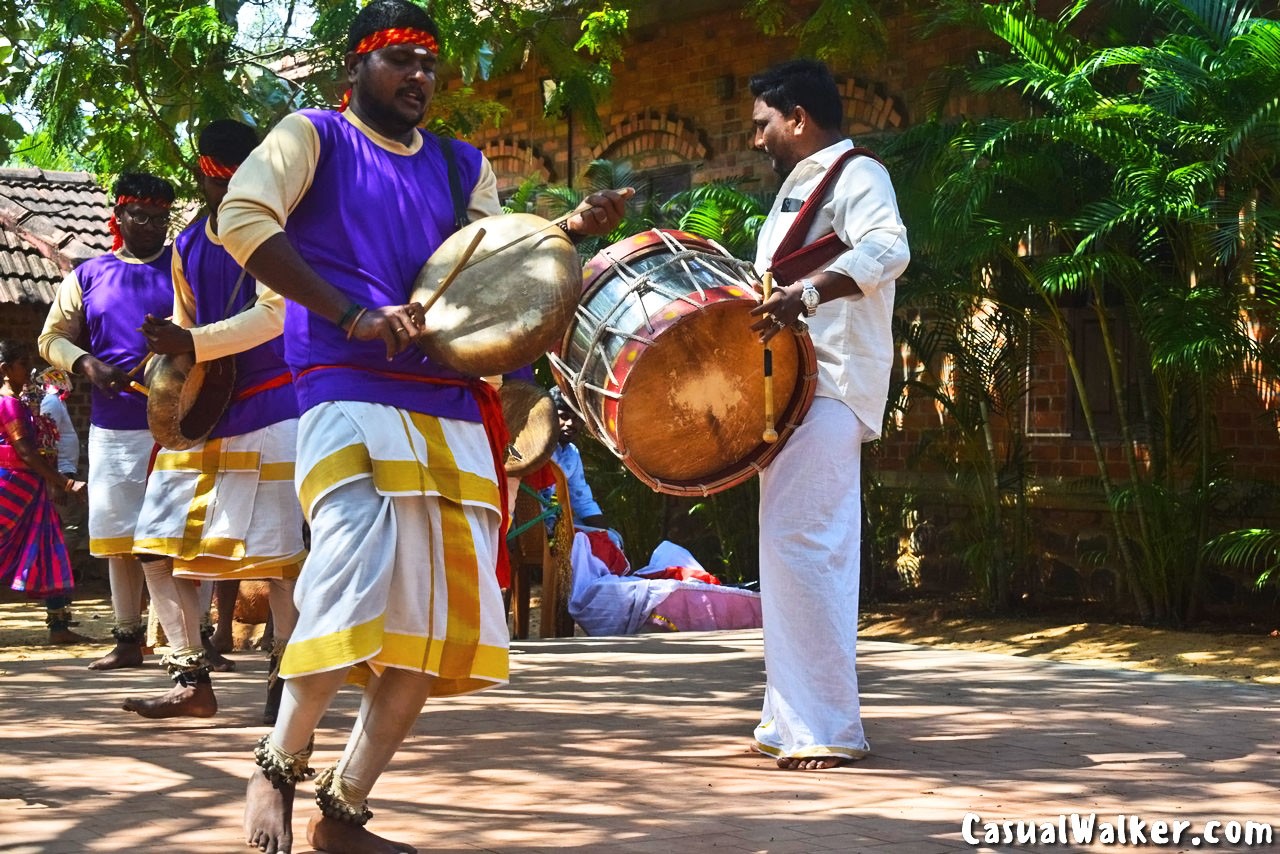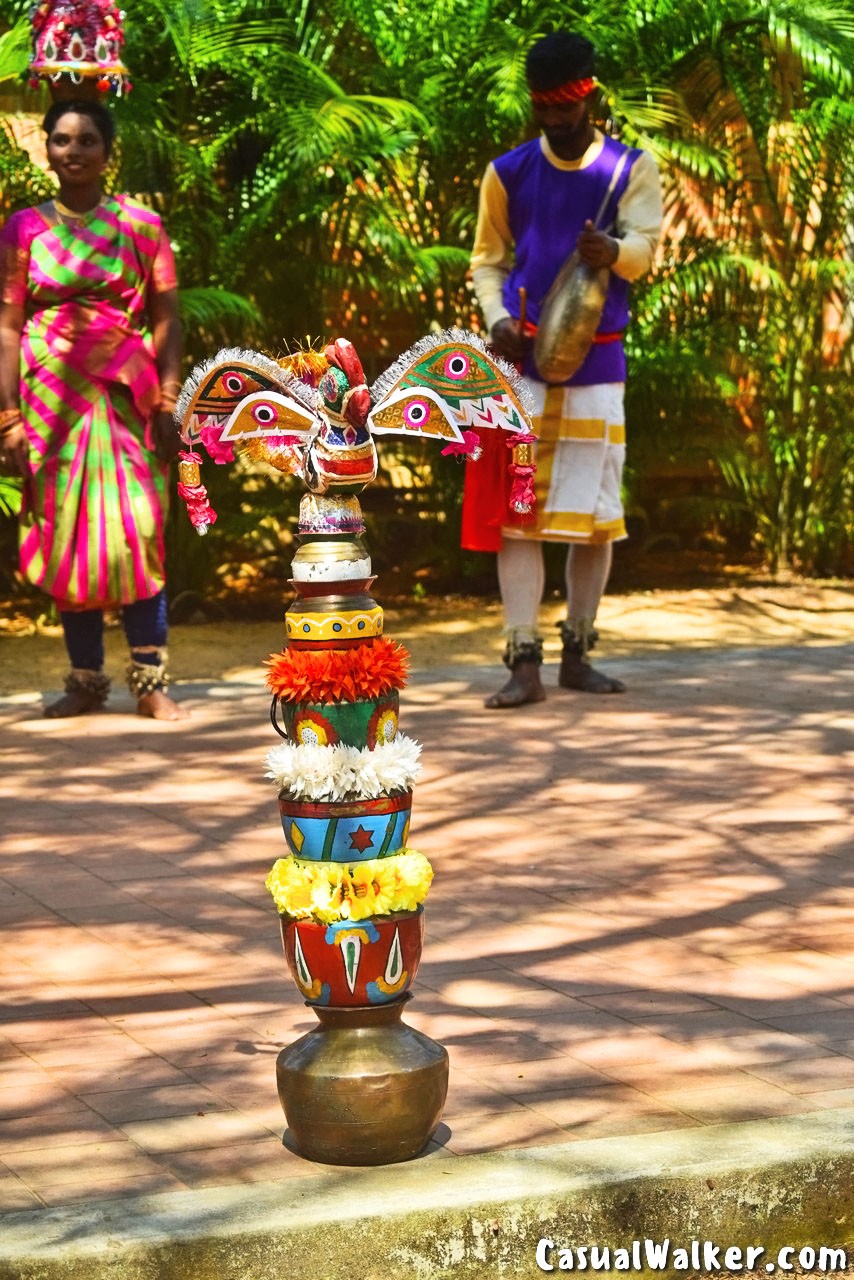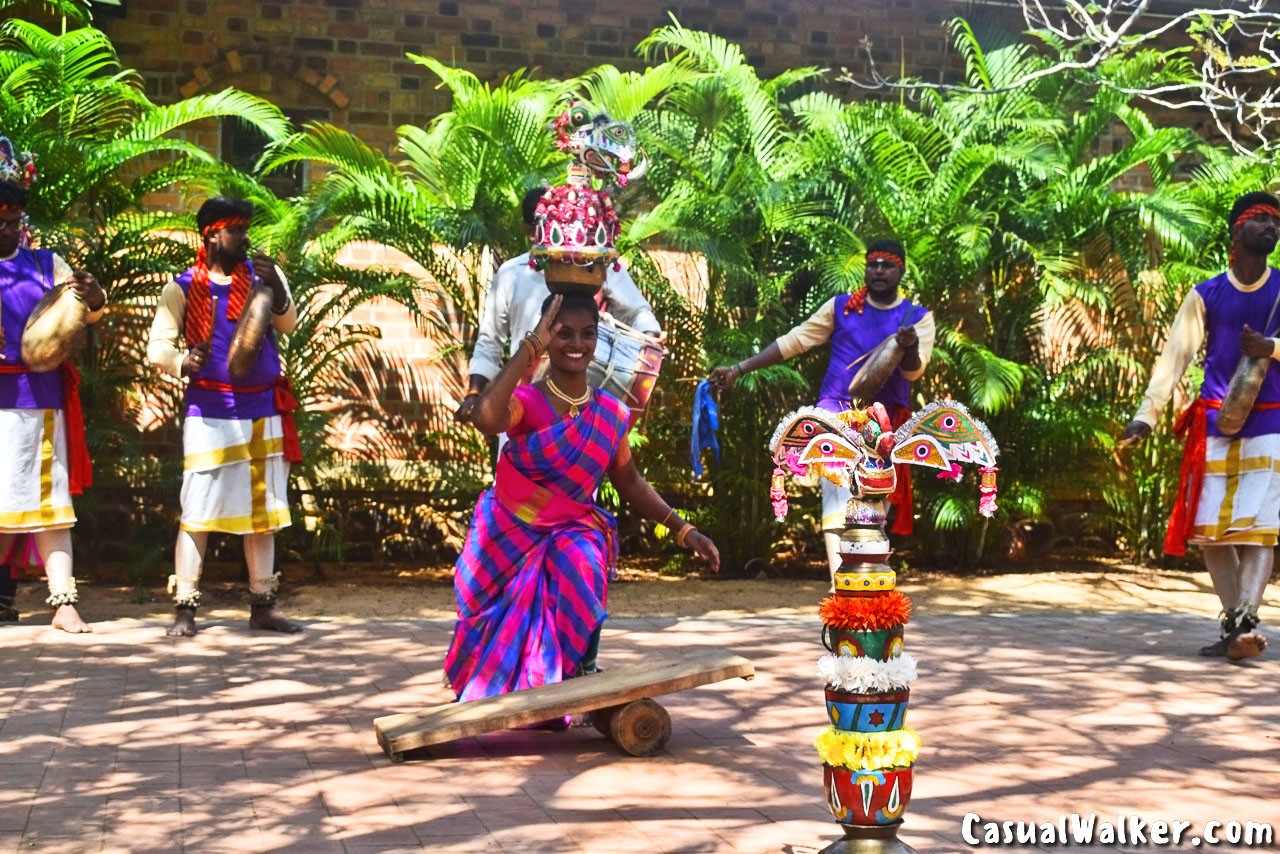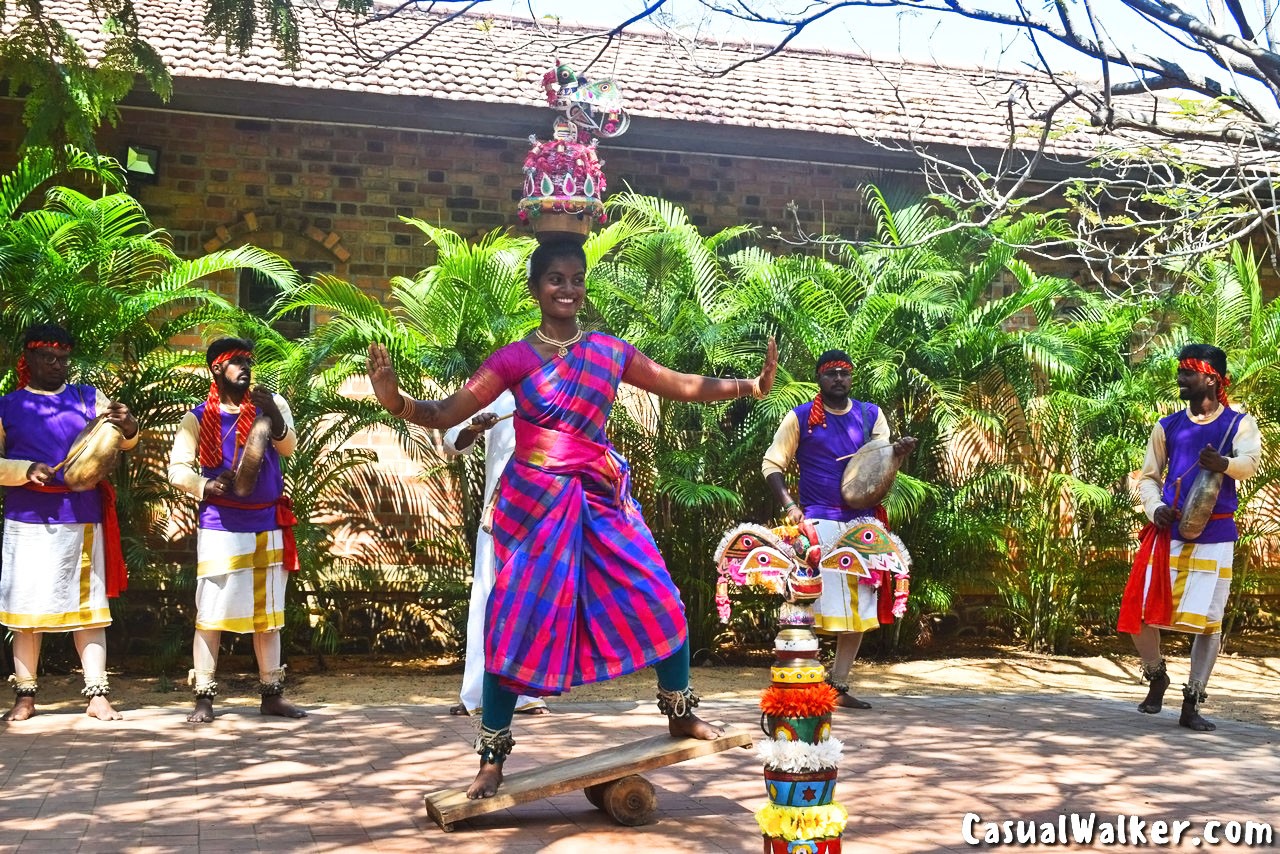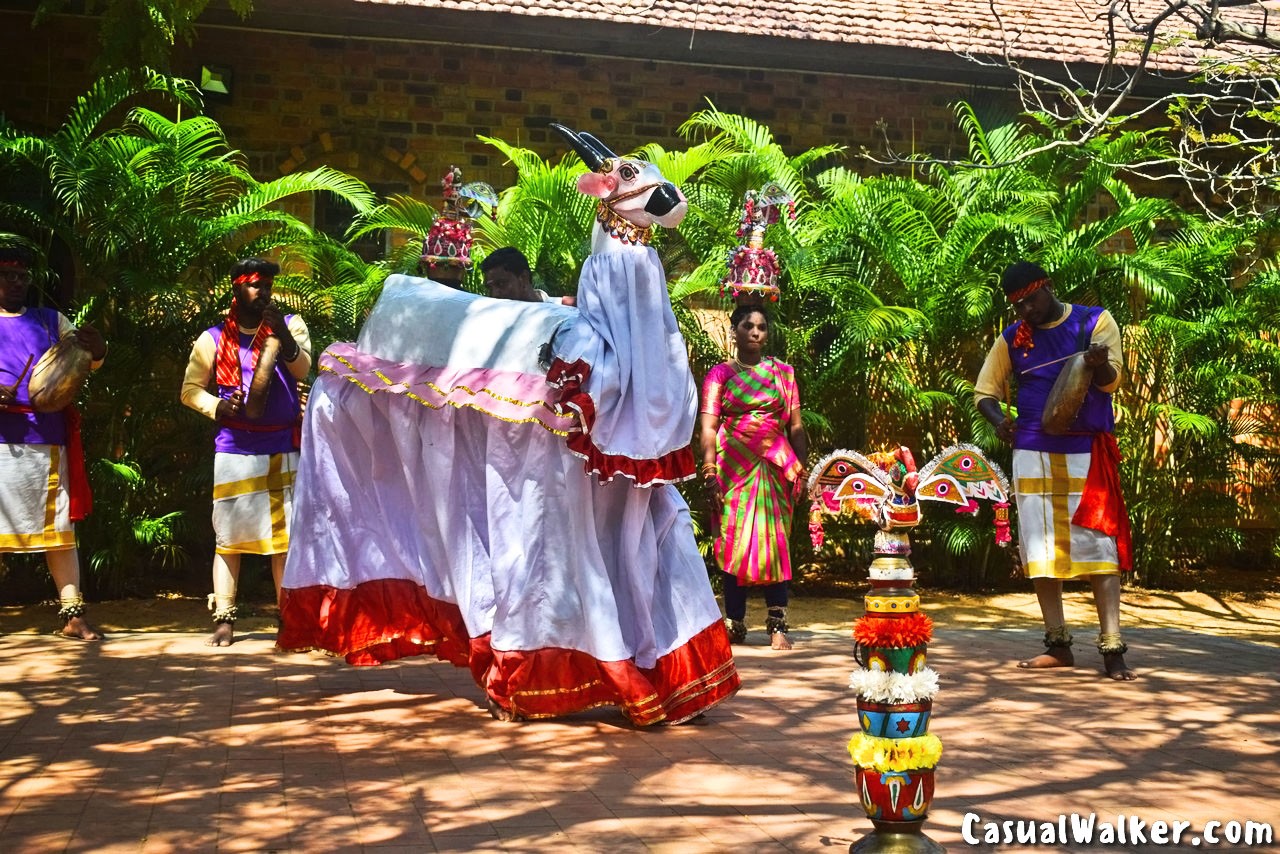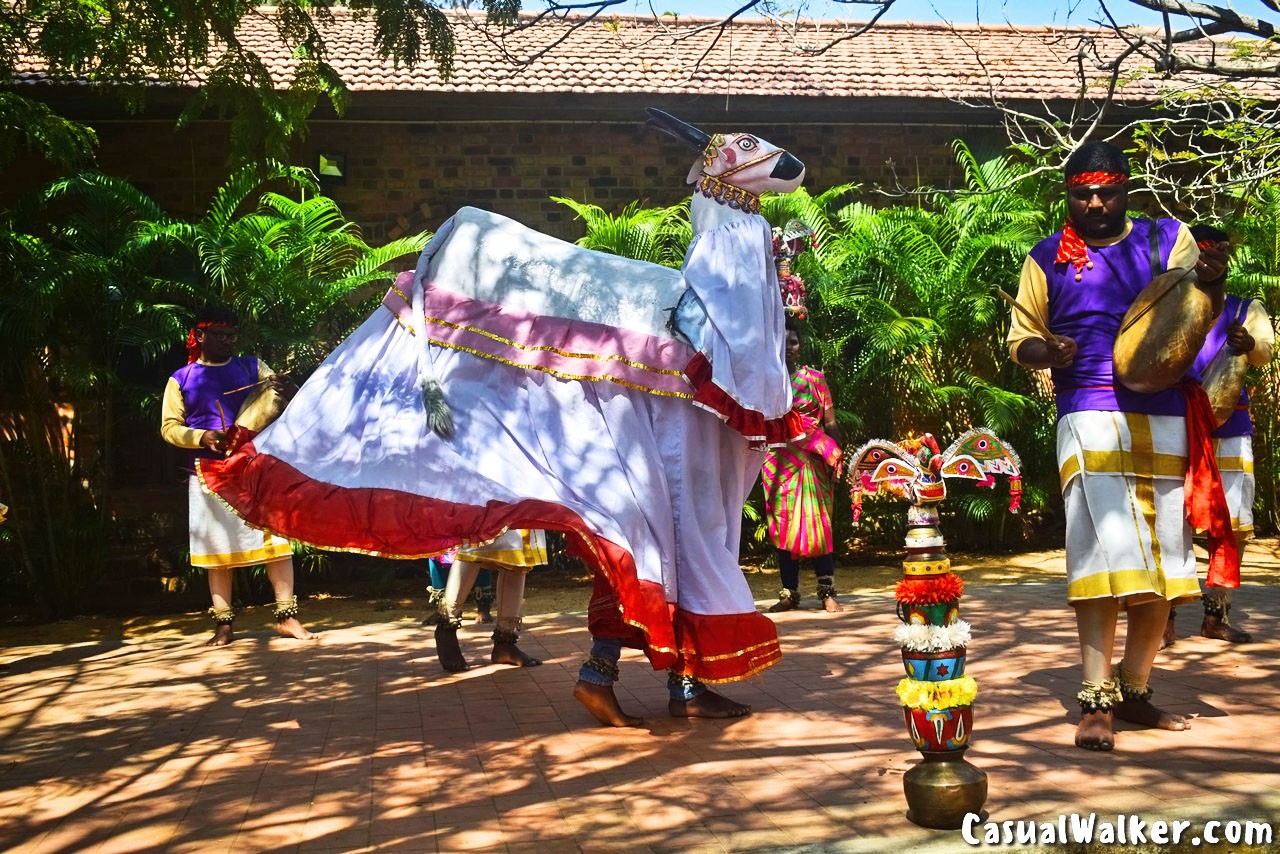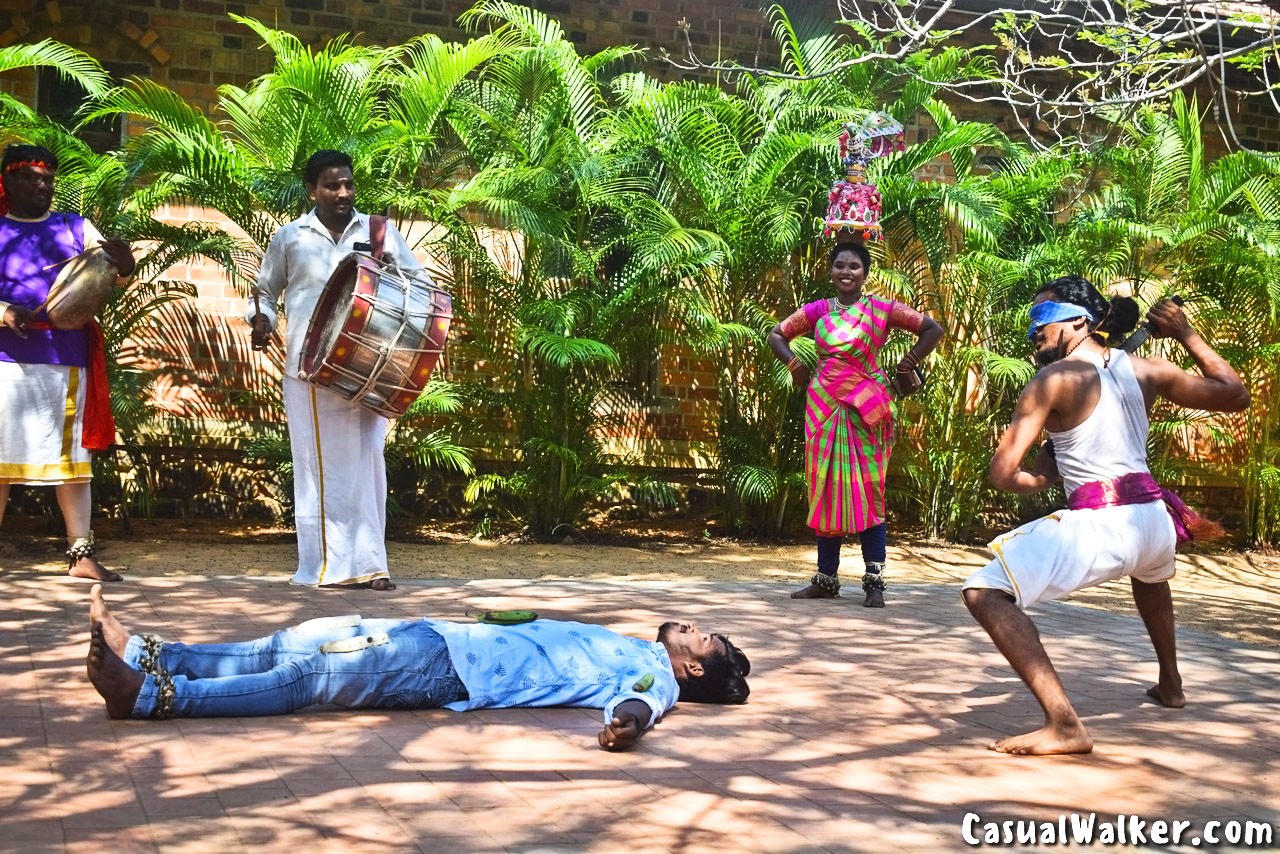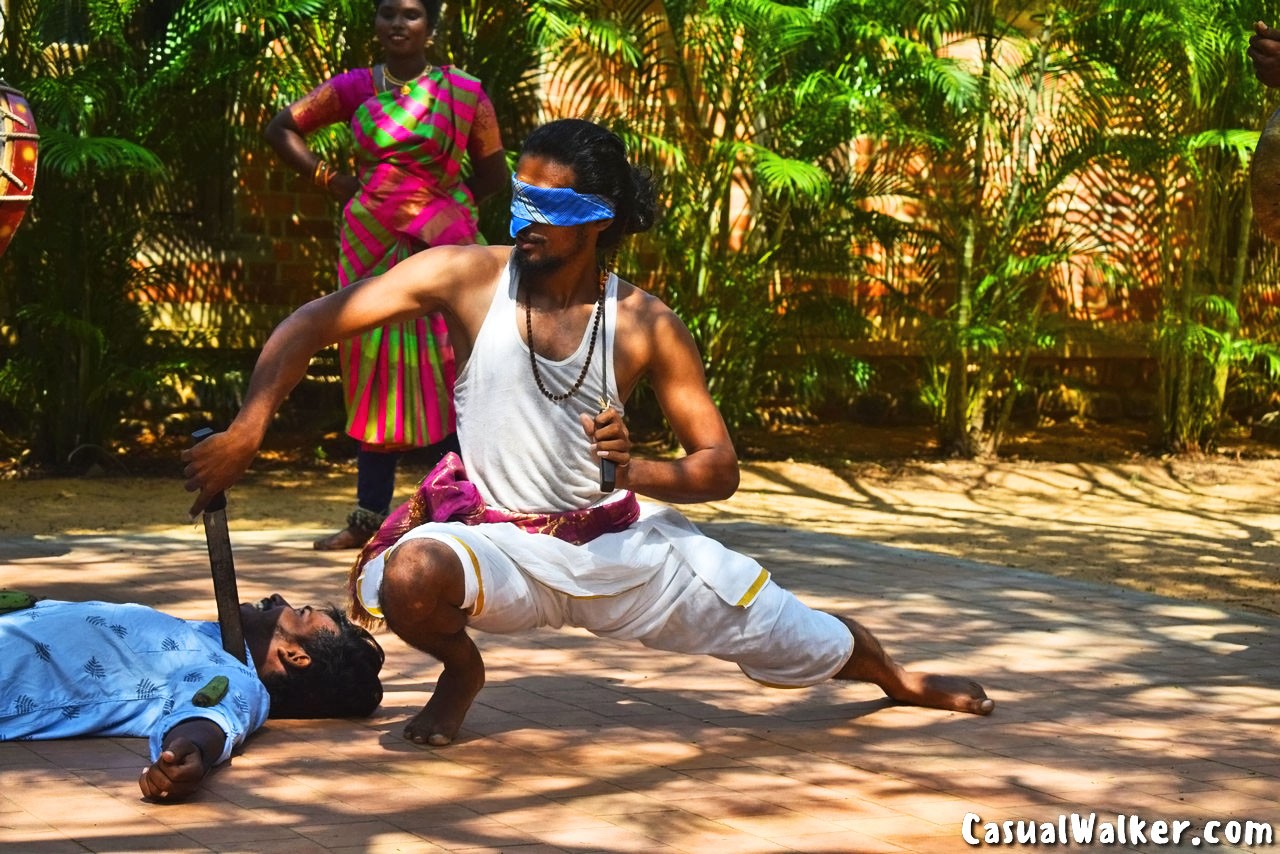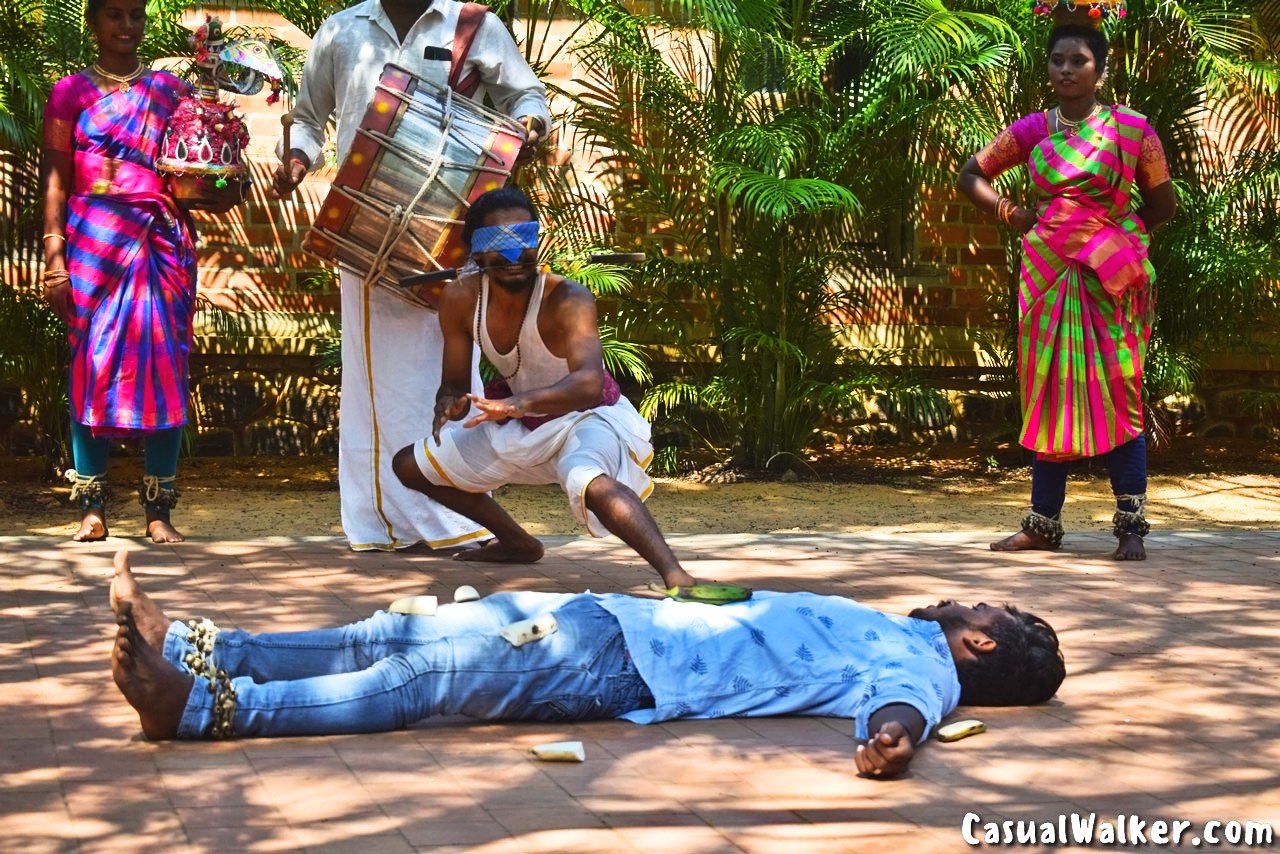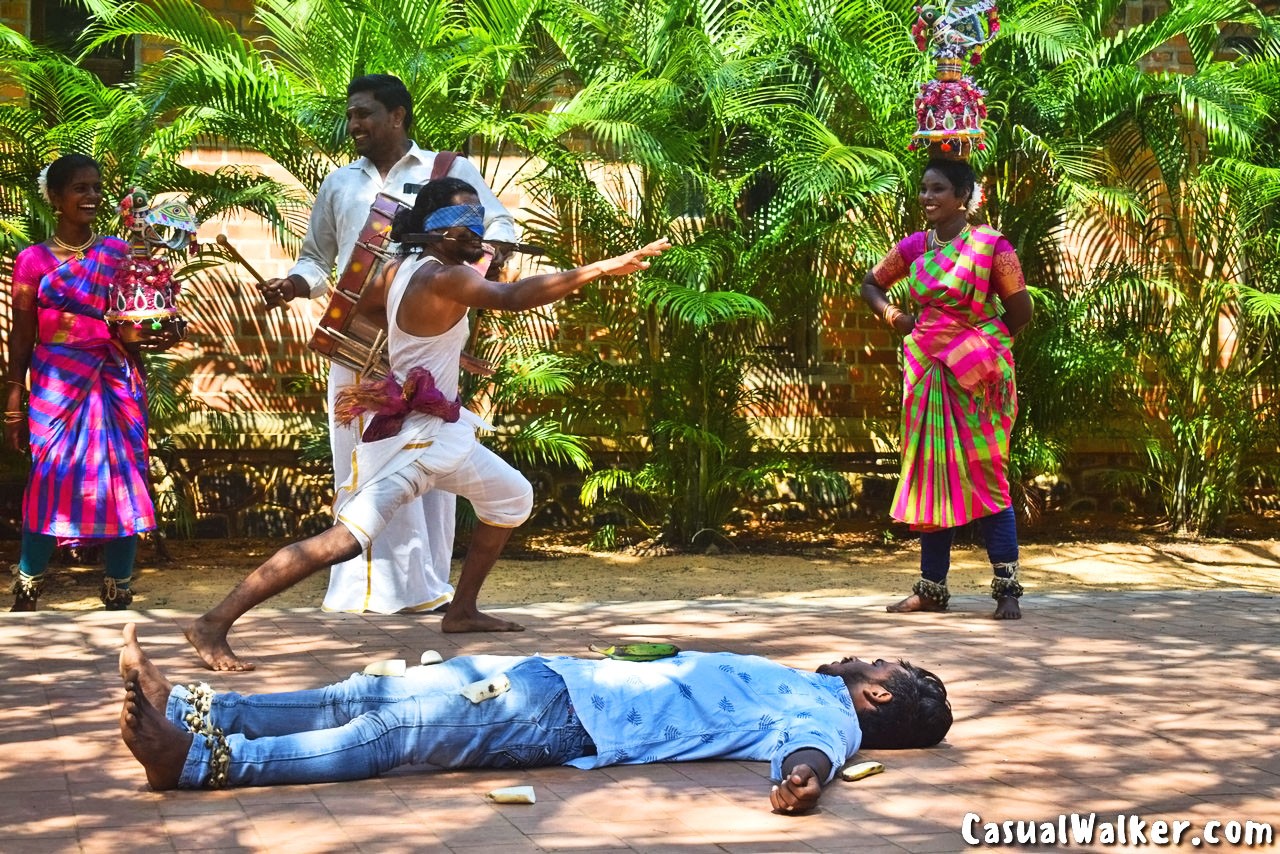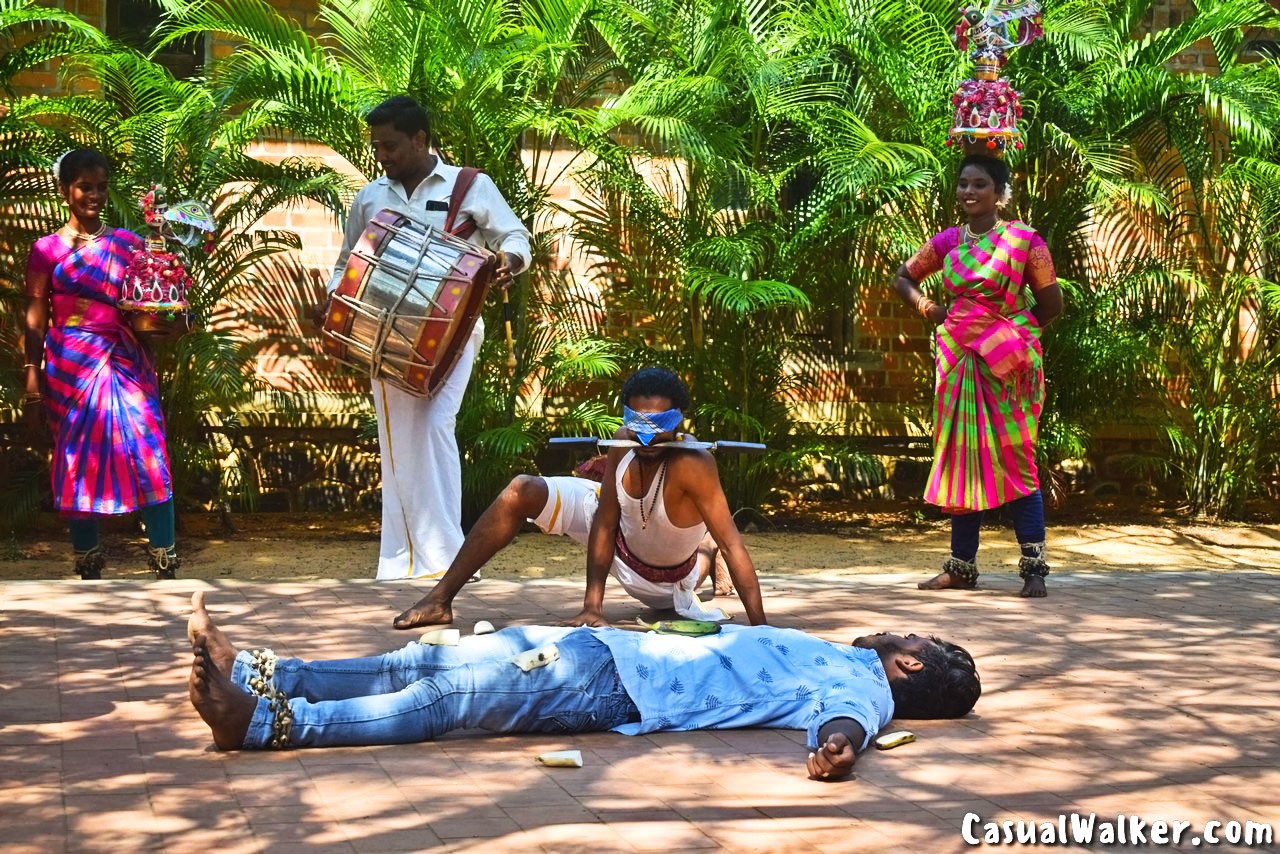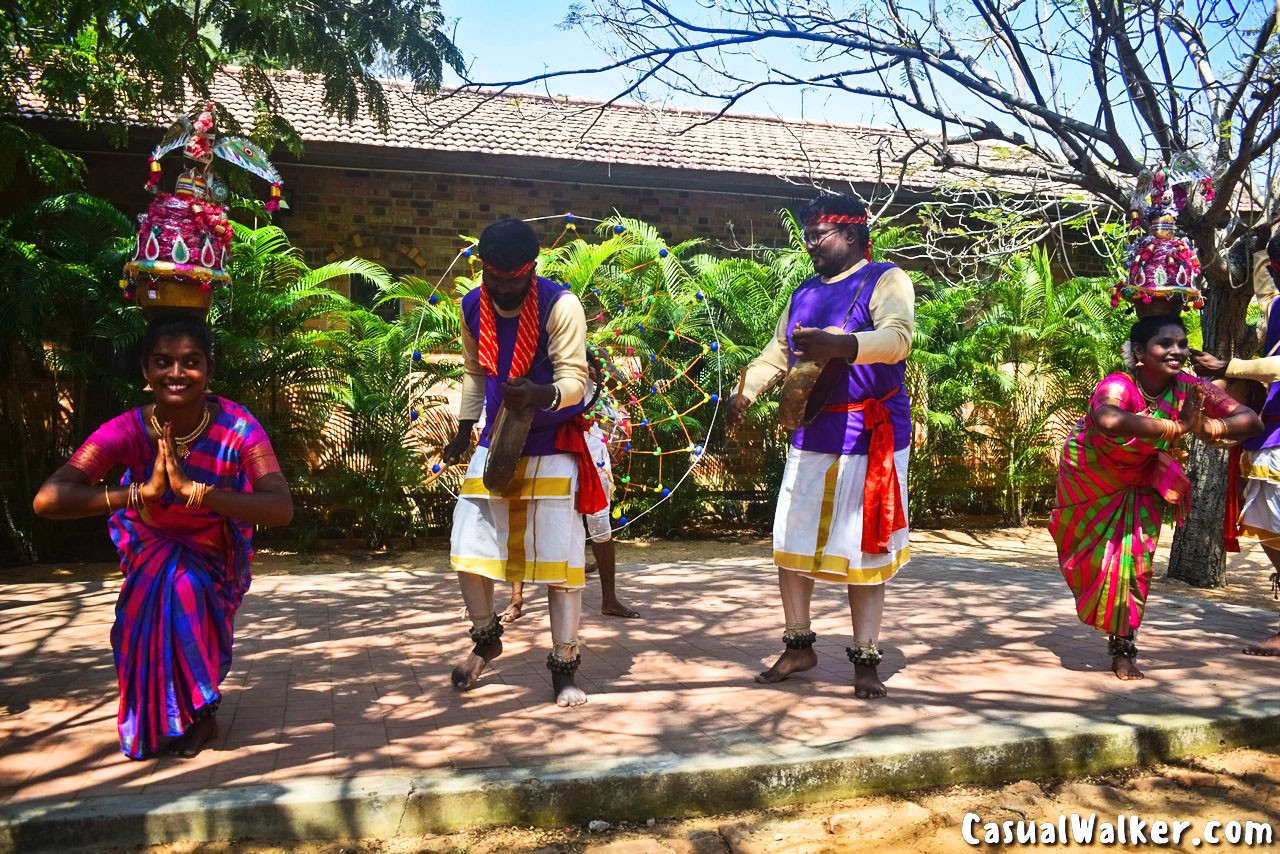 How to Visit DakshinaChitra Heritage Museum in Muthukadu, Chennai:
DakshinaChitra Heritage Museum Address:
East Coast Road, Muttukadu, Chengalpet District – 600 118.
Tamil Nadu, India.
Telephone: 044 27472603 / +91 9841422149 / 9841020149
Website: https://www.dakshinachitra.net
DakshinaChitra Heritage Museum Timings:
General Timings: 10 am to 6 pm.
Weekly holiday: Tuesday (open on all national holidays except on Diwali day)
DakshinaChitra Heritage Museum Ticket Cost:
Buy Ticket Online at: https://pages.razorpay.com/dakshinachitraEntryTicket
Indian Adult: Rs. 175
Kids Aged:  5-12yrs) – Rs. 60  /   13 to 18 yrs – Rs. 100
Video or Professional DSLR Camera: Rs. 250
Overseas Visitors: Rs.350
Eatables from outside are not permitted to be brought to the museum.
How to reach DakshinaChitra:
Dakshinchitra is located between Mayajaal & Muttukaad on the ECR road from Chennai to Pondy, and it is very near to MGM the dizzie world. Regular buses and taxis are available for going to this place. This place can be very well visited if you are visiting Mahabalipuram or Pondicherry.

Check Our Full Dakshinachitra Heritage Museum in Muttukadu, Chennai Photo Story
Dakshinachitra Heritage Museum in Muttukadu, Chennai : The Living History Museum – Best South Indian Museum on Arts, Architecture, Crafts, and Traditions – Visit, Travel Guide (Part 1)
Dakshinachitra Heritage Museum in Muttukadu, Chennai : The Living History Museum – Best South Indian Museum on Arts, Architecture, Crafts, and Traditions – Visit, Travel Guide (Part 2)
Also, check out similar Interesting Dance & Culture event Photo Stories:
Ottan Thullal : A 300 Year Old Traditional Solo Dance & Drama Art Form from Kerala – History, Types, and the Epic Tale of Garuda Garvabhangam, A Spectacular Ottan Thullal Performance
Kalakshetra Foundation – Kannappar Kuravanji – Story of Kannappa Nayanar, the greatest devotees of Lord Shiva – Dance Drama
Kathakali Festival 2019, Bhava Bhavanam – Rajasooyam (Thekkan), Kalakshetra Foundation, Chennai – Most Famous & Traditional dance from Kerala, India
Koothu Kottaai – Grand Folk Arts Show Of Tamil Nadu (Part 1)
Bharata Museum of Performing Arts at Bharata Ilango Foundation For Asian Culture (BIFAC) in Pattipulam, ECR, Chennai – Museum of Natyasastra, Bharatanatiyam – Visit, Travel Guide
Bharata Muni Temple at Bharata Ilango Foundation For Asian Culture (BIFAC) in Pattipulam, ECR, Chennai – Temple for the father of Natyasastra, Bharatanatiyam – Visit, Travel Guide
The Sundaram Finance Mylapore Festival 2020 : Largest Pulli Kolam Contest & Rangoli Contest at North Mada Street, Mylapore – Visit, Travel Guide