Sri Ramakrishna Math/ Mission Temple – the Universal Temple of Sri Ramakrishna in Mylapore Chennai – Visit, Temple Timings, Contact Number, History, Travel Guide
– temple similar to belur math, kolkata's sri ramakrishna temple architecture

The Universal Temple of Sri Ramakrishna is located at Sri Ramakrishna Math / Mission Mylapore, Chennai. This temple is one of the most architectural marvels, combining traditional South Indian architecture along with the construction specifications of Sri Ramakrishna temple at Belur Math, Kolkata.
Swami Vivekananda believed that Sri Ramakrishna temples should be constructed to allow the followers to grow spiritually and realize the truth. Swami Vivekananda personally established the specifications for constructing the Sri Ramakrishna temple at Belur Math, Kolkata.
Using this as a foundation, numerous other regionally relevant architectural characteristics are incorporated while preserving the overall universal design in Chennai.
The Chennai math is very similar to Belur math and architectural elements found in Hindu, Buddhist, and Jain temples in this Universal Temple. As its name implies, the Universal Temple is universal, no particular religion or belief is reserved at this temple and it is accessible to everyone.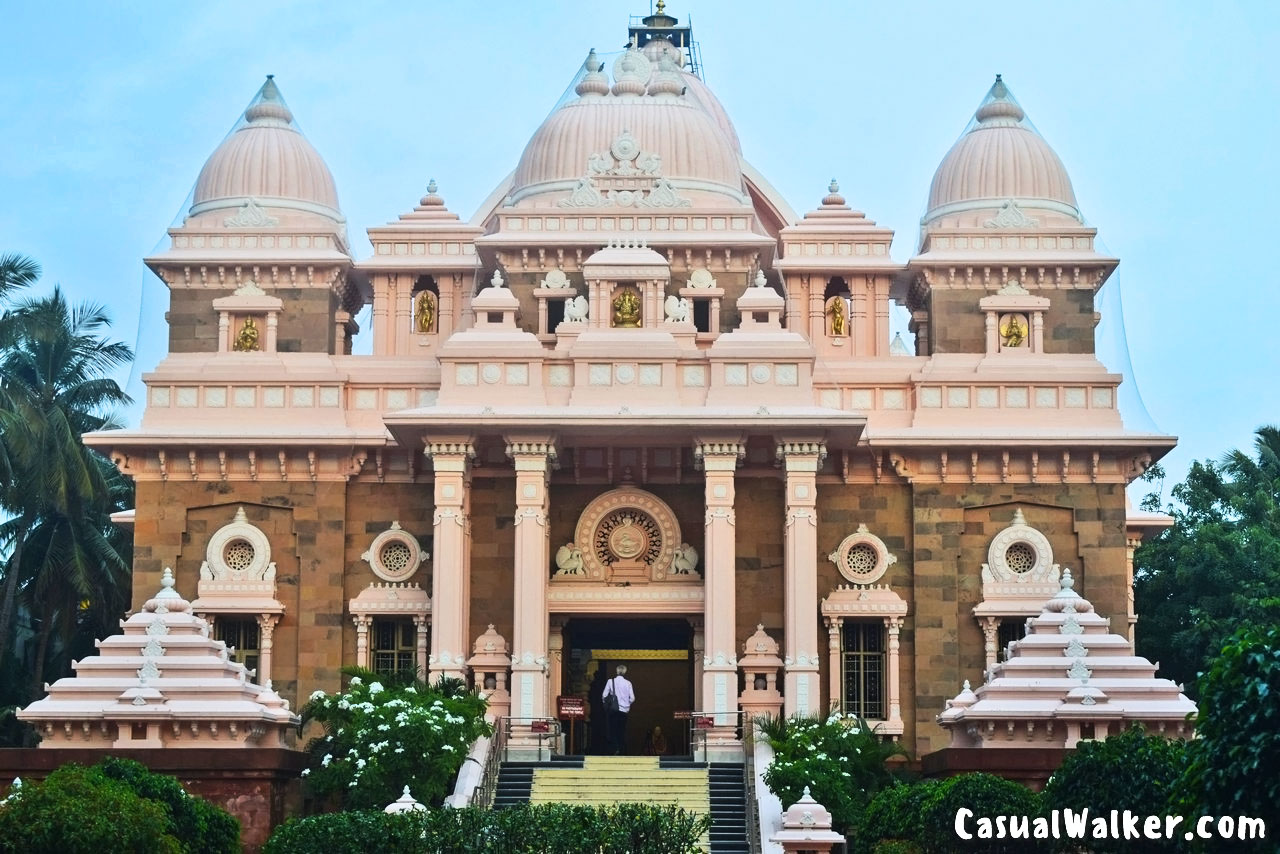 History of Sri Ramakrishna Math / Mission, Mylapore
The Ramakrishna Math in Chennai was started in 1897 by Swami Ramakrishnananda, a direct disciple of Sri Ramakrishna and deputed brother disciple of Swami Vivekananda. In addition to founding Sri Ramakrishna Math in Chennai, he was also in charge of propagating the movement throughout various southern Indian states.
The Ramakrishna Math at Mylapore was where it eventually moved from Ice House, where it was initially situated and the structure had a large hall and other rooms on either side of the Prayer Hall.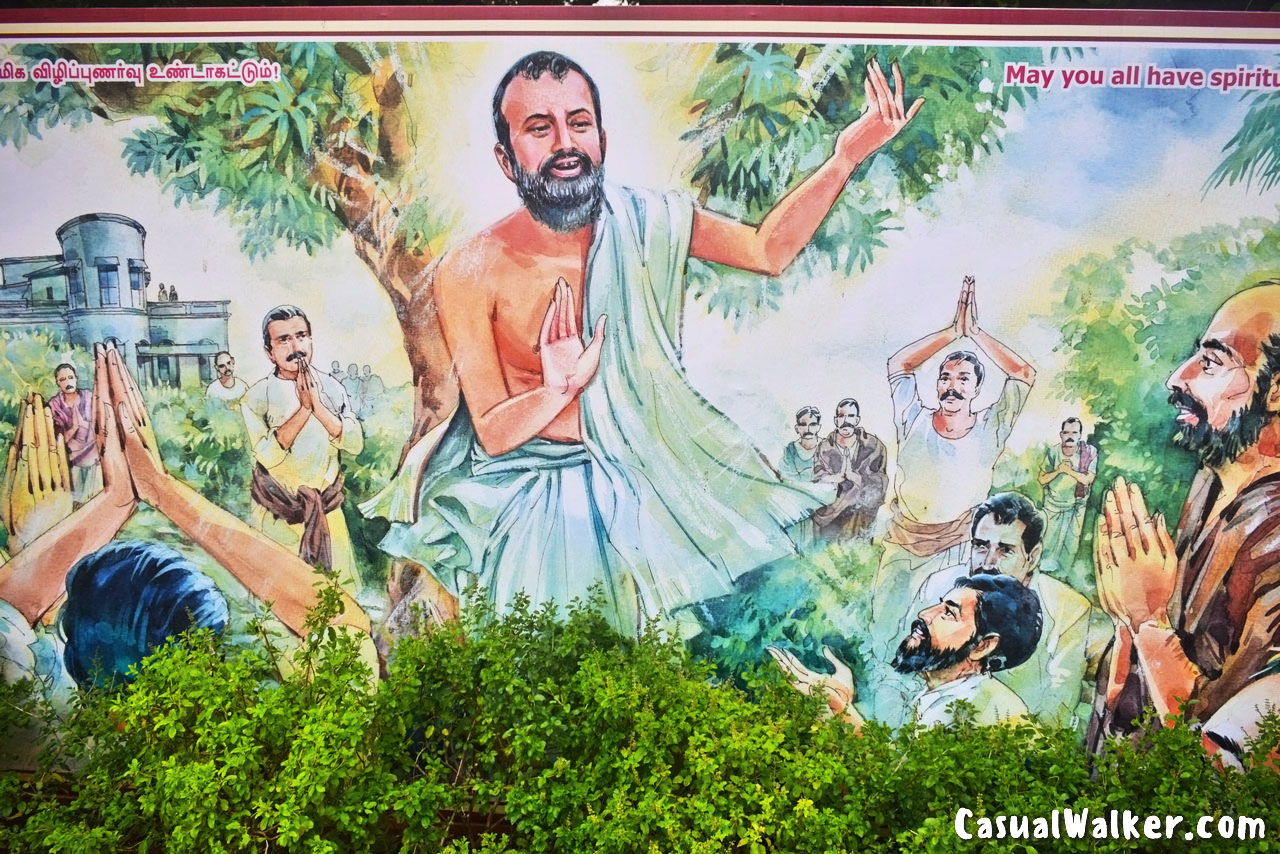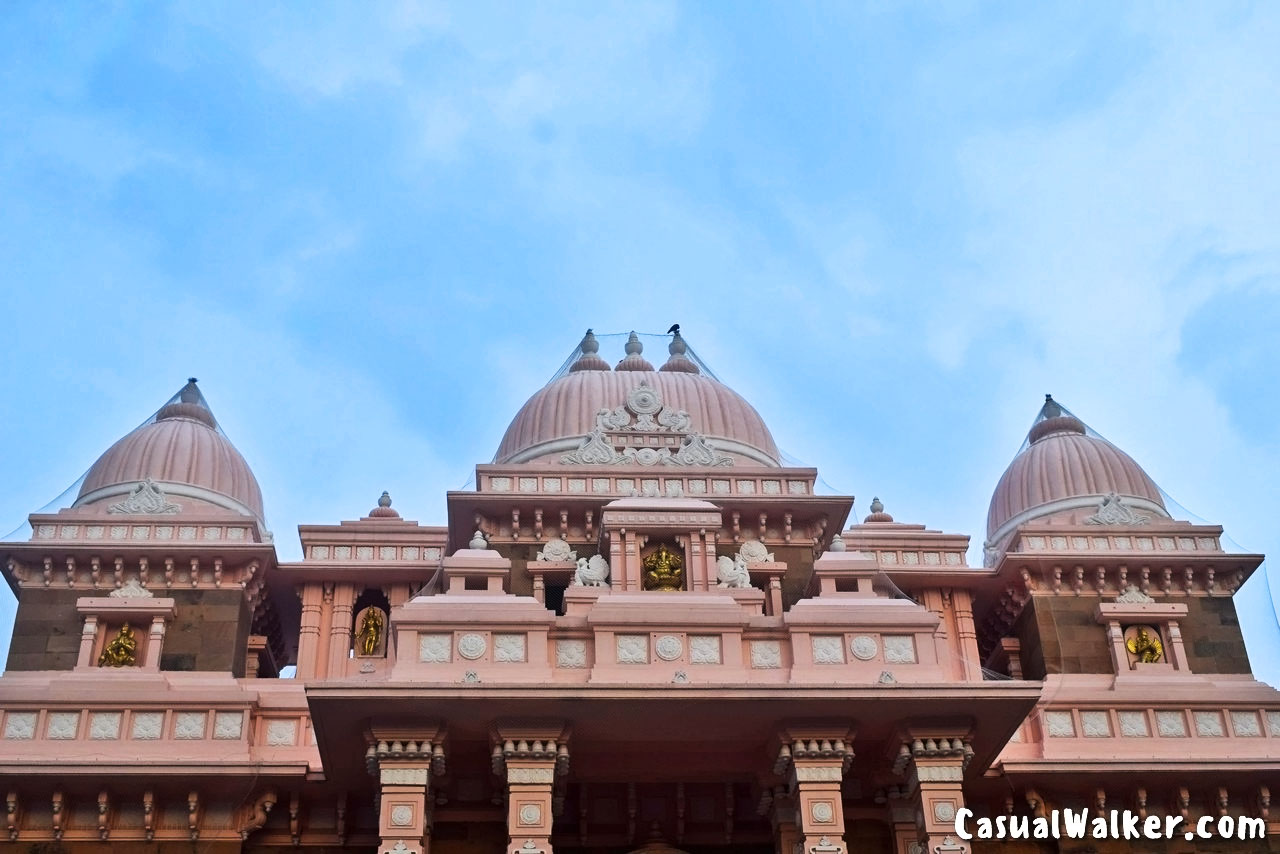 About the Universal Temple Architecture at Sri Ramakrishna Math / Mission, Mylapore
At the Universal Temple, from the gateway, we can see the entire temple and glimpse a partial view of the Central Tower. From the center of this gate, one can have a clear view of the marble image of Sri Ramakrishna installed in the shrine. The whole structure of the gateway is designed in the original Vijayanagar style belonging to the Dravidian style of temple architecture.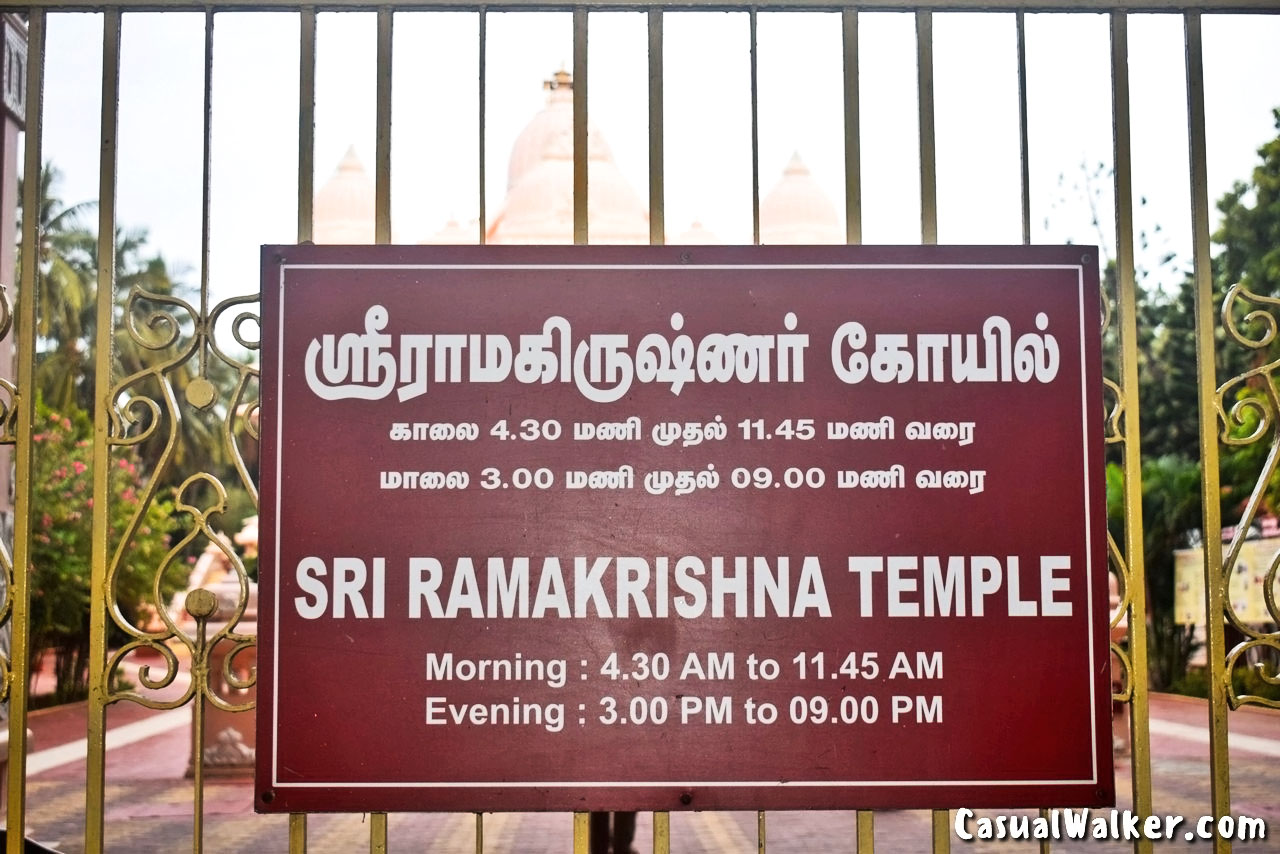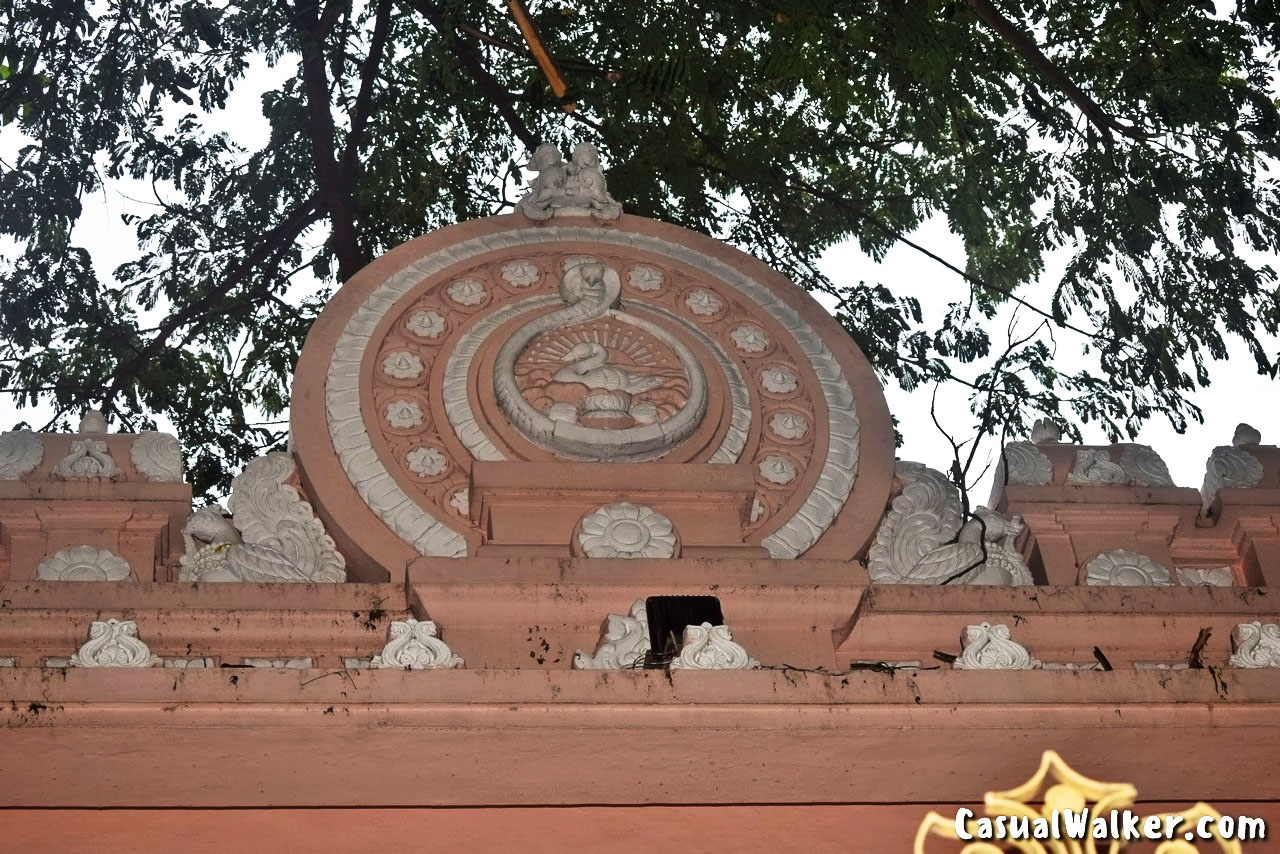 In the prayer hall, there is thousand of petaled lotus carved in a marble on which Sri Ramakrishna is placed. The main prayer hall has minimal pillars so that devotees can have a clear view of the sanctum sanctorum. The marble statue of Sri Ramakrishna and shrines for Sri Sarada Devi and Swami Vivekananda are magnificent.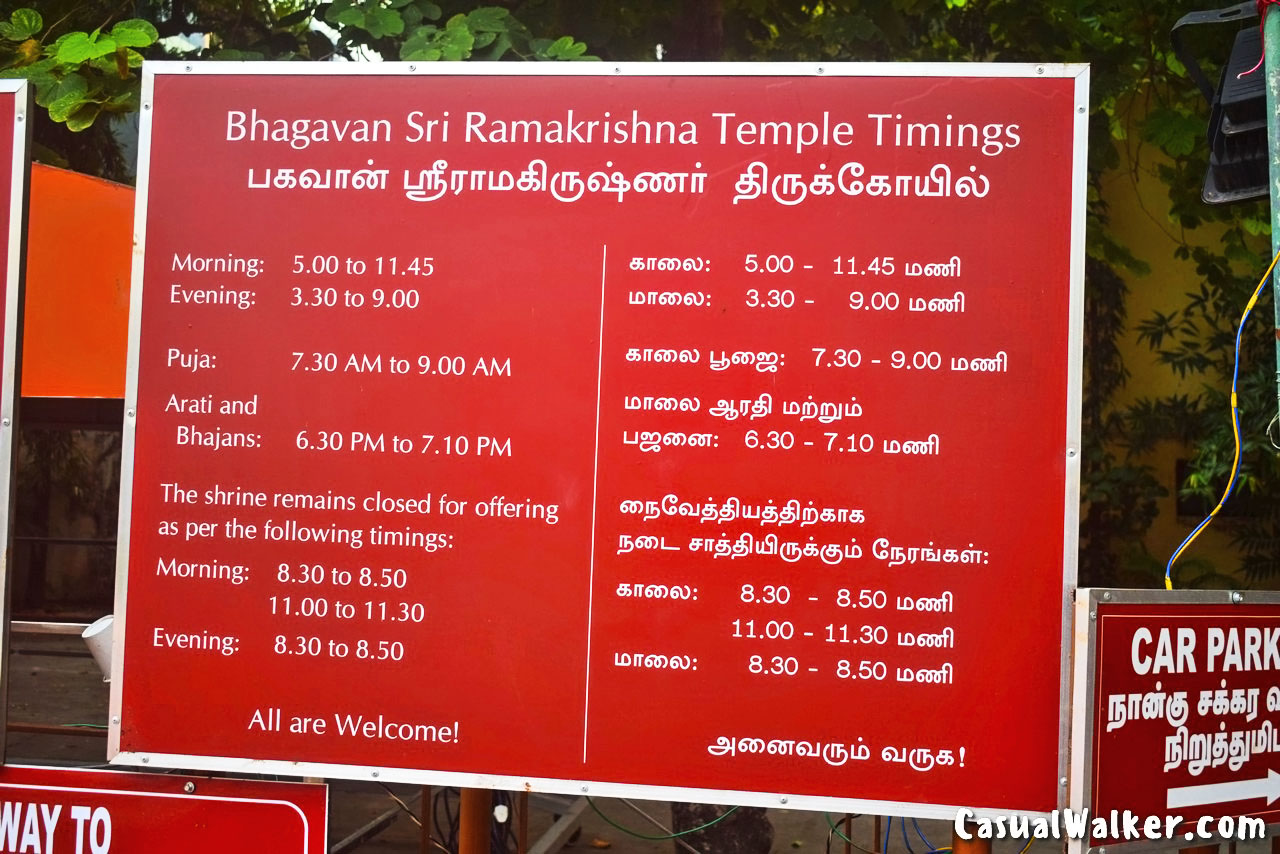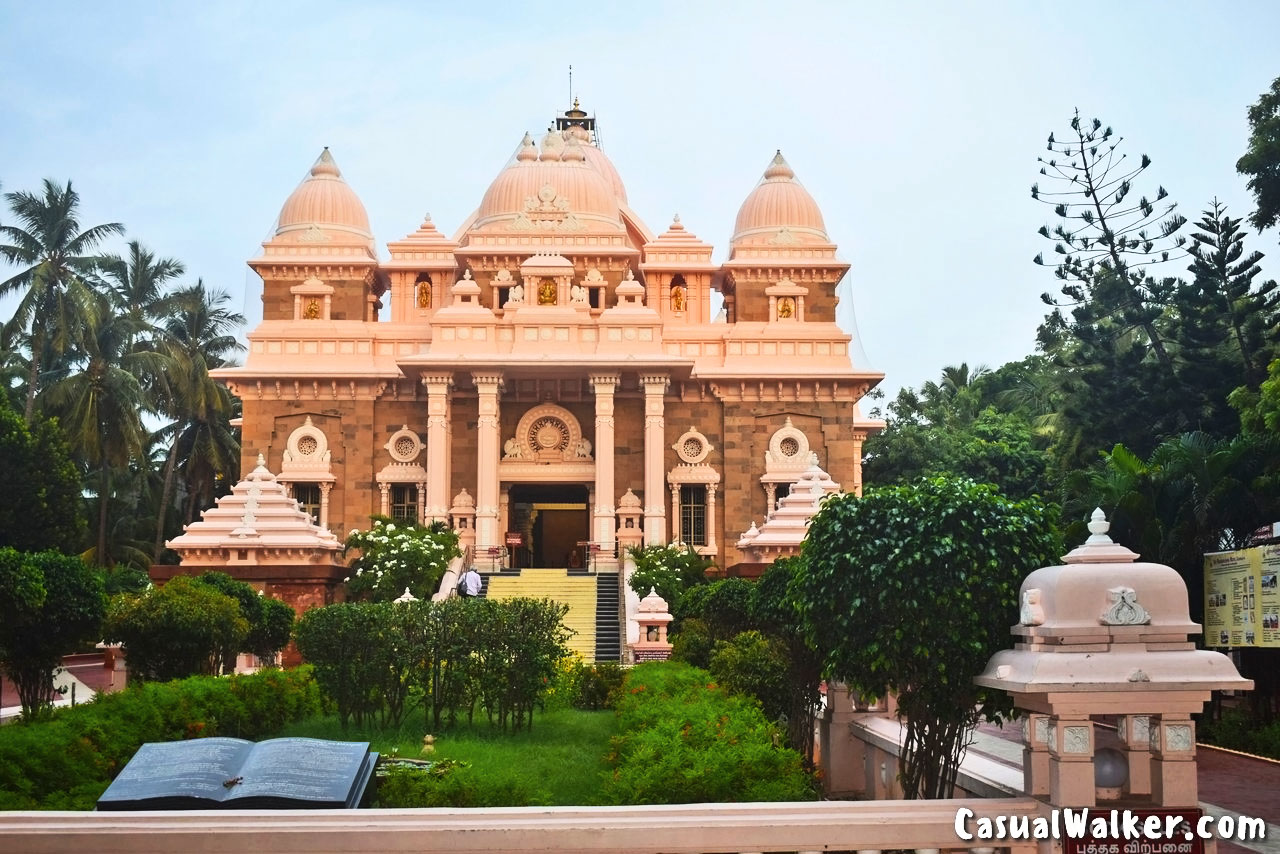 Swami Ramakrishnananda Auditorium can be found on the ground floor. One portion is used as a shrine, and the other is used for pujas and other activities. It is must visit key temple location in Mylapore. This temple is nearby the famous Arulmigu Velleeswarar Temple – the Lord Shiva Saptha Sthana Sthalangal Temple in Mylapore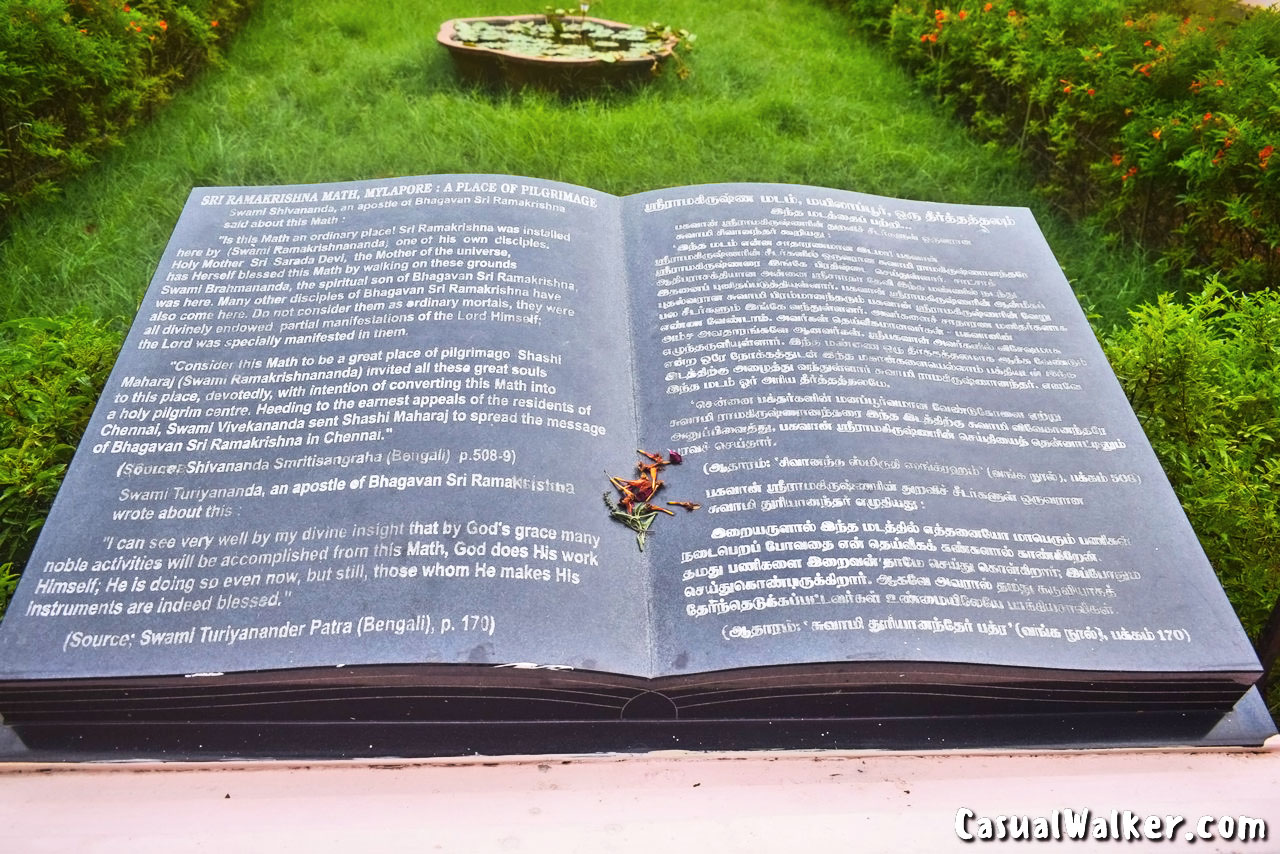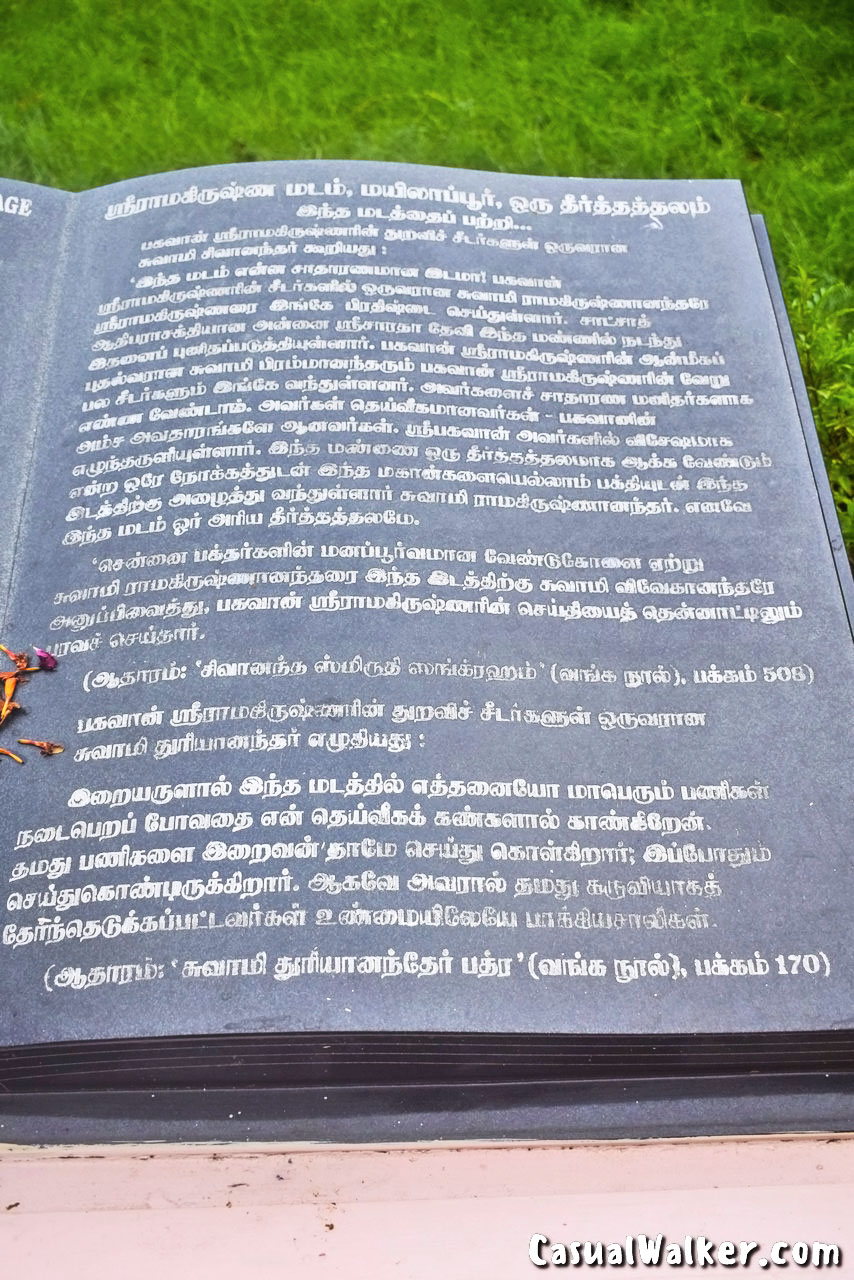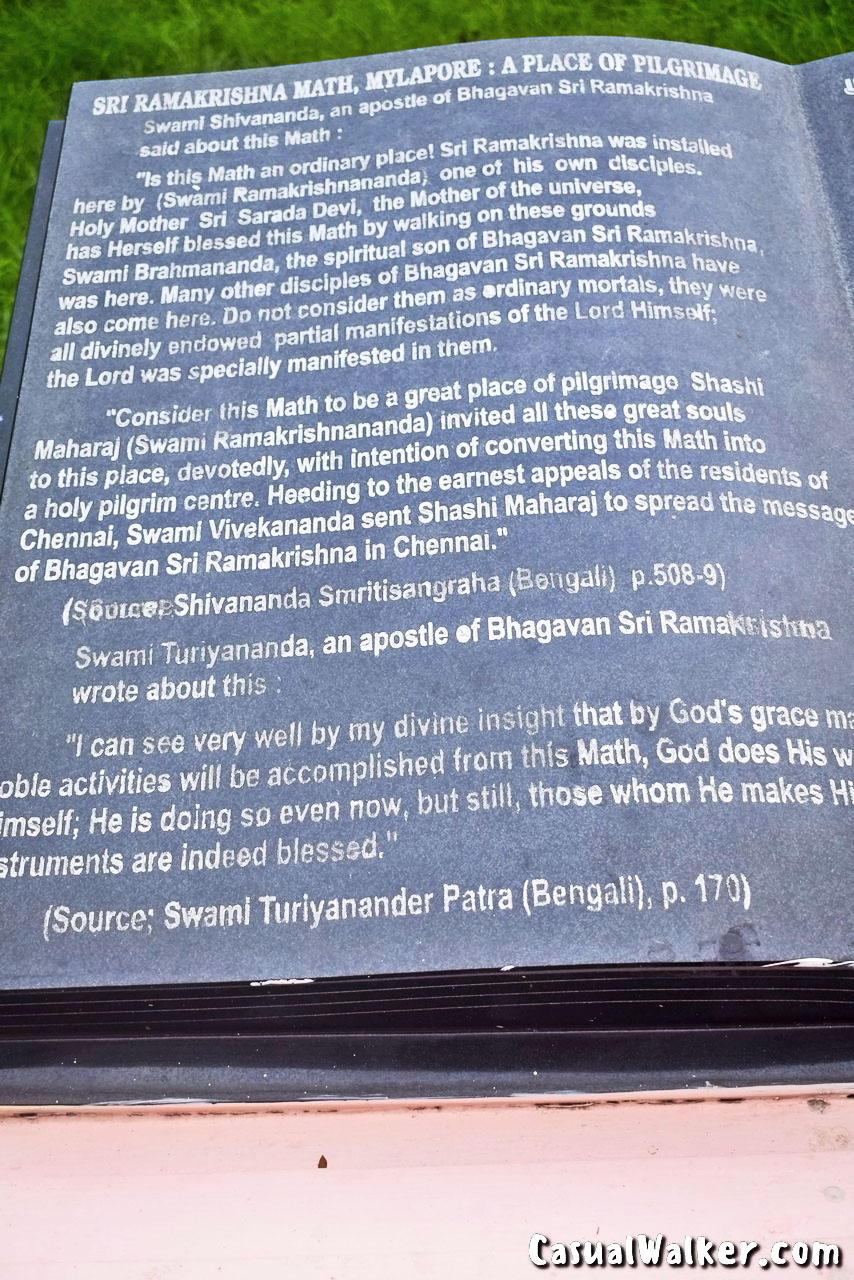 Meditation Hall at Universal Temple Sri Ramakrishna Math / Mission, Mylapore
The Prayer hall is well-lighted and ventilated and is a quiet, ideal place for meditating. Maintaining silence is the essence of the temple as we can see, a lot of people do meditation inside the temple. It is so peaceful to meditate there during the evening Poojas. The bhajans create vibrations that are indescribable.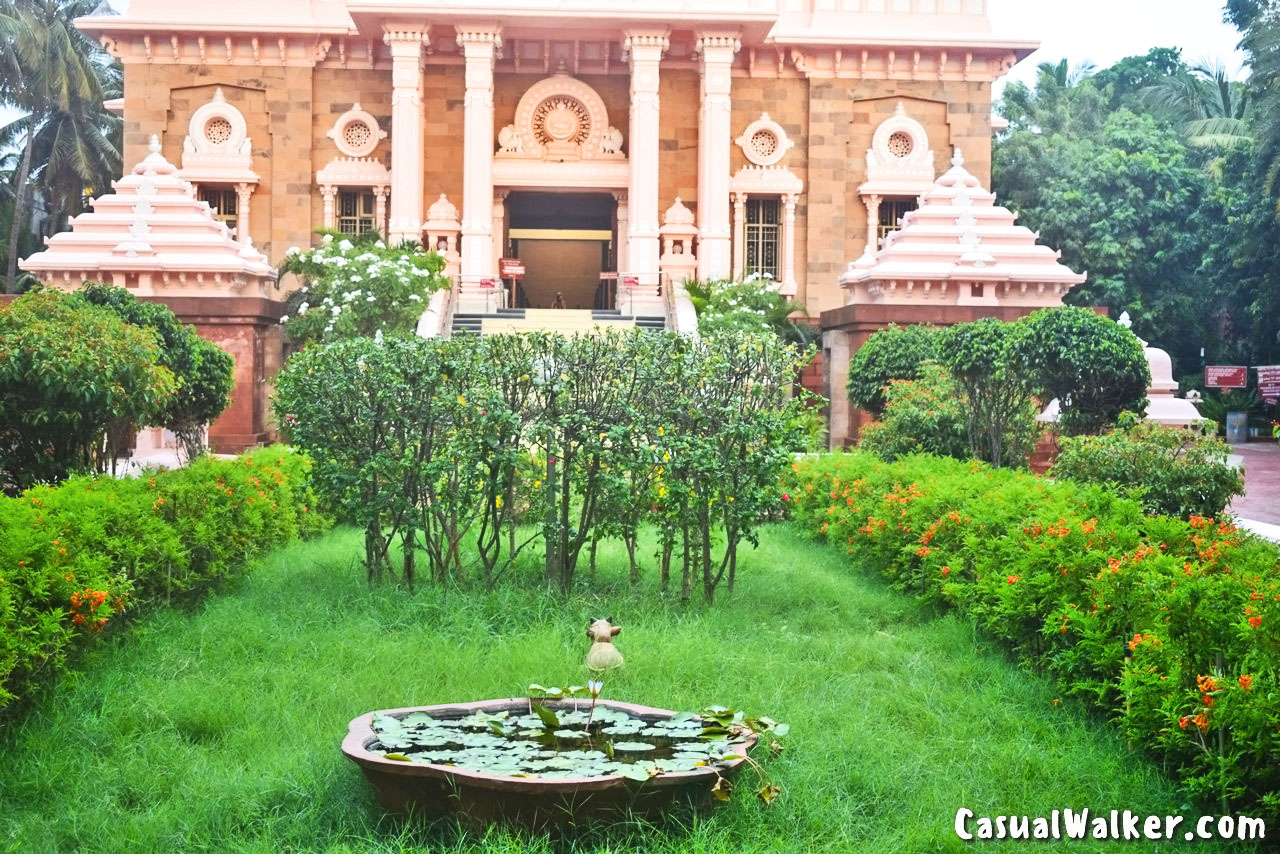 Centenary Library at Sri Ramakrishna Math / Mission, Mylapore
They also have Centenary Library started way back in 1936, currently with over 45,000+ books in various languages including English, Tamil, Telugu, Malayalam, Sanskrit, Hindi, Kannada, and Bengali. They have books from a wide range of subjects like philosophy, religion, mysticism, linguistics, fiction, history, geography, psychology, etc., are available to the public. The library subscribes to 190 periodicals. The reading facility is free and open to all, while the Members can borrow books on payment of a nominal membership fee.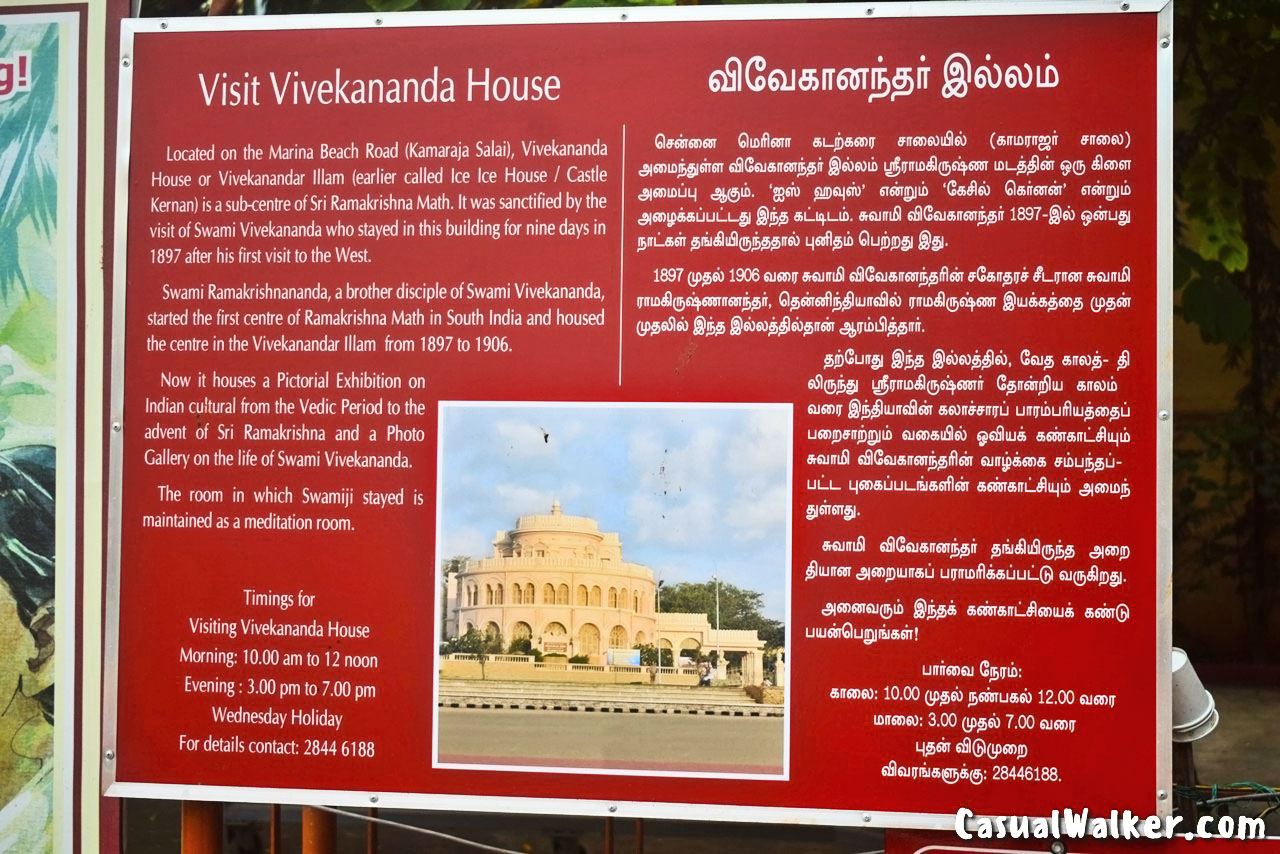 Bookstall at Sri Ramakrishna Math / Mission, Mylapore
There are two bookstores at the Math campus – one near the old shrine and another at the main entrance. Apart from the books published by Sri Ramakrishna Math Chennai, numerous books published by other centers of Ramakrishna Order are also available.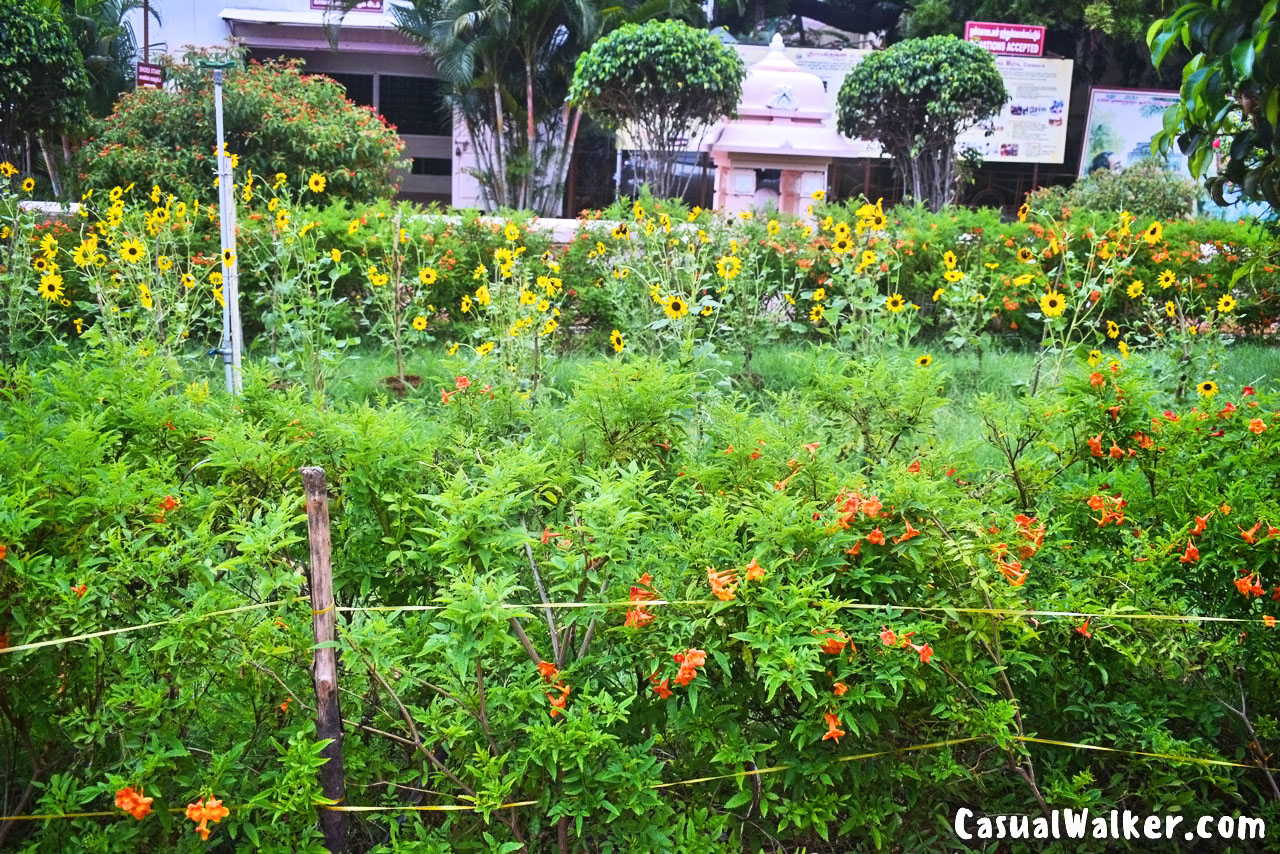 Vivekananda Memorial at Kunthukal Beach, Pamban in Rameswaram – dedicated to Swami Vivekananda, to mark his return after his famous speech at Parliament of the World's Religions in Chicago – Visit, Travel Guide

Travel Tips for Sri Ramakrishna Math / Mission, Mylapore:
Address of Sri Ramakrishna Math / Mission, Mylapore:
No. 31, Ramakrishna Math Road, Mylapore, Chennai, Tamil Nadu 600 004.
Entry Fee: Free
Temple Timings (Updated) of Sri Ramakrishna Math / Mission, Mylapore:
Morning: 04.30 AM to 11:45 AM
Evening: 03:00 PM to 09:00 PM
Contact number: +91-44-2462 1110
How to reach Sri Ramakrishna Math / Mission, Mylapore :
On Road: Mylapore is located at the heart of Chennai and is well connected to other parts of the city including Chennai Central, T. Nagar, Tambaram, Broadway through frequent and regular bus services
On Flight: Chennai International Airport (Code MAA).

By Train: Thirumayilai Rail Way Station , Mandaveli Rail Way Station are the very nearby railway station to Mylapore. However, the Chennai Central Railway Station is the major railway station which is about 6 KMS from Mylapore.
Also check Vivekananda Memorial at Kunthukal Beach, Pamban in Rameswaram :
Vivekananda Memorial at Kunthukal Beach, Pamban in Rameswaram – dedicated to Swami Vivekananda, to mark his return after his famous speech at Parliament of the World's Religions in Chicago – Visit, Travel Guide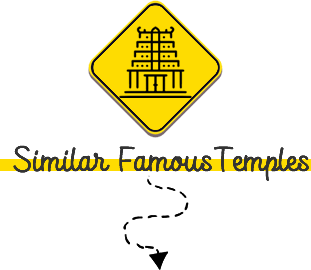 Similar Famous Temples in Mylapore you may like to Visit:
Arulmigu Velleeswarar Temple – One of the Lord Shiva Saptha Sthana Sthalangal Temple in Mylapore : Temple to Solve Eye-related Diseases and Problems – Visit, Temple Timings, History, Travel Guide
Sri Virupaksheeswarar Temple : One of the Saptha Sthana Sthalangal – Seven Lord Shiva Temples in Mylapore – Visit, Temple Timings, History, Travel Guide
Mylai Kapaleeshwarar Temple Panguni Peruvizha Festival, Mylapore, Chennai – Best & Famous Shiva Temple In India – Visit, Travel Guide
Mylai Kapaleeswarar Temple Panguni Uthiram Peruvizha Arupathu Moovar Festival in Mylapore, Chennai – famous 63 Nayanmars – Shaivite Saints Chariot Festival – Visit, Travel Guide
Sri Kulandaivel Swamy & Sri Muththiah Swamy Jeeva Samadhi Temple – Siddhar Temple in Mylapore, Chennai – Visit, Temple Timings, History, Travel Guide