Arulmigu Velleeswarar Thirukovil / Temple – One of the Lord Shiva Saptha Sthana Sthalangal Temple in Mylapore : Temple to Solve Eye-related Diseases and Problems – Visit, Temple Timings, History, Travel Guide
– one of the famous seven lord shiva temples in mylapore

Arulmigu Velleeswarar Thirukovil / Temple is one of the Saptha Vindanga Lord Shiva Temples located just near the Lord Kapaleeswarar Temple and is one of the Saptha Sthana Sthalangal – Seven Lord Shiva Temples in Mylapore. At this temple, Lord Shiva blesses the devotees in the form of Swayambu Lingam form and Goddess Kamatchi in separate sanctums.
This temple is also listed as one of the Saptha Sthana Sthalangal – Seven Lord Shiva Temples located in Mylapore. It is located on the south side of Kapaleeswarar temple road in Mylapore, Chennai. The temple is near Ramakrishna Mission.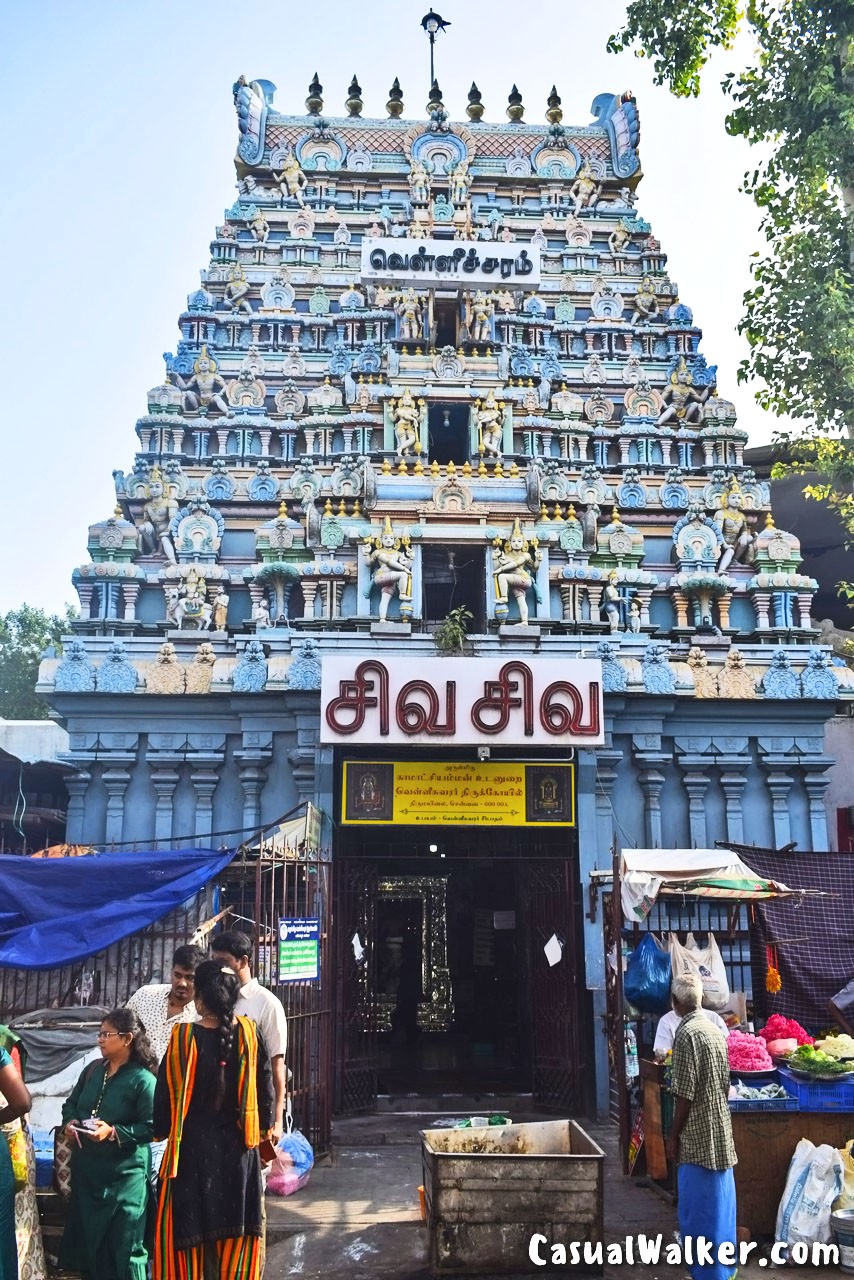 Temple Architecture of Velleeswarar Temple, Mylapore
The temple welcomes us majestically with a five-tiered Rajagopuram. On the right before the entrance, Lord Ganesha is seated under combined trees of banyan and neem tree. Inside the south-facing separate sanctum, Lord Ganesha is enshrined with Siddhi and Buddhi Samedara. And in front of him, Selva Vinayaka is seated facing the south zone.
Lord Ganesha and Lord Muruga are on both sides in front of the Valleeswarar sanctum entrance. In the front of the outer prakaram there is Nandi and behind the Shakti Peedham. On the right side of Lord Shiva's shrine, there is a separate shrine for Goddess Kamakshi. The Srichakram in Ambal's sanctum sanctorum was consecrated by Kanji Shankaracharya.
This temple is nearby the famous Sri Ramakrishna Temple – the Universal Temple of Sri Ramakrishna in Mylapore.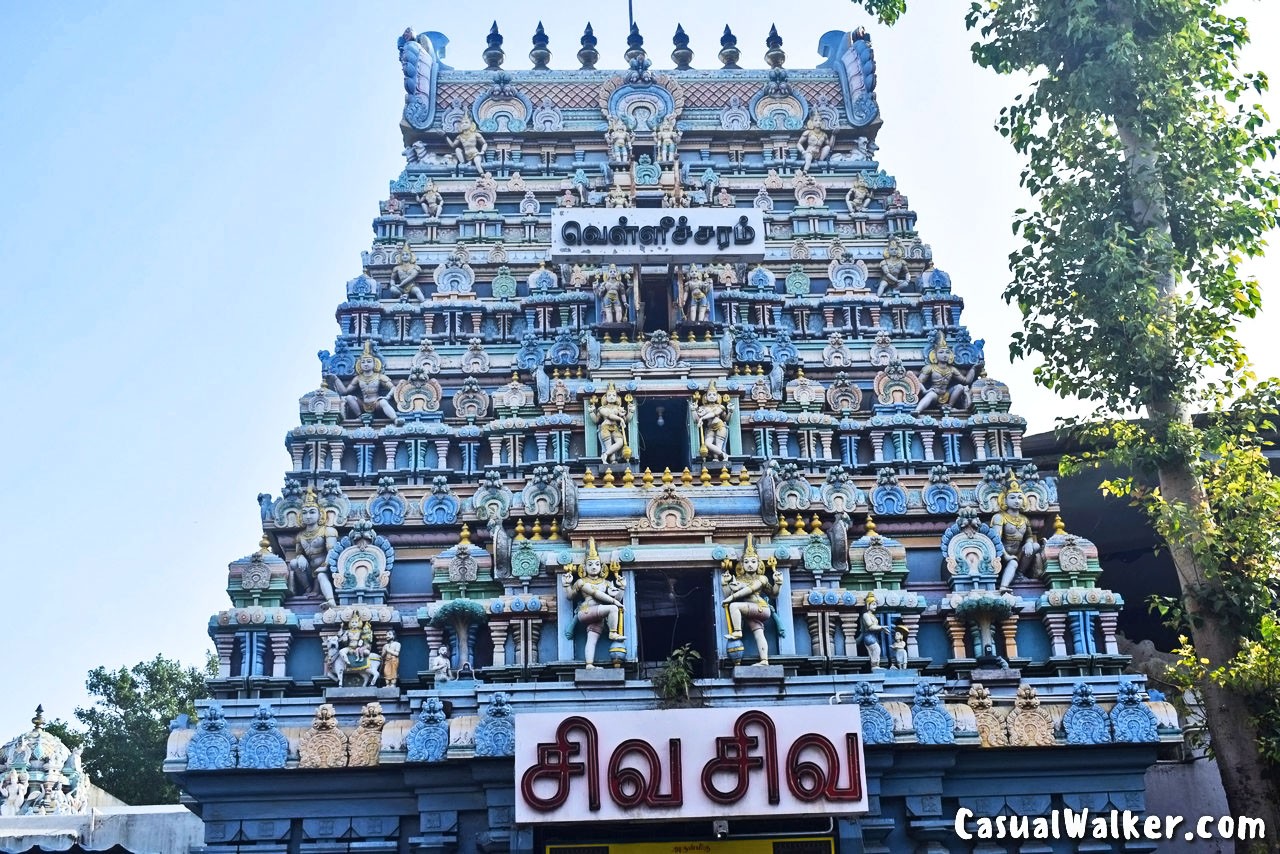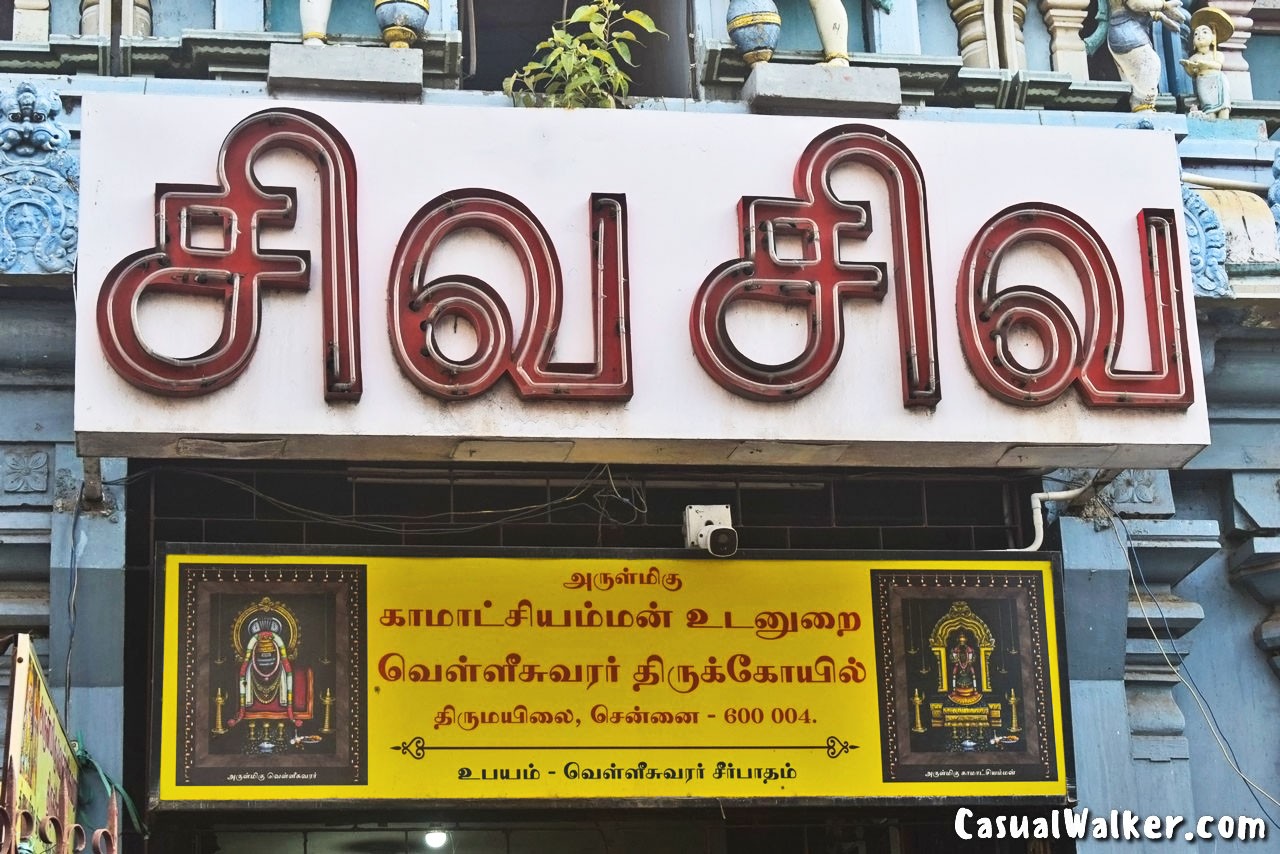 Lord Hanuman and Lord Ganesha idols are carved on the pillar outside this hall and have a spacious stone Mandapam / Hall. Lord Sarbeswarar has a separate sannidhi, Goddess Priyanthgara and Goddess Sulini are seen on both sides of this Sarabeswarar sannidhi, who were sent into the earth alongside Lord Sarabeswarar to eradicate evil.
Every Sunday and Amavasya day during Raghu Kalam, Lord Sarabeswarar is worshipped with Kalasa Abishegams.
Deities at Velleeswarar Temple, Mylapore
Sri Ulagalandaperumal – Lord vishnu, Sri Annamalaiyar – Lord Shiva, Lord Sri Kasi Vishwanathar, Lord Sri Nataraja Perumal, Lord Sri Bhairavar, Lord Sri Dakshinamurty, Sri Saraswati, Sri Lakshmi, Sri Durgai Amman, Sri Muttukumar Swamy, Lord Sri Selvaganapathy, Lord Sri Nandikeshwarar, Lord Sri Veerabhadrar, Lord Sri Nagendrar, Nayanmars with Sekkizhar, Sri Vaishnavi, Sri Indrani, Sri Chamundi, Sri Unnamulaiamman, Sri Varagi and Sri Sugreswarar.
Lord: Veleeswarar
Goddess: Kamatchi amman
Thirtham: Sukrathadagam
Holy Tree: Kurundi

Historical of the Velleeswarar Temple, Mylapore
The history behind this temple starts with Lord Vishnu's Vamana avatar. Vamana came to Mahabali's Yagasala holding a thong and carrying Kamandalam, he asked Mahabali to donate three feet of land for which Mahabali said that he would donate a town, but he did not accept it. On seeing this Shukracharya, who was the guru of Asuras became suspicious and warned Mahabali that there was some intrigue in this, but Mahabali refused to go back on his promise.
Shukra transforms into a small beetle and fills the opening of the Hendi – the Kamandalu – vessel that holds the holy water in the hand of Mahabali's wife. When Mahabali recited the mantra, the water did not come from Hendi, immediately Vamana took the dharpai from the tree and pierced the hole, and water and blood came out together. Shukra fell out with blindness in one eye, and the stick hits his eye.
After that Shukracharya came to this temple location and worshiped the Lord Shiva linga under the Kurunda tree to get rid of his sins and to get enlightenment. This is the place where Lord Shiva came down and gave a vision to Shukracharya. It is also said that if you pray at Sugreswarar – Shukracharya Sannidhi, all eye-related issues, and defects will be solved.
Lord Sugreswarar Shrine at Velleeswarar Temple, Mylapore
At this temple on the right side of the outer prakaram we can see Sugreswarar in a separate shrine, where we can see Shukracharya performing Linga Puja under the Kurunda tree.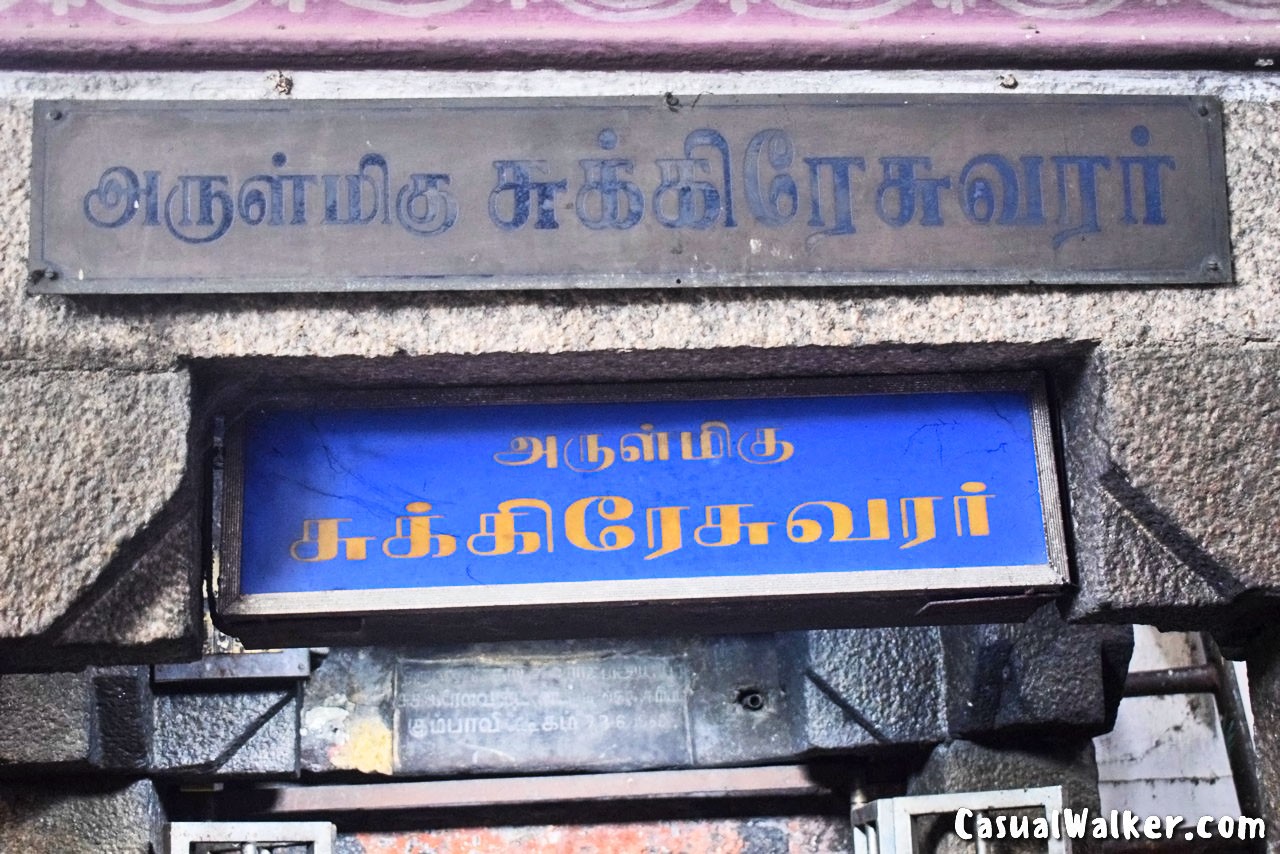 Velleeswarar Temple to Solve Eye-related Diseases and Problems
Lord Shiva at this temple is believed to bless the devotees as Velleeswarar cures eye-related issues. People who have eye problems pray to Lord Siva and offer eyes made out of silver to cure their issues.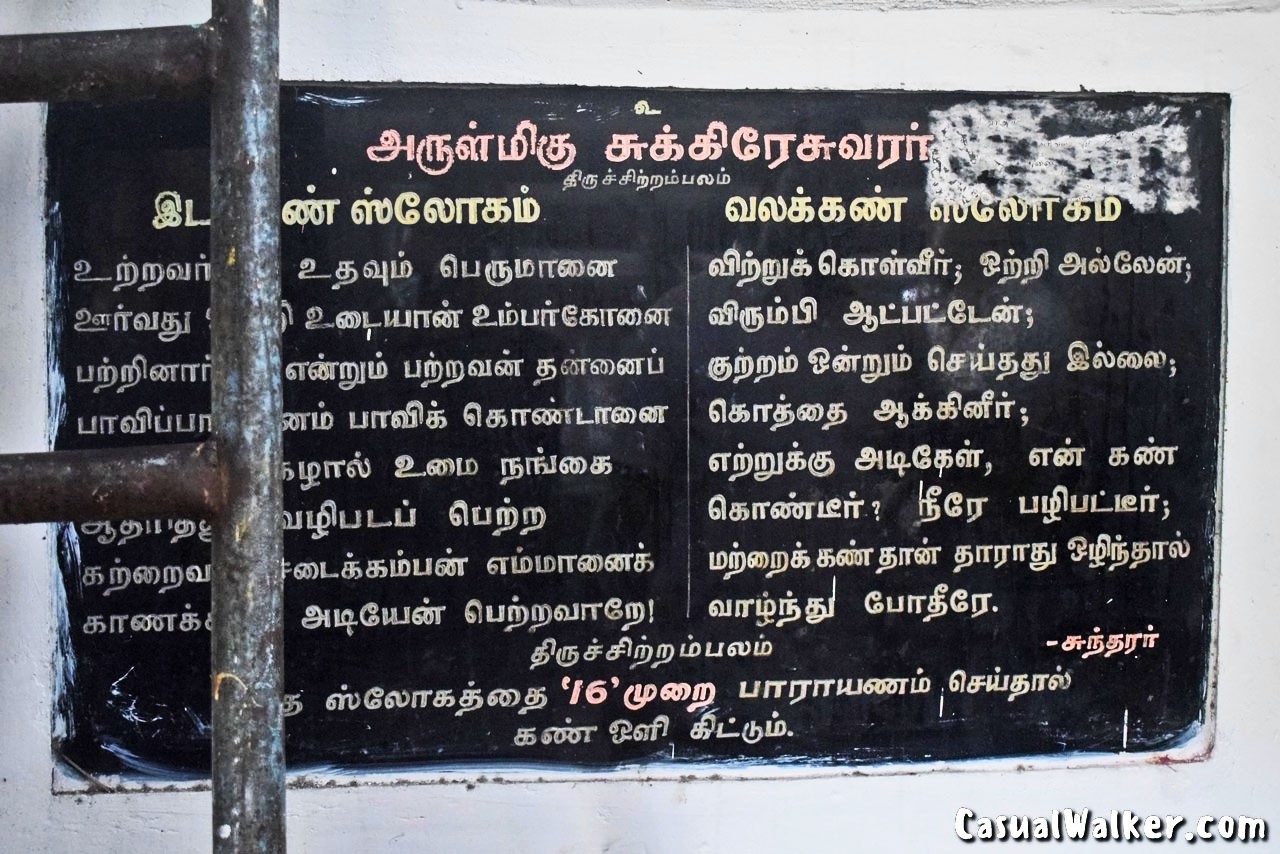 Significance of the Velleeswarar Temple, Mylapore
This temple is also the place worshiped by Saint Sukkrachariar to regain his lost sight. Lord Shiva at this temple is known as Velleswarar – where Velli means Shukra or Friday – the day connected to the puja of Shukran. Lord Shiva at this temple is also known as Shukreeswarar and Bhargaveeshwarar.
The Temple is related to the great Cholas dynasties and is calculated to be as older as two to three thousand years.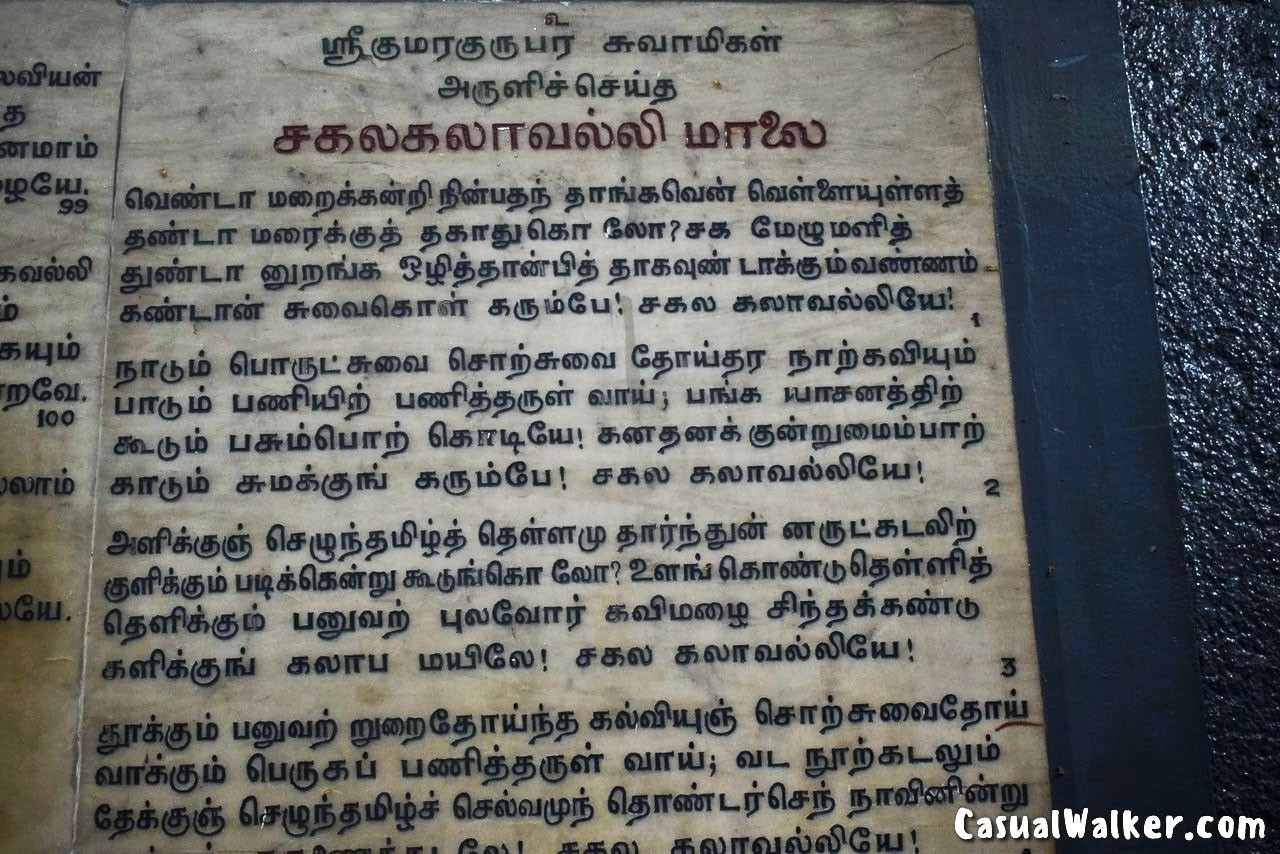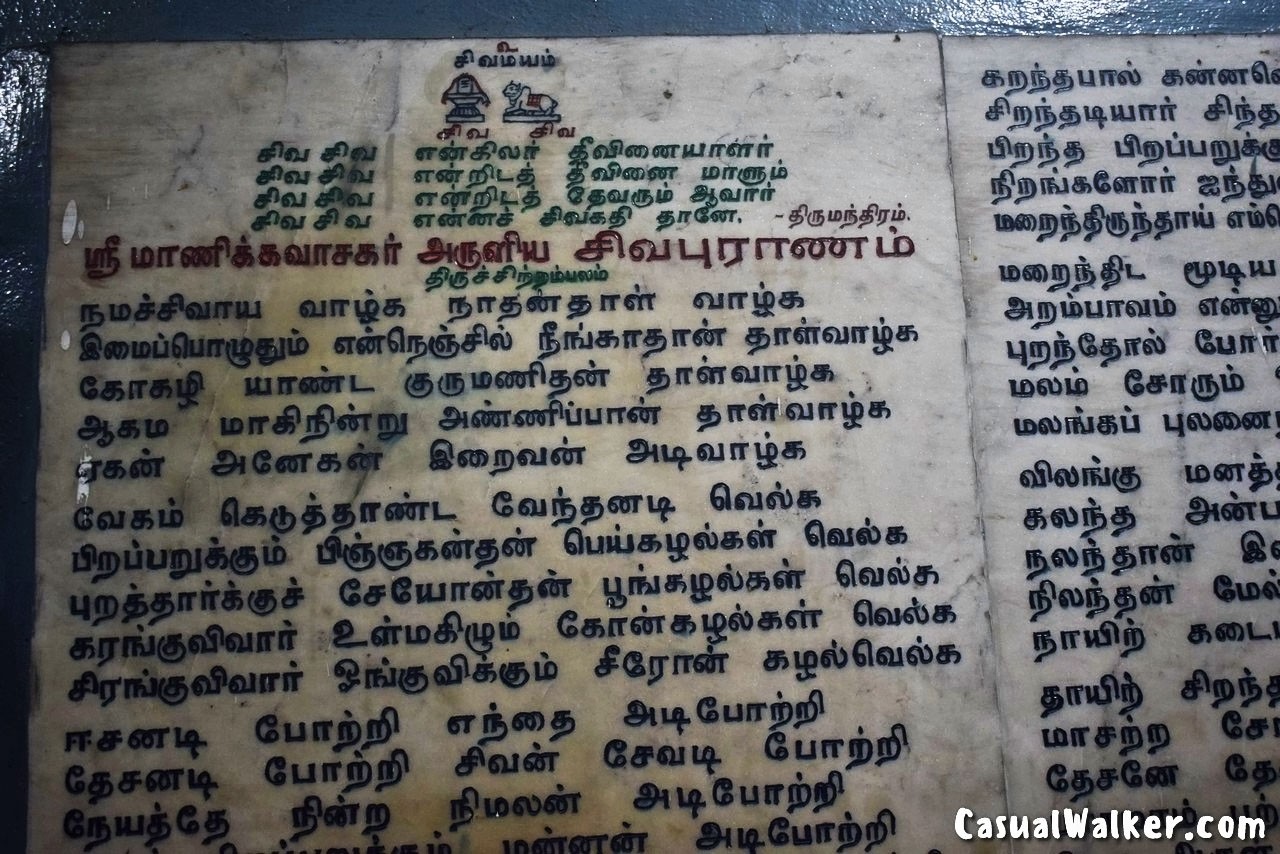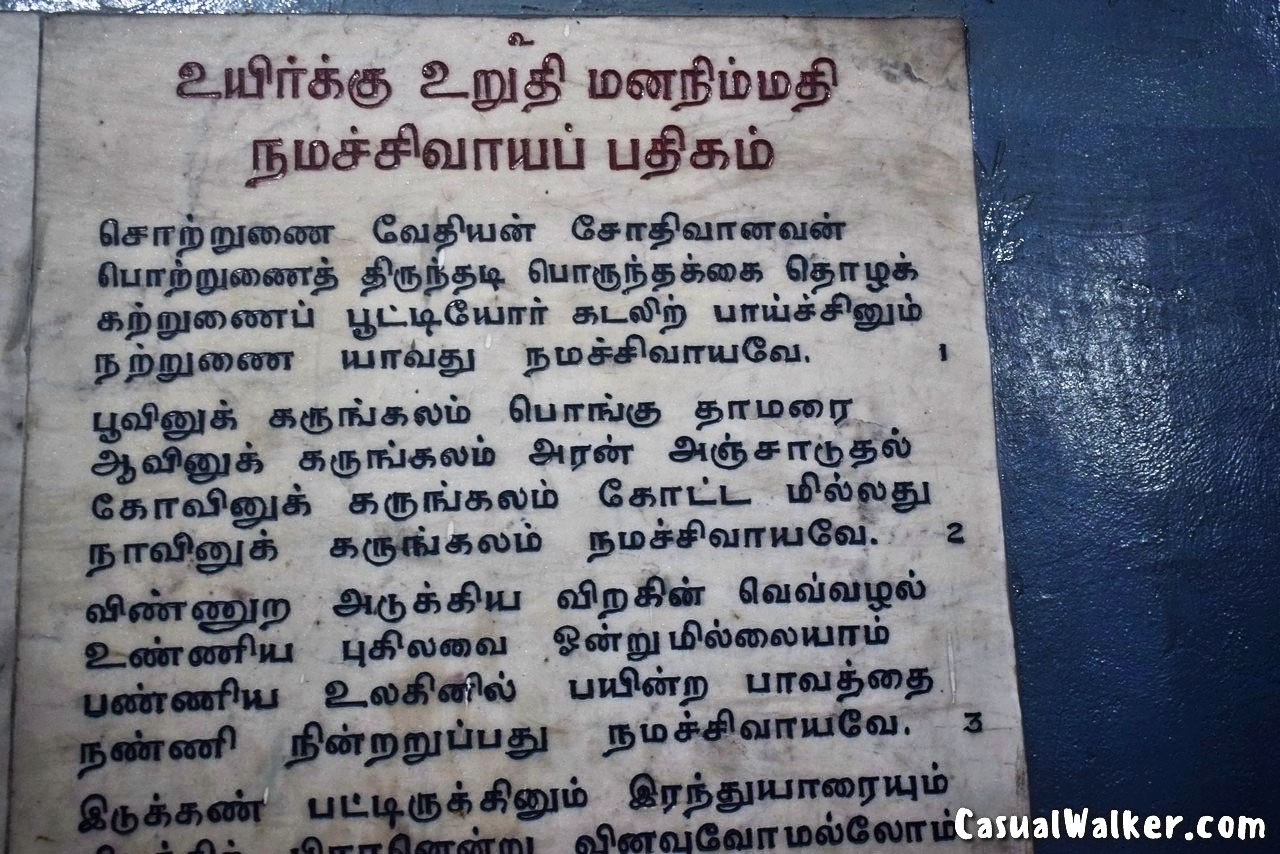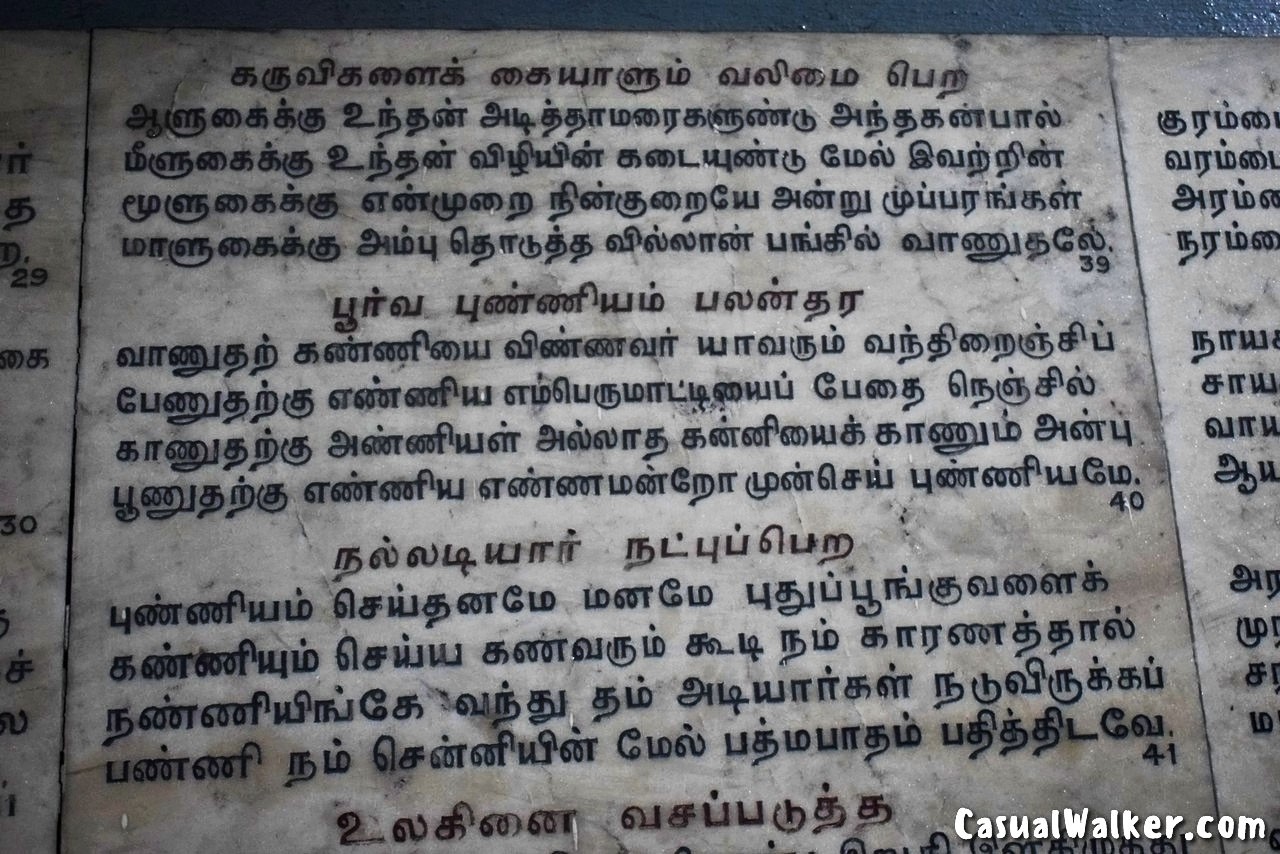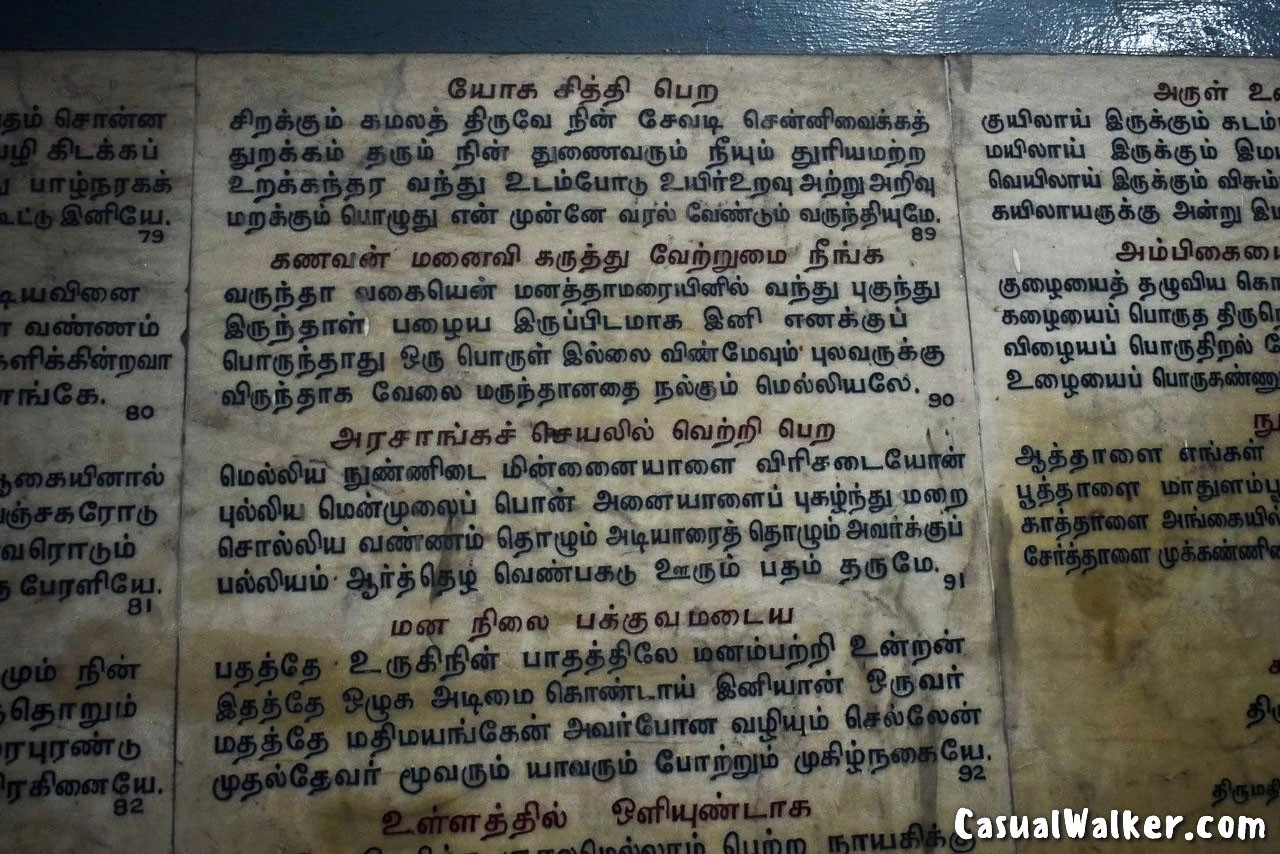 Famous Festivals at Velleeswarar Temple, Mylapore
The annual Brahmotsavam is celebrated here in the month of Vaikasi between the month of May and June. The 8th day of this Tamil month marks the event of Guru Sukracharyar getting back his eyesight.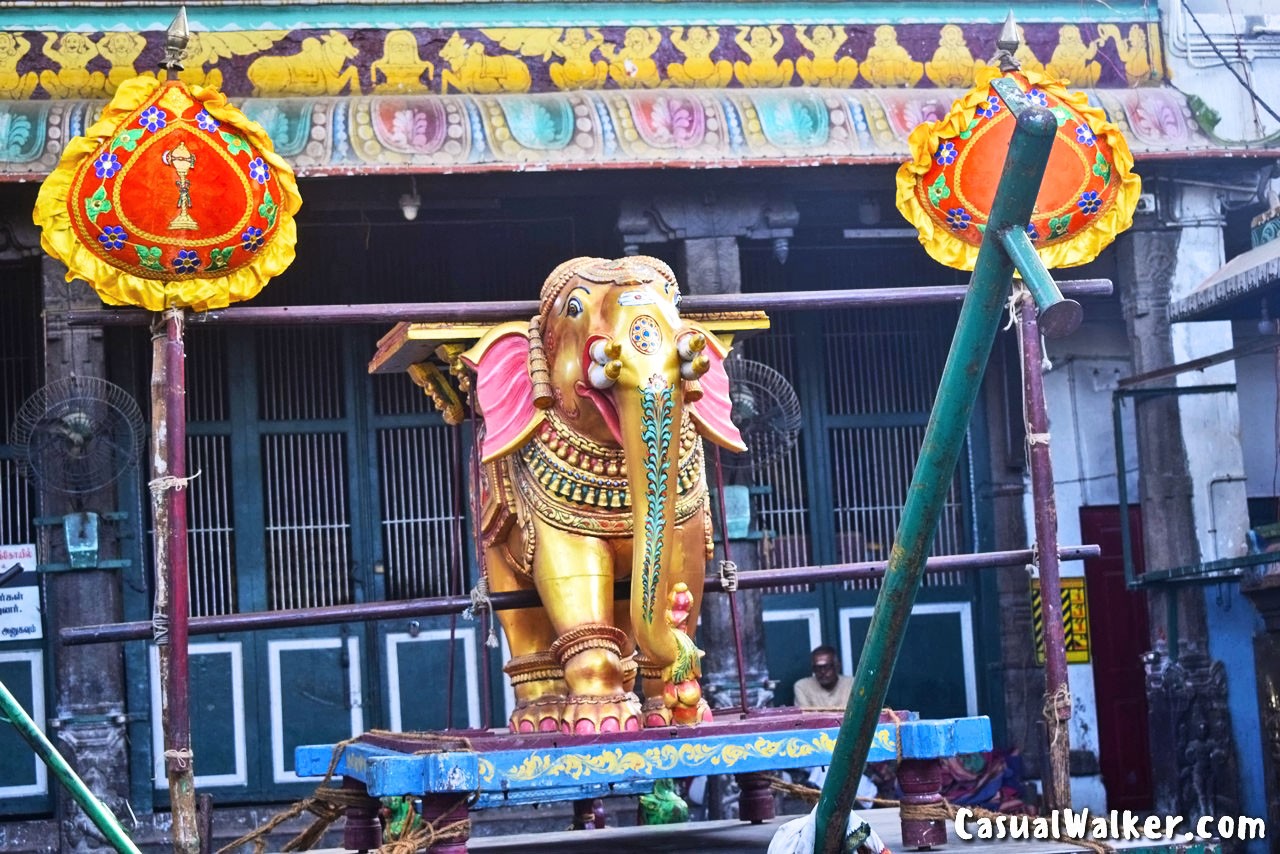 Travel Tips for Velleeswarar Temple, Mylapore :
Address of Velleeswarar Temple, Mylapore:
Valleeswarar Temple, 25, TSV Koil Street, Sankarapuram, Mylapore, Chennai, Tamil Nadu, Pincode – 600004.
Entry Fee: Free
Temple Timings of Velleeswarar Temple, Mylapore: 5:30 am to 11:30 am and from 4:30 pm to 8:30 pm
How to reach Velleeswarar Temple, Mylapore :
The Virupaksheswarar temple is situated at Bazaar Road, in the Mylapore locality of Chennai, Tamil Nadu.
On Road: Mylapore is located at the heart of Chennai and is well connected to other parts of the city including Chennai Central, T. Nagar, Tambaram, Broadway through frequent and regular bus services
On Flight: Chennai International Airport (Code MAA).

By Train: Thirumayilai Rail Way Station , Mandaveli Rail Way Station are the very nearby railway station to Mylapore. However, the Chennai Central Railway Station is the major railway station which is about 6 KMS from Mylapore.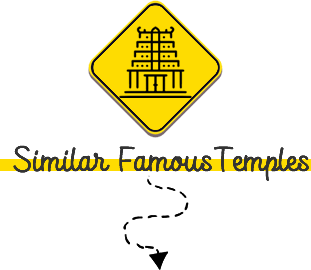 Similar Famous Lord Shiva Temples you may like to Visit:
Sri Virupaksheeswarar Temple : One of the Saptha Sthana Sthalangal – Seven Lord Shiva Temples in Mylapore – Visit, Temple Timings, History, Travel Guide
Ekambaranathar Temple (Pancha Bhoota Stalam – 5 Shiva temples for Five Elements, Kanchipuram – Best & Famous Shiva Temple In India – Visit, Travel Guide
Mylai Kapaleeshwarar Temple Panguni Peruvizha Festival, Mylapore, Chennai – Best & Famous Shiva Temple In India – Visit, Travel Guide
Mylai Kapaleeswarar Temple Panguni Uthiram Peruvizha Arupathu Moovar Festival in Mylapore, Chennai – famous 63 Nayanmars – Shaivite Saints Chariot Festival – Visit, Travel Guide
Someswara Swamy Temple / Sri Someswarar, Kudanthaikaronam, Kumbakonam, Tanjore : one of the famous Paadal Petra Sthalam of Lord Shiva Temples – Visit, Temple Timings, History, Travel Guide
Parvathamalai / Parvatha Hills – the 'Hill of Hills' or 'Queen of Hills' in Thenmathimangalam Village, Polur in Thiruvannamalai District – Visit, Trekking & Travel Guide
Sri Kulandaivel Swamy & Sri Muththiah Swamy Jeeva Samadhi Temple – Siddhar Temple in Mylapore, Chennai – Visit, Temple Timings, History, Travel Guide
Kalaiyar Kovil Kaleeswarar Temple at Kalayarkovil, Sivaganga District – one of the famous 14 Lord Shiva Temples in Pandiya Kingdom – Visit, Travel Guide
Papanasanathar Temple, the Nava Kailasam in Papanasam, Thirunelveli, Best Lord Siva Temple to Destroy Sins – Visit, Travel Guide
Jurahareshwarar Temple, Kanchipuram – Best & Famous Shiva Temple In India – Visit, Travel Guide
Shivoham Shiva Temple Bangalore / Bengaluru – The World's Largest Lord Shiva Temple – Visit, Travel Guide
Thiruthalaiyur Saptharisheeswarar Temple, Thiruthalaiyur, Tiruchirappalli, Oldest Lord Siva Temple – Visit, Travel Guide
Lord Kasi Viswanathar Temple, Tenkasi, Tirunelveli : the Second largest temple gopuram in South India – Visit, Travel Guide
Thiru Kutrala Natha Swamy temple, Courtallam / Kutralam – the Oldest Lord Siva Temple Near Courtallam waterfalls, Tenkasi – Visit, Travel Guide