Thiruneermalai Neervanna Perumal Temple – One of the 108 Divyadesams temples where, lord vishnu was found in 4 different forms/poses in Thiruneermalai, Chennai – Visit, History, Temple Timings, Contact Number, Travel Guide (Updated)
– 2000 years old lord Vishnu / ranganatha temple
Sri Neervannaperumal Temple in Thiruneermalai is one of the 108 Divyadesams situated nearby Chennai. Thiruneermalai Temple is one of the oldest Lord Vishnu temples known to be around 2000 years old. This is the only temple where we can see Lord Vishnu in 4 different forms – Thirukkolmas and was praised/sung by Thirumangaiyazhwar that "Mamamala is Thiruneermalai". Since the hill was once surrounded by water, this place was named "Thiru Neermalai" – the mountain surrounded by water.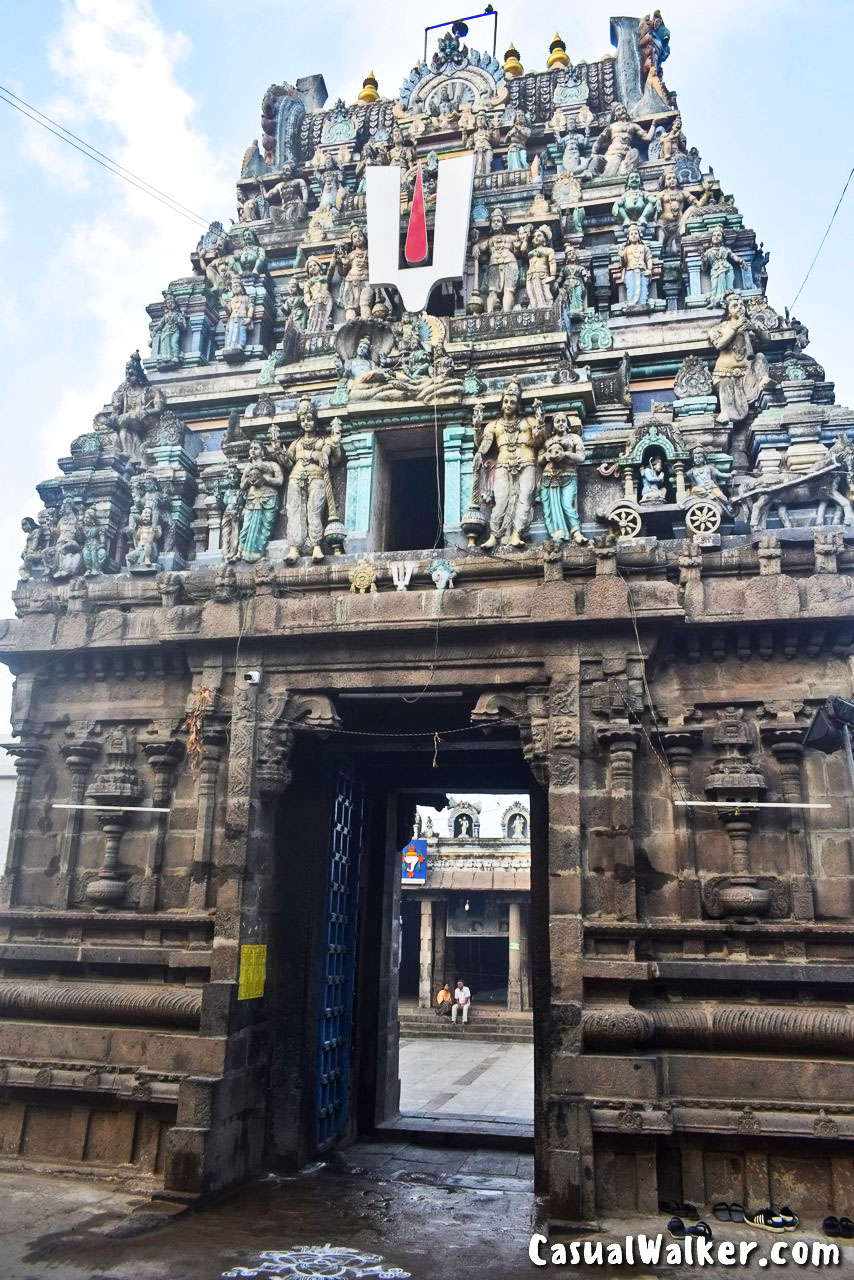 Thirumangai Alwar states Lord Vishnu's 4 different forms in Thiruneermalai as
Thirunaraiyoor – Nindra Thirukkolam
Thiruvaali – Narasiman – Irundha Thirukkolam
Thirukudanthai – Aarai Amuthai  – Kidantha Thirukkolam
Thirukoviloor – Ulagalanthaan – ThiruVikrama kolam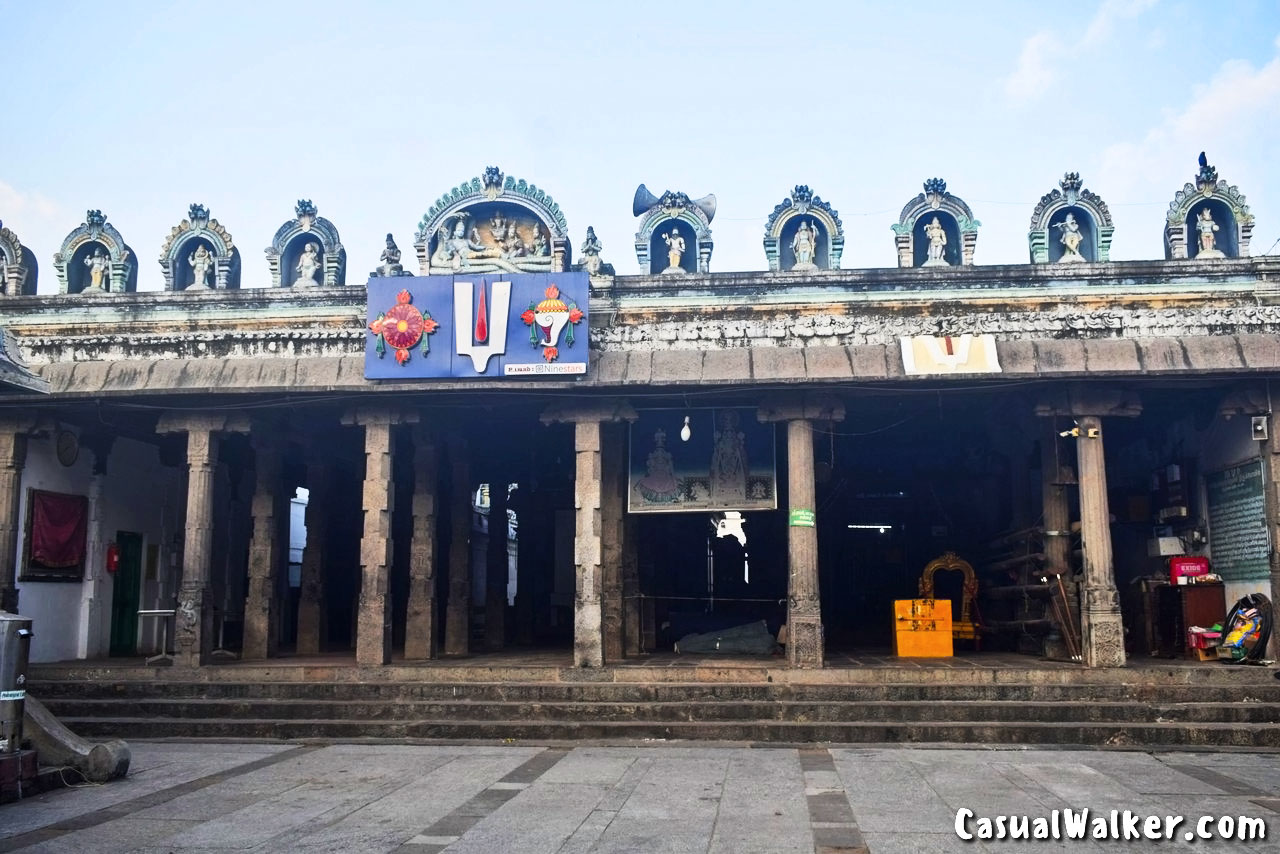 History of Thiruneermalai Neervanna Perumal Temple, Tiruneermalai, Chennai
Sage Valmiki Maharishi who wrote the great Ramayana had the desire to see his Lord Rama in the marriage form. He came to this place to pray and do penance. On hearing his request Lord Rama blessed Valmiki Maharishi with his Goddess Sita Prati and family. According to his request, Lord Rama stayed permanently in a separate temple at the foothills of the Sri Neervannaperumal Temple. Even today we can see the Valmiki statue in the praying posture on just the right side of Lord Vanna Perumal.
Sage Bhrigu and Markandeya Maharishi, who visited Lord Vishnu at Sayanakolam in Srirangam, both went this way to their abode. Perumal's Sayanakolam was never far from their eyes, they wanted to have that vision once again. Therefore, they prayed to Perumal to show them that Thirukolam at this place. Then Swami appeared on the mountain here as Aranganatha in "Boga Sayanam". He himself graces the mountain temple here as Murthy. Both Bhrigu and Markandeyer are nearby.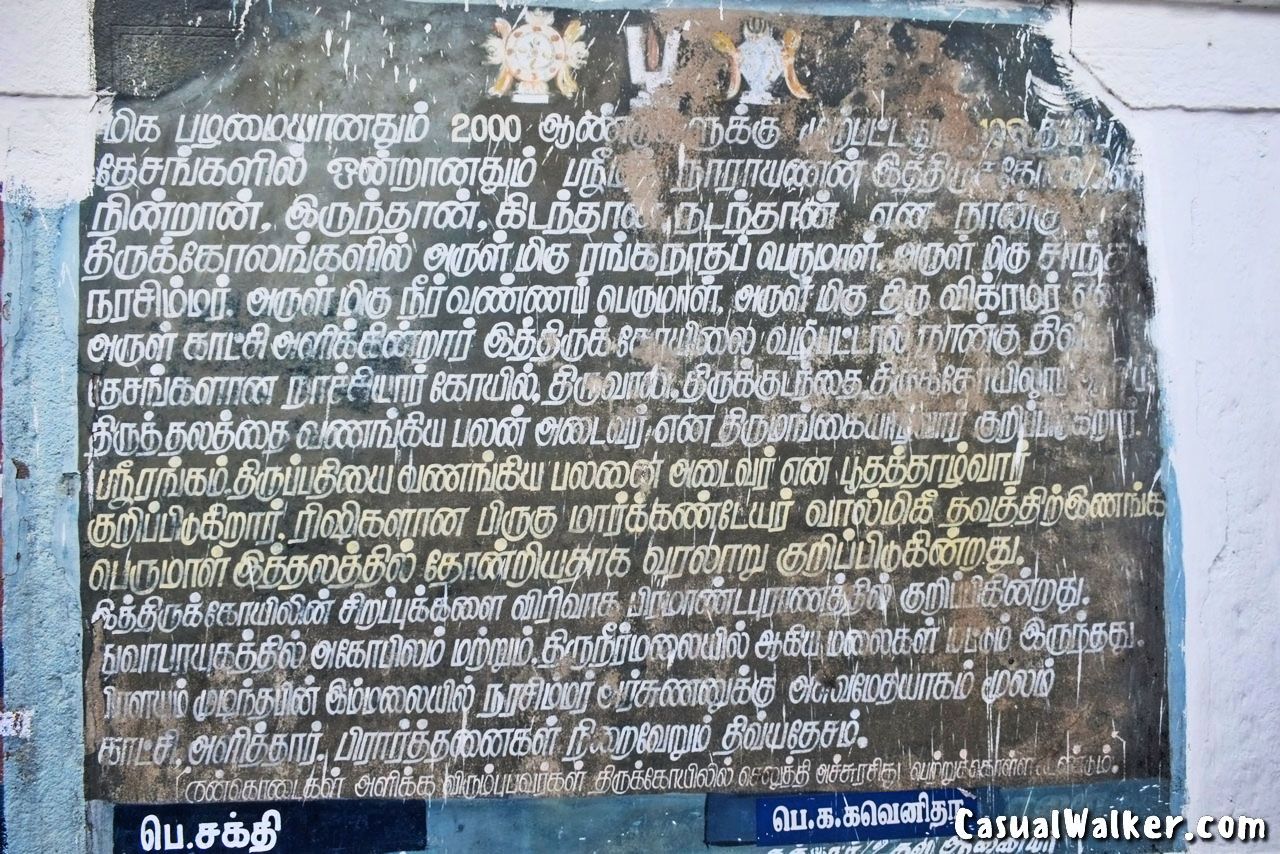 When Thirumangaiy Azhwar came to visit Perumal at this place, there was water all around the hill. She could not cross the water. However, she decided to wait and visit Swami. She stayed on another hill opposite the temple. The days have moved on, but the water hasn't receded. After six months of waiting all the water drained, she went up the mountain and worshipped the Perumal. The place where Thirumangai Alwar stayed is called "Thiru Mangai Alwarpuram".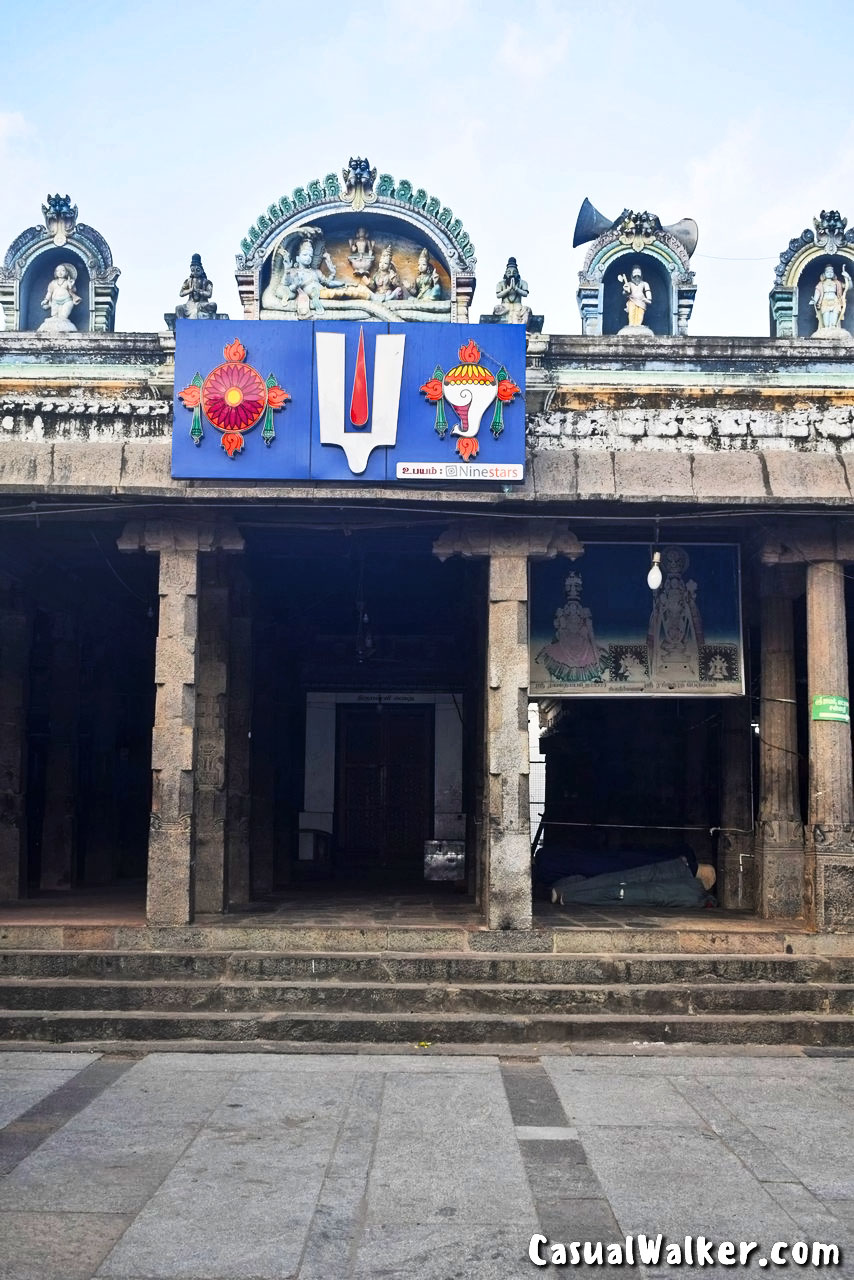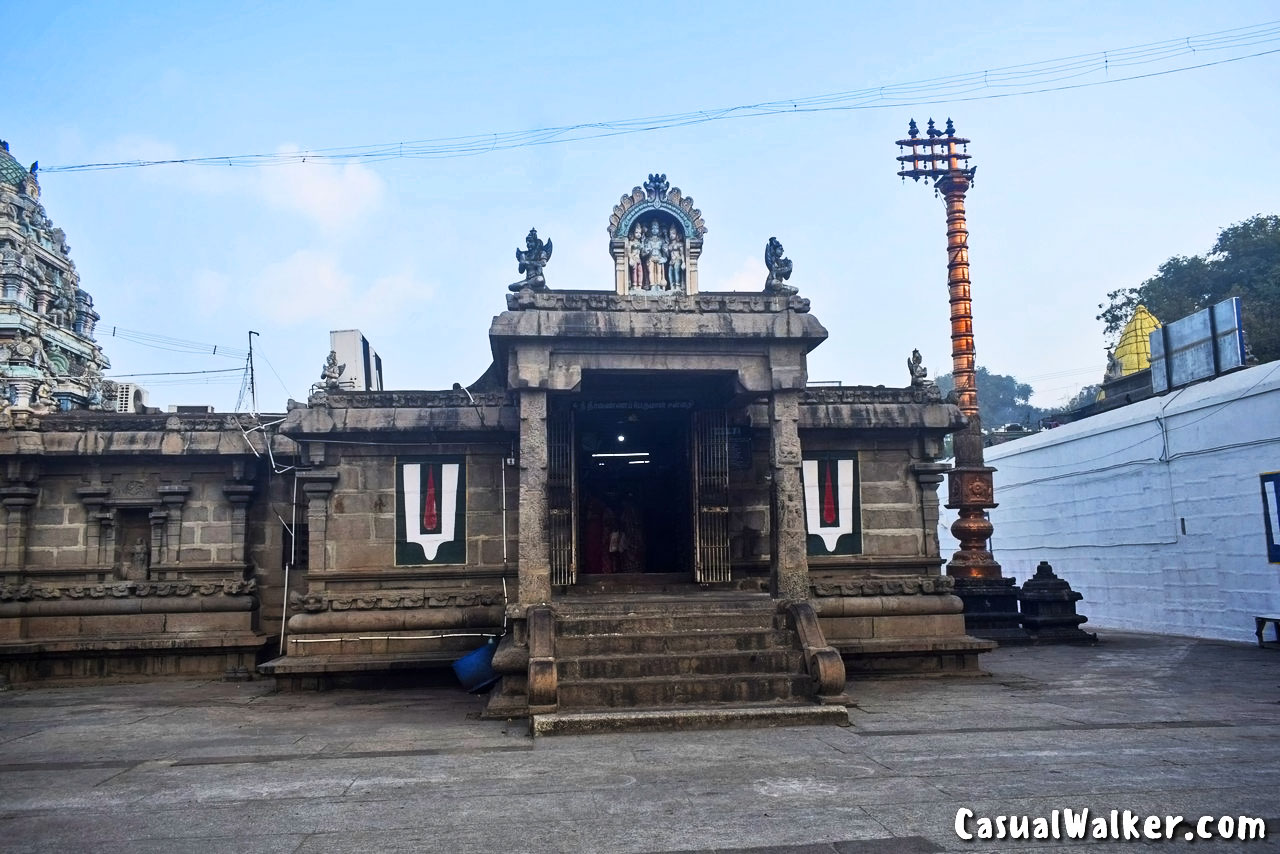 Perumal appeared as Swayambu here. This temple is one of the eight Swayambu Kshetras. The other seven Swayambu Kshetras are Srirangam, Srimushnam, Tirupati, Salakramam, Naimisaranyam, Pushkaram and Badri. Since Swayambu is a murti, there is no Abhishekam performed for the deity at this place.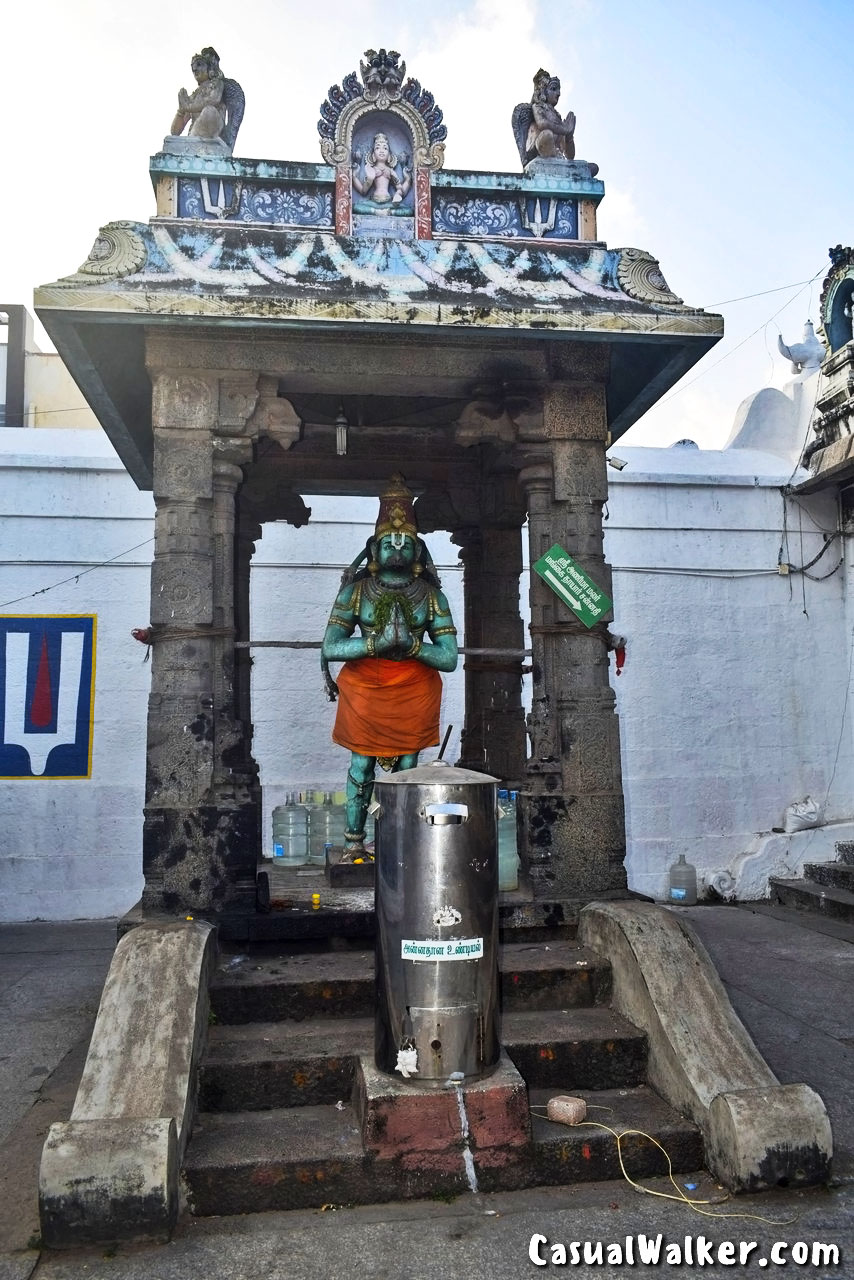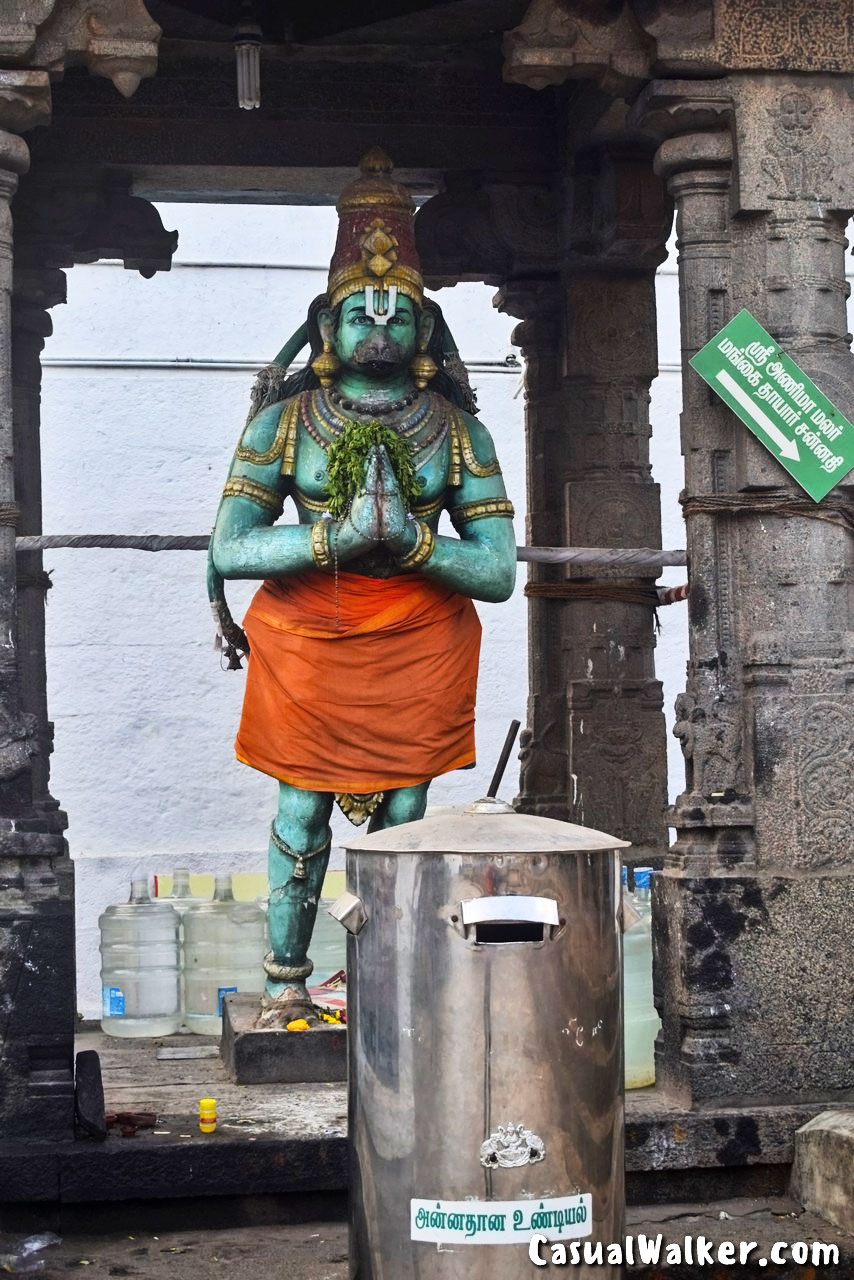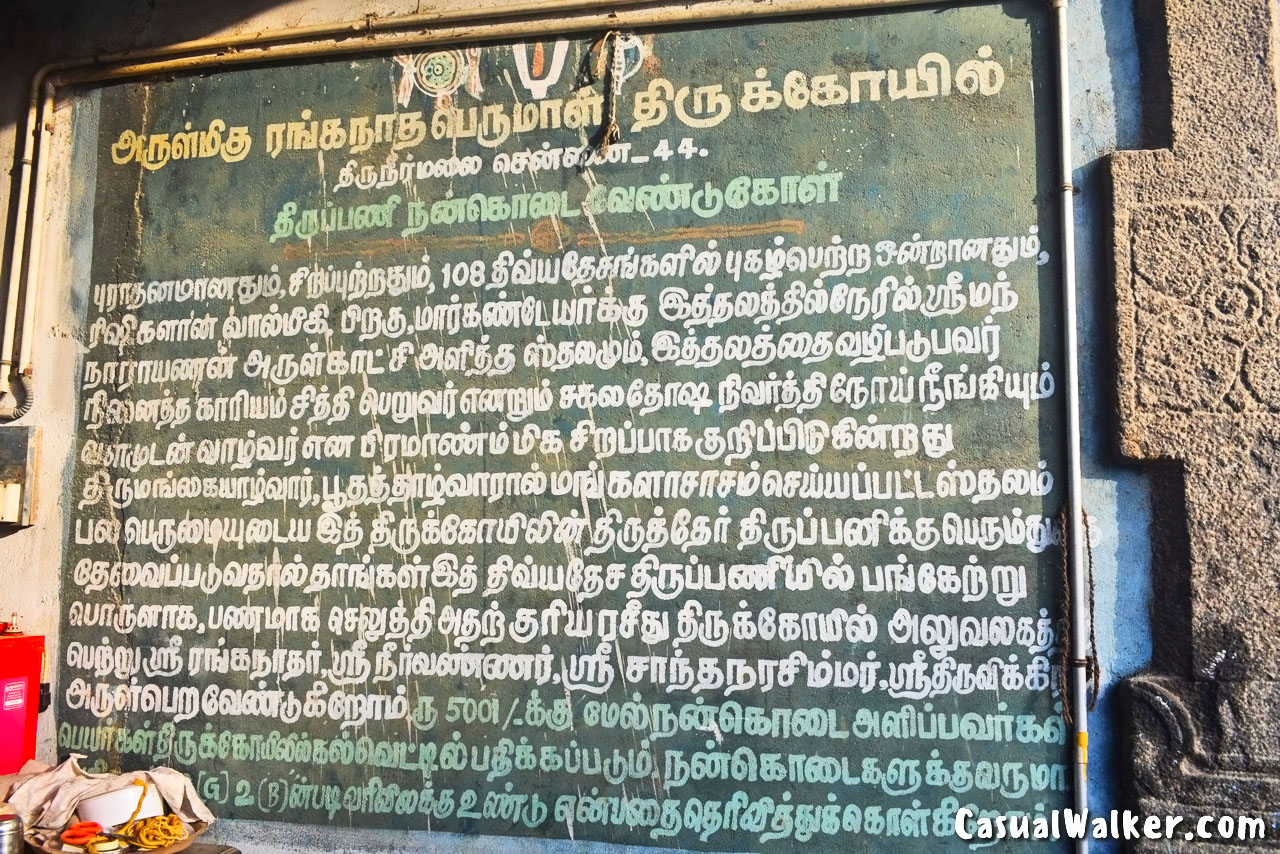 We can see both Thayar Sri Animamalar Mangai and Neervannan (Neelamukilvannan) at the bottom. By climbing the small hillock we can see the other three forms of Lord Vishnu.
The Thayaar of this temple is Sri Animaa Malar Mangai and is found in a separate Shrine / Sannadhi.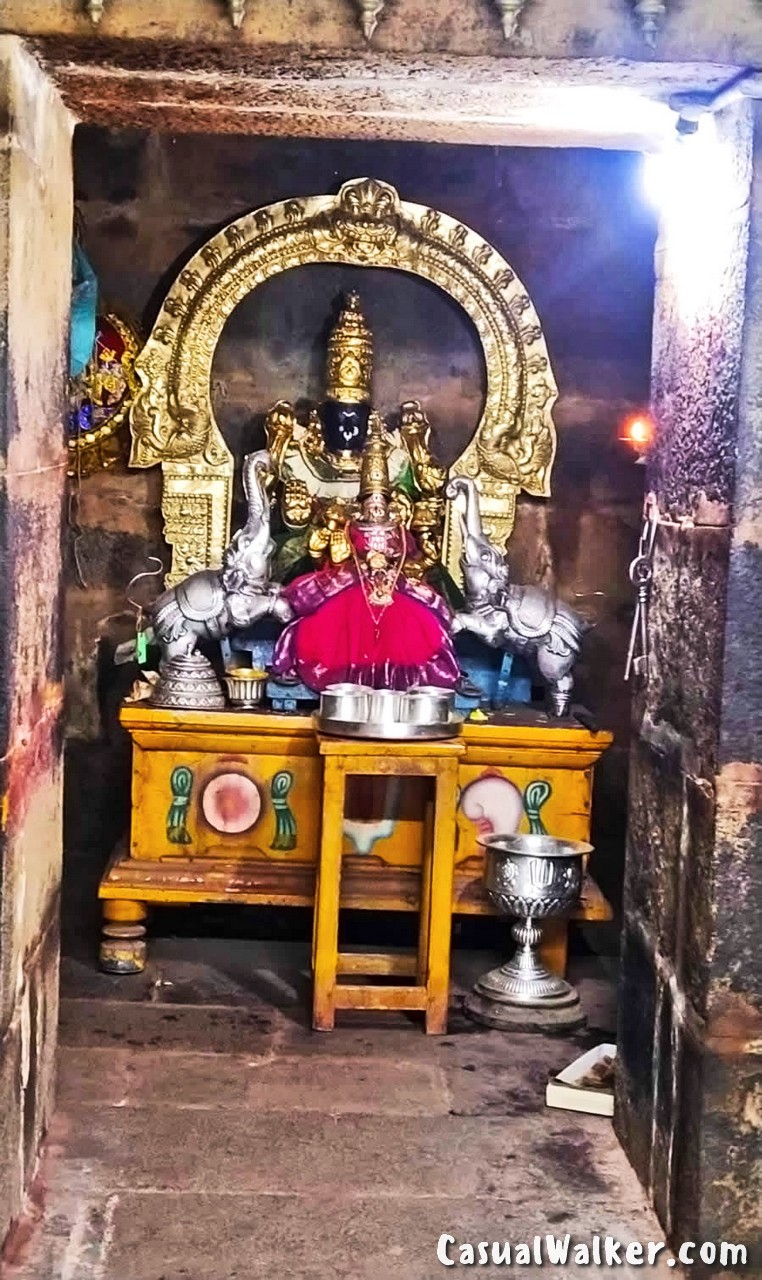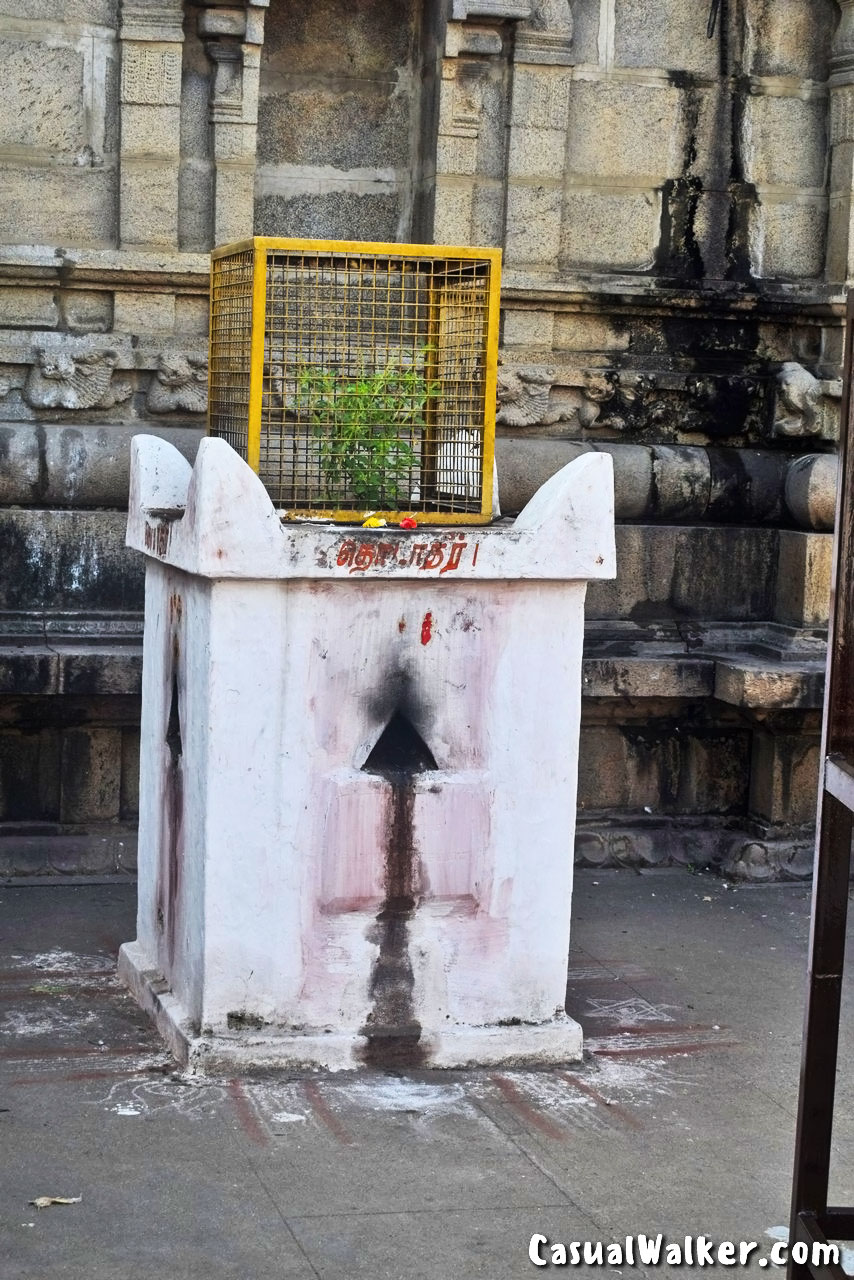 At top of the hill, we can see Lord Ranganathar with two devis in the lying position in Kidantha Thirukkolam, in the inner location we can see Thiruvikramar – the Vamanar avatar with two fingers representing the two measures and one hand with one finger asking another measure to King Mahabali.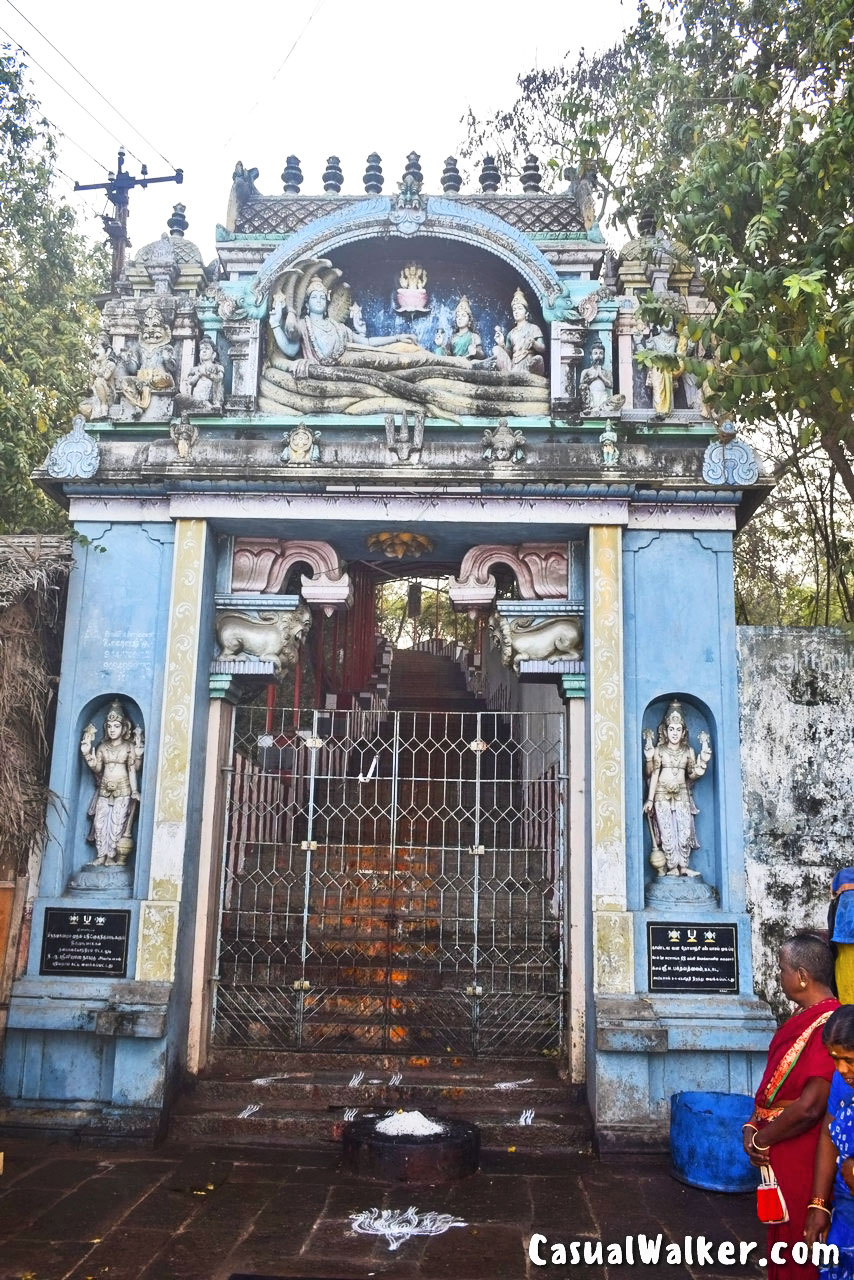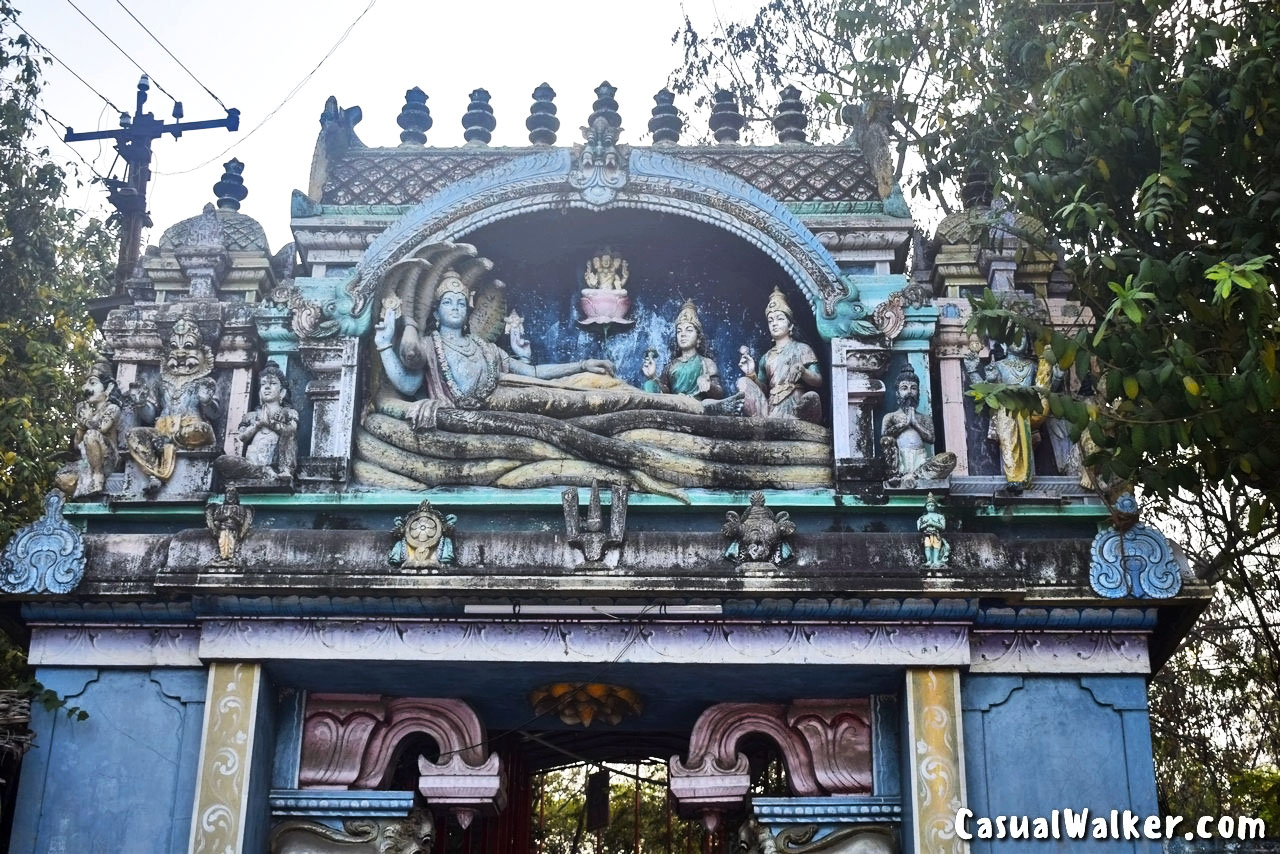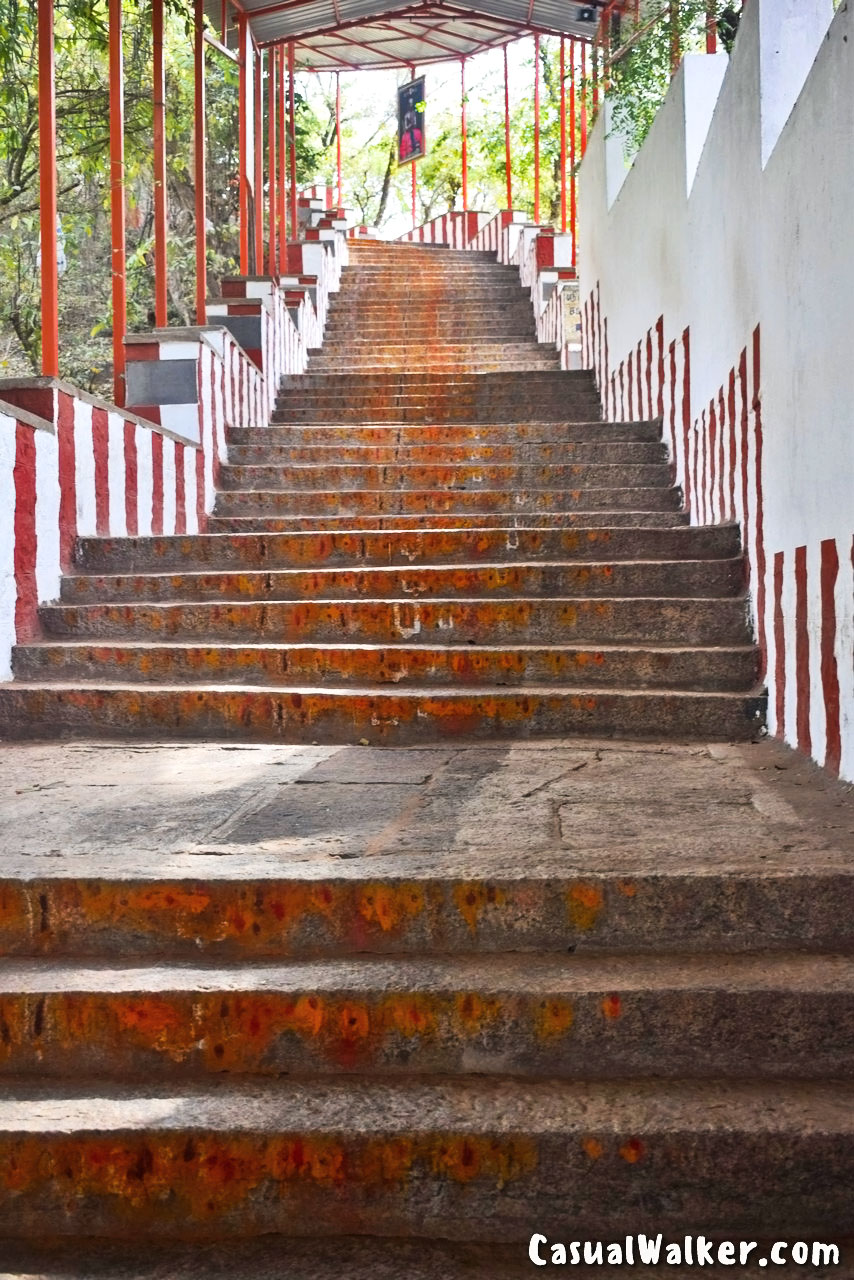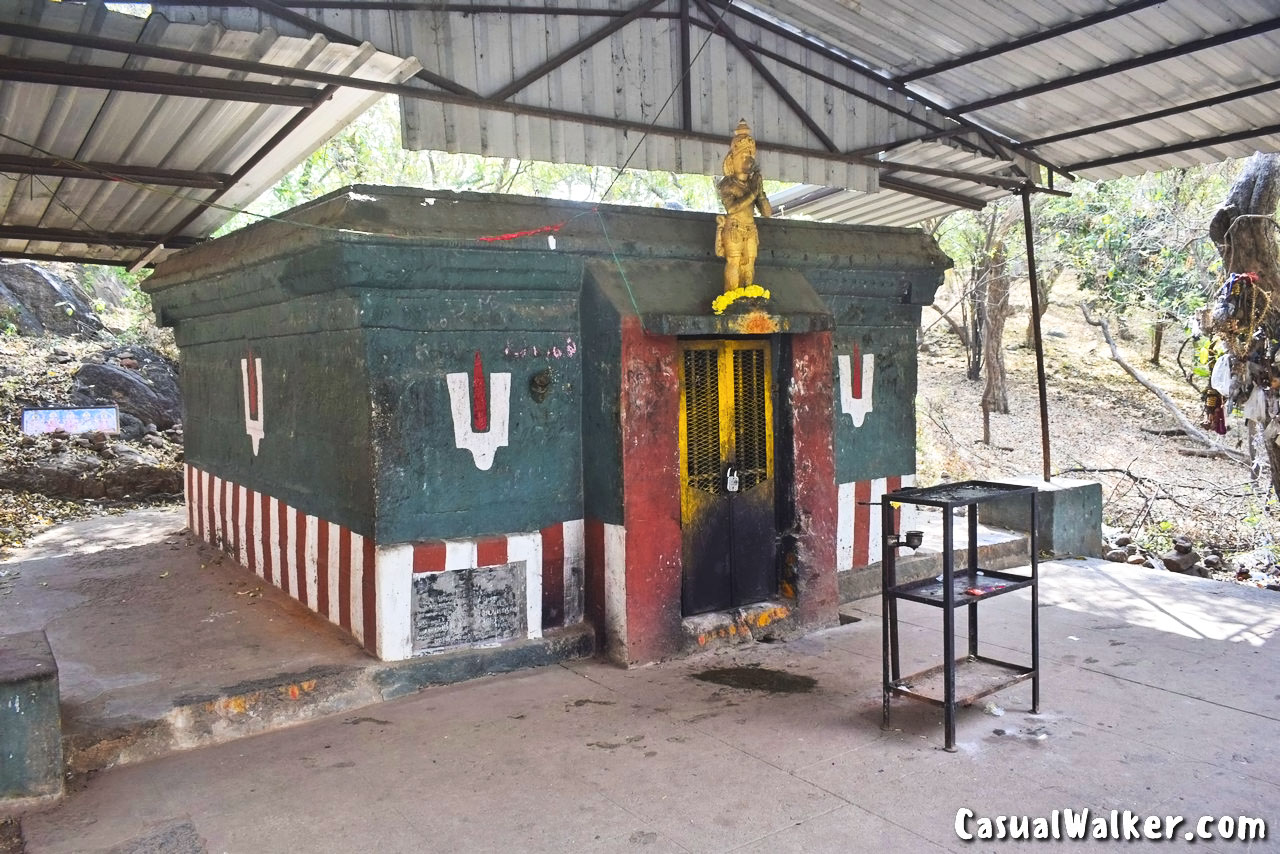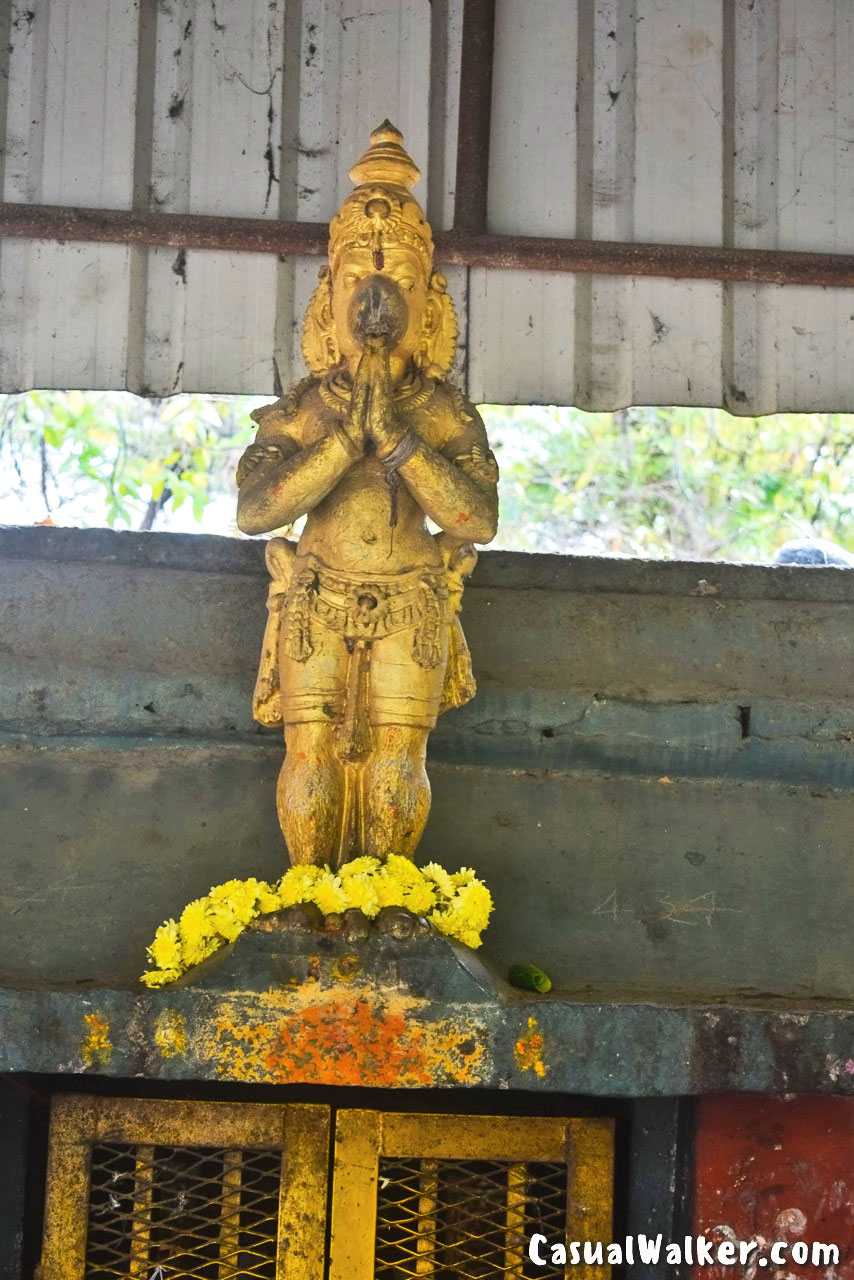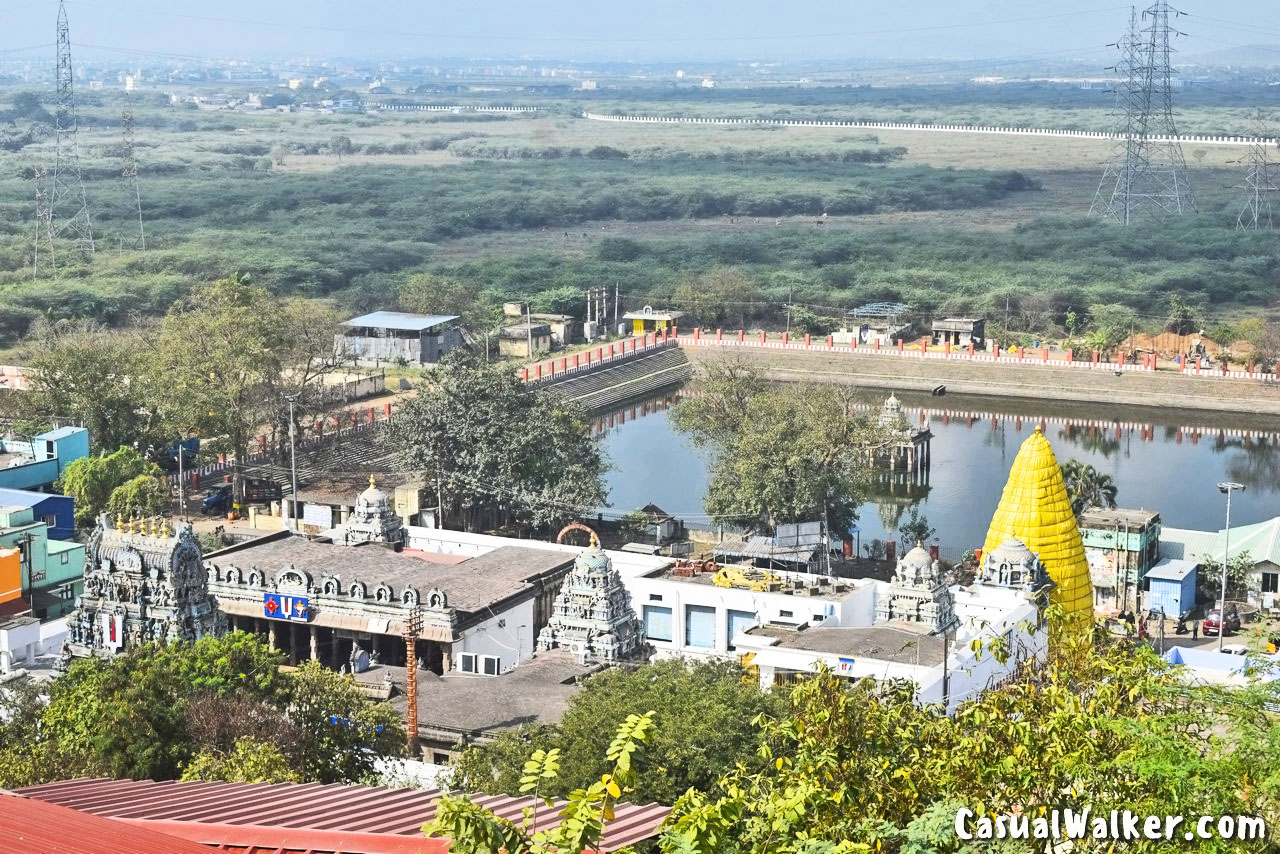 Kalki Mandapam at the Thiruneermalai Neervanna Perumal Temple
The temple has a four-pillared mandapam in front of a three-tiered tower. This mandapam was built by the famous couples MS Subbulakshmi and 'Kalki' Sathasivam. Their marriage also happened at this temple.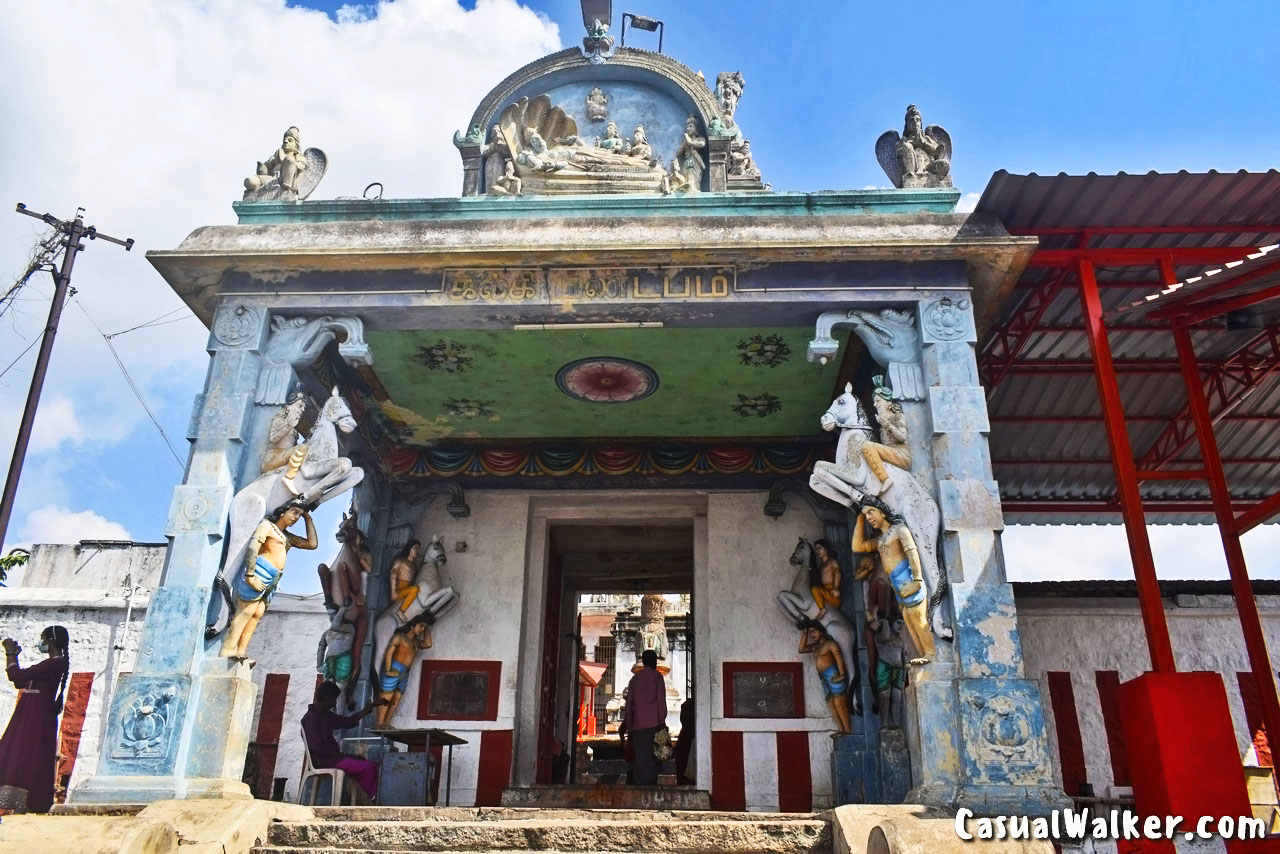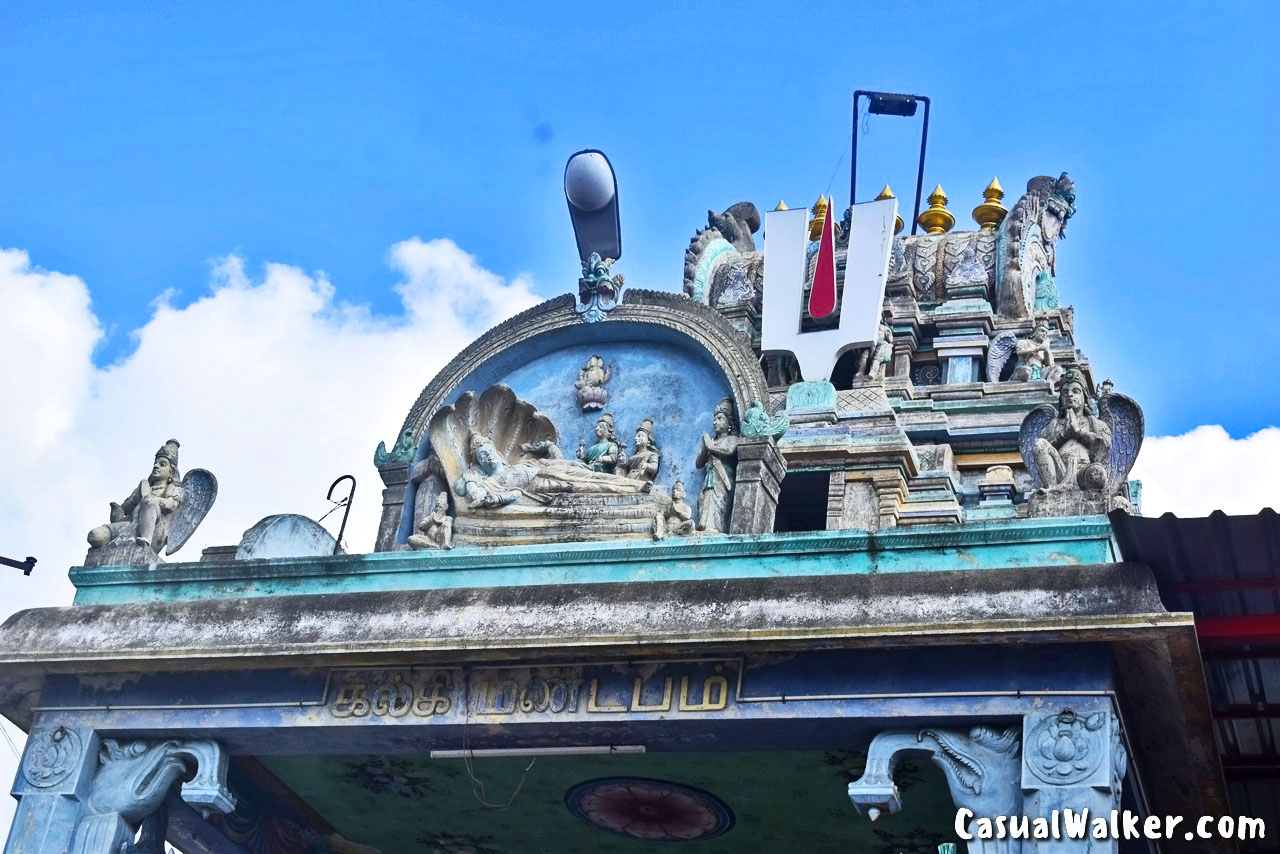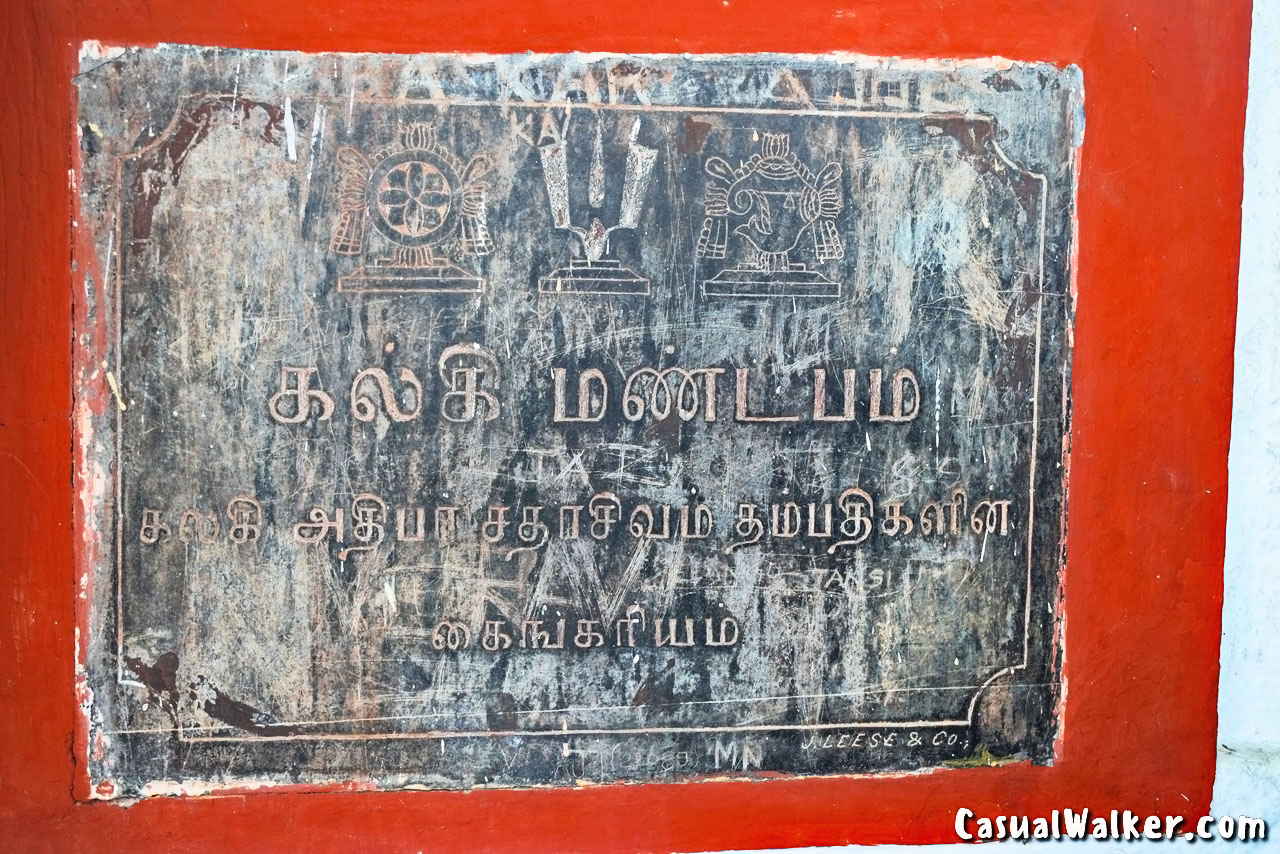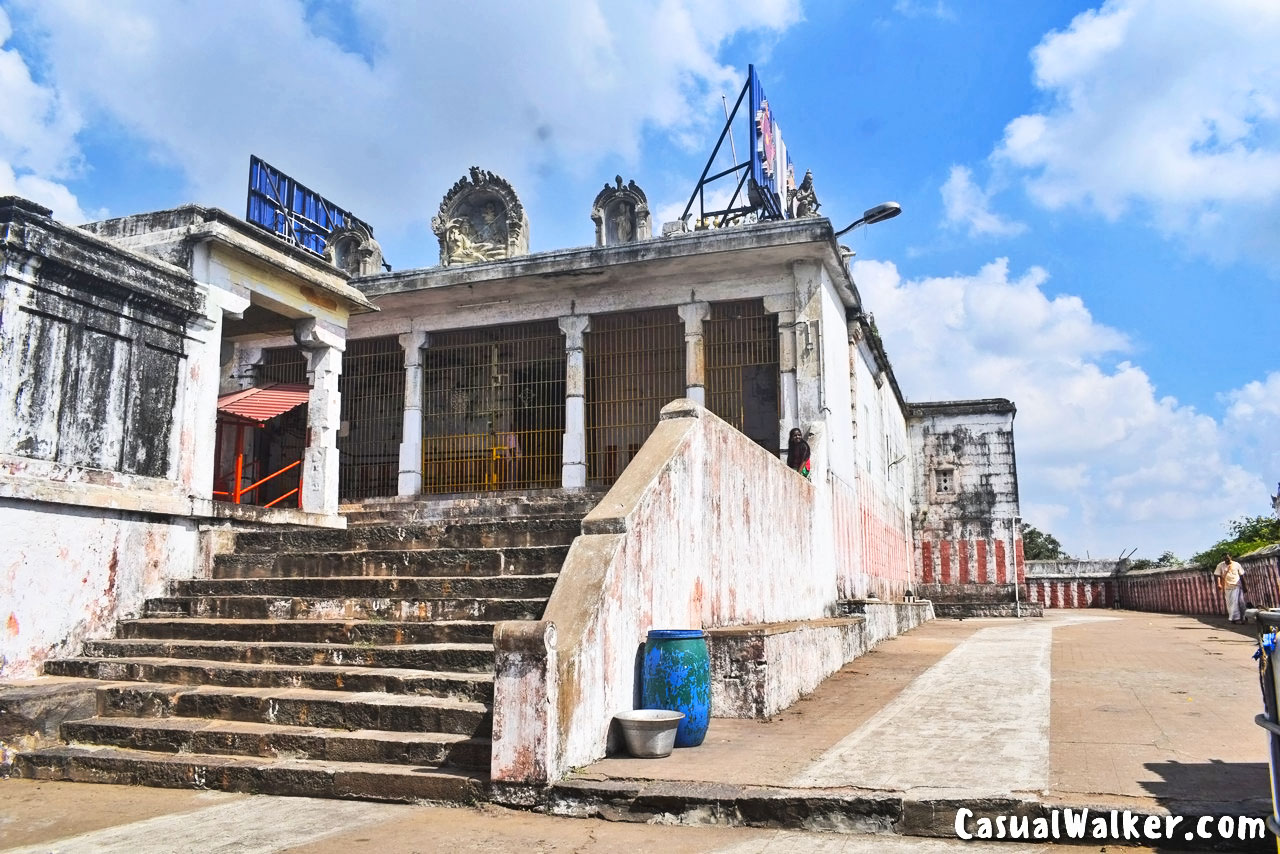 There is a separate sanctum for Adiseshan on the left side in the outer location. Next to the temple's flagpole on the right and go up ten steps, at the end of the steps, there is a small Sannidhi of Periyathiruvadi.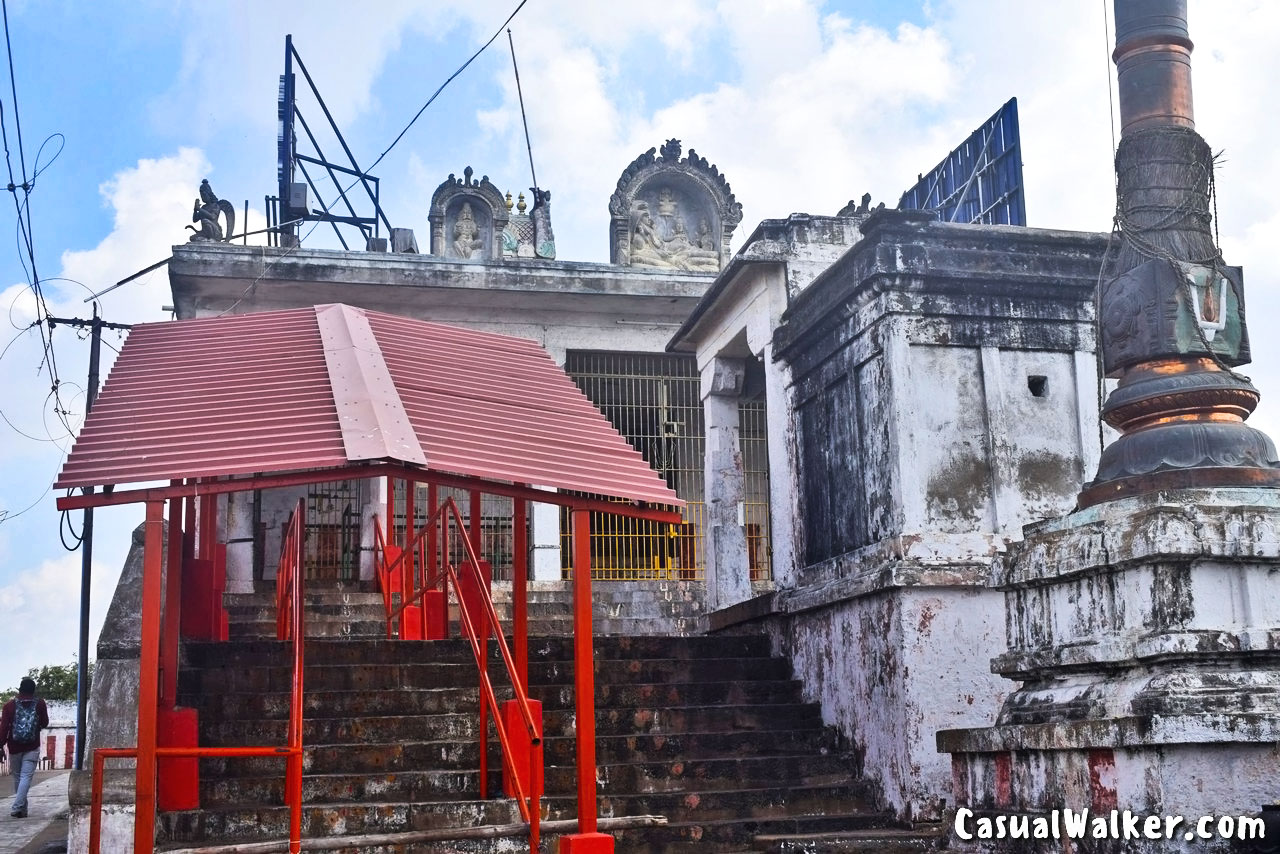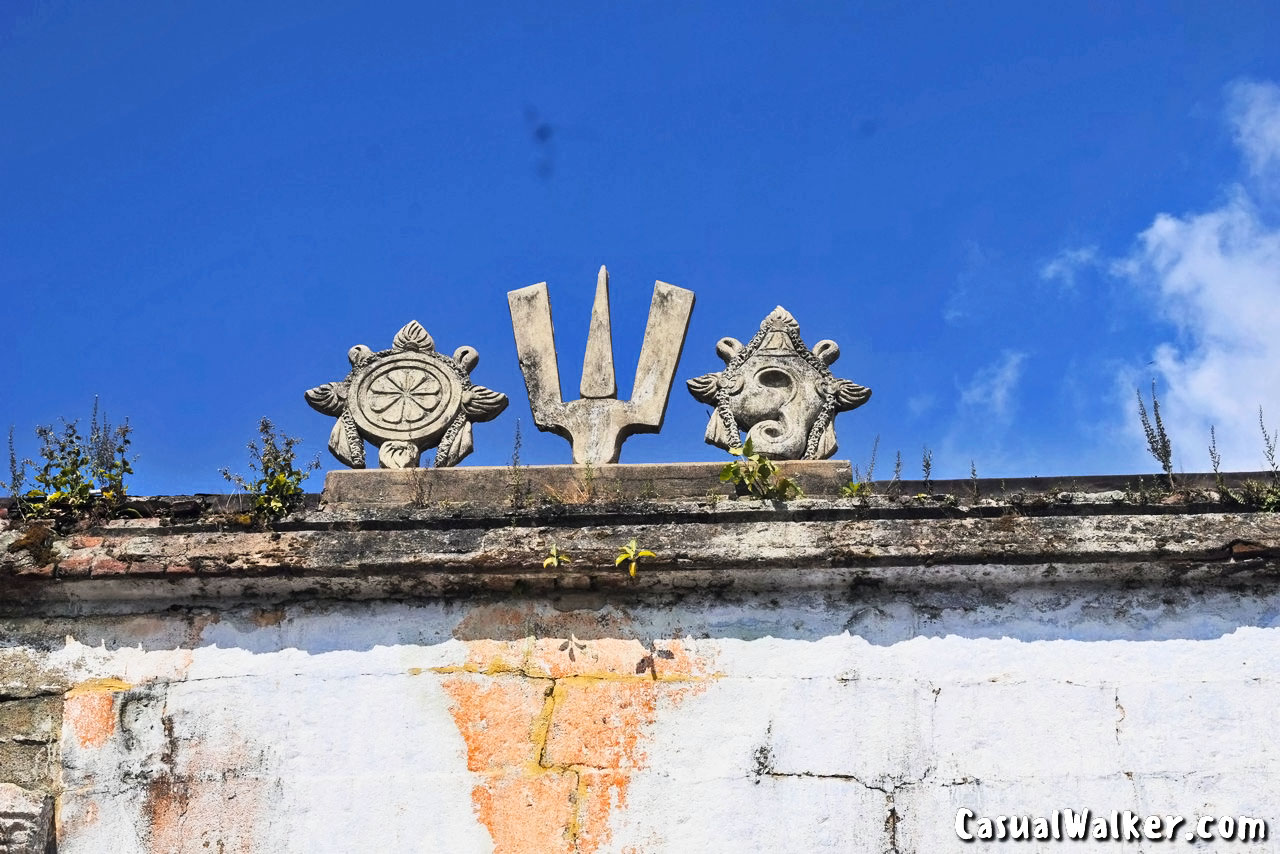 Lord Narasimhar in sitting posture – Eruntha Thirukkolam with two hands and in calm posture. Inner prakaram has Bala Narasimha Sannidhi.
He is also called Shantha Narasimha. After the end of the Hiranyakashipu Vatam – killing of King Hiranyakashipu, his son Prahlada looked fearful of the roaring ferocious mighty Lord Narasimhar. Seeing the fear on Prahlada's face, Lord Narasimhar turns into a child in his own image, equal to him. Behind him is Narasimha, with a two-armed self-image. He raises his left index finger. He has no conch or wheel.
This is the only temple where we can see Lord Vishnu in 4 different forms – Thirukkolmas. We can find Lord Vishnu in 3 positions at the top hill temple.
Lord Narasimhar : In Sitting position – the Iruntha Thirukkolam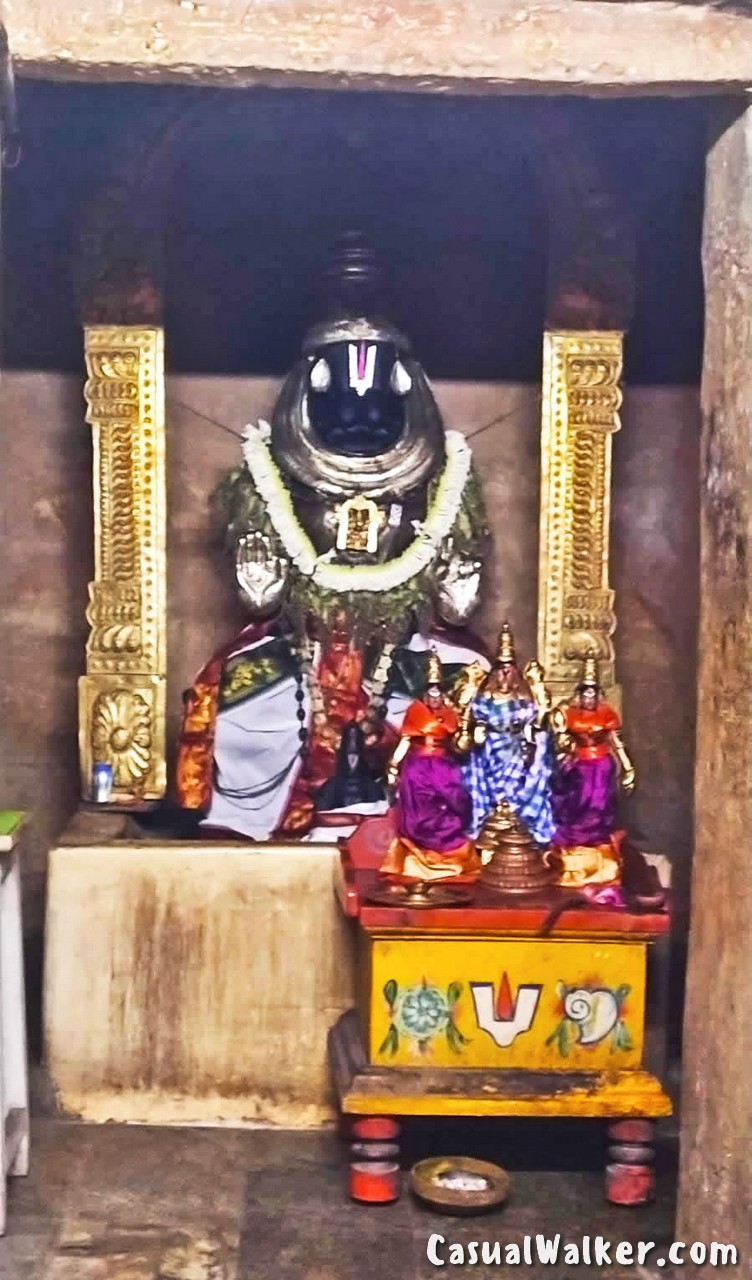 Lord Thiruvikraman : In Striding position – the Nadantha Thirukkolam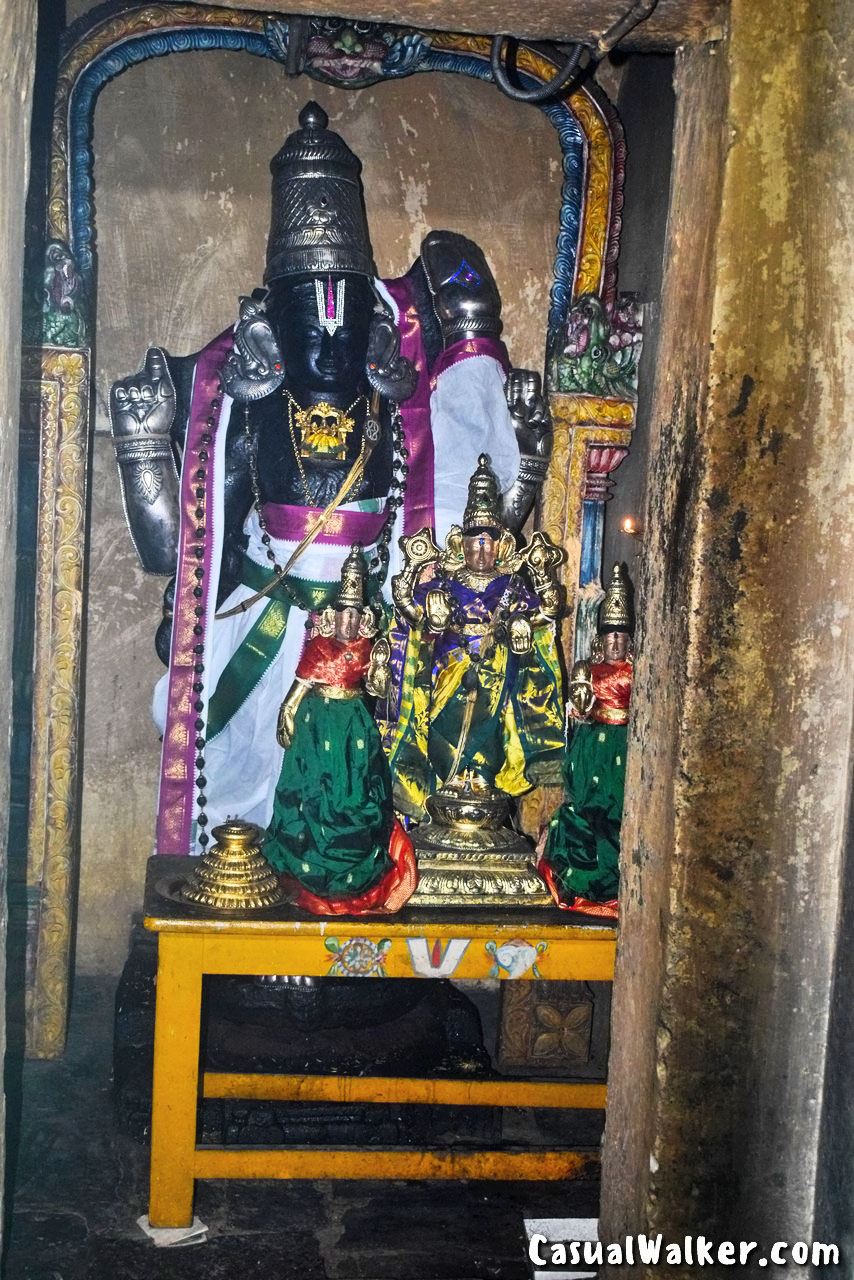 Sri Neervannar : In Standing positon – the Nindra Thirukkolam
 

Festivals at Thiruneermalai Neervanna Perumal Temple, Tiruneermalai, Chennai
Panguni and Chitrai are two chariot festivals held each year. Brahmotsavam is held for Aranganathar in the mountain temple at Chitrai and for Neervannaperumal at the foothills at Panguni. During the month of Karthigai until the Vaikunta Ekadasi festival, the idols are kept partially closed.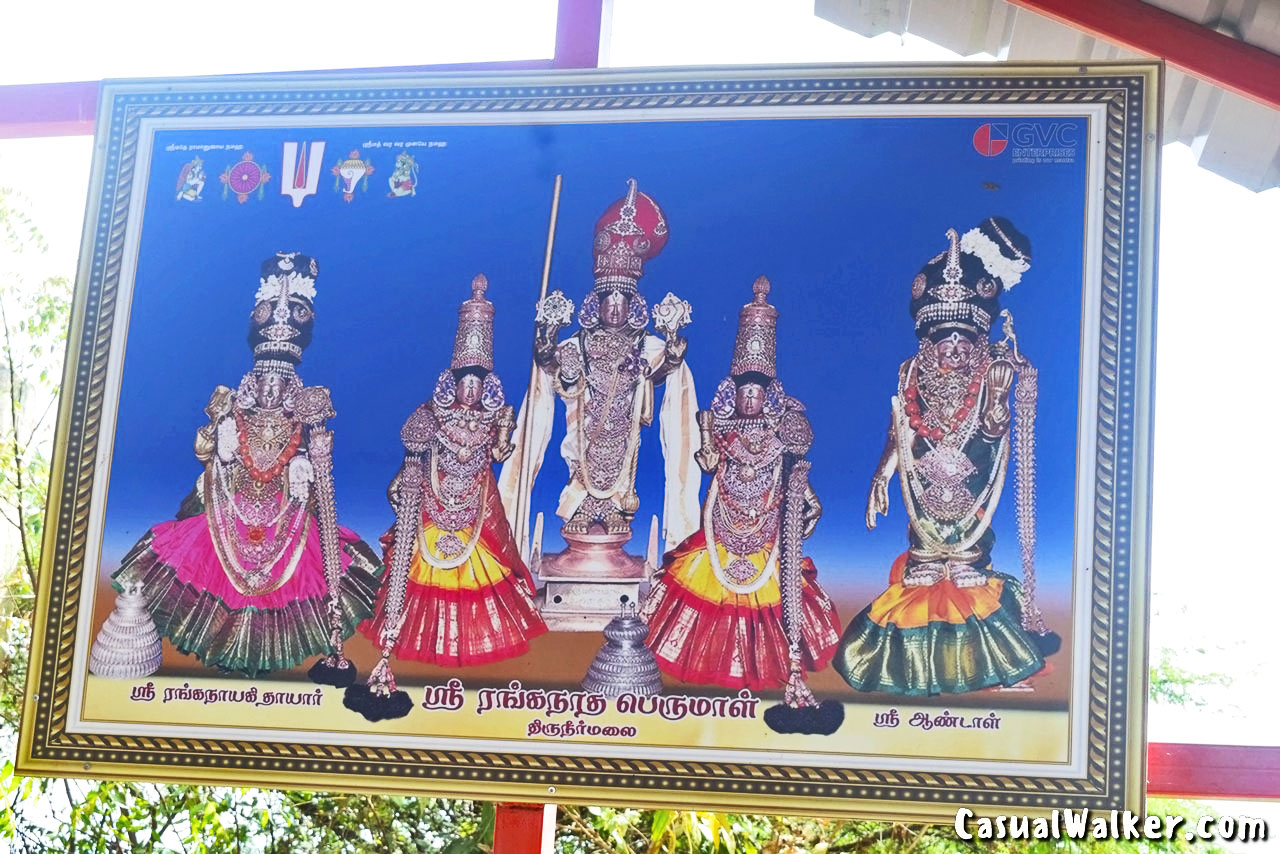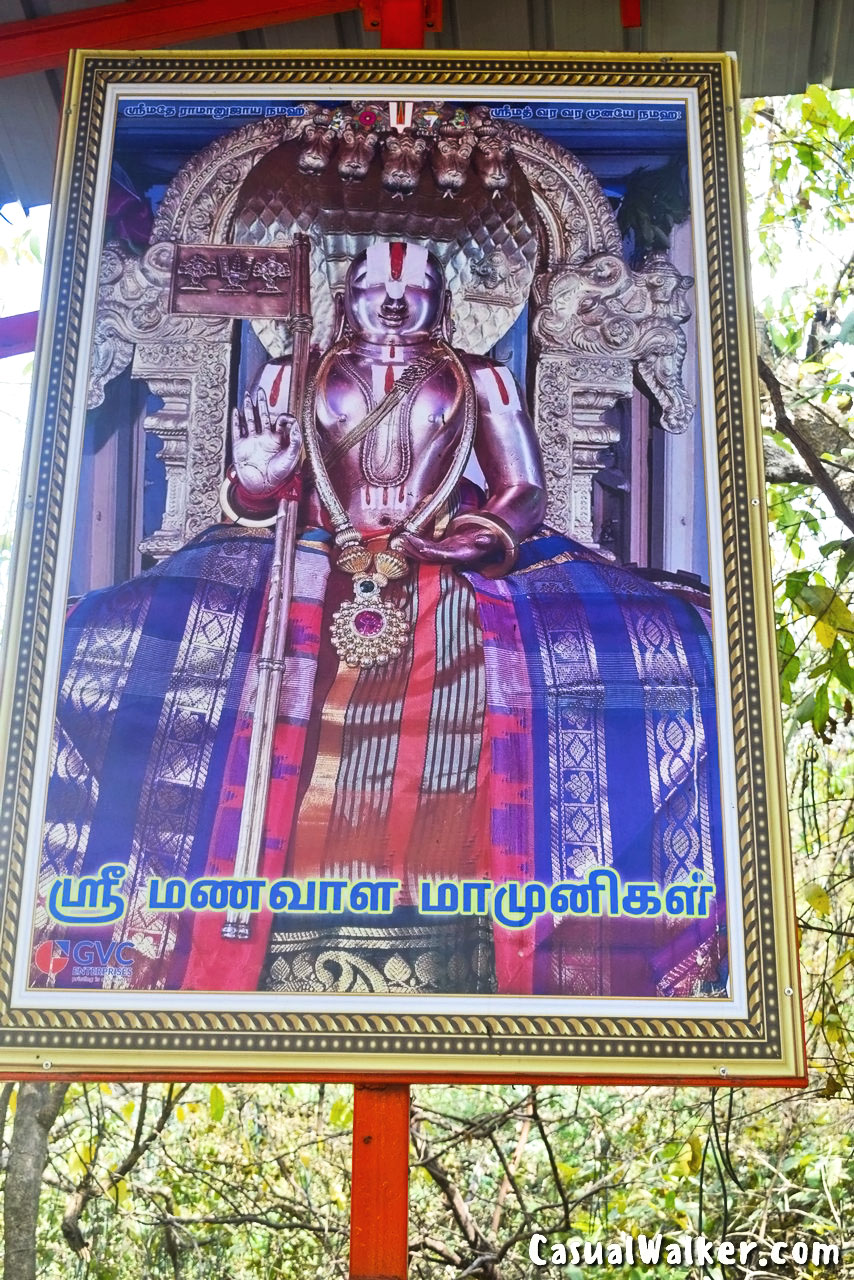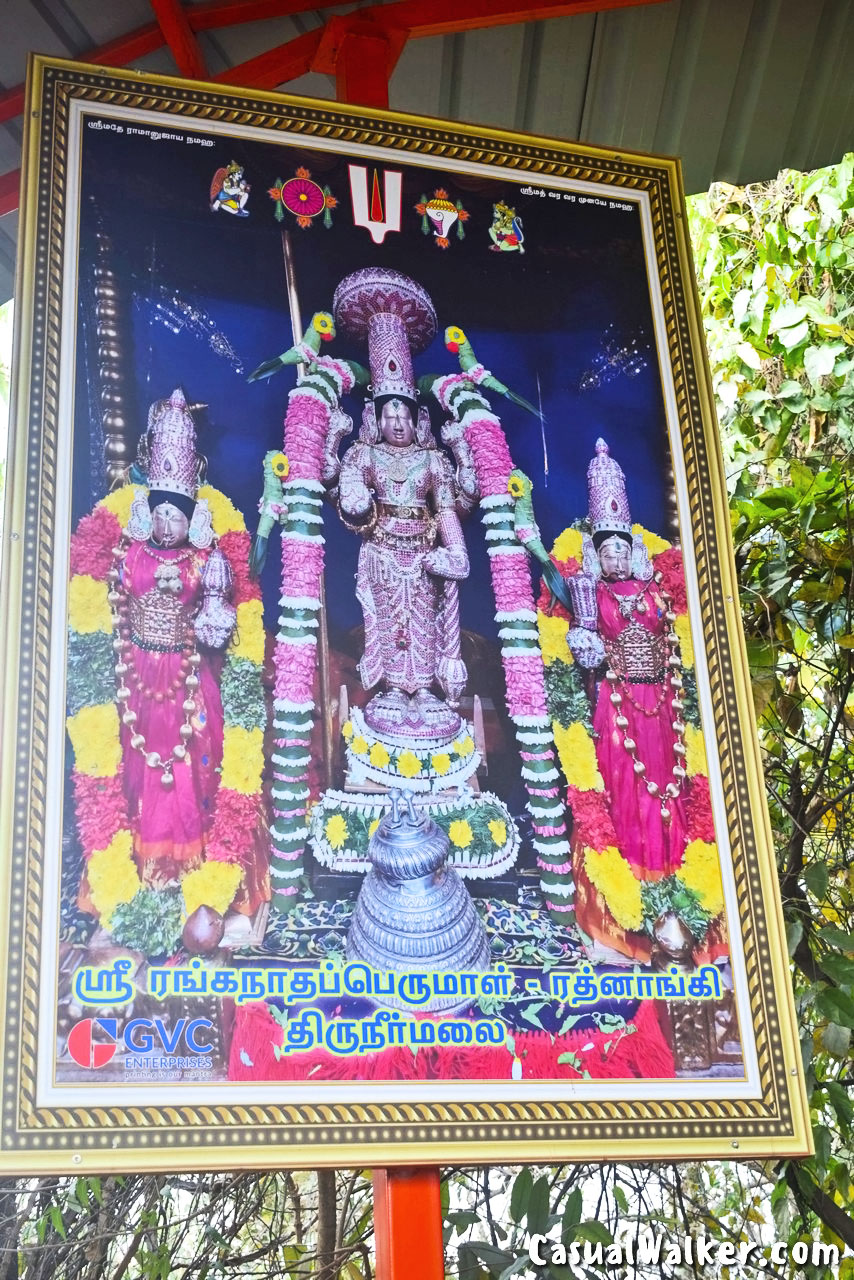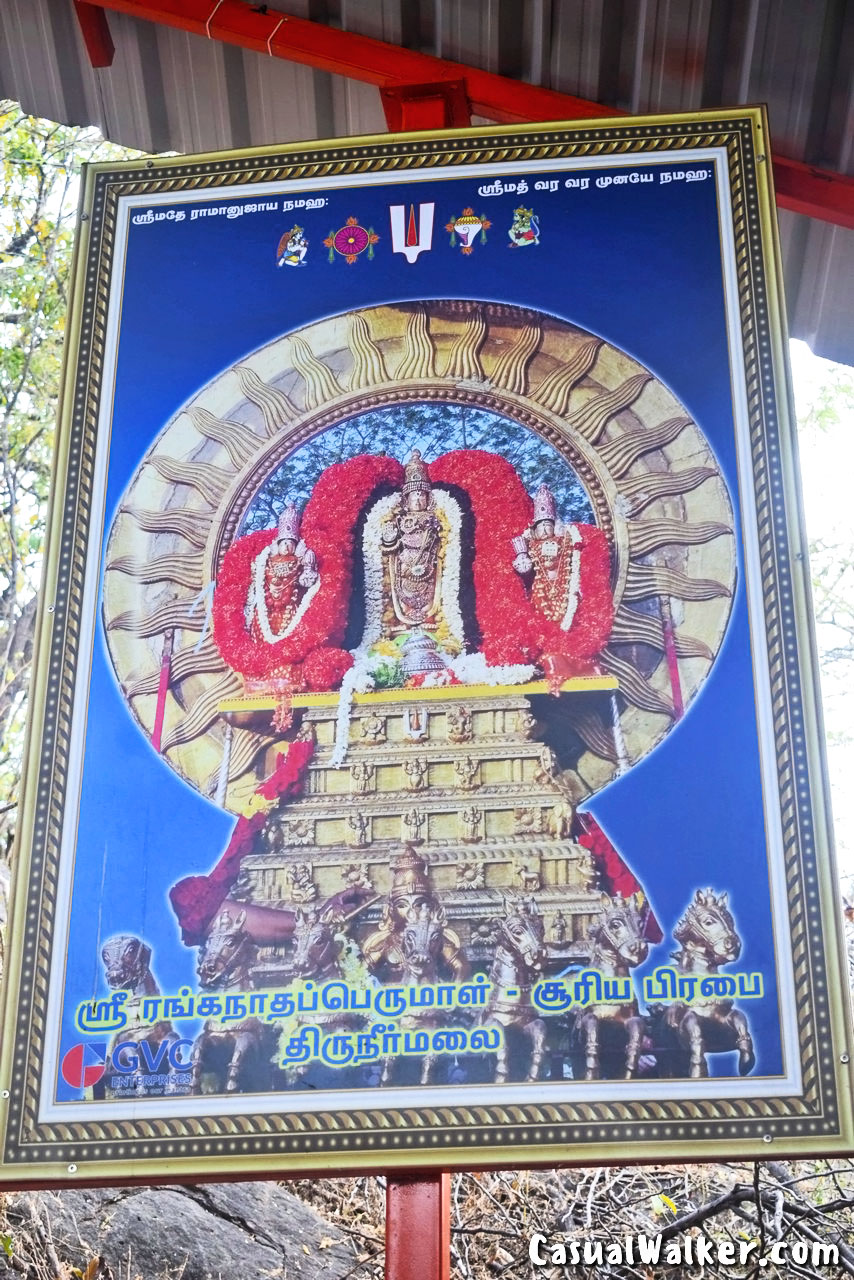 Temple Prasadam (temple food) of Thiruneermalai Neervanna Perumal Temple
The popular and tasty temple food of Thiruneermalai Neervanna Perumal Temple is Puli Sadam – Tamarind Rice.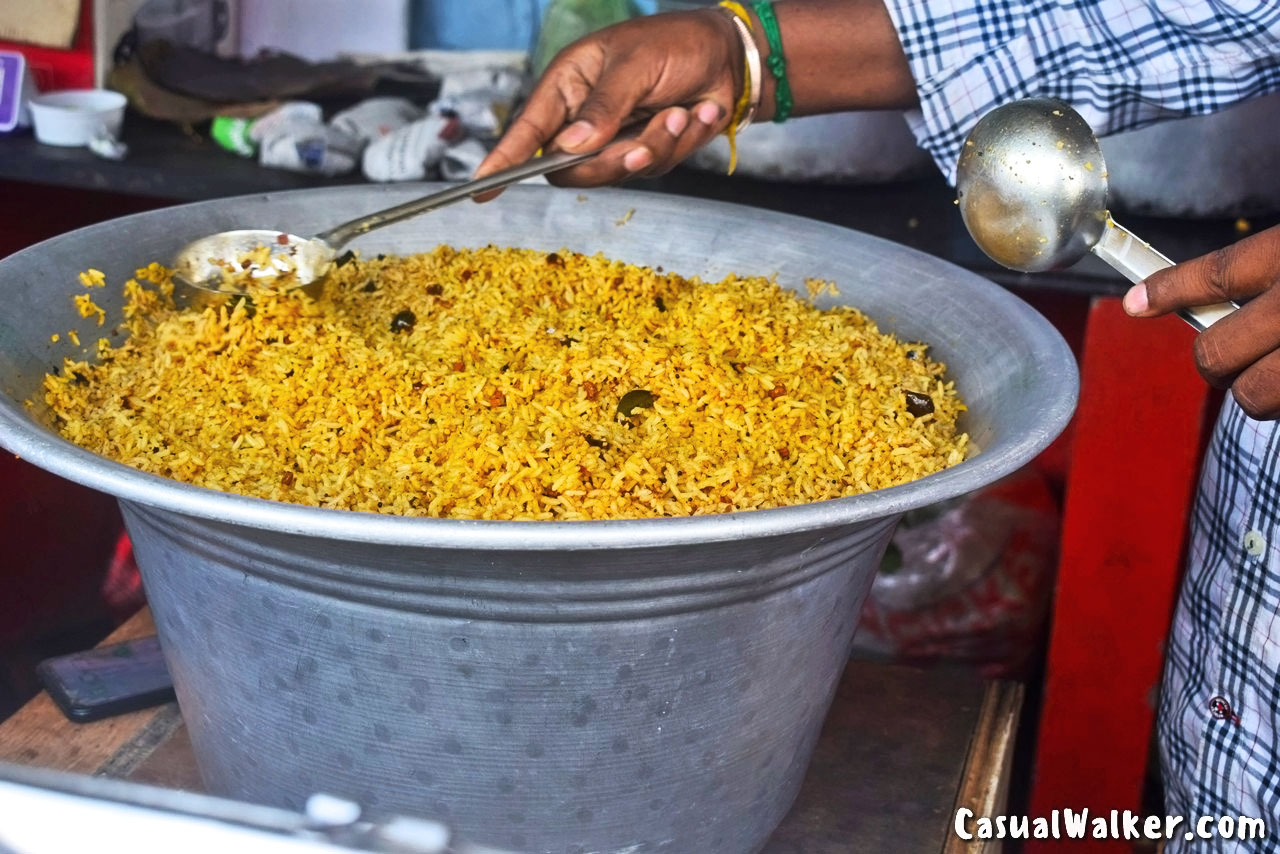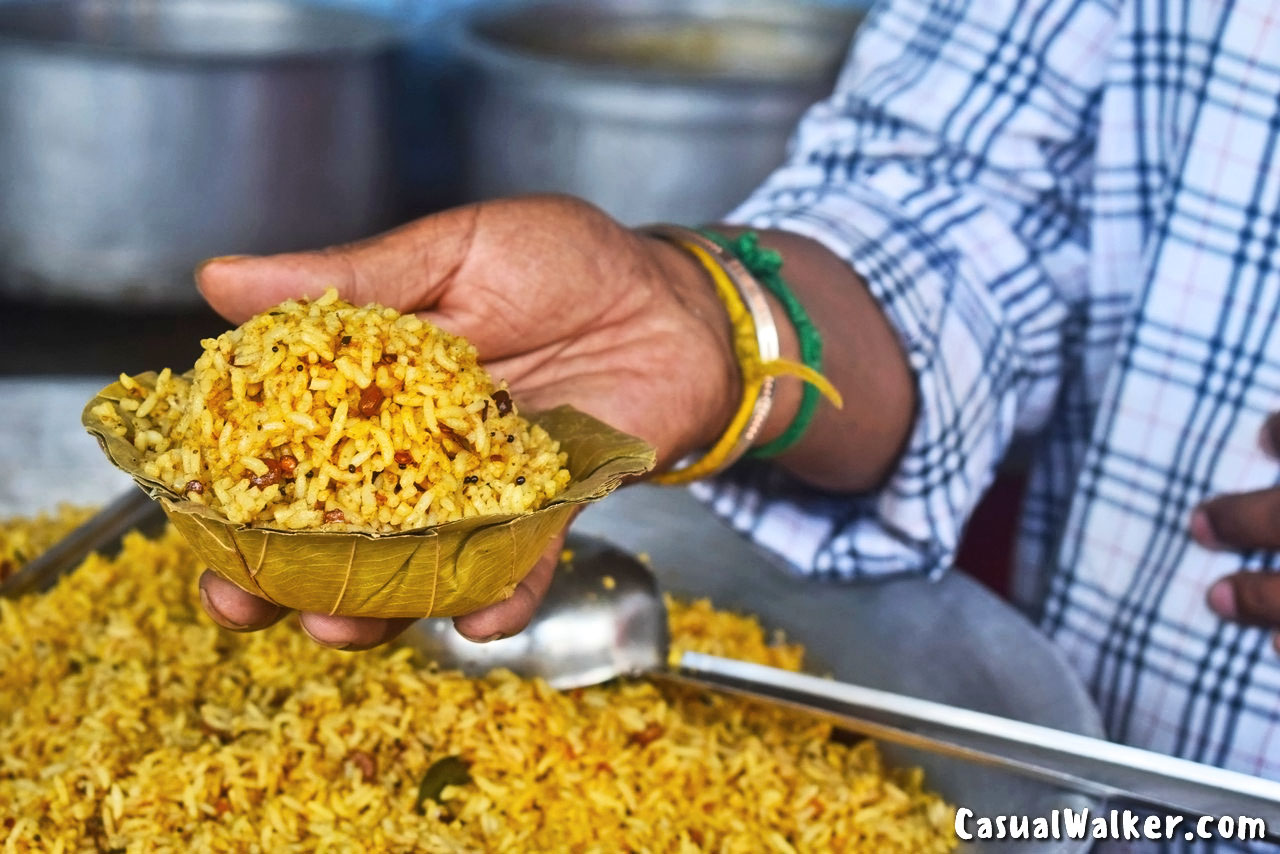 Teppakulam – Temple Tank at Thiruneermalai Neervanna Perumal Temple, Tiruneermalai
The temple has one of the largest Teppakulam covering three acres with a center Mandapam. Devotees take holy baths at these temple tanks for a sound body and mind.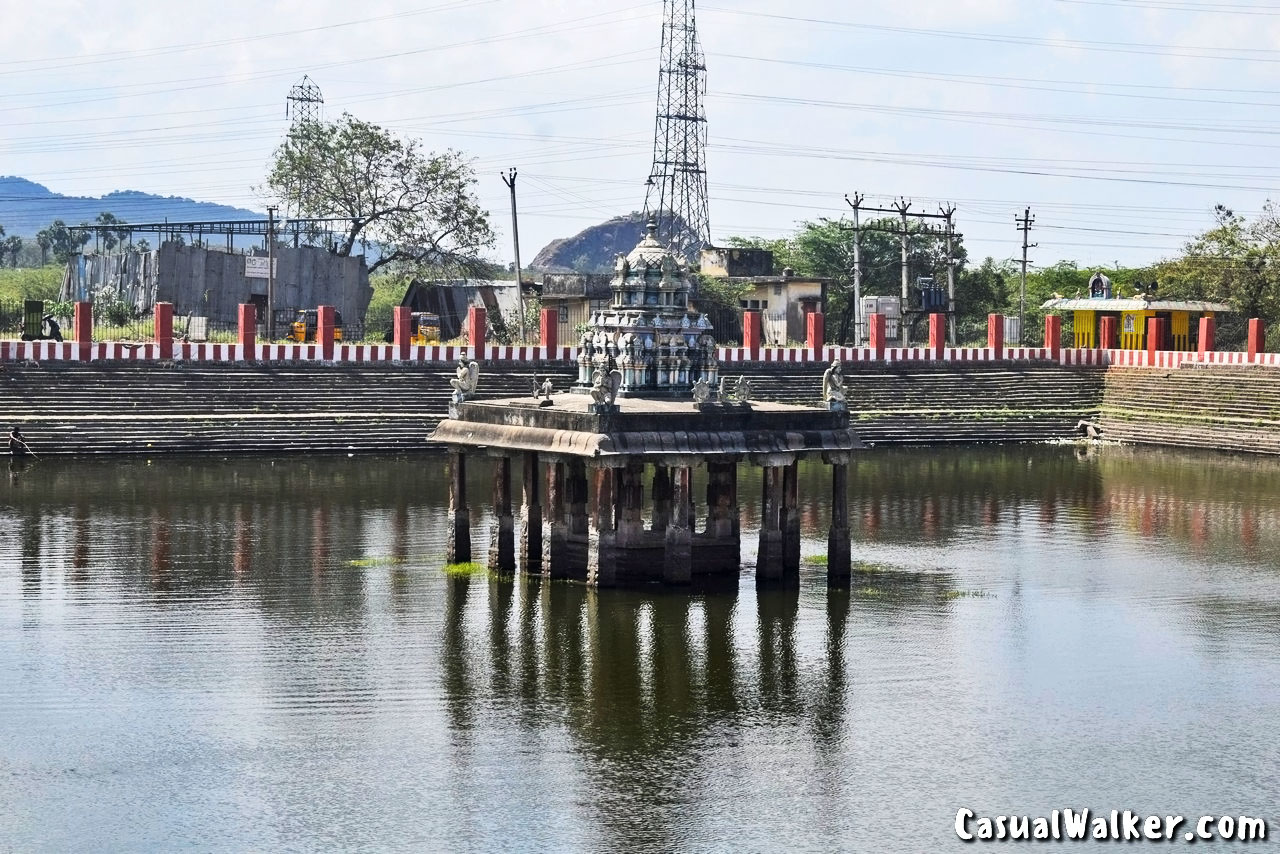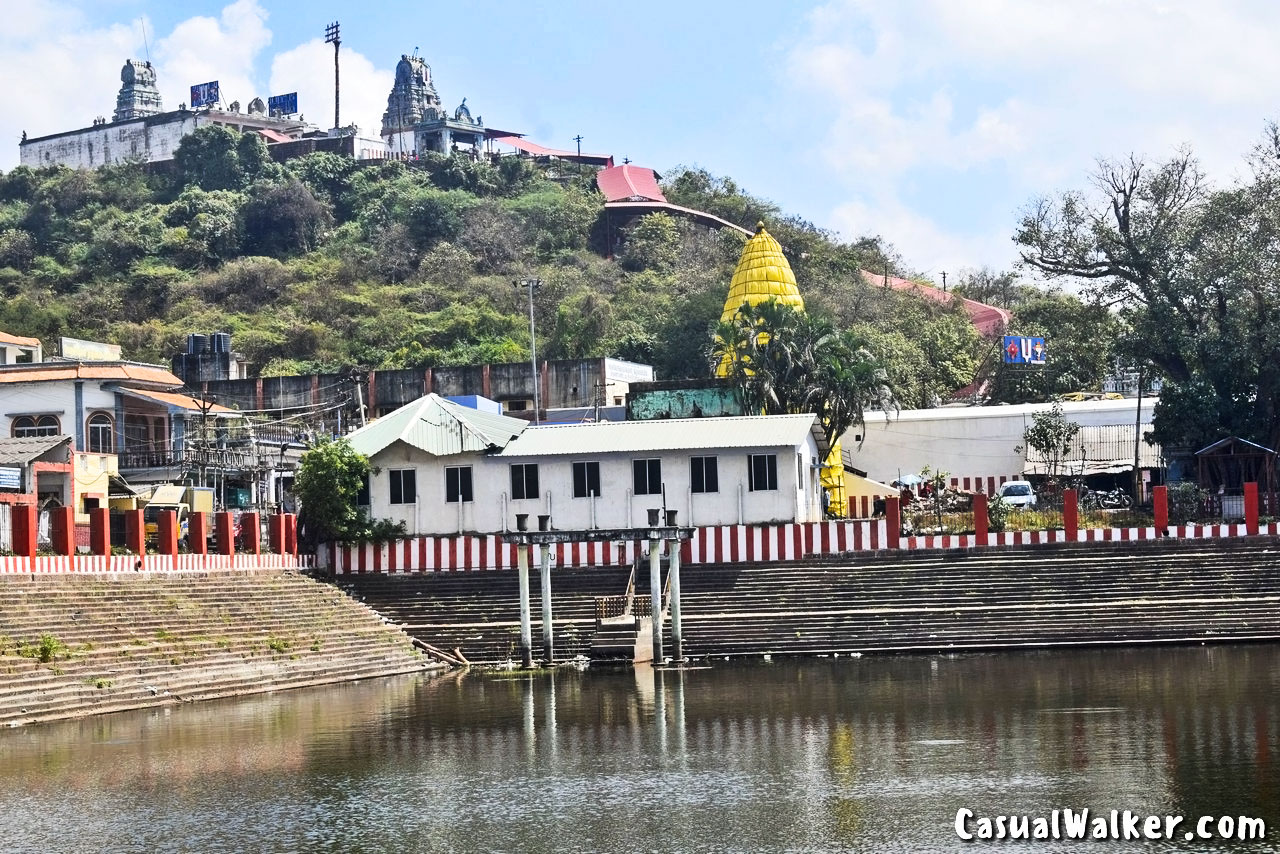 Travel Tips for Thiruneermalai Neervanna Perumal Temple, Tiruneermalai, Chennai
Thiruneermalai Neervanna Perumal Temple Address: Thiruneermalai Neervanna Perumal Temple 28, Mettu Street, Tiruneermalai, Chennai, Tamil Nadu 600044
Contact Number of Thiruneermalai Neervanna Perumal Temple: +91- 44-22385484, 9840595374, 9444020820
Temple Timings of Thiruneermalai Neervanna Perumal Temple: 6:00 AM to 12:00 PM and 5:00 PM to 8:00 PM
Moolavar: Neer Vannar, Ranganathar,Ulagalanda Perumal, Bala Narasimhar
Amman / Thayar: Anima Malar Mangai, Ranga Nayaki
Thala Virutcham (Temple Tree): Veppalai Tree
Age of this Temple: 1000 – 2000 years old
Historical Name: Neermalai, Thoyathri Giri
How to reach Thiruneermalai Neervanna Perumal Temple, Tiruneermalai, Chennai:
On Road: This place is 6 km from the Pallavaram station which itself can be easily accessed, Taxis, buses, and hired cars are easy ways to get around.
Nearest Railway Station: Chennai Central (Station Code MAS) and Chennai Egmore Railway station ( Station Code MS).
Nearest Airport: Chennai International Airport (Code MAA).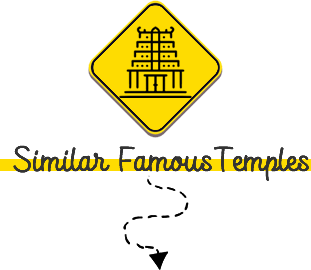 Similar Famous Lord Vishnu Temples you may like to Visit:
Srirangam Ranganathar Temple / Sri Ranganatha Swamy Temple, Srirangam in Trichy – Most Famous 108 Divyadesams Temples of Lord Vishnu – Visit, Travel Guide, Timings, History, Garuda Sevai Festival Video
Lord Parthasarathy Temple, Triplicane / Thiruvallikeni, Chennai – Best & Famous Vishnu Temple In India – Visit, Travel Guide
Sri Sarangapani Temple in Kumbakonam, Tanjore : Lord Vishnu with a Bow – one of the famous 108 Divya Desams, Lord Vishnu Temples – Visit, Temple Timings, History, Travel Guide
Lord Athi Varadar / Varadaraja Perumal Temple, Kanchipuram – Best & Famous Vishnu Temple In India – Visit, Travel Guide (Updated)
Thirunelli Temple – Lord Maha Vishnu Temple in Wayanad, Kalpetta, Kerala Hill Station Visit, Travel Guide
Sri Peyazhwar Avatara Sthalam / Temple, near Sri Adikesava Perumal Temple, Mylapore, Chennai – The Birthplace of Peyazhwar, prominent vaishnava alvar temple – Visit, History, Travel Guide
Nellithope Perumal Temple in Kumbakonam, Thanjavur : Lord Vishnu Temple Where the Predecessor of Sri Ramanuja, Sri Ranganathamuni who compiled Naalayira Divya Prabandham Attained Moksha – Visit, History, Travel Guide
Kallazhagar / Kallalagar Temple – Alagar Koyil, Madurai – Best & Famous Vishnu Temple In India – Visit, Timings, History, Travel Guide (Updated)
Sree Poornathrayeesa Temple – Famous Lord Vishnu temple in Tripunithura, Kochi / Cochin in Kerala – Visit, Travel Guide