Saints of Mylapore – Shaivite Saints Thirugnana Sambandar & Vayilar Nayanar temples at Mylai Kapaleeswarar Temple in Mylapore, Chennai – Visit, History, Travel Guide
– shrines for the prominent 63 nayanars in mylapore

Mylai Kapaleeswarar Temple in Mylapore has separate shrines for the great Shaivite Saints – Thirugnana Sambanthar / Poompavai and Vayilar Nayanar. Thirugnana Sambandar and Vayilar Nayanar are one of the most notable 63 Saivaite saints – called the Nayanars / Nayanmars.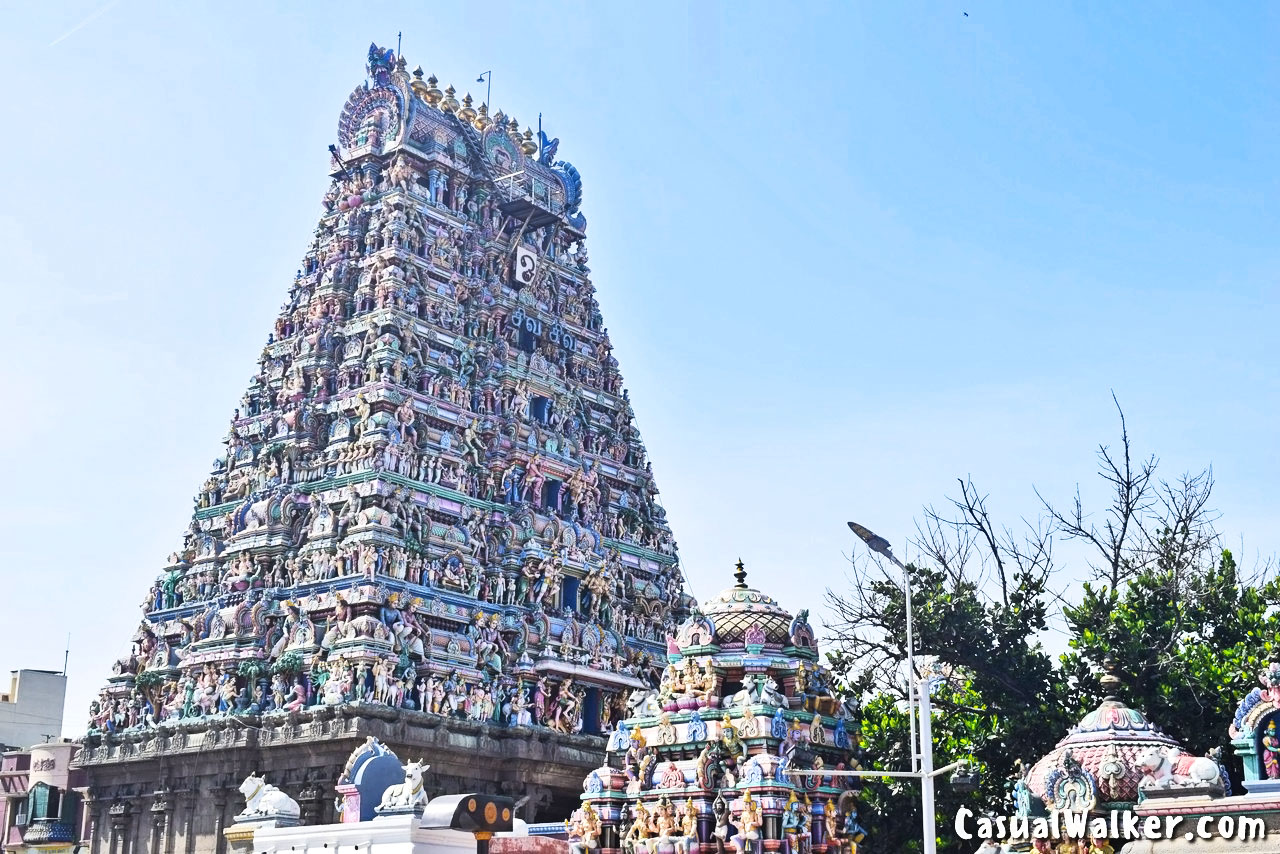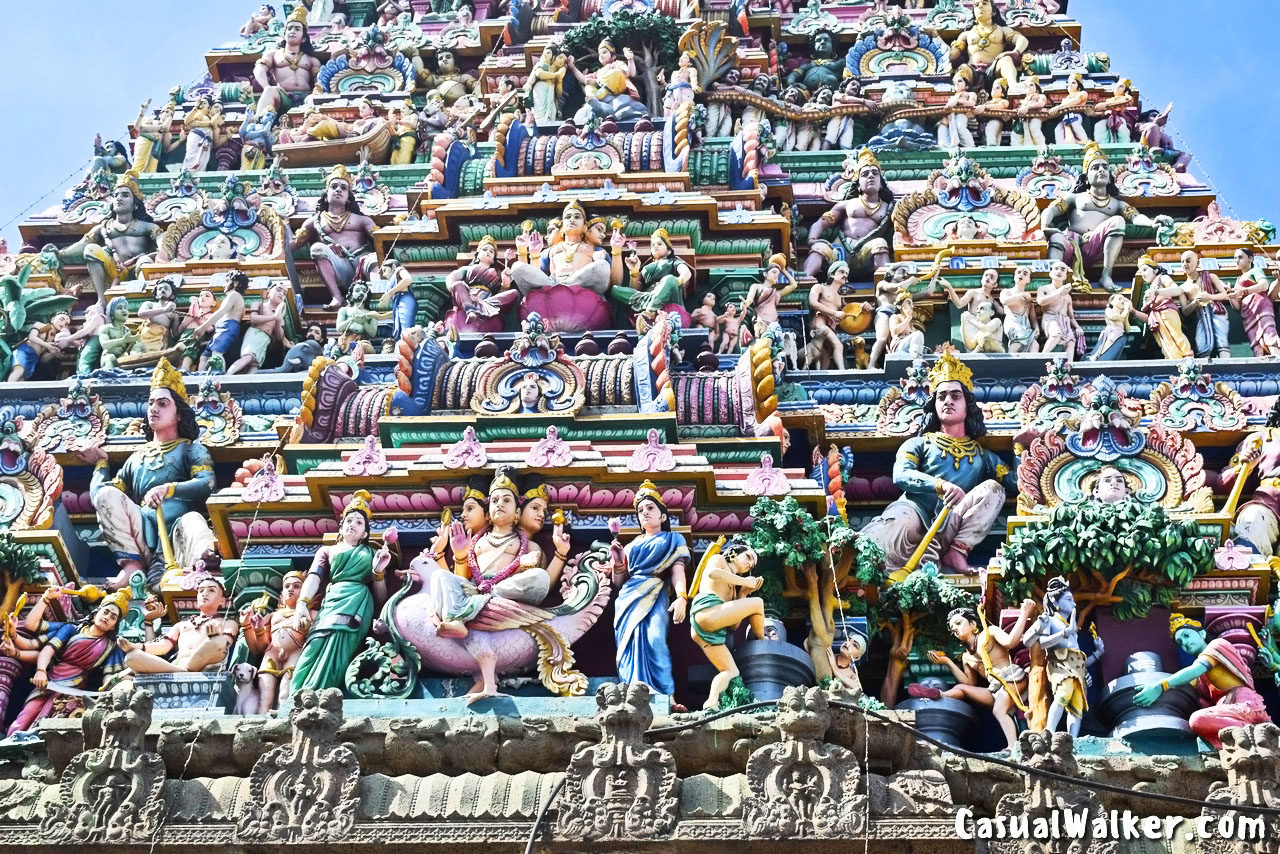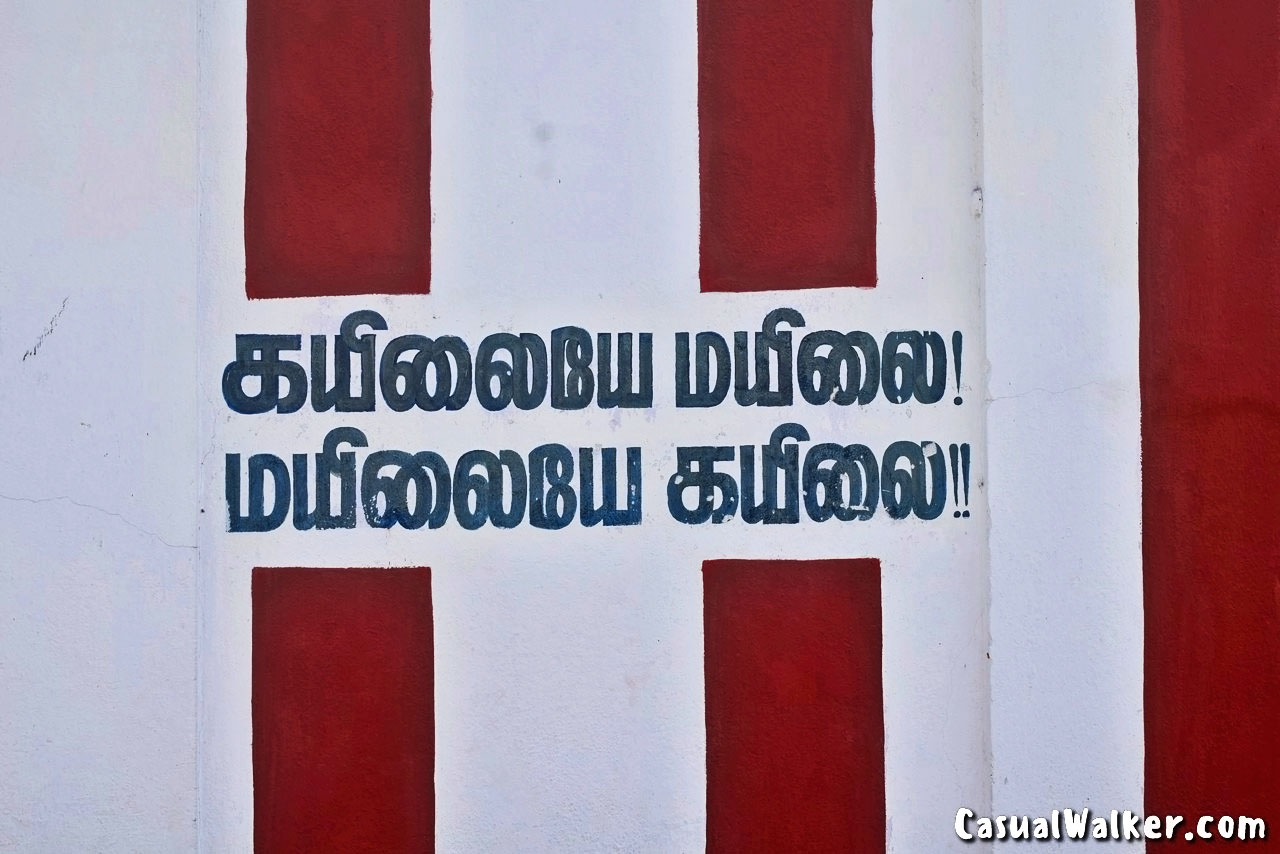 Thirugnana Sambandar (திருஞானசம்பந்தர்) Shrine in Mylai Kapaleeswarar Temple, Mylapore
Thirugnana Sambandar is one of the 63 Nayanmars – the Saivaite saints and among the author of Tevaram (தேவாரம், Tēvāram) songs. Thirugnana Sambandar brought Poombavai the daughter of Sivanesan Chettiar wealthy businessman in Mylaporeback to life in 7th century.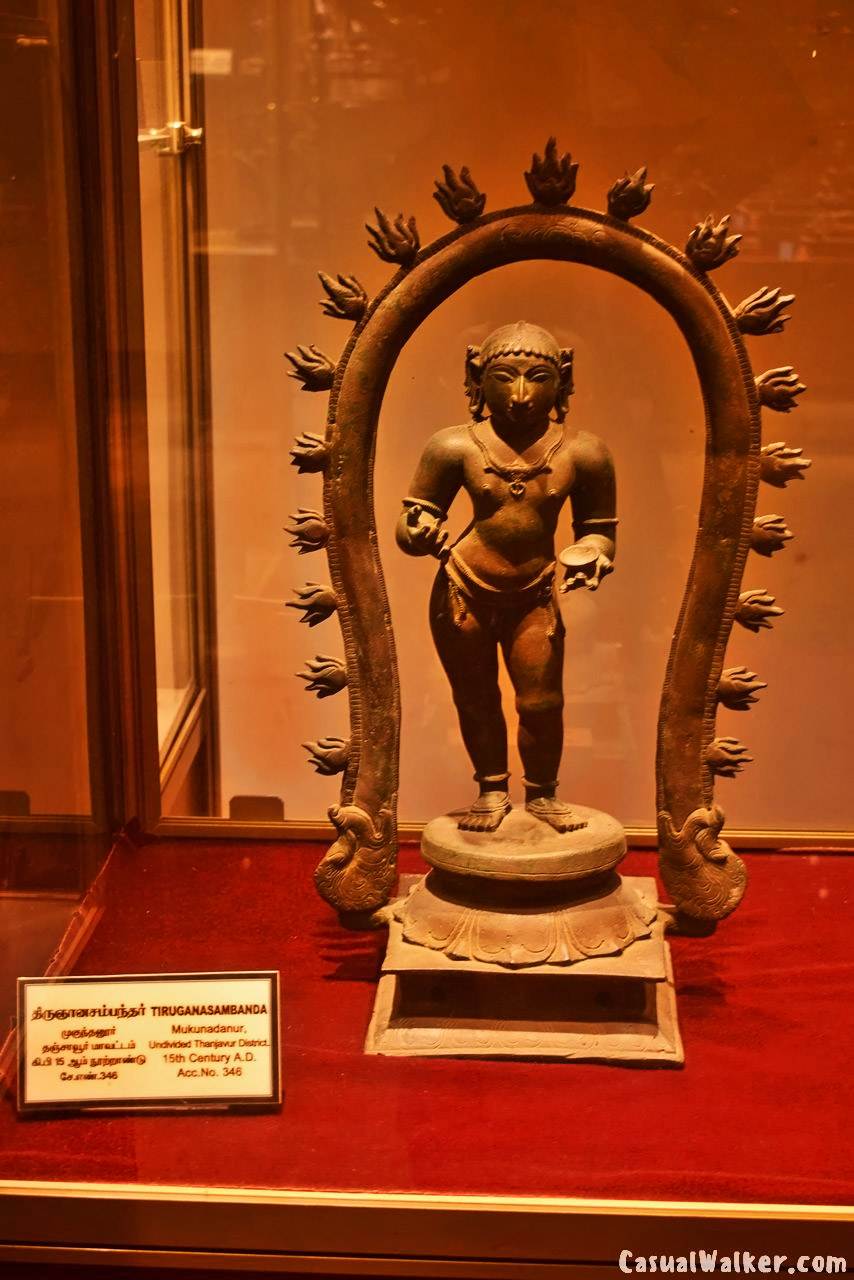 History of Poombavai and Thirugnana Sambandar at Mylai Kapaleeswarar Temple, Mylapore
Sivanesar Chettiar a devotee of Lord Shiva who has heard about the glorious Thirugnana Sambandar, wanted to marry his daughter Poombavai to Thirugnana Sambandar. But Poombavai was bitten by a snake and died when plucking flowers. Sivanesar kept her bones and ashes in a pot and waited for the arrival of Thirugnanasambandar. On hearing that Thirugnanasambandar had come to Mylapore, Sivanesar took the pot to Thirugnanasambandar and told him about the incident. On hearing about Poompavai, Sambandar asked the ashes to be brought to the gopuram of Mylai Kapaleeswarar Temple.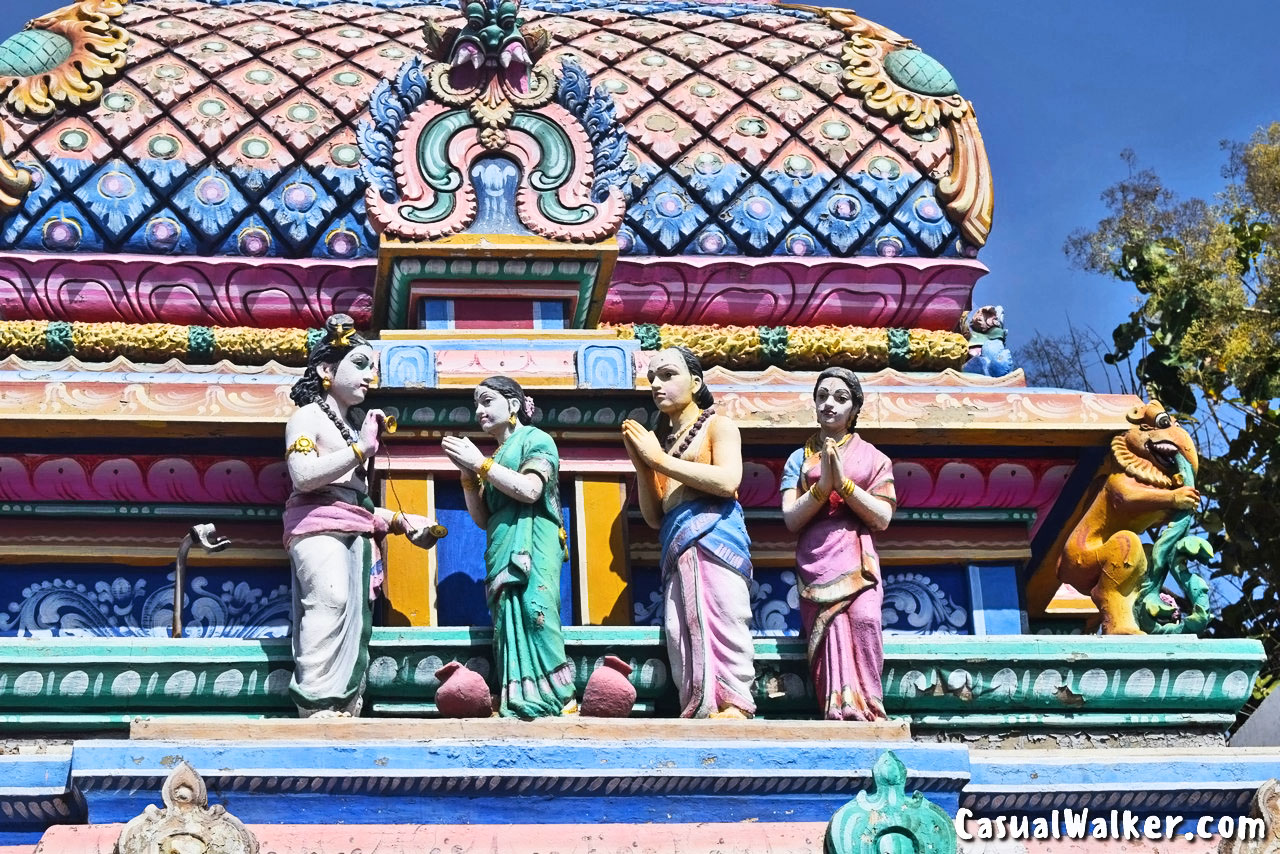 Thirugnanasambandar sang verses, and each verse mention the various festival of the temple asking Poombavai how she could go away without witnessing them. Thirugnanasambandar worships Lord Shiva and composed the pathigam – song. At the end of the 10th following verse, Poombavai appeared alive from the ashes.
மட்டிட்ட புன்னையங்கானல் மடமயிலைக்
கட்டிட்டங்கொண்டான் கபாலீச்சரமமர்ந்தான்
ஒட்டிட்டபண்பினுருத்திர பல்கணத்தார்க்கு
அட்டிட்டல் காணாதே போதியோ பூம்பாவாய்
which means:
"O' Poompavai why did you leave without seeing the Uthiram festival of Mylai?."
the poem and bought back Poompavai alive. The overjoyed Chettiar asked Sambandar to accept her as his wife. But he refused saying that he was also like his father as he had given birth to her again.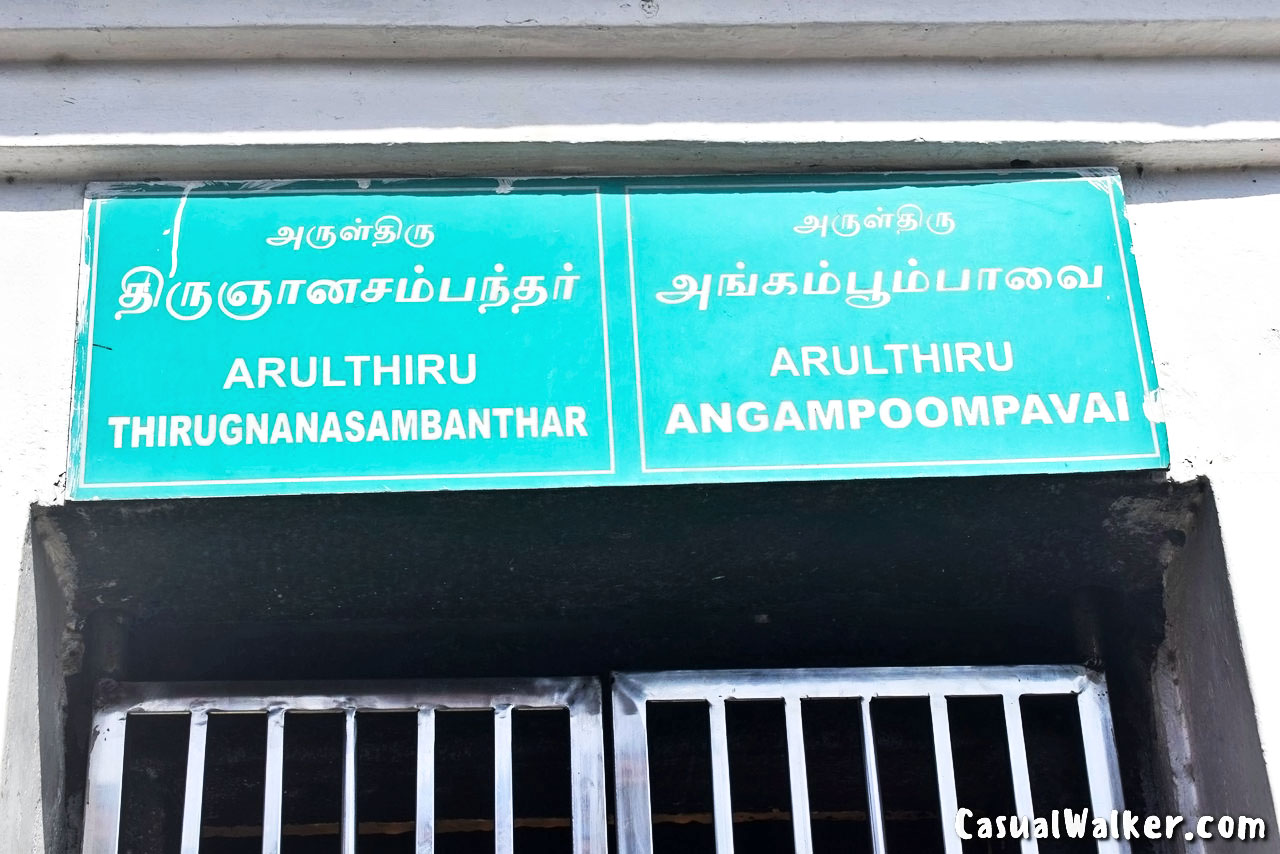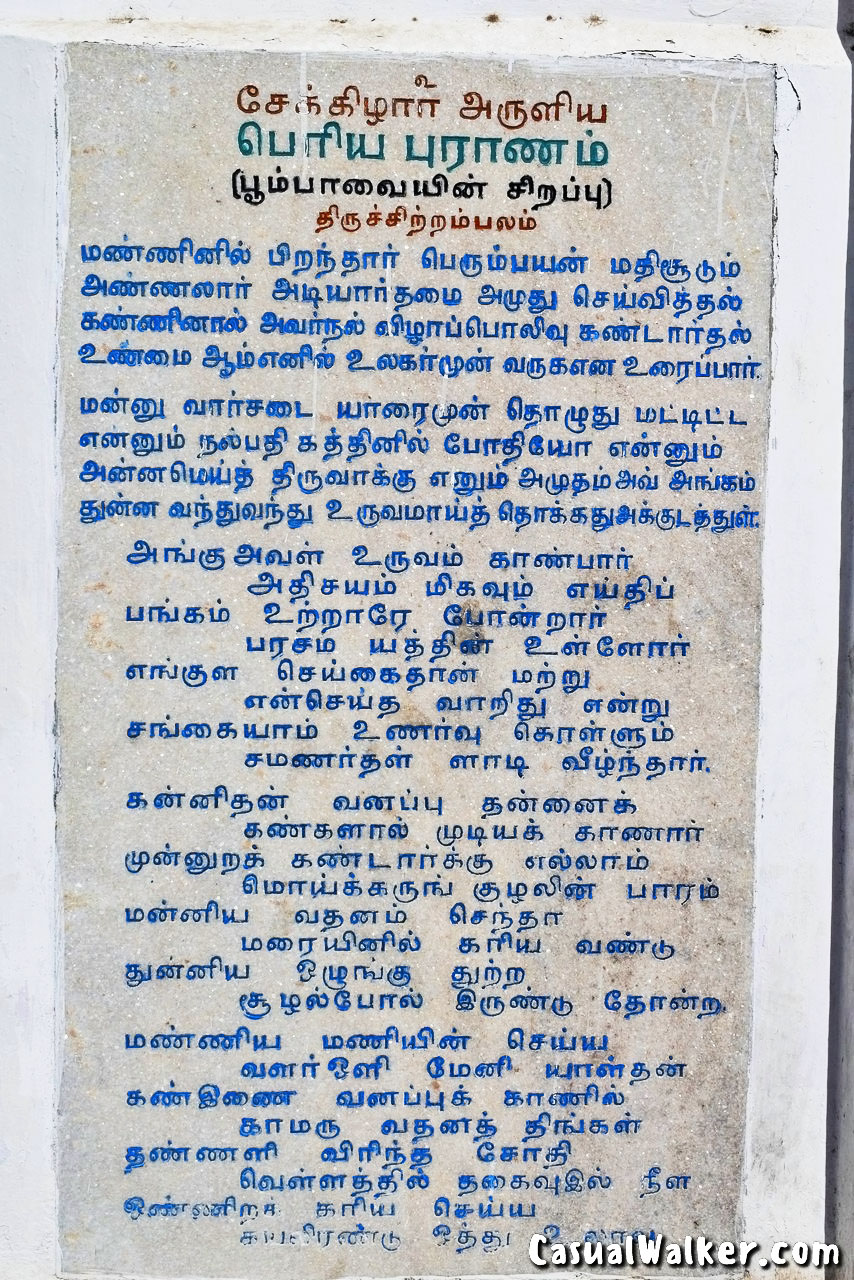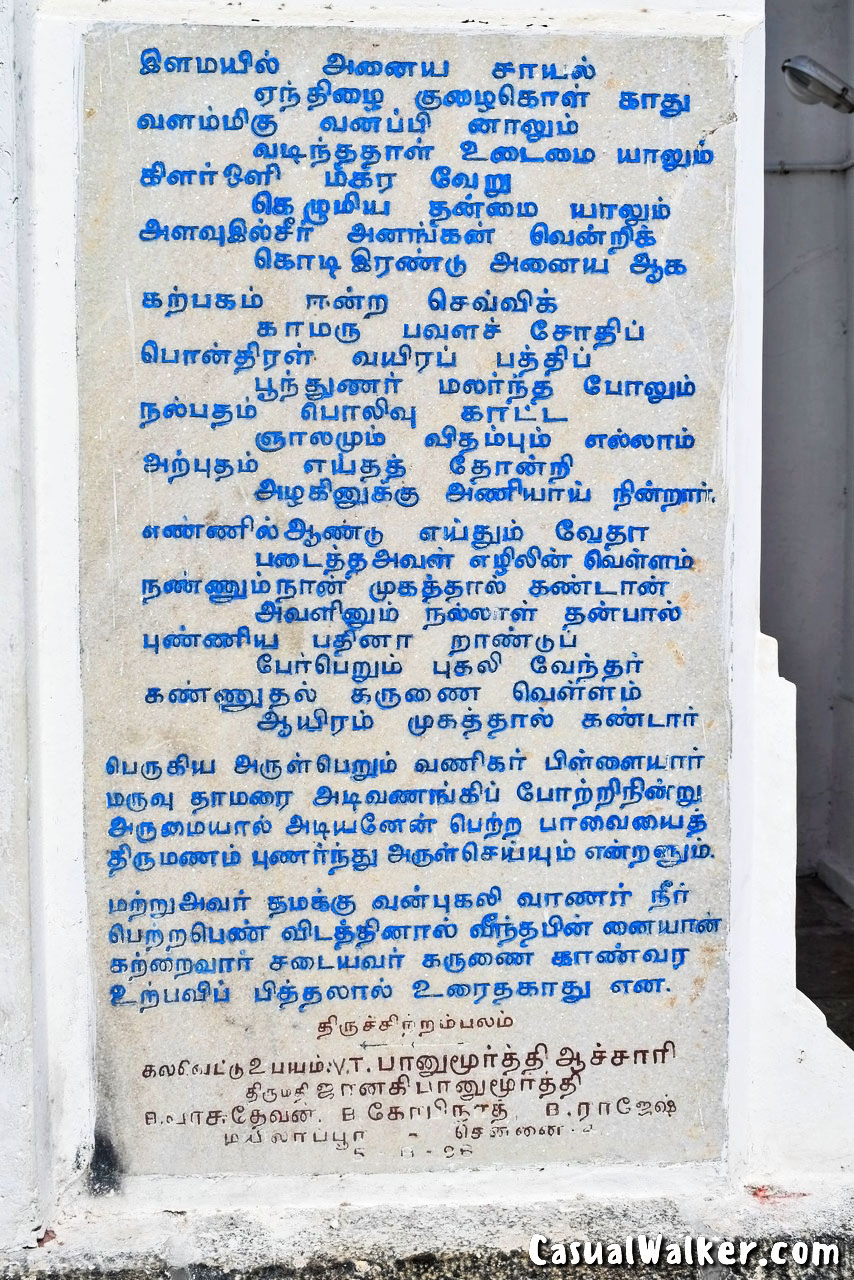 Arubathu Moovar Festival at Mylai Kapaleeswarar Temple, Mylapore
The Arubathu Moovar festival is an annual festival of carrying 63 Nayanmar – Shivandiyars – Shaivite saints in a procession as part of Panguni Uthiram Peruvizha – Festival in Sri Mylai Kapaleeshwarar Temple / Mylapore Kapaleeswarar Temple.
Panguni Peruvizha chariot festival is dedicated to Lord Shiva, which happens during the Tamil month of Panguni (between March – April), which is part of the nine-day festival celebrated to honor the Saivaite devotees, namely the sixty-three Nayanmars. The Nayanmar are the leading figures and poets of the South Indian Saiva Siddhanta system.
The procession starts with goddess Kolavizhi Amman followed by Sri Vinayakar and the main naalvar (four) – Appar, Sundarar, Thirugnana Sambandar, and Manikkavaasagar followed by in the procession. This procession is celebrated by taking the bronze idols of Nayanmars in a palanquin (பல்லக்கு) that is decorated with ornaments and flowers. The main Nayanmars are carried in a separate palanquin.
Vayilar Nayanar (வாயிலார் நாயனார்) Shrine in Mylai Kapaleeswarar Temple, Mylapore
Vayilar Nayanar (வாயிலார் நாயனார்) is one of the 63 Saivaite saints, called Nayanmars, and six Nayanmar from Tondaimandalam. He was a Vellalar, an agriculturist by birth and live all his life in Mylapore. Vayilar is the word interpreted in many ways as the voiceless one, as a gatekeeper, or as a person belonging to Vayilur.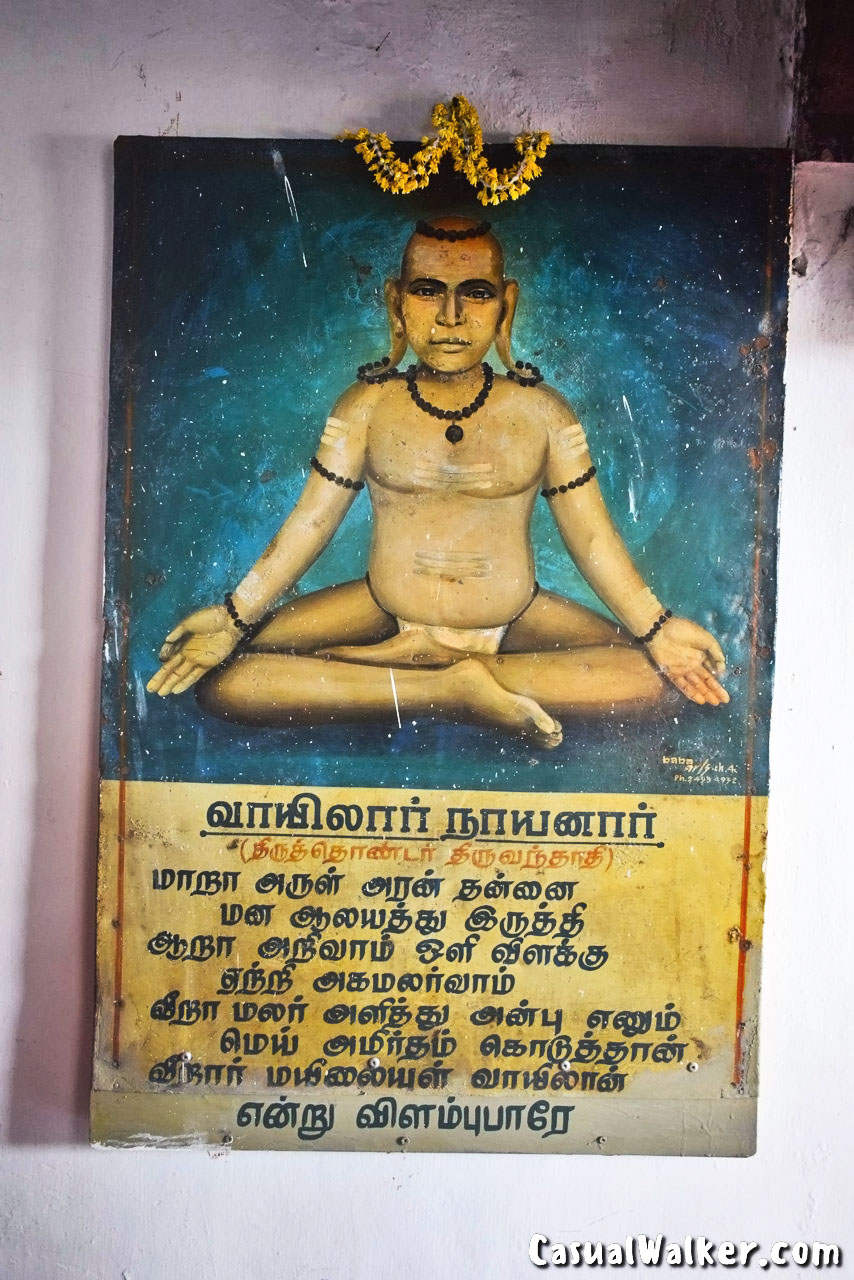 A separate shrine for The Vayilar Nayanar is found at the Mylai Kapaleeswarar Temple in Mylapore and every year his Guru Pooja is celebrated during the Revathi star in the Tamil month Margazhi.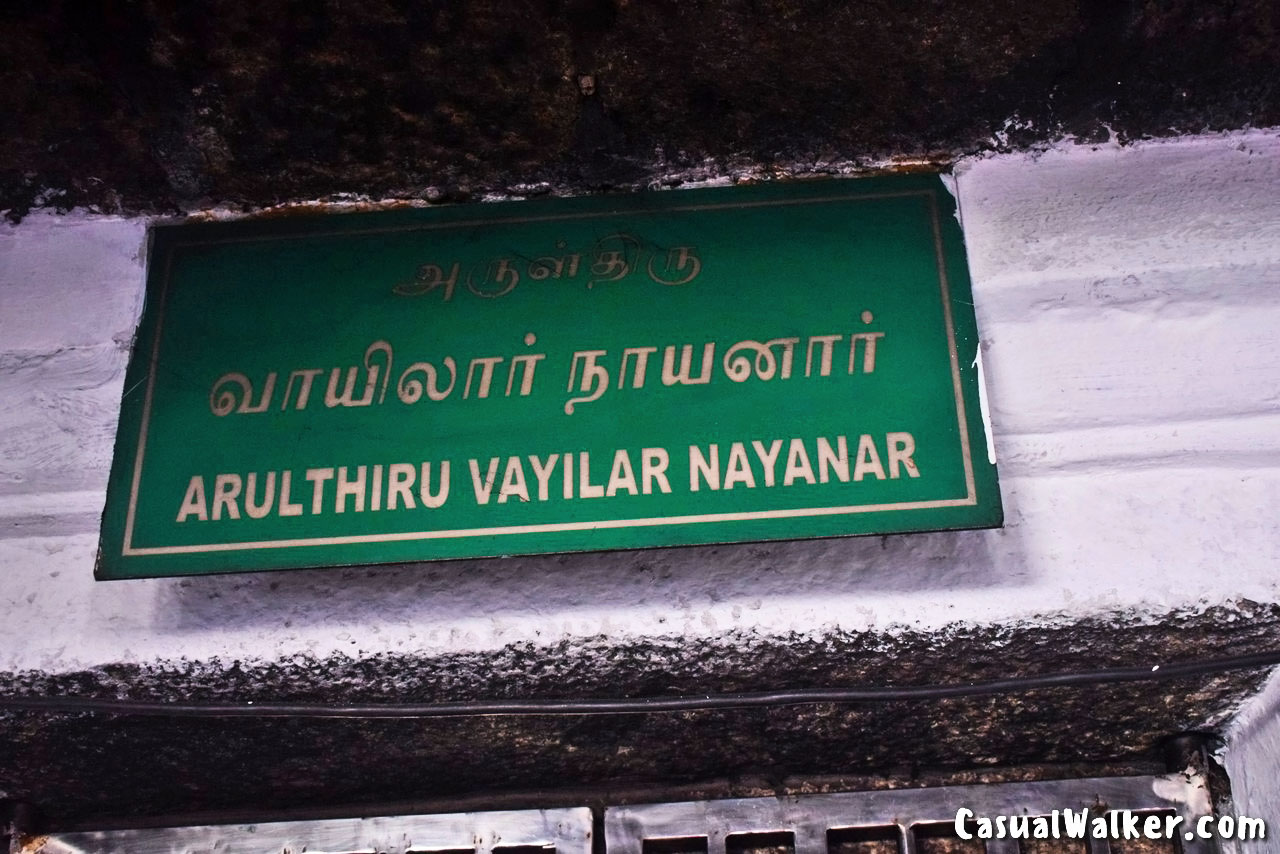 According to the Periya Puranam (பெரியபுராணம்) Vayilar we are said to have worshiped lord Shiva by building a grand temple and doing pujas all in his subconscious mind.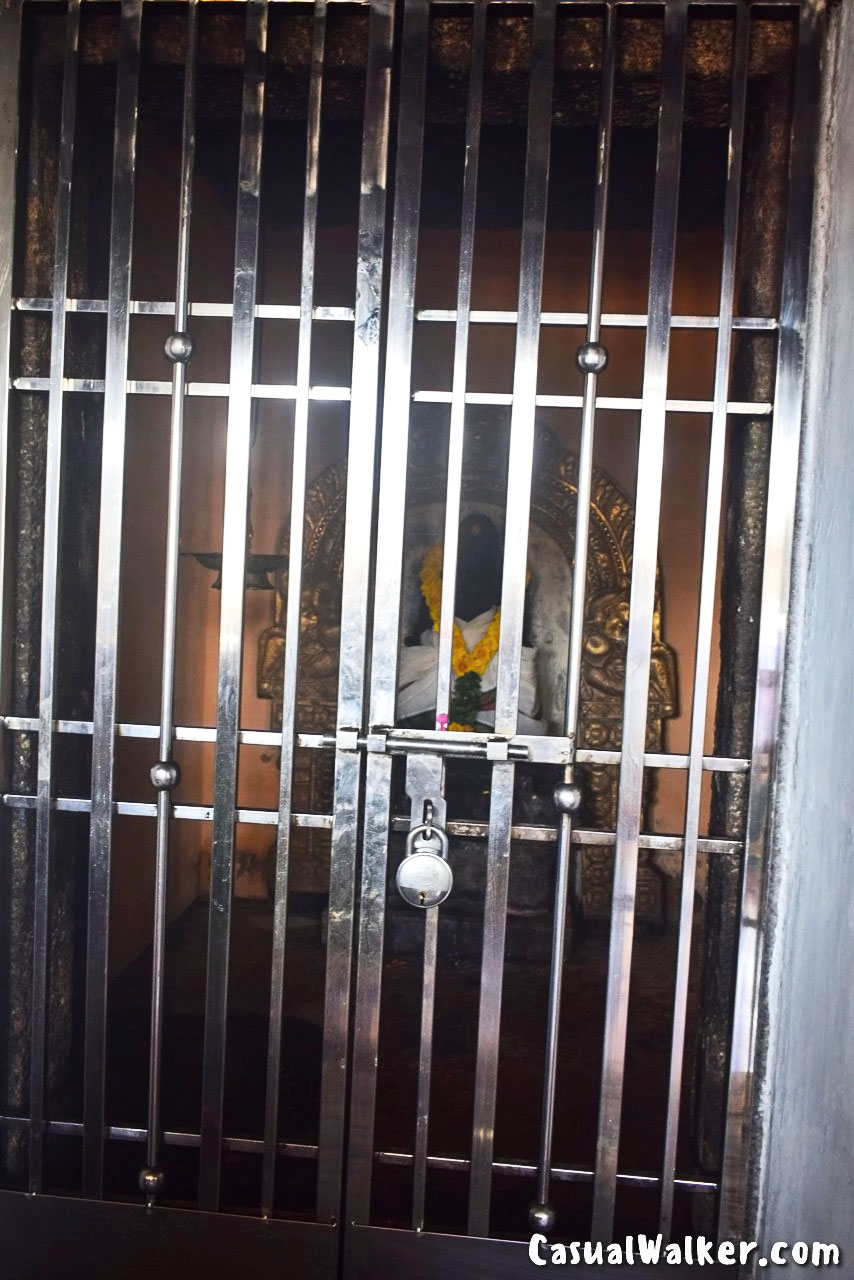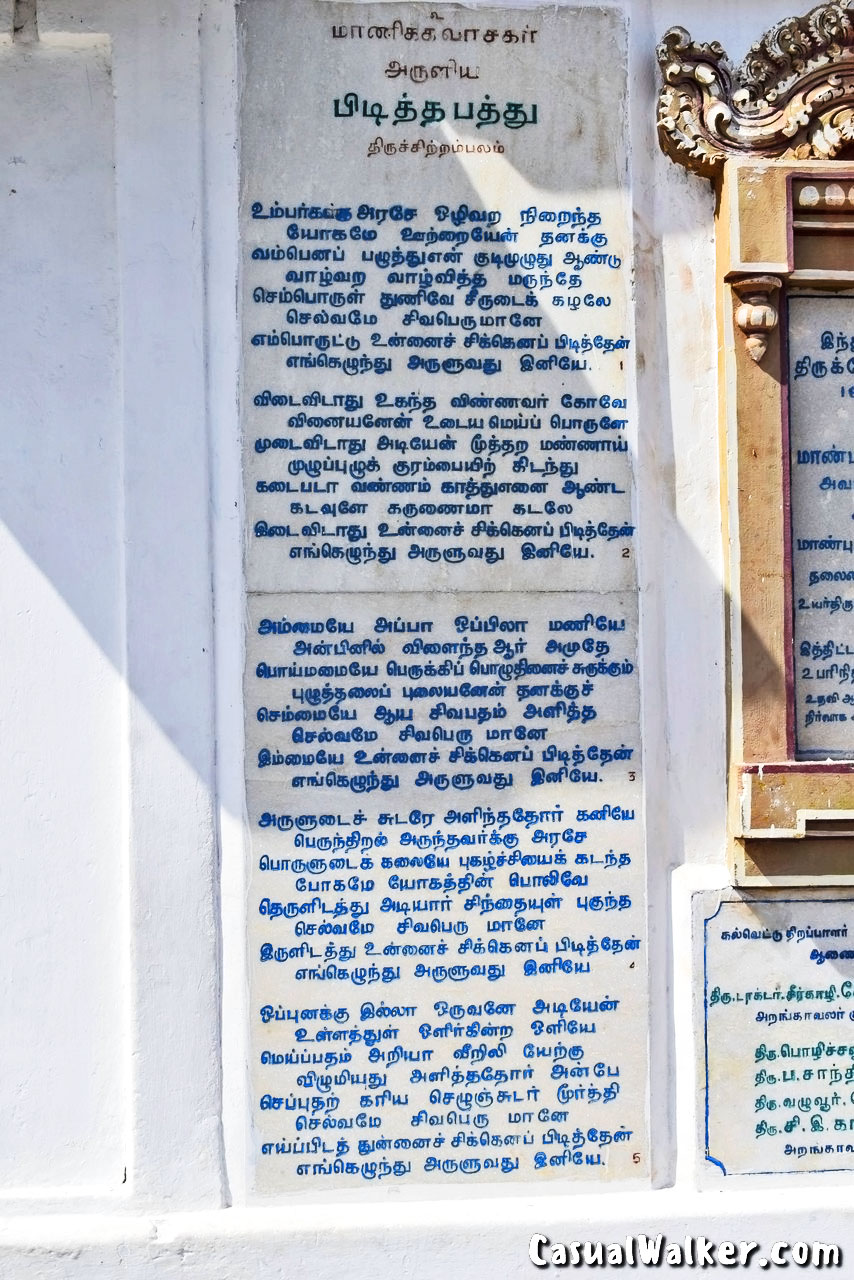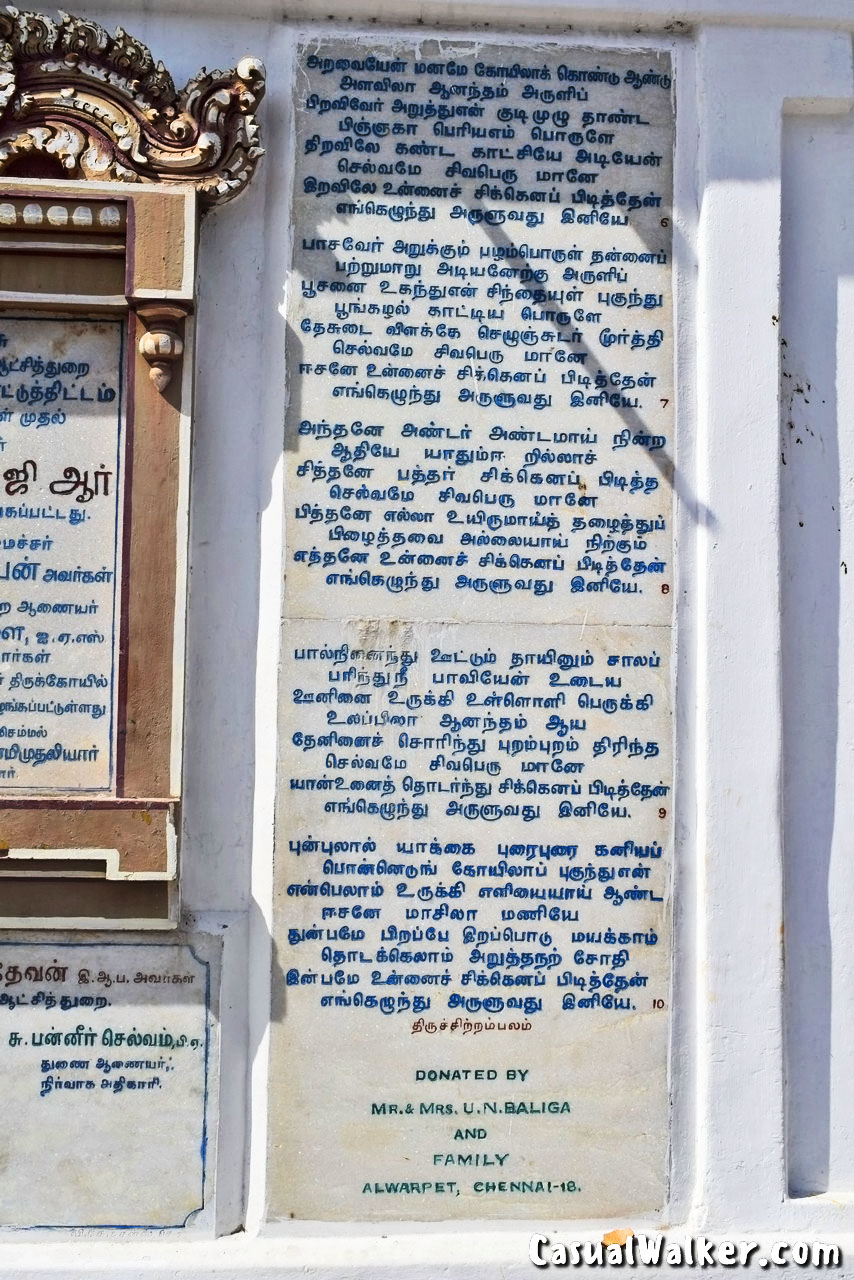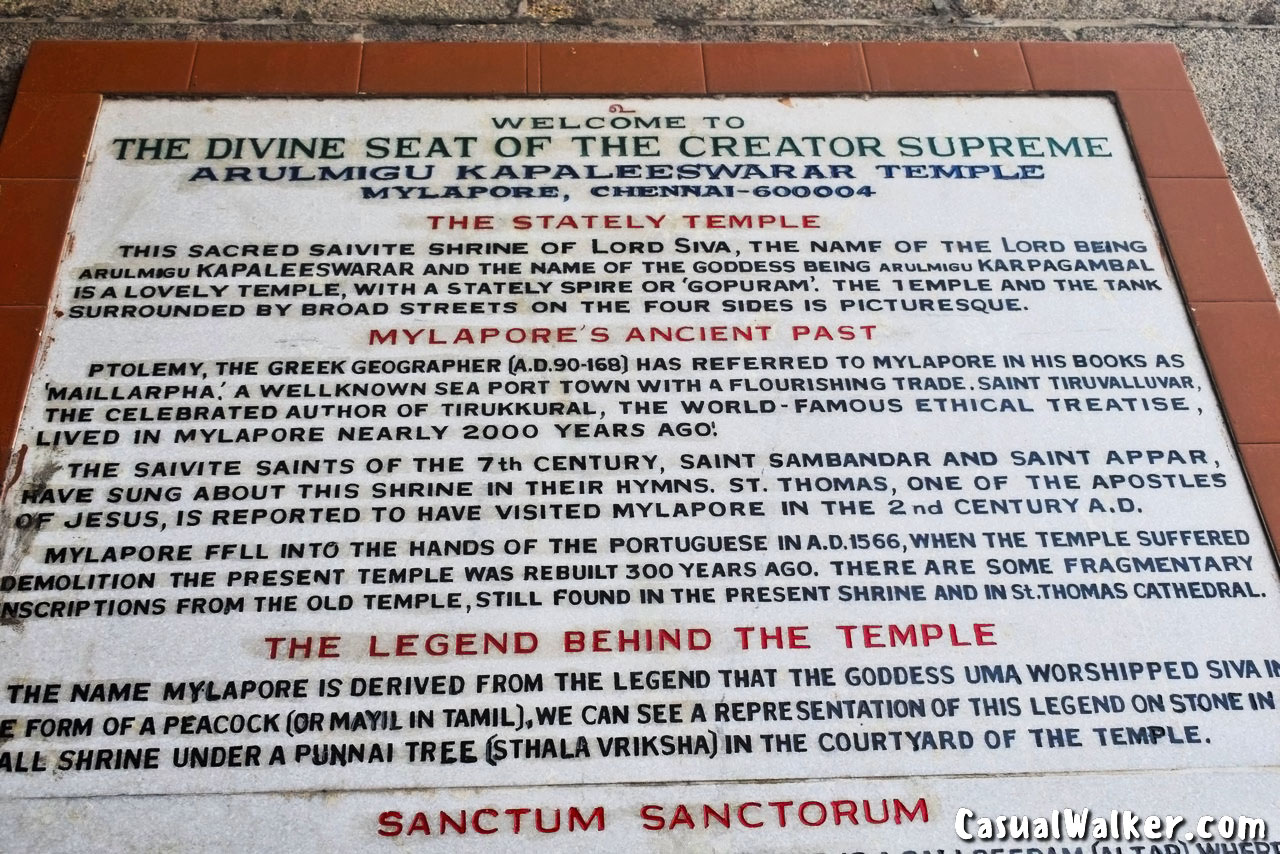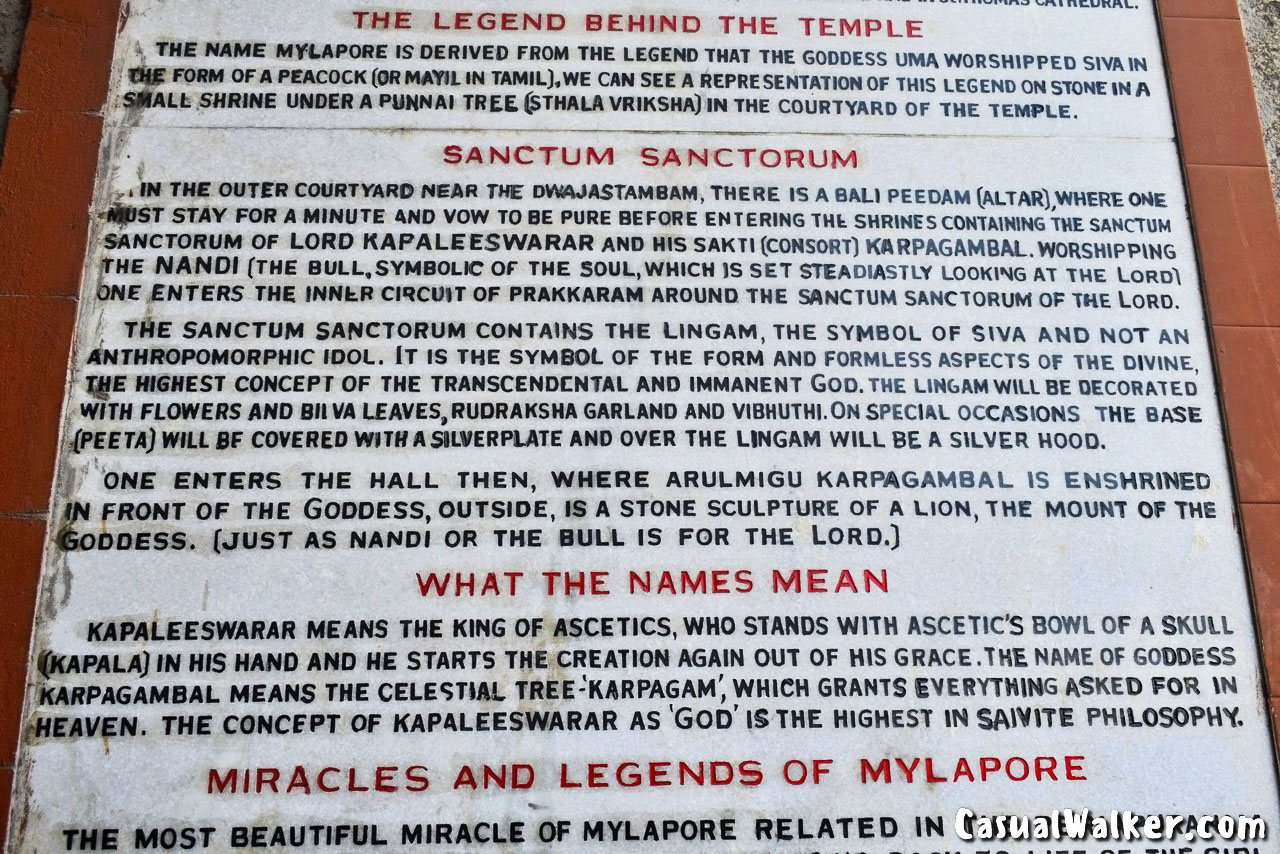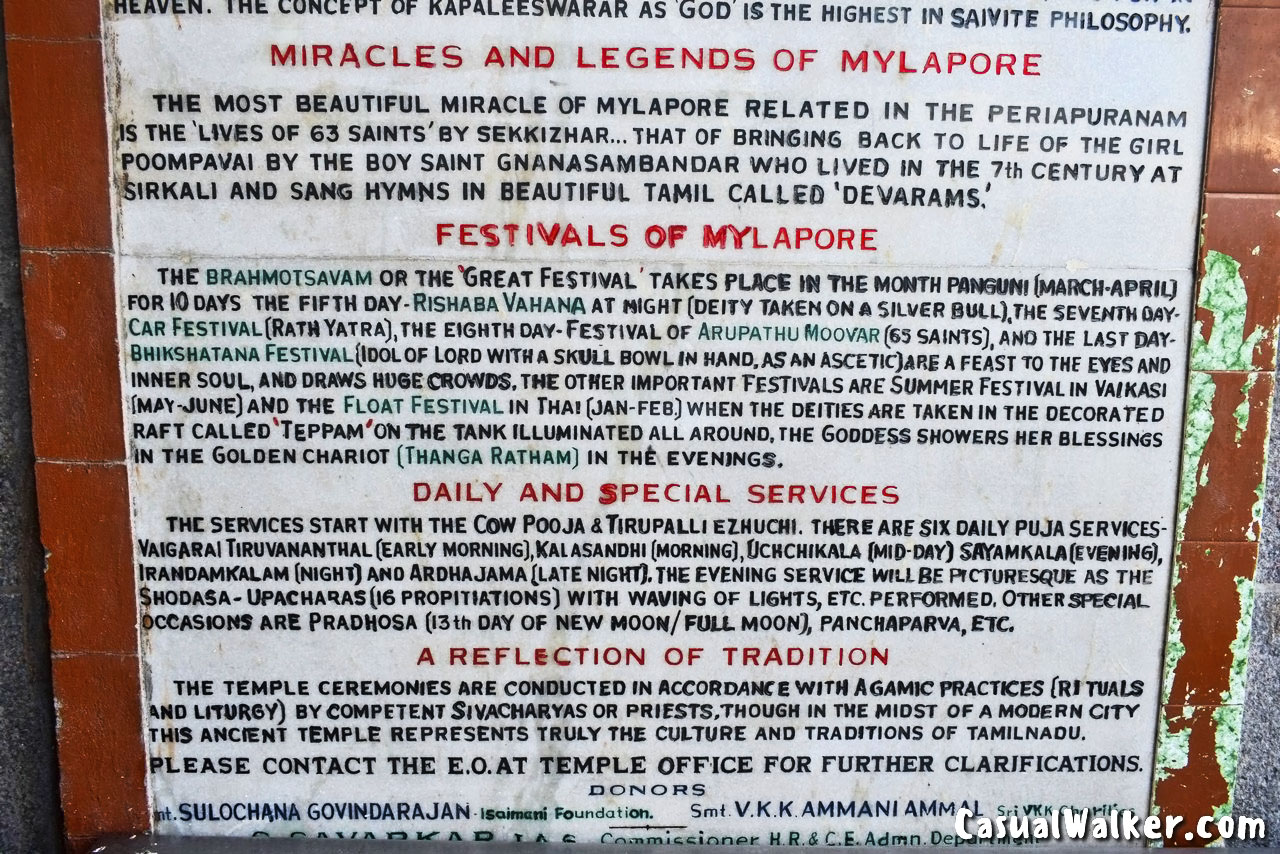 Travel Tips for Mylai Kapaleeswarar Temple, Mylapore
Address: Kapaleesvarar Sannadhi Street, Vinayaka Nagar Colony, Mylapore, Chennai, Tamil Nadu 600004
Phone: 044 2464 1670
Entry Timings: 5AM to 12PM and 4PM to 9PM
Entry Fee: Free
Moolavar: Kapaleeshwarar.
Amman/Thayar: Karpakambika.
Thala Virutcham: Punnai Tree.
Year: 1000 to 2000 Years Old.
Theertham(Holy Water): Kapali Theertham, Kadavul Theertham, Veda Theertham, Vali Theertham, Ganga Theertham, Velli Theertham and Rama Theertham
Architectural style: Dravidian architecture.
How to reach Mylai Kapaleeswarar Temple, Mylapore:
On Road: Taxis, buses, and hired cars are easy ways to get around
Nearest Railway Station: Chennai Central (Station Code MAS) and Chennai Egmore Railway station ( Station Code MS).
Nearest Airport: Chennai International Airport (Code MAA).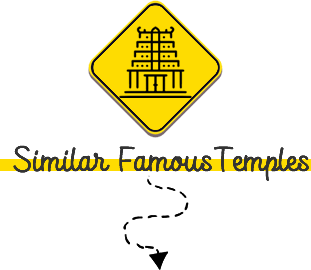 Similar Famous Lord Shiva Temples you may like to Visit:
Mylai Kapaleeswarar Temple Panguni Uthiram Peruvizha Arupathu Moovar Festival in Mylapore, Chennai – famous 63 Nayanmars – Shaivite Saints Chariot Festival – Visit, Travel Guide
Mylai Kapaleeshwarar Temple Panguni Peruvizha Festival, Mylapore, Chennai – Best & Famous Shiva Temple In India – Visit, Travel Guide
Sri Kulandaivel Swamy & Sri Muththiah Swamy Jeeva Samadhi Temple – Siddhar Temple in Mylapore, Chennai – Visit, Temple Timings, History, Travel Guide
Sri Virupaksheeswarar Temple : One of the Saptha Sthana Sthalangal – Seven Lord Shiva Temples in Mylapore – Visit, Temple Timings, History, Travel Guide
Ekambaranathar Temple (Pancha Bhoota Stalam – 5 Shiva temples for Five Elements, Kanchipuram – Best & Famous Shiva Temple In India – Visit, Travel Guide
Mylai Kapaleeshwarar Temple Panguni Peruvizha Festival, Mylapore, Chennai – Best & Famous Shiva Temple In India – Visit, Travel Guide
Someswara Swamy Temple / Sri Someswarar, Kudanthaikaronam, Kumbakonam, Tanjore : one of the famous Paadal Petra Sthalam of Lord Shiva Temples – Visit, Temple Timings, History, Travel Guide
Parvathamalai / Parvatha Hills – the 'Hill of Hills' or 'Queen of Hills' in Thenmathimangalam Village, Polur in Thiruvannamalai District – Visit, Trekking & Travel Guide
Kalaiyar Kovil Kaleeswarar Temple at Kalayarkovil, Sivaganga District – one of the famous 14 Lord Shiva Temples in Pandiya Kingdom – Visit, Travel Guide
Papanasanathar Temple, the Nava Kailasam in Papanasam, Thirunelveli, Best Lord Siva Temple to Destroy Sins – Visit, Travel Guide
Jurahareshwarar Temple, Kanchipuram – Best & Famous Shiva Temple In India – Visit, Travel Guide
Shivoham Shiva Temple Bangalore / Bengaluru – The World's Largest Lord Shiva Temple – Visit, Travel Guide
Thiruthalaiyur Saptharisheeswarar Temple, Thiruthalaiyur, Tiruchirappalli, Oldest Lord Siva Temple – Visit, Travel Guide
Lord Kasi Viswanathar Temple, Tenkasi, Tirunelveli : the Second largest temple gopuram in South India – Visit, Travel Guide
Thiru Kutrala Natha Swamy temple, Courtallam / Kutralam – the Oldest Lord Siva Temple Near Courtallam waterfalls, Tenkasi – Visit, Travel Guide