Panguni Uthiram Arubathu Moovar Festival in Mylai Kapaleeswarar Temple, Mylapore, Chennai – famous 63 Nayanmars – Shaivite Saints Chariot Festival – Visit, Travel Guide (Updated)
– panguni peruvizha 63 thiruvizha at kapaleeshwarar temple

The Arubathu Moovar festival is an annual festival of carrying 63 Nayanmar in a procession as part of Panguni Uthiram Peruvizha – Festival in Sri Mylai Kapaleeshwarar Temple / Mylapore Kapaleeswarar Temple. Panguni Peruvizha chariot festival is dedicated to Lord Shiva, which happens during the Tamil month of Panguni (between March – April), which is part of the nine-day festival celebrated to honor the Saivaite devotees, namely the sixty-three Nayanmars. The Nayanmar are the leading figures and poets of the South Indian Saiva Siddhanta system.
The procession starts with goddess Kolavizhi Amman followed by Sri Vinayakar and the main naalvar (four) – Appar, Sundarar, Thirugnana Sambandar, and Manikkavaasagar followed by in the procession. This procession is celebrated by taking the bronze idols of Nayanmars in a palanquin (பல்லக்கு) that is decorated with ornaments and flowers. The main Nayanmars are carried in a separate palanquin. Finally, the Pancha Murthy – Sri Somaskandar, Sri Karpagambal, and Sri Singaravelar are followed. Idols of Kapaleeshwarar and Karpagambal and other deities are decorated with colorful and fragrant flowers and taken in procession around four Mada Veedhis – streets in and around the Mylai Kapaleeshwarar temple. The idols were carried on the chariot and were stopped at many points to bless the devotees.
During the festival, another ceremony is held to realize the greatness of Sivanadiar – the Thirugnana Sambandar who brought Poombavai back to life in the 6th century.
History of Poombavai and Thirugnana Sambandar (திருஞானசம்பந்தர்) :
Sivanesar, a devotee of Lord Shiva, wanted to marry his daughter Poombavai to Thirugnana Sambandar. But Poombavai was bitten by a snake and died. Sivanesar kept her bones and ashes in a pot and waited for the arrival of Thirugnanasambandar. On hearing that Thirugnanasambandar had come to the Mylapore, Sivanesar took the pot to Thirugnanasambandar and told him about the incident.
Thirugnanasambandar worships Lord Shiva and composed the following pathigam – the poem and bought back Poompavai alive from the ashes. At that time he sang the following poem to bring back Poombavai to life.
மட்டிட்ட புன்னையங்கானல் மடமயிலைக்
கட்டிட்டங்கொண்டான் கபாலீச்சரமமர்ந்தான்
ஒட்டிட்டபண்பினுருத்திர பல்கணத்தார்க்கு
அட்டிட்டல் காணாதே போதியோ பூம்பாவாய்
which means:
"O' Poompavai why did you leave without seeing the Uthiram festival of Mylai?."
Arupathumoovar Vizha, is the major attraction of nine days festival in which the idols of the 63 Shivandiyars – Shaivite saints would be taken around the streets of Mylapore in a colorful procession.
The procession of 63 Saivaite saints was led by Mylapore's village deity Sri Kolavizhi Amman. Mundagakanni Amman, and Subramaniaswamy from Chintadripet, also joined the procession.
The entire streets around Mylapore Kapaleeshwarar temple are filled with devotees to witness the Arupathumoovar Vizha and take part in this festival with cheerfulness and energy. Many devotees take part in the possession by playing Shiva Vadiyam (Music Instrument), dancing Shiva Tandavam (Dance), and reciting Thevaram. Women and young girls drew beautiful kolams and rangolis with flowers at the Kapaleeswarar Sannidhi Street to welcome the deities.
People around the neighborhood offer Annadhanam, biscuits, water bottles, juice, buttermilk, toffees, and vegetables to the devotees. Shops cover the four Mada streets around Kapaleeswarar temple, almost all roads leading to the temple become shopping lanes, including miniature versions of ranga rattinam – giant wheels, toy shops, and palm leave crafts.
The festival is happening on such a large scale after a two-year break due to the pandemic. The temple authorities had organized it all very well. Vehicular traffic is not allowed on these streets and also within a certain radius around the temple. The Thirukalayanam – marriage possession of Kapeleeshwarar – Lord Shiva marks the conclusion of Brahmotsavam festival.

Travel Tips for Kapaleeshwarar Temple, Mylapore
Address: Kapaleesvarar Sannadhi Street, Vinayaka Nagar Colony, Mylapore, Chennai, Tamil Nadu 600004
Phone: 044 2464 1670
Entry Timings: 5AM to 12PM and 4PM to 9PM
Entry Fee: Free
Moolavar: Kapaleeshwarar.
Amman/Thayar: Karpakambika.
Thala Virutcham: Punnai Tree.
Year: 1000 to 2000 Years Old.
Theertham(Holy Water): Kapali Theertham, Kadavul Theertham, Veda Theertham, Vali Theertham, Ganga Theertham, Velli Theertham and Rama Theertham
Architectural style: Dravidian architecture.
How to reach Kapaleeshwarar Temple, Mylapore:
On Road: Taxis, buses and hired cars are easy ways to get around
Nearest Railway Station: Chennai Central (Station Code MAS) and Chennai Egmore Railway station ( Station Code MS).
Nearest Airport: Chennai International Airport (Code MAA).
Check out and enjoy our photo captures of Panguni Uthiram 63 – Arubathu Moovar / Arupathu Moovar Festival in Mylai Kapaleeswarar Temple, Mylapore, Chennai.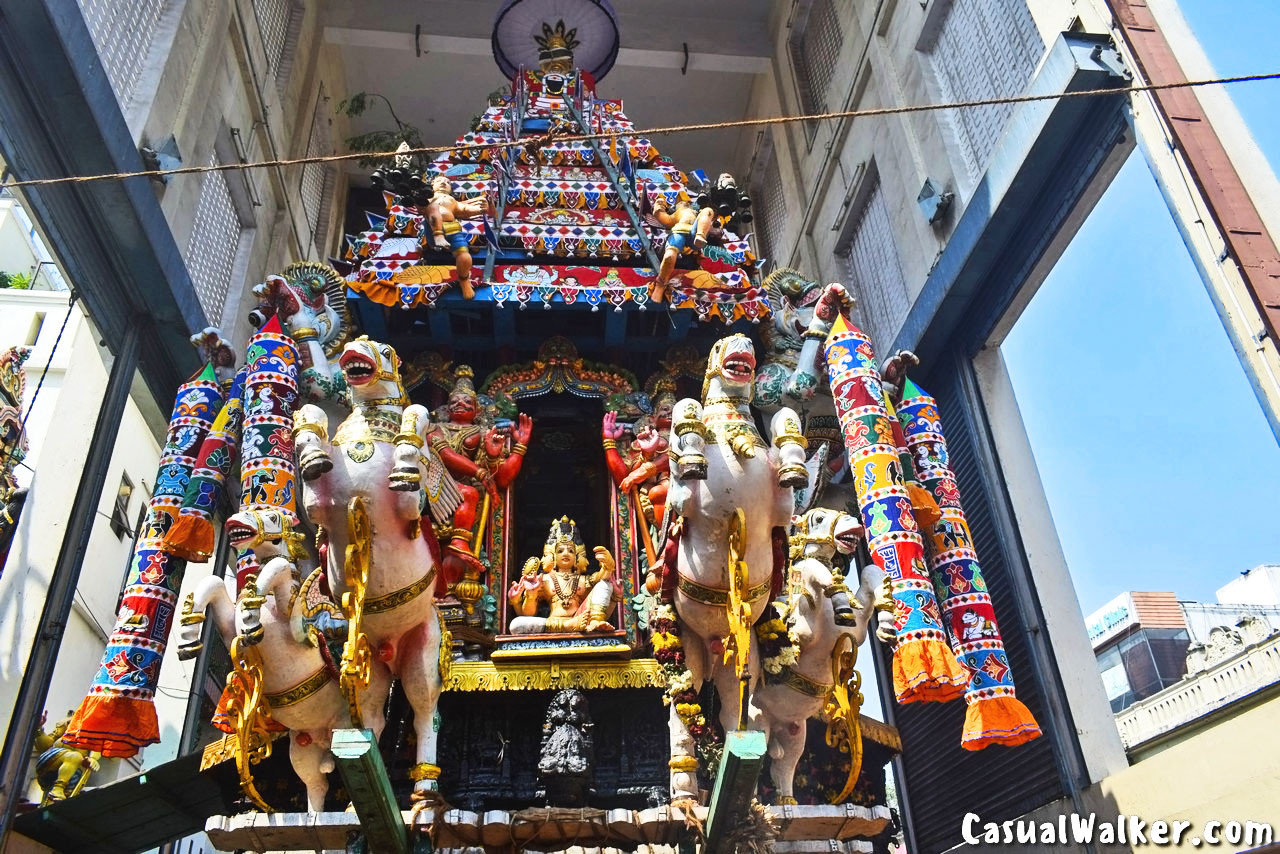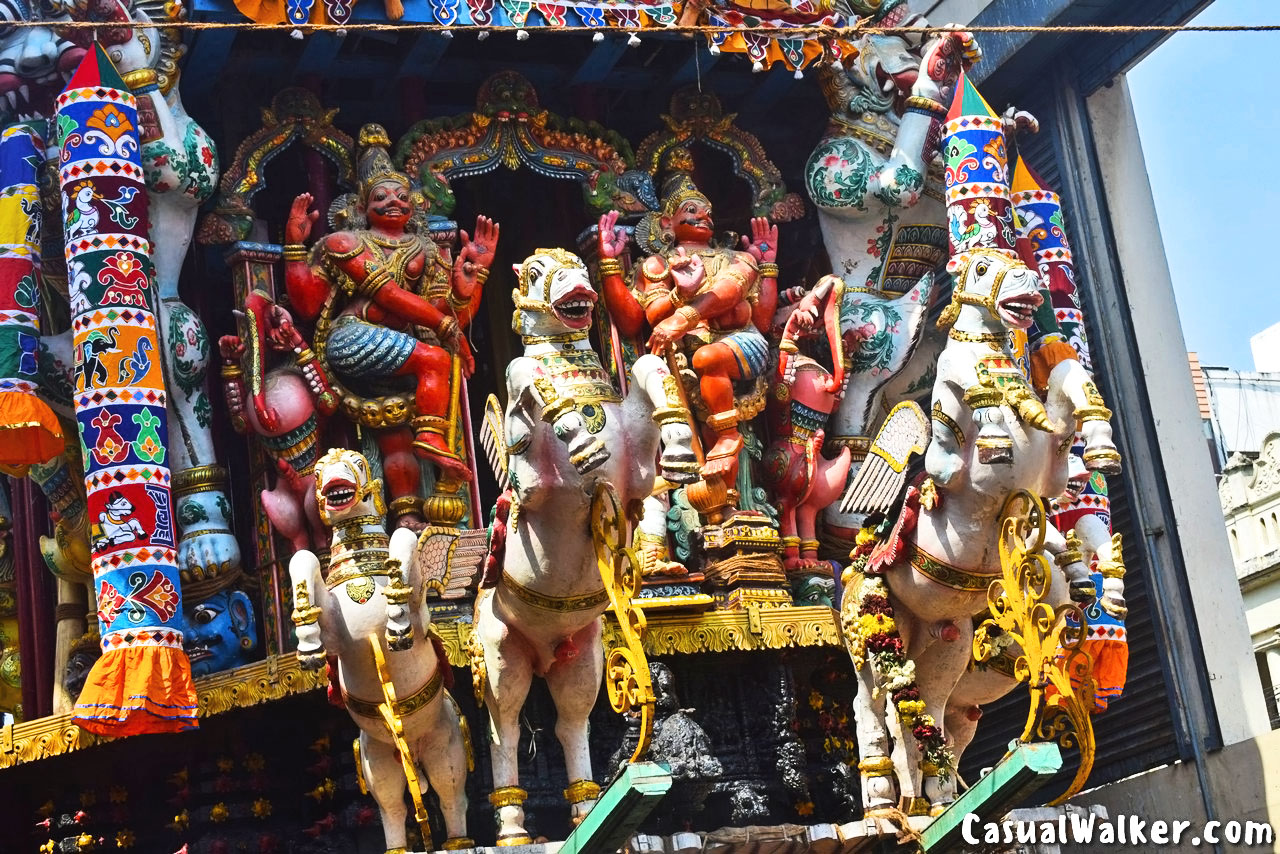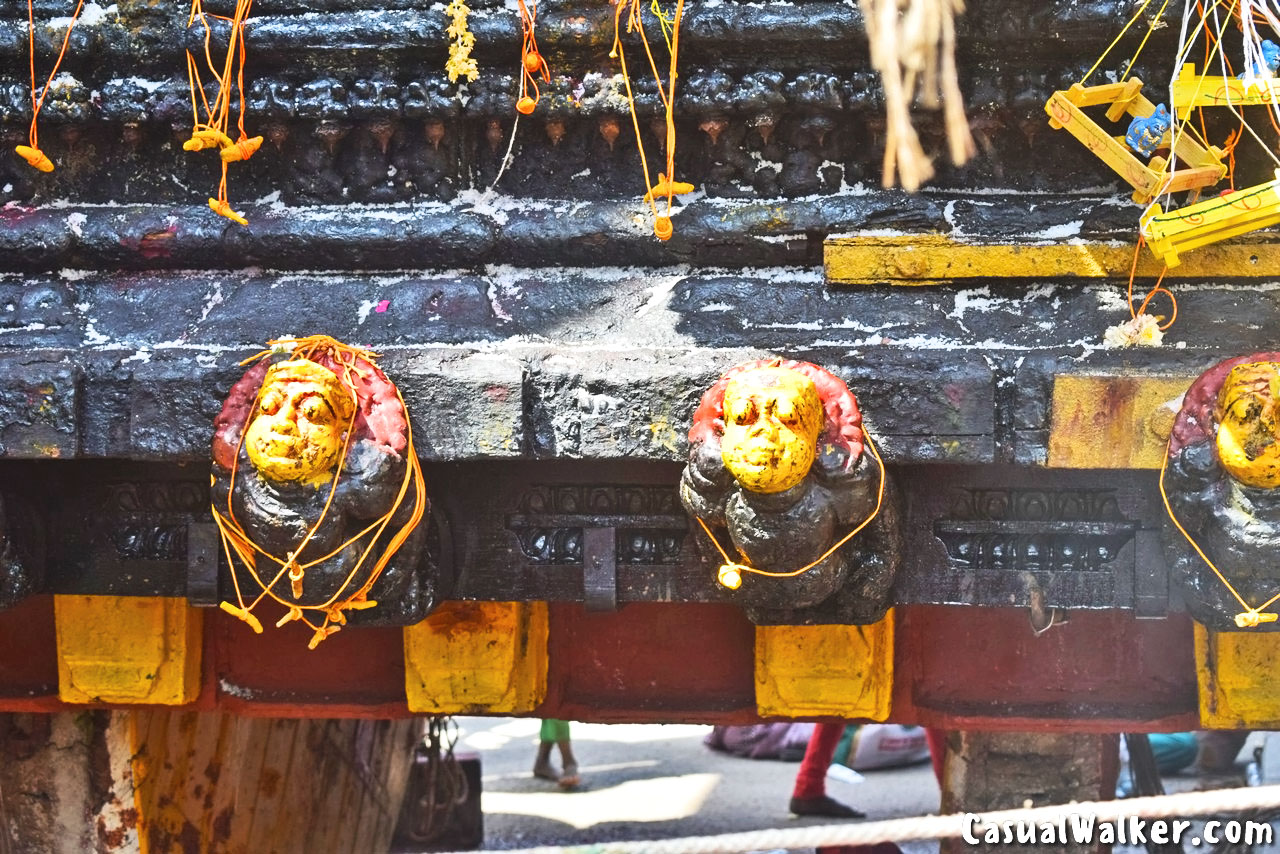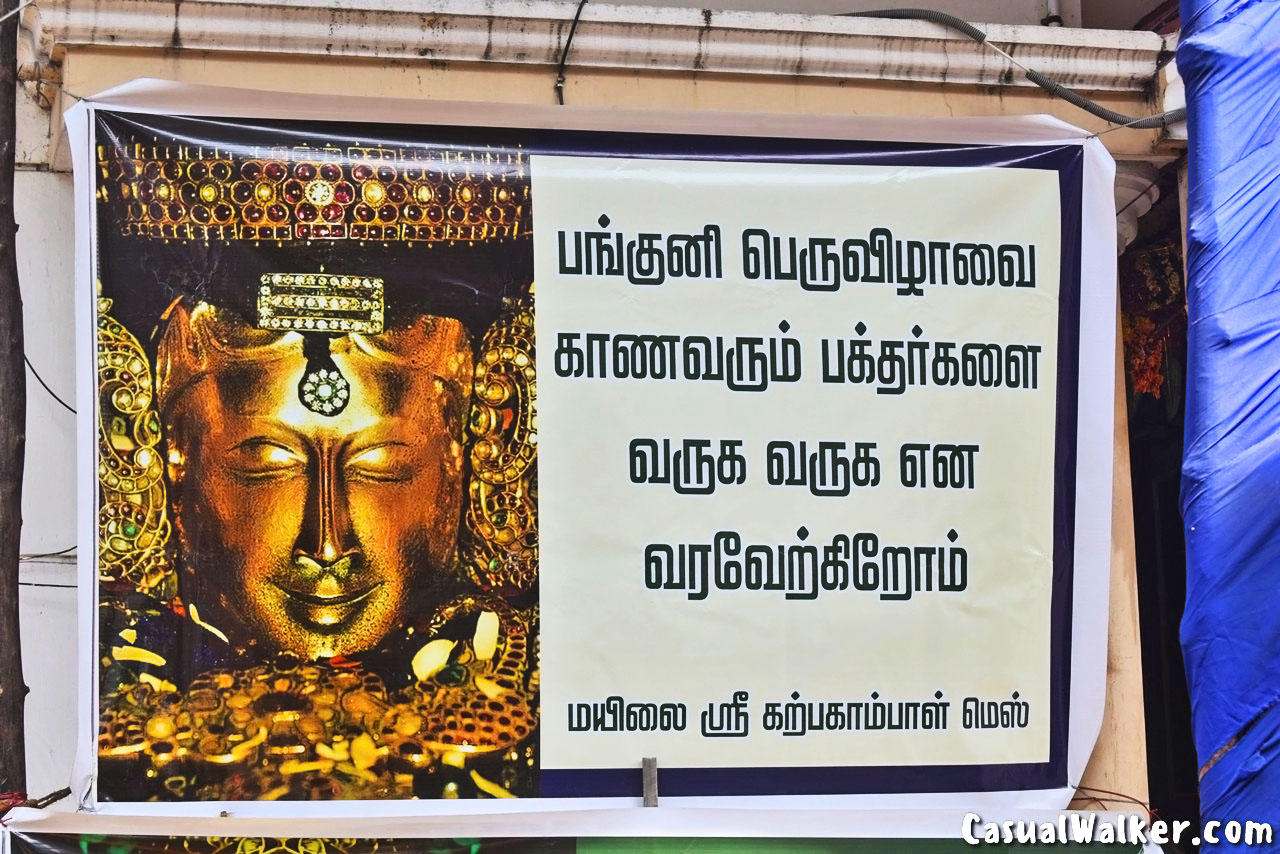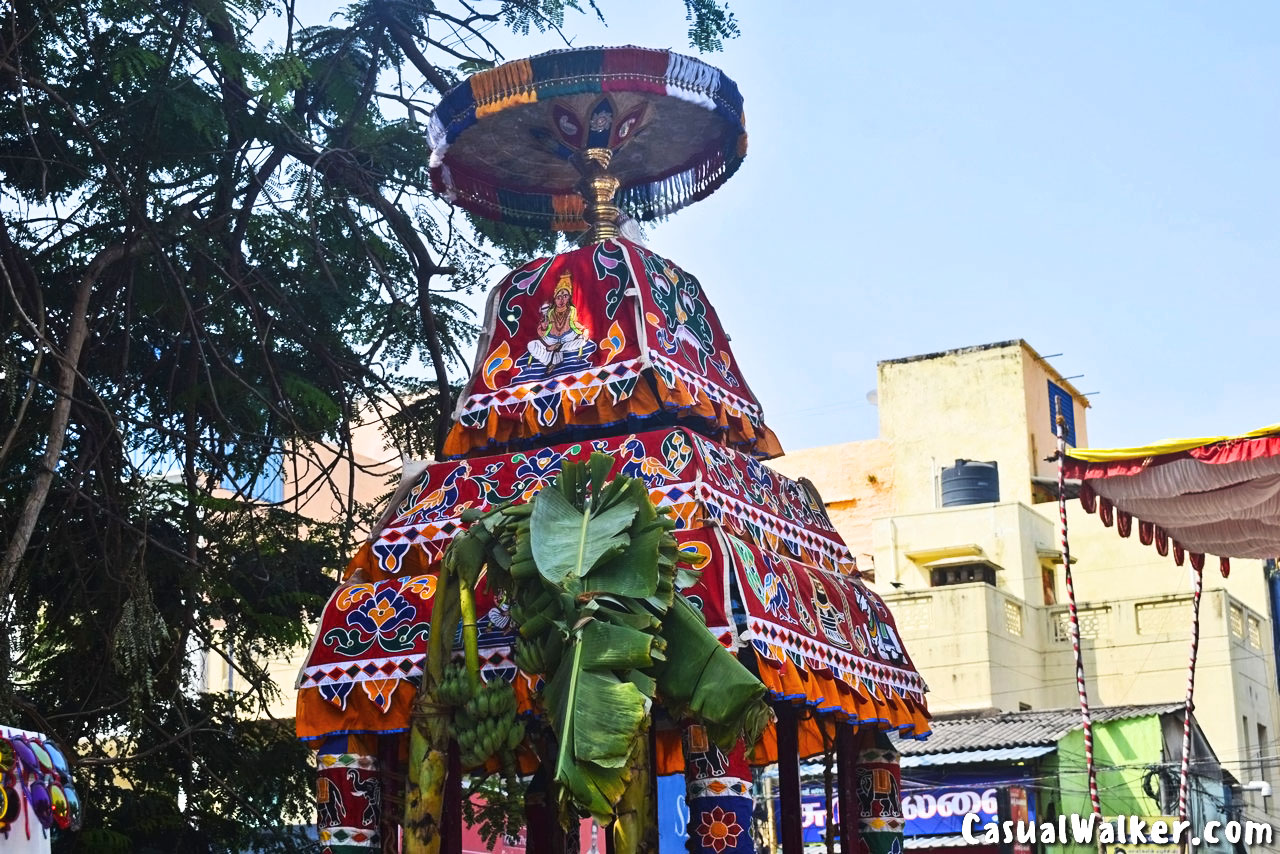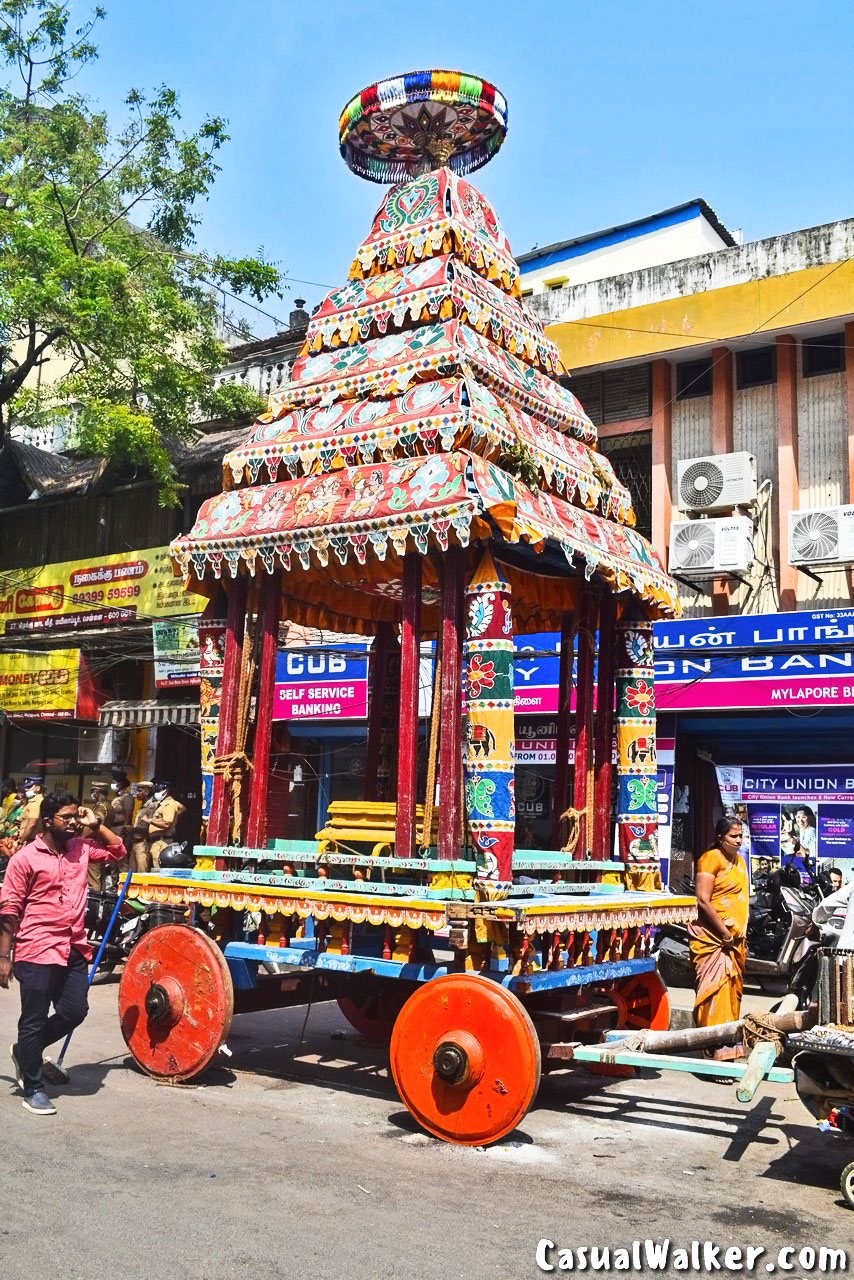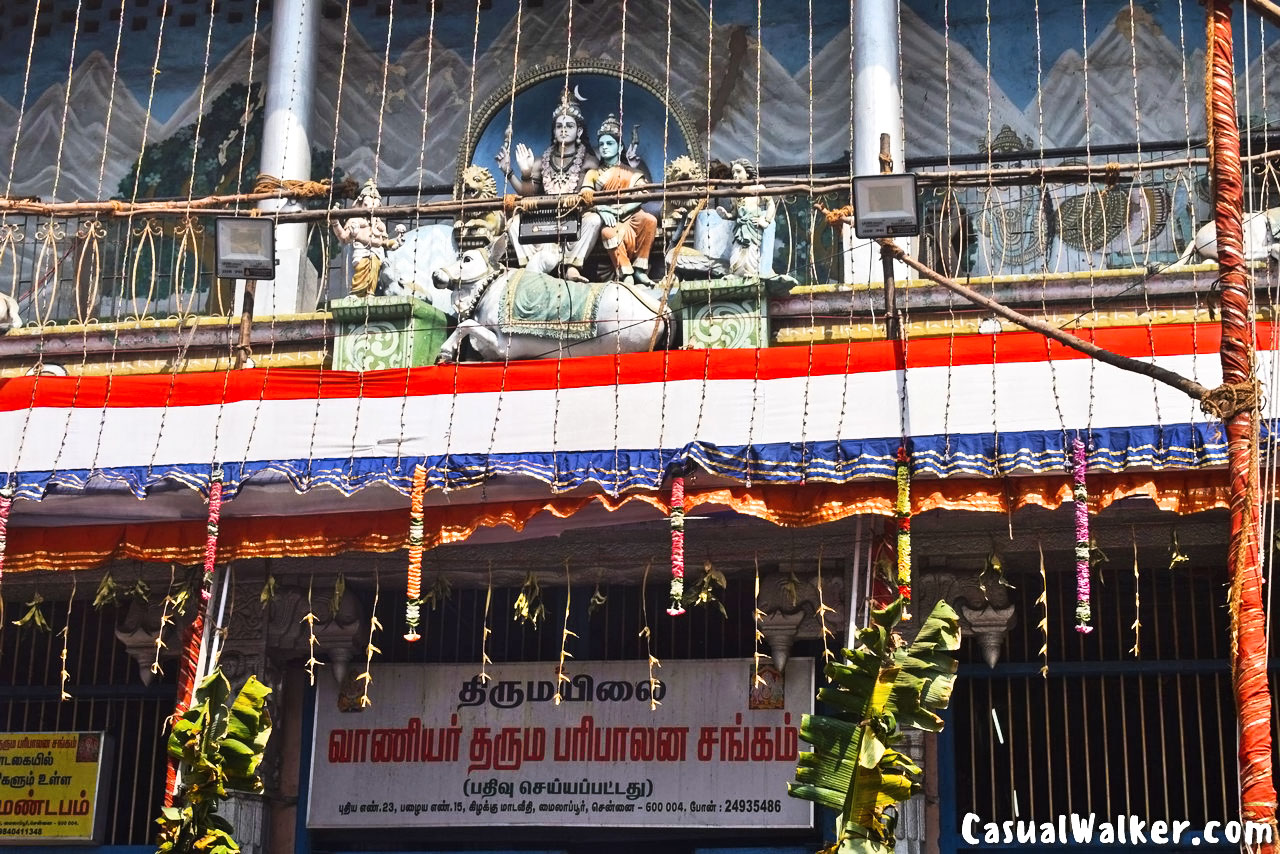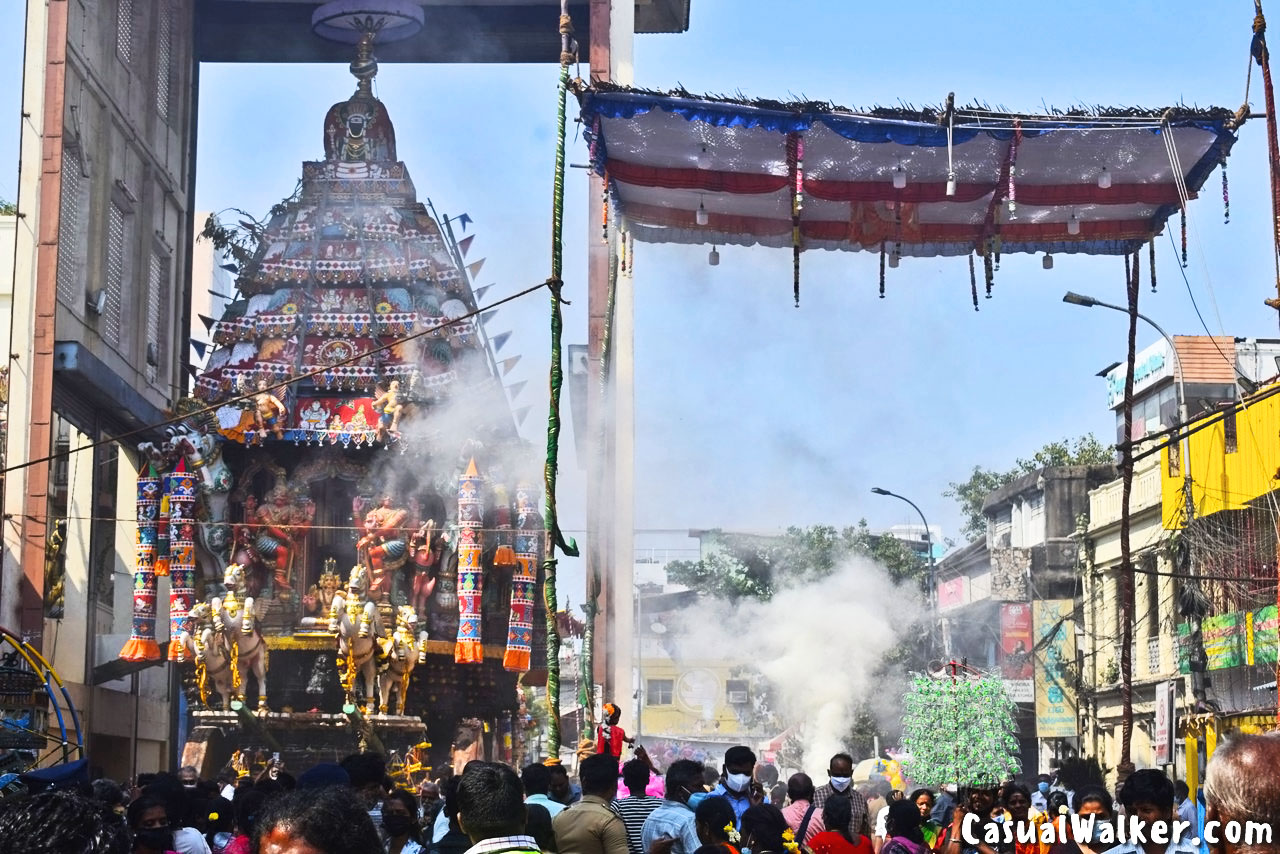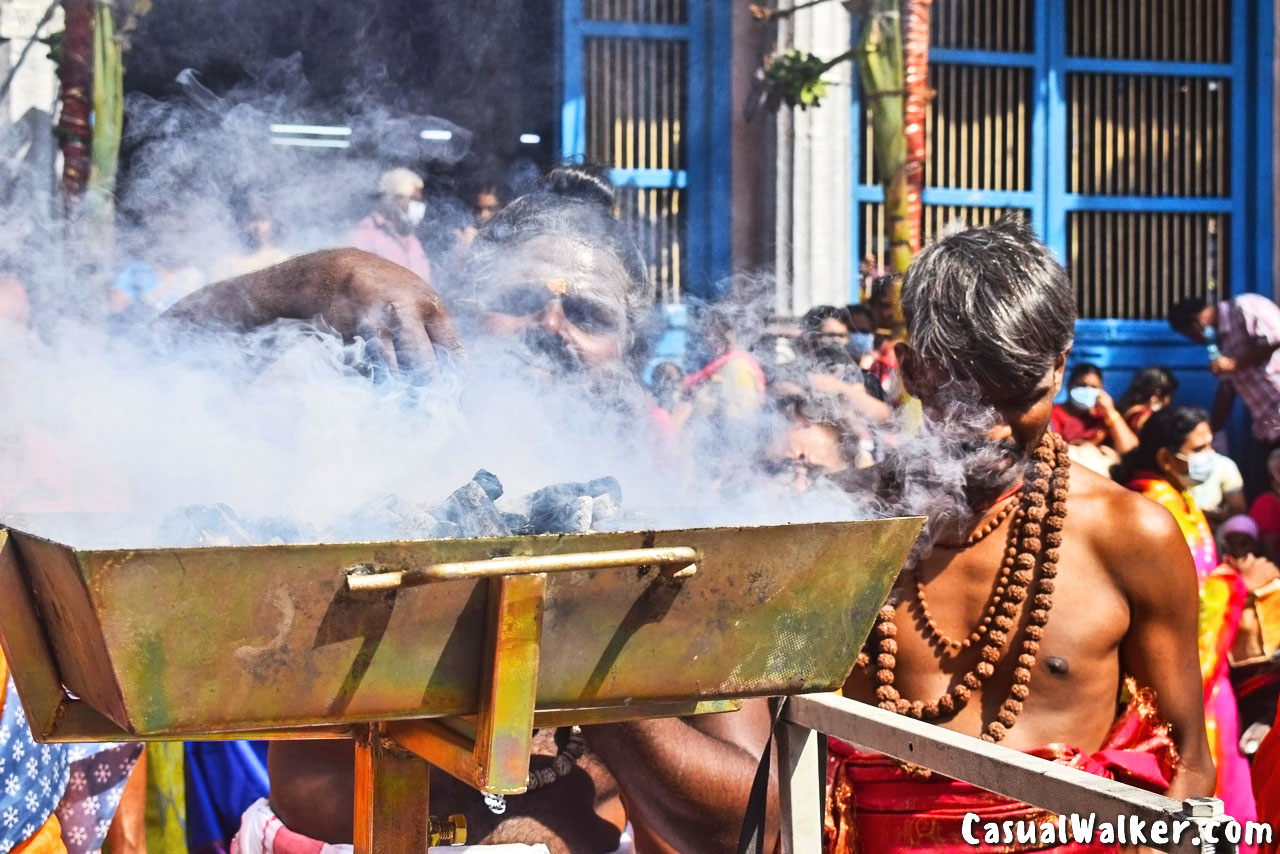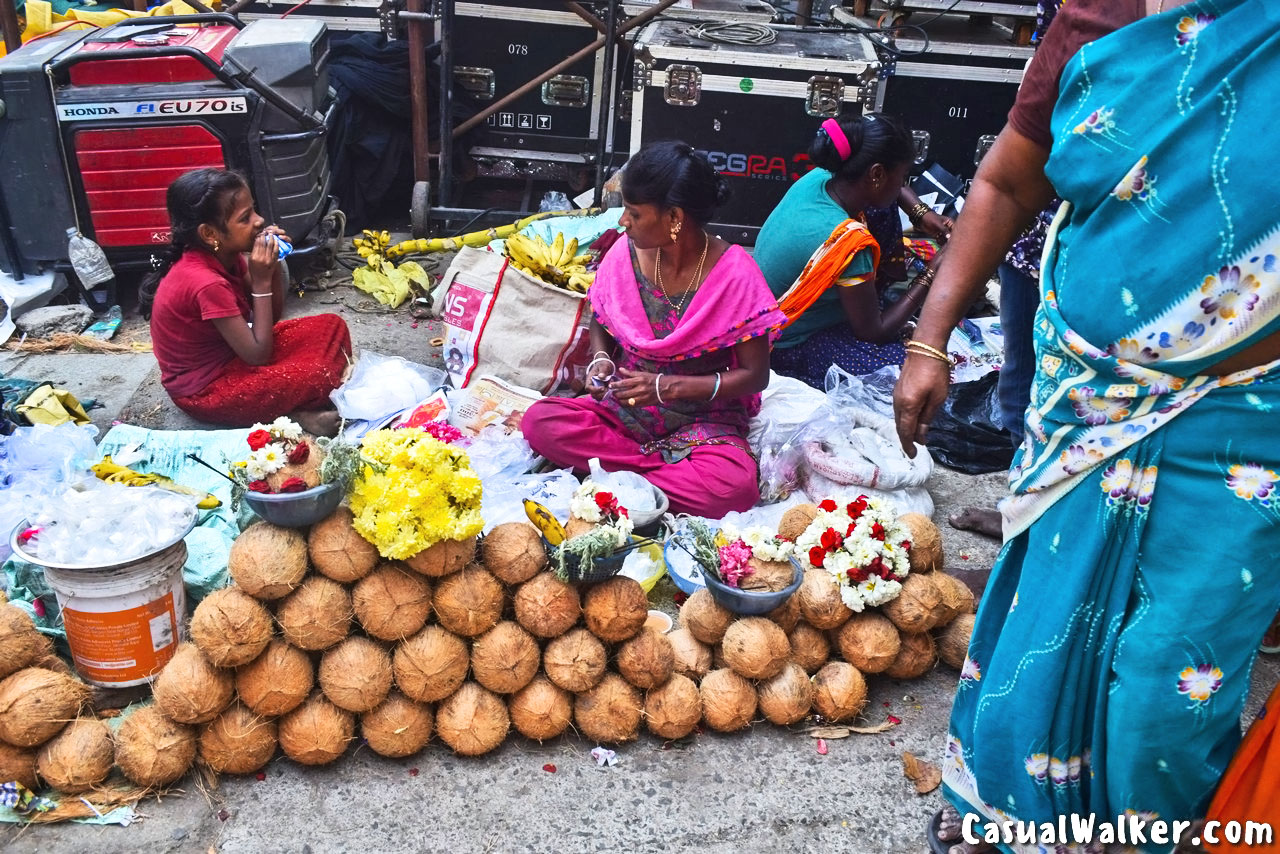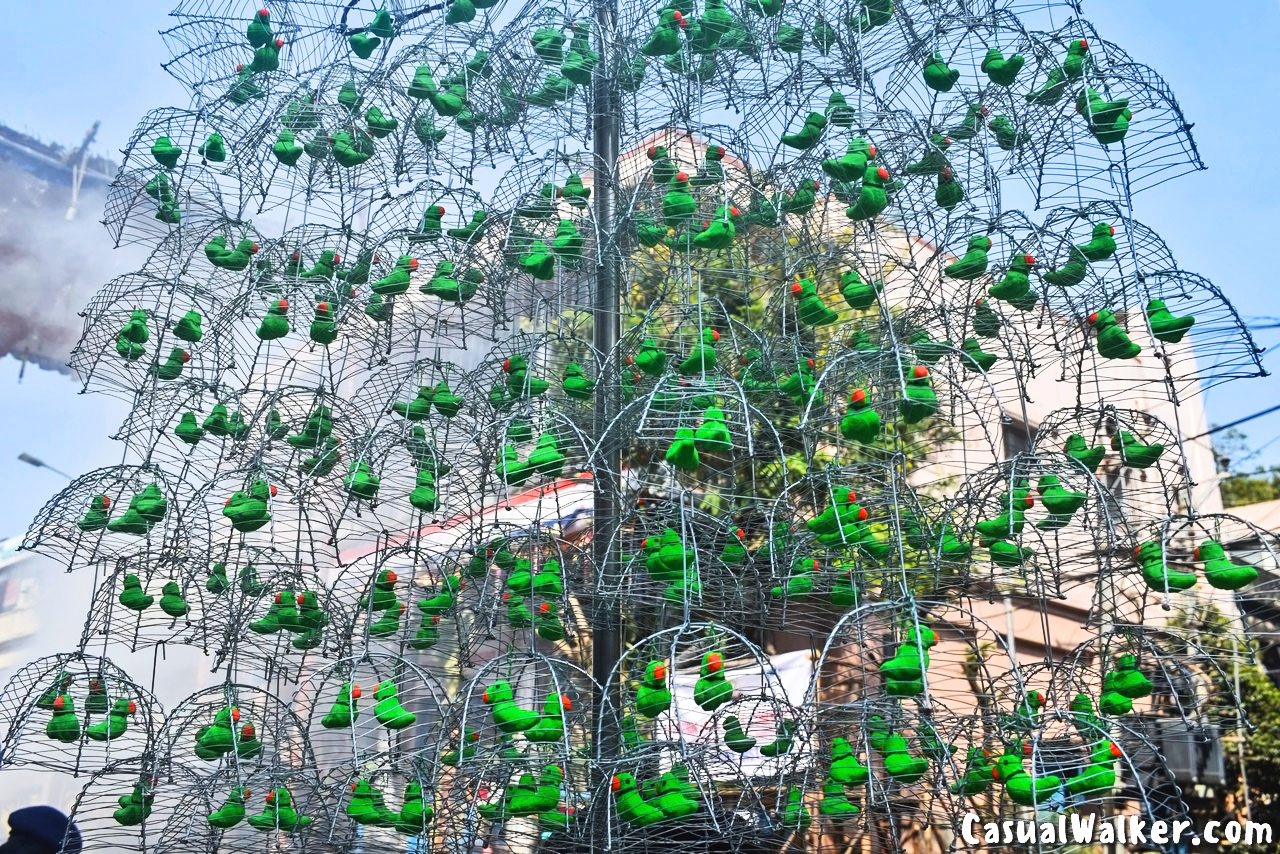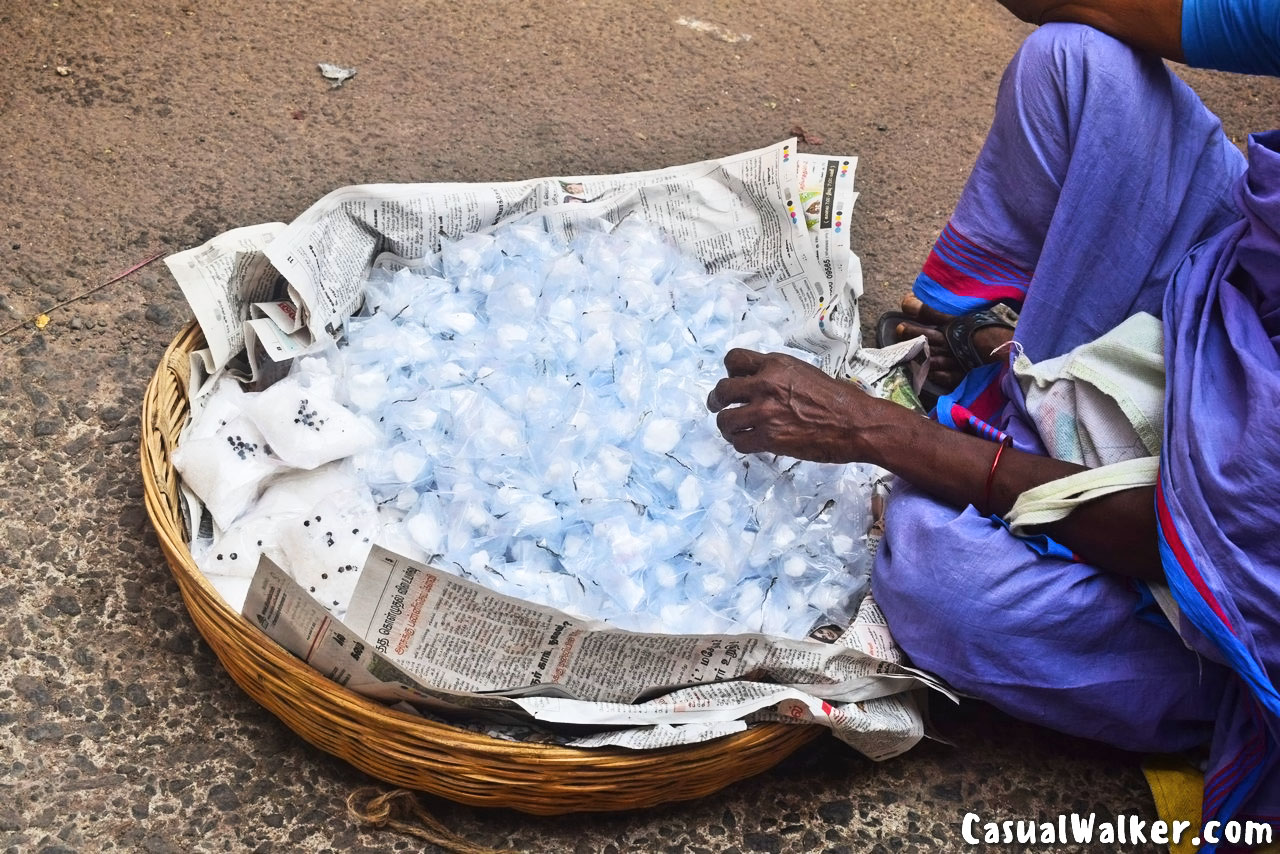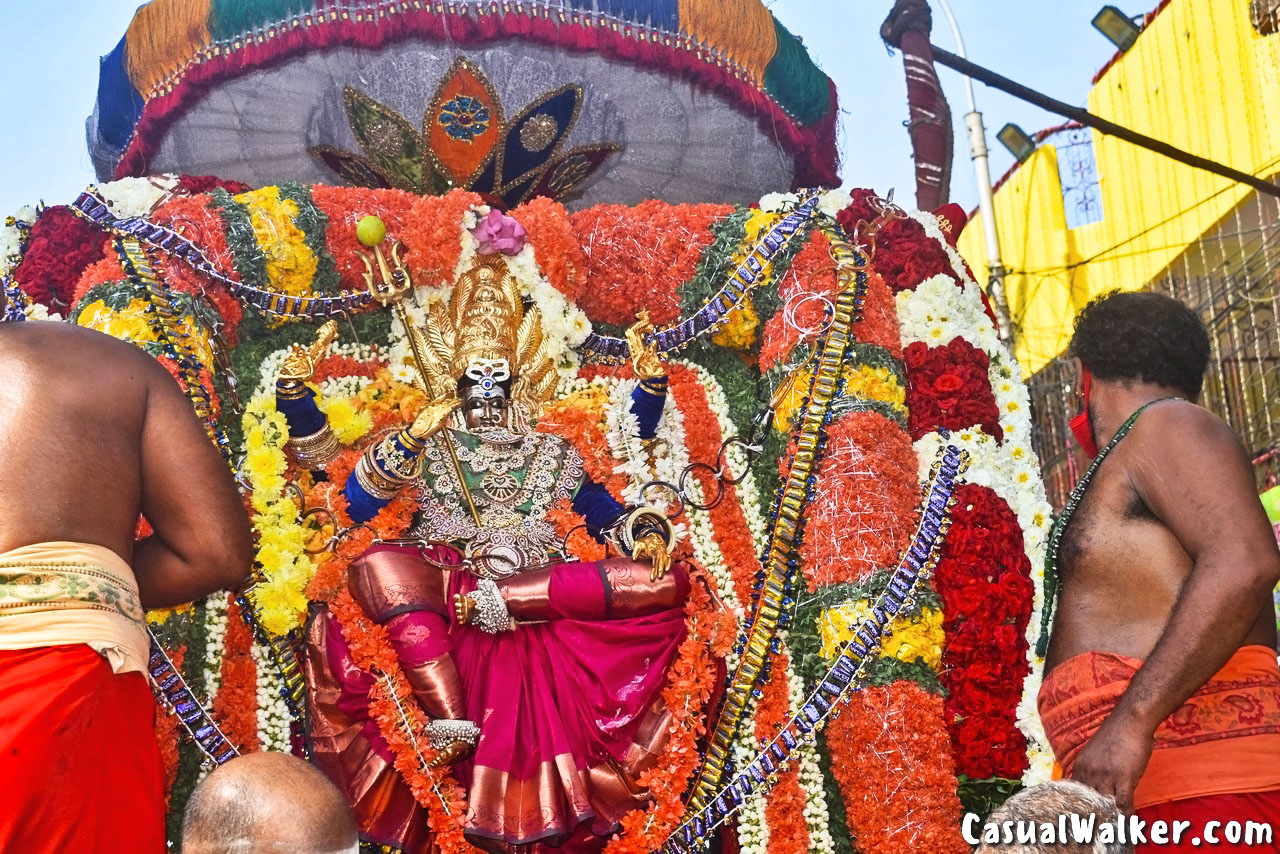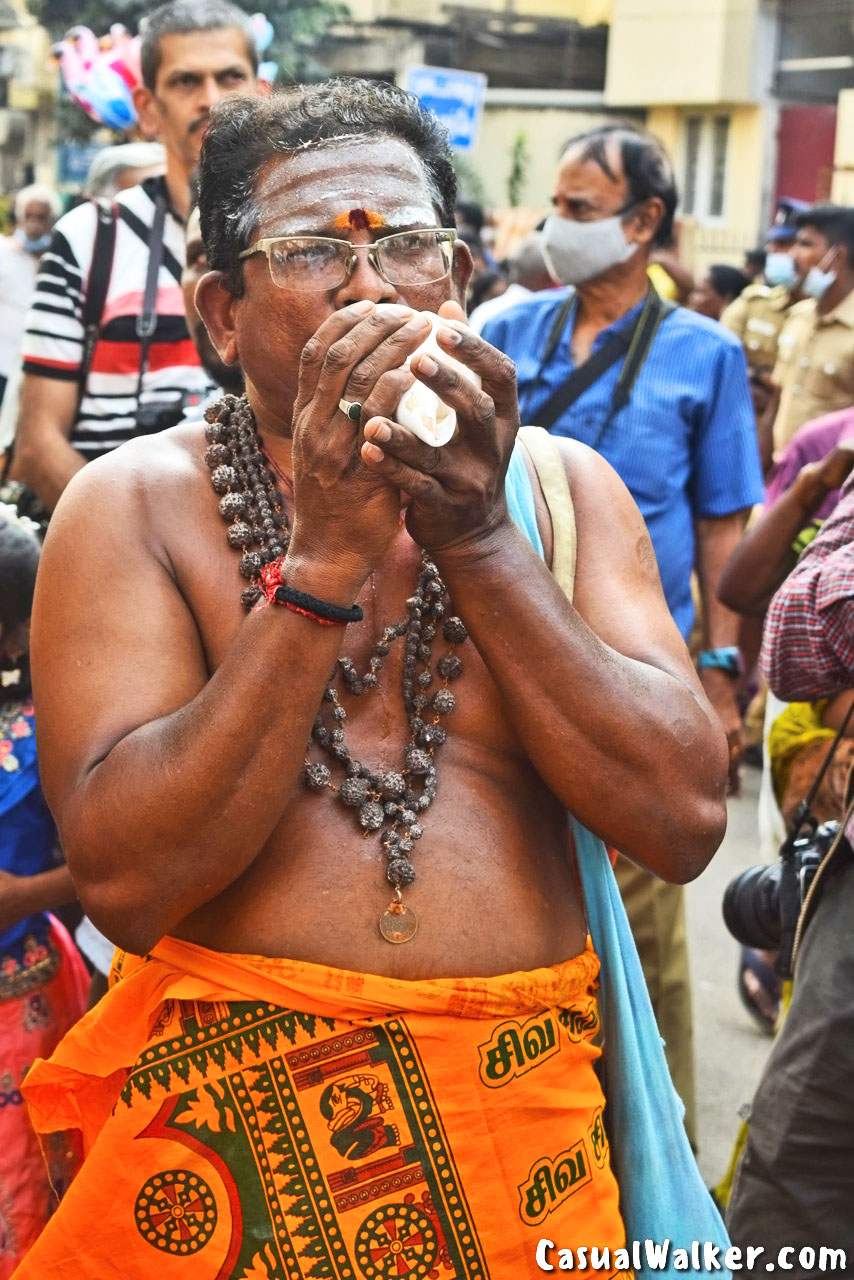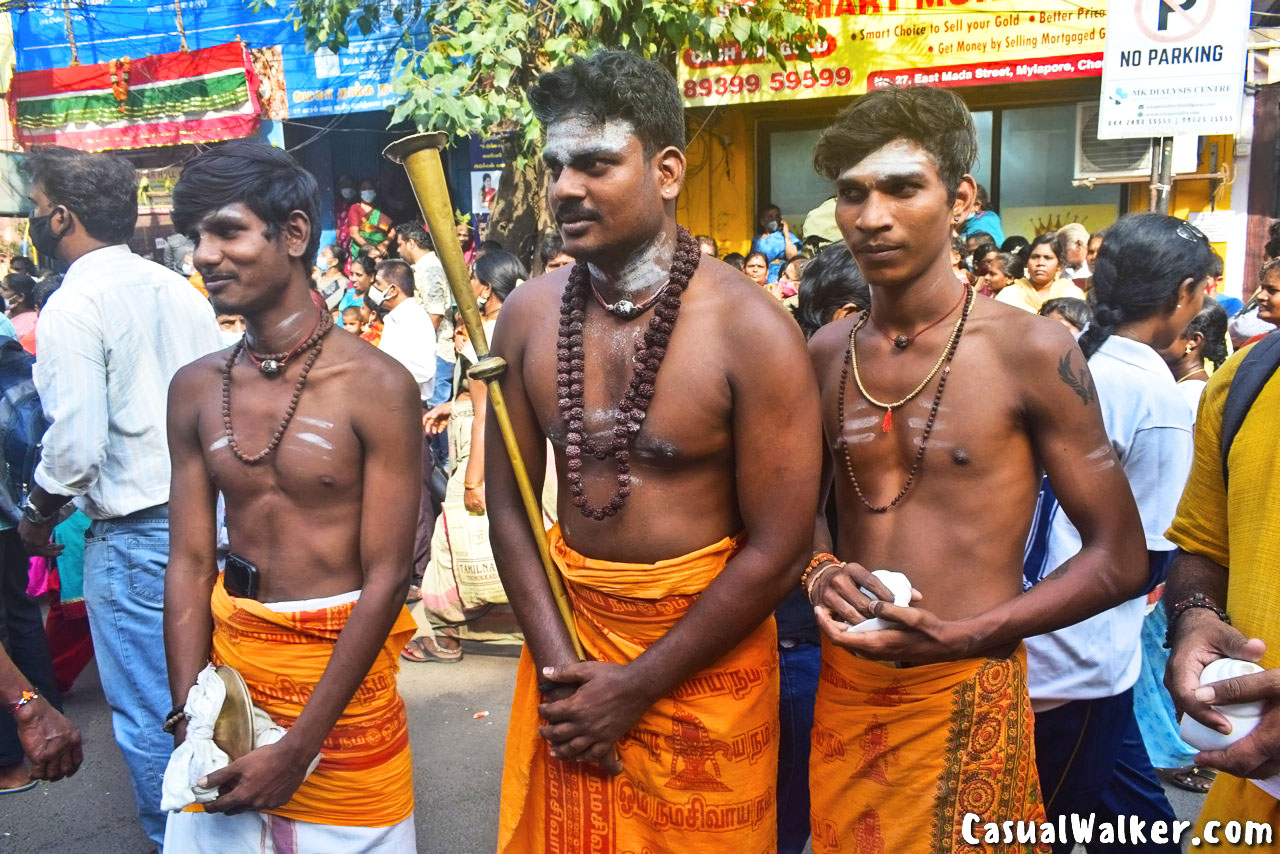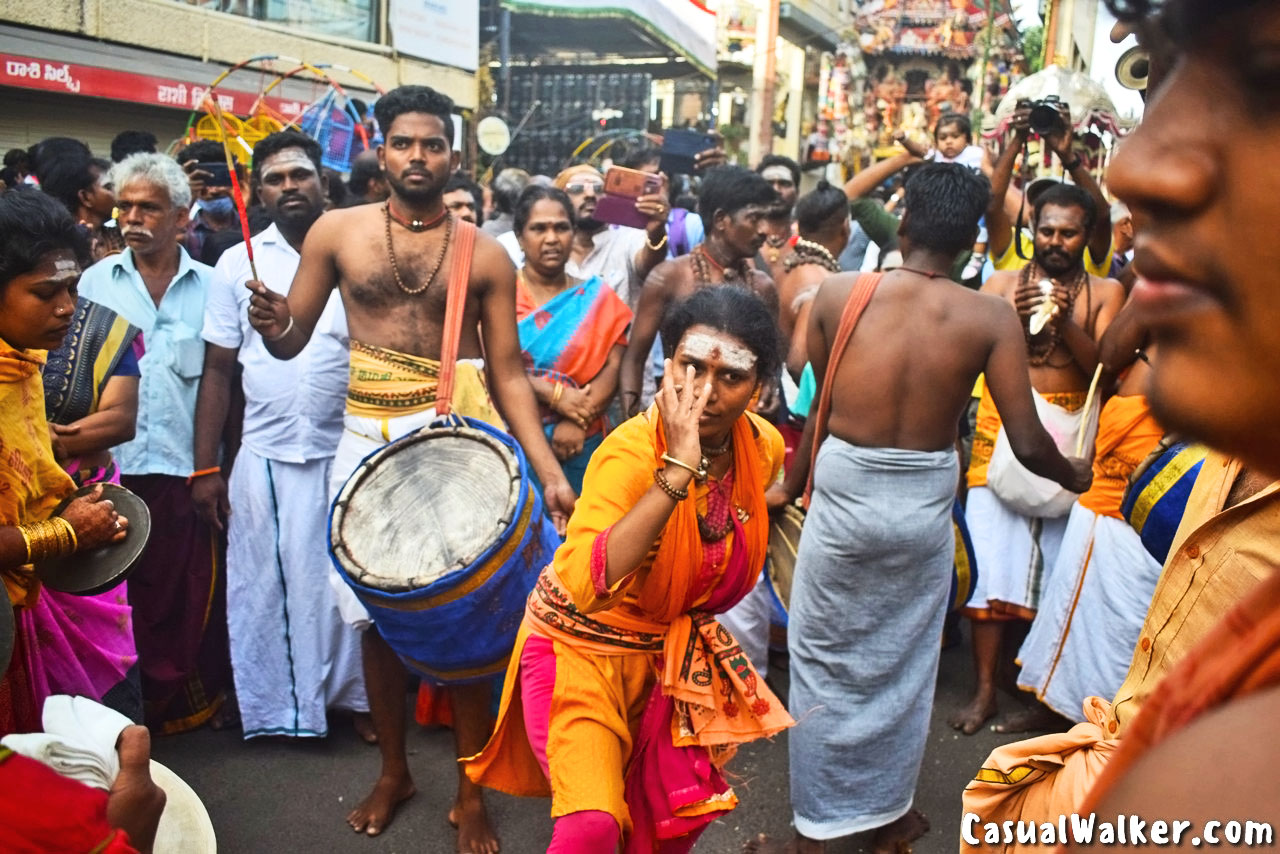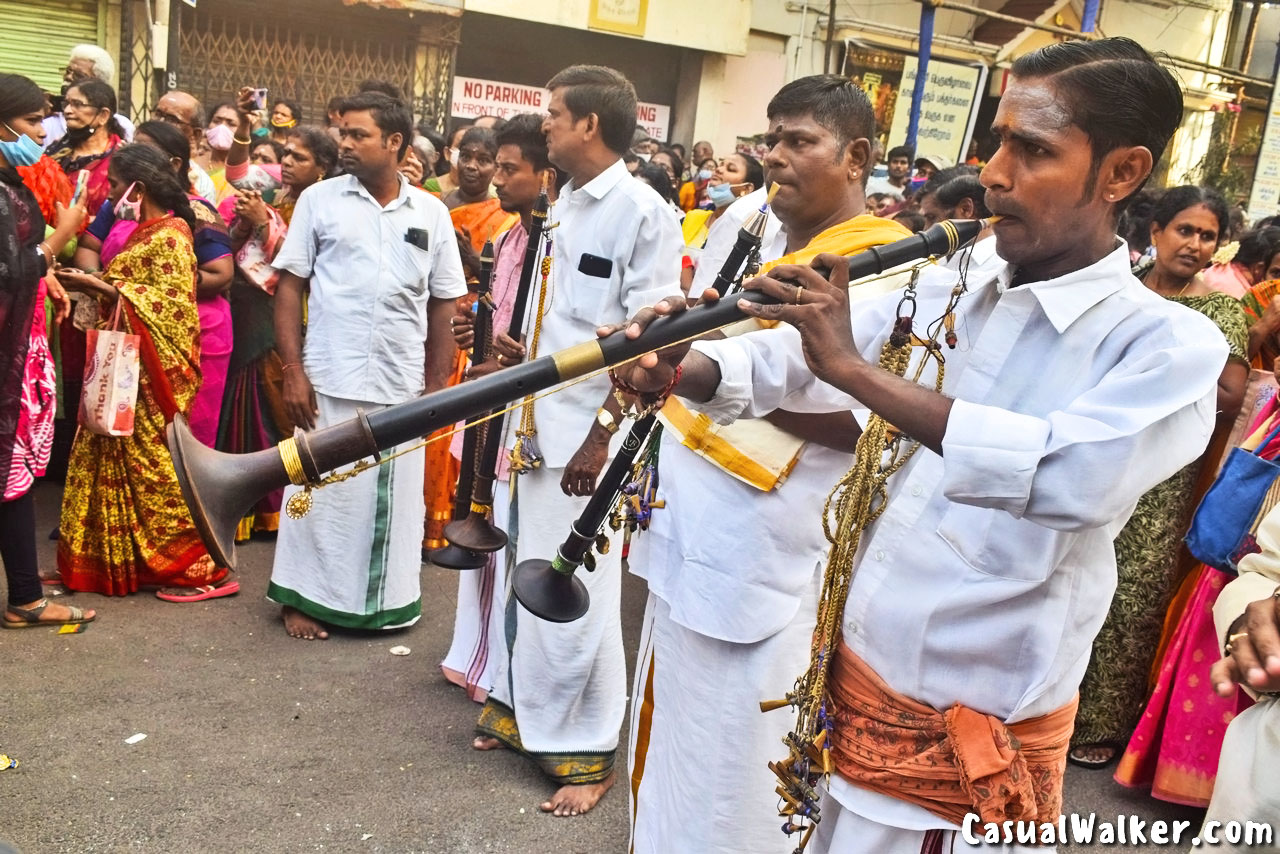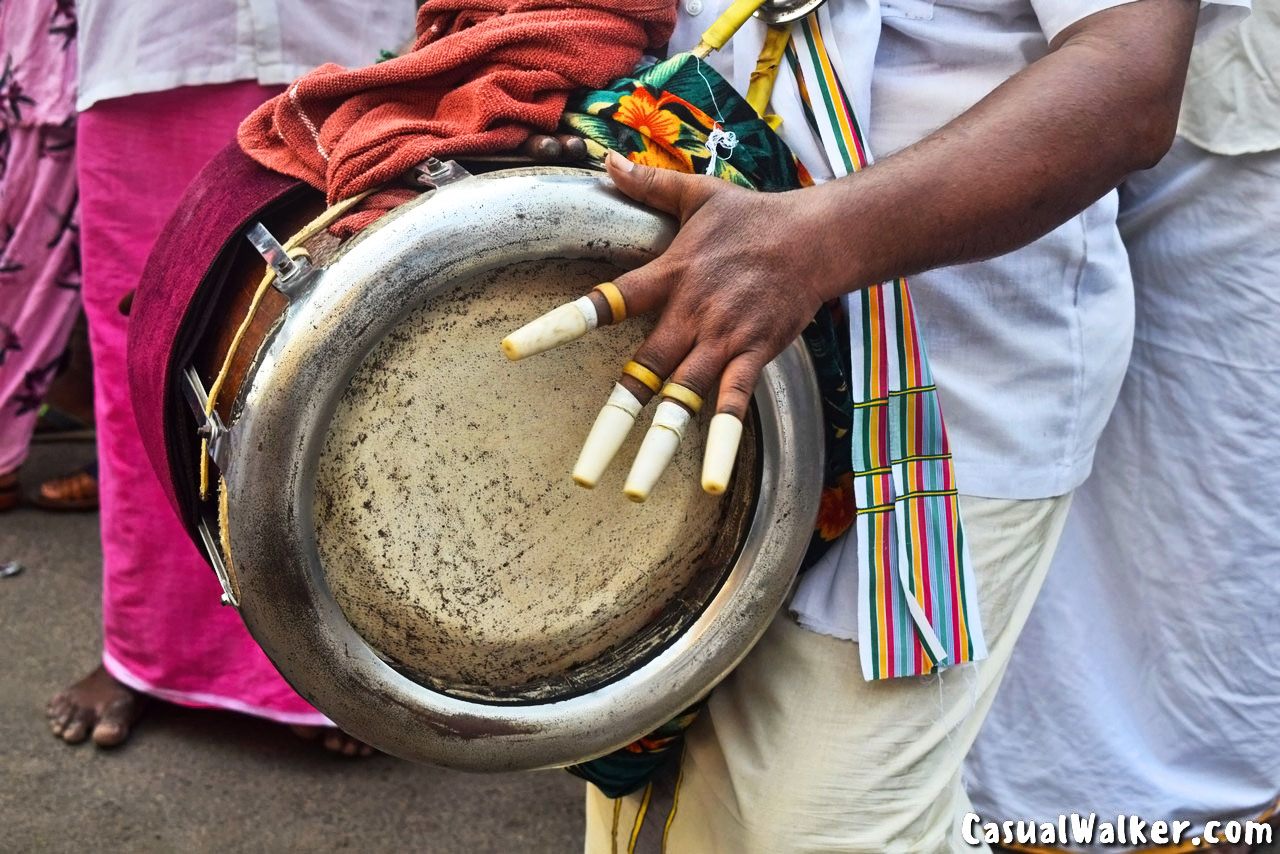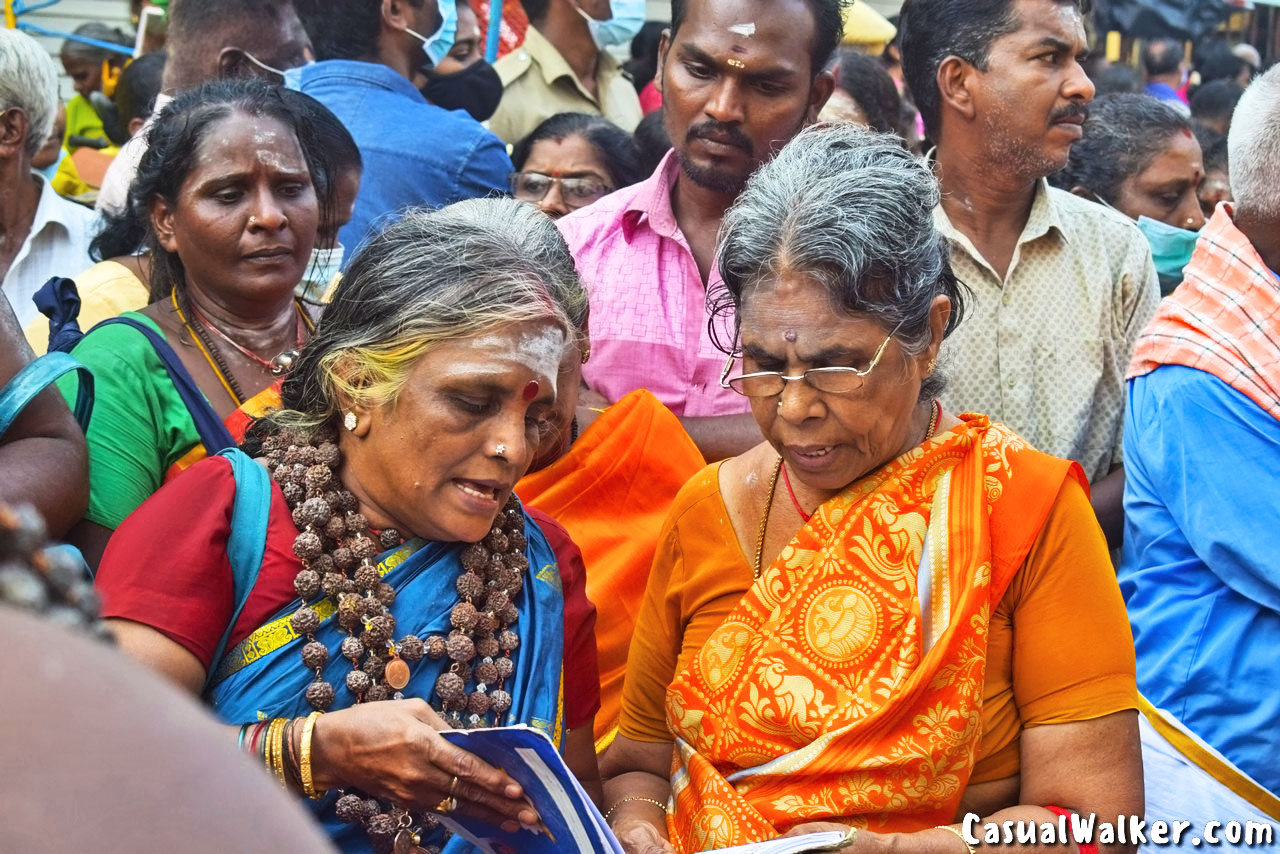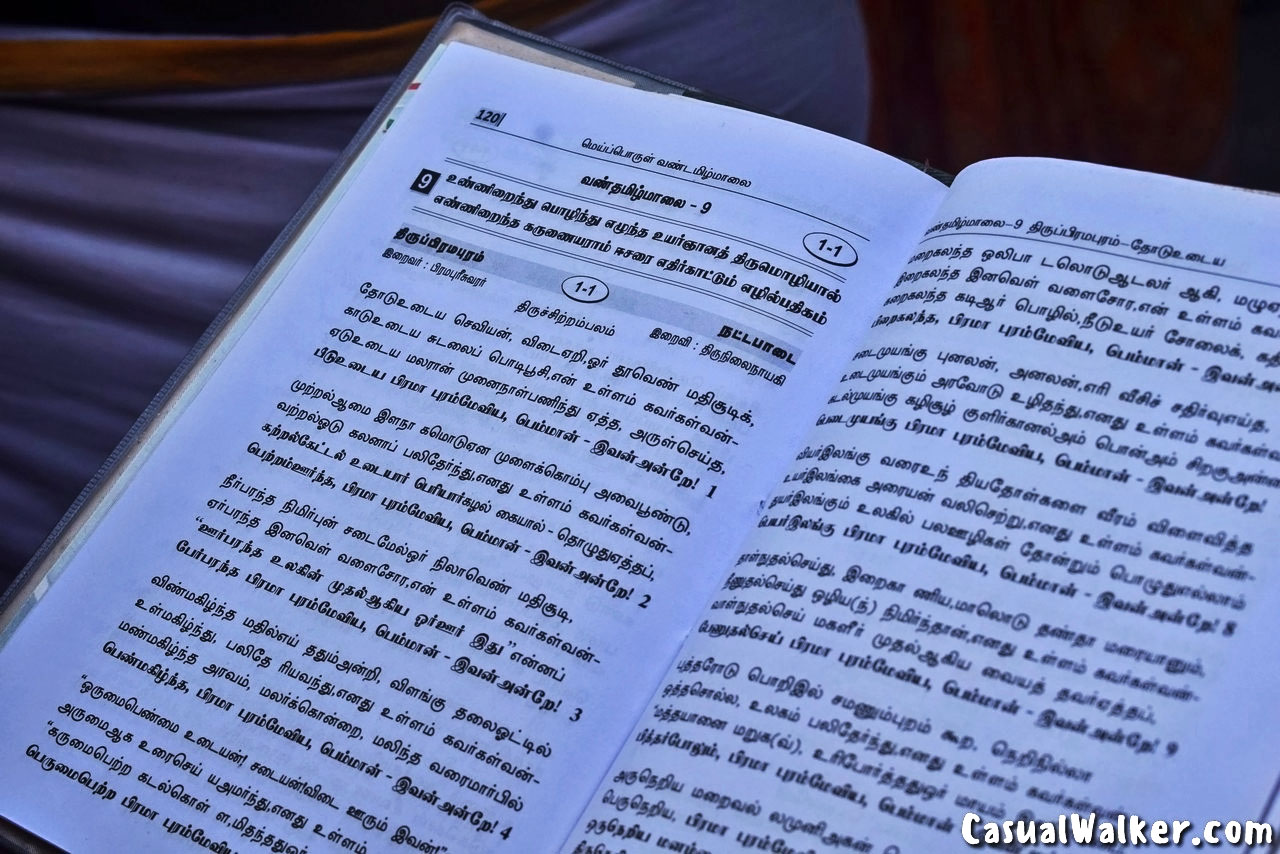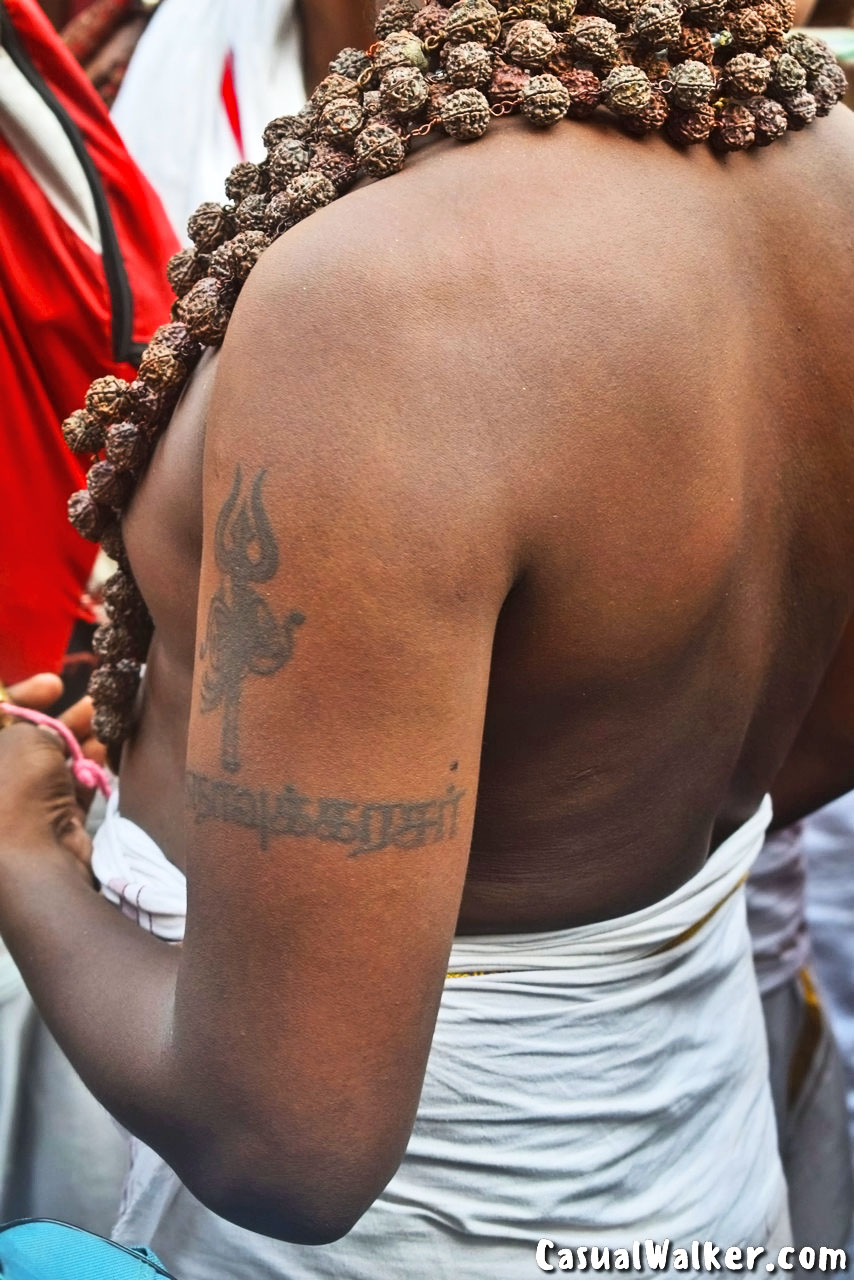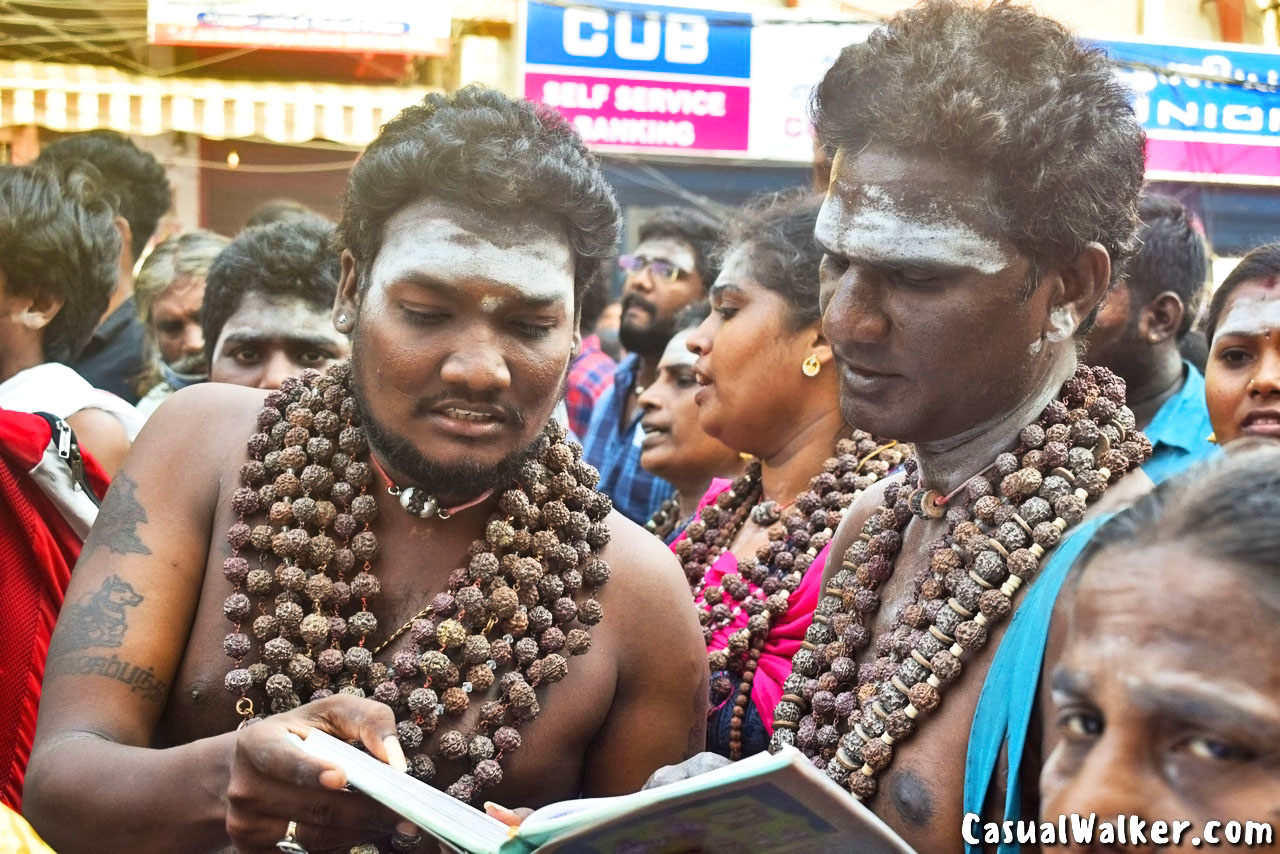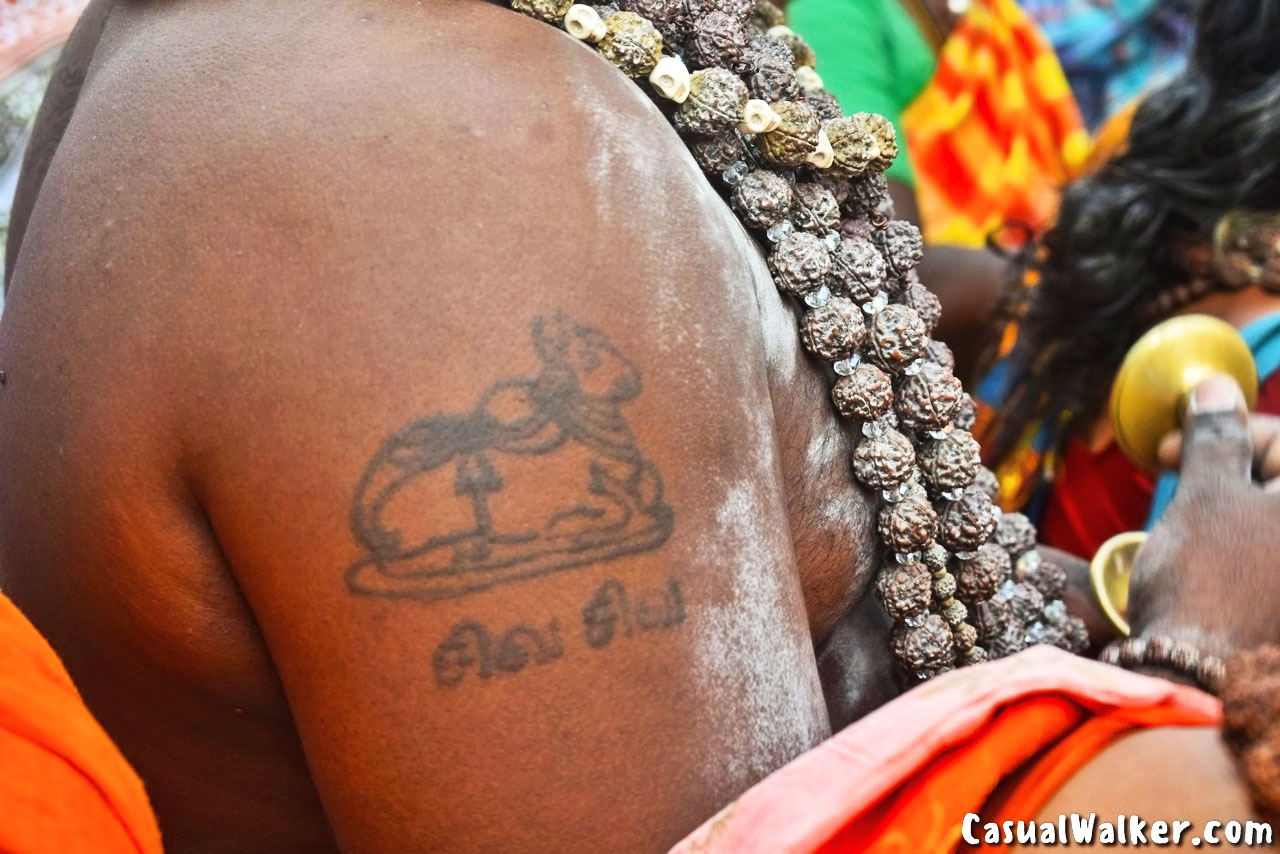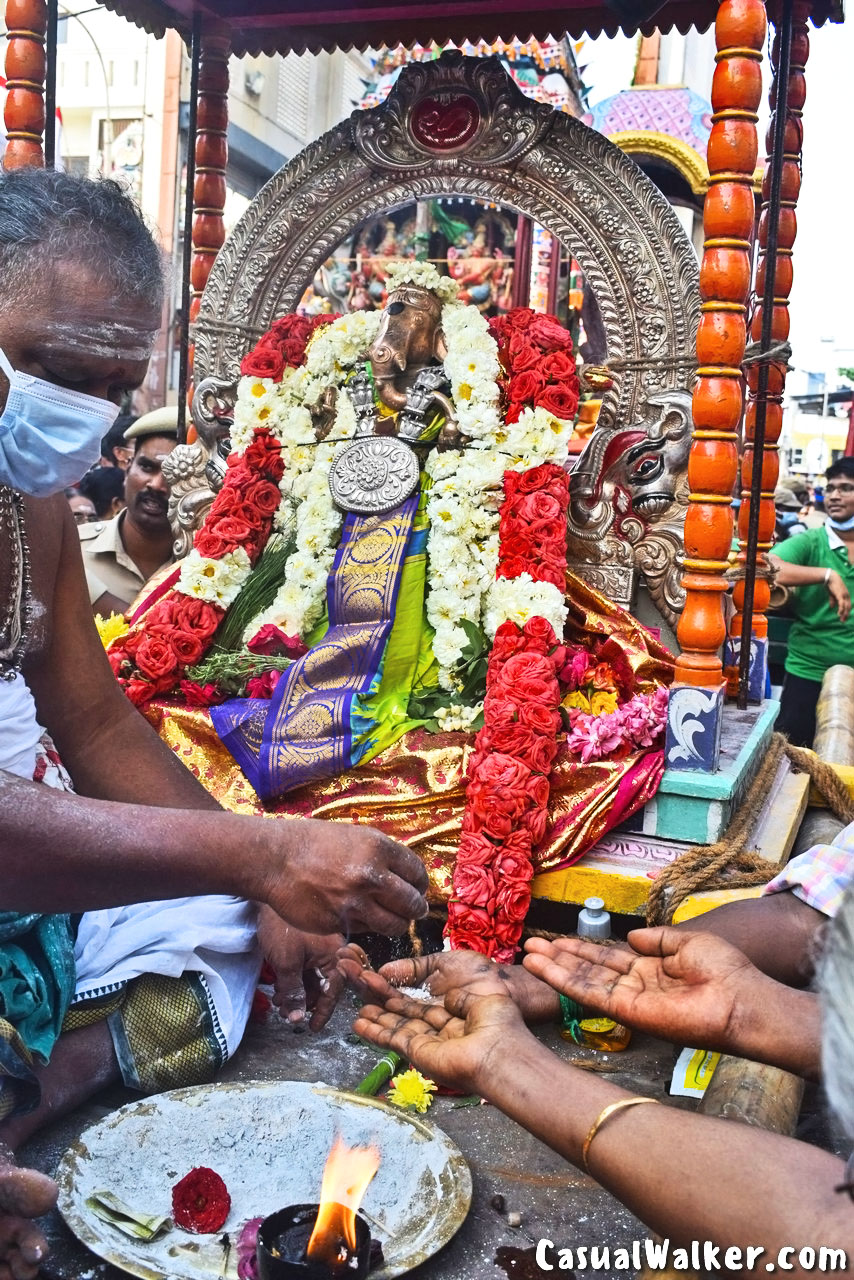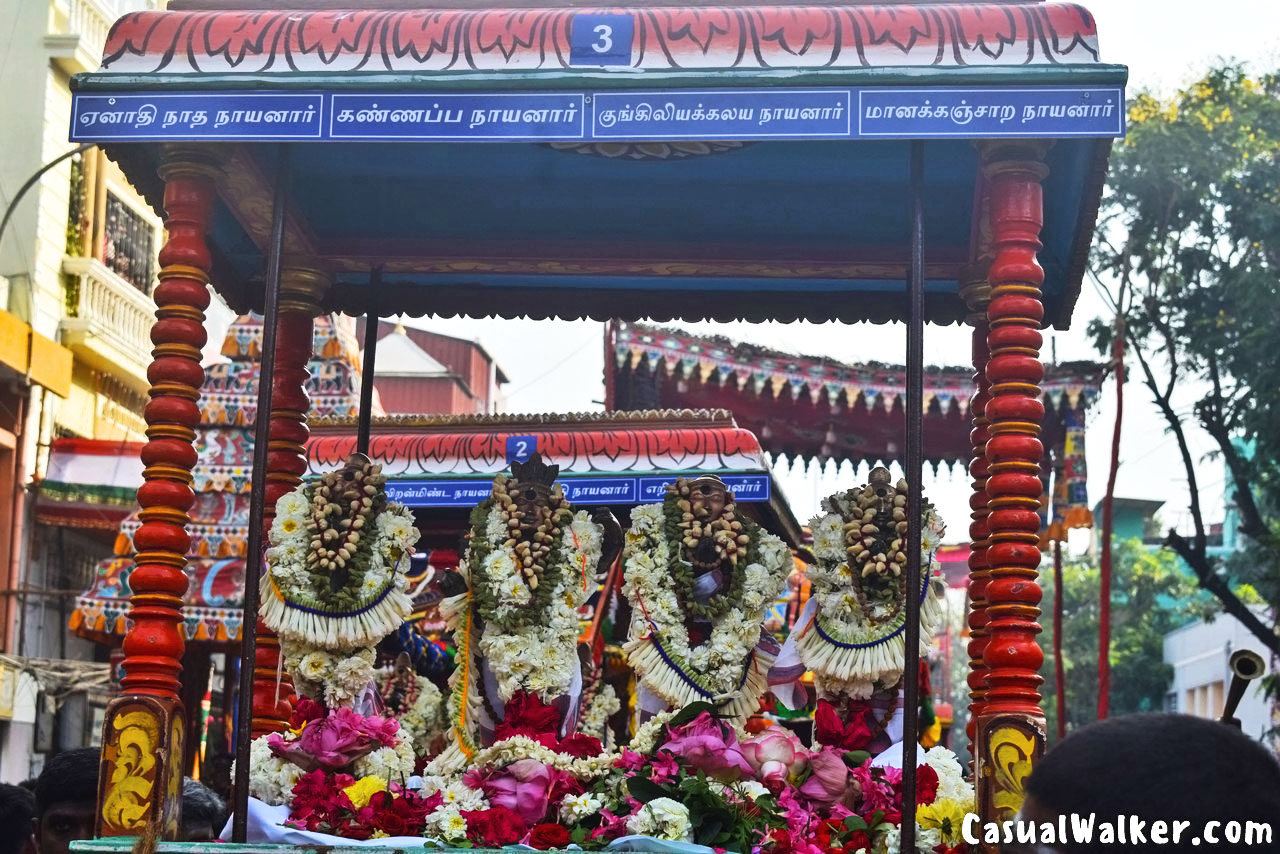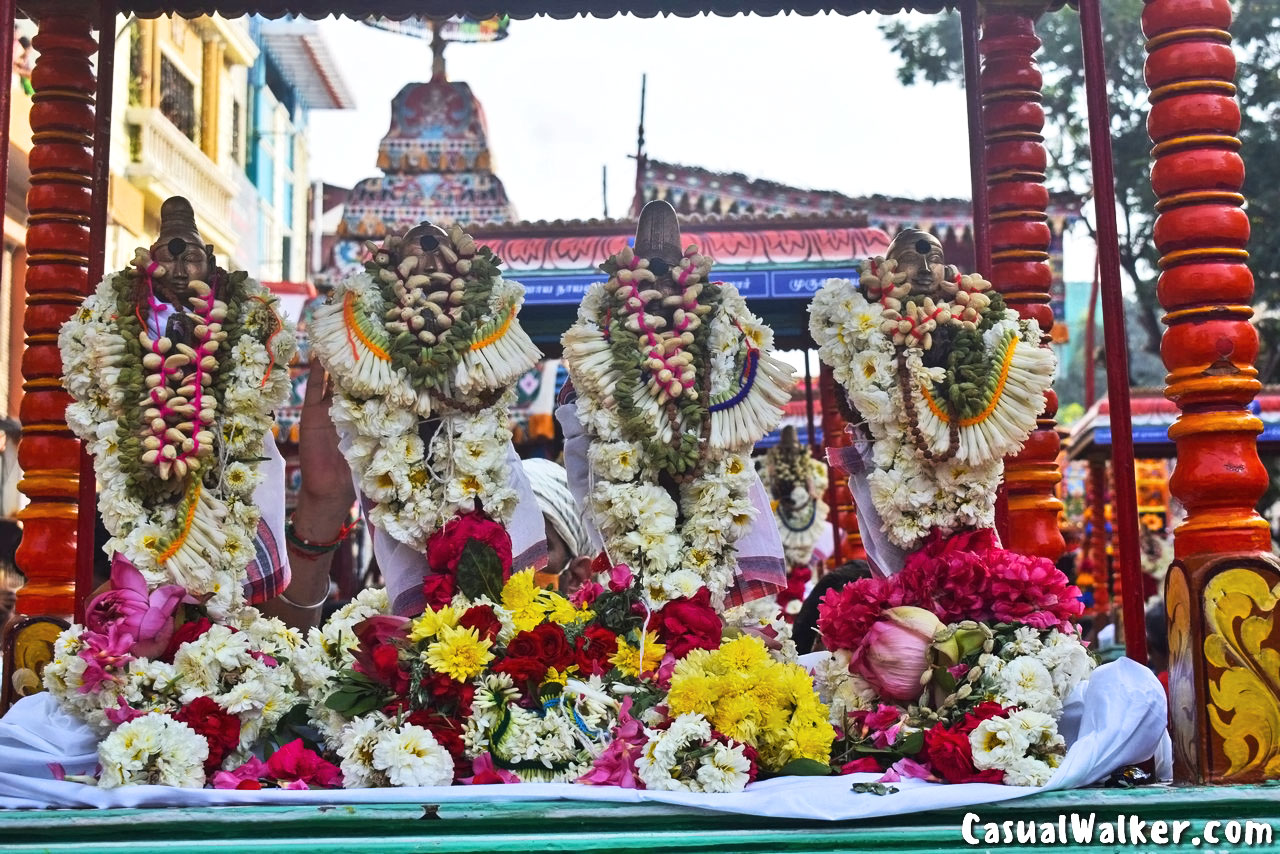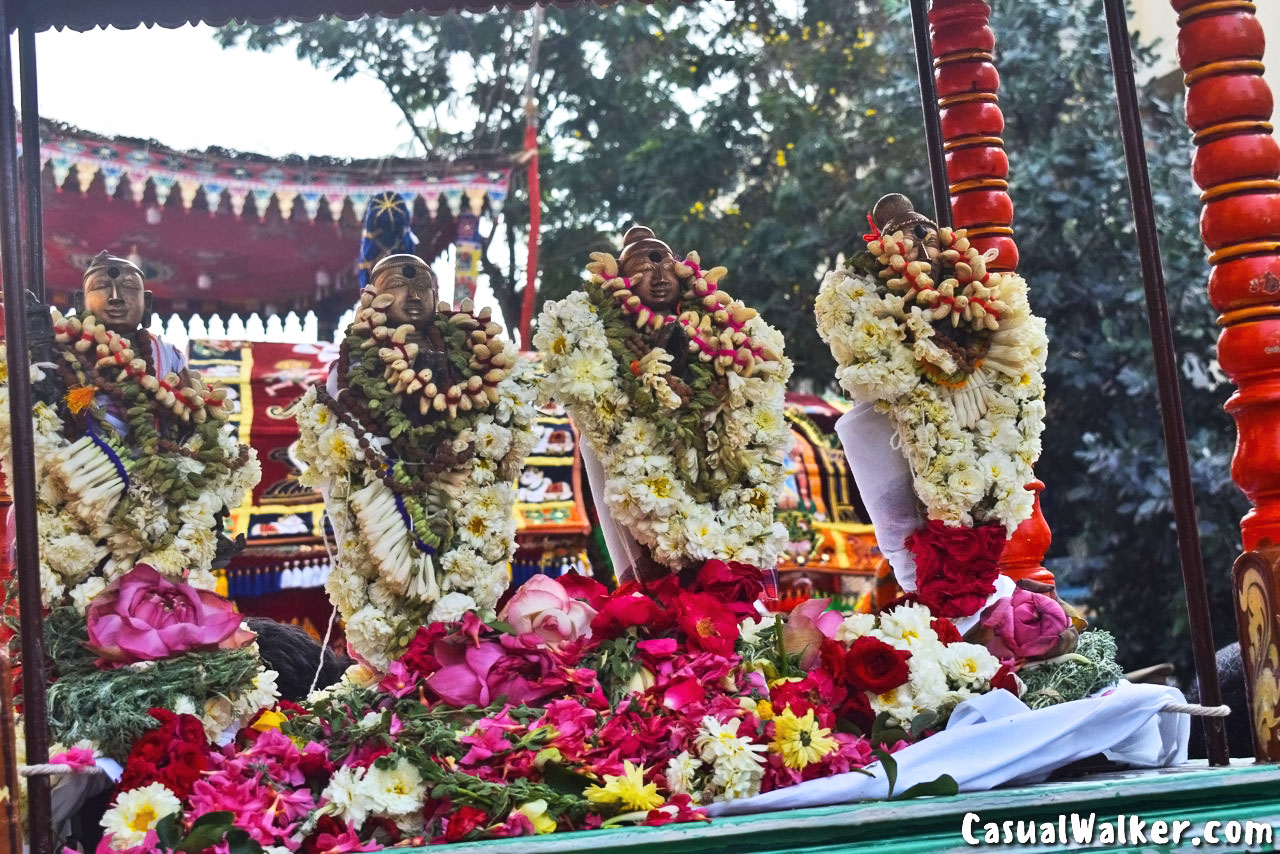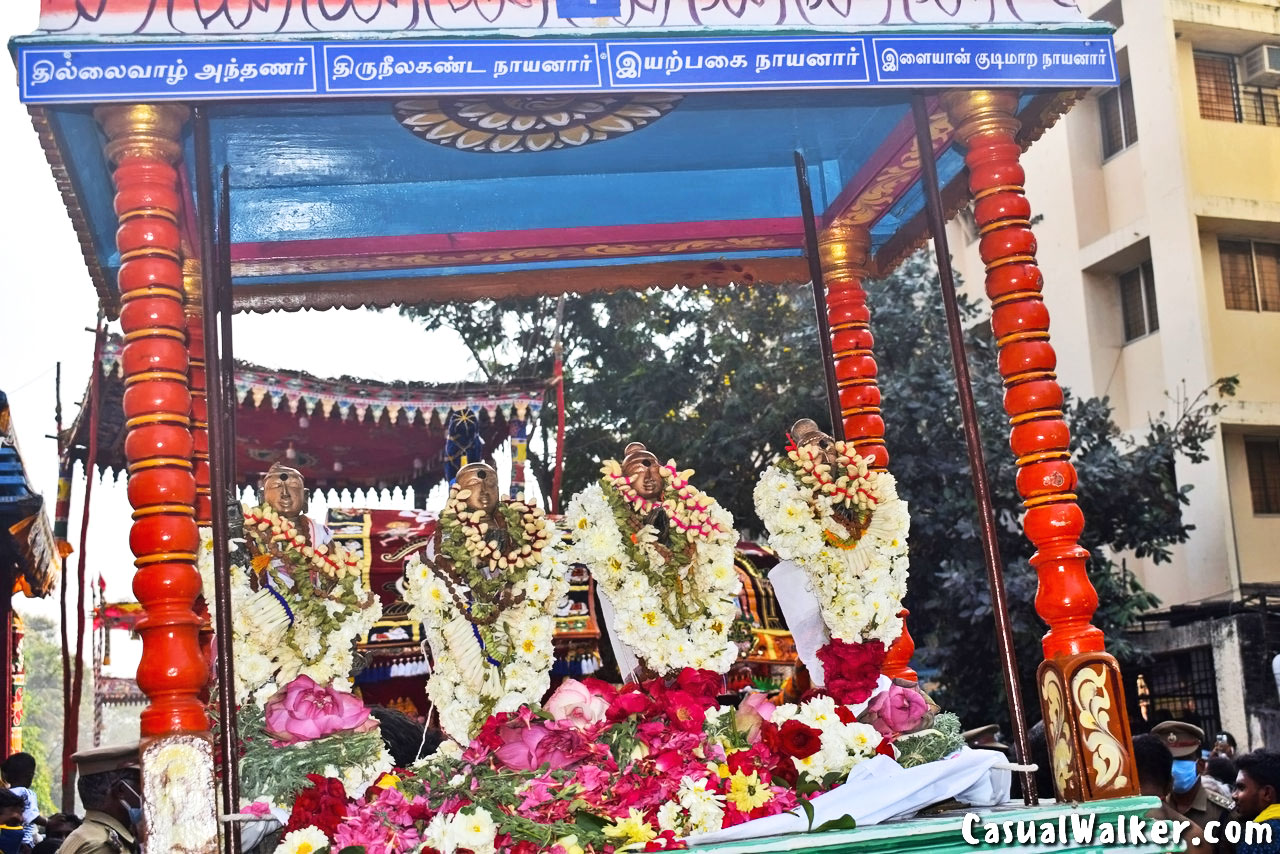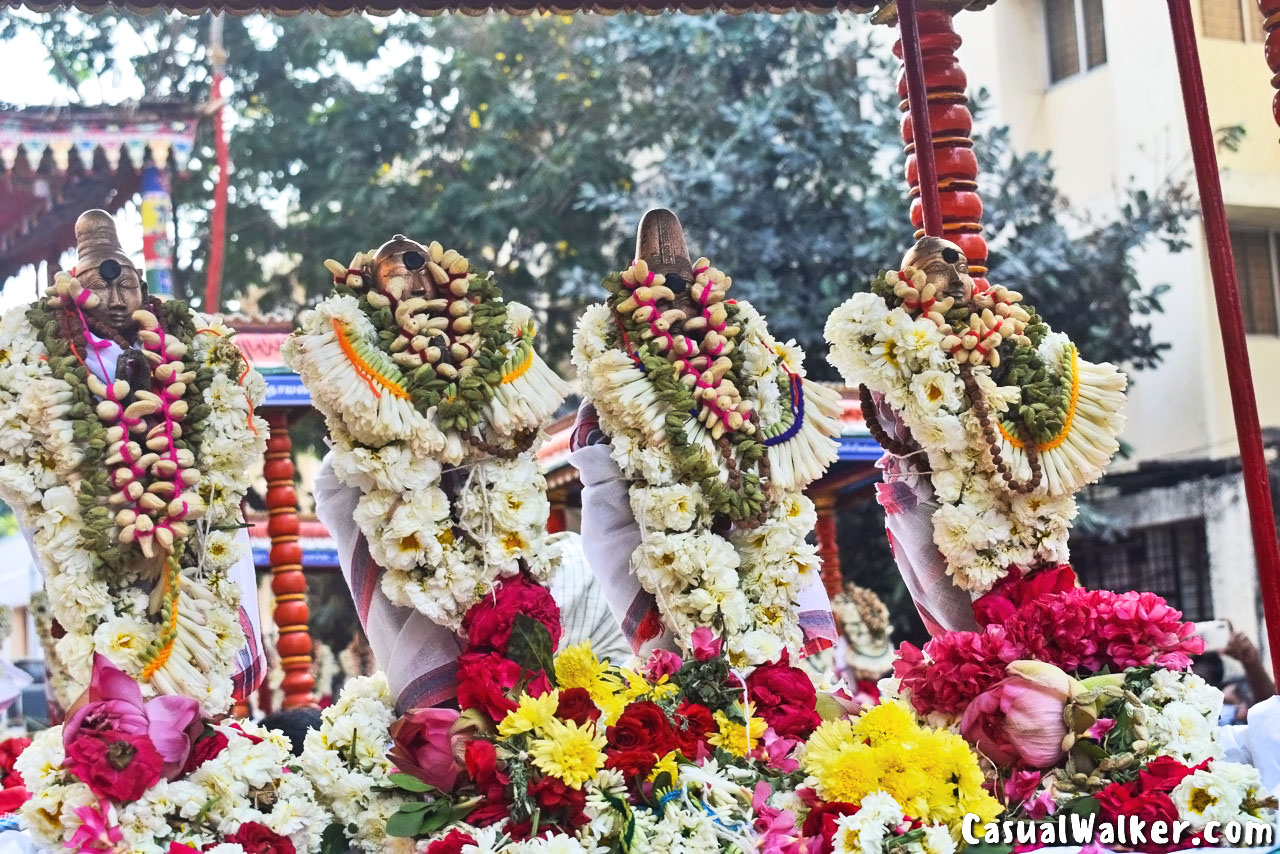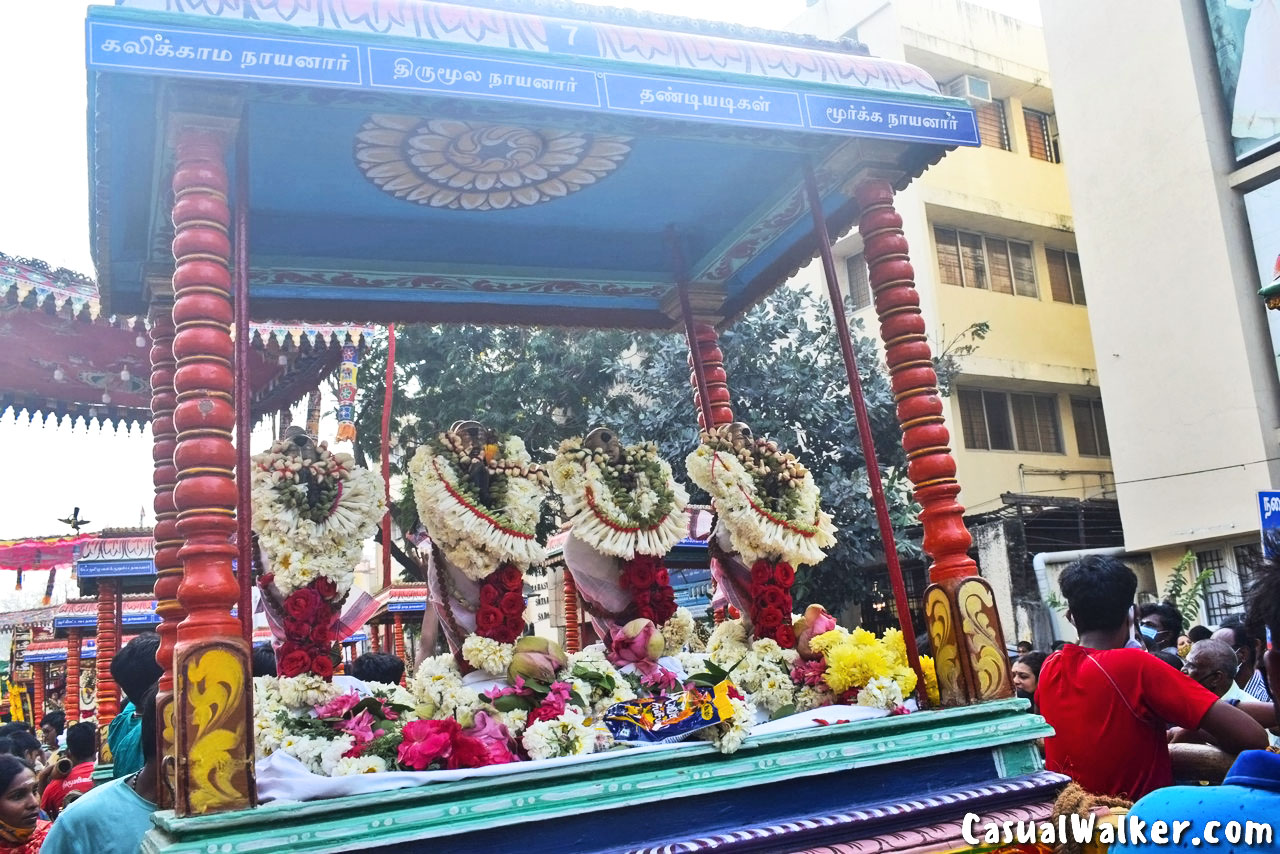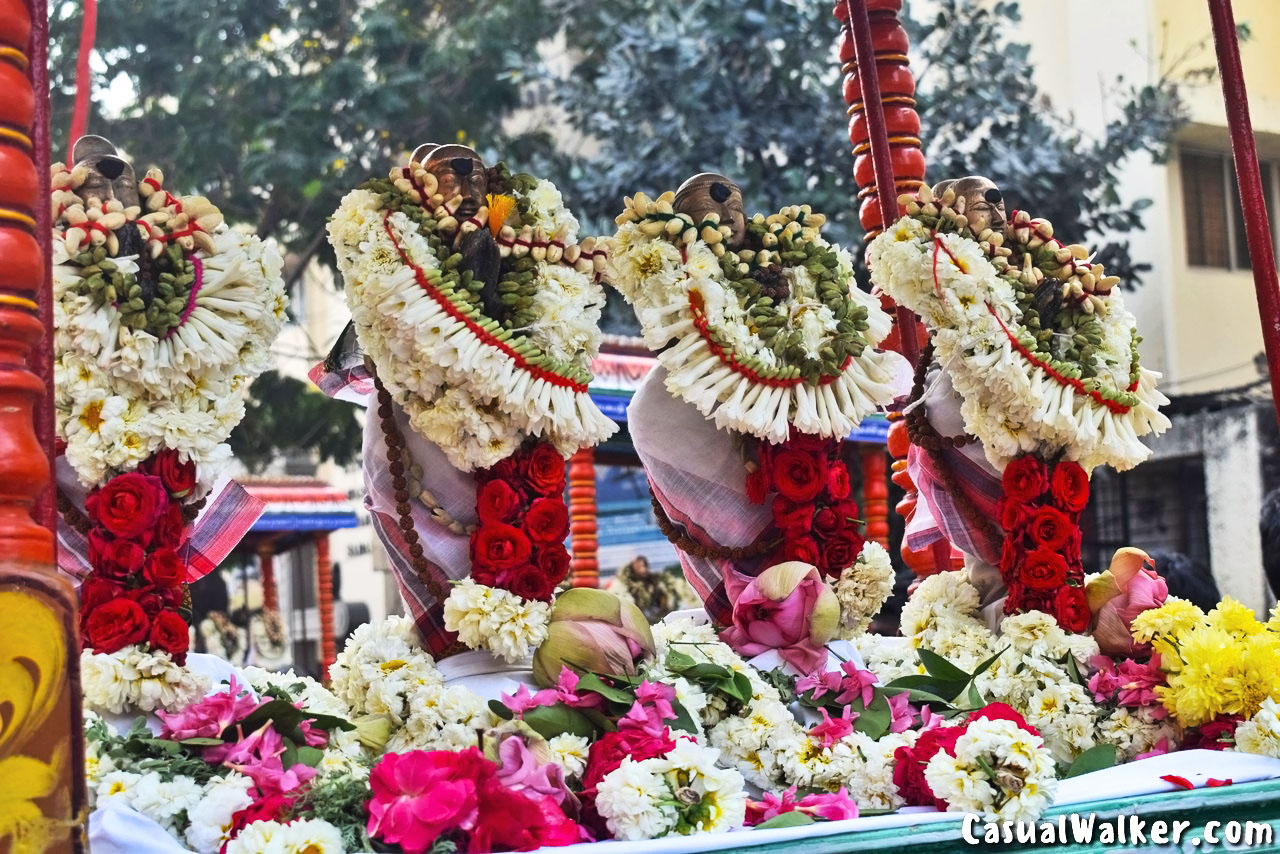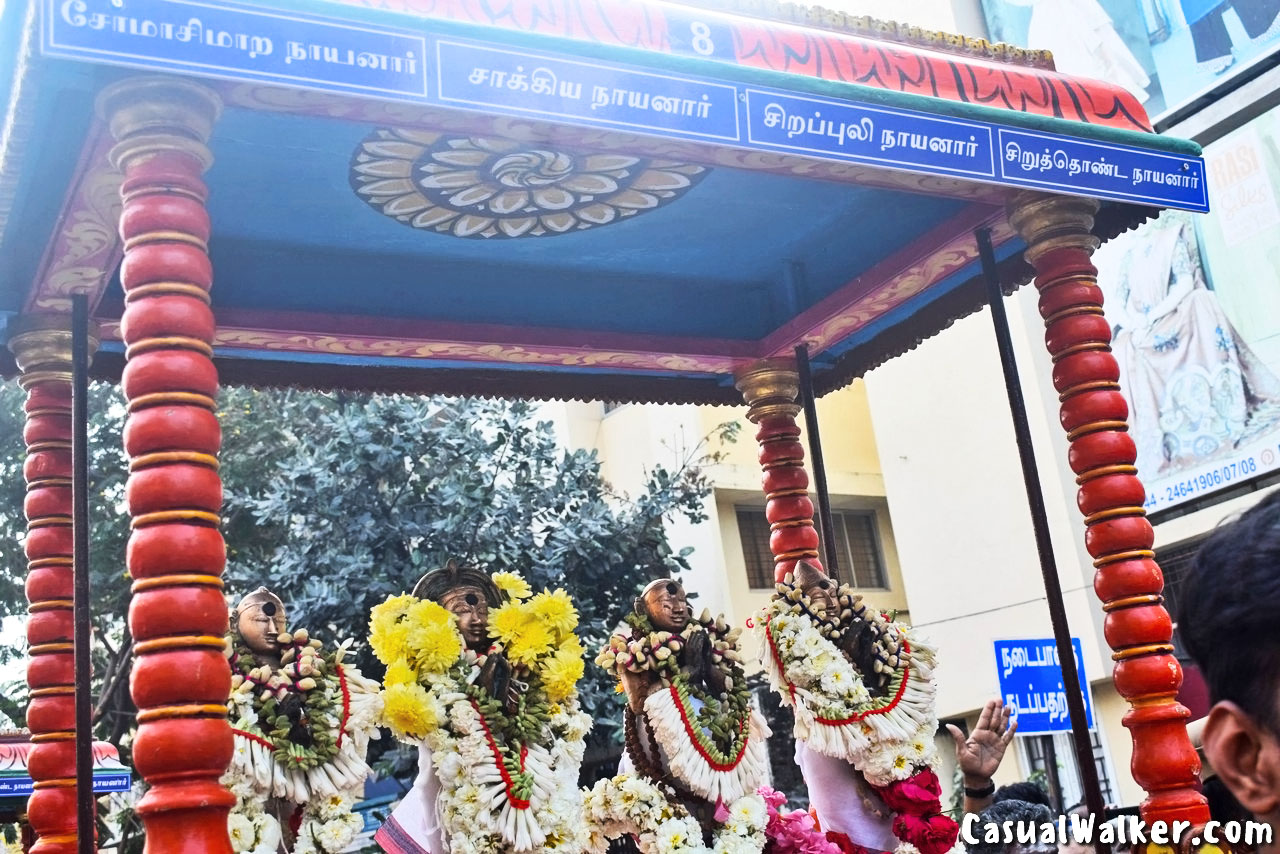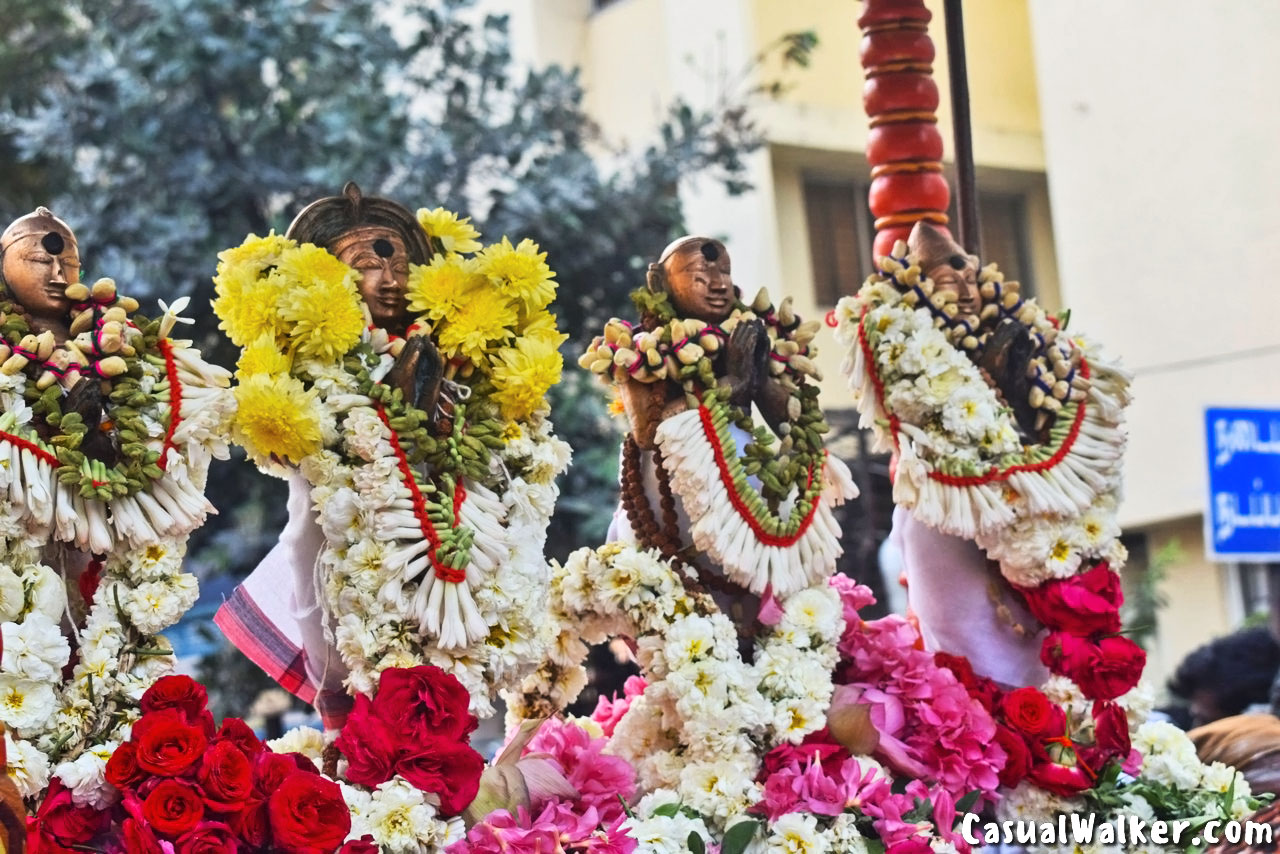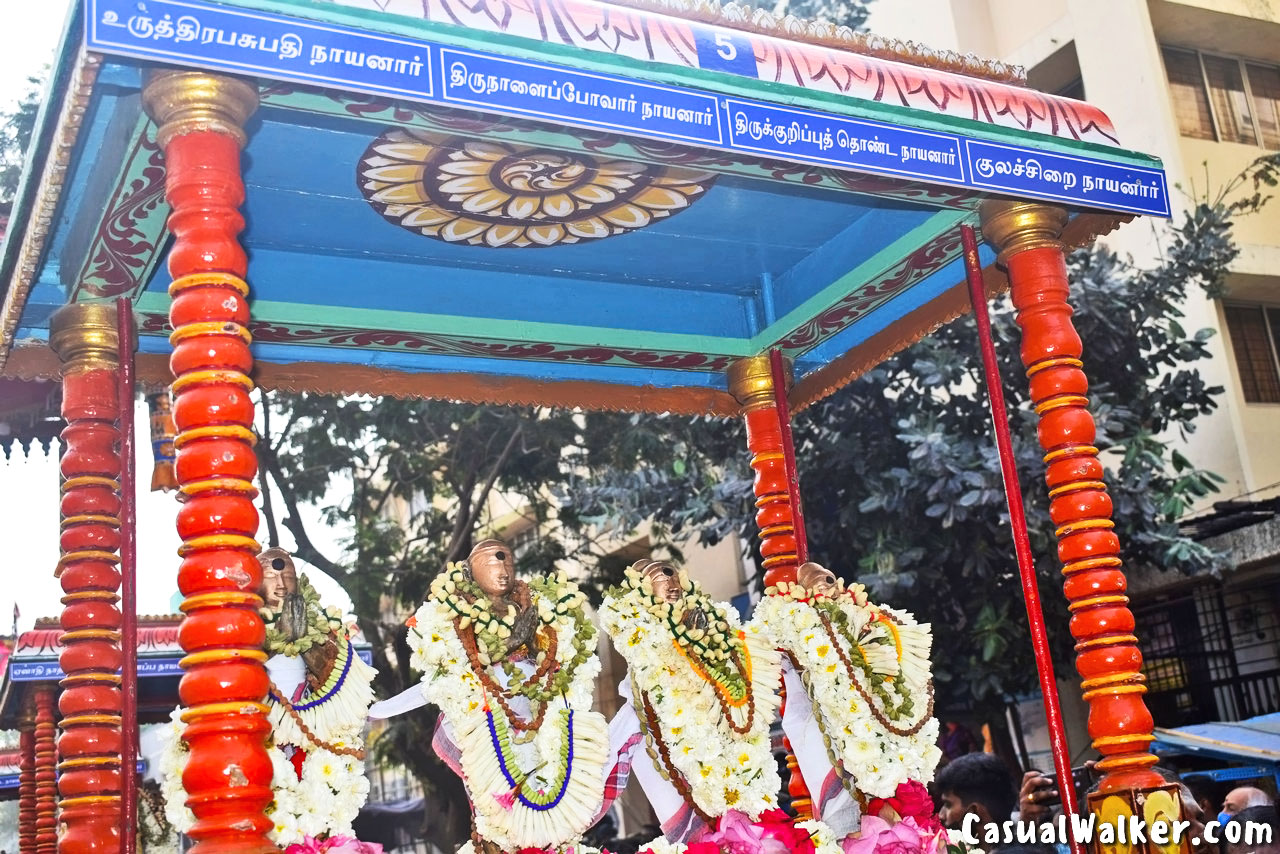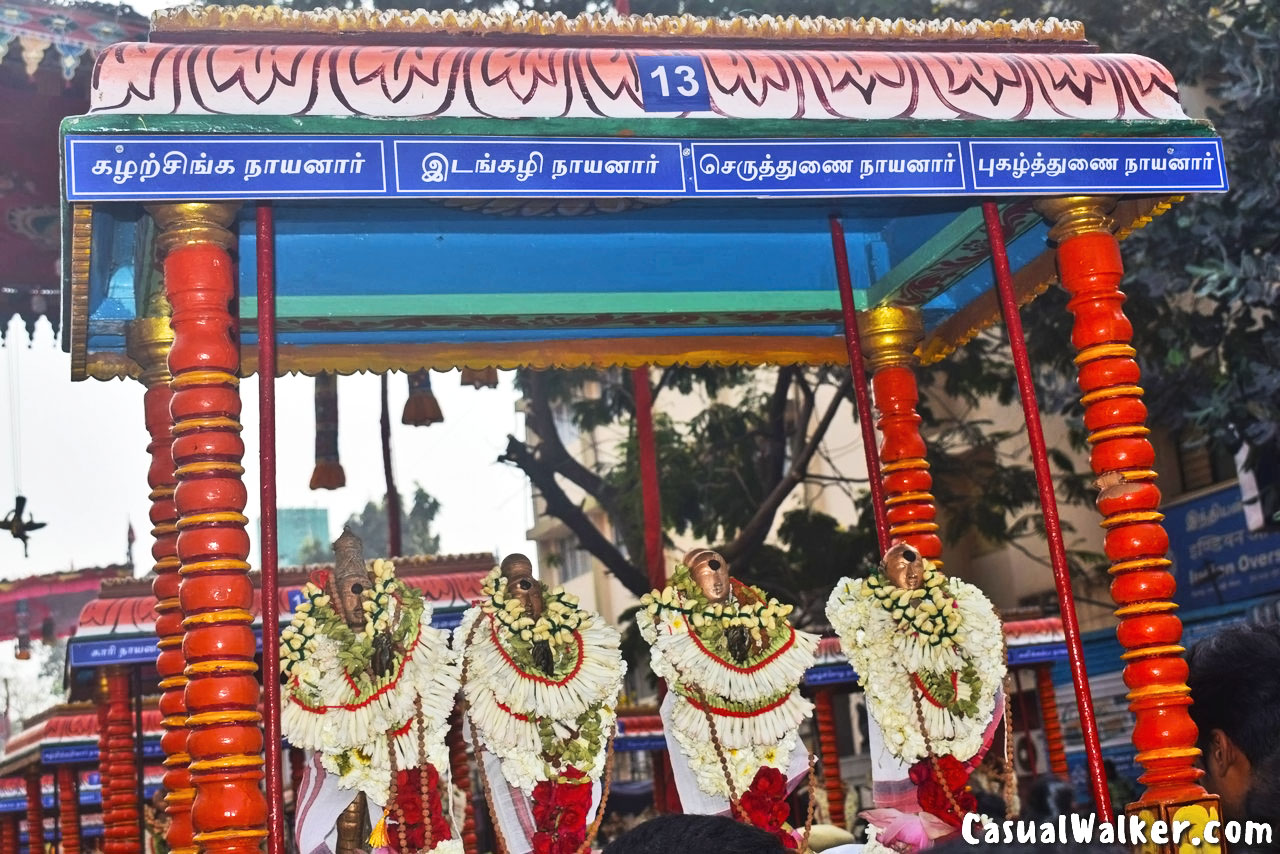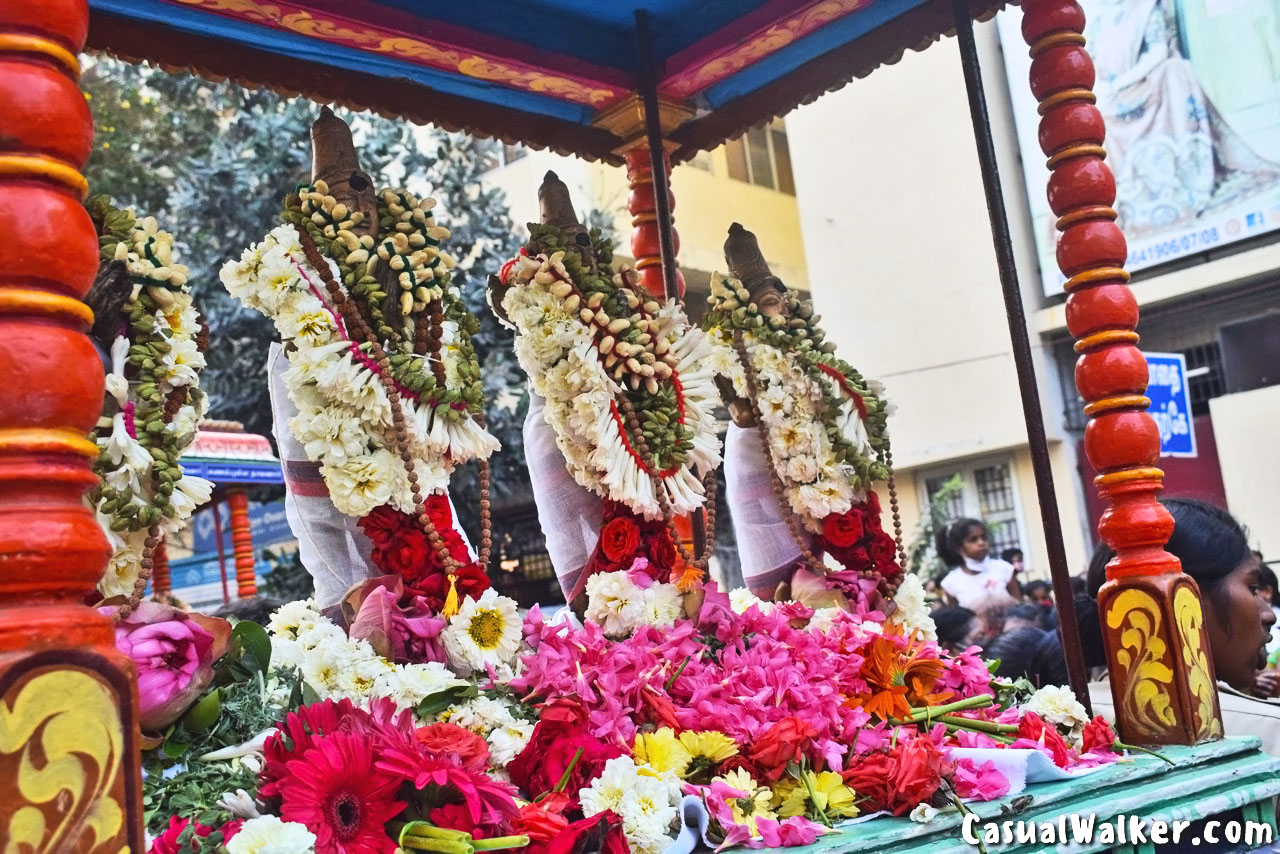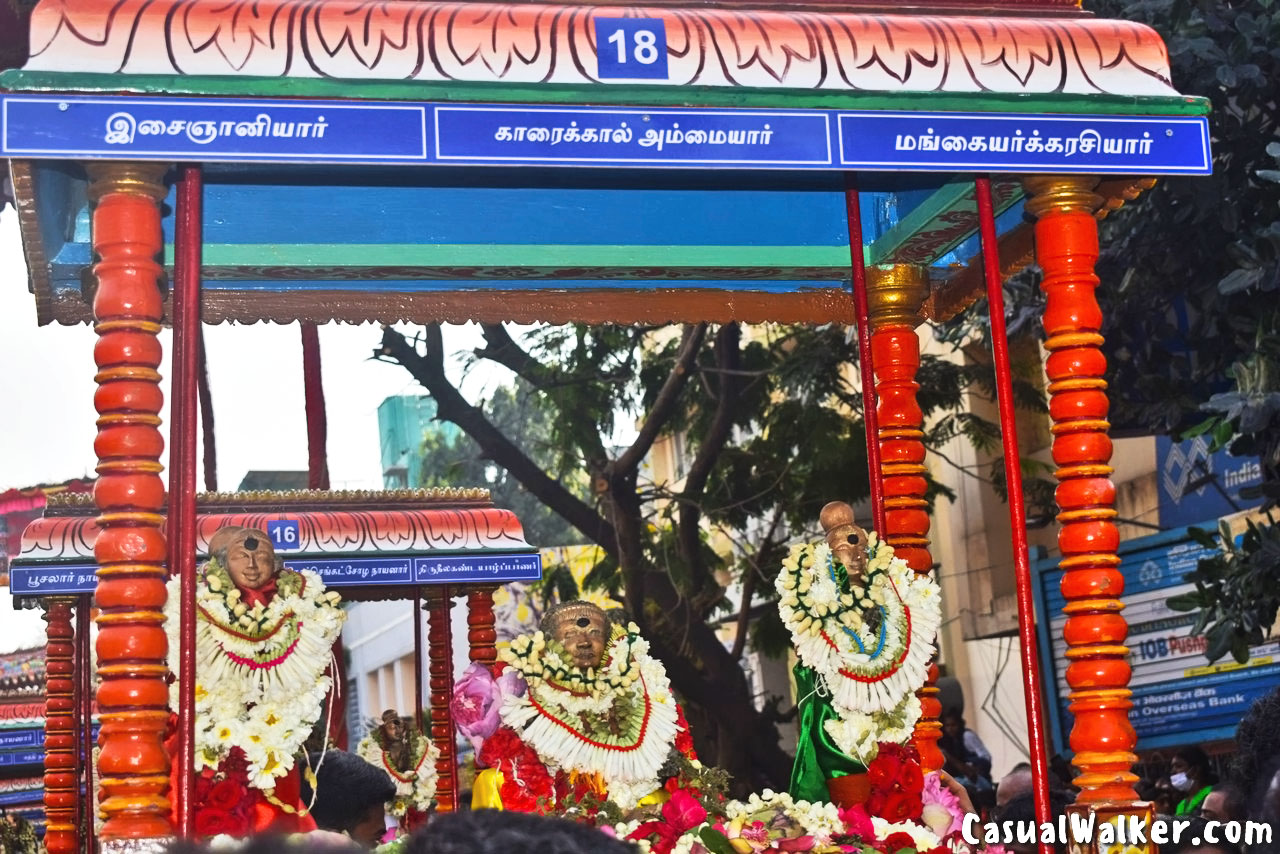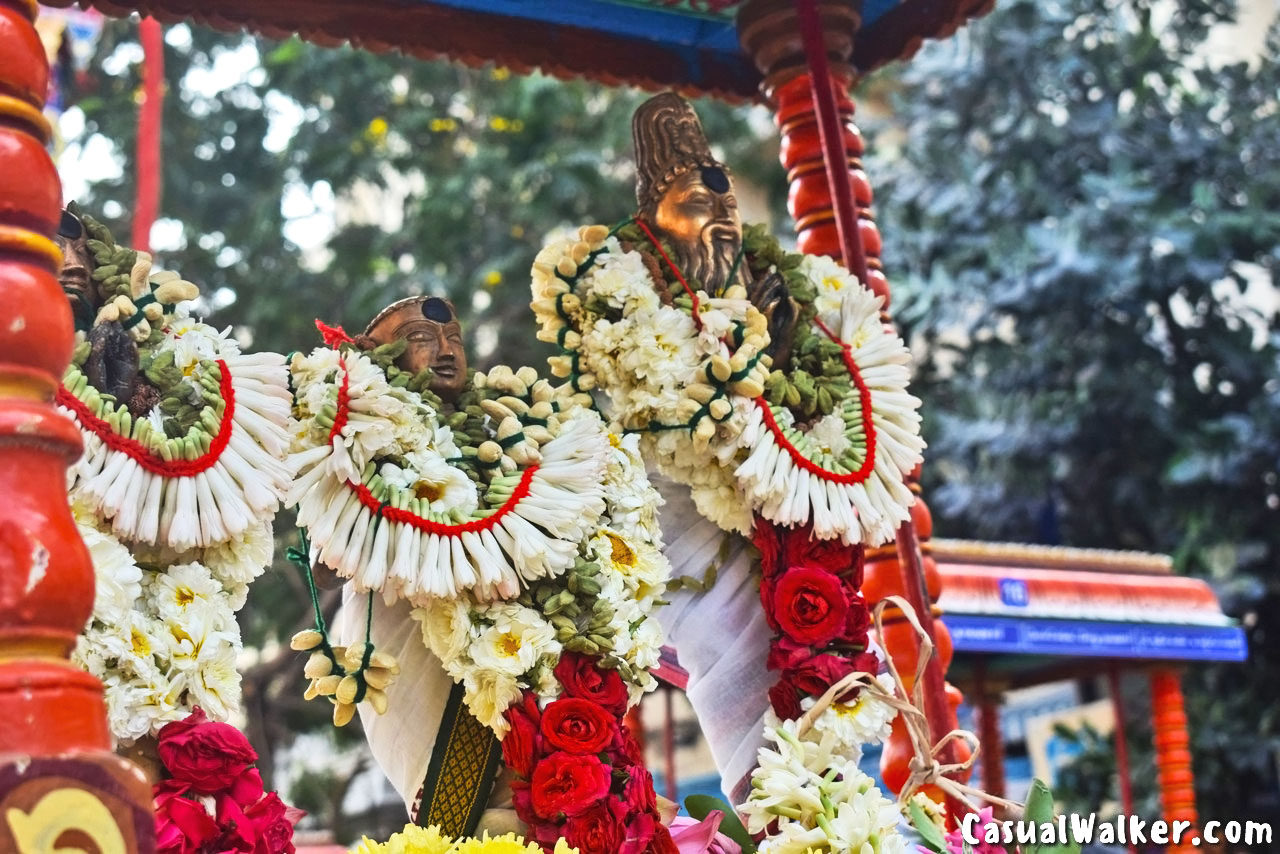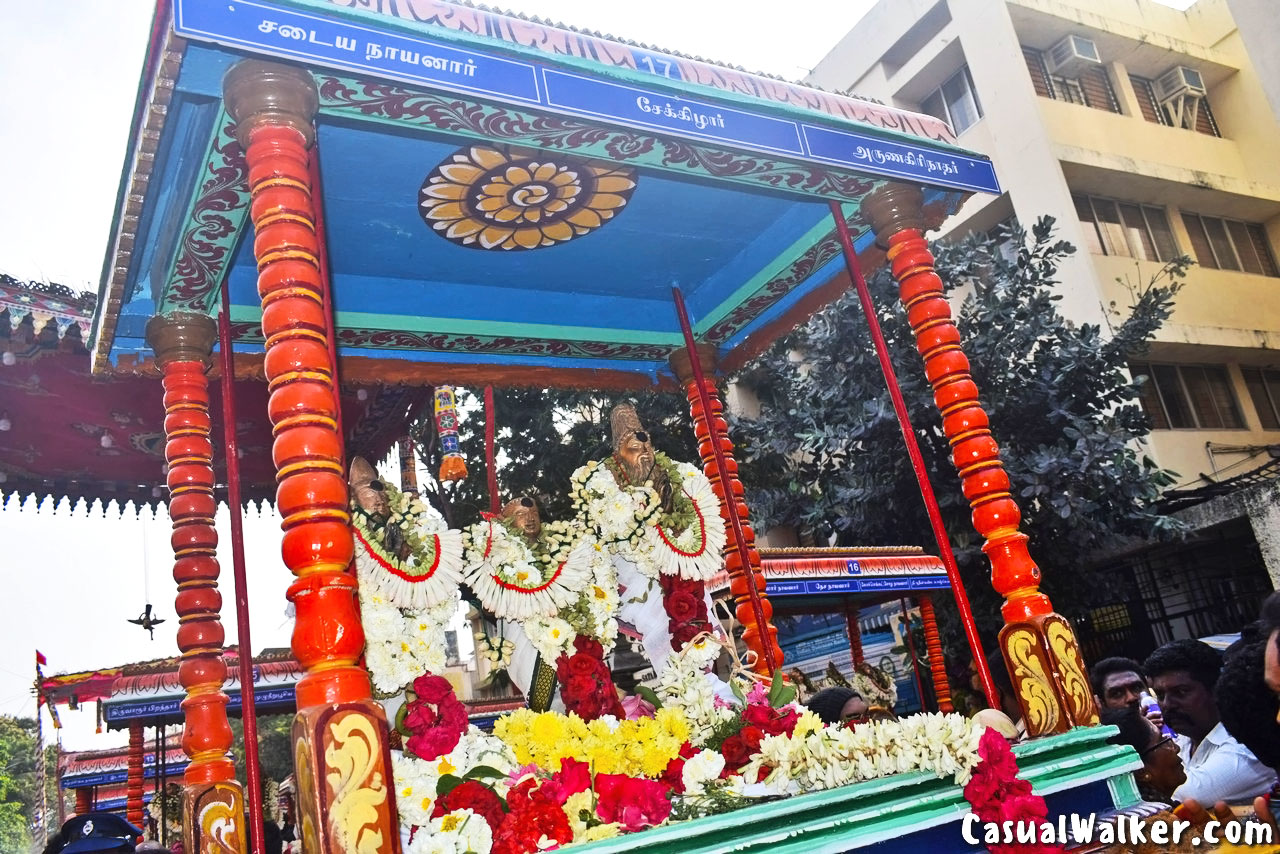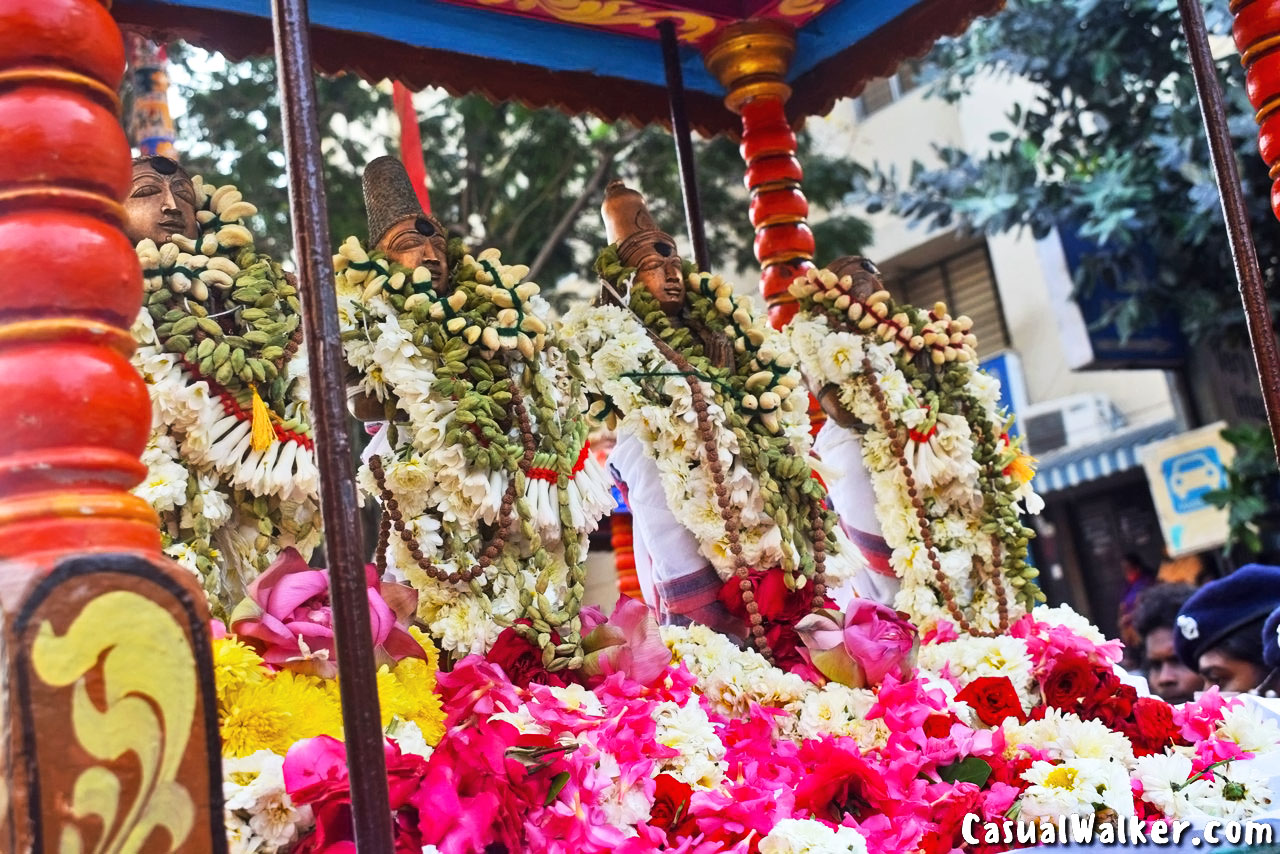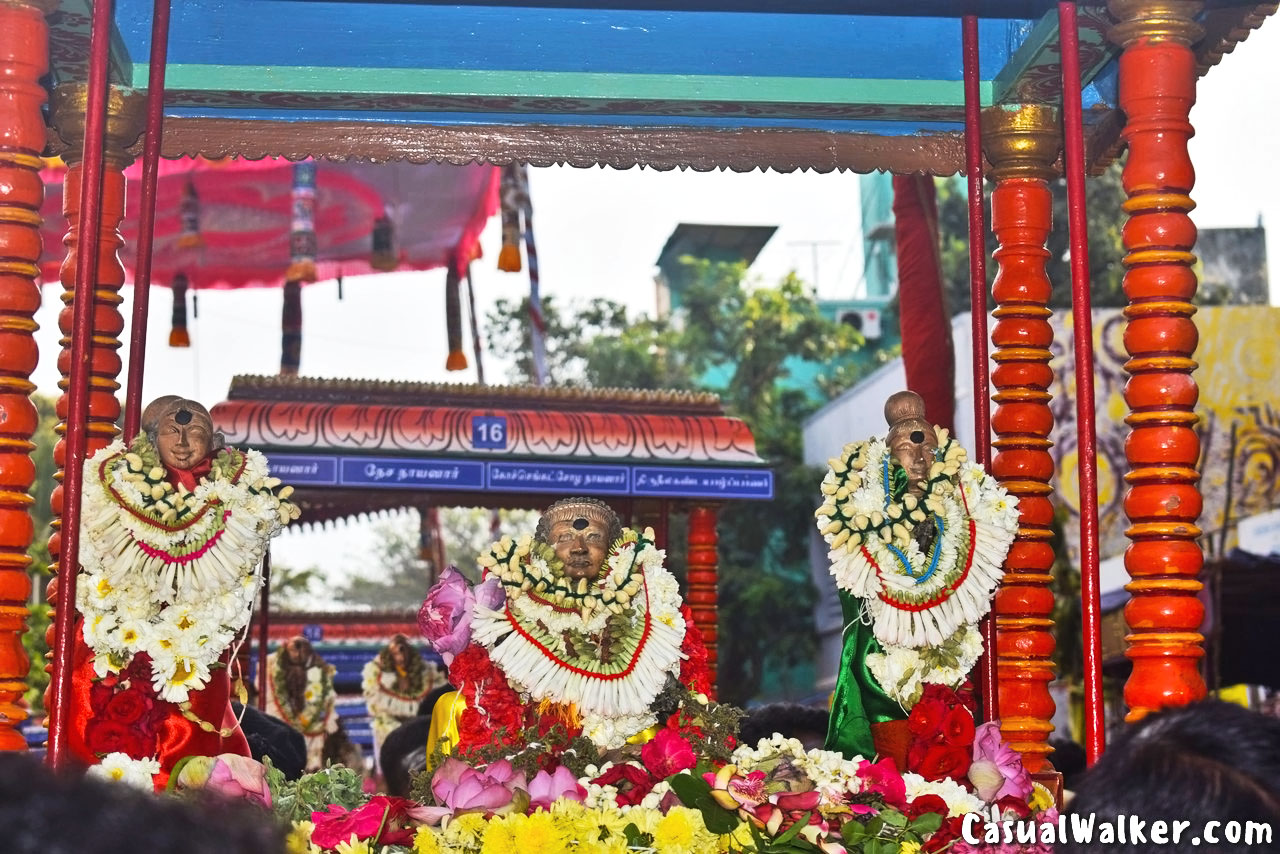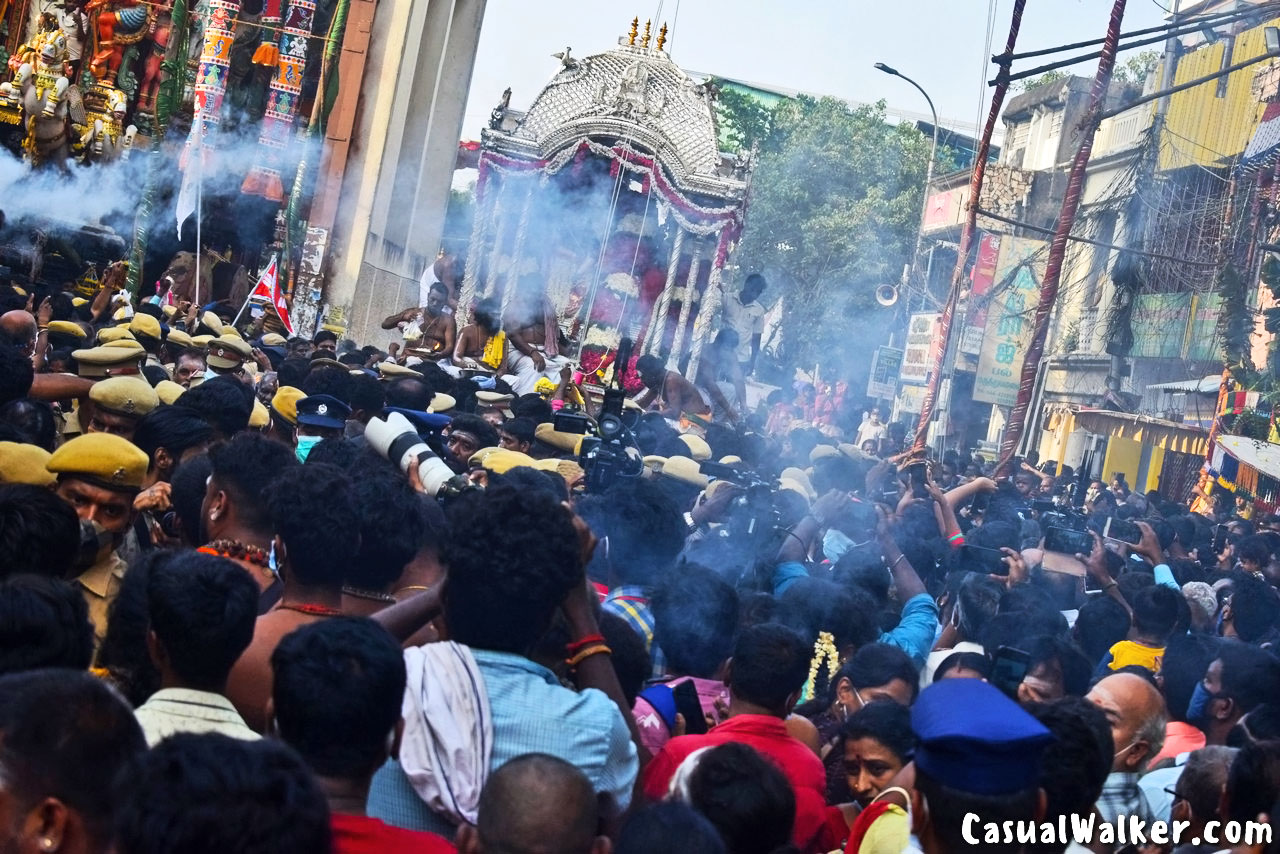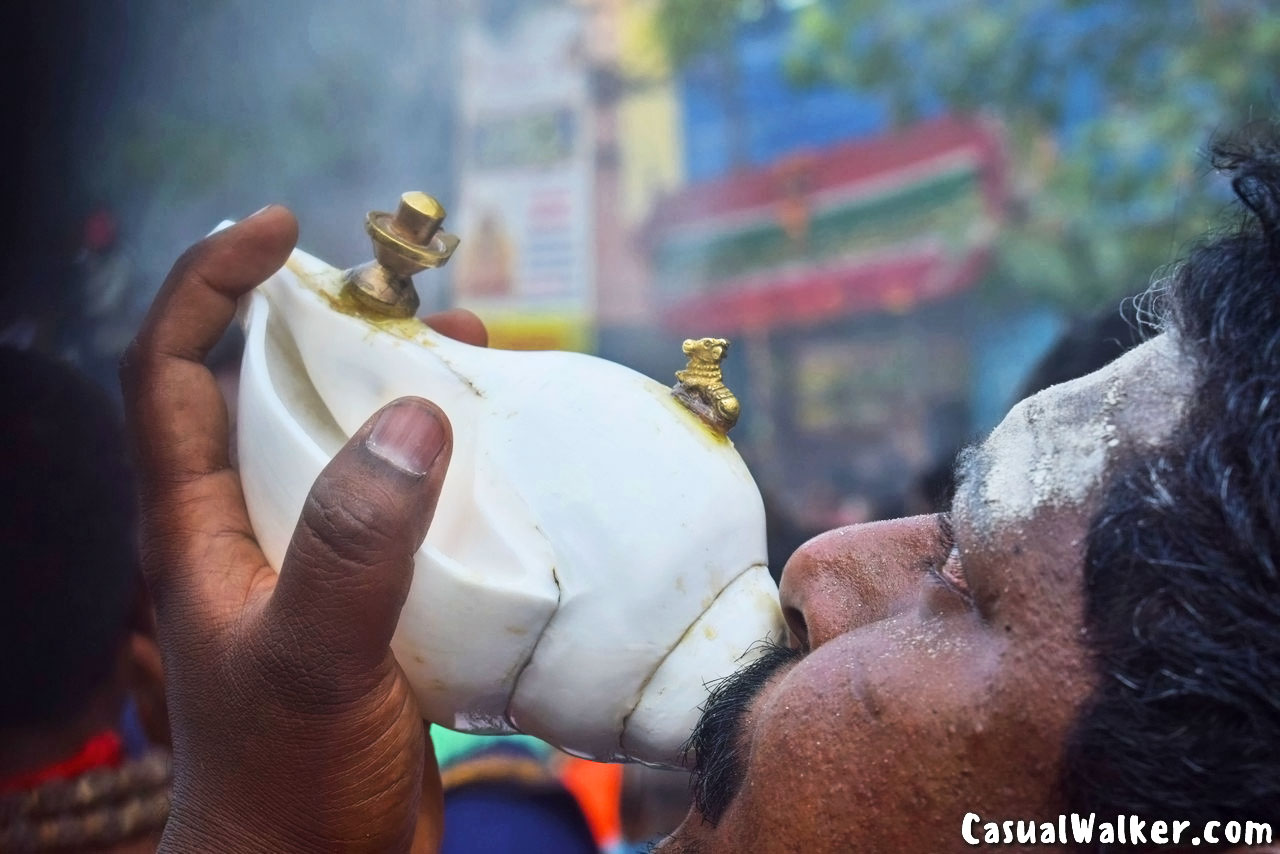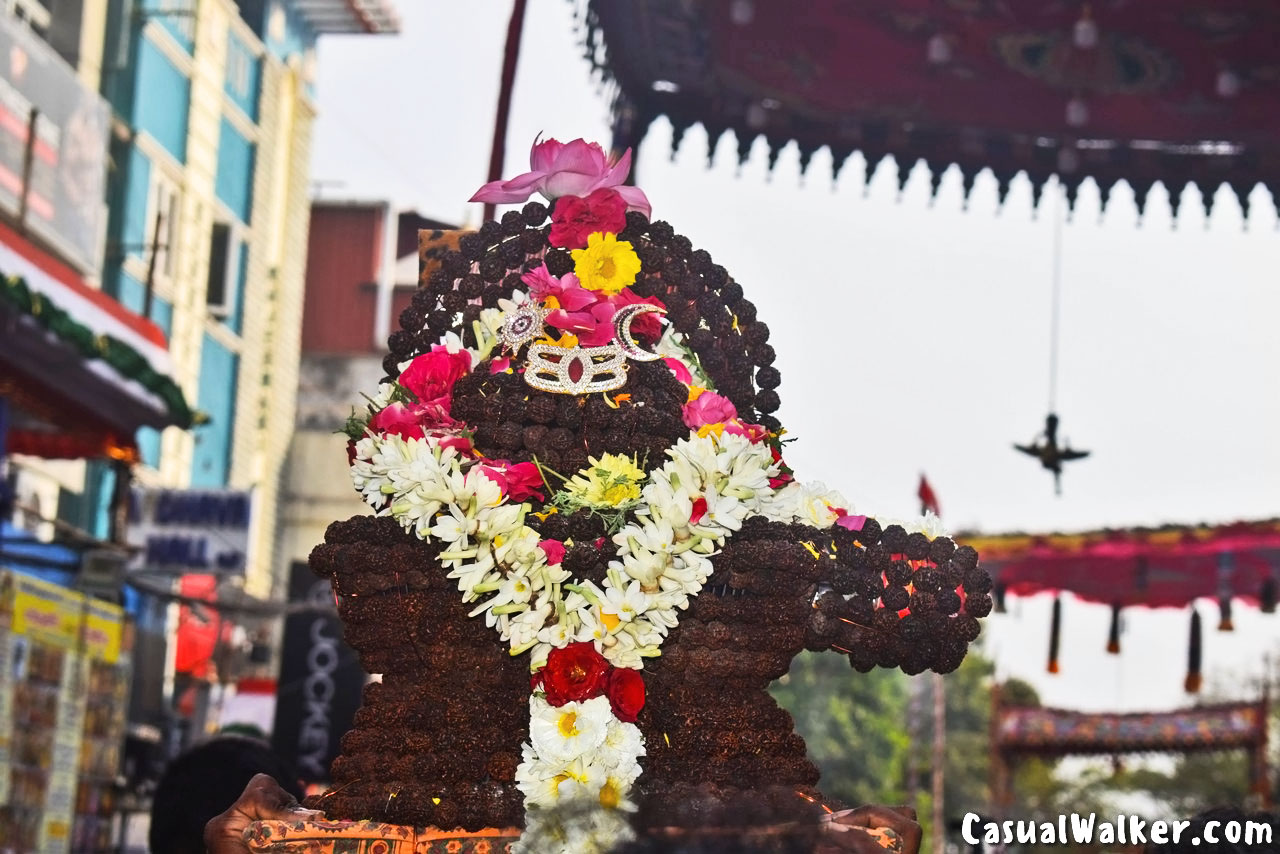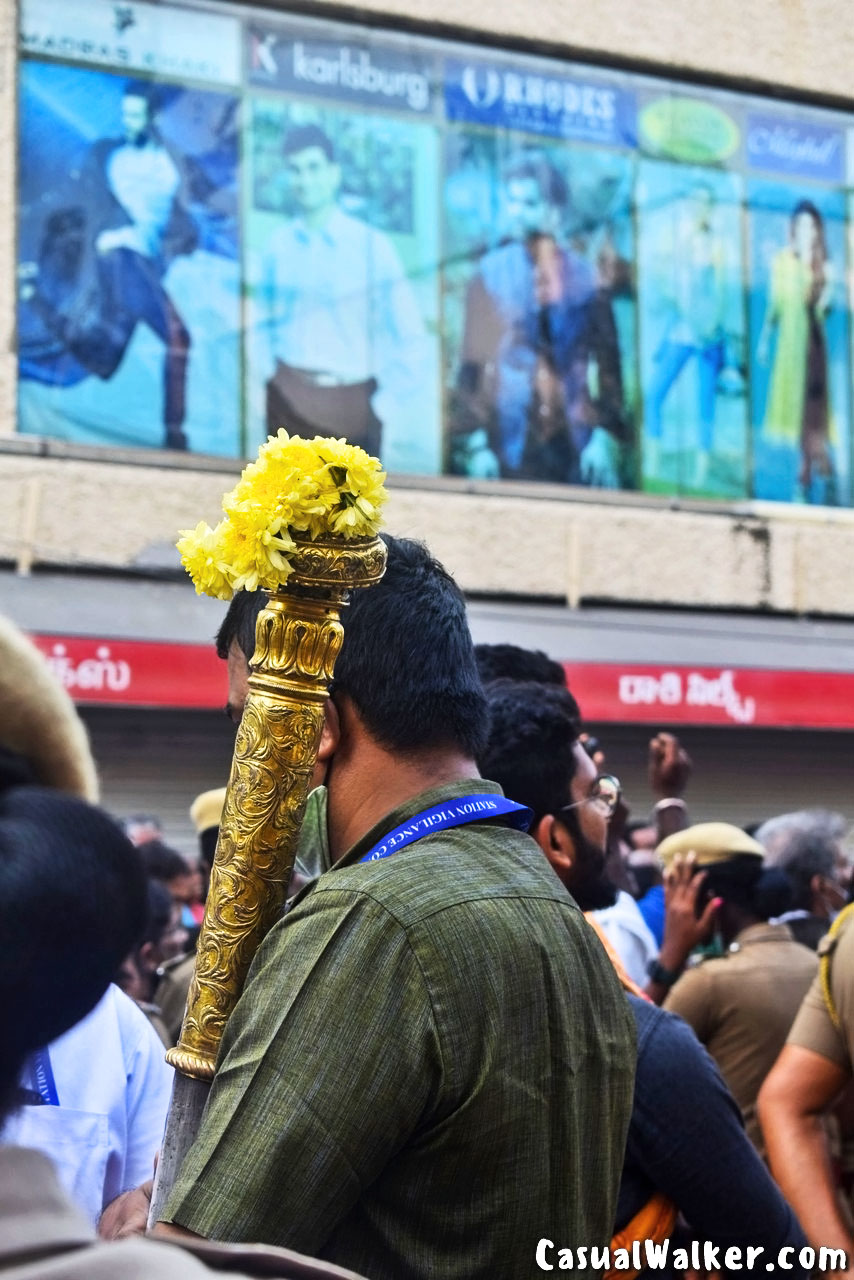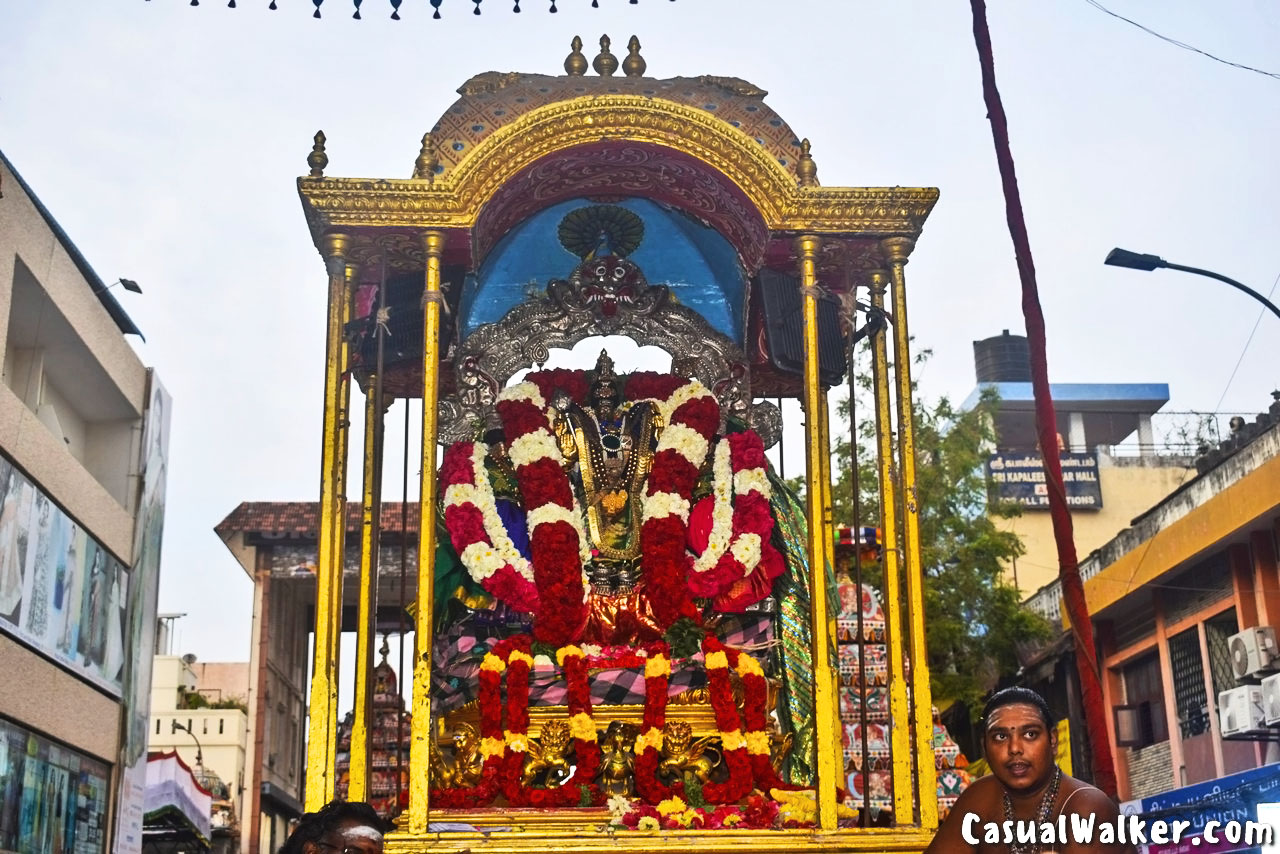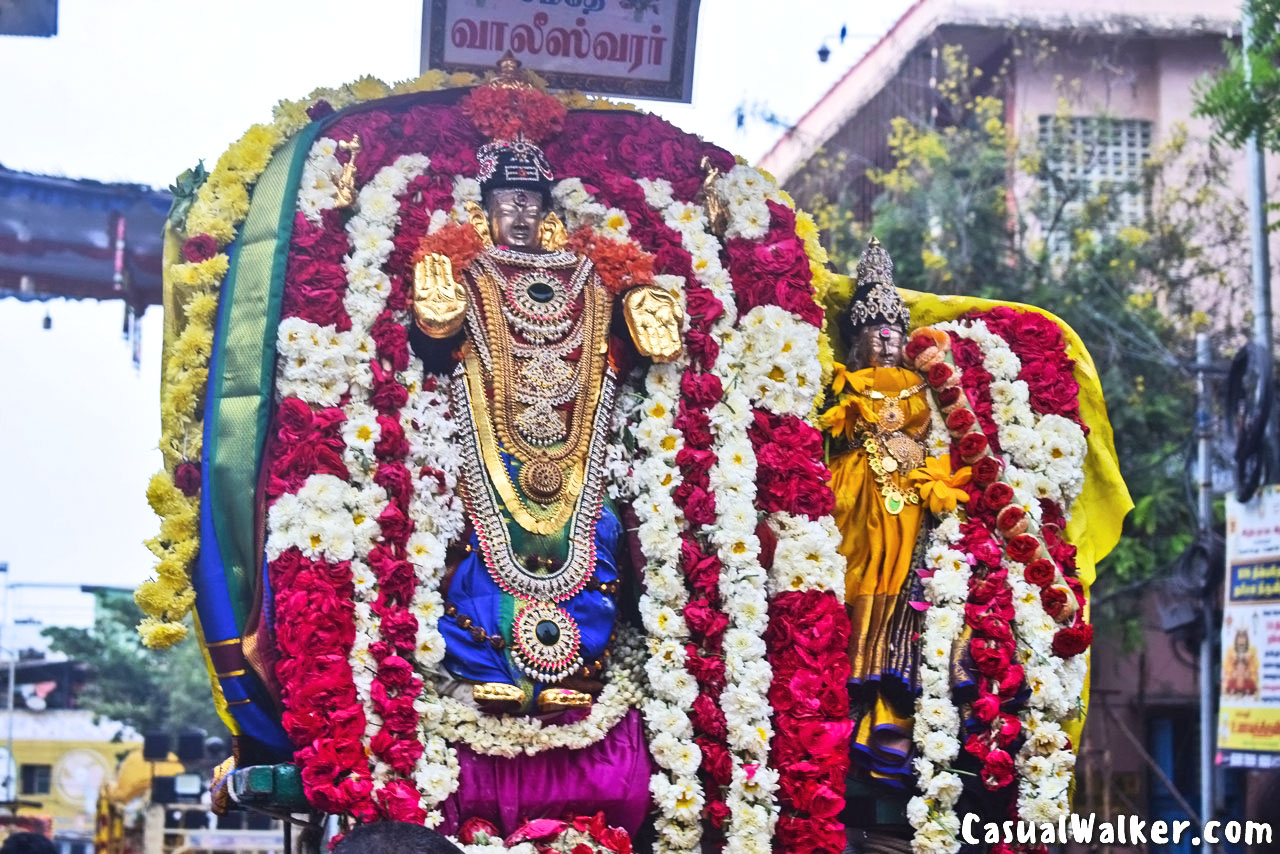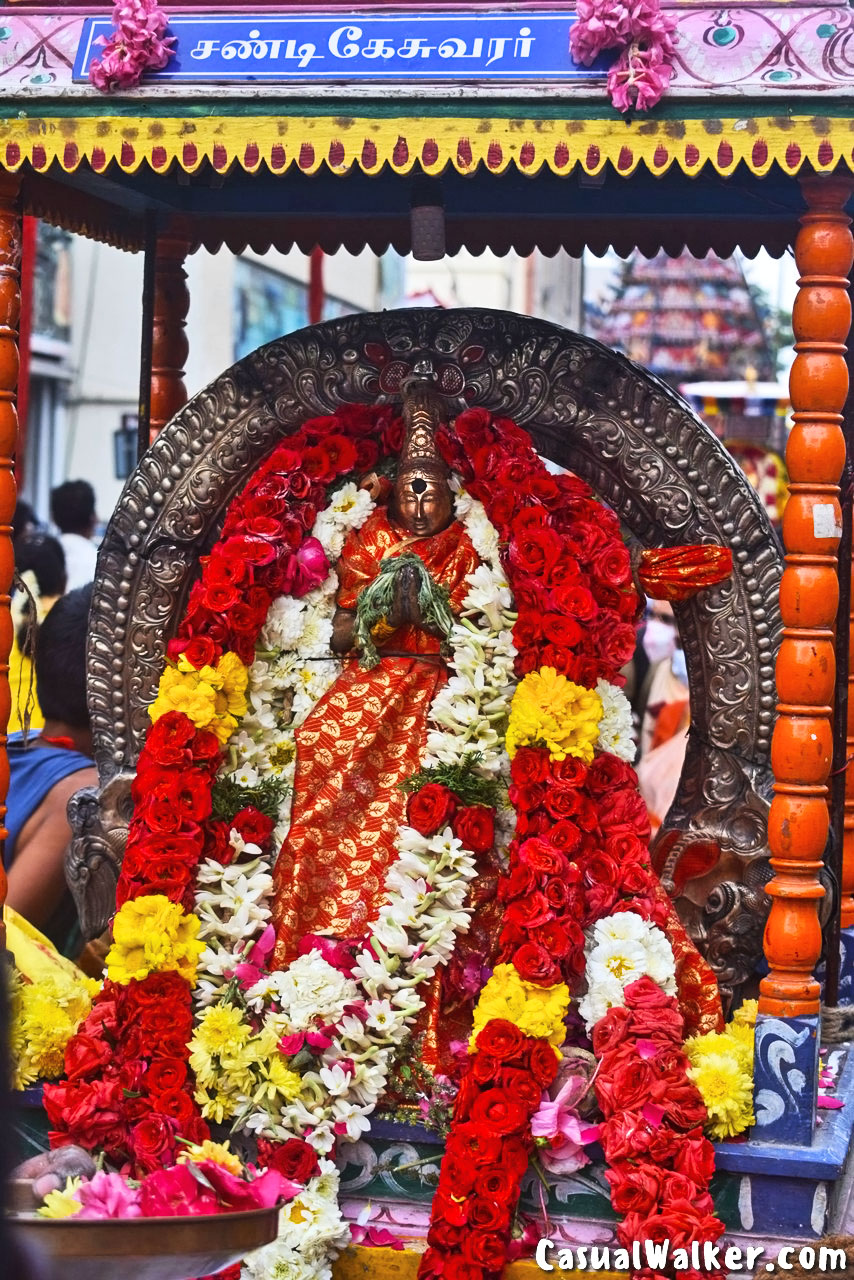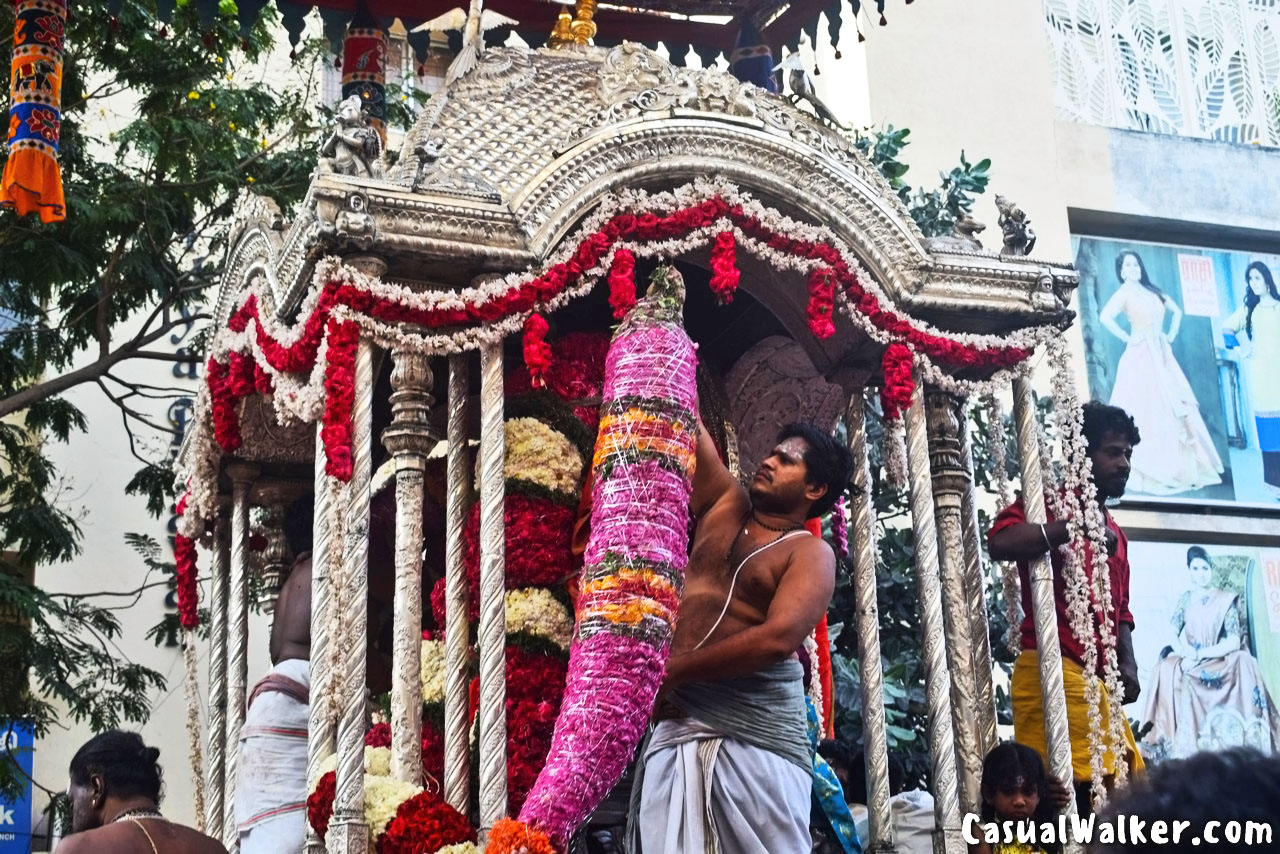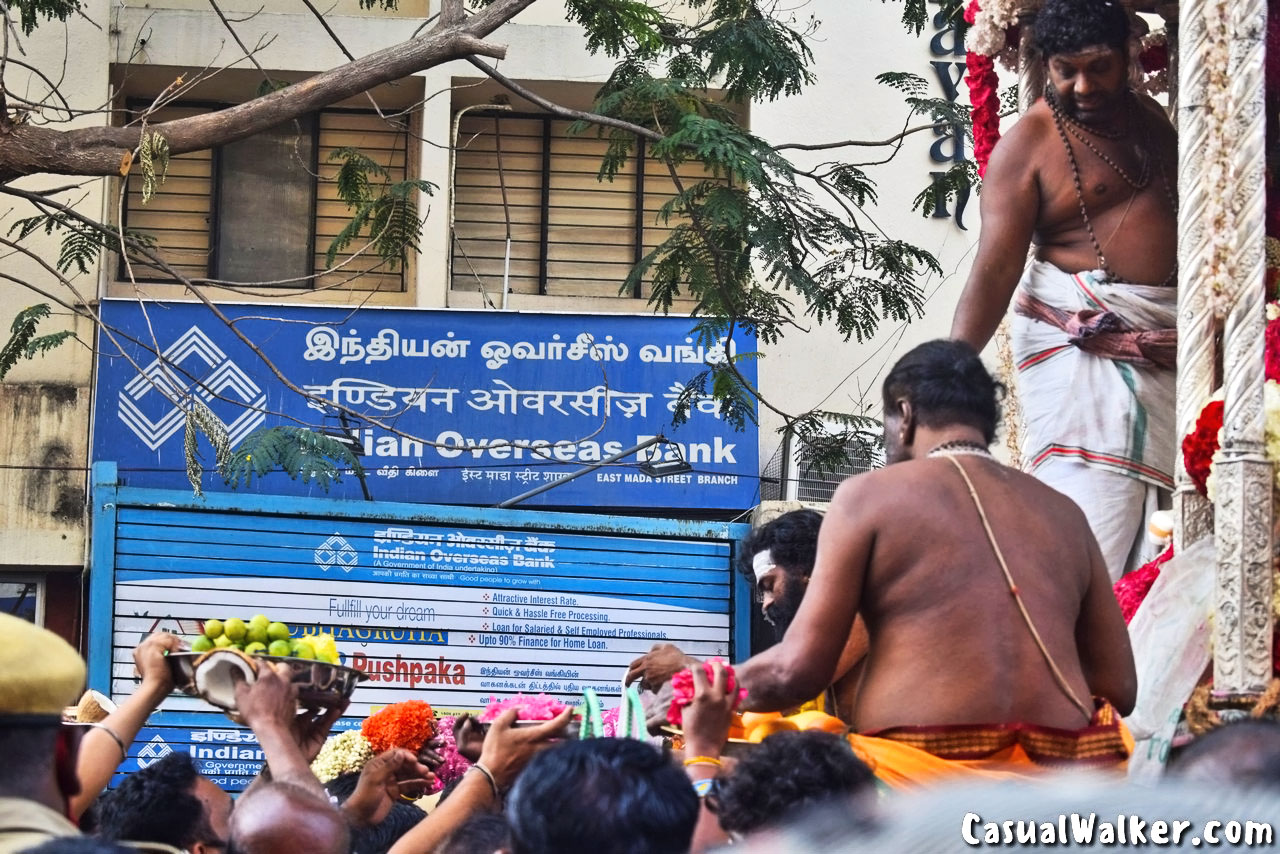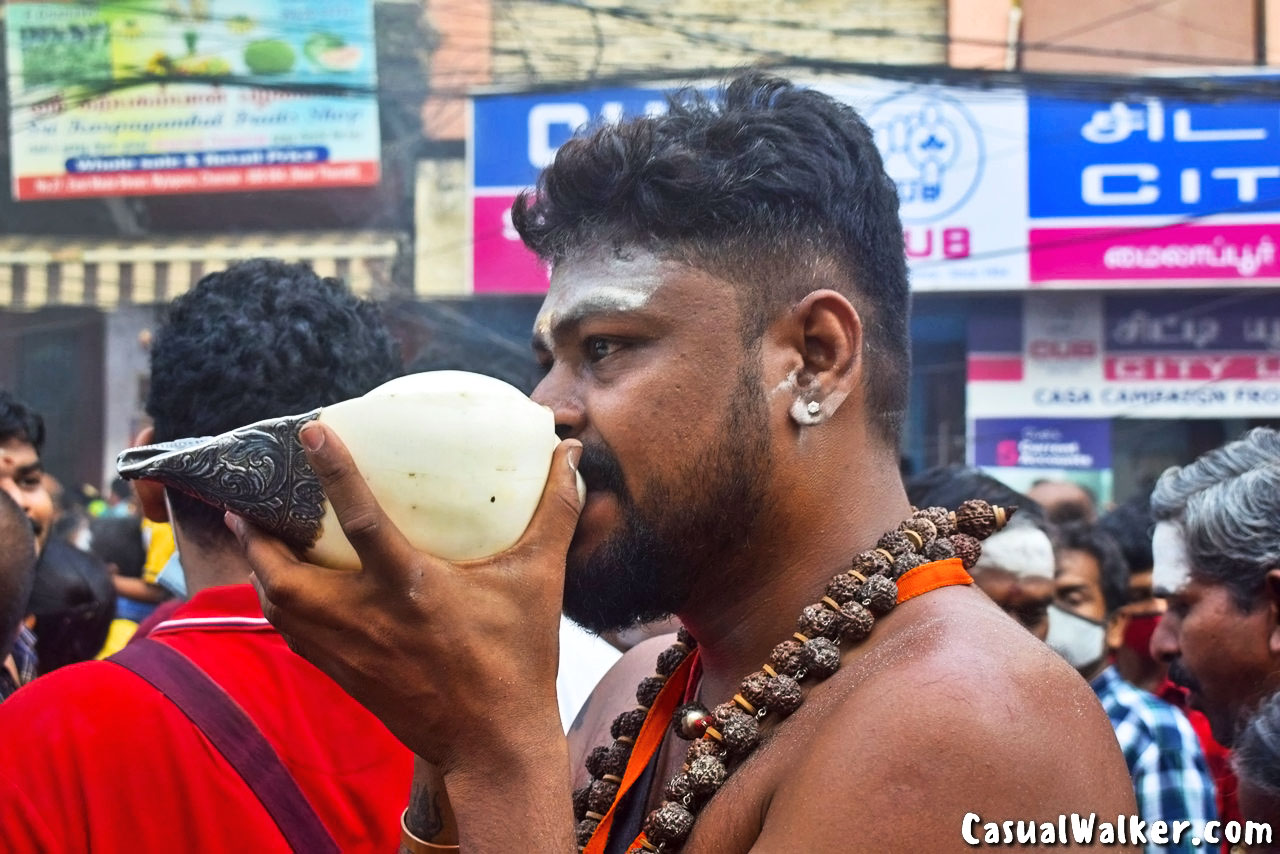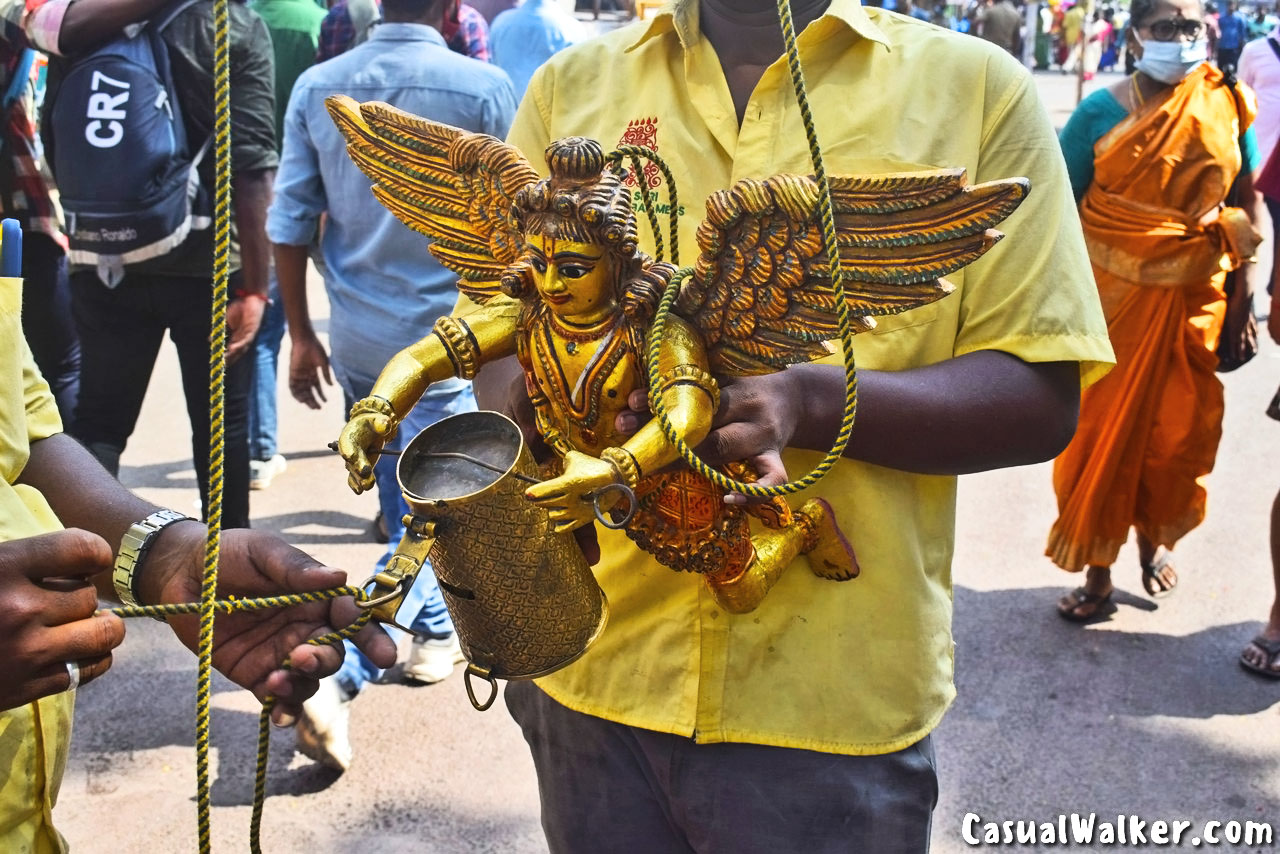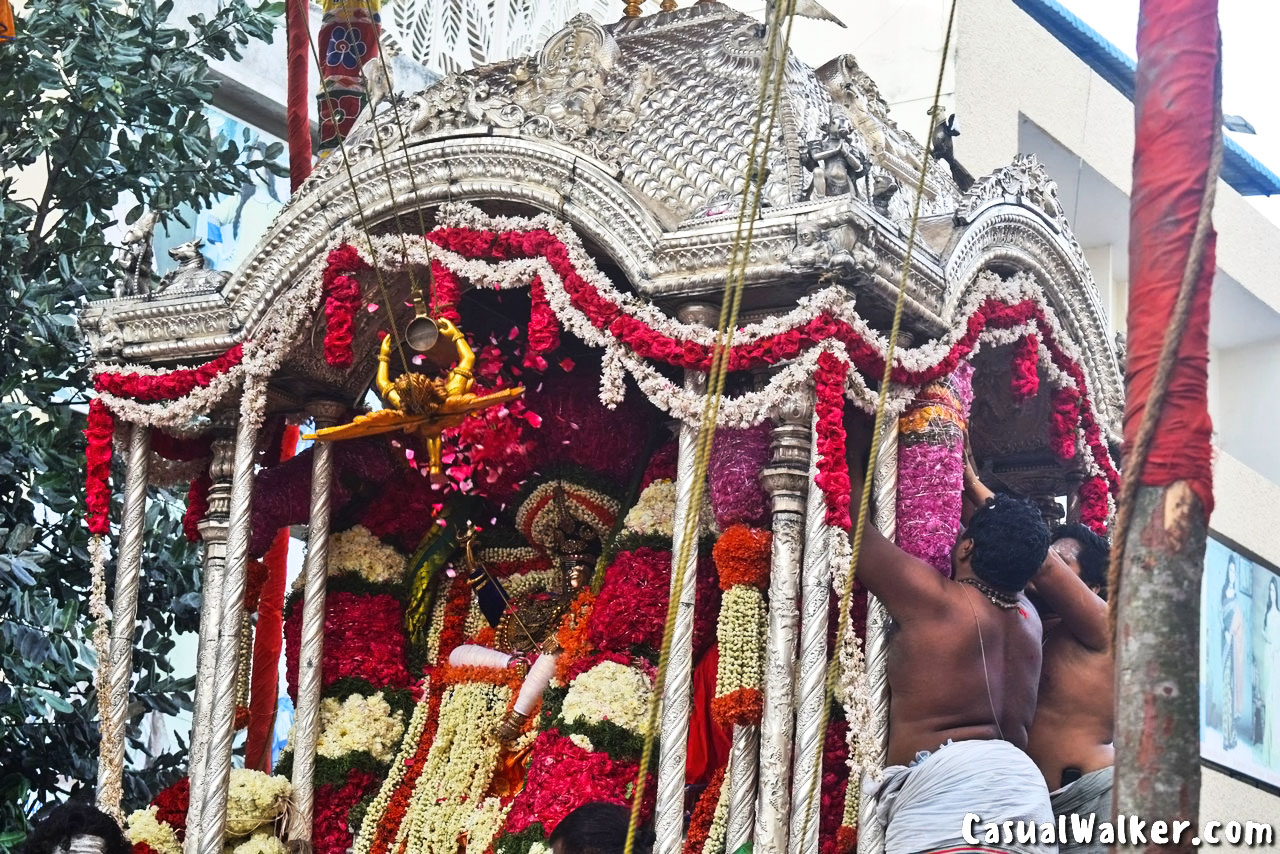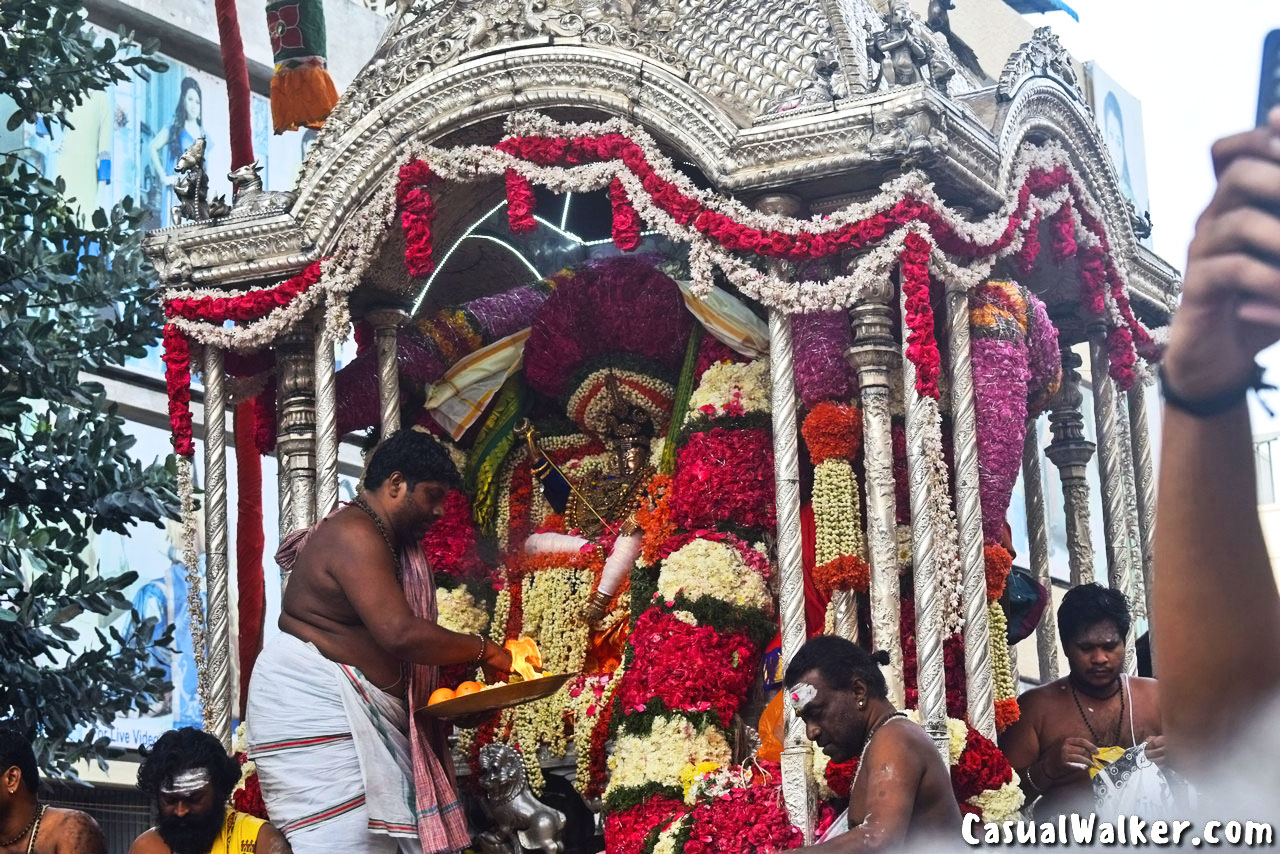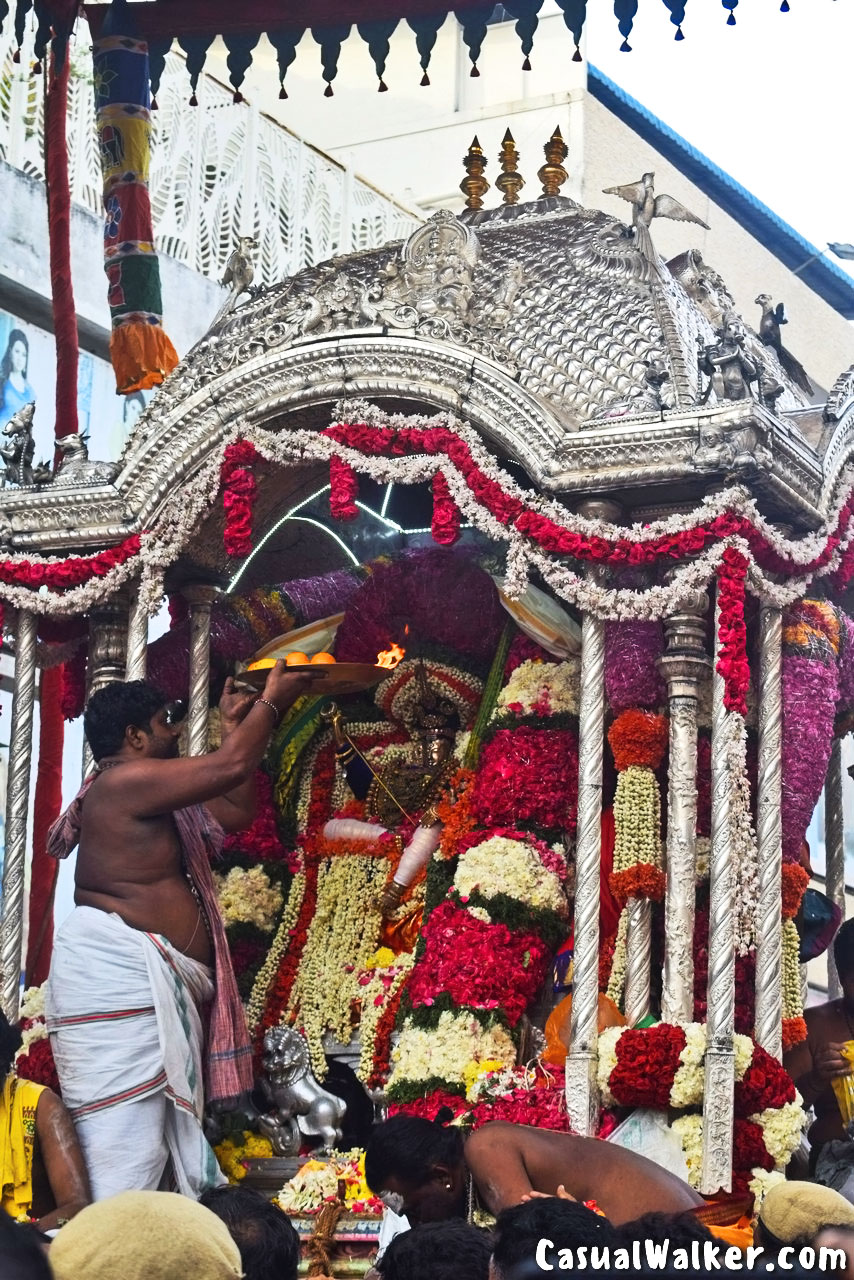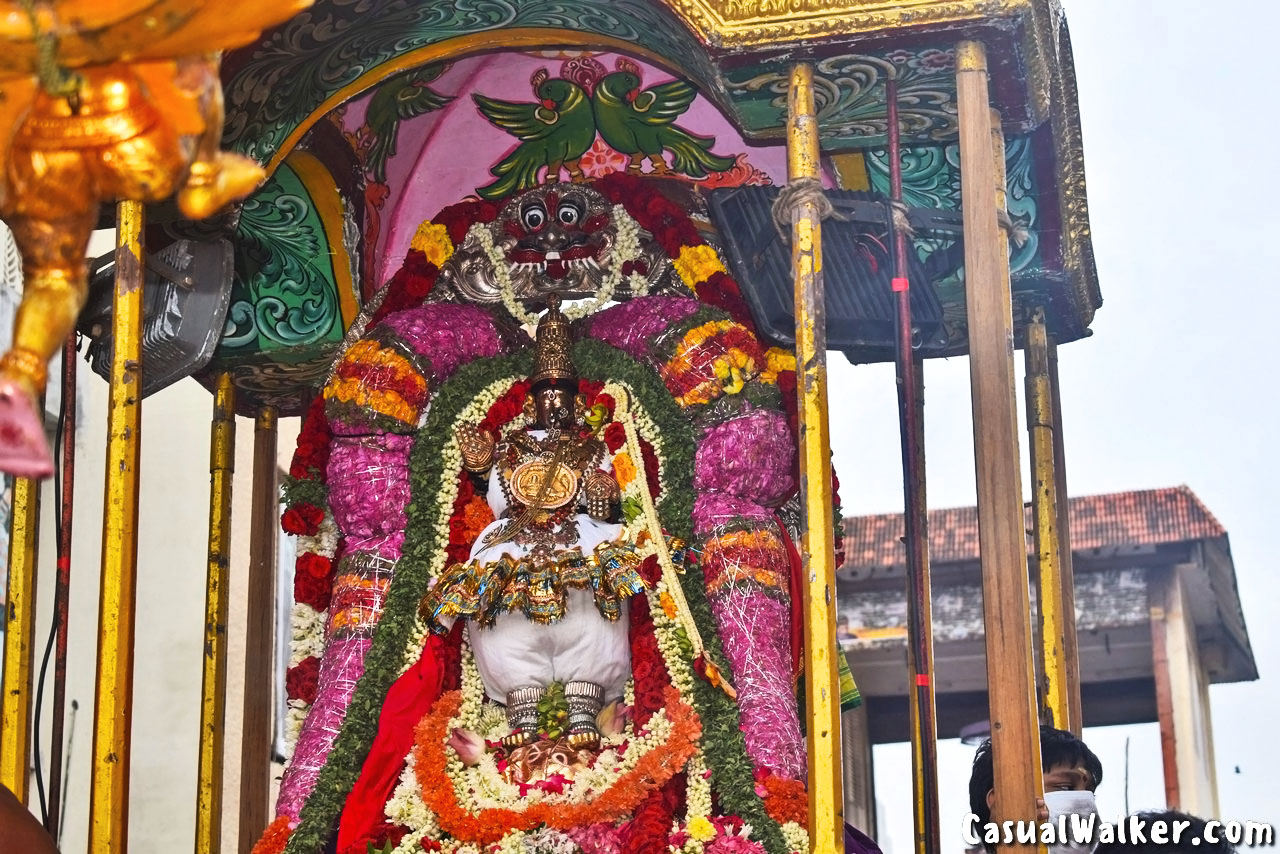 Also, check out More Interesting Photo Stories:
Mylai Kapaleeshwarar Temple Panguni Peruvizha Festival, Mylapore, Chennai – Best & Famous Shiva Temple In India – Visit, Travel Guide
Vyasarpadi Vinayaka Mudaliar Chathiram / Bommai Chatram / Chitra Chathiram in South Mada Street, Mylapore – An 150 years Old Doll House & Art Museum Open yearly Only for 10 days of Panguni Uthiram festival – Visit, Open Timings Travel Guide
Shaivite Saints Thirugnana Sambandar & Vayilar Nayanar temples at Mylai Kapaleeswarar Temple in Mylapore, Chennai – Visit, History, Travel Guide
The Sundaram Finance Mylapore Festival 2020 : Largest Pulli Kolam Contest & Rangoli Contest at North Mada Street, Mylapore – Visit, Travel Guide
The Sundaram Finance Mylapore Festival 2020 – Cloth Dolls Exhibition at North Mada Street, Mylapore, Chennai
Navarathri Golu / kolu Doll Shops, North Mada Street Mylapore, Chennai – Best Place to Buy Navarathiri Golu Dolls in Chennai, India – Part 1 (Updated)
Asuras – Swarna Kolu / Golu, an Indian mythological Dolls & idols Exhibition at Thejus, Chennai
Kathakali Festival 2019, Bhava Bhavanam – Rajasooyam (Thekkan), Kalakshetra Foundation, Chennai – Most Famous & Traditional dance from Kerala, India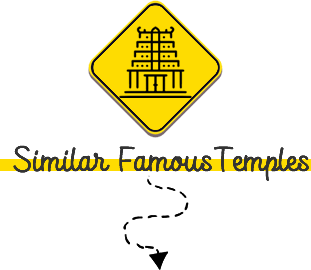 Similar Famous Lord Shivan Temples you may like to Visit:
Sri Virupaksheeswarar Temple : One of the Saptha Sthana Sthalangal – Seven Lord Shiva Temples in Mylapore – Visit, Temple Timings, History, Travel Guide
Ekambaranathar Temple (Pancha Bhoota Stalam – 5 Shiva temples for Five Elements, Kanchipuram – Best & Famous Shiva Temple In India – Visit, Travel Guide
Kanchi Kailasanathar temple, Kanchipuram – Best & Famous Shiva Temple In India – Visit, Travel Guide
Jurahareshwarar Temple, Kanchipuram – Best & Famous Shiva Temple In India – Visit, Travel Guide
Papanasanathar Temple, the Nava Kailasam in Papanasam, Thirunelveli, Best Lord Siva Temple to Destroy Sins – Visit, Travel Guide
Shivoham Shiva Temple Bangalore / Bengaluru – The World's Largest Lord Shiva Temple – Visit, Travel Guide
Thiruthalaiyur Saptharisheeswarar Temple, Thiruthalaiyur, Tiruchirappalli, Oldest Lord Siva Temple – Visit, Travel Guide
Lord Kasi Viswanathar Temple, Tenkasi, Tirunelveli : the Second largest temple gopuram in South India – Visit, Travel Guide
Thiru Kutrala Natha Swamy temple, Courtallam / Kutralam – the Oldest Lord Siva Temple Near Courtallam waterfalls, Tenkasi – Visit, Travel Guide