Exploring All About Chettinad / Chettinadu : Houses / Mansions, Architecture, Heritage, Cuisine, Temples & History of Chettinad, Palm Leaf Baskets – Chettinad Kottan | A Comprehensive Travel Guide to the Land of Nattukotai Chettiars in Chettinad, Sivaganga (Updated)
– land of banking & business community palatial mansions, history & mouthwatering culinary
| | |
| --- | --- |
| CasualWalker's Rating for Chettinad / Chettinadu – the Land of Nattukotai Chettiars at Karaikudi, Sivaganga: | |
| 9.9 – Awesome | |

Chettinad, the captivating homeland of the Nagarathars / Nattukotai Chettiars in the Sivaganga district once ruled by the Ramnad kingdom of Pandya Kingsm, is a thriving banking and business community that has woven a tapestry of cultural heritage, art, and exquisite architecture. This place beckons the discerning traveler to explore its palatial mansions, rich history, and mouthwatering culinary treasures.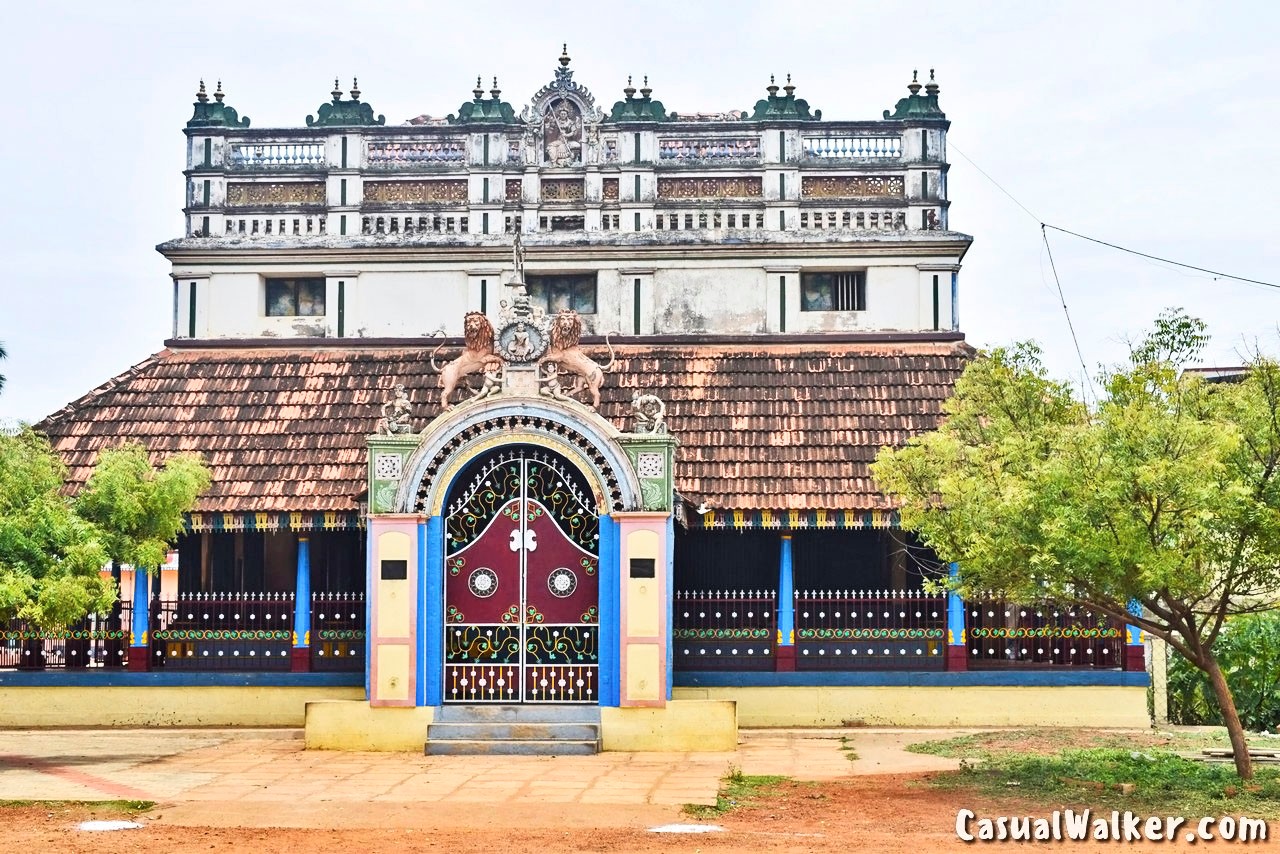 Chettinad Regions – Major Chettiar Settlements
The Chettiar settlements unfold a captivating narrative of cultural heritage and urban evolution. Comprising three distinct series of villages, these Chettiar enclaves weave a tale that spans generations.
First Cluster: Kanadukathan, Pallathur, Kottaiyur, and Kothamangalam (Sivagangai District):
The first cluster has four villages in the Sivagangai District. Among these, Kottaiyur stands out, basking in the traditional glory while being subtly touched by the fingers of urban development. Its proximity to Karaikudi, the bustling economic hub of the region.
Second Cluster: Karaikudi, Kandanur, Athangudi, and Chokalingampudur (Sivagangai District):
Moving southward, the second series of Chettiar settlements includes the prominent urban center of Karaikudi, pulsating with commerce and culture. Intertwined with this urban core are the rural gems of Kandanur, Athangudi, and Chokalingampudur. Each village carries a distinct hue of Chettiar tradition, creating a mosaic of heritage amidst the rural landscapes.
 Third Cluster: Rayavaram, Kadiapatti, and Arimalam (Pudukottai District):
Venturing northward into the Pudukottai District, the third and final series of Chettiar settlements includes the villages of Rayavaram, Kadiapatti, and Arimalam command attention with their historical significance. This northern cluster adds another layer to the rich tapestry of Chettiar culture, echoing tales of the past while embracing the transitions of the present.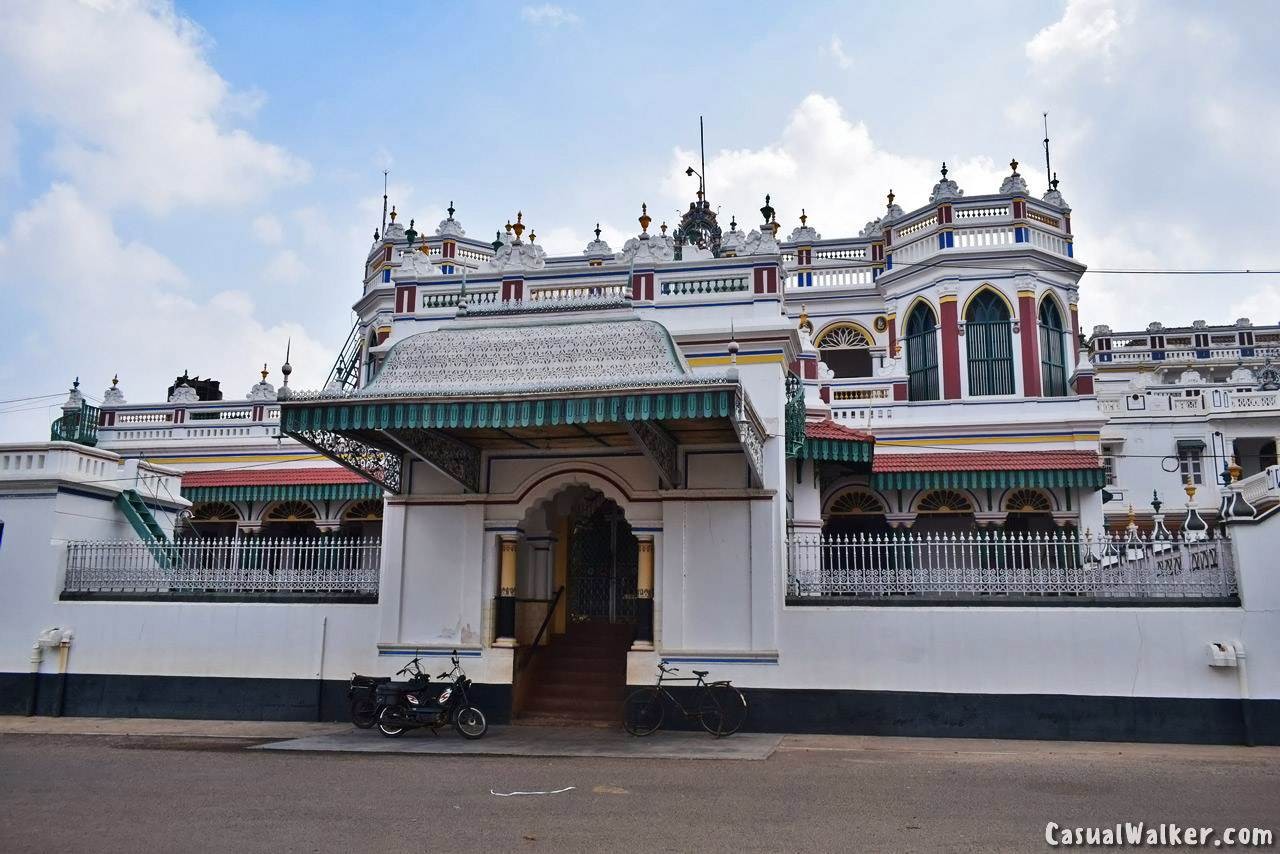 Chettinad Architectural Layout: Blending Traditions and Influences
Chettiar houses echo the cultural richness of the Nagarathars, who, having thrived in Burma, Singapore, and Malaysia, brought back influences from these regions. The interiors of Chettinad houses boast a harmonious blend of Burma teak, Ceylon satinwood, Italian marble, Belgian glass, Dutch ceramic tiles, cast iron, stained glass, and Bohemian chandeliers, enriched by brassware and Tanjore paintings that reflect the unique taste and prosperity of the Nagarathar community. It's like a symphony of materials, each contributing to the unique melody of Chettinad architecture.
The architectural layout of Chettinad houses seamlessly blends traditional Indian and colonial influences. Built around a central courtyard, these houses feature interconnected rooms arranged around them. Grand staircases provide access to the upper floors, with ground-floor rooms serving as spaces for entertaining guests.

Ornate doorways, intricate wood carvings, and frescoes decorate these rooms, creating a visually rich experience. The upper floors, designed for living quarters, offer privacy and protection from the region's heat and humidity. Large verandas or balconies overlook surrounding gardens, adorned with intricate tile work, providing cool and shaded areas for relaxation or socializing.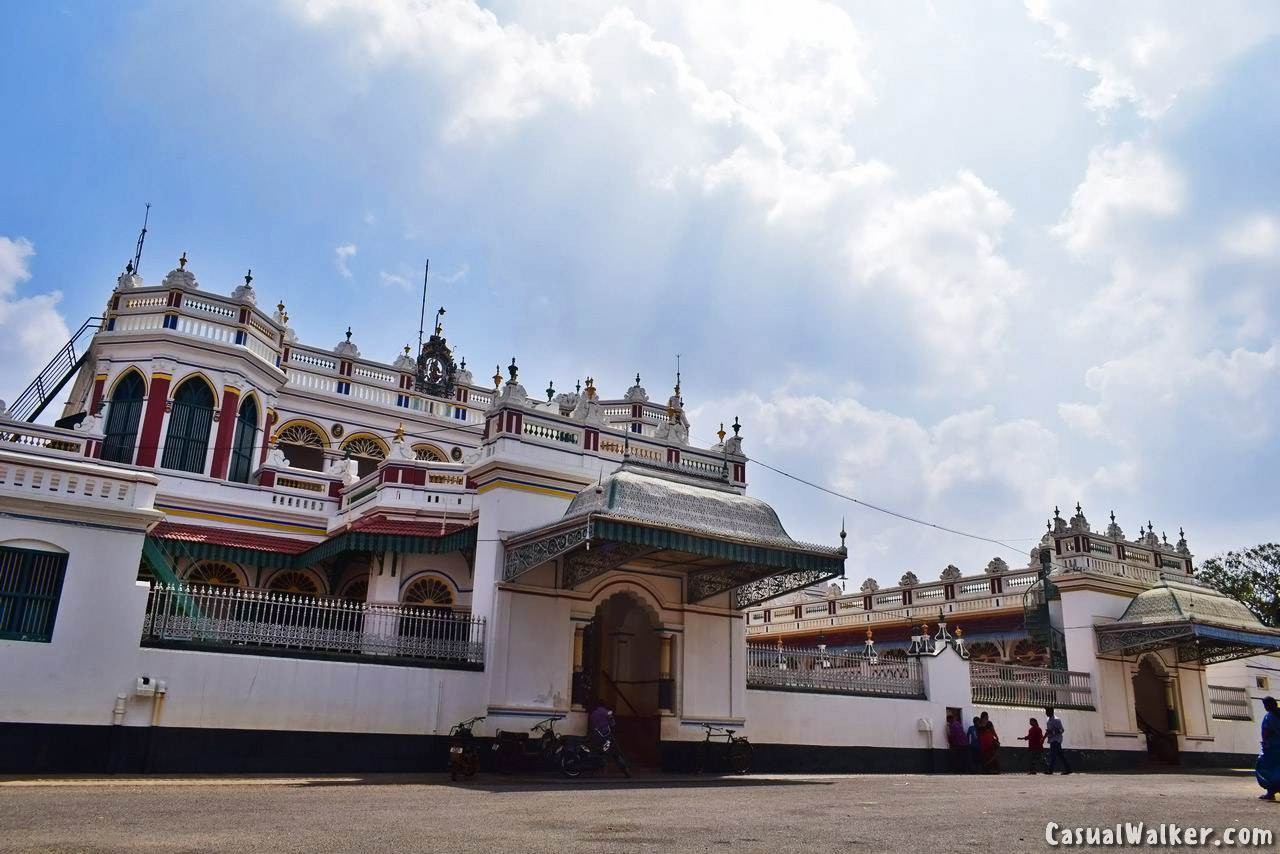 These houses boast wide inner courtyards and spacious rooms, designed with intricate details that reflect the cultural richness of the region. The "thinnai," an enclosed courtyard, is a central feature, surrounded by family rooms. The walls, coated with a special plaster mixture of powdered shell, lime, jaggery, and spices, maintain a cool interior during the sweltering Indian summers. A testament to harmony with nature, Chettiar homes are characterized by high ceilings and excellent ventilation.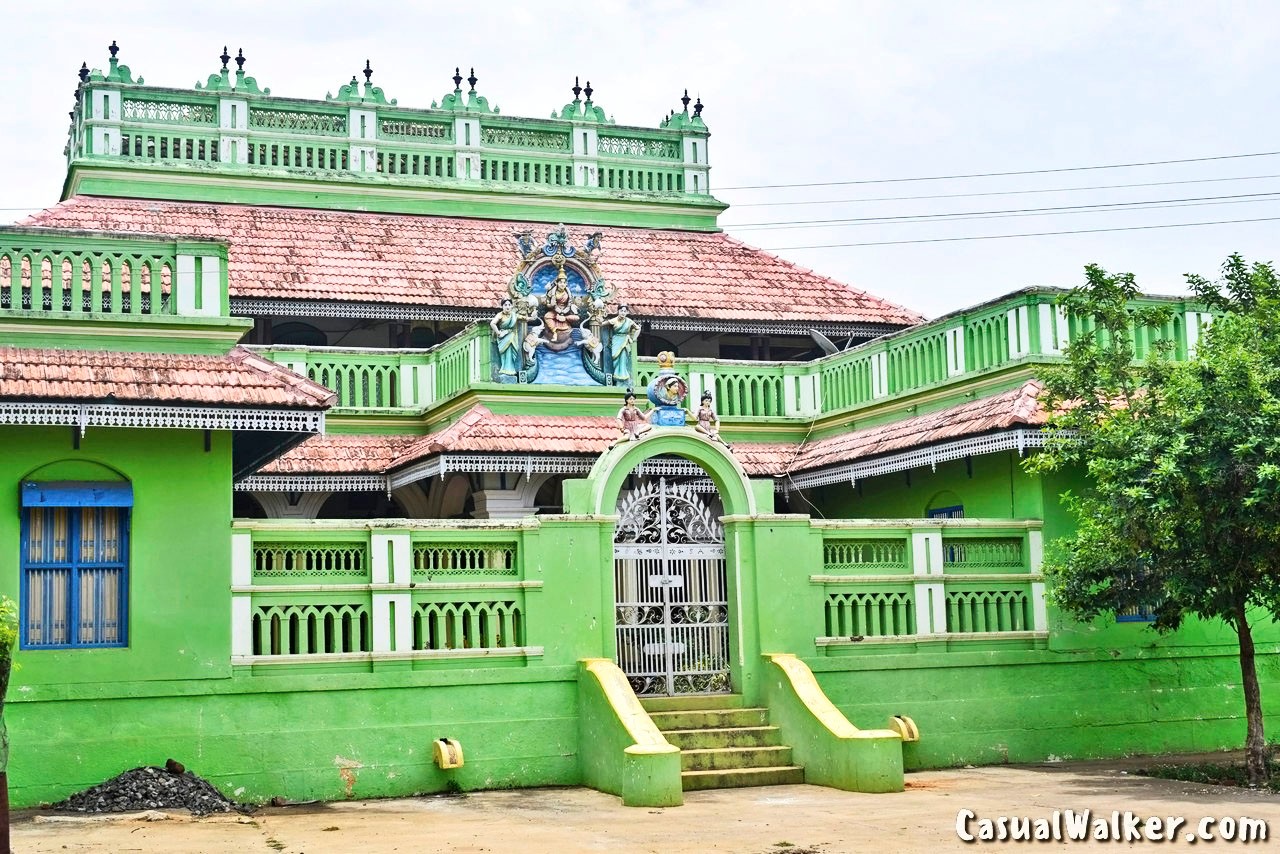 The Grand Entrance: Imposing and Elaborate
Every Chettinad house welcomes you with an imposing entrance adorned with Hindu mythological carvings and opens into an inner courtyard featuring pillars crafted from granite or teakwood. These doors open into a massive hall, the heart of the home, where columns made of elaborately carved wood showcase the craftsmanship of a bygone era.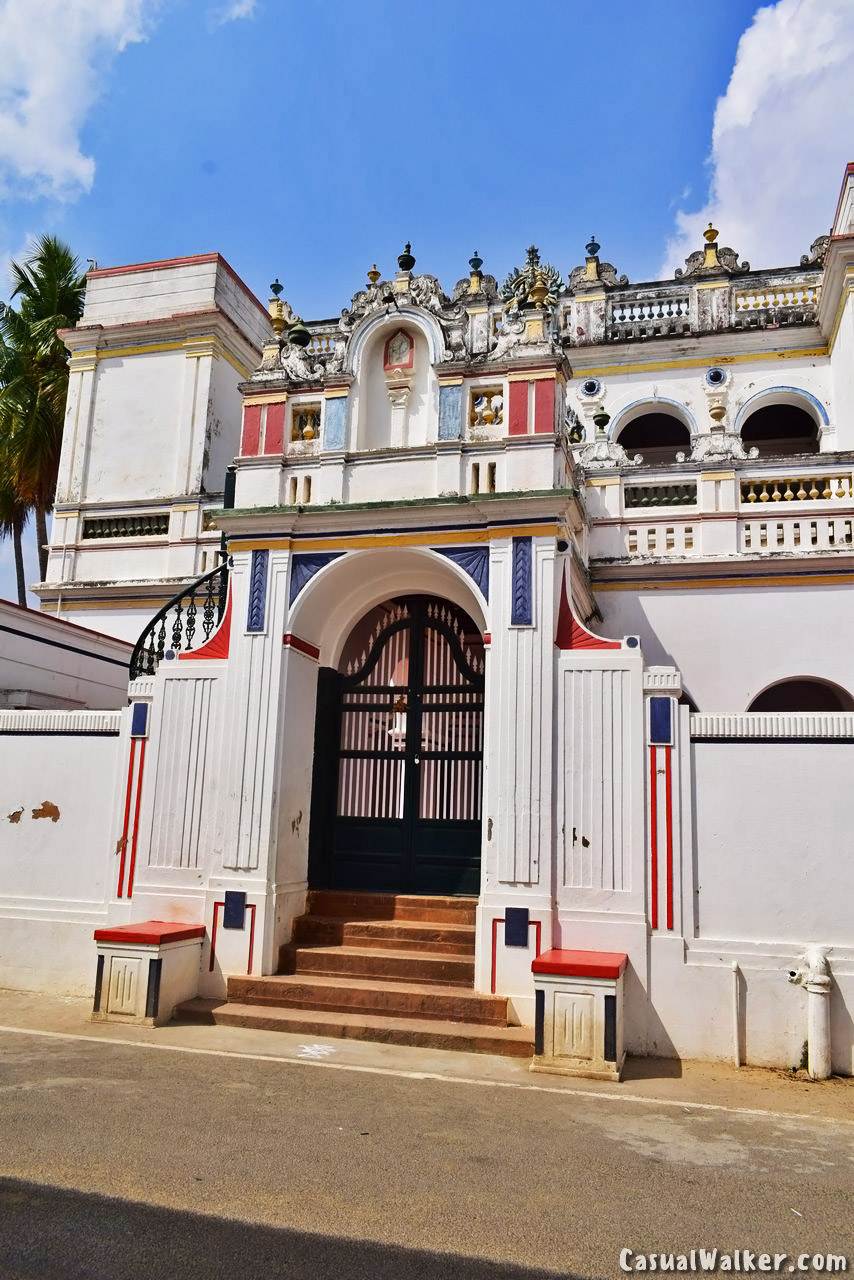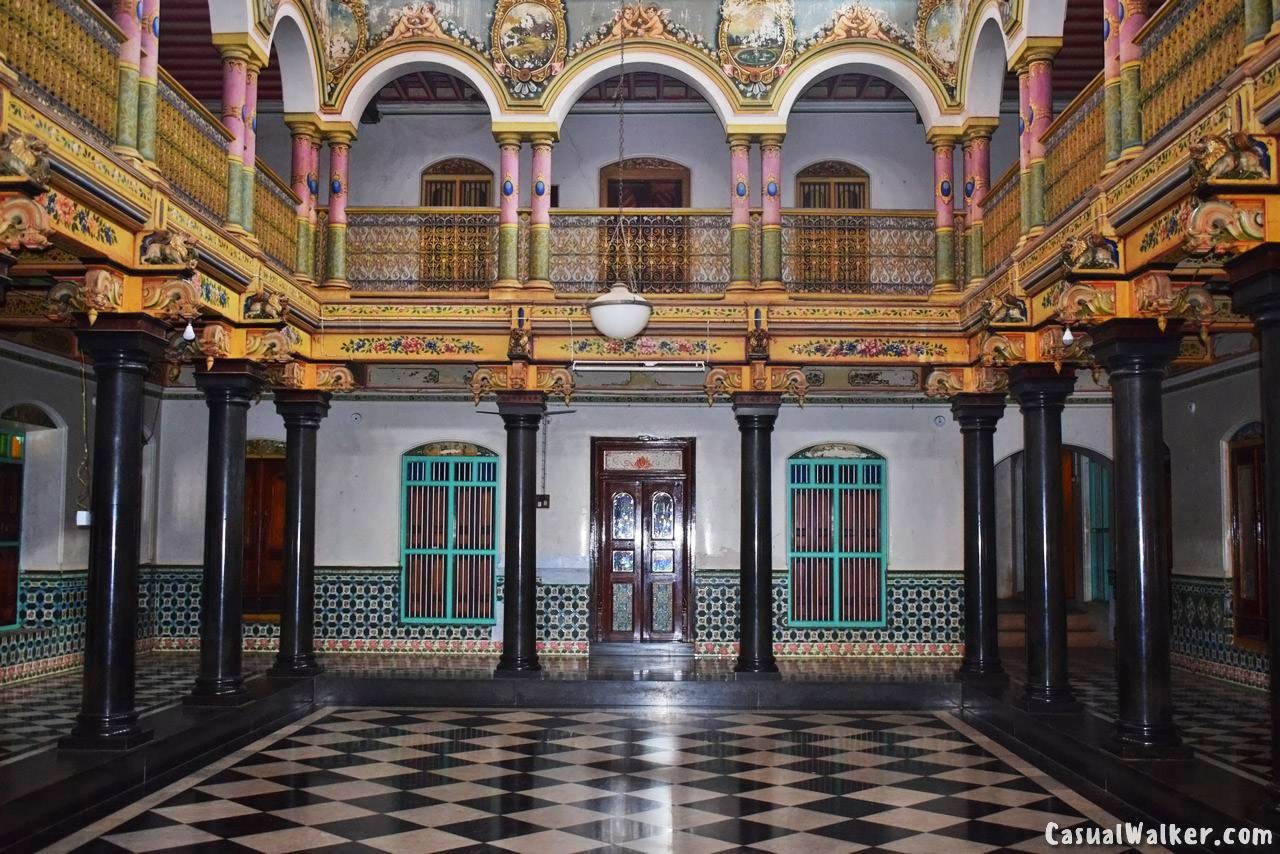 Courtyards: The Soul of Chettinad Homes
Courtyards, an integral part of Chettinad architecture, play a central role in the daily life of these homes. The presence of two large raised platforms called the "Thinnai" on either side of the entrance adds a touch of grandeur. One courtyard, known as "Onnam Kettu," leads into another rectangular hall, "Randam Kettu," designated for women.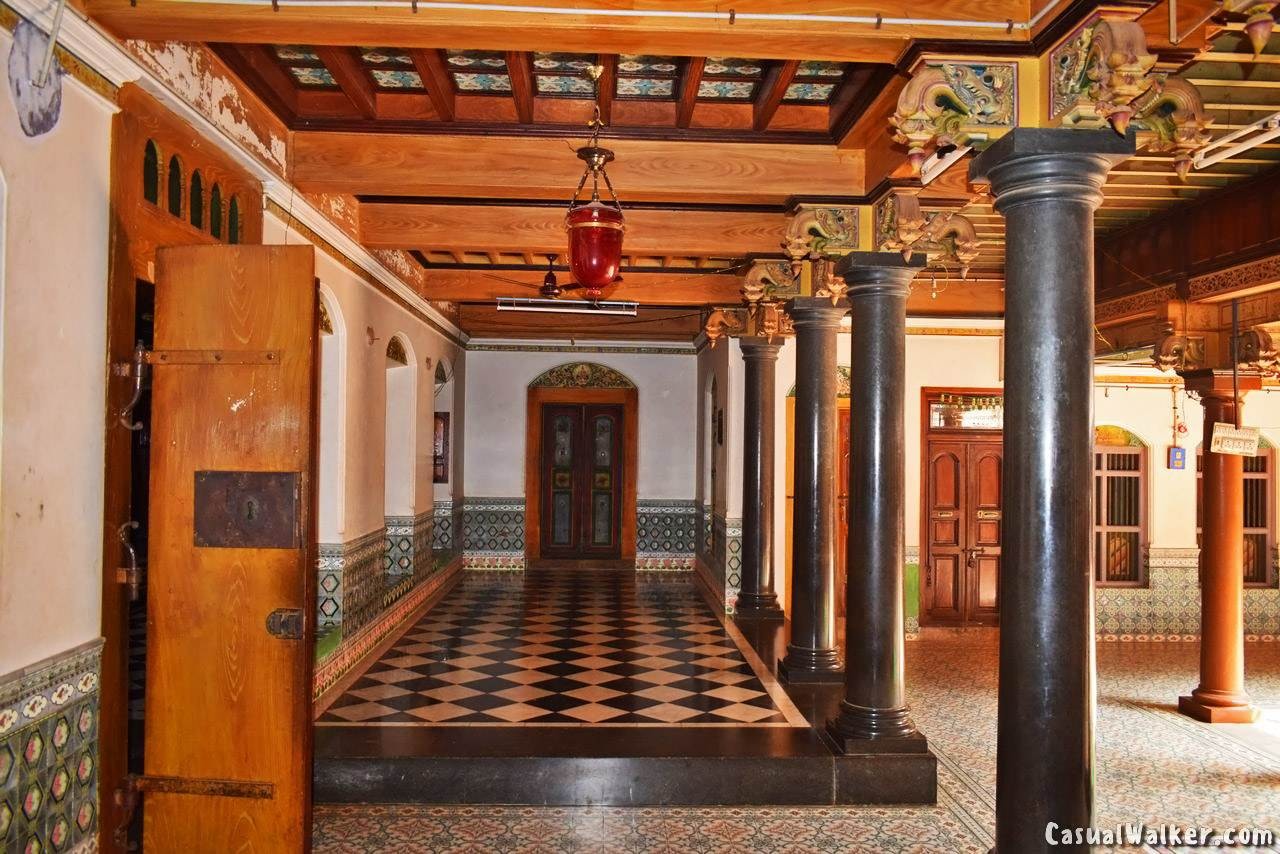 Beyond their functional role, they provide natural ventilation and light, contributing to the overall beauty and charm of the architecture.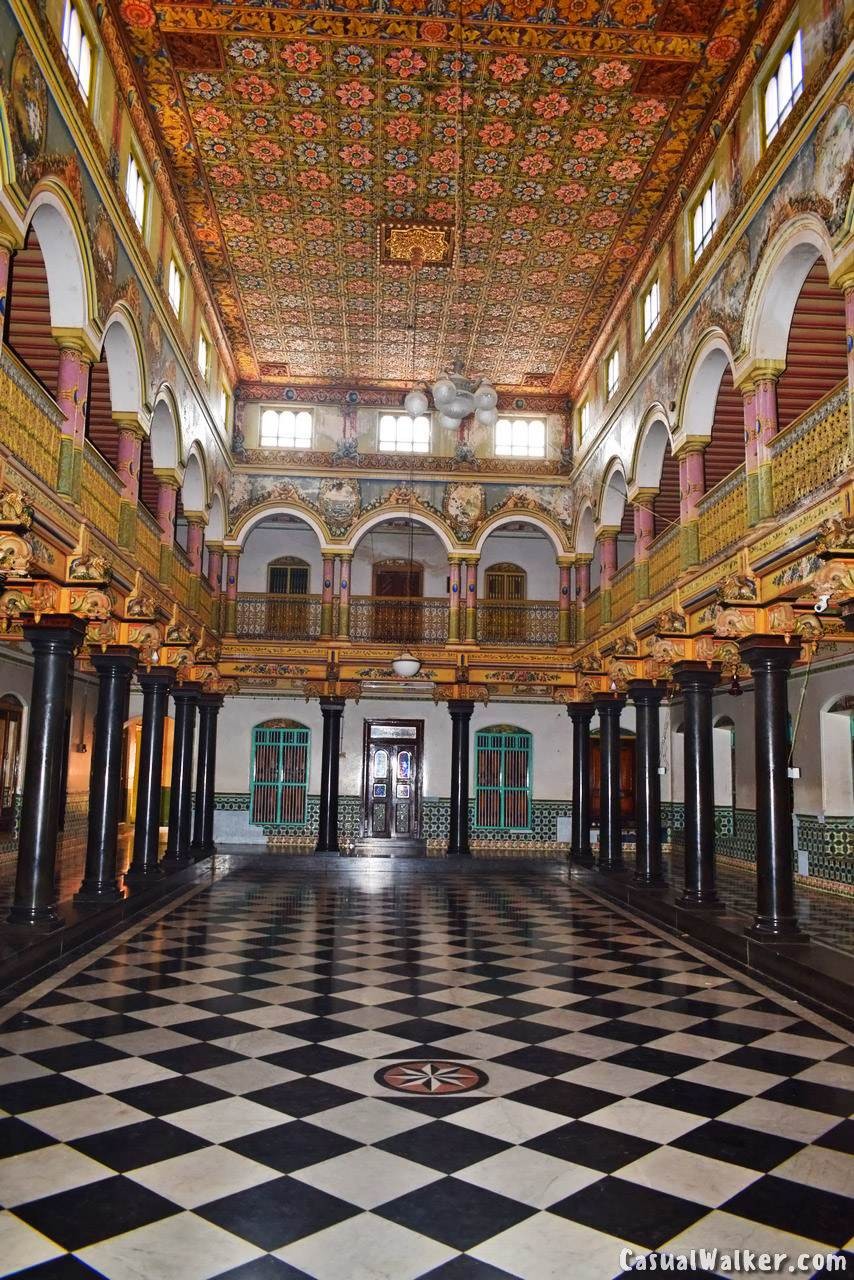 Chettinad Kanadukathan Palace and Attangudi / Athangudi Palace, Karaikudi Visit, Travel Guide
Chettinad House Interiors
Beyond being cherished by locals, Chettinad interiors have become a global tourist attraction. The allure of the architecture and the promise of a culinary journey draw visitors from around the world.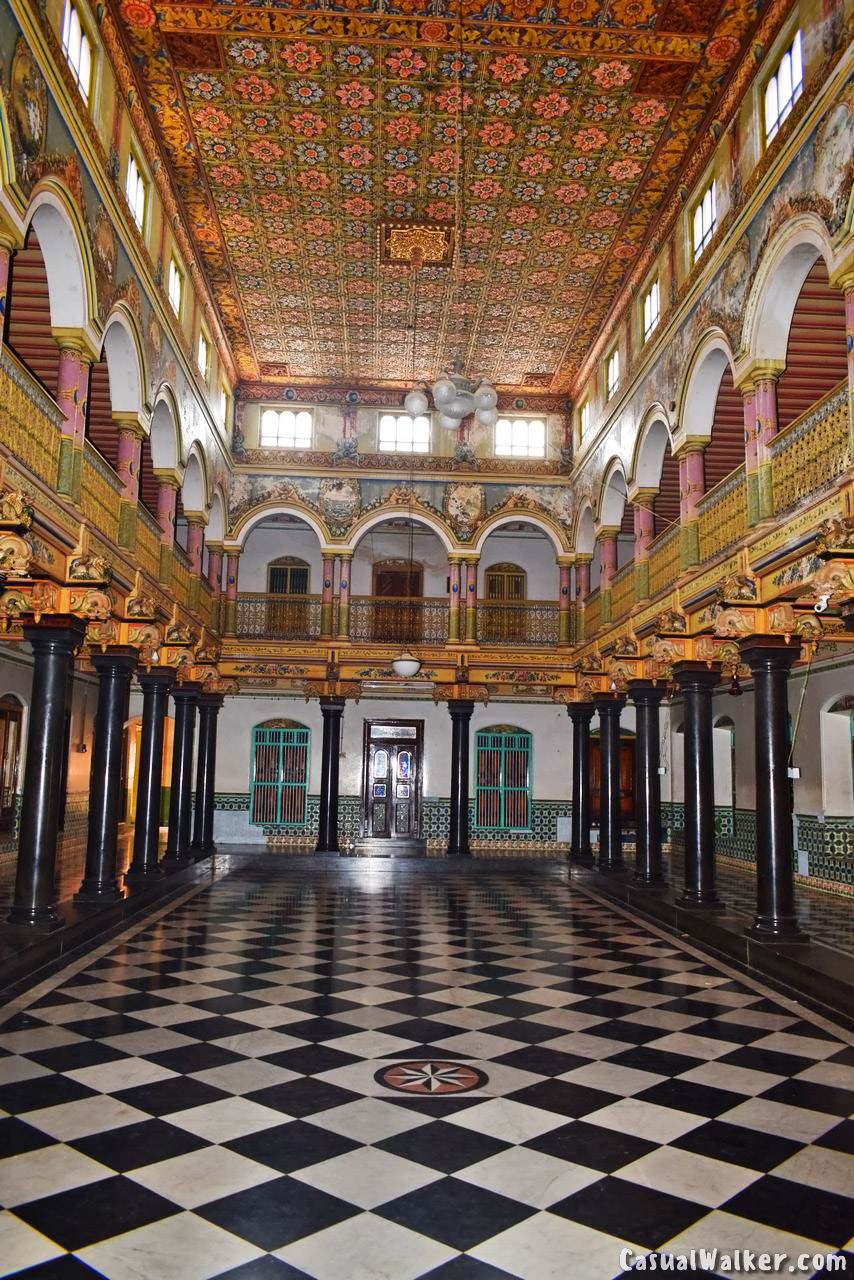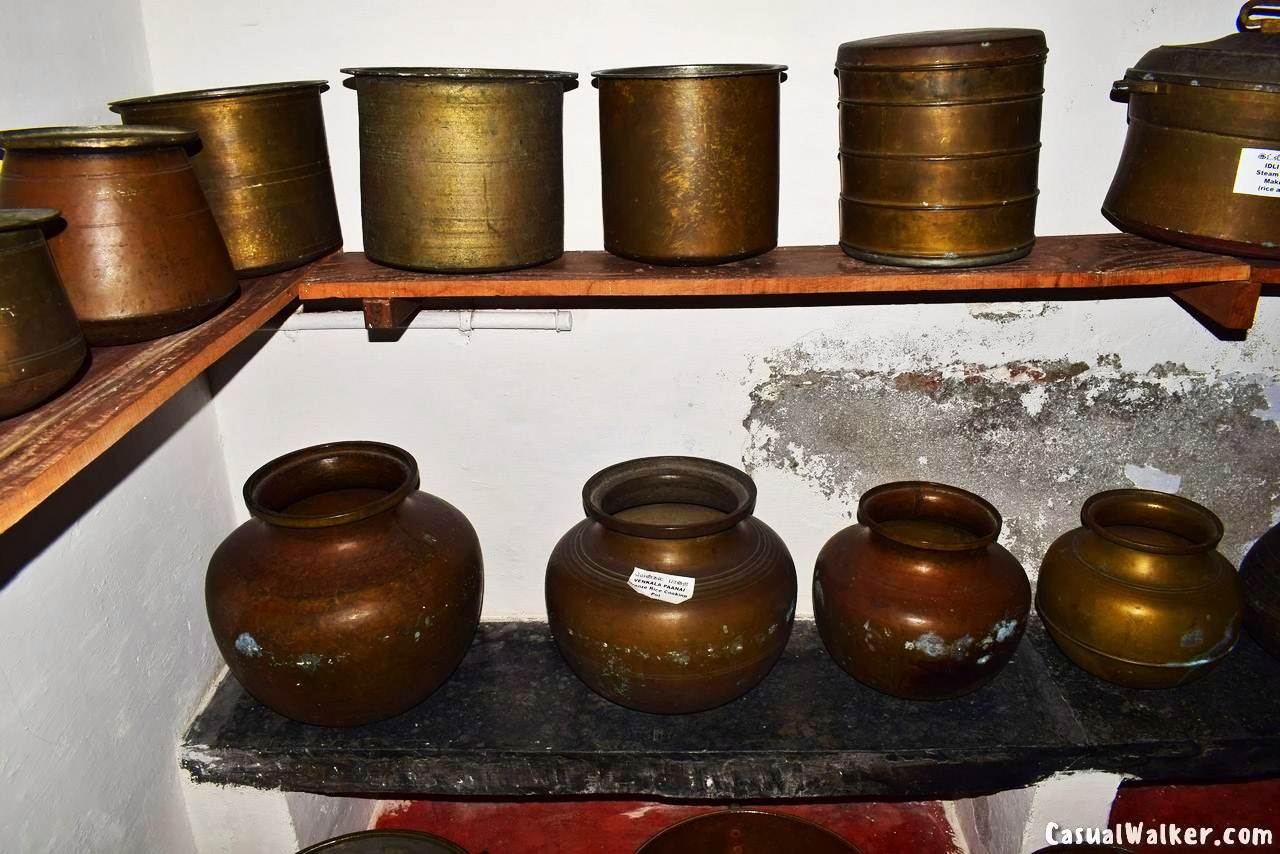 Athangudi Tiles: A Kaleidoscope of Colors
Athangudi tiles are world-famous colorful tiles that are a visual feast, showcasing a variety of hues and patterns. Crafted from locally sourced clay, skillful hands mold and glaze them into intricate designs. Skillfully burned and glazed by hand, Athangudi tiles add a special shine, making them the perfect choice for both indoor and outdoor applications. Ideal for indoor and outdoor applications, Athangudi tiles add a special shine to walls and floors, making them a standout feature in Chettinad homes.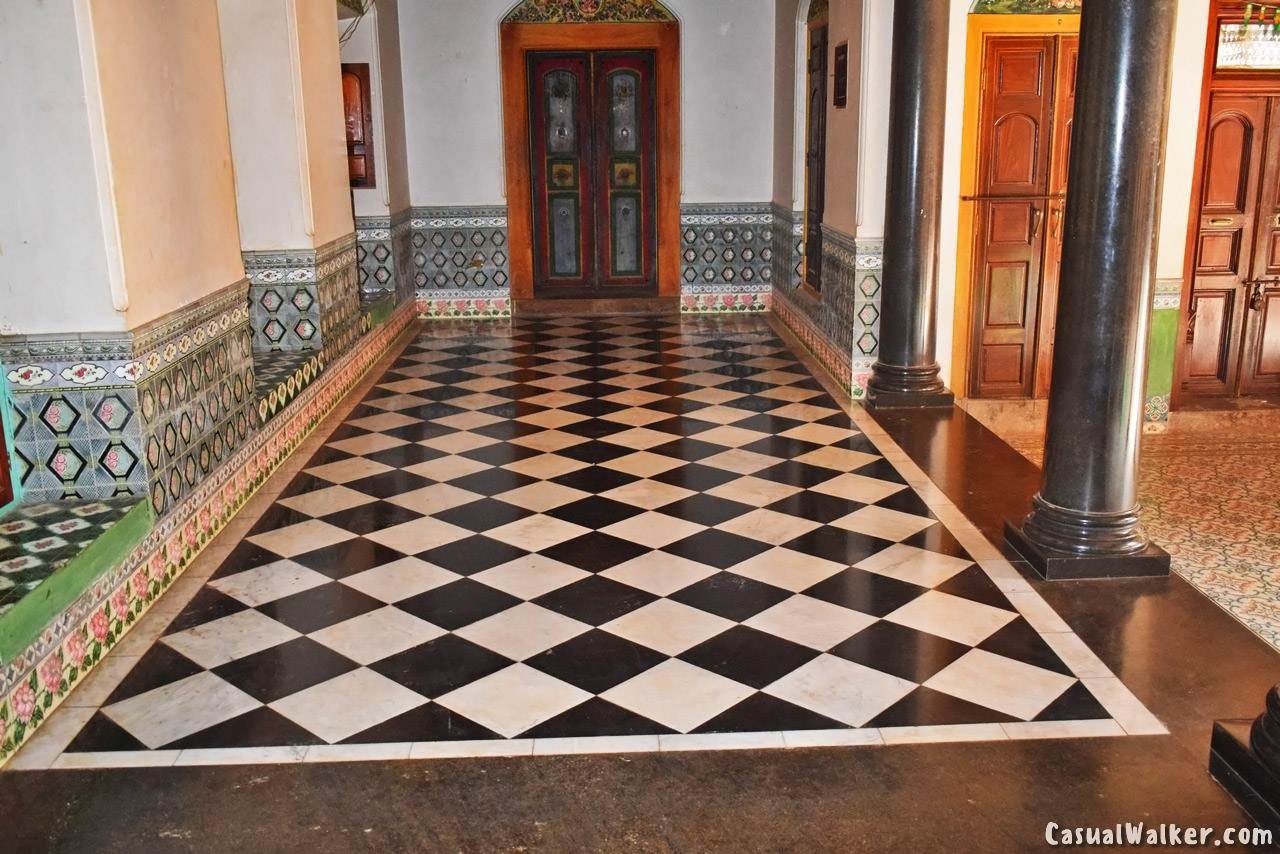 Carved Pillars and Doors: Artistry in Wood and Stone
Chettinad houses are captivated by the beauty of their carved pillars and doors. These artistic elements, often used in the construction of palaces and temples, are works of unparalleled craftsmanship. Crafted from wood, stone, or granite, the intricately detailed pillars showcase meticulous attention to design. Majestic doors, carved with precision, stand as a testament to the architectural prowess of Chettinad houses.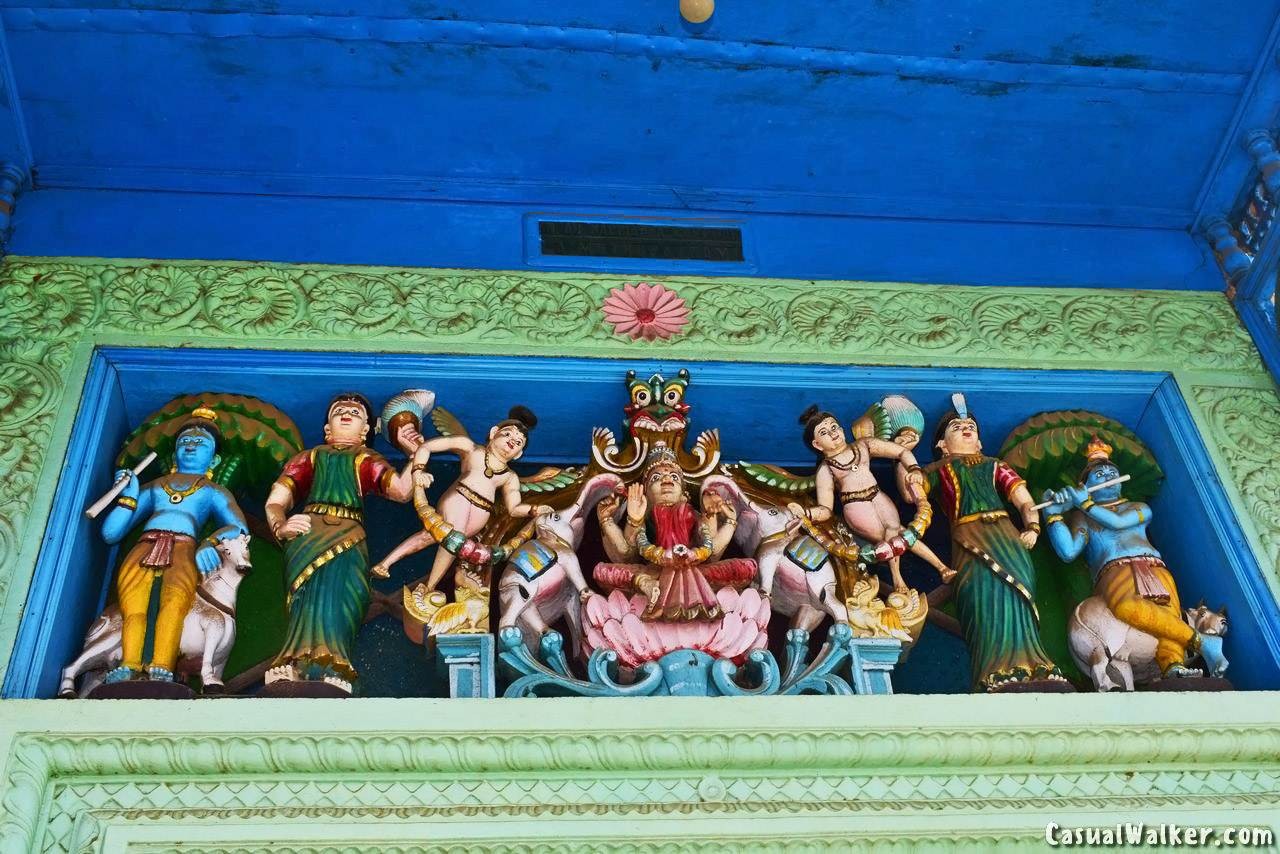 Stucco Work: Preserving Cultural Heritage with Artistry
Stucco work, a decorative plastering technique, finds its place in Chettinad houses, preserving the region's cultural heritage. A mixture of lime, sand, and water is applied to surfaces, and sculpted into intricate designs inspired by traditional Indian motifs. Layers of stucco, highlighted with paint or gold leaf, result in a dramatic effect, adding a unique and beautiful touch to Chettinad architecture. This intricate process requires skill and expertise, showcasing the craftsmanship and artistry of local talent.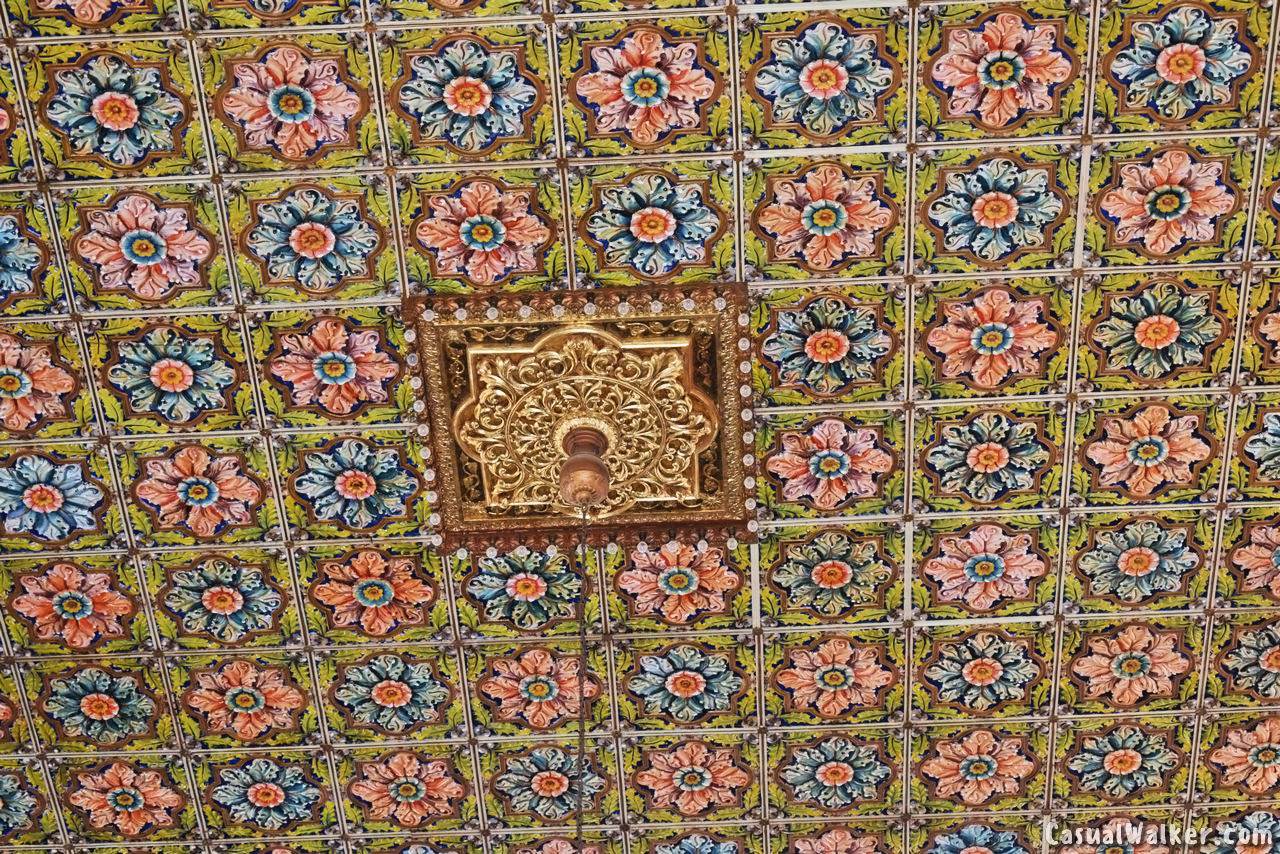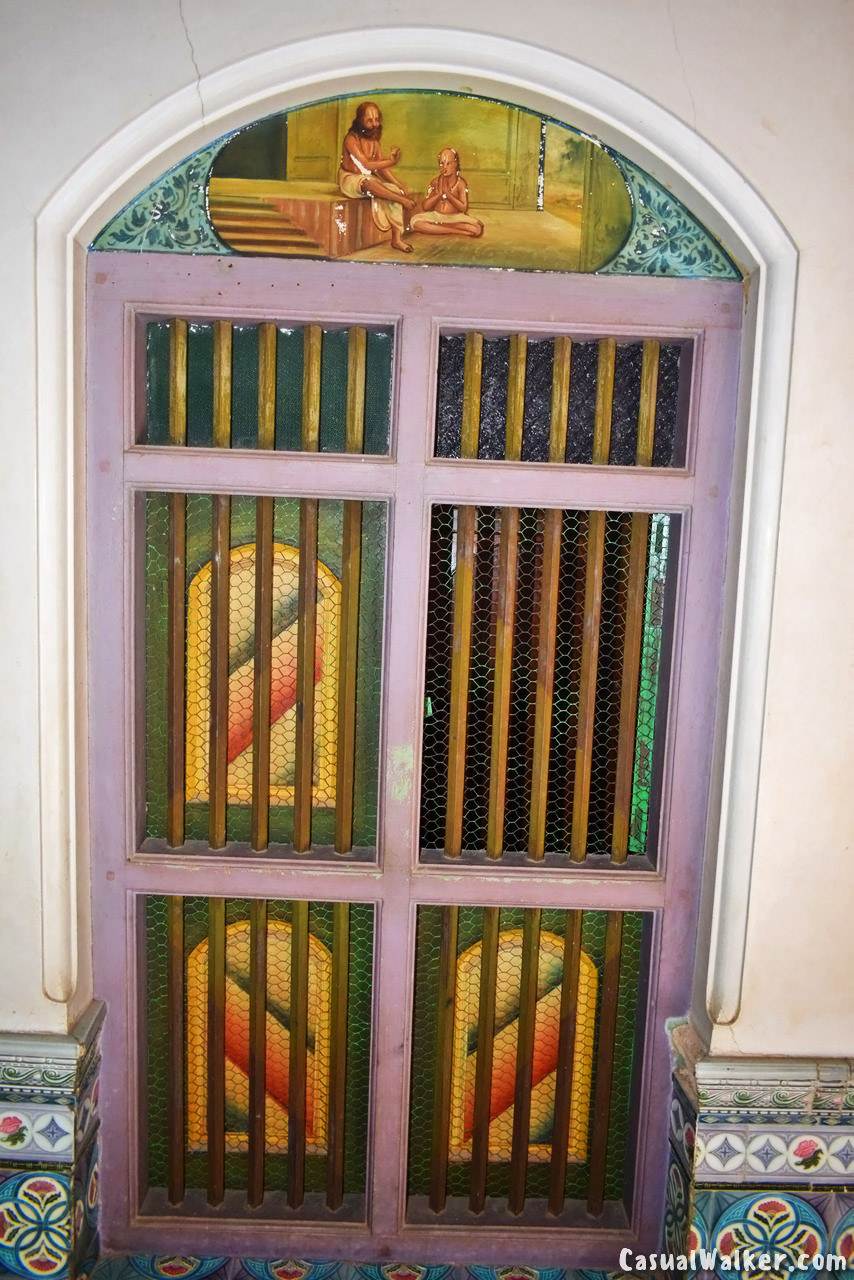 Culinary Food Delights
Chettinad's gastronomic offerings are a feast for the senses, holding a special place in the hearts of food enthusiasts. The Chettinad style, known for its distinct flavors and aromatic spices, caters to both vegetarians and non-vegetarians. Beyond the familiar South Indian dishes, the Nagarathars have curated a list of unique snacks like Karupatti Paniyaram, Pal Paniyaram, Thenkuzhal, Seepu Seedai, and more that tantalize taste buds. Each dish is a celebration of tradition, color, and culinary expertise, making Chettinad a haven for food connoisseurs.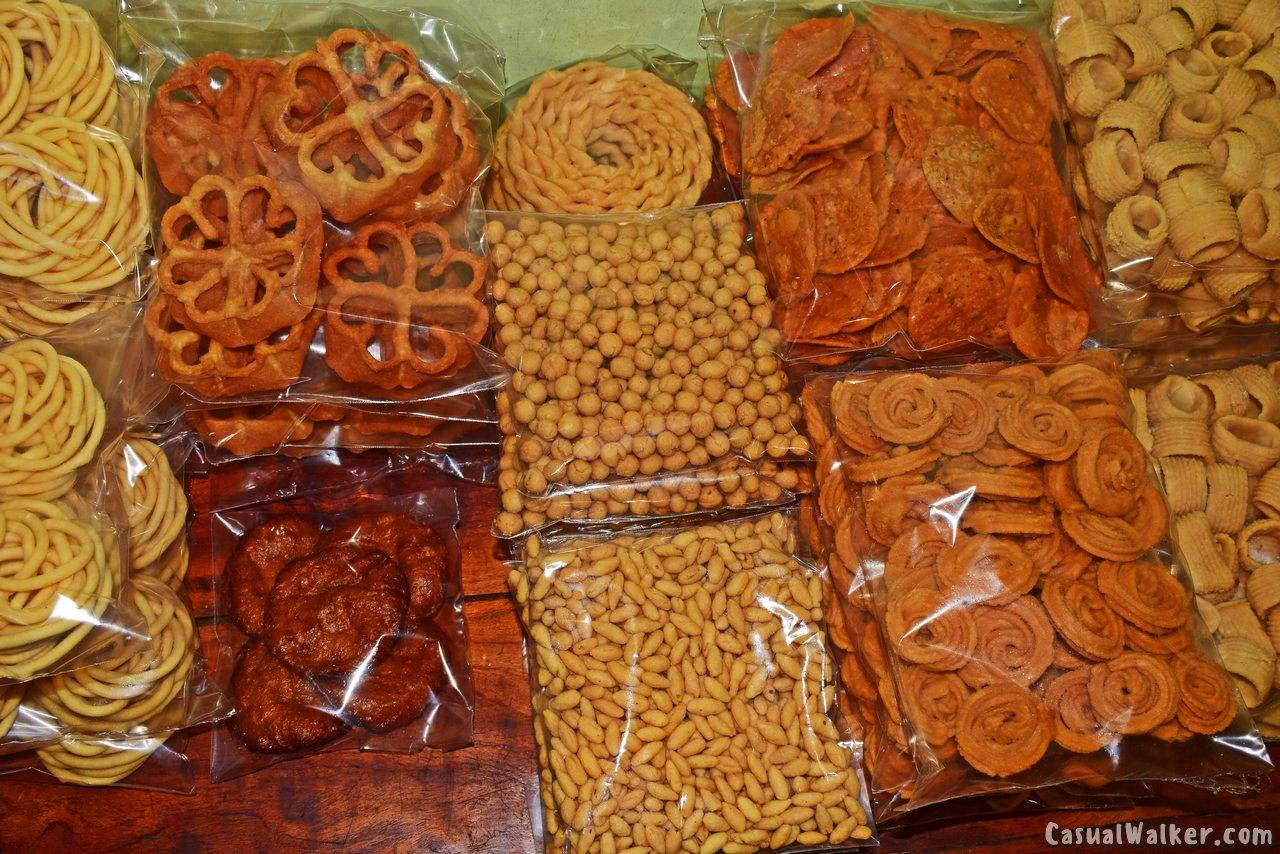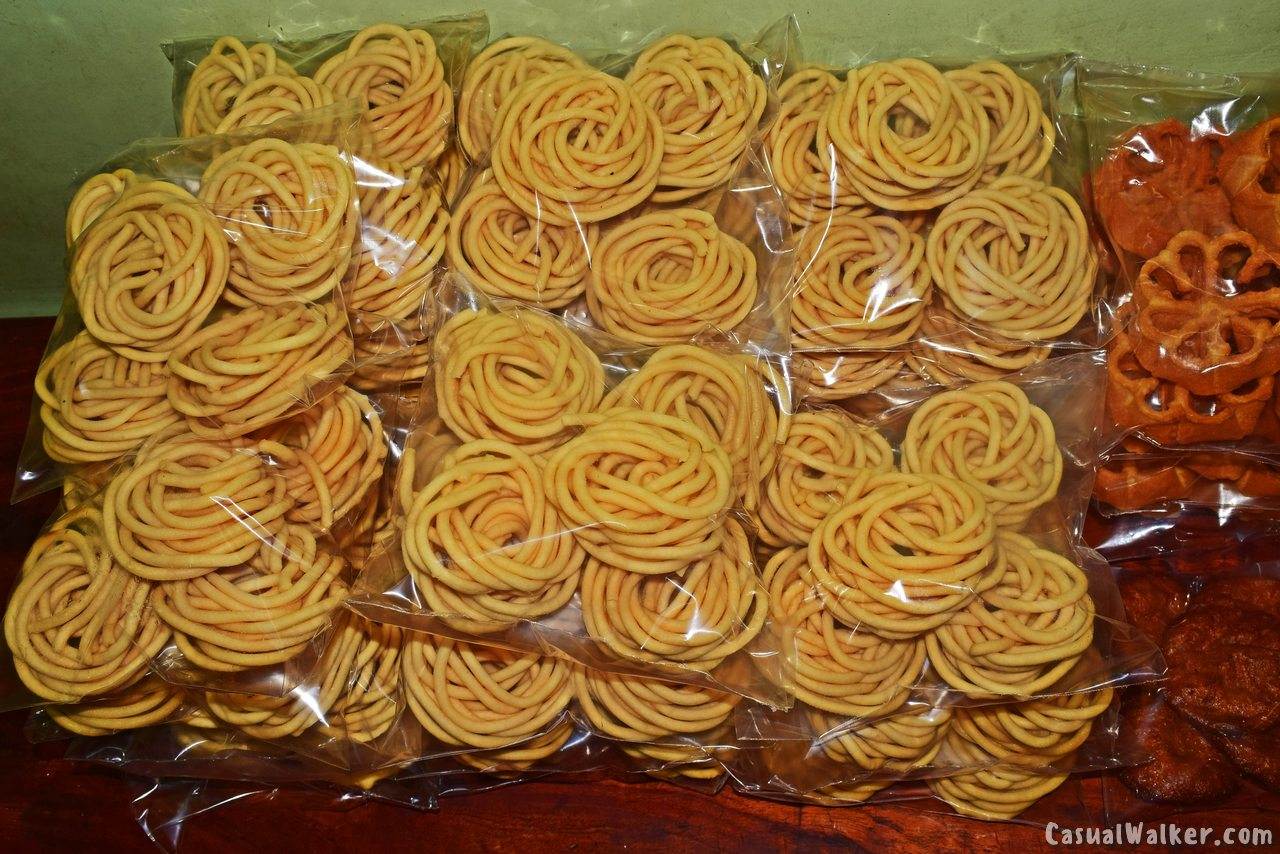 Soundaram's Chettinad Sweets and Snacks, Karaikudi – Best Place To Buy Chettinad Sweets & Snacks – Visit, Travel Guide (Updated)
Pitched Roofs: A Functional and Aesthetic Touch
Pitched roofs, a common feature of Chettinad houses, add a unique architectural style and attention to detail. Typically made of clay tiles or thatch, these roofs protect homes from heavy monsoon rains. Supported by intricately carved and decorated wooden beams or columns, the steep slopes of pitched roofs allow rainwater to drain quickly, ensuring the house's interior remains dry. Beyond functionality, these roofs contribute to the overall beauty, historical significance, and traditional building techniques of Chettinad houses.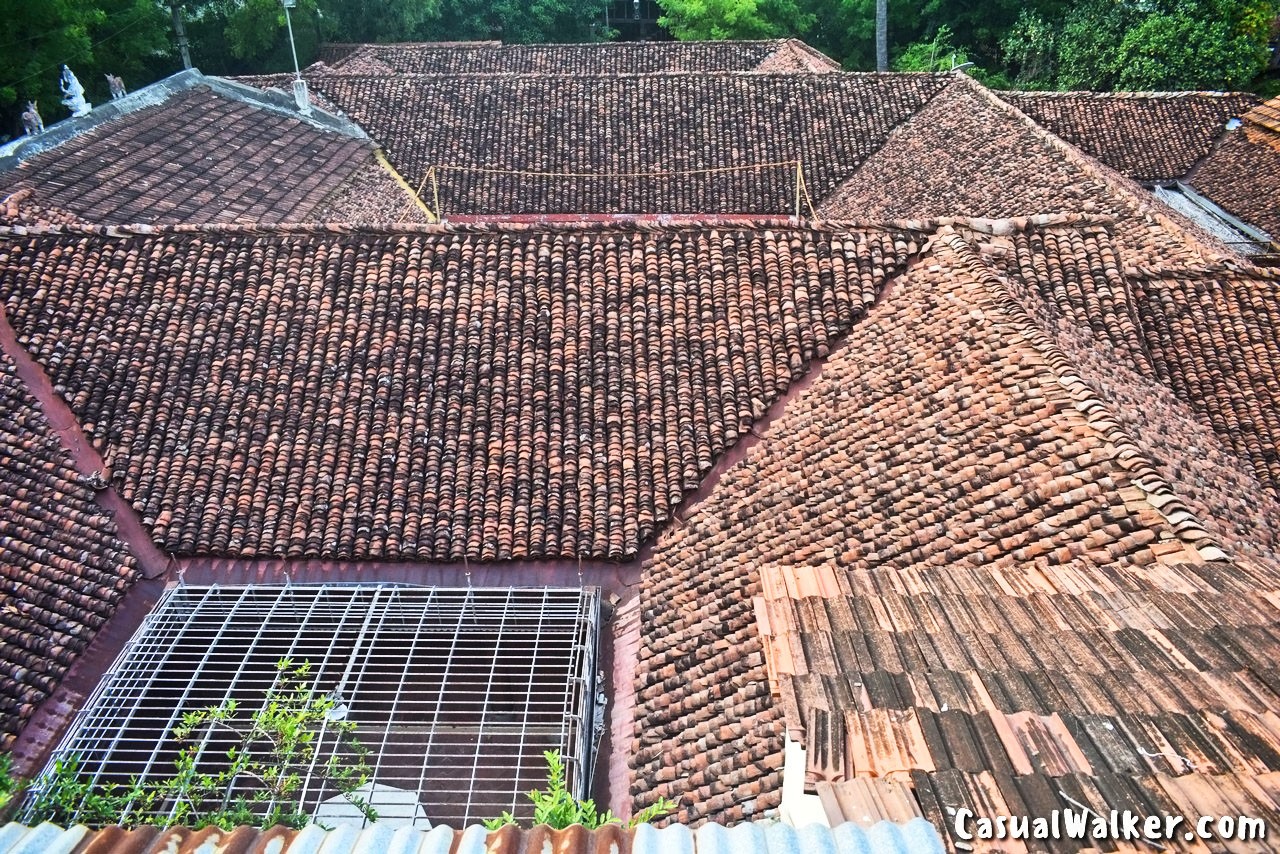 Visiting Famous Chettinad Houses
Banagala – Meyyappan family
Owned by the Meyyappan family, the MSMM House is a visual delight. Guests at The Banagala are in for a treat as they get an exclusive peek into the intricate beauty of this Chettinad mansion.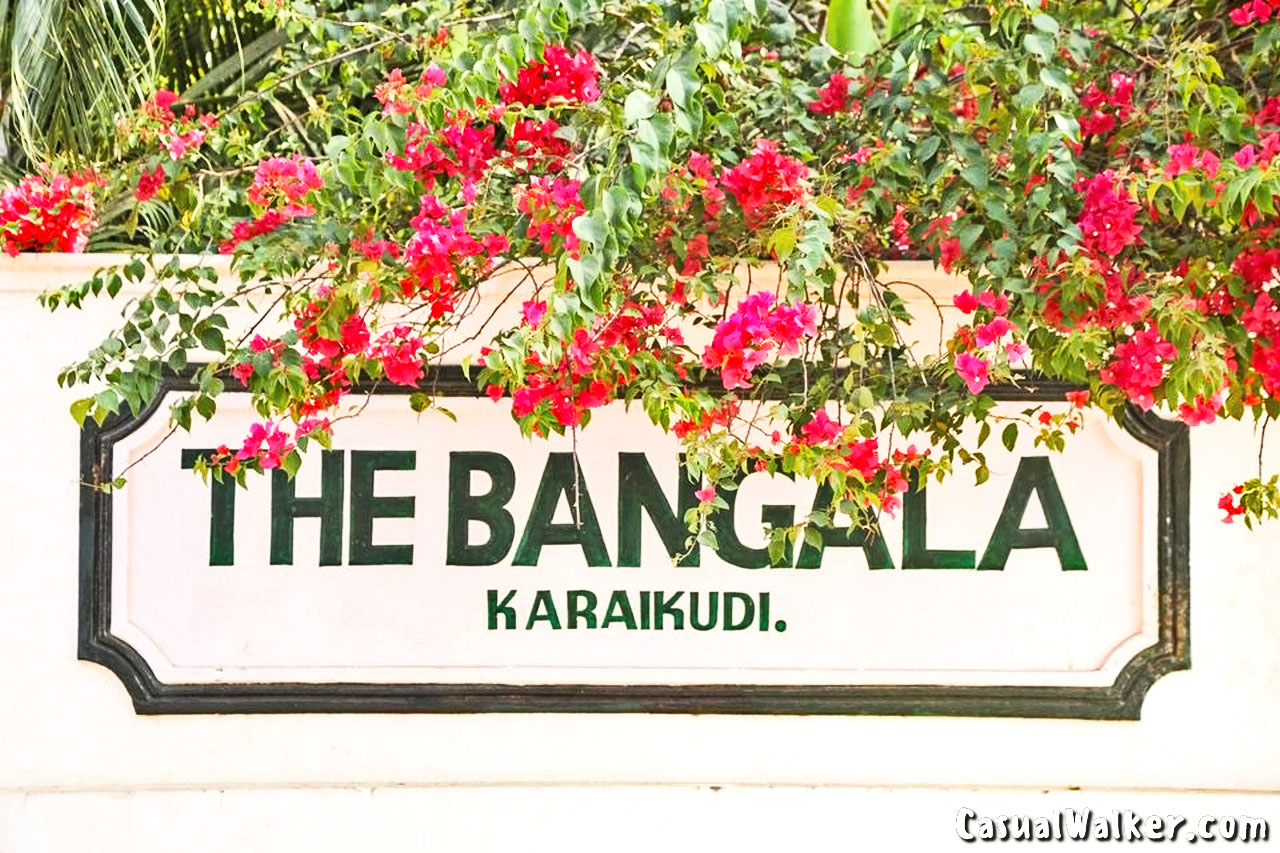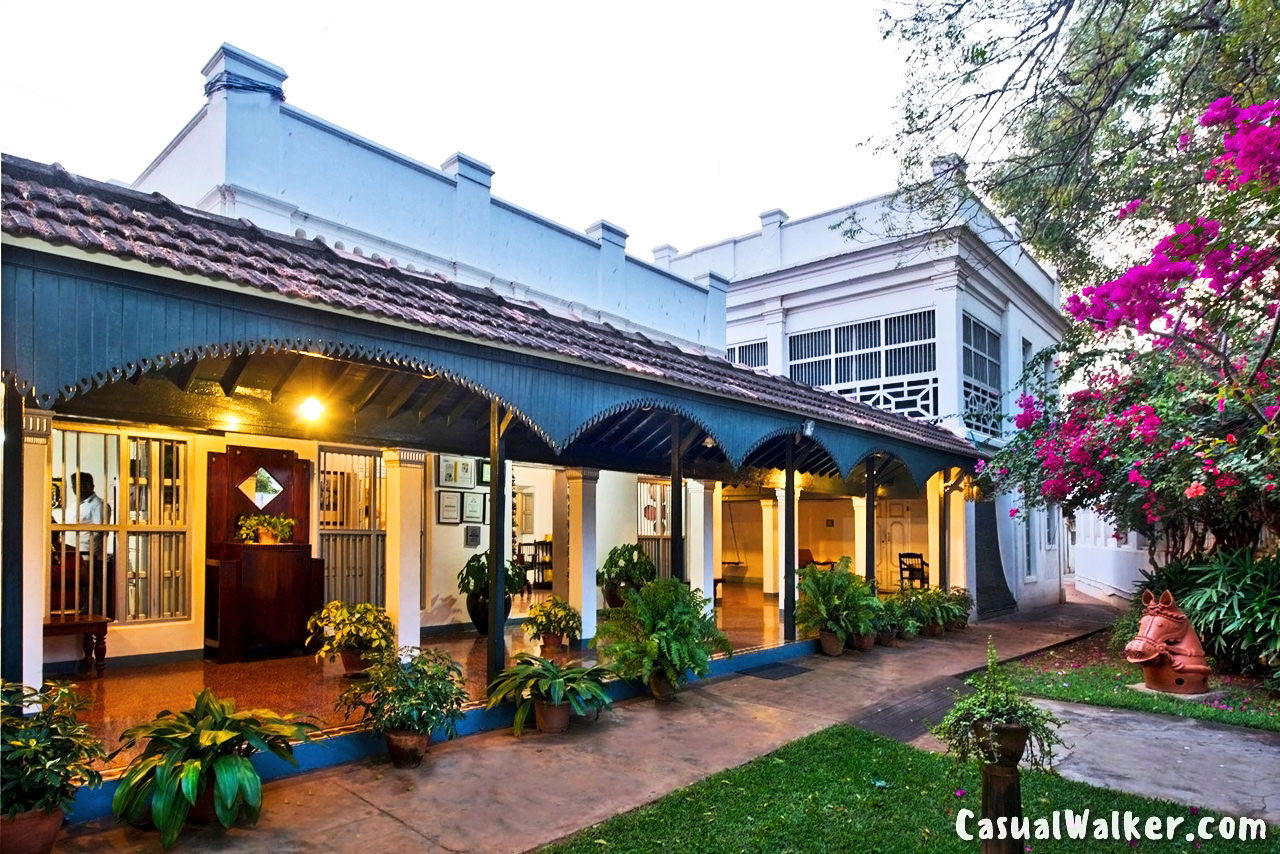 The Bangala, Chettinad – The Award-winning & Best Heritage Hotel / Resorts in Chettinad, Karaikudi – Visit, Travel Guide, Review
Aayiram Janal Veedu – House with a Thousand Windows / Kanadukathan Chettinad House / VVR House
A name that sparks curiosity, the Aayiram Janal Veedu, or the House with a Thousand Windows, stands as a testament to Chettinad's architectural prowess. The caretakers, often the unsung heroes of these heritage homes, graciously welcome us into their world for a nominal tip of 100 to 200 INR per head.
Chettinadu Mansion
Once a residential masterpiece, Chettinadu Mansion has been transformed into a heritage hotel. Step inside to experience the grandeur of Chettinad's past while enjoying the comfort of modern hospitality.
Lakshmi Vilas
A beautifully renovated mansion that has evolved into a stunning hotel. Lakshmi Vilas beckons you to immerse yourself in the charm of Chettinad's heritage.
Chettinadu Palace
While not open to visitors, the mere sight of Chettinadu Palace from the outside is a feast for the eyes. Its architectural splendor reflects the rich history embedded in Chettinad's soil.
Chettinad Region's Temples
In Chettinad, the Chettiars community is divided into nine Clan Temples. These temples aren't just places of worship; they are the spiritual anchors of the Chettiar community. Regardless of where a Chettiar is born, their allegiance lies with one of these temples. The nine Clan Temples scattered across the region are Ilayathangudi, Mathur, Vairavanpatti, Iraniyur, Pillayarpatti, Nemam, Iluppakudi, Soorakudi and Velangudi.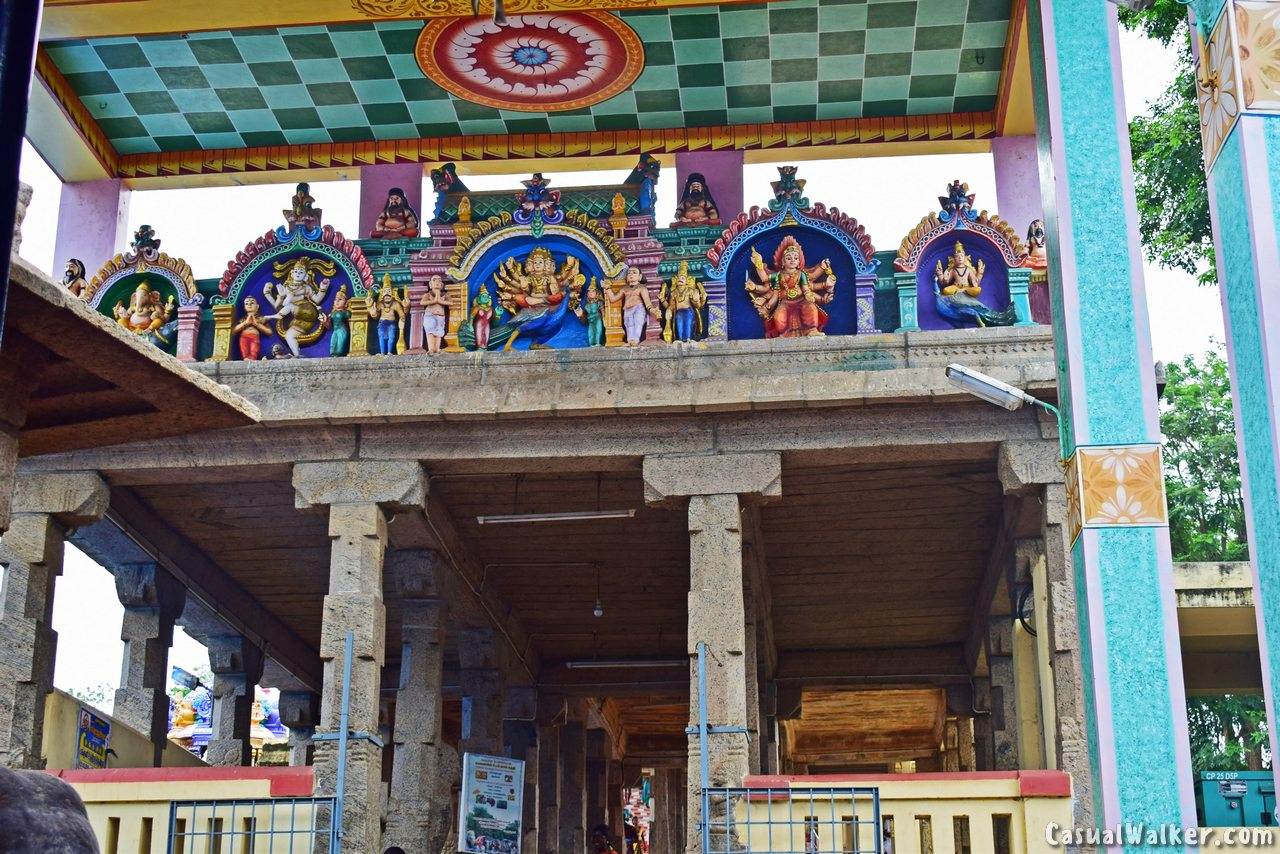 Pillaiyarpatti Pillaiyar Temple / Karpaka Vinayakar Temple, Tiruppathur – Best & Famous Ganesha Temple In Chettinad India – Visit, Travel Guide
Unveiling Chettinad's Hidden Treasures
Chettinad isn't just about grand homes and spiritual landmarks; it's a treasure trove of unique attractions that add layers to its rich tapestry.
Thirumayam Fort: A Glimpse into History
Built in 1687, Thirumayam Fort was built by Sethupathi Vijaya Raghunatha Thevar, the ruler of the Ramnad kingdom, the fort served as a bastion against external invasions and played a crucial role in shaping the region's destiny. Adjacent to the fort lies the Sathyamurthy Perumal Temple, adorned with a majestic Gopuram. The temple's intricate sculptures and vibrant colors add to the charm of Thirumayam, offering a spiritual haven amidst the historical grandeur.
Ayyanar Horse Temple: Terracotta Wonders
In the village of Kanadukathan, discover the Ayyanar Horse Temple—an ode to terracotta wonders. The temple is renowned for its life-sized terracotta horses, each a masterpiece of craftsmanship. As you explore this unique sanctuary, marvel at the artistry that brings these horses to life, capturing the essence of Chettinad's artistic brilliance.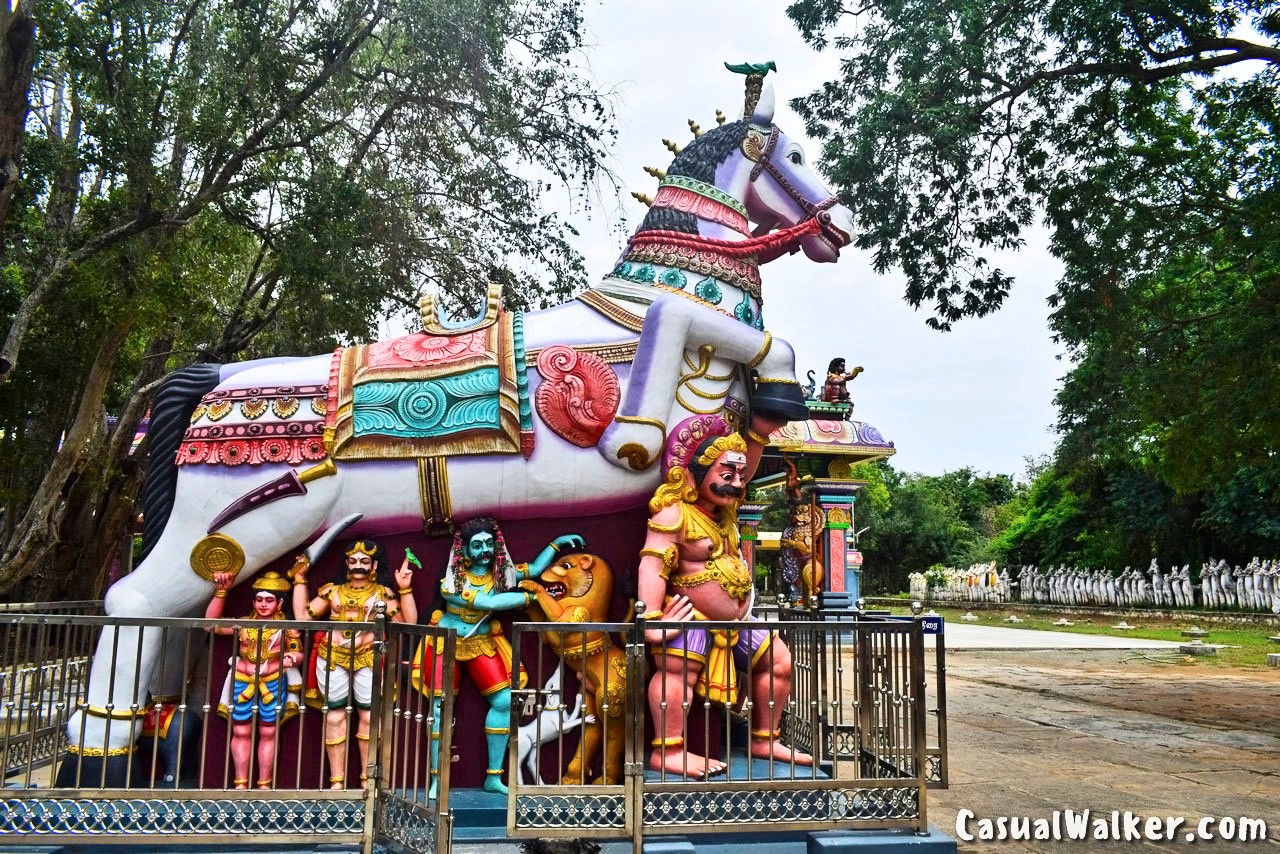 Sri Solai Andavar Temple / Sri Arulmigu Solai Valartha Ayyanar Temple in Kothari at Palathur, Chettinad, Sivaganga District – The Oldest Lord Ayyanar Temple in Chettinad – Temple Timings, Visit, Travel Guide
Vallal Dr. Alagappar Museum & Tamil Cultural Museum at Alagappa Puram, Karaikudi, Sivaganga: Museum to Sir Alagappa Chettiar
Vallal Dr. Alagappar Museum is a Museum dedicated to Sir Alagappa Chettiar, an educationalist, philanthropist, and Businessman. This Museum is opened at the Alagappa University campus in Karaikudi, Sivaganga district to mark the celebration of the 108th birth anniversary of Sir Alagappa Chettiar.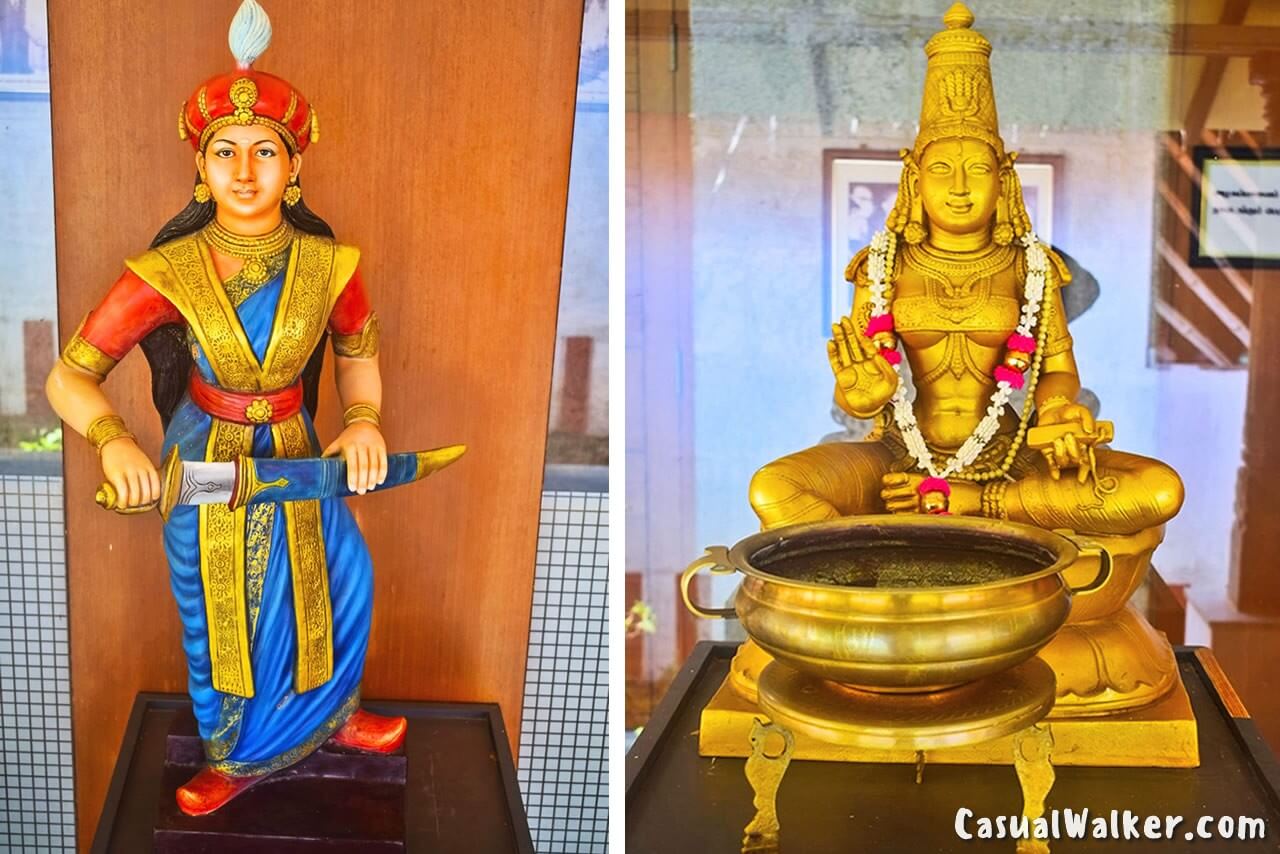 Vallal Dr. Alagappar Museum & Tamil Cultural Museum at Alagappa Puram, Karaikudi, Sivaganga: Museum to Sir Alagappa Chettiar – the Great Philanthropist & Founder of Alagappa University and To Know the History of Classic Tamil & Chettind Culture / Traditions – Visit, Timings Travel Guide
Chettinad Kottan- The Chettinad Palmyra Basket
Chettinad kottan – palm leaf products / Palmyra products such as
bags, baskets, and trays called "Kottan" in Tamil, created using dried palm leaf which is available in plenty in the villages in South India. It is one of the famous daily house hold object in Chettinad culture.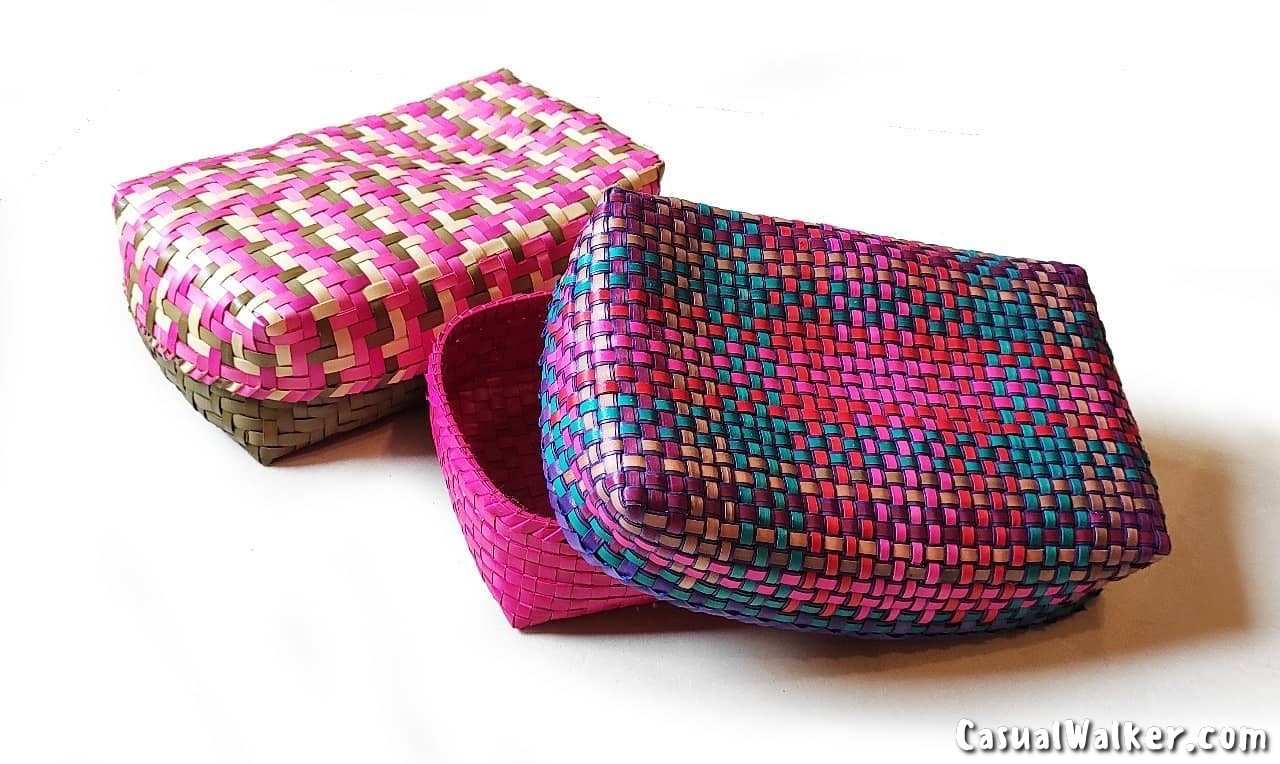 Manjal Store is a Chettinad craft and tradition unit supported by the International award-winning – M.Rm.Rm. Cultural Foundation in Chennai. Manjal is a vibrant and cheerful shop with a wide selection of hand-made, eco-friendly, colorful patterns of palm leaf products / Palmyra Basket.
M.Rm.Rm. Cultural Foundation Manjal Store, Chennai – Best place to buy hand-made, eco-friendly Chettinadu Crafts, Chettinad Palm Leaf / Palmyra Basket – Kottan products, Home Decors & Gifts
Chettinad, with its opulent houses a symphony of architectural brilliance, blending tradition, opulence, cultural richness, rich cultural heritage, and tantalizing cuisine, stands as a testament to the Nagarathar community's legacy. As we traverse the narrow thinnai, savor the flavors of Chettinad cuisine, and marvel at the architectural wonders, you'll find yourself immersed in a world where tradition and modernity coexist seamlessly.

Transport for Karaikudi:
On Road: Karaikudi, Plenty of buses are available from Karaikudi,Thirupathur,Madurai,Tirchy.
Nearest Airport: 87km towards Tiruchirappalli International Airport (Code: TRZ) and 81km towards Madurai International Airport ( Code IXM).

Nearest Railway Station: Karaikkudi Junction railway station (station code KKDI).
Check our Best Places and Tourist Attractions in Chettinad or Chettinadu, Sivaganga District – The Land of Nattukotai Chettiars / Nagarathars
Chettinad Kanadukathan Palace and Attangudi / Athangudi Palace, Karaikudi Visit, Travel Guide
Vallal Dr. Alagappar Museum & Tamil Cultural Museum at Alagappa Puram, Karaikudi, Sivaganga: Museum to Sir Alagappa Chettiar – the Great Philanthropist & Founder of Alagappa University and To Know the History of Classic Tamil & Chettind Culture / Traditions – Visit, Timings Travel Guide
Sri Solai Andavar Temple / Sri Arulmigu Solai Valartha Ayyanar Temple in Kothari at Palathur, Chettinad, Sivaganga District – The Oldest Lord Ayyanar Temple in Chettinad – Temple Timings, Visit, Travel Guide
The Bangala, Chettinad – The Award-winning & Best Heritage Hotel / Resorts in Chettinad, Karaikudi – Visit, Travel Guide, Review
Koppudaiya Nayaki Amman Temple / Koppudai Amman Temple at Karaikudi in Sivaganga District – Oldest & Famous Goddess Amman Temple in Karaikudi, Chettinadu – Temple Timings, Visit, Travel Guide
Kunnakudi / Kundrakudi Shanmughanathar Murugan Temple, Tirupattur – Best & Famous Murugan Temple In Chettinad, India – Visit, Travel Guide (Updated)
Pillaiyarpatti Pillaiyar Temple / Karpaka Vinayakar Temple, Tiruppathur – Best & Famous Ganesha Temple In Chettinad India – Visit, Travel Guide
Thiruppakkottai Village & Temple Festival Trip at Sivaganga District Visit, Travel Guide
Soundaram's Chettinad Sweets and Snacks, Karaikudi – Best Place To Buy Chettinad Sweets & Snacks – Visit, Travel Guide (Updated)