Heritage Food Walk in Triplicane organized by Tamilnadu Tourism Development Corporation (TTDC) & Madras Inherited: Discovering the Famous & Best Restaurants, Mess, Sweet & Snacks Shop, and Masala Milk Shop in Triplicane – Visit, Travel Guide
– exciting, lip-smacking food joints in triplicane
| | |
| --- | --- |
|  CasualWalker's Rating for Heritage Food Walk in Triplicane, Chennai : | |
| 9.8 – Great / Excellent |   |

To mark the celebration of Madras Day, Tamilnadu Tourism Development Corporation (TTDC)  in association with Madras Inherited organized a Heritage Food walk in Tripiclicane, Chennai.
The food walk is enthusiastically curated by Madras Inherited team's Shri Ashmitha Athreya, an Architect and heritage enthusiast. Each month, the Madras Inherited team organizes walks and events in various locations, under heritage and culture themes in and around Chennai.
We walked to some of Triplicane's delicious and finest food outlets and sampled their mouthwatering varieties of Melting Halwas, Hot spicy Pakodas, Dive deep into Sambhar-soaked Idlis, Energizing Hot Masala Milk, and Strong Hot filter Coffee at the places where it all started many years ago, and listening to the stories, the culture behind this famous food outlets.
Tamilnadu Tourism Development Corporation (TTDC)'s managing director Shri Sandeep Nanduri, who has also joined the food walk, said through TTDC they may plan for such heritage walks once a month.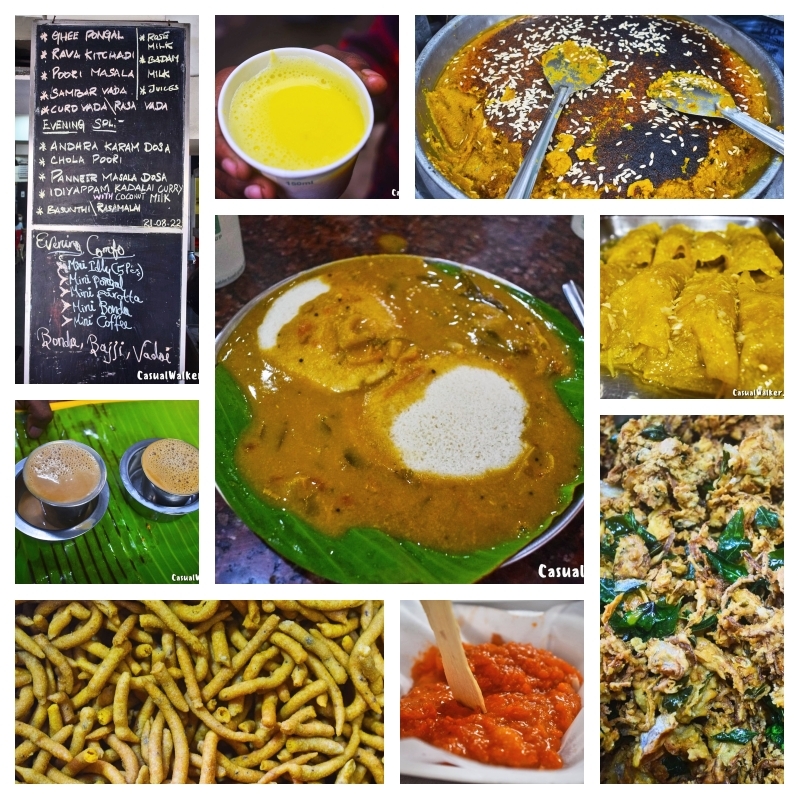 The Triplicane heritage food trail started from Amir Mahal, the official palace of Arcot Nawab, and explored some of the Triplicane's legacy and lip-smacking food joints like Basha Halwa Wala, Ratna Cafe, Thanigaivelan Inippagam, Hema Milk Depot, and finally ended at Bharathi Mess.
 
Basha Halwawala – 100 Years Old Best Traditional Dum Ka Roat Halwa Sweet Shop in Triplicane, Chennai
Basha Halwa Wala, the 100 years old sweet shop in Jam Bazaar, Triplicane, Chennai, is most famous for its "Dum Ka Roat" – a halwa delicacy that is crusty on the outside and hot and soft on the inside. Basha Halwawala is one of the best places to have various varieties of tasty halwa sweets in the Chennai area.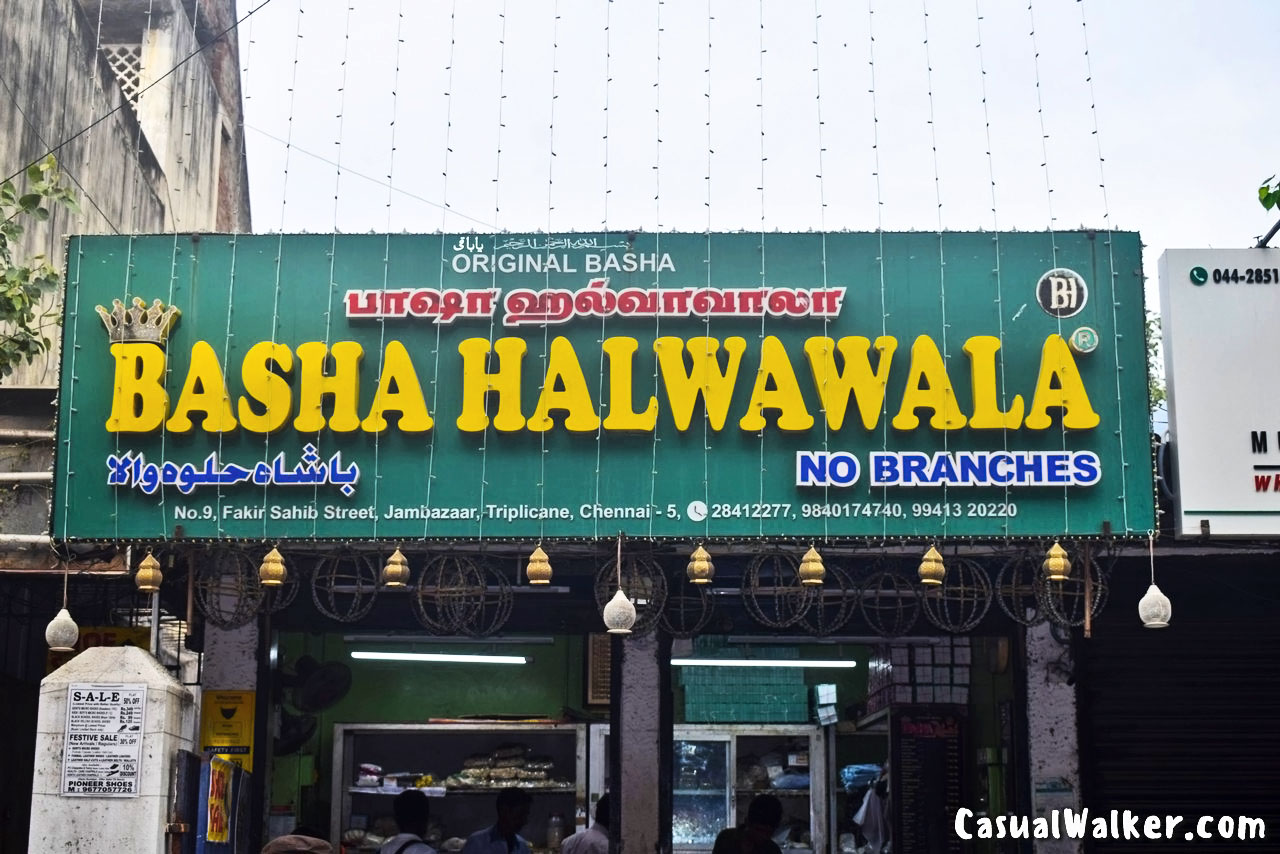 The rates at Basha Halwa Wala are reasonable and the shop is always crowded with regular customers. This small outlet exists for decades with no other branches. This shop specialty still maintains its traditional taste and also it's their traditional vintage way of packing them in cardboard boxes.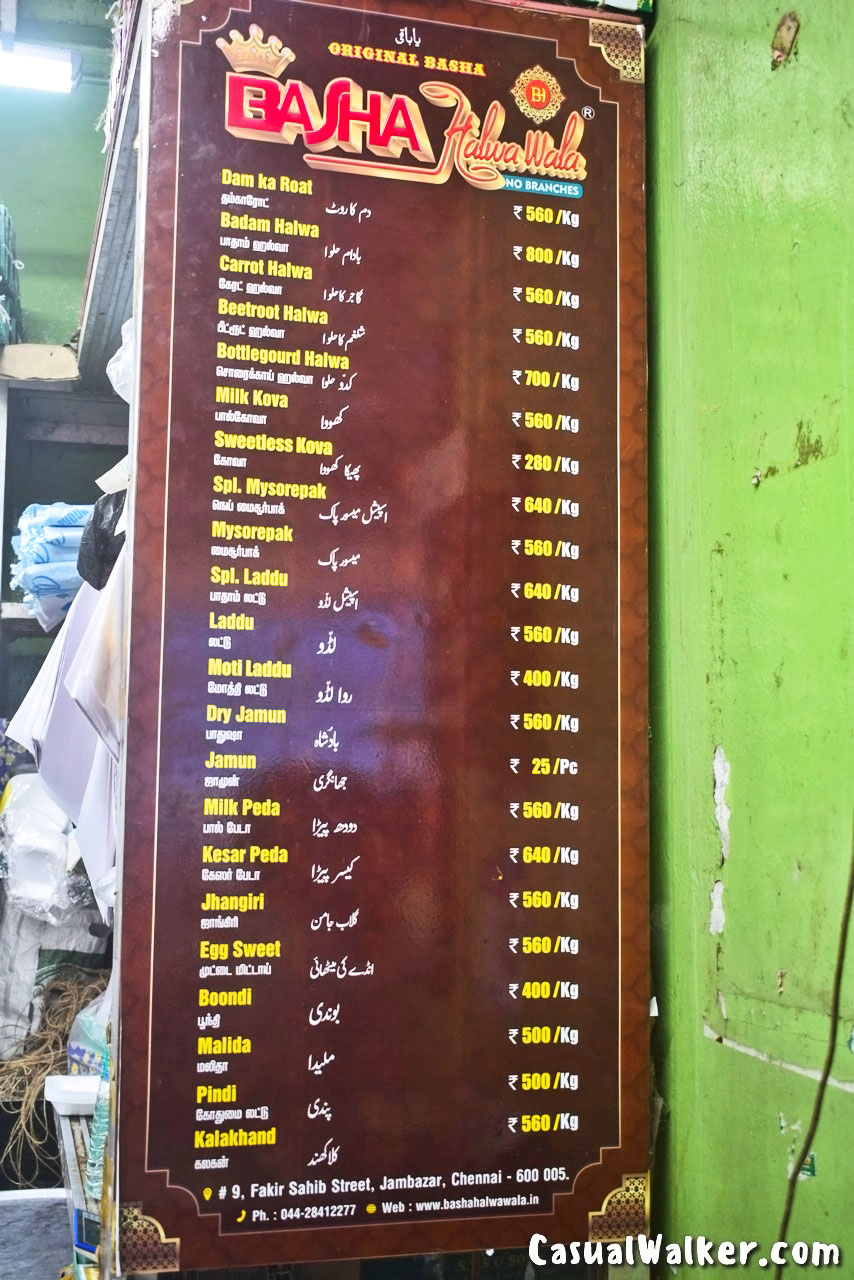 Basha Halwawala's Authetic Dum Ka Roat
Basha Halwawala's authentic Dum Ka Roat lured halwa lovers towards it and the shop is one of the landmarks of Triplicane in Chennai. Dum Ka Roat is basically a baked semolina pudding.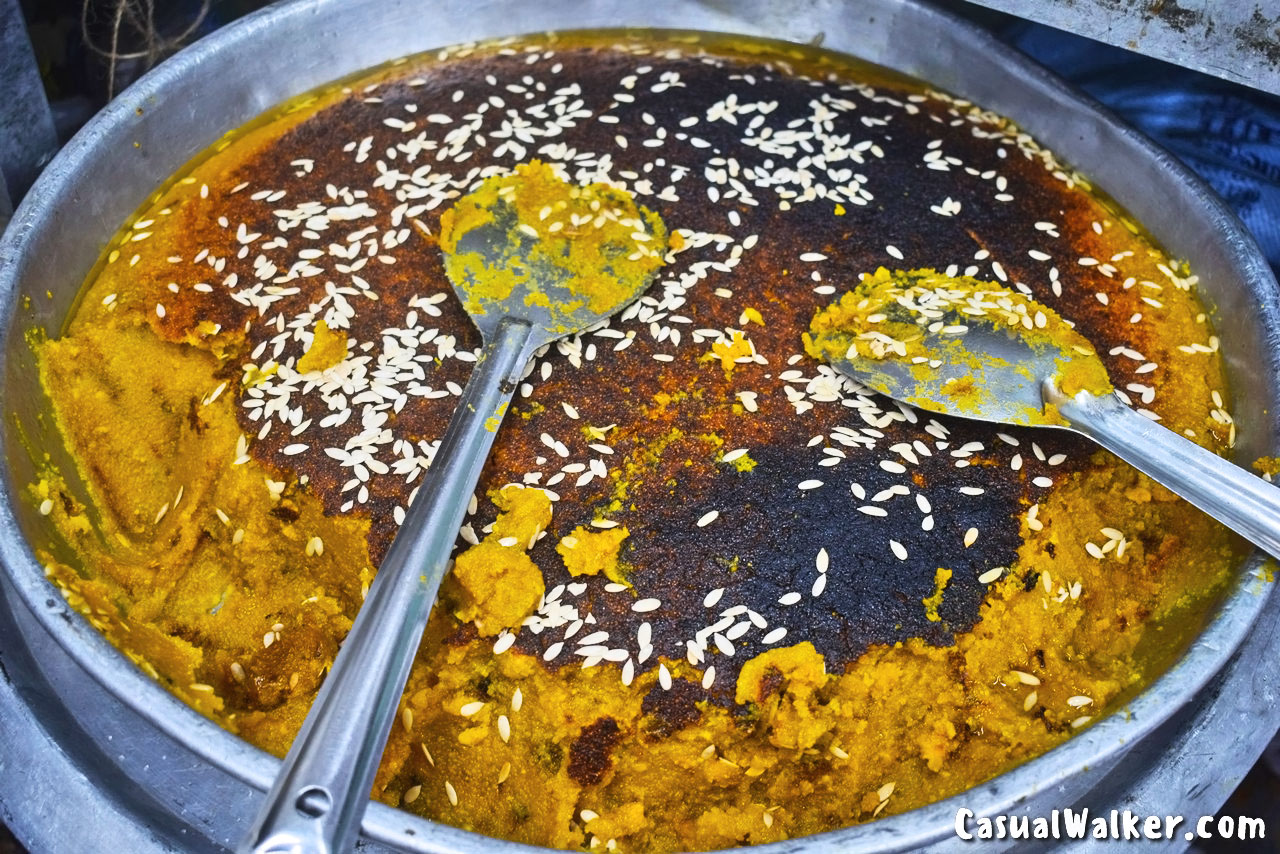 This hot, fresh, gooey, crispy pumpkin seed delight Halwa Dum Ka Roat was must try dessert and its texture is really super tasty and awesome.
They also mastered the art of making the carrot halwa and bottle gourd halwa. Carrot halwa was almost liquid, drenched in ghee, and purely yummy.
The 82-year-old traditional Basha Halwawala sweet shop is in the 4th generation and states that "there is no secret ingredient to the Dum Ka Roat and the trick lies entirely in the using coal dum baking of the dish, a process which takes 3-4 hours and the secret lies in the way it's made".
The shop is easily accessible, it is left to the popular mall "Express Avenue" and nearer to Jam Bazaar police station.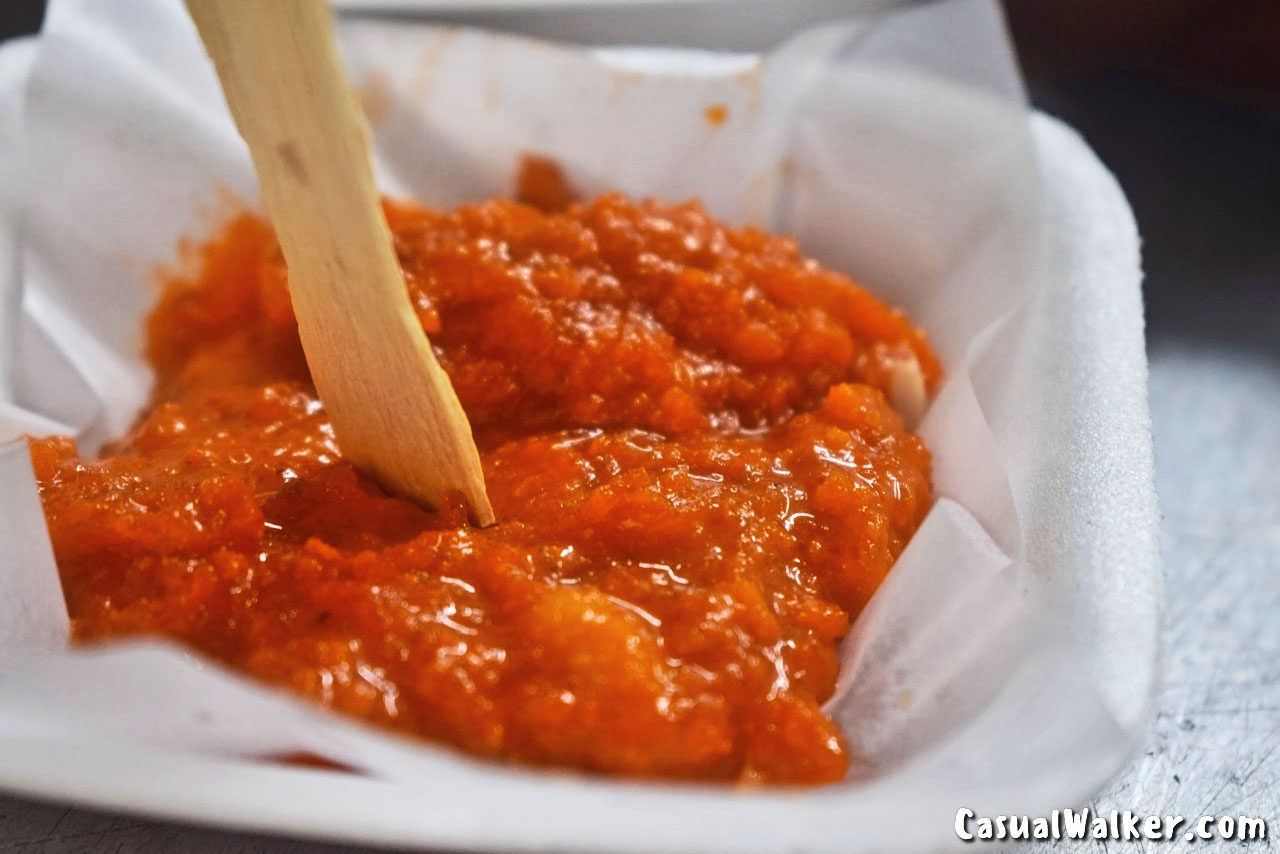 Travel Guide to visit Basha Halwawala, Triplicane Chennai:
Basha Halwawala Address: No. 9, Fakir Sahib Street, Ellis Puram, Jambazar, Triplicane, Chennai – 600005.
Contact Number: 044 2841 2277 / 98401 74740
Basha Halwawala Timings:
Saturday to Thursday: 10:00 AM–10:30 PM
Friday: 10:00 AM – 1:00 PM, 2:00 PM – 10:30 PM


Ratna Cafe – 75 Years Old Best Authentic Sambhar Idli Restaurant in Triplicane, Chennai
Ratna cafe is the most famous 74 years old restaurant in Triplicane was started in 1948. It is one of the best places for its authentic sambhar Idli with its official tagline as "The Magic of Sambar". Each day around 2,000 liters of sambar are prepared and sent to their other branches in Adyar and T. Nagar.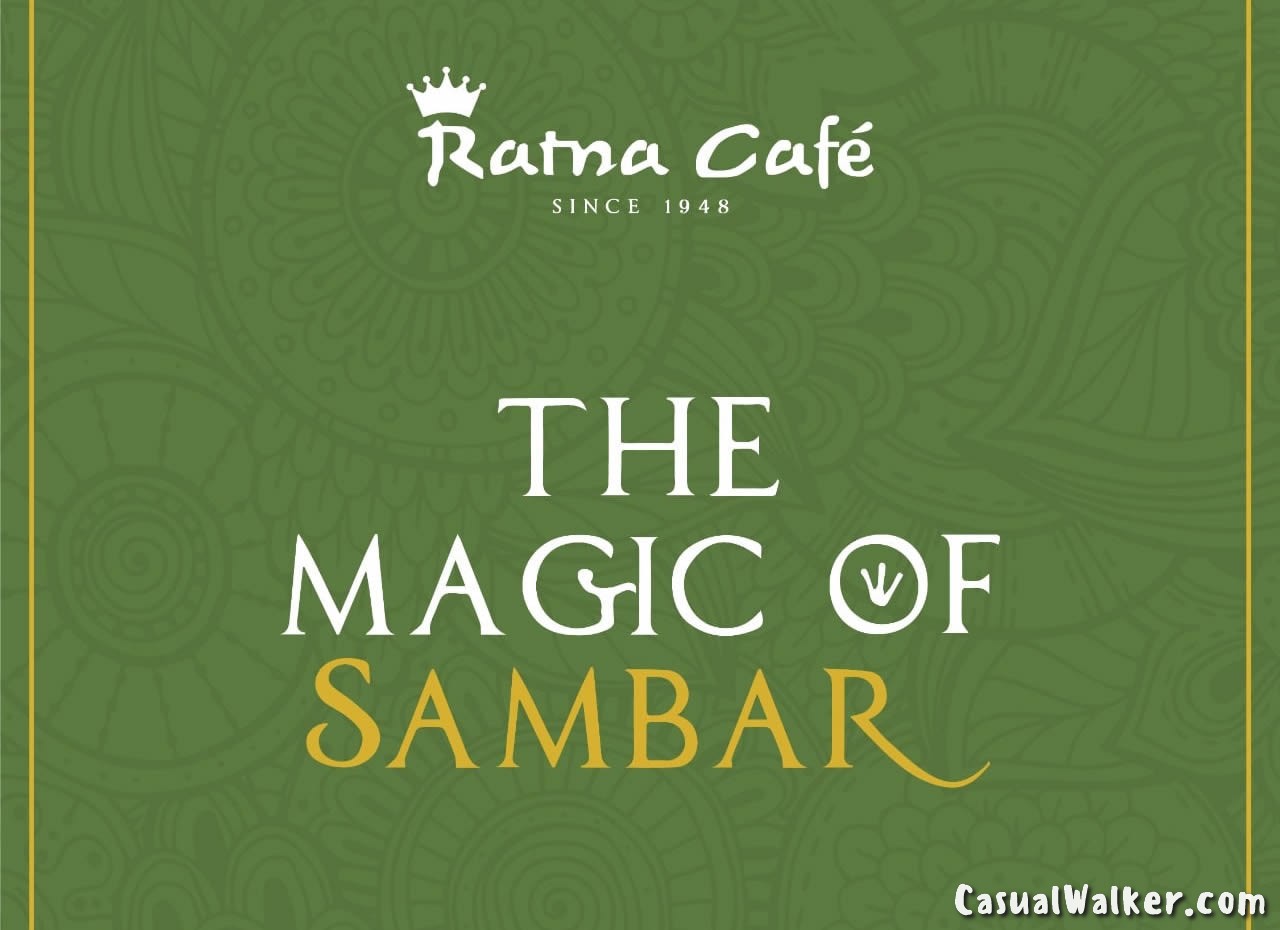 Menu of Ratna Cafe in Triplicane, Chennai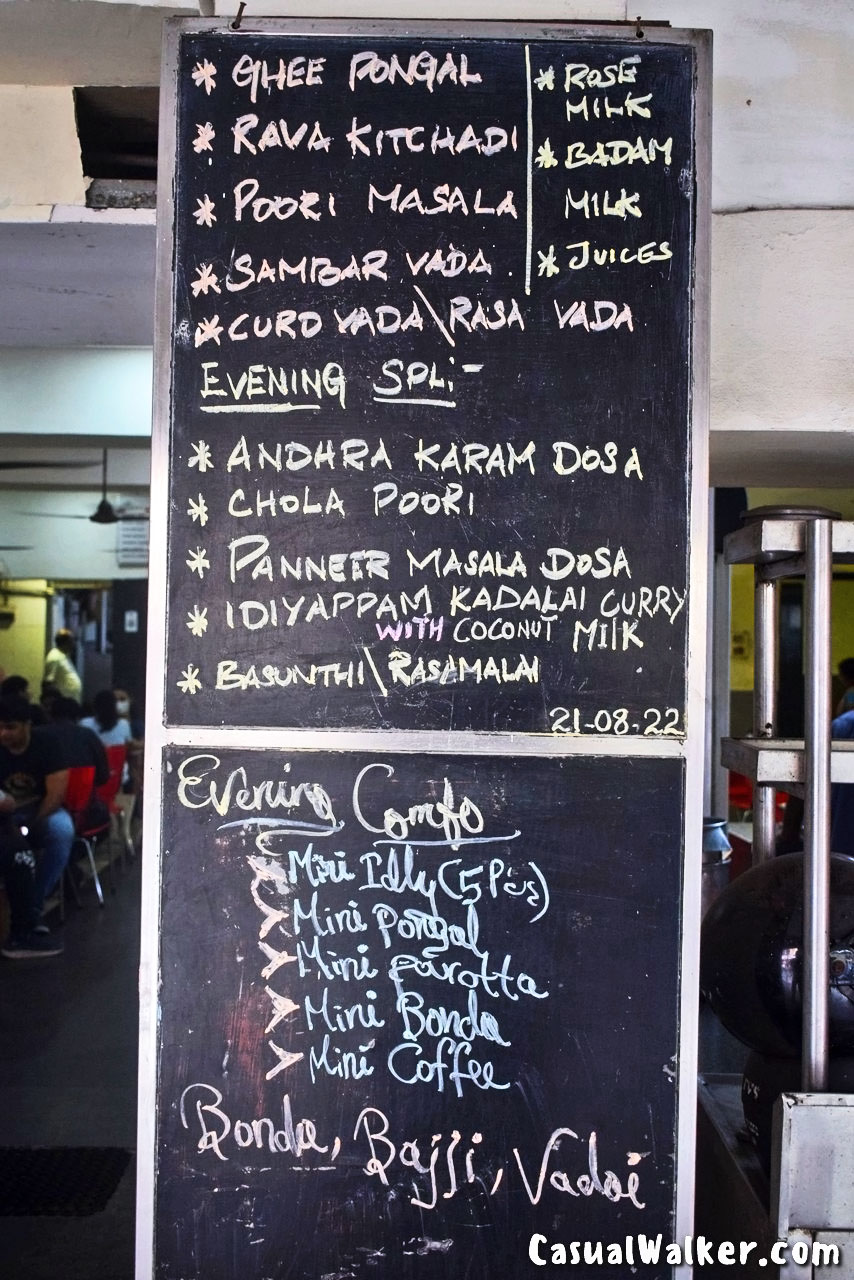 Their sambhar-soaked idli has been its main draw since the business's inception. Their world-popular Sambar, a side dish draws customers rather than the main course Idli. Tiffin items are available during lunchtime too. The secret behind the restaurant is not only the recipe but also having separate cooks for different dishes.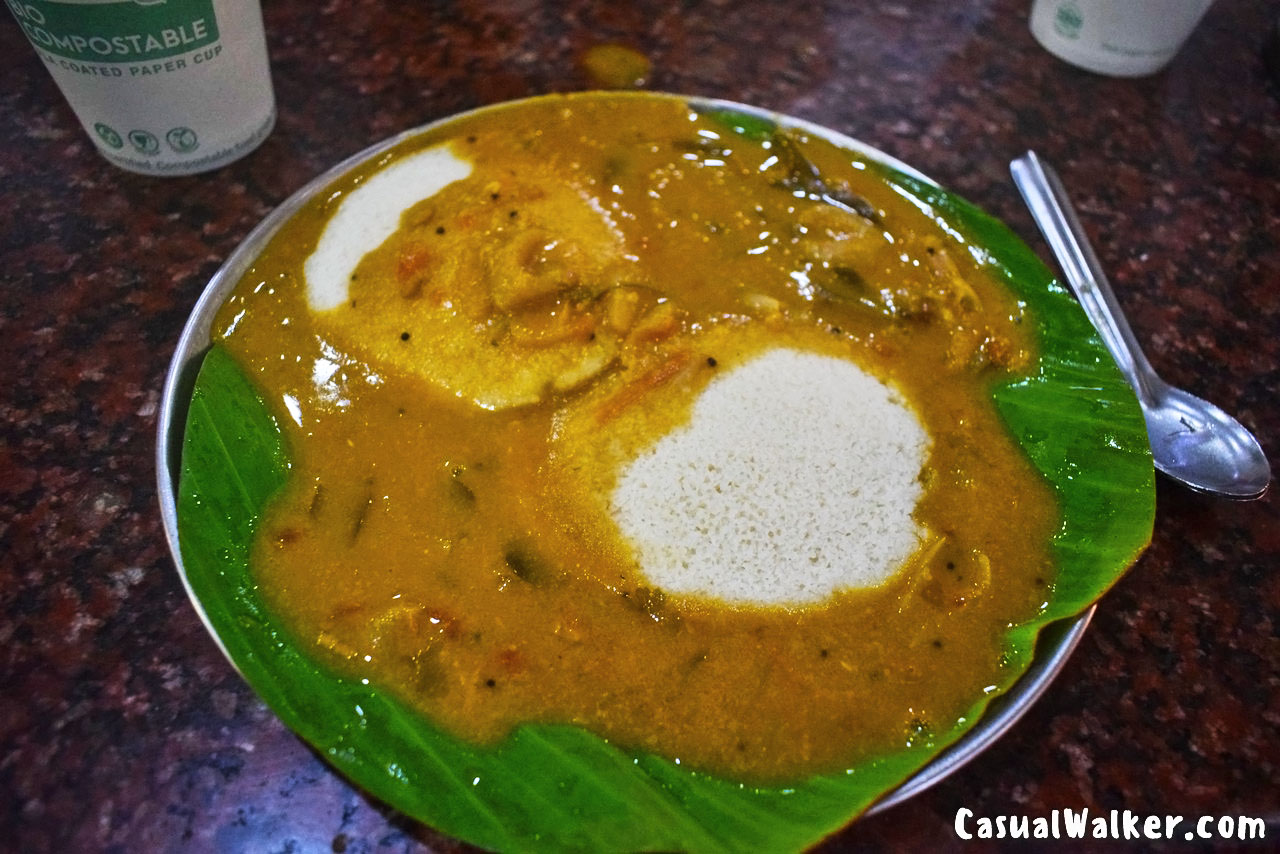 Ratna Cafe is a treat for those who love South Indian food — Idlis, Dosas, and Vada that are served with a delicious sambhar and a variety of chutneys.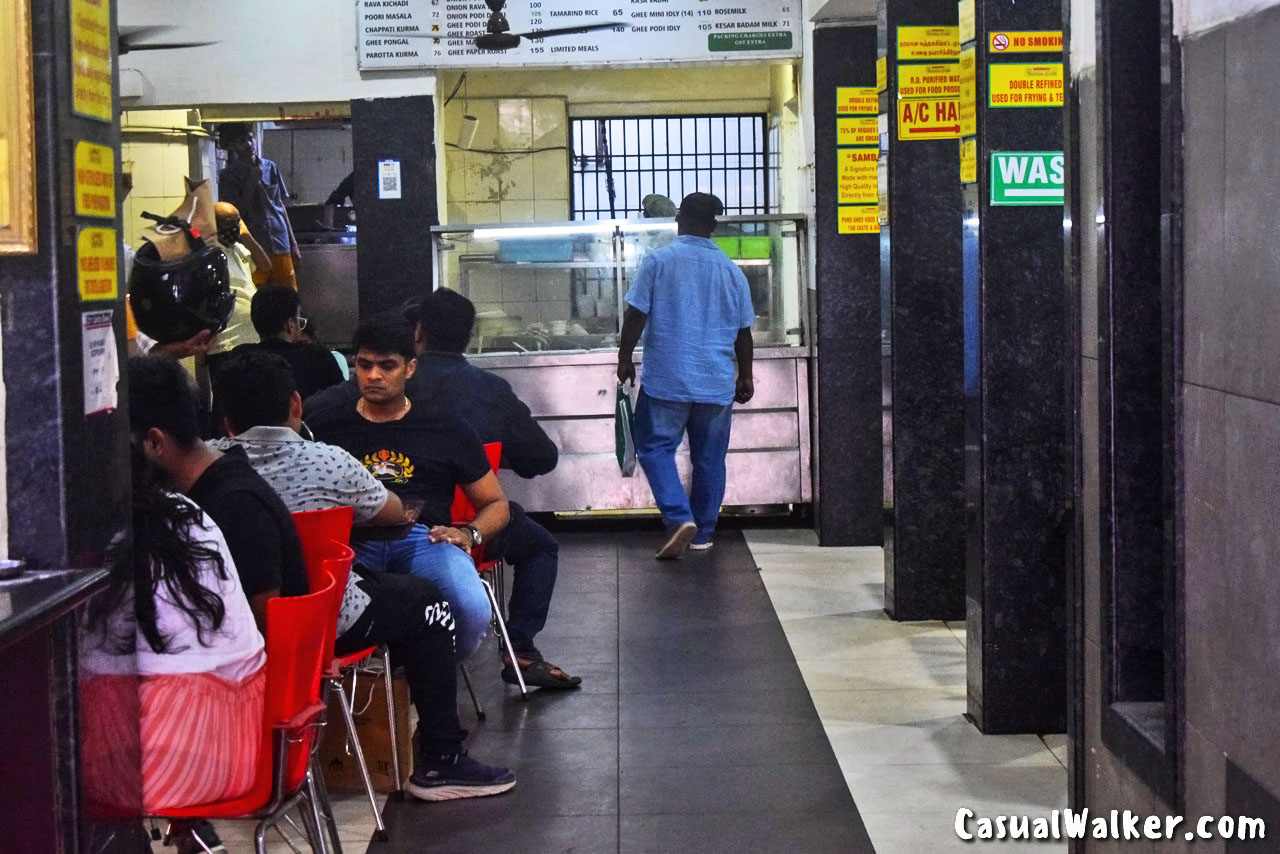 History of Ratna Cafe in Triplicane, Chennai :
Jaggilal Gupta founded Ratna Cafe in 1948, who is from a family in Mathura – district in Utter Pradesh, and moved to Madras – Chennai in 1948 and started Ratna Cafe. Next to him, Triloknath Gupta started a chain of south Indian restaurants of Ratna Cafe. Now the cafe is run by Rajendra Gupta and his son who bought this restaurant from Triloknath Gupta in 2002.
Ratna cafe is a pocket-friendly priced great food place in Chennai where good food comes at an affordable price.

Travel Guide to visit Ratna Cafe in Triplicane, Chennai:
Ratna Cafe Address: No. 255, Triplicane High Road, Chennai – 600005.
Contact Number: 044 2848 7181
Ratna Cafe Timings: 7:00AM – 11:00AM


Thanigaivelan Inippagam – 45 Years Old Best Onion Pakoda Kadai & Traditional Sweets & Snacks Shop in Triplicane
Thanigaivelan Inippagam is the best sweet shop in Triplicane, Chennai. The sweet shop starts its journey in 1978. Even with the selling of many sweets and snacks, Thanigaivelan Inipagam is better known as "Pakoda Kadai", for its unique delicious tasty "Onion Pakoda / Pakora" or "Vengaya Pakoda".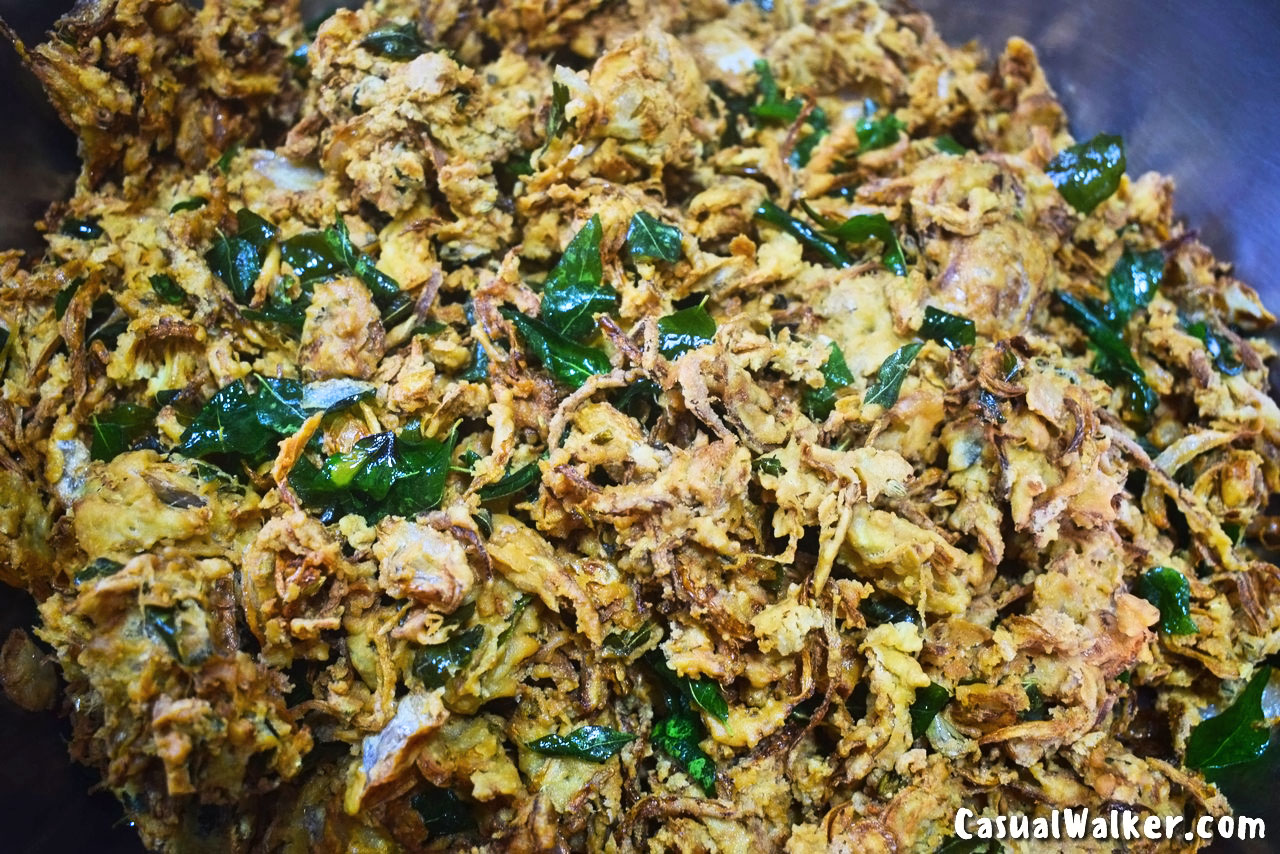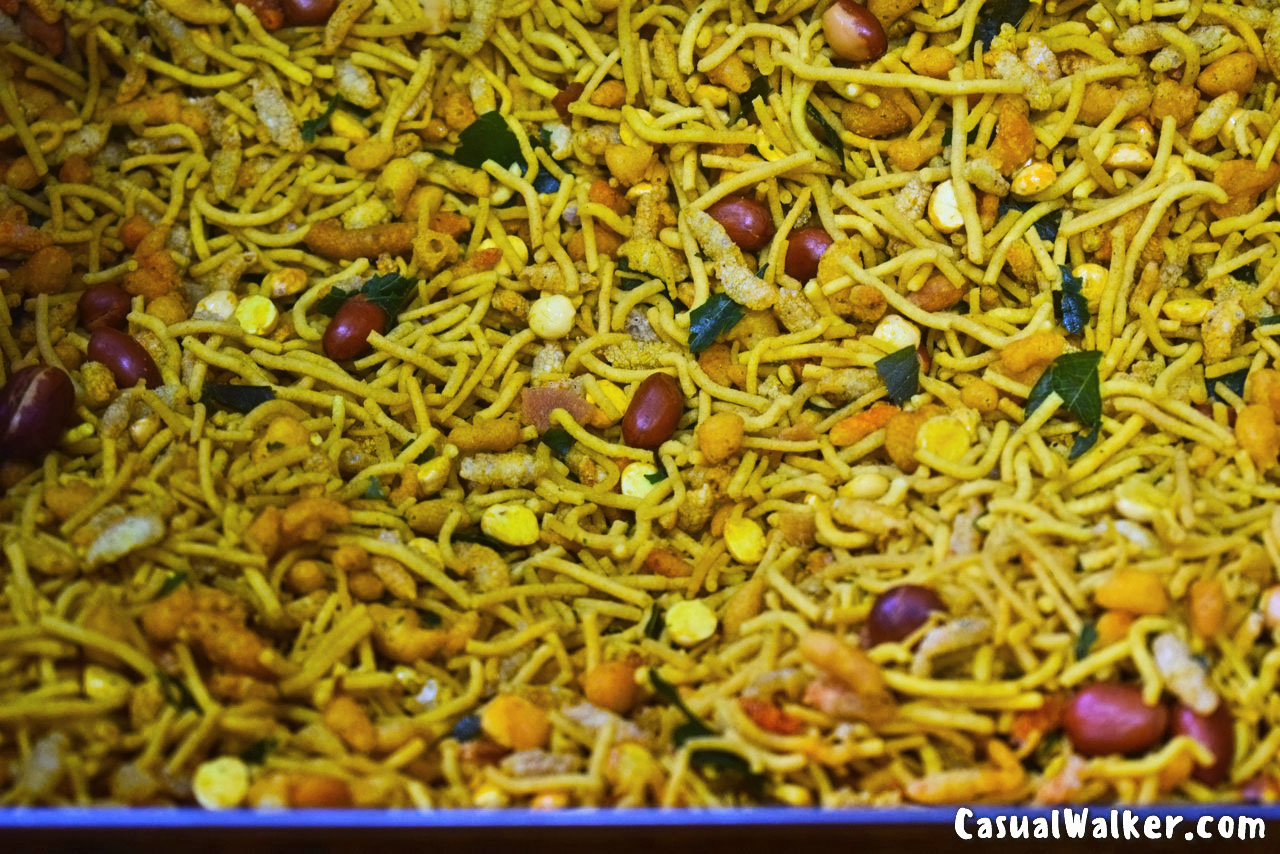 From the year of its start, Thanigaivelan Sweets are offering high-quality sweets and savories like Kaara Boondhi, Onion Pakoda, Thattai, Ribbon Pakoda, Banana Chips, Potato Chips, Murukku, Masala Peanuts, Aloo-sev, Sev, Ladoo, Jangiri, Mysore Pak, Soam Papdi, Makan Peeda Adhirasam, Badhusa, and Gulab Jamun.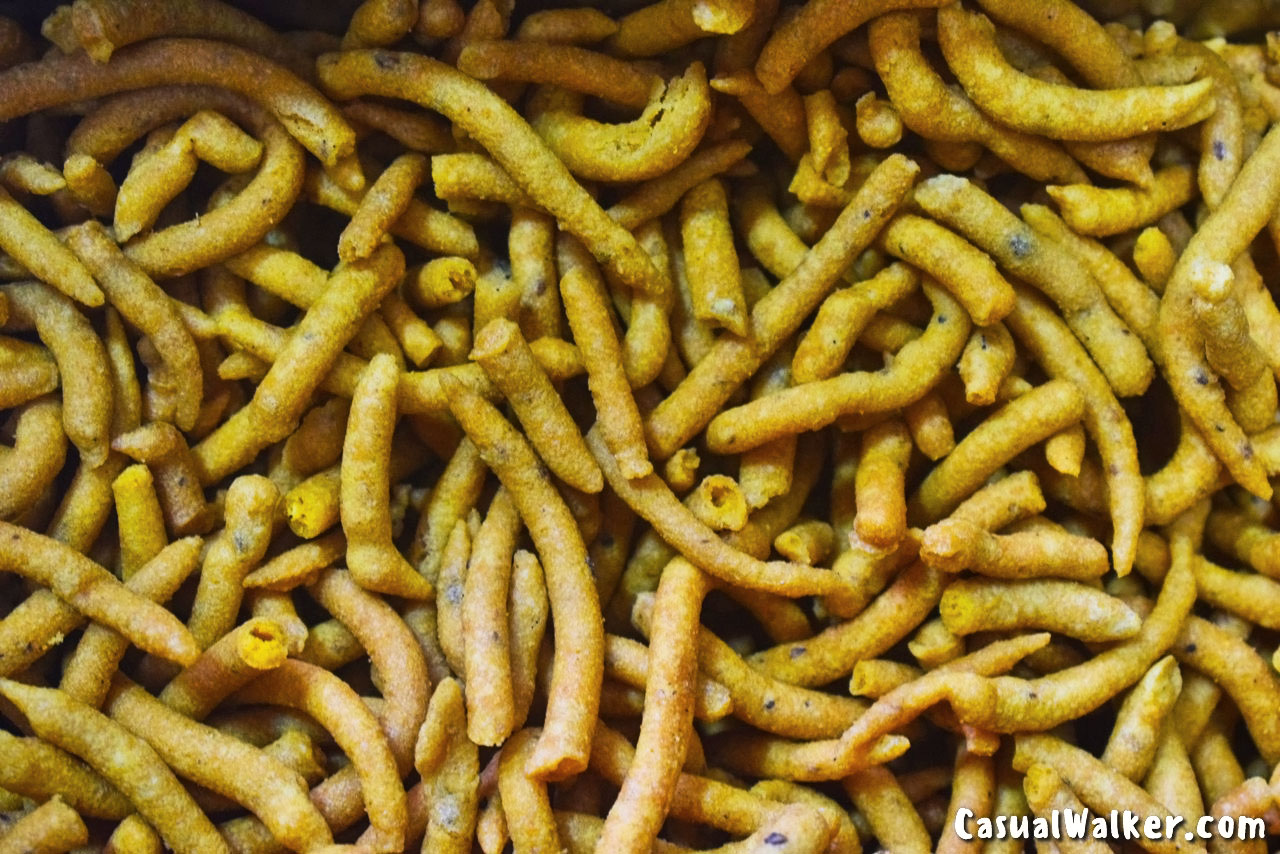 They keep their sweets and savories affordable. Their customers choose this shop for its quality, price, and taste. Shri T.Gayathri who currently runs the shop with her family says that her father-in-law established this shop as a special recipe for Pakoda and thus the reason behind the name "Pakoda Kadai". They also cater to all types of parties, weddings, and gatherings.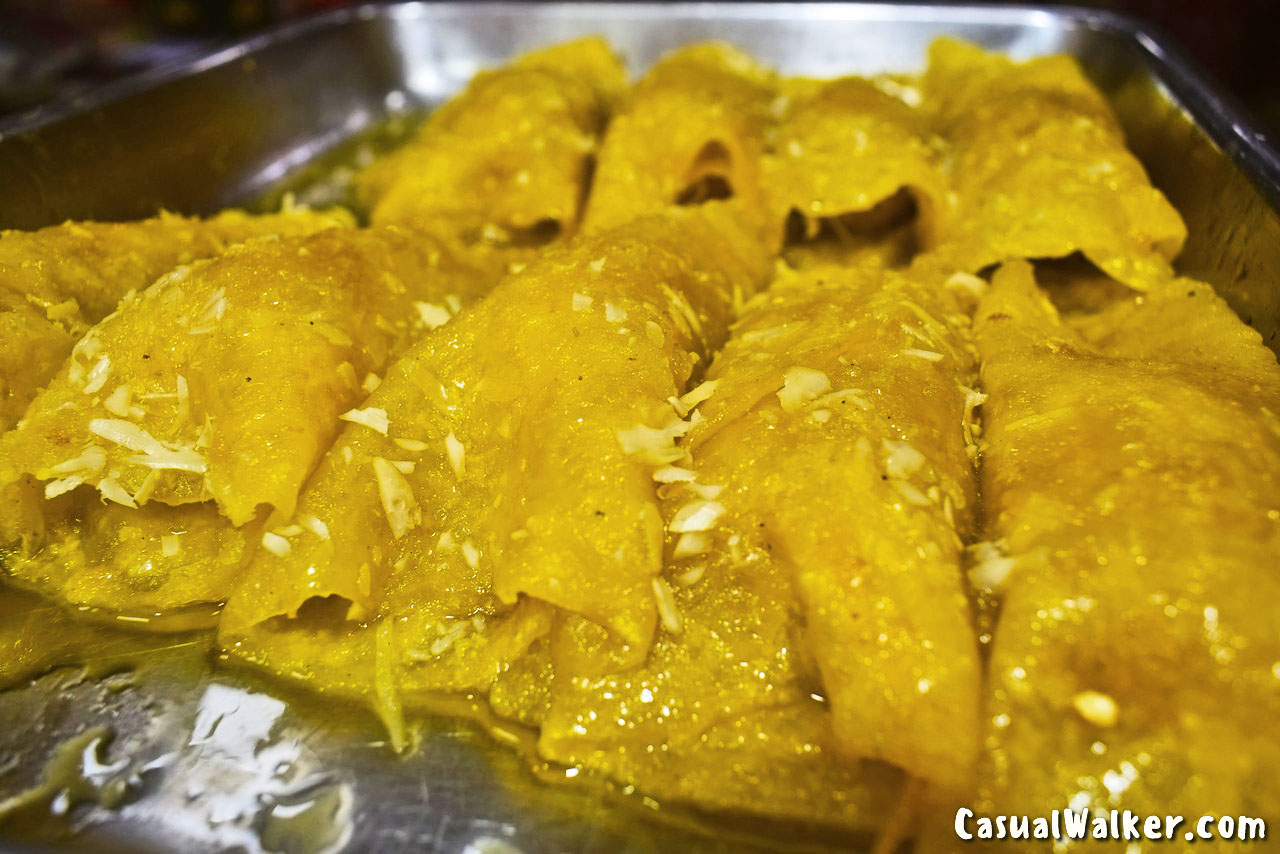 Travel Guide to visit Thanigaivelan Inippagam in Triplicane, Chennai:
Thanigaivelan Inippagam Address: No:261/3, Pycrofts Road, Bharathi Salai, Narayana Krishnaraja Puram, Triplicane, Chennai – 600005.
Contact Number: 98411 84446
Thanigaivelan Inippagam Timings: 10:00 AM – 9:00 PM


Hema Milk Depot – 50 Years Old Best Masala Milk / Kadhai Doodh and Badam Milk Shop in Triplicane, Chennai
Hema Milk Depot is a popular shop for its hot Masala Milk or Kadhai Doodh and Badam Milk. This shop is currently run by Sohanlal Solanki, a Rajasthan-based father, and sons duo for more than 50 years in Triplicane. For their shop, they use only cow's milk.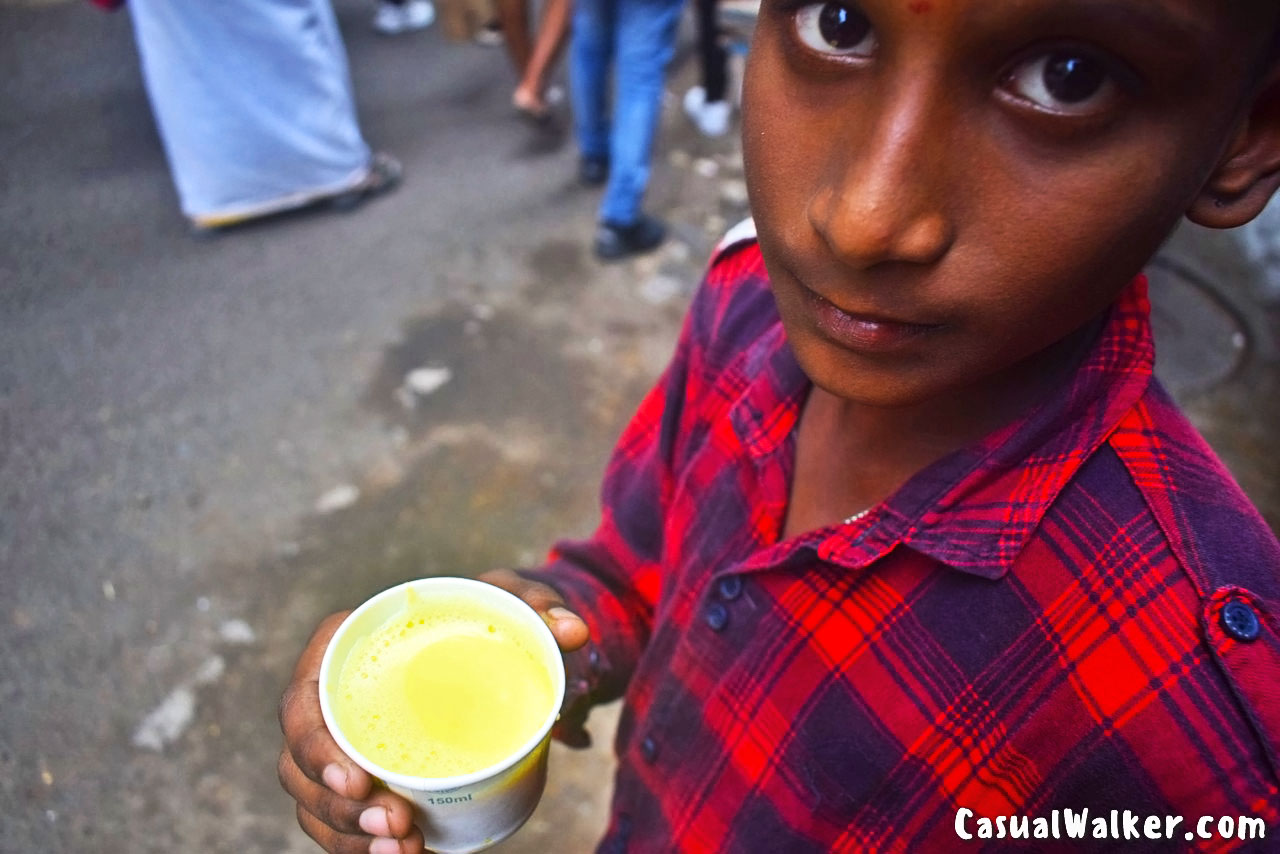 They serve tasty hot masala milk for Rs 15 and Rs 25. The malai on the light yellow masala milk and the sugar make for a nutritious hot drink. They also sell Milk Kova.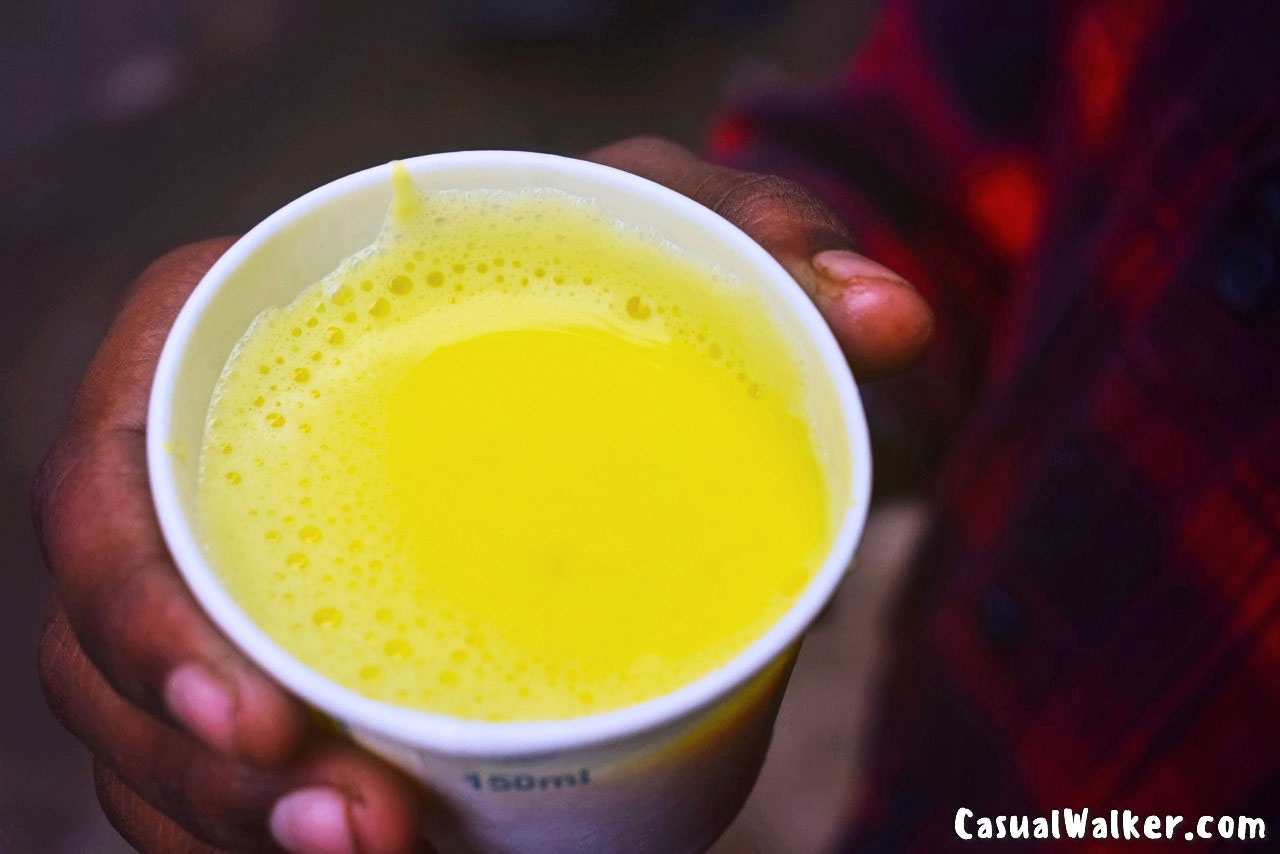 Travel Guide to visit Hema Milk Depot in Triplicane, Chennai :
Hema Milk Depot Address: 73, 35, Pycrofts Rd, Narayana Krishnaraja Puram, Triplicane, Chennai, – 600005
Contact Number: +91 9840939299
Hema Milk Depot Timings: 10:00 AM–10:00 PM


Bharathi Mess, Triplicane : Best Vegetarian Mess in Triplicane – Named after the Great Poet & Indian Independence Activist Shri Mahakavi Subramania Bharathi
Bharathi Mess (பாரதி மெஸ்) is one of the most popular mess/restaurants in Triplicane. This restaurant is named after the great poet, writer, journalist, Indian independence social reformer, and activist Shri Mahakavi Subramania Bharathi. We can find the entire Bharathi Mess is full of Bharathiar.
Bharathi Mess place is one of the best places to have excellent vegetarian south Indian traditional
food
. Its specialty is that it is always like home-cooked meals.
History of Bharathi Mess
Bharathi Mess was started in 2012 – over 10 years ago jointly by Shri S. Kannan and Shri S. Saravanan and they were the ones who fell in love with and inspired by Bharathi since their early days and took a decision to name their mess/restaurant after Shri Mahakavi Subramania Bharathi.
When we entered Bharathi Mess, we are welcomed with Mundashu Bharatiyar at the door entrance.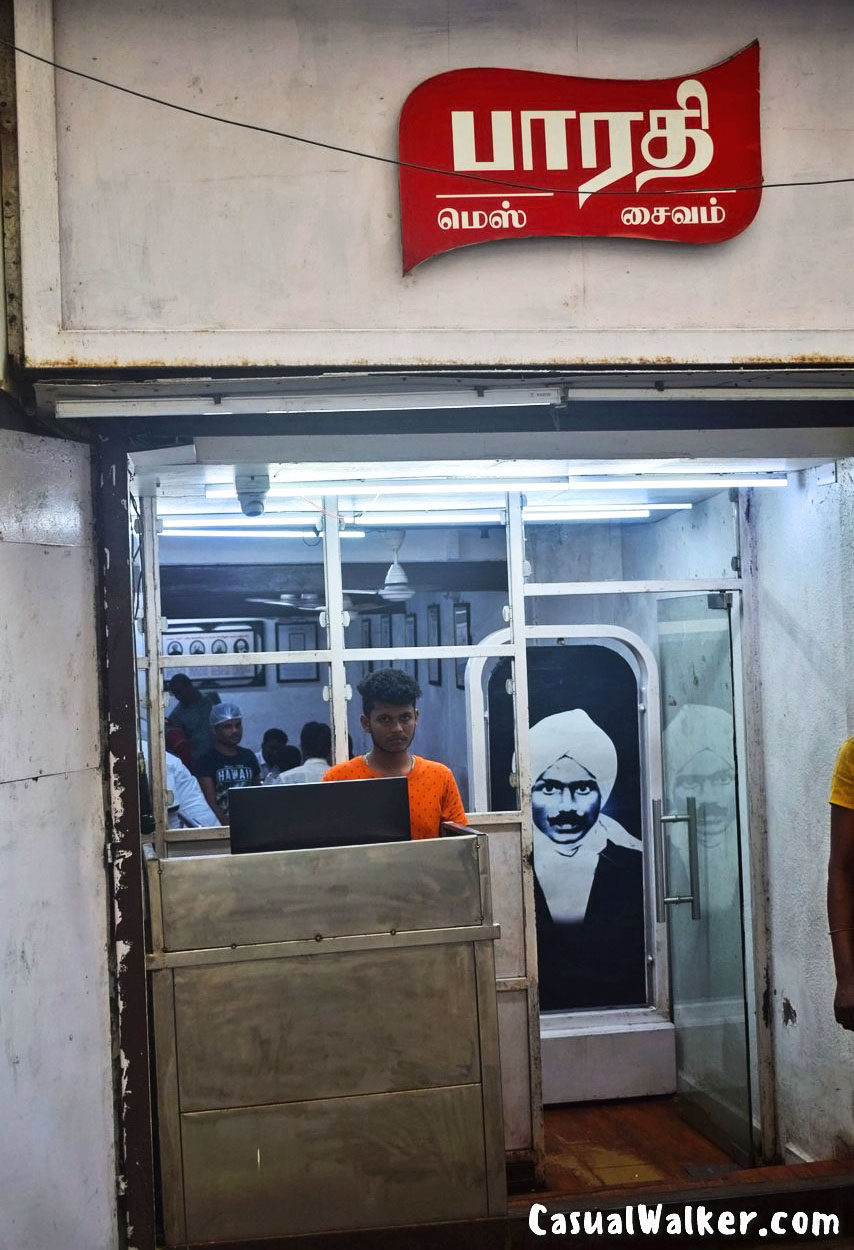 The mess space is small but long enough to accommodate more people. It was impressive that the tables were set up in a proper columns, and there is also a fast-food style for standing and eating.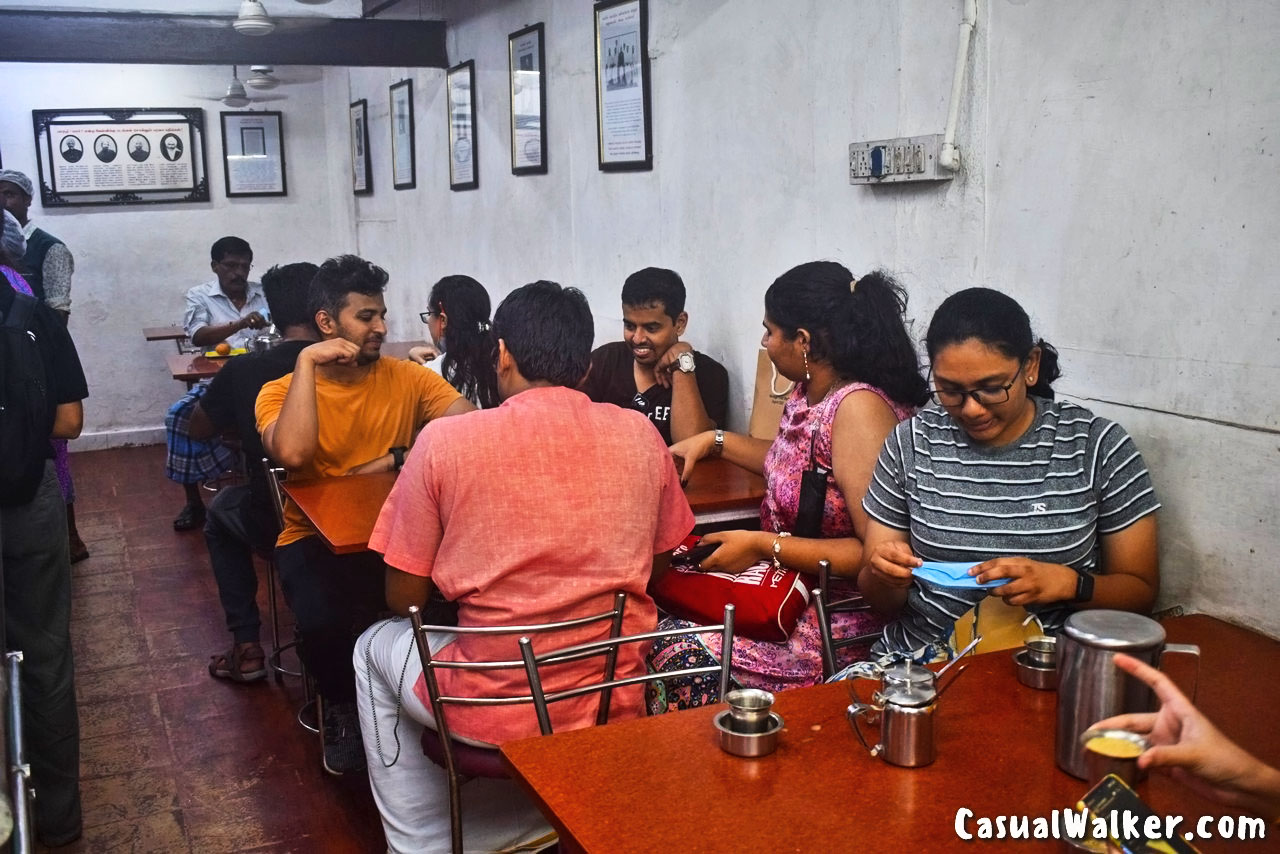 Shri Mahakavi Subramania Bharathi's Photogallery
Shri Mahakavi Subramania Bharathi's rare photographs along with small notes about his life history and poems are plastered all over the walls, and songs of poets are played continuously.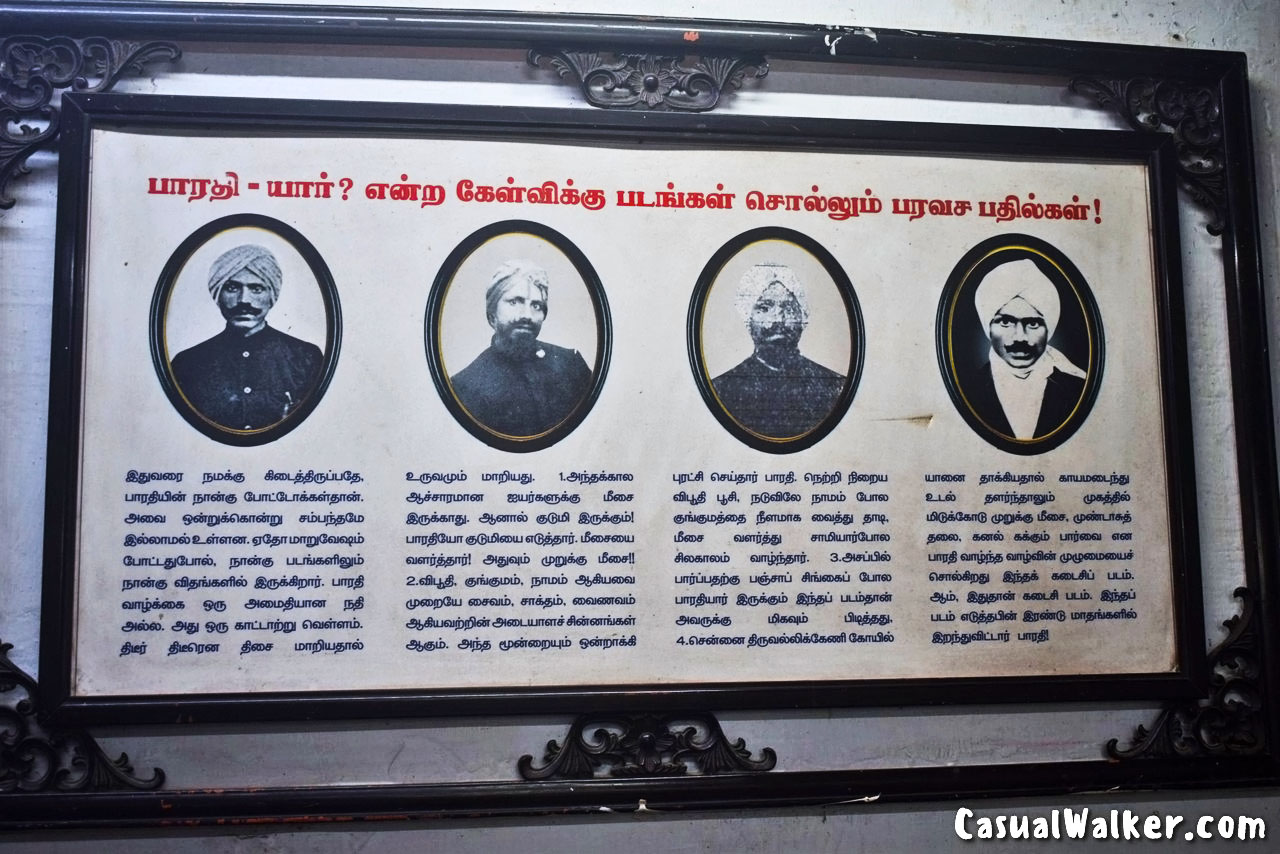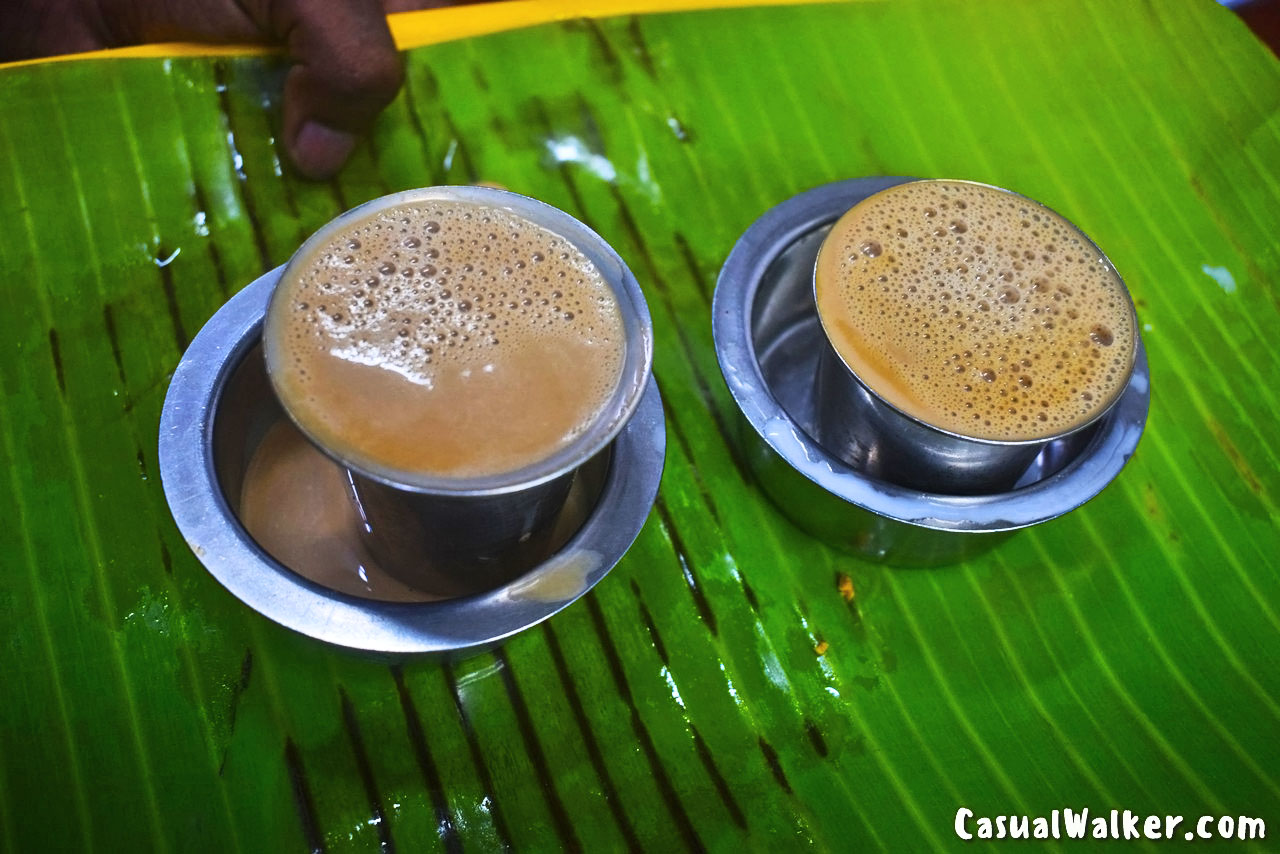 Bharathi Mess is known for its traditional rice varieties such as Mapillai samba, millets, and greens. Meals for lunch come with a serving of Mappillai samba rice and Kambu kali with a bunch of veggies. Whole wheat noodles are also offered to customers at dinner time. Their menu also consists of all healthy evening snacks at very reasonable prices. Some of them are Ragi, Kambu ladoo, vazhapoo vada, and Kozhakattai – the Jaggery and coconut-stuffed steamed rice cakes.
To promote awareness about Bharathi, Books by and about the poet are available in the mess and are at discounted prices.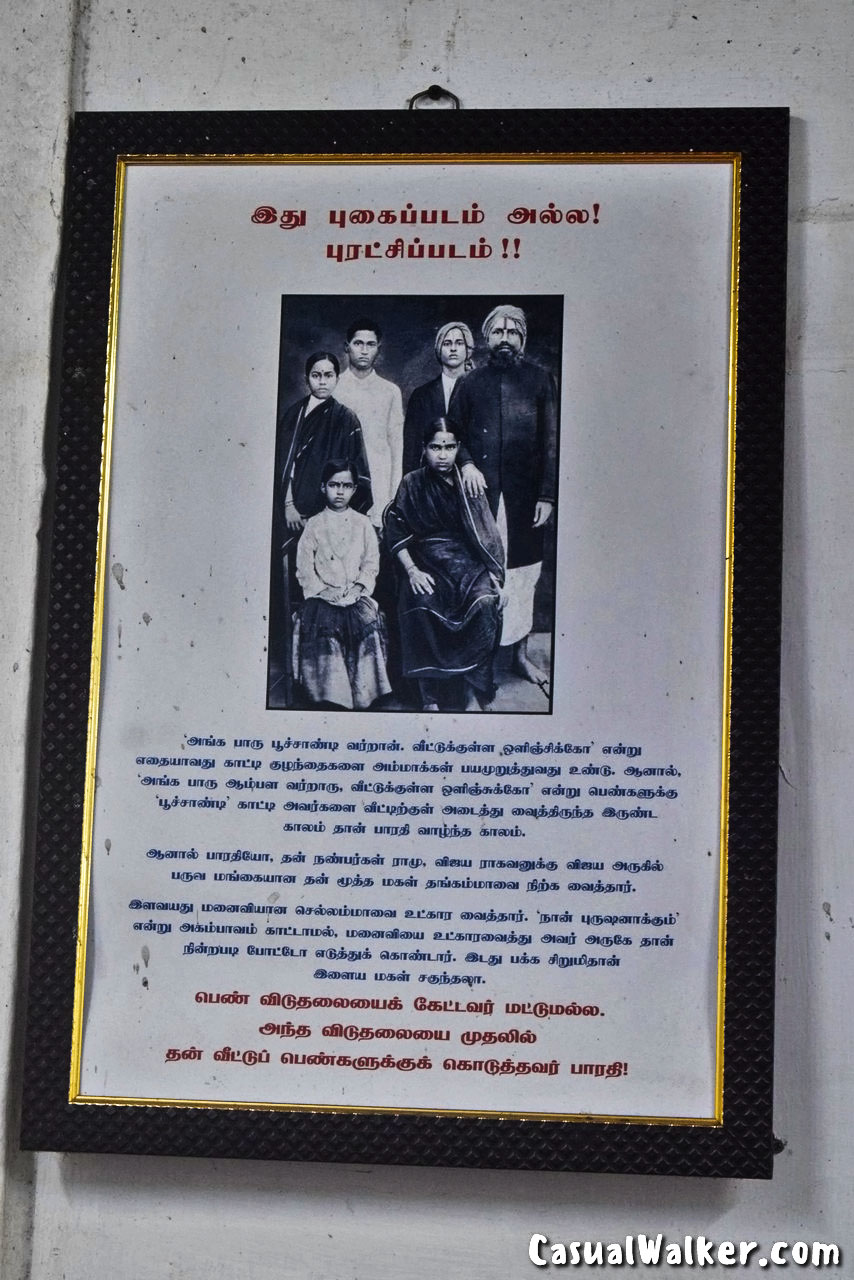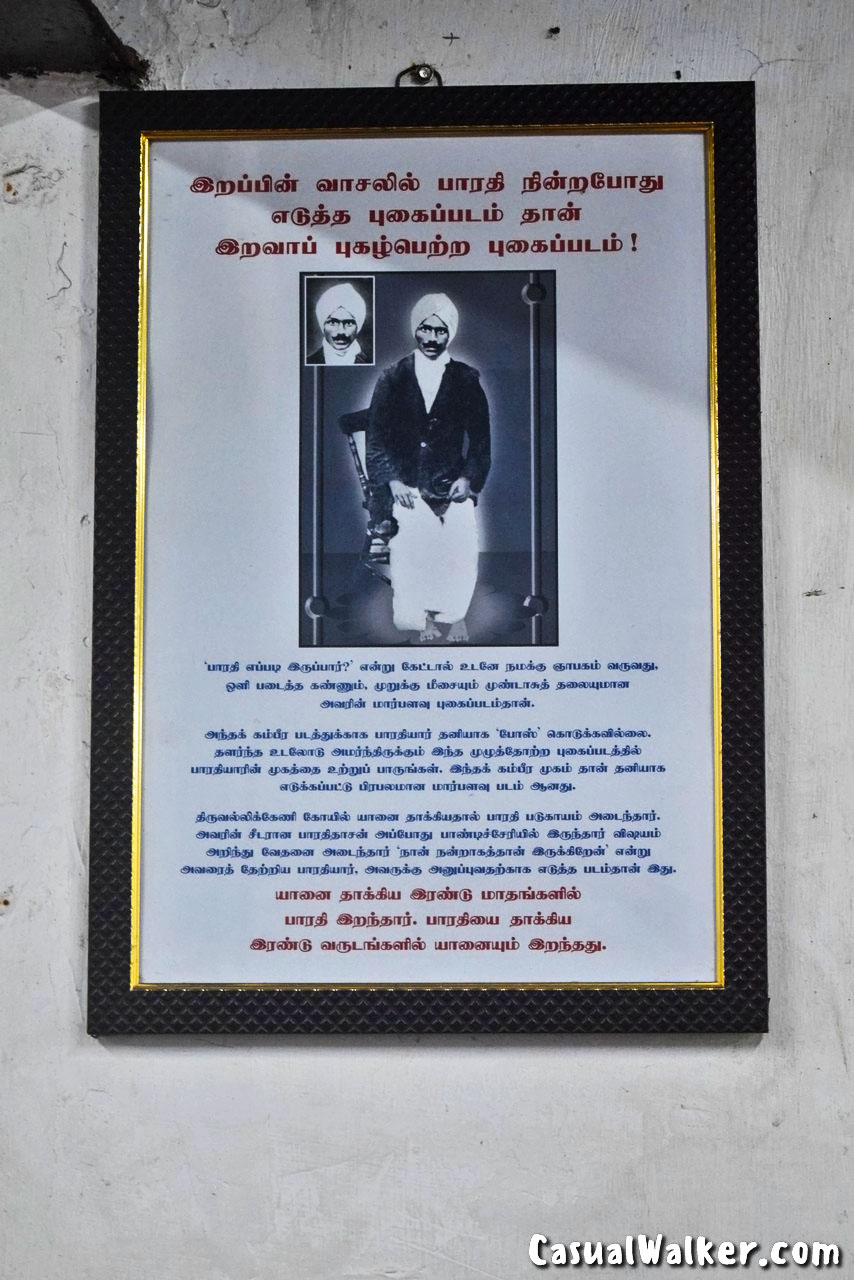 Bharathi Mess – Healthy & Traditional Food Menu
Bharathi Mess's special menu is the mainstream of the restaurant. It is impossible to run a restaurant like this without a love for food. Breakfast is the popular meal of the day, Starting from Kambangali, Kelvarakukali to steamed dishes, and sprouted grains, their day starts with 35 items like idli, vada, Pongal, dosa, puri, Podi Dosa, Rava dosa, Onion puffs, and Ragi idiyappam is a popular morning tiffin as is Ulutham kanji (urad dhal kanji).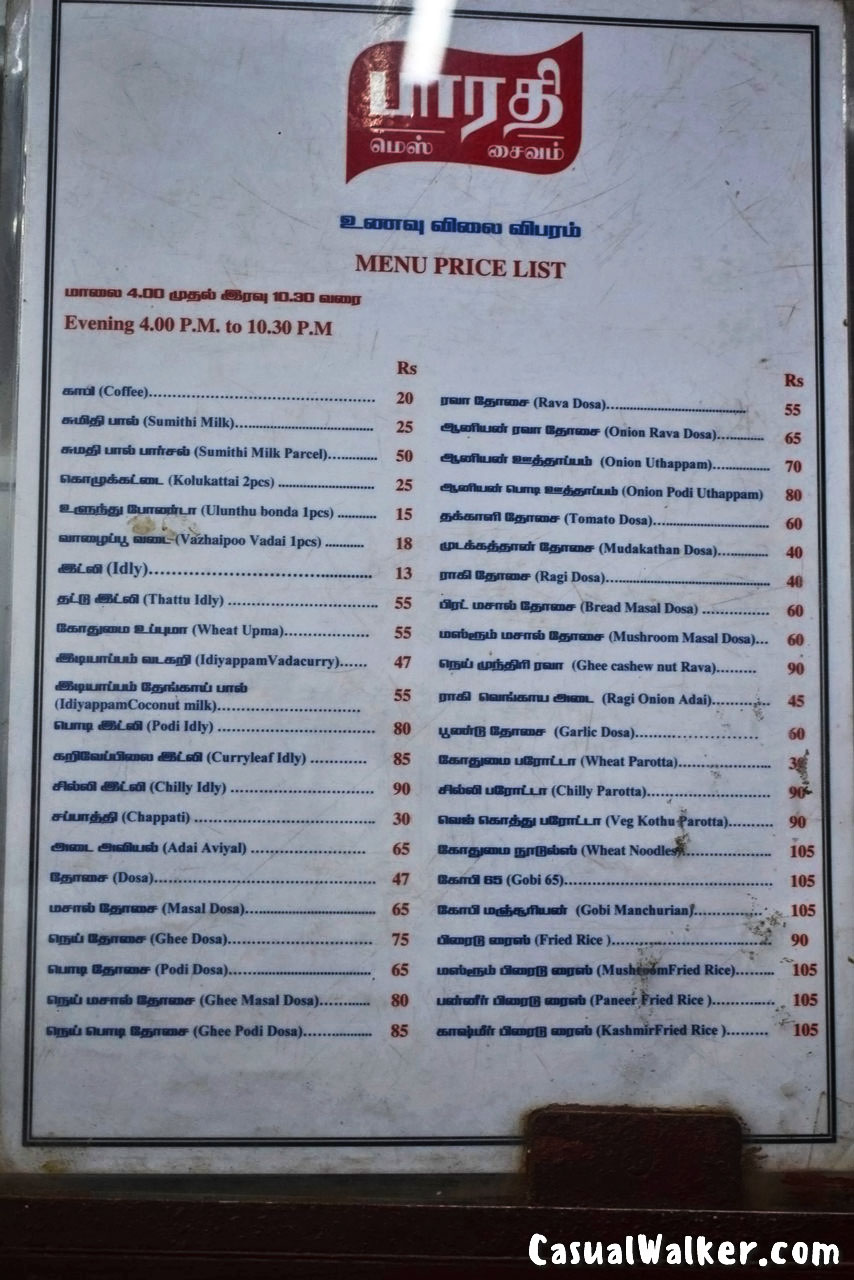 Bharathi Mess – Food Specialty
Bharathi Mess has an identity of its own, for tastes, food hygiene, and surroundings. They have a strict cooking policy of using no palm oil, no cooking soda, no white sugar, no maida, no preservatives or taste enhancer, and focus on serving millets and jaggery.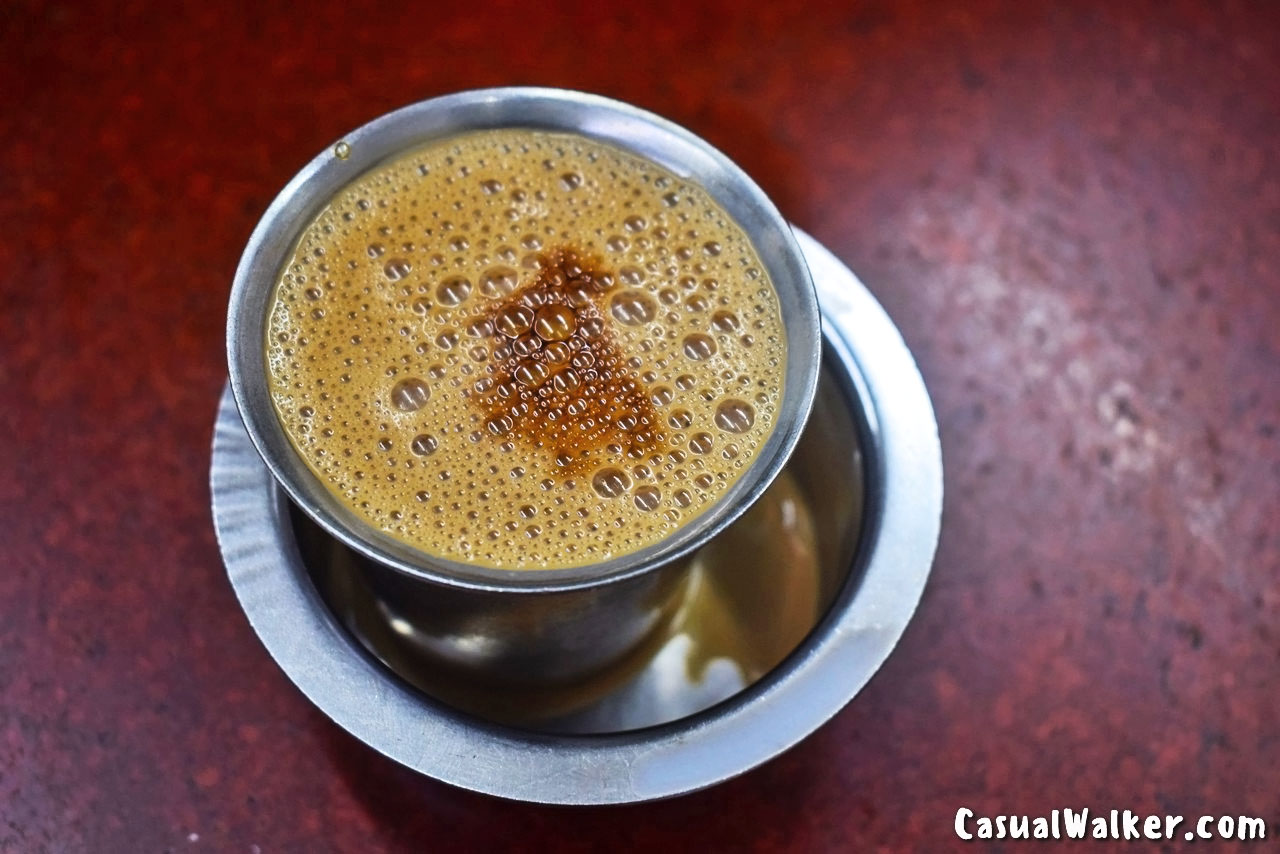 Travel Guide to visit Bharathi Mess, Triplicane Chennai:
Bharathi Mess Address: No. 10, Bharathi Salai, Narayana Krishnaraja Puram, Triplicane, Chennai – 600005
Contact Number: 044 4357 0162
Bharathi Mess Timings: 7.00 AM to 10.00 PM – Open on All Days


Madras day-themed Postcards
All the Tripiclicane food walk participants received beautiful Madras day-themed postcards.
Special thanks to Madras Inherited and Tamilnadu Tourism Development Corporation (TTDC) for helping us to discover some of Triplicane's exciting, delicious food joints and their history. We strongly recommend their food walks.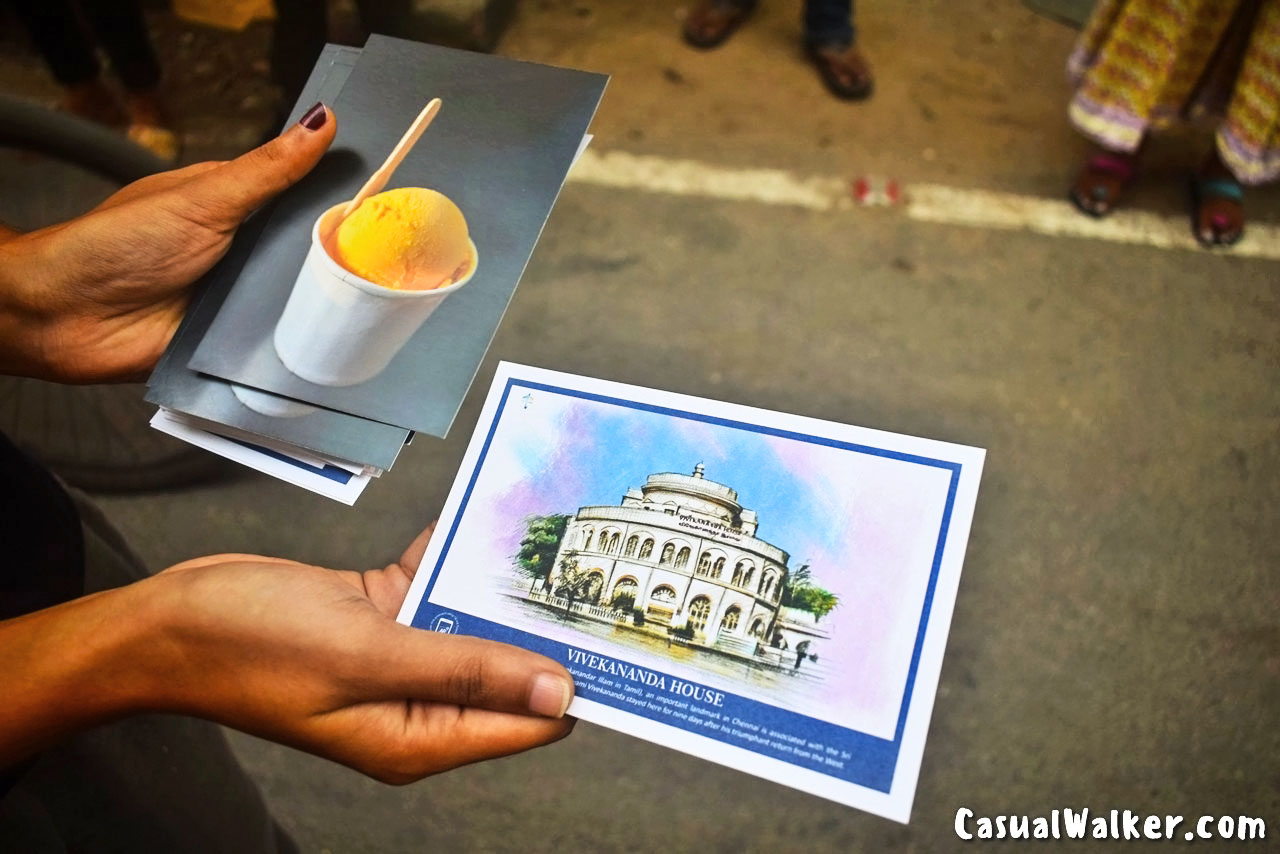 Visually Featured By
Balakumar .M, an avid traveler & photographer, International Award-winning Entrepreneur, Technologist, received Asia Innovation Award from SingTel, Singapore. more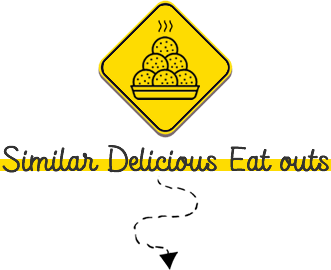 Similar Famous Delicious & Tasty Eat-outs Photo Stories:
Solitude Farm – Food Discovery Trail, Auroville, Pondicherry Visit, Travel Guide (Updated)
Chennai Food Festival – Oorum Unnavum organized by UNHCR & OFERR in Semmozhi Poonga, Chennai – To Taste the Famous Delicious Foods of Sri lanka, Myanmar (Burma), and Afghanistan
Mylapore Festival 2020 – Food Walk in Mylapore curated by Chennai Food Walks : the best Bajji, Bonda, Somosa, Sweets & Snacks Shops in Mylapore – Visit, Travel Guide
Iruttukadai Halwa Shop, Tirunelveli, Best & Famous Original Halwa Shop in the World – Travel Guide, Review
Mylapore Jannal Kadai – Window Mylapore Jannal Kadai, Window Bajji Stall – Best Bajji, Bonda, Somosa, Sweets & Snacks Shops in Mylapore – Travel Guide, Review
Sri Karpagambal Kapali Sweet Stall, Mylapore – Best Medhu bonda, Mini Samosa, Vazhakkai bhajji, Onion Pakoda, Samosa, Medhu Vadai, Masala Vadai, Sweets & Snacks Shops in Mylapore, Chennai – Travel Guide, Review
Soundaram's Chettinad Sweets and Snacks, Karaikudi – Best Place To Buy Chettinad Sweets & Snacks – Visit, Travel Guide (Updated)
Thirumayilai Varukadalai Nilayam, Mylapore – best Shop to buy Peanuts / Groundnut, Kadalai Urundai / chikki, thaen mittai & Pori Urundai in Chennai – Travel Guide, Review
Selvi Stores – Speciality Foods, Mylapore – Best traditional, handmade food Podi Idly, Pulikachal, and Kozhukattai (Modaks) Shops in Mylapore, Chennai – Travel Guide, Review
Sri Annapoorani Sweets, Mylapore – Best Bajji, Bonda, Somosa, Sweets & Snacks Shops in Mylapore, Chennai – Travel Guide, Review
Mylapore Ganapathy's Butter & Ghee – Best Pure Uthukuli Cow Ghee, Butter, Vathal, Vadam, Maavadu / Pickle shop in Mylapore, Chennai – Travel Guide, Review
Mami Mess / Mami Tiffen Stall / Mami Tiffin Stall, Mylapore – famous and oldest traditional eateries for Tiffin and Lunch in Mylapore
Best Food Trucks in Chennai – Finding the Top Food on Wheels in Chennai – Visit, Travel Guide
Cothas Coffee Shop, Mylapore – oldest and iconic coffee brand & coffee brewery in mylapore (Updated)
Kalathi Rose Milk Shop, Mylapore – Best and Oldest Cool Drinks and Rose Milk Shop in Mylapore