Pamban Bridge / Pamban palam, Pamban, Mandapam in Rameswaram – The Longest & Oldest Sea Railway Bridges in the World – Visit, Travel Guide
– India's first sea bridge connecting indian mainland with pamban island

| | |
| --- | --- |
| CasualWalker's Rating for Pamban Bridge / Pamban palam, Pamban in Rameswaram : | |
| 9.8 – Superb Awesome | |
The Pamban Bridge / Pamban Palam which is famously called the "The queen of Indian bridges" is India's first and longest sea bridge ranging to 2.06 KM. This Scissors railway bridge is constructed to connect over the Rameswaram and the mainland which is separated by sea. The Pamban Bridge is a more than 100 years old breathtaking bridge, recently nominated for UNESCO's heritage status. It is one of the longest sea bridges in the world.
Until 1988, when a road bridge – Indira Gandhi Bridge running parallel to the Pamban bridge was constructed, the Pamban railway bridge was the only connection between Rameswaram and the mainland.
History of Pamban Rail Bridge:
In 1870s, the British administration planned to extend trade connectivity to Sri Lanka by constructing a railway bridge. The central section of the Pamban railway Bridge opens up to allow ferry movement was designed by German engineer Scherzer and it took only about two years to construct. Approximately 600 workers were involved in building the bridge. A bascule bridge, also known as a Scherzer span, is a moveable bridge with a counterweight that keeps a span/leaf balanced during its upward swing to allow for boat traffic. This bridge was opened in 1915 to the public.
The bridge survived a major cyclone in 1964 which wiped out Dhanushkodi, a nearby port town. However, when it was severely damaged by one of the most powerful and deadly cyclones in India's history. Due to the continued importance of the bridge, it was rebuilt under the supervision of Elattuvalapil Sreedharan from the Indian Engineering Service, in less than two months. For his quick action to the Pamban bridge, he was honoured by the Railway minister Award by that year.
It was until only in 2007 that the railway line on the Pamban railway Bridge / Pamban Palam was converted from a metre gauge – the narrow-gauge railways track to a broad gauge – the wide gauge or large railway lines. The train movement on the bridge will be halted when the wind speed exceeds 58 mph.
As the 106-year-old bridge, however, is not suitable for speed upgrades, so the Railways department has started building a new bridge with a vertical shaft that allows ferries to pass underneath when trains are not running. This new sea bridge is being built by Railway Vikas Nigam (RVNL). This bridge would allow Indian Railways to run trains at higher speeds and carry more luggage.
History of Pamban Road Bridge:
The construction works of Pamban Road bridge was started in 1974 and built by the Indian Highway department and contracted to Neelakandan Brothers Engs, Madras. After few years the contract was given to New Gammon India Ltd.
As India's first sea bridge, it has also become a tourist attraction by itself. We can park our vehicle off the Indira Gandhi Bridge – the Pamban road bridge to walk up to enjoy the view on both sides. If we're lucky, we can catch a train passing below on tracks very close to the sea.

Travel Tips for visiting Pamban Bridge / Pamban palam, Pamban, Mandapam in Rameswaram :
Pamban Bridge / Pamban Palam Address:
AH43, Pamban, Tamil Nadu 623519
How to reach Pamban Bridge / Pamban palam, Pamban, Mandapam in Rameswaram :
On-Road: Rameswaram is well connected by road with other important cities. It is easily accessible.
You can find public/private transport from Ramanathapuram and Rameswaram.
Nearest Airport: Madurai is the nearest Airport which is around 163 kilometres from Rameswaram km. Thoothukudi is another airport that is around 145 km from Ramanathapuram.

Nearest Railway Station: Nearest Railway stations PAMBAN JN ( Station code PBM ), MANDAPAM (MMM) and RAMESWARAM ( Station code RMM).
Check out and enjoy the photo captures of Pamban Bridge / Pamban Palam, Pamban in Rameswaram.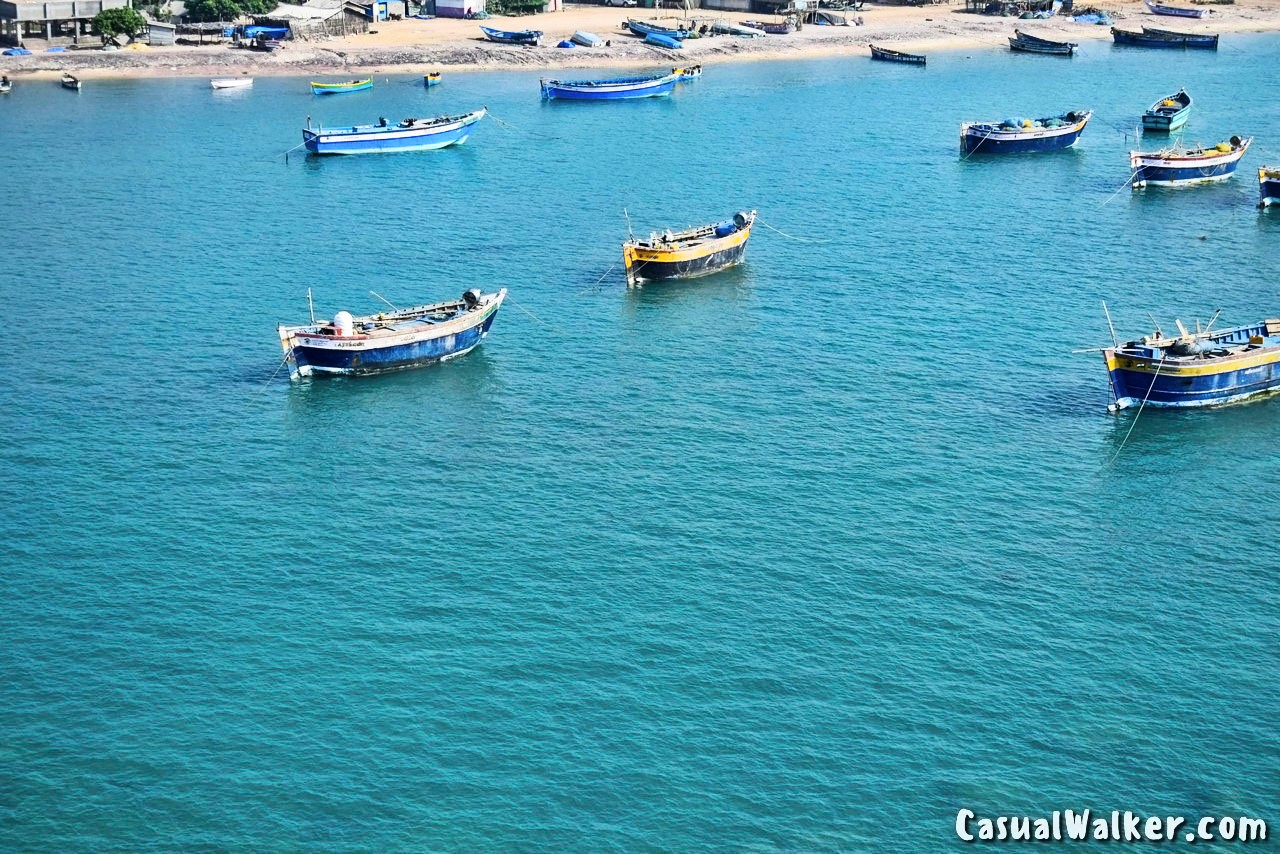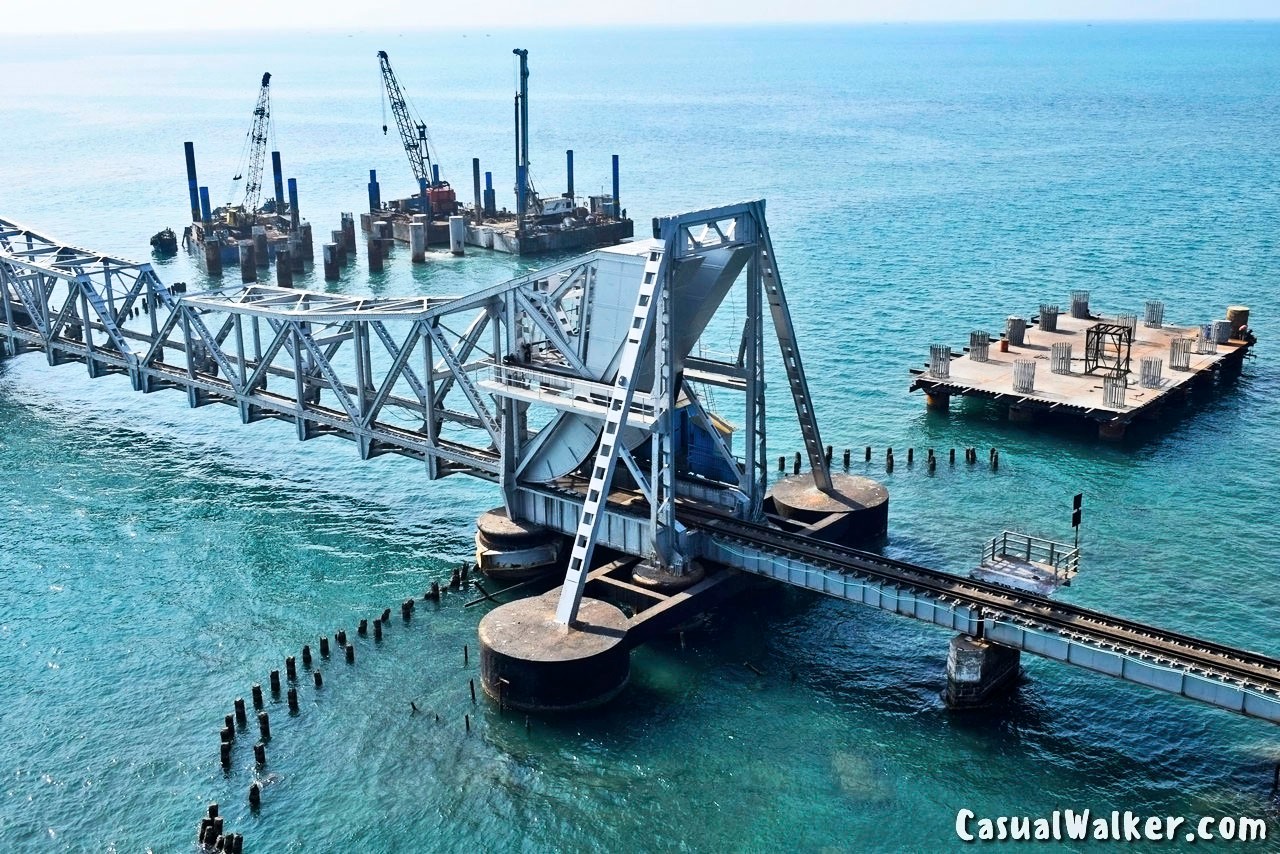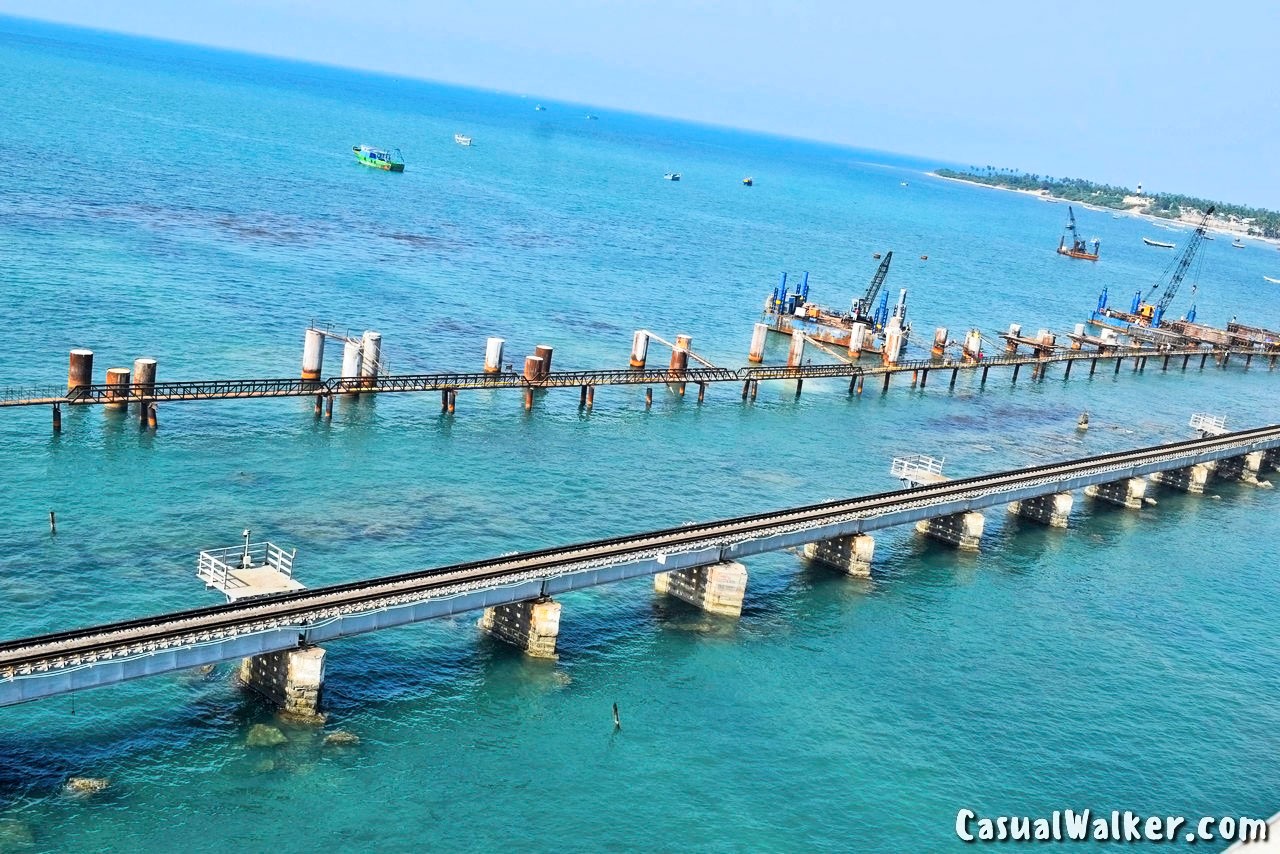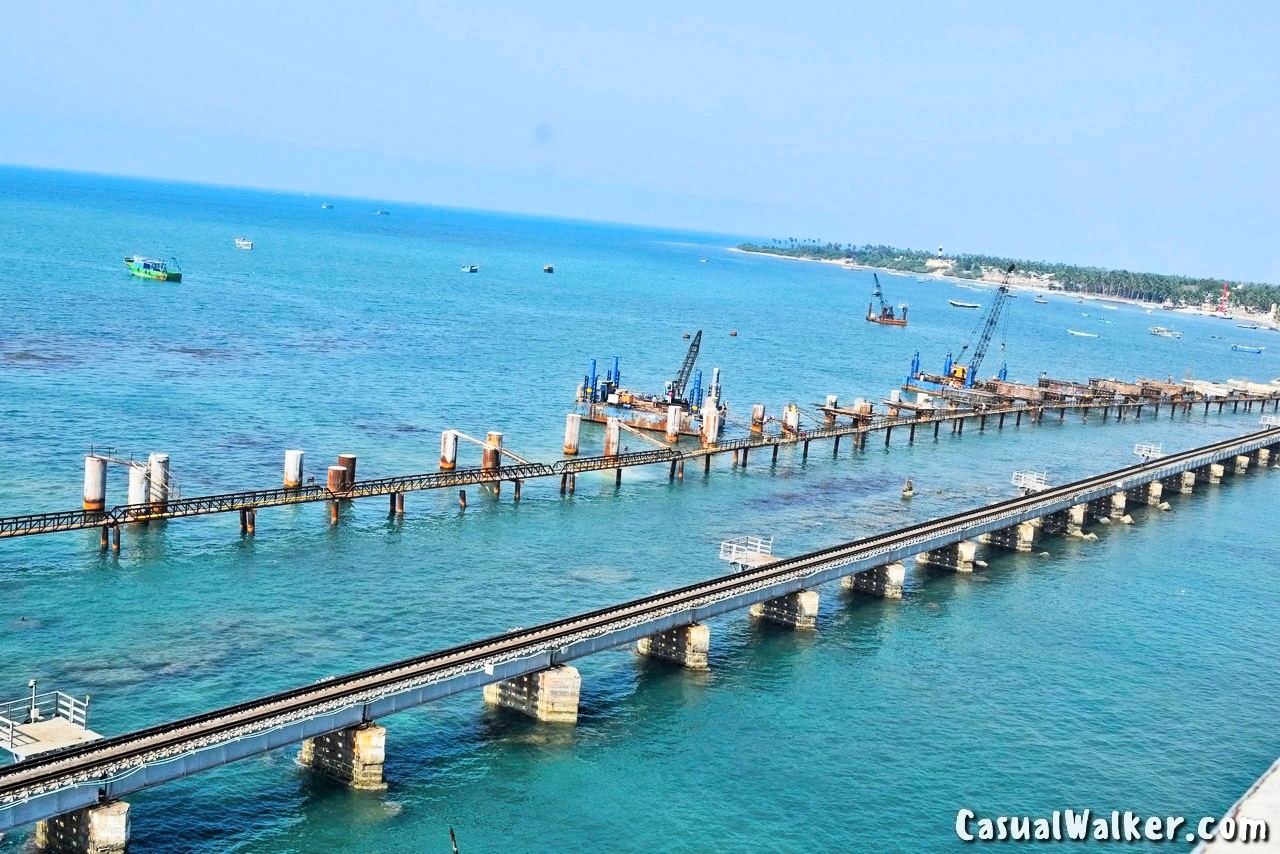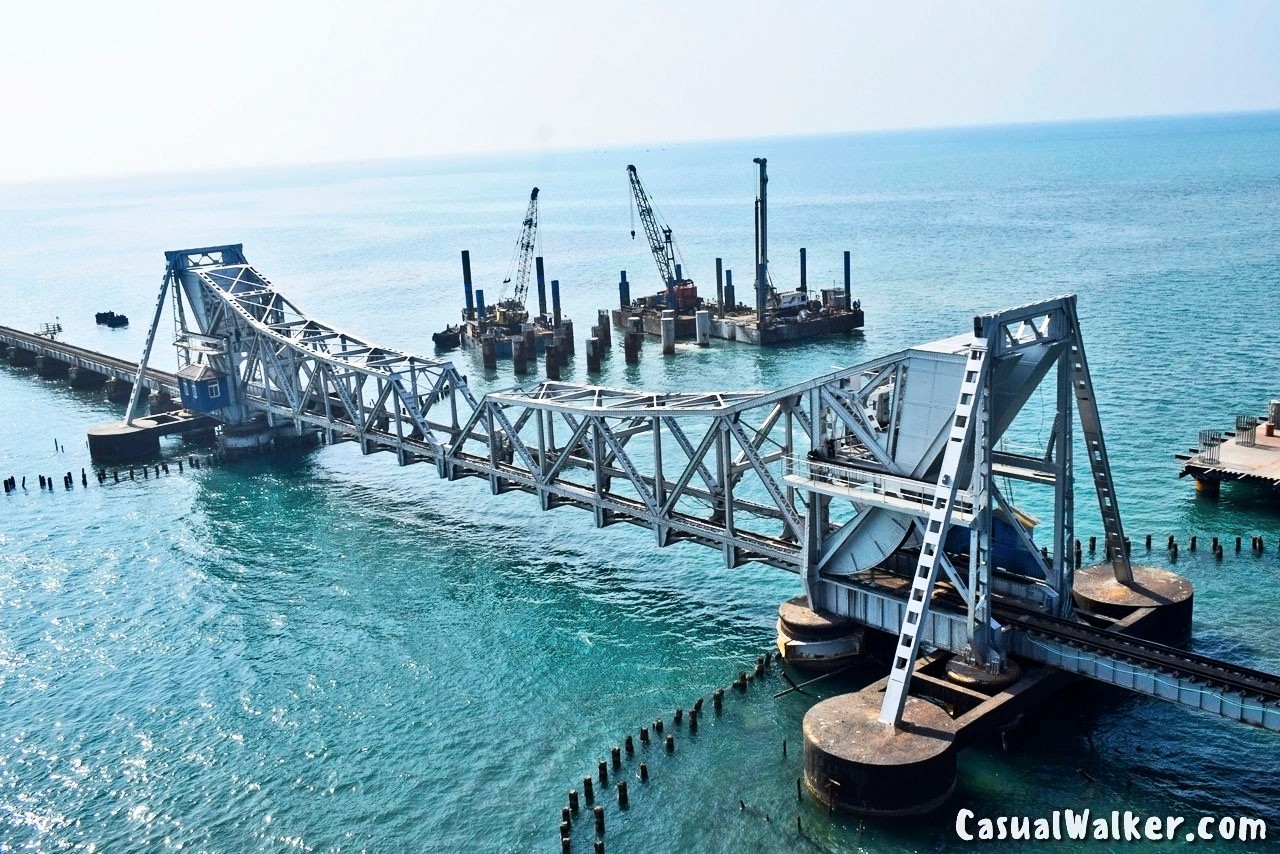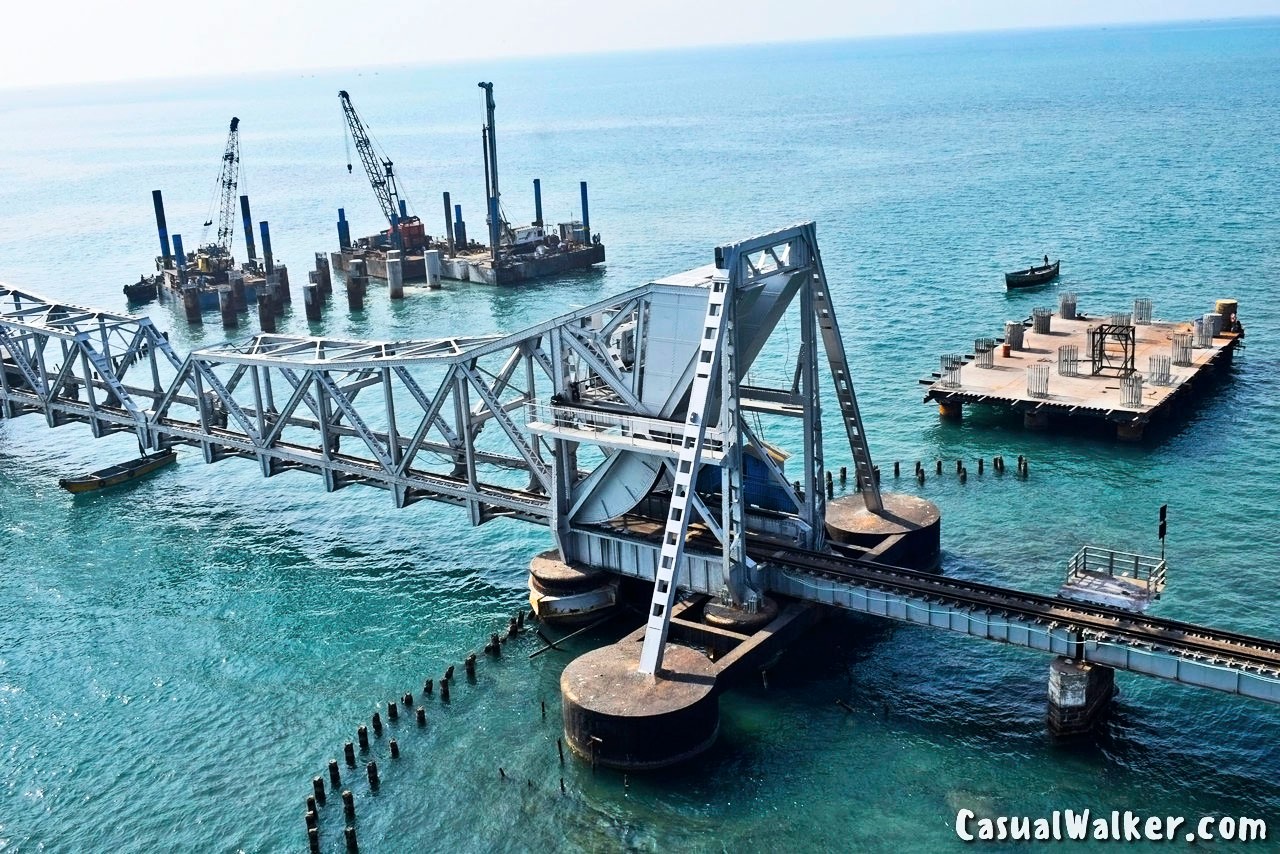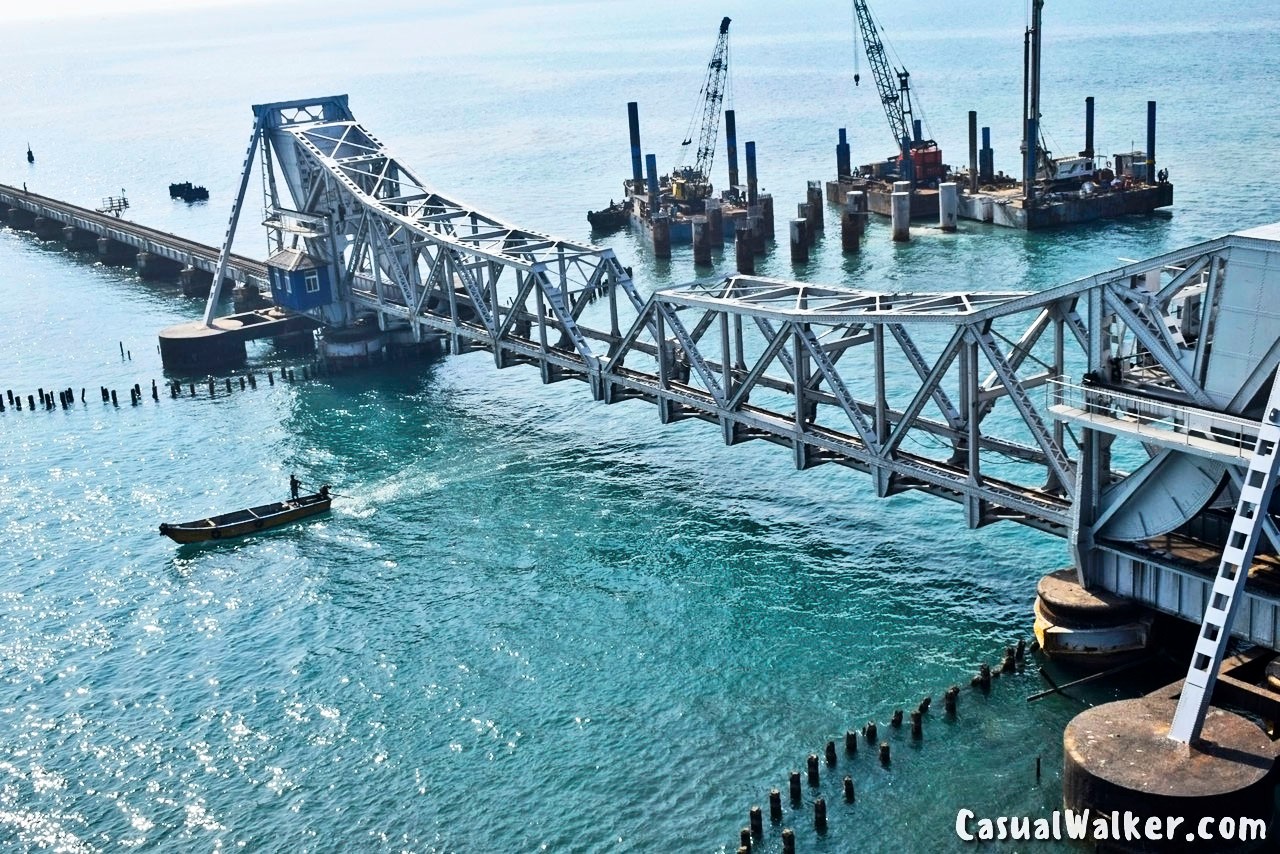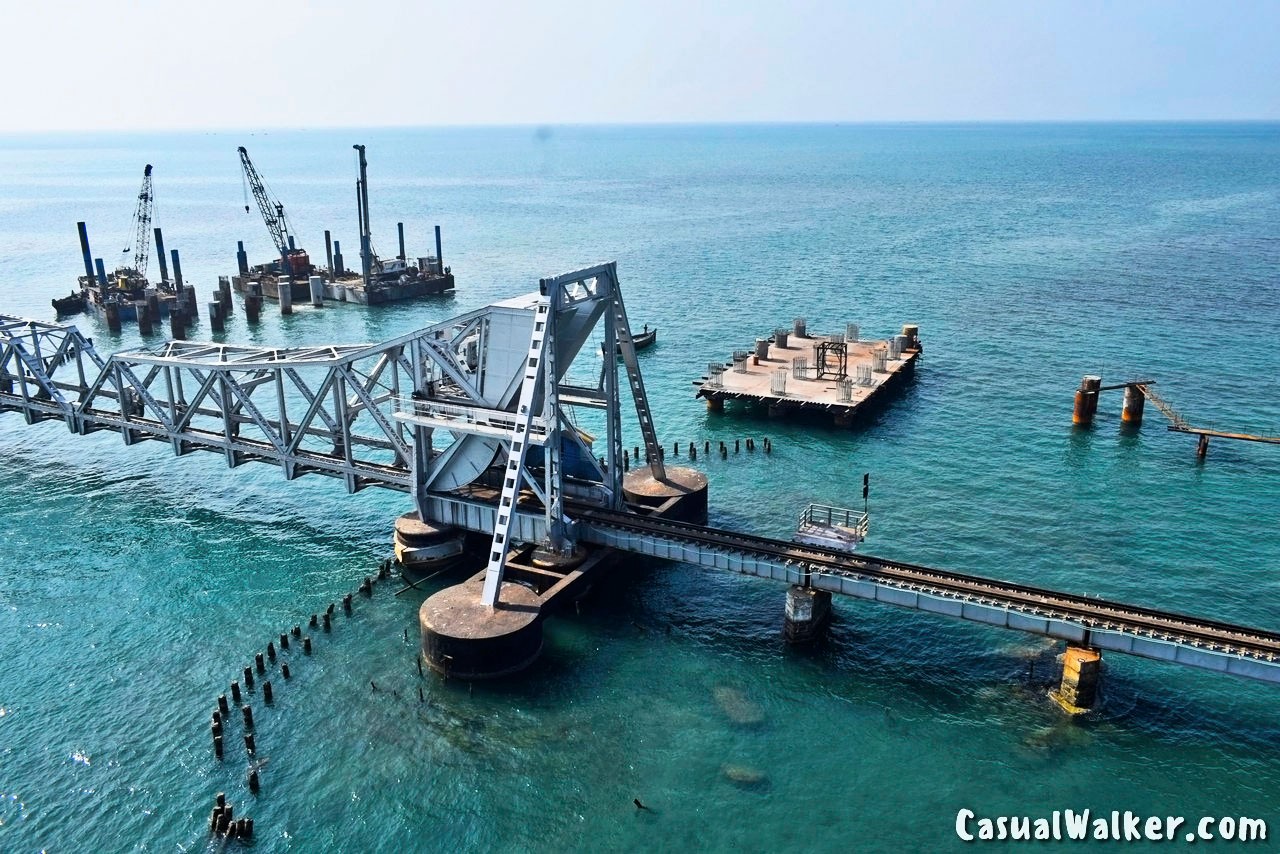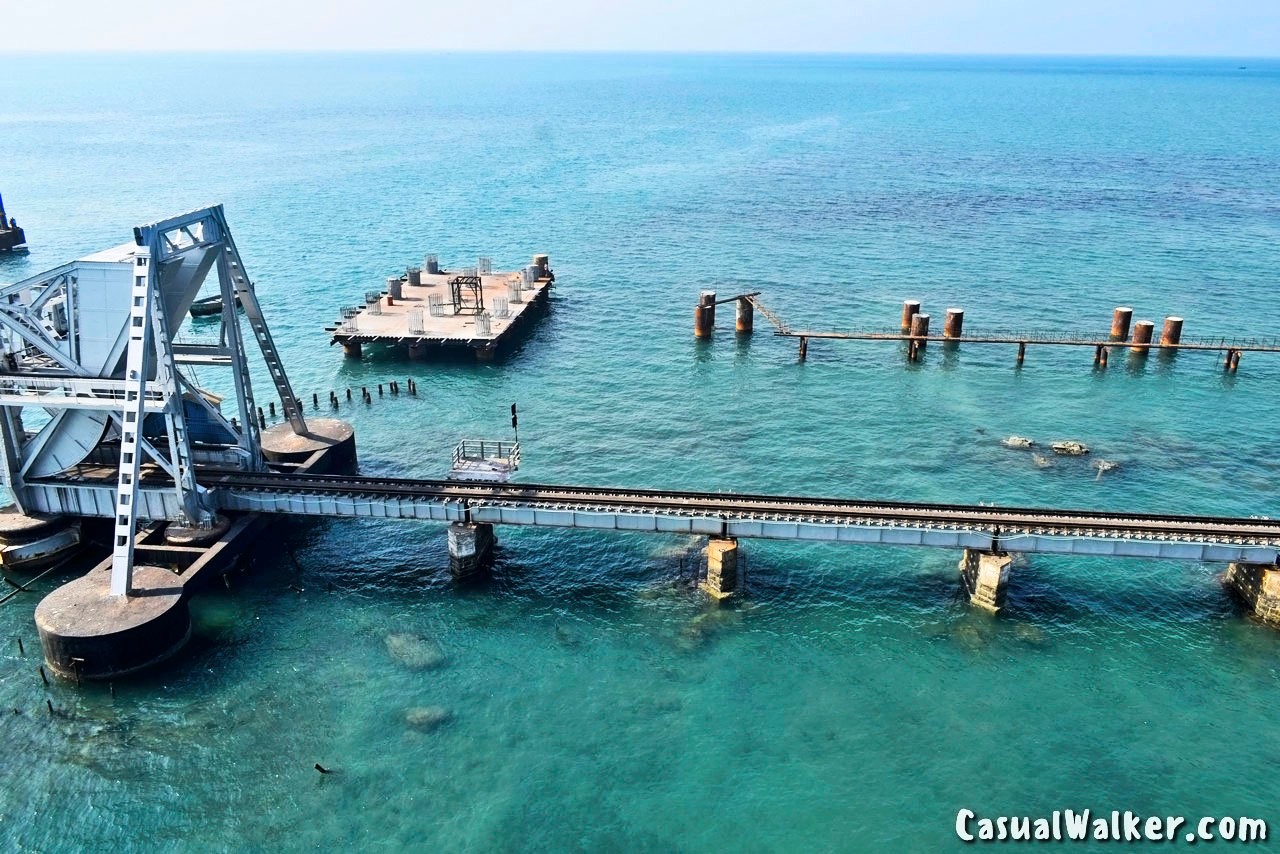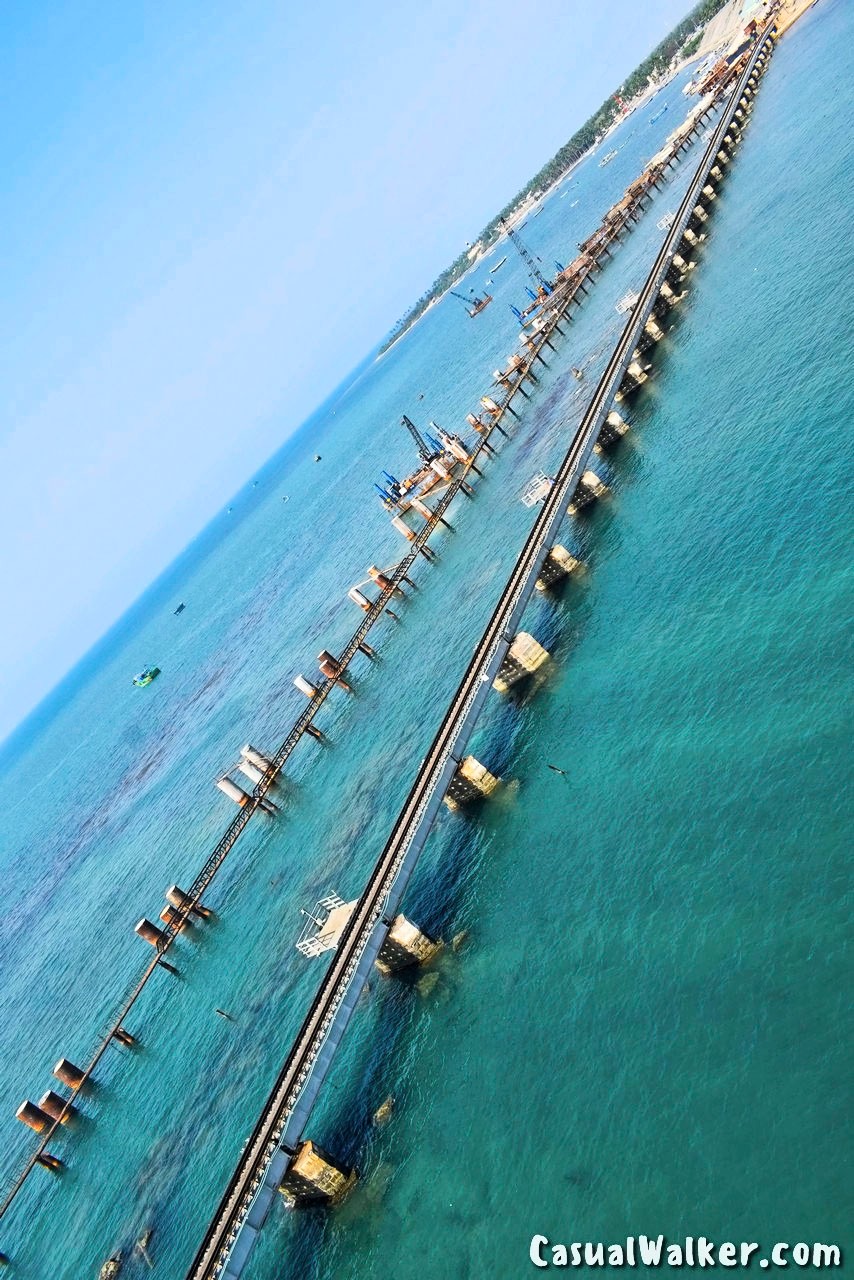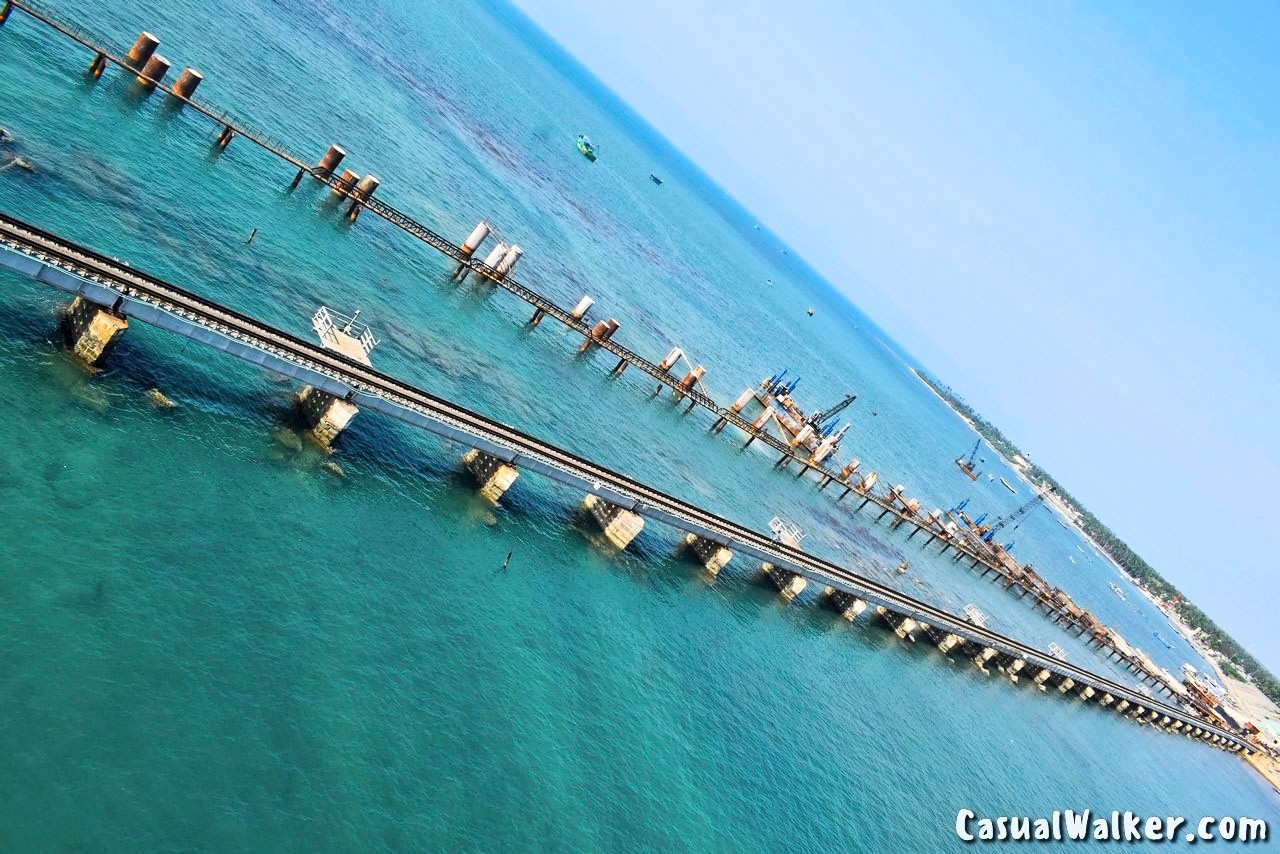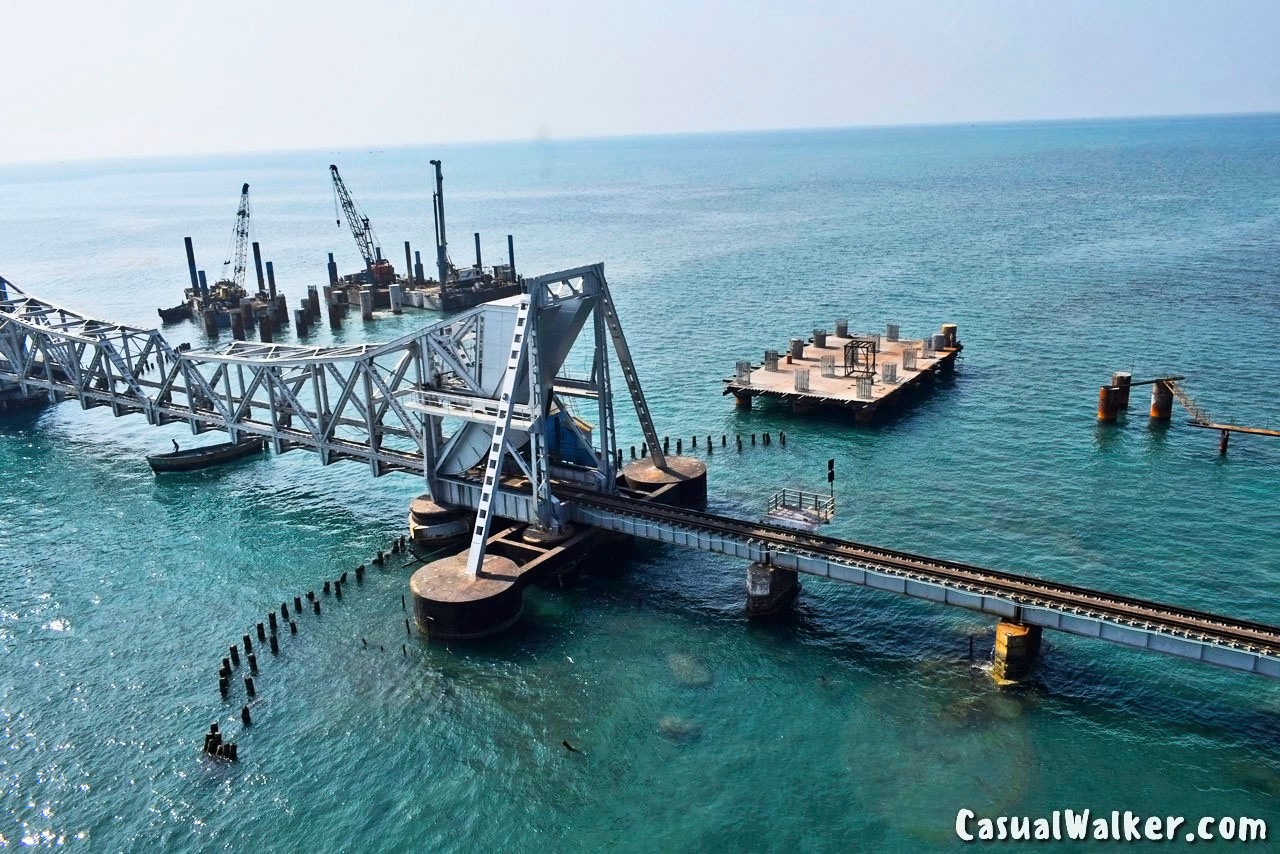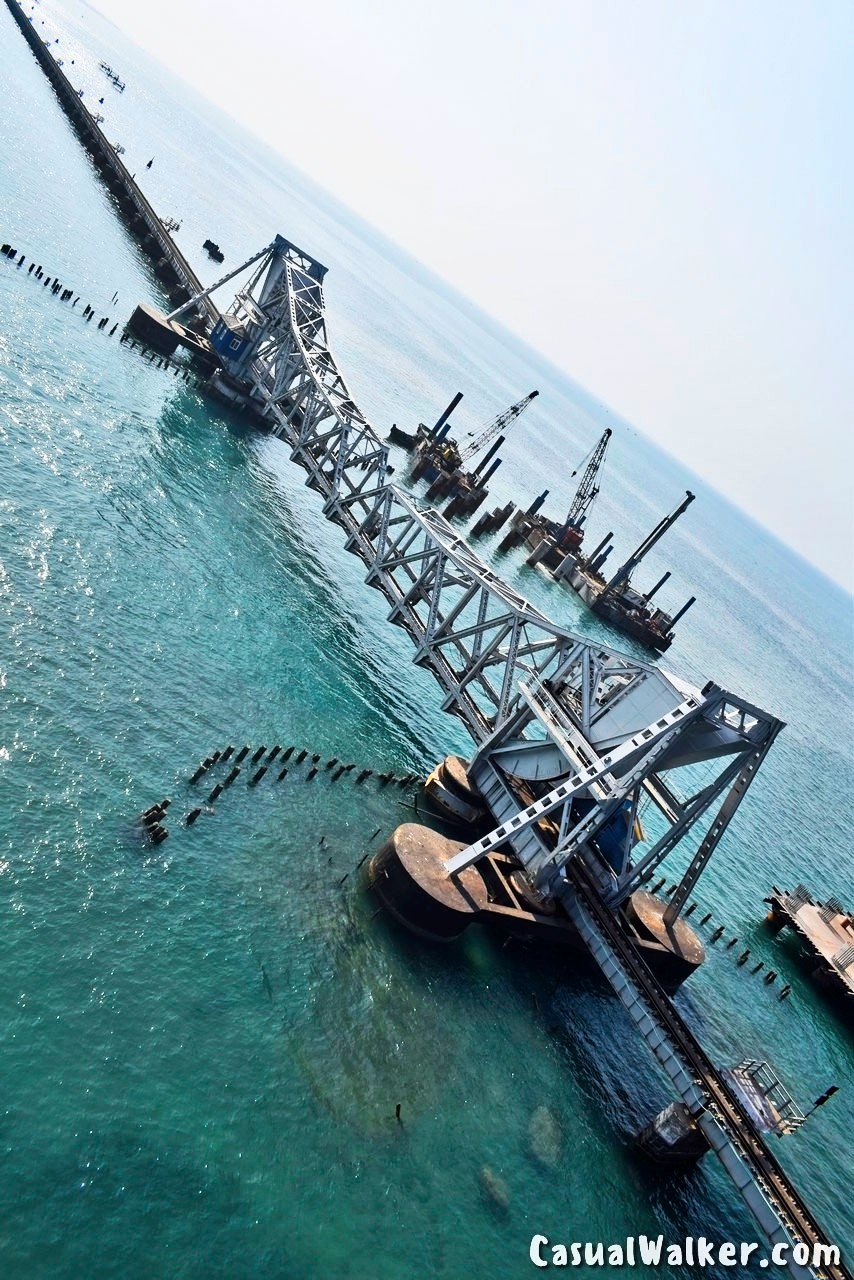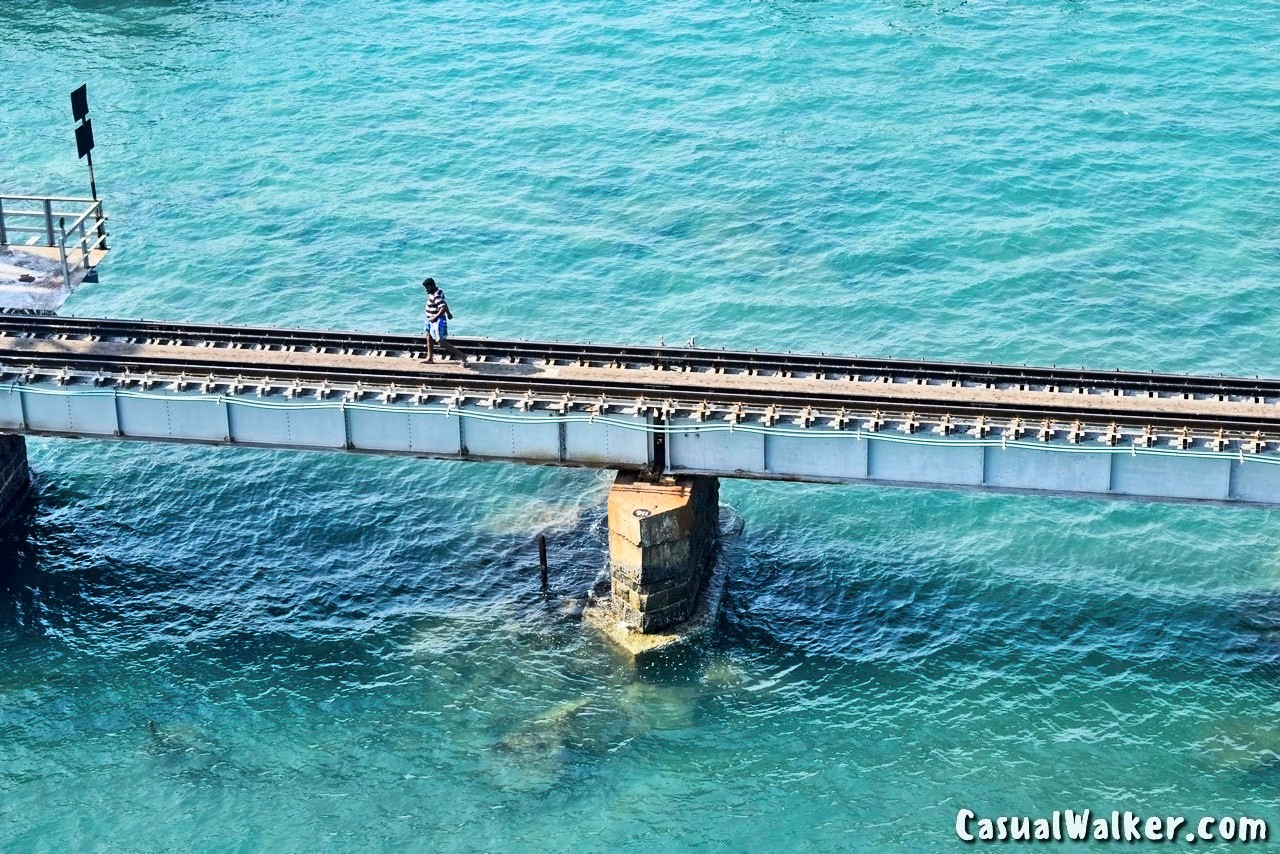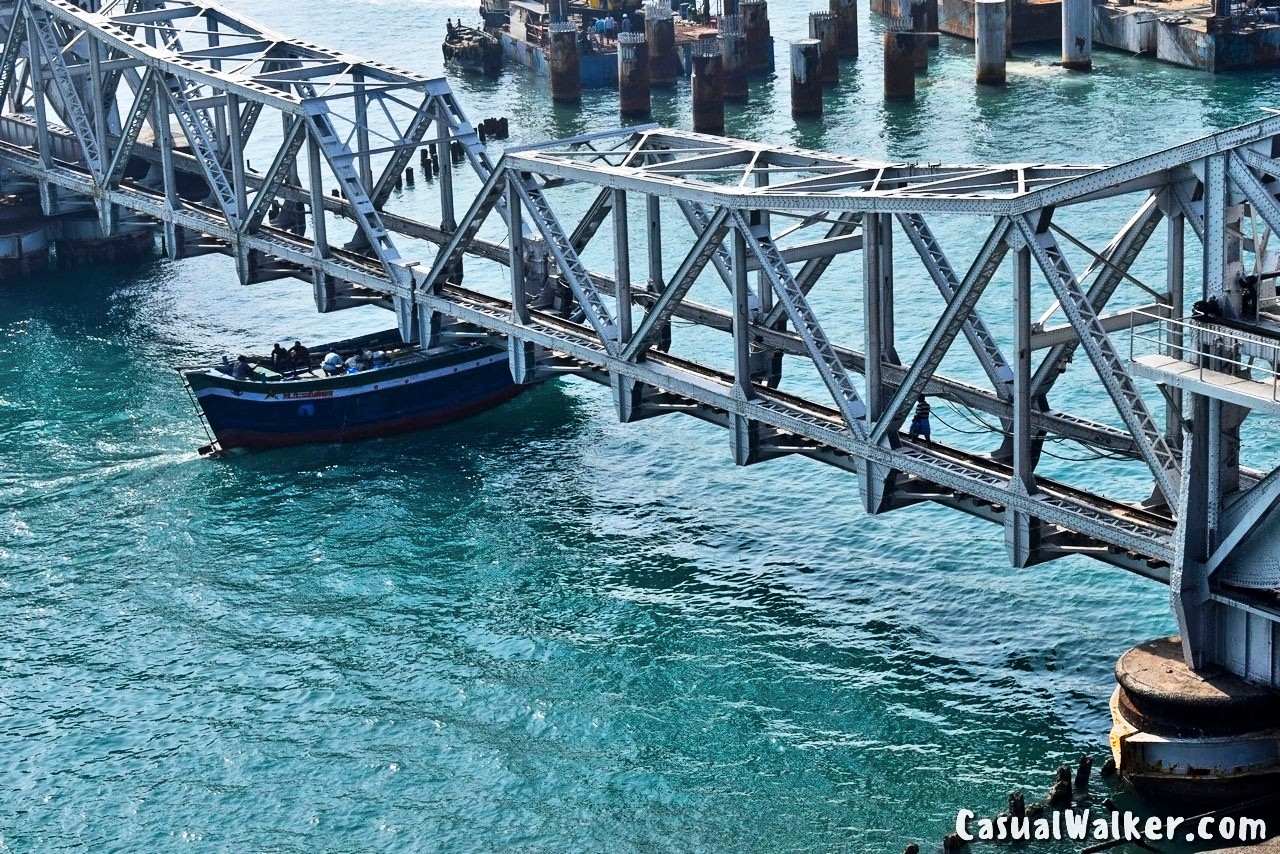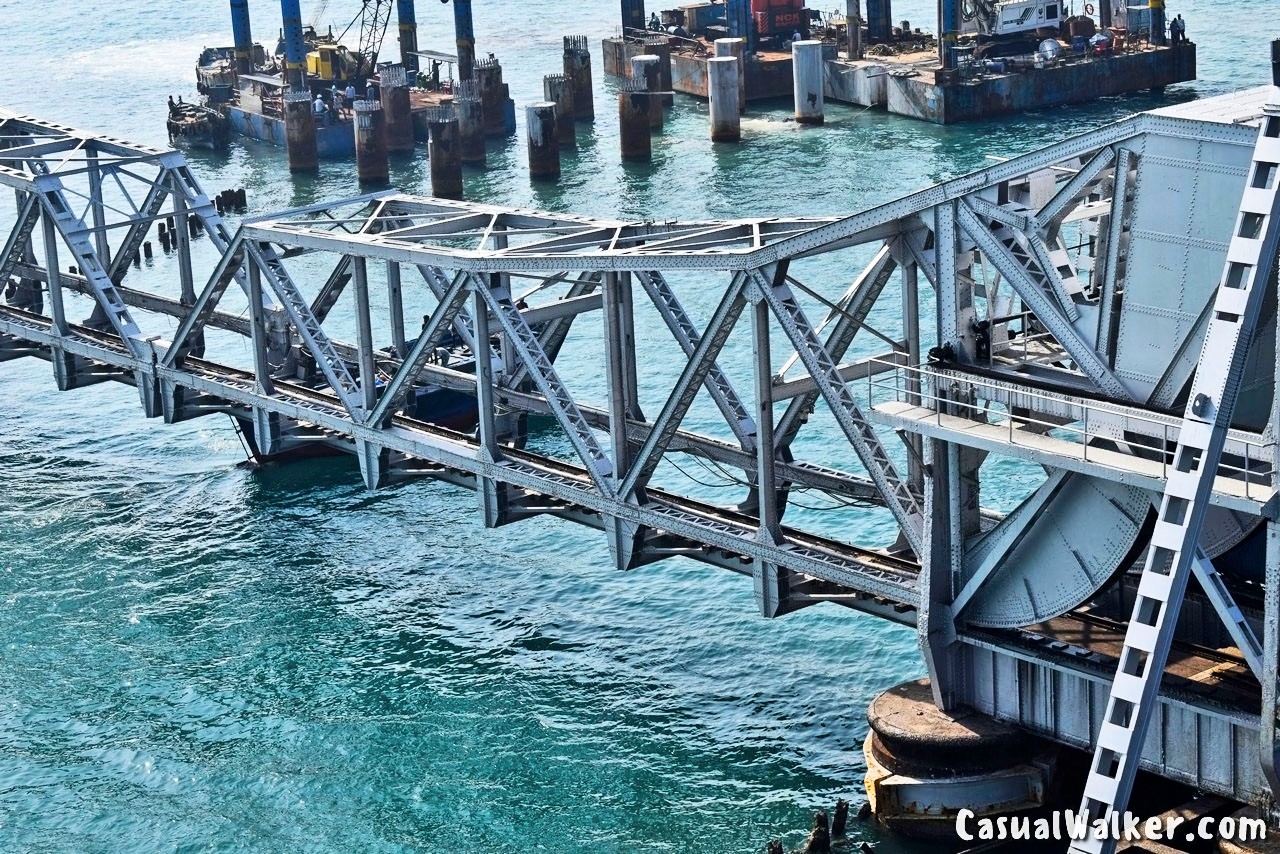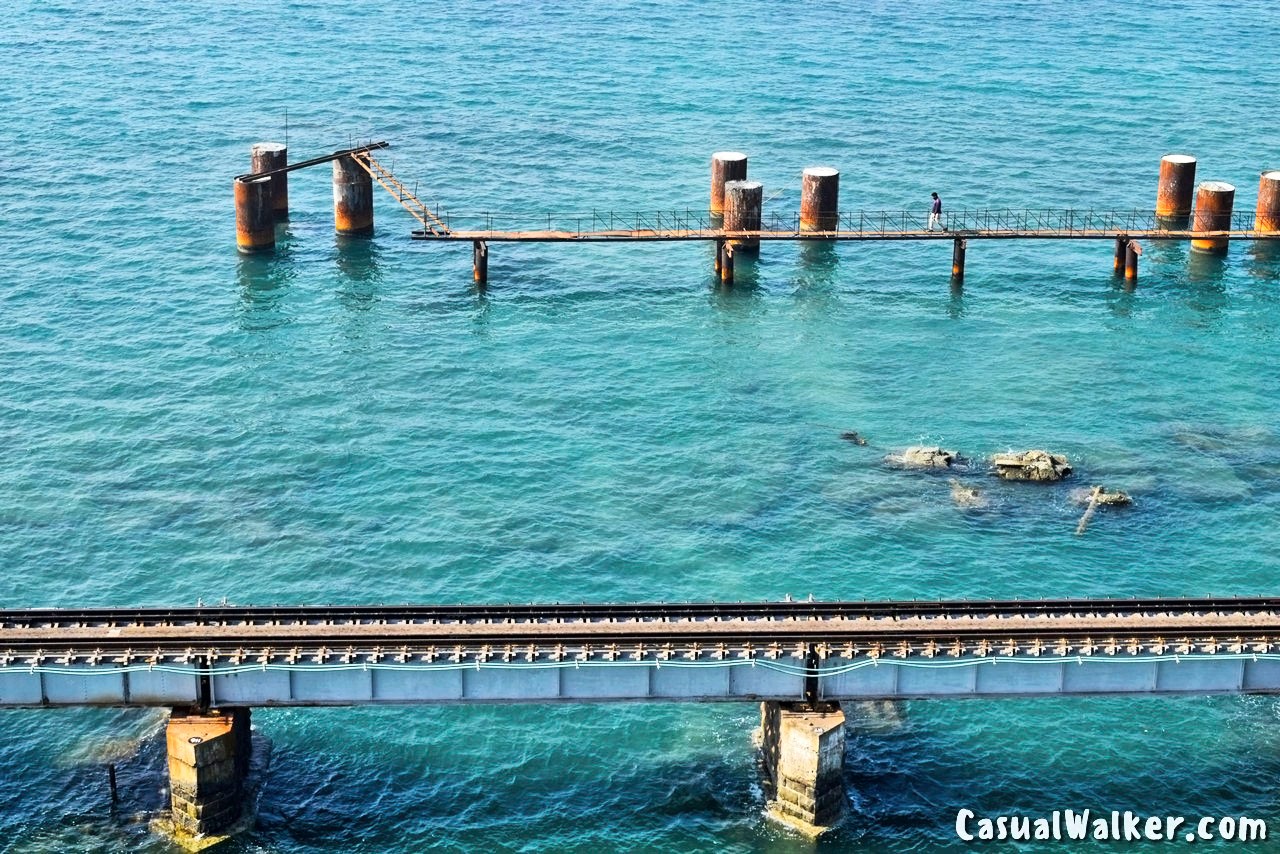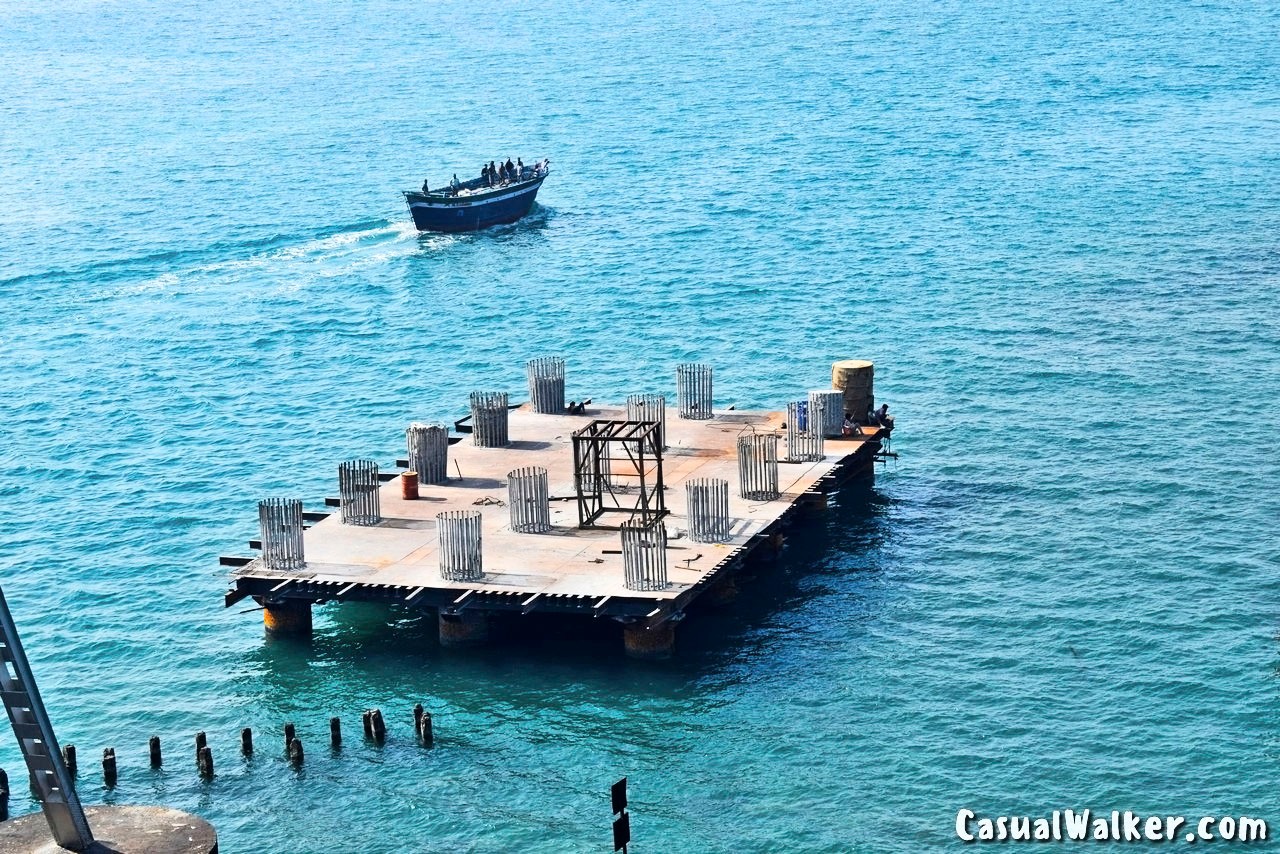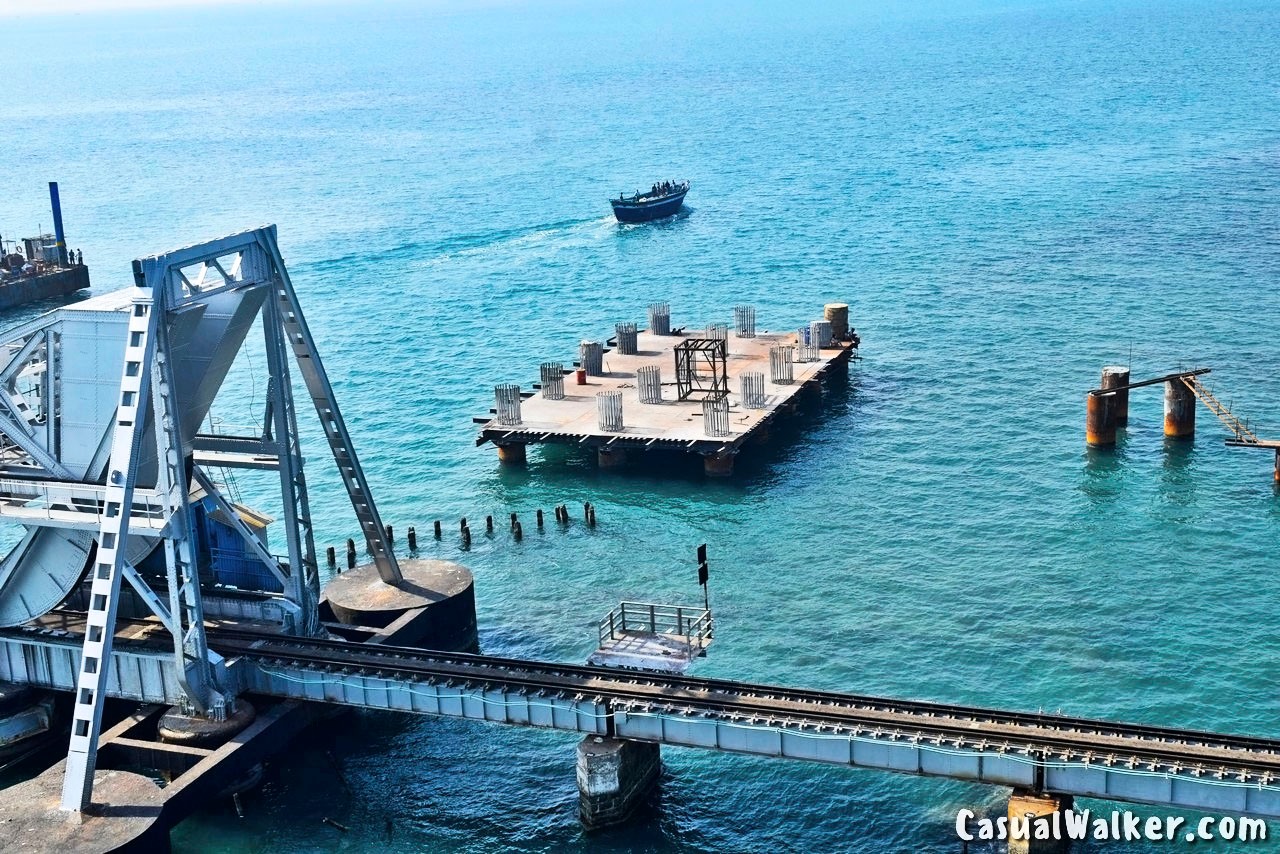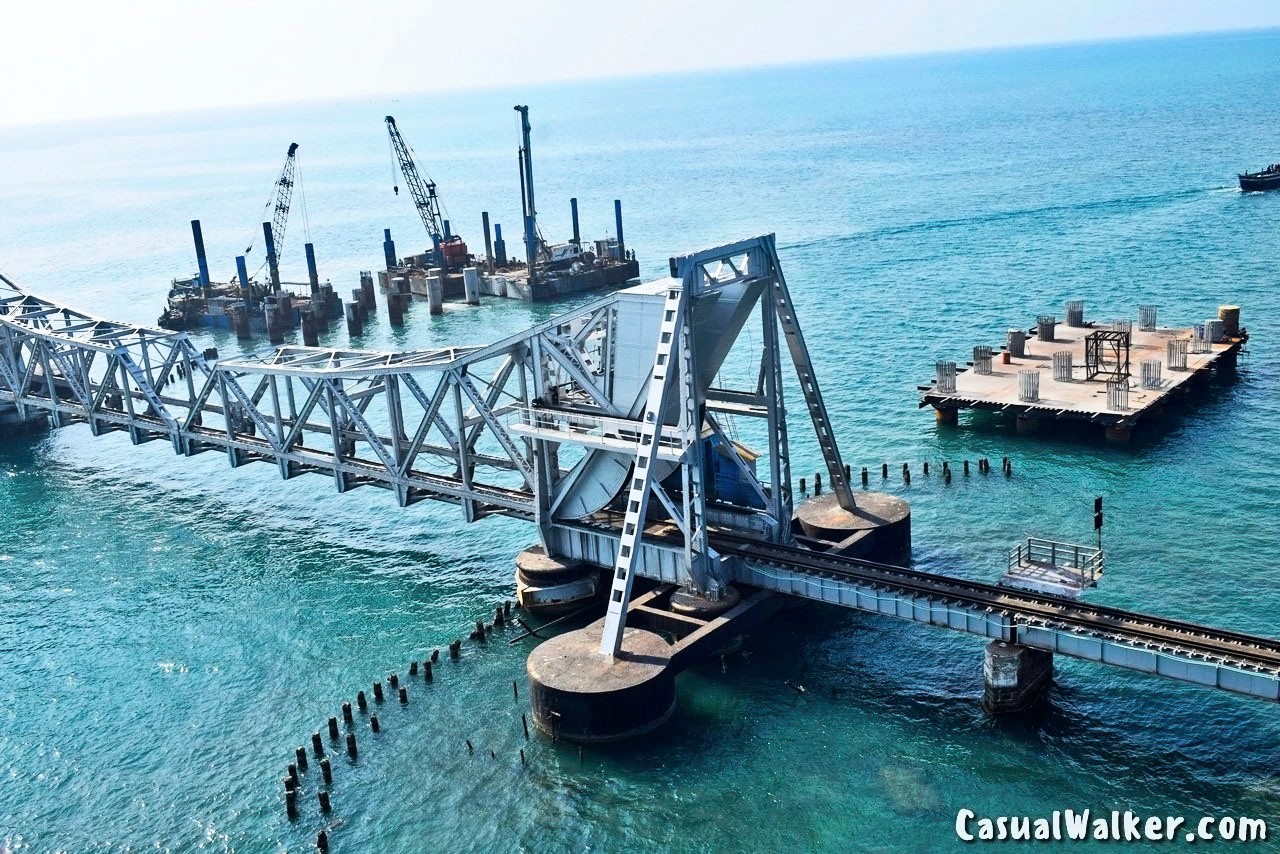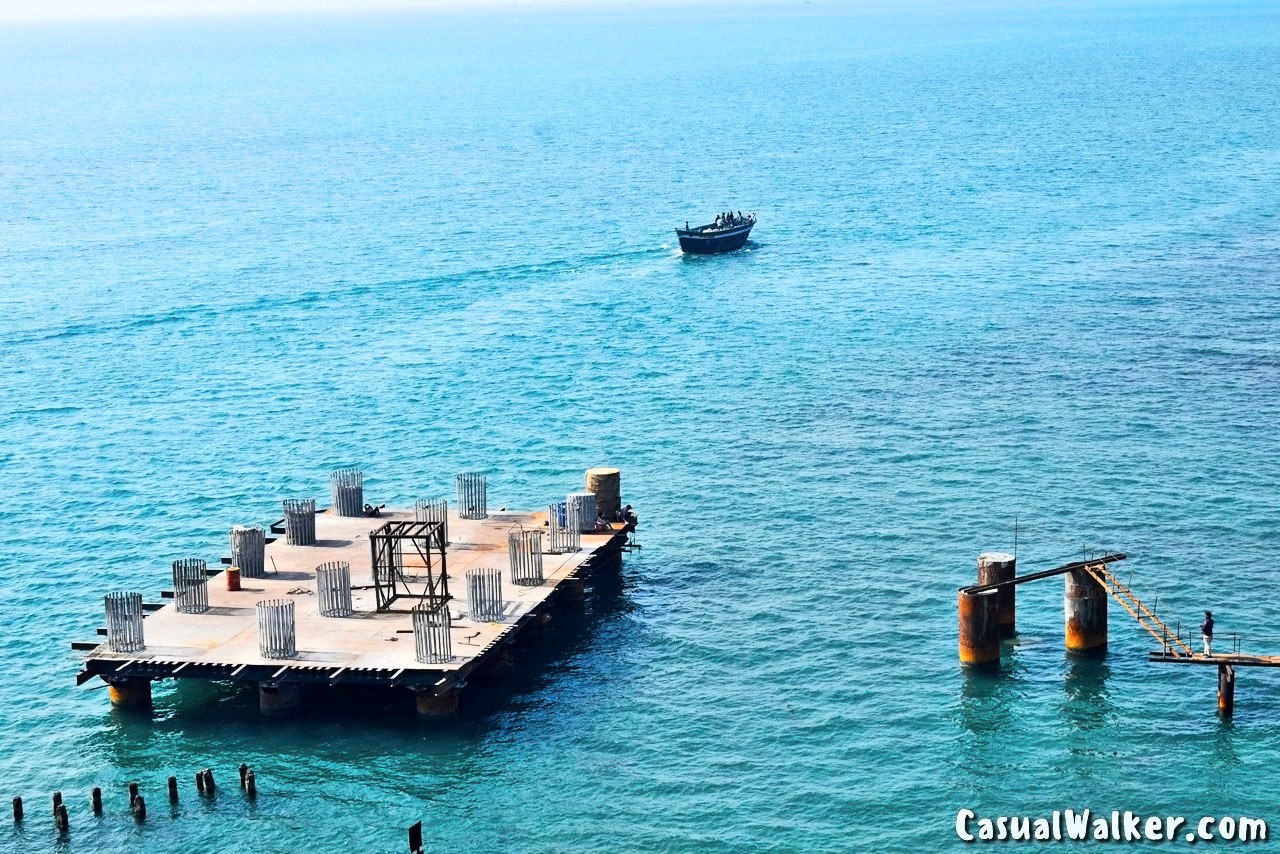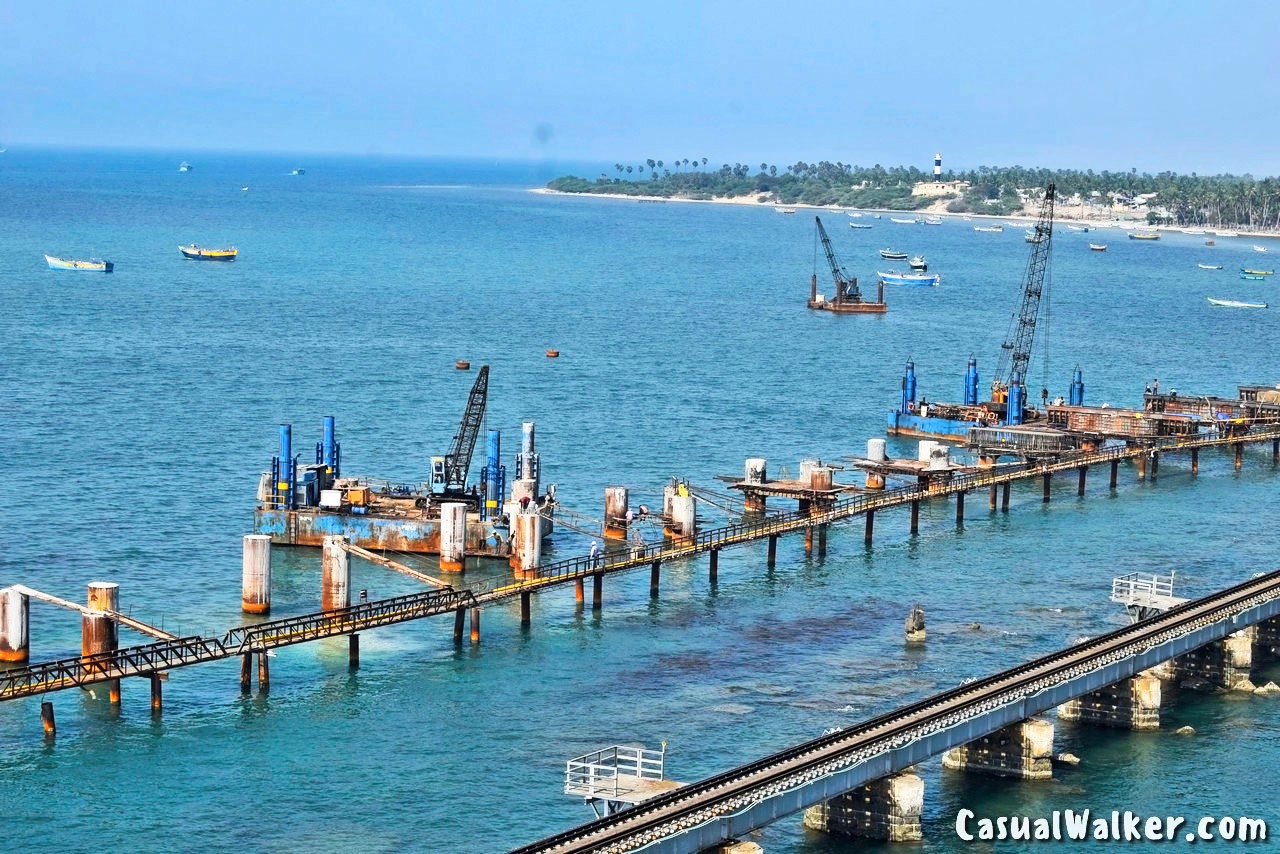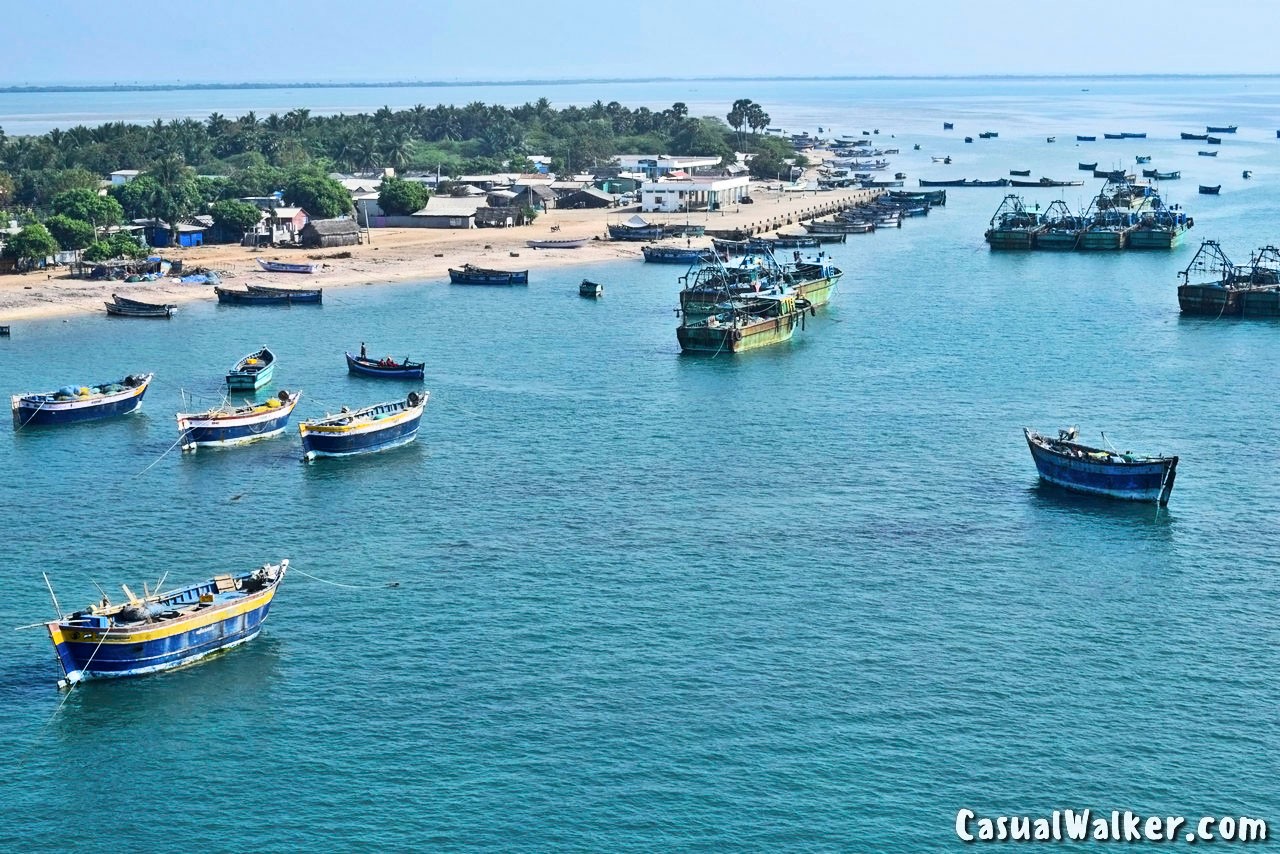 Also check out More Interesting Photo captures in Ramanathapuram:
Kunthukal Beach, Kunthukal, Pamban in Rameswaram – Best Beach in Rameshwaram for family & friends – Visit, Travel Guide
Marine Interpretation Centre Cum Museum – The Marine Museum & Aquarium about Gulf of Mannar Marine Species in Kunthukal Beach, Kunthukal, Pamban in Rameswaram – Best Marine Museum and Beach in Rameshwaram – Visit, Travel Guide
Vivekananda Memorial at Kunthukal Beach, Pamban in Rameswaram – dedicated to Swami Vivekananda, to mark his return after his famous speech at Parliament of the World's Religions in Chicago – Visit, Travel Guide
Kothandaramar Temple / Kothandaramaswamy Temple / Vibhishan Temple – Ancient Lord Sri Rama Temple in Dhanushkodi, Rameswaram – Visit, Travel Guide
Ramar Patham Temple in Dhanushkodi, Gandha Madhana Parvatham, Kendhamana paruvatham in Rameswaram – Temple to see the feet imprint of Lord Sri Rama – Visit, Travel Guide
Sri Rana Bali Murugan Temple in Peruvayal at Ramanathapuram – Best & Famous Murugan Temple In India – Visit, Travel Guide (Updated)
Saathaiya Temple Festival, Santhanoor Village at Ramanathapuram Visit, Travel
Following are the Best Places & Tourist Attractions in Chettinad or Chettinadu, Sivaganga District – The Land of Nattukotai Chettiars / Nagarathars :
Chettinad Kanadukathan Palace and Attangudi / Athangudi Palace, Karaikudi Visit, Travel Guide
M.Rm.Rm. Cultural Foundation Manjal Store, Chennai – Best place to buy hand-made, eco-friendly Chettinadu Crafts, Chettinad Palm Leaf / Palmyra Basket – Kottan products, Home Decors & Gifts
Soundaram's Chettinad Sweets and Snacks, Karaikudi – Best Place To Buy Chettinad Sweets & Snacks – Visit, Travel Guide (Updated)
Kunnakudi / Kundrakudi Shanmughanathar Murugan Temple, Tirupattur – Best & Famous Murugan Temple In Chettinad, India – Visit, Travel Guide (Updated)
Pillaiyarpatti Pillaiyar Temple / Karpaka Vinayakar Temple, Tiruppathur – Best & Famous Ganesha Temple In Chettinad India – Visit, Travel Guide