Dabba Chetty Shop / Dabba Chetty Kadai, Mylapore – the Best place to buy Nattu Marunthu, Natural / Organic Medicinal Herbs & Home Medicines, Deepavali Lehyam, Prasava Legiyam in Chennai – Travel Guide, Phone Number / New Address, Review (Updated)
– 135-years old natural country medicine shop
| | |
| --- | --- |
| CasualWalker's Rating for Dabba Chetty Shop / Dabba Chetty Kadai, Mylapore : | |
| 9.5 – Superb Awesome | |

The Dabba Chetty Shop / Dabba Chetty Kadai is one of the most famous, 135-years old country medicine shop – the Nattu Marunthu Kadai / shop (நாட்டு மருந்து கடை) in Mylapore, Chennai.
This shop was popularly called the 'Dabba Chetty Kadai', as earlier at this shop, all the natural and organic herbs, medicines were neatly put on display in metal tin containers which eventually became the official and famous name of this shop. The Dabba Chetty Shop supplies quality and nominally priced home medicine and herbal extracts – Naatu Marndhu to people across the world.
Currently, the Dabba Chetty Shop is managed by Sri. Badrinath from 1970, who is part of the Chetty family's third generation to run the company started by his grandfather Sri Krishnaswamy Chetty, along with his brother. He is much more familiar with knowledge about herbal medicines.
The Dabba Chetty Shop when it was started in 1885 actually sold paint hardware and other things along with natural herbal medicines, which turned to specialize in herbal medicines in early 1890. The development of this herbal medicine specialty shop happens with the starting of the Venkataramana Ayurvedic College near this shop in 1905, which provided the opportunity for the shop to supply the dispensary run by the College with raw materials. At Dabba Chetty Kadai we can buy quality traditional ayurvedic medicine, such as spices, seeds nuts.
Dabba Chetty Shop / Dabba Chetty Kadai is famous for selling quality Triphala, which is one of the most powerful herbal preparation consists of Amla, Haritaki and Bibhitaki, Ashwagandha, which has got a wide-ranging health benefits. Some of the other most famously popular items are Sukku, Adhimadhuram, Kadukaai, Kandathipili, Herbal oil Homam, Panam Kalkandu, herbal facial and bathing powders were also available.
Famous traditional legiyam at Dabba Chetty Kadai / Shop:
1. Prasava legiyam, the Post-natal Lehyam which is meant for young age Mothers.
2. Deepavali Lehyam / Deepavali Marundhu, is a special recipe that is made up of a mixture prepared on the herbs, condiments, and spices prescribed by Ayurveda to aid easier digestion.
Most of the Dabba Chetty Kadai's raw materials bought from Kerala, Andhra Pradesh, and others are locally within the city. It also sells ready-made blends and mixes that are manufactured using natural ingredients.
Currently, the high demanded Siddha medicine at this Nattu Marunthu Kadai is the Kabasura kudineer (கபசுர குடிநீர்) and Nilavembu Kudineer (நிலவேம்புக் குடிநீர்).
Address Update: Dabba Chetty Shop / Dabba Chetty Kadai, Mylapore Shop New Address:
From December 23 – 2022, the 137-year-old Dabba Chetty Shop shifted to a new address location on North Mada Street, Vinayaka Nagar Colony, just nearby Kancheepuram S.M. Silks, Mylapore. New No 9, North Mada Street, Vinayaka Nagar Colony, Mylapore Chennai, Tamil Nadu 600004.


Dabba Chetty Shop, Mylapore Contact Number & Address (Updated):
New Dabba Chetty Shop Address: New No 9, North Mada Street,
Vinayaka Nagar Colony, Mylapore
Chennai, Tamil Nadu 600004.
Landmark: next to Kancheepuram S.M. Silks – Mylapore
Contact Number: 044 2498 5125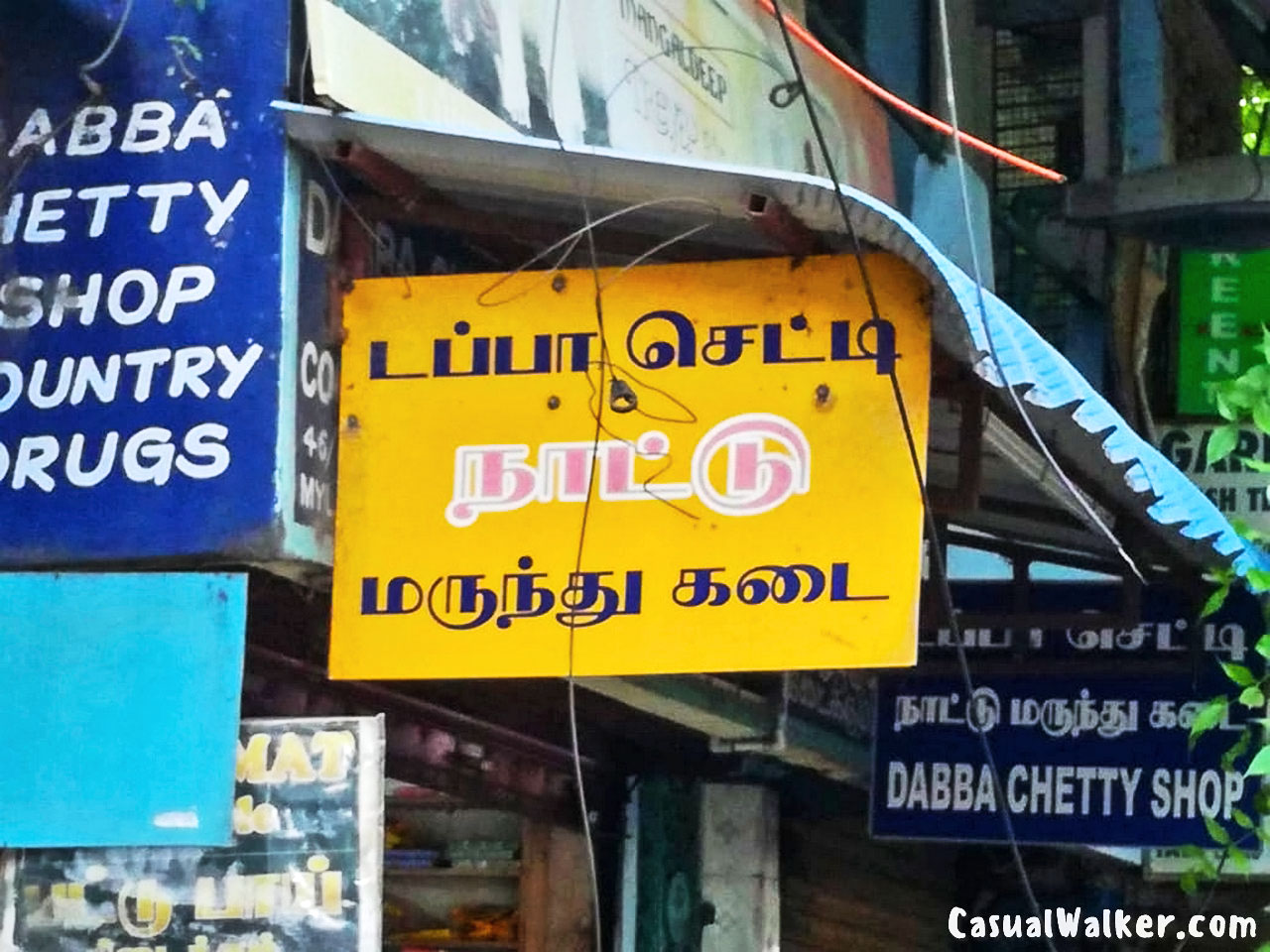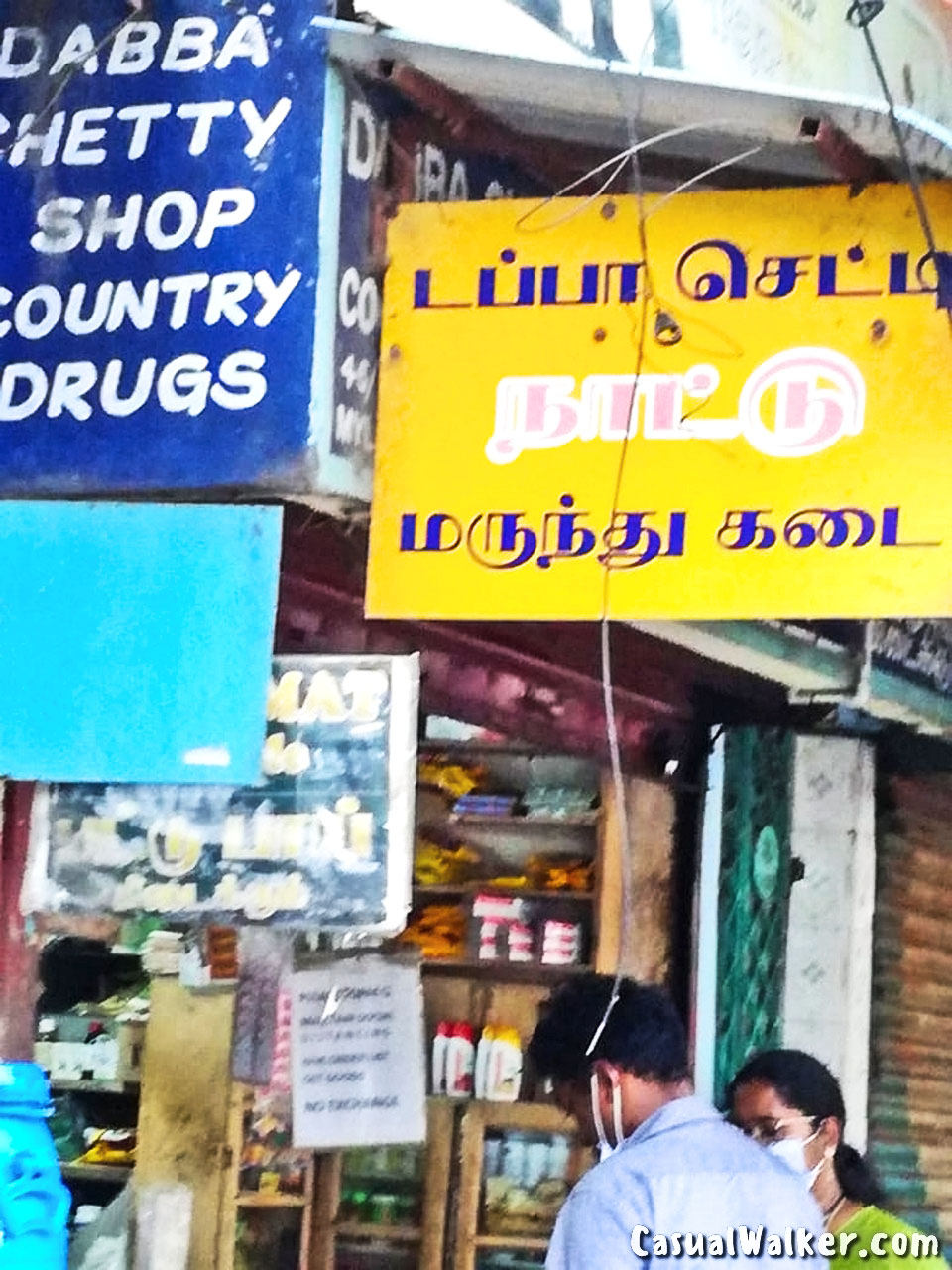 Famous Delicious & Tasty Eat outs places, you may be interested :
Mylapore Jannal Kadai – Window Mylapore Jannal Kadai, Window Bajji Stall – Best Bajji, Bonda, Somosa, Sweets & Snacks Shops in Mylapore – Travel Guide, Review
Sri Karpagambal Kapali Sweet Stall, Mylapore – Best Medhu bonda, Mini Samosa, Vazhakkai bhajji, Onion Pakoda, Samosa, Medhu Vadai, Masala Vadai, Sweets & Snacks Shops in Mylapore, Chennai – Travel Guide, Review
Iruttukadai Halwa Shop, Tirunelveli, Best & Famous Original Halwa Shop in the World – Travel Guide, Review
Soundaram's Chettinad Sweets and Snacks, Karaikudi – Best Place To Buy Chettinad Sweets & Snacks – Visit, Travel Guide (Updated)
Selvi Stores – Speciality Foods, Mylapore – Best traditional, handmade food Podi Idly, Pulikachal, and Kozhukattai (Modaks) Shops in Mylapore, Chennai – Travel Guide, Review
Sri Annapoorani Sweets, Mylapore – Best Bajji, Bonda, Somosa, Sweets & Snacks Shops in Mylapore, Chennai – Travel Guide, Review
Mylapore Ganapathy's Butter & Ghee – Best Pure Uthukuli Cow Ghee, Butter, Vathal, Vadam, Maavadu / Pickle shop in Mylapore, Chennai – Travel Guide, Review
Mami Mess / Mami Tiffen Stall / Mami Tiffin Stall, Mylapore – famous and oldest traditional eateries for Tiffin and Lunch in Mylapore
Best Food Trucks in Chennai – Finding the Top Food on Wheels in Chennai – Visit, Travel Guide
Cothas Coffee Shop, Mylapore – oldest and iconic coffee brand & coffee brewery in mylapore (Updated)
Kalathi Rose Milk Shop, Mylapore – Best and Oldest Cool Drinks and Rose Milk Shop in Mylapore