Best Place to buy Traditional and Authentic, Sweets & Snacks for Krishna Jayanthi / Janmashtami / Gokulashtami through Online & in Chennai – To celebrate the Birth of Lord Krishna – Visit, Shop Contact Details, Travel Guide (Updated)
– lip-smacking shops to buy sweets & snacks
| | |
| --- | --- |
|  CasualWalker's Rating for Krishna Jayanthi / Janmashtami / Gokulashtami Sweets & Snacks Shops in Chennai : | |
| 9.8 – Great / Excellent |   |

Janmashtami, also known as Krishna Jayanthi or Gokulashtami, is a joyous occasion celebrated to mark the birth of Lord Krishna. Food plays a significant role in Krishna Jayanthi celebrations. Devotees prepare a variety of delectable sweets and snacks, such as Seedai, Adhirasam, Laddu, and Murukku, which are believed to be Lord Krishna's favorite treats. These offerings are shared with family and friends.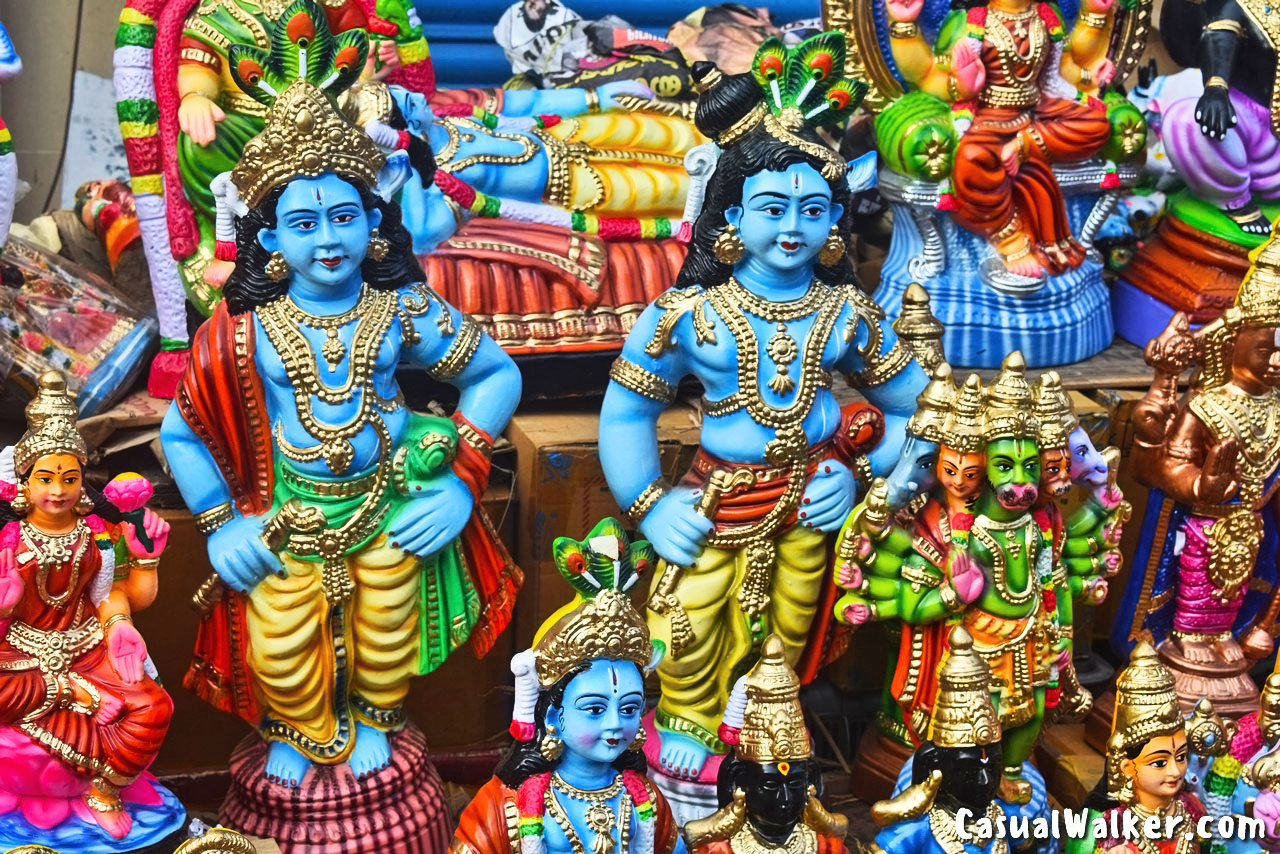 To make your celebrations extra special, we've scoured Chennai for the best Janmashtami / Krishna Jayanthi / Gokulashtami sweets and snacks shops. Let's take a look at some of the top places to satisfy your cravings this festive season!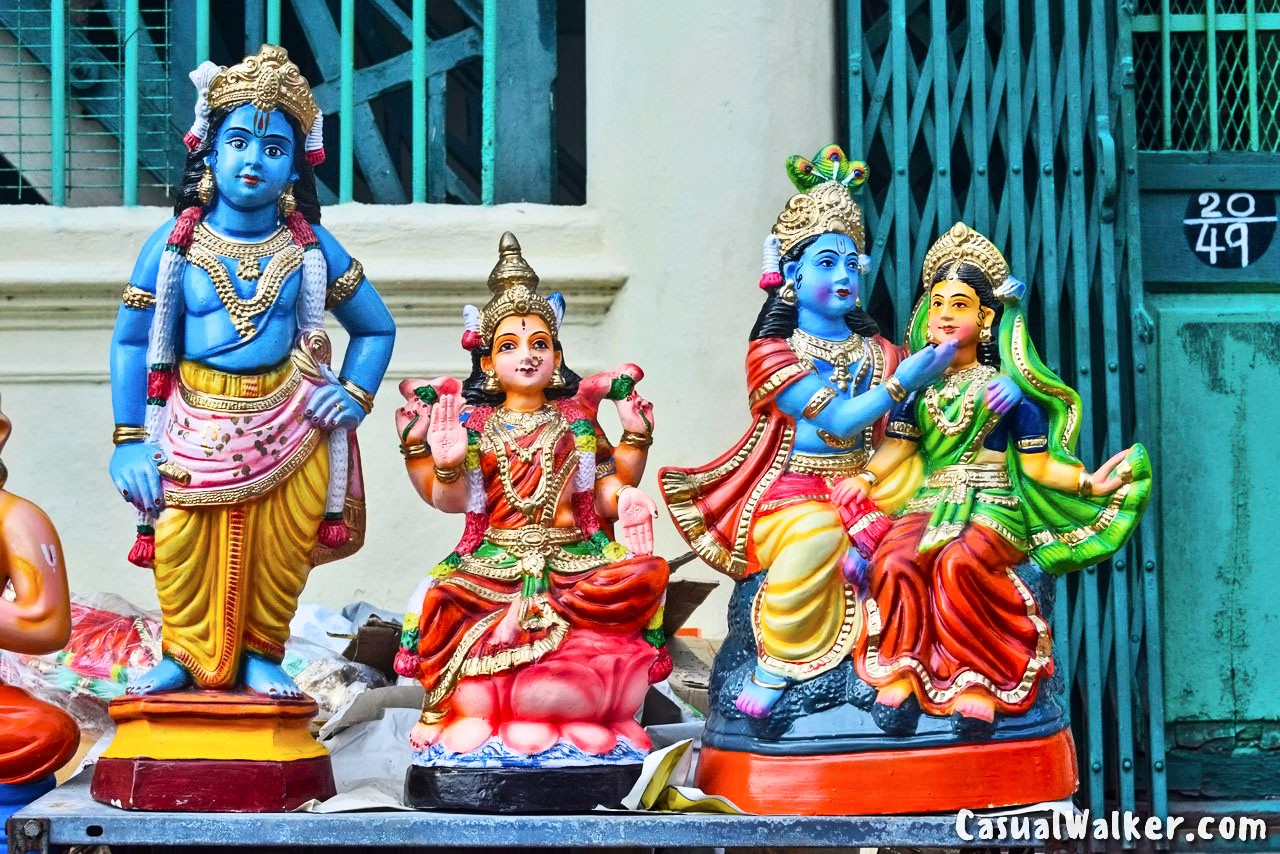 Sri Krishna Sweets – Janmashtami Special Sweet Box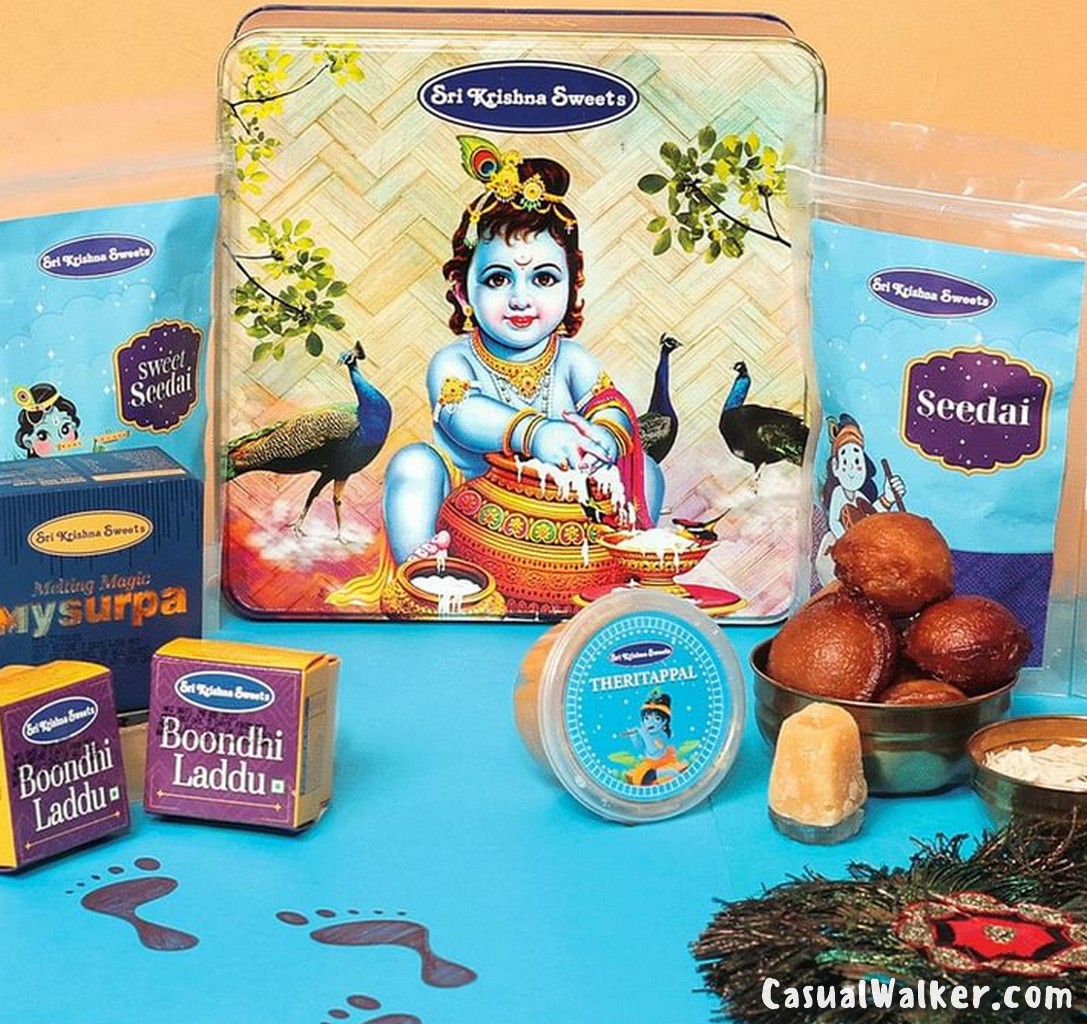 Celebrate the sweetness of Janmashtami with Sri Krishna Sweets' special sweet box! Made with 100% traditional and authentic ingredients, this Janmashtami special tin box comes with a variety of treats, including Seedai, Athirasam, Thenkuzhal, Theratipaal, Mysurpa, Laddu, Thiratipal, Athirasam, Sweet Seedai, Seedai, Thattai, Then Kuzhal, Aval Mixture, and Cashew Bite, all for just 1,000 INR.
Order Online: Janmashtami Special Sweet Box
Website: https://srikrishnasweets.com
Address: No 20, Venkatnarayana Road, T Nagar, Chennai 17.
Telephone: 044 4261 6161 / Toll Free: 1800 890 2202
Email: customercare@srikrishnasweets.com

Sweet Karam Coffee – Janmashtami Special Combo Bag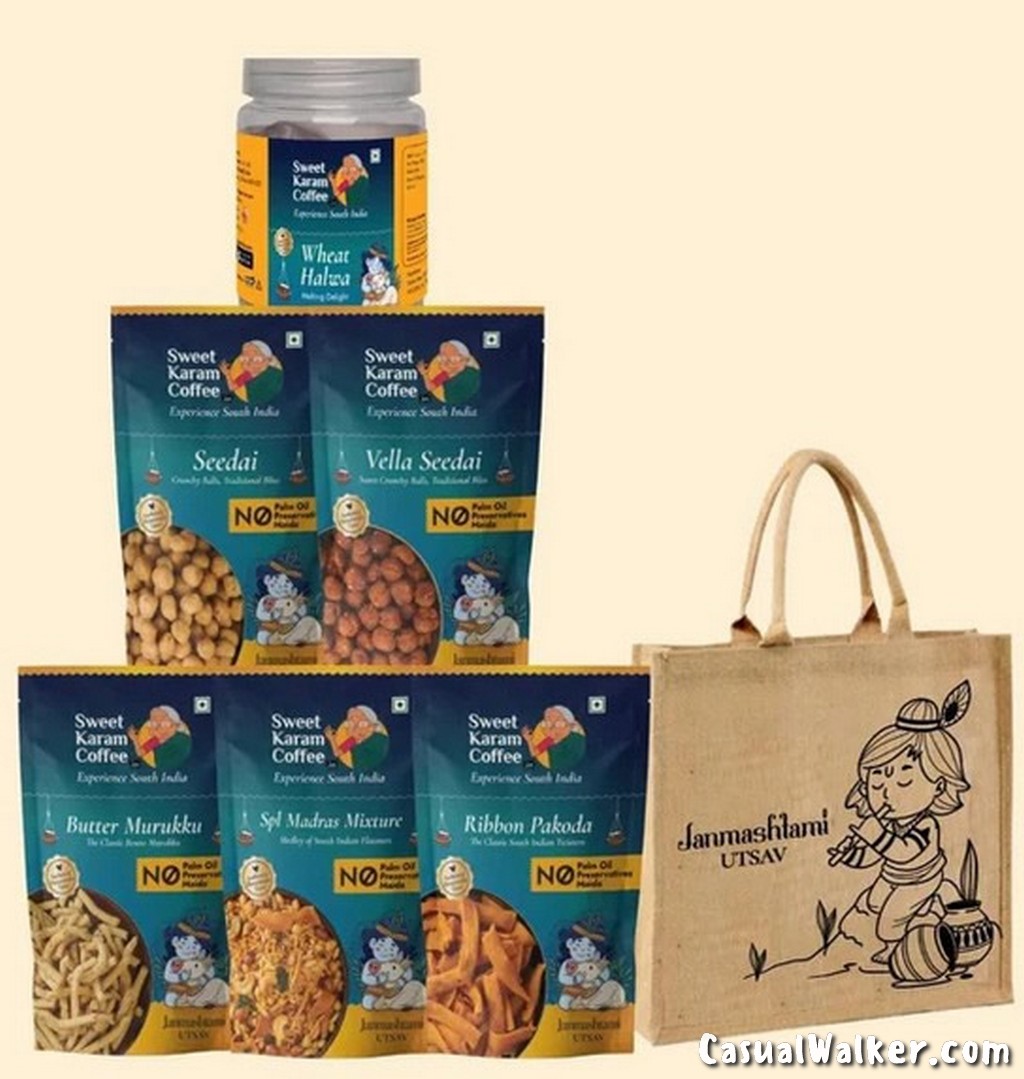 Sweet Karam Coffee offers a Janmashtami Special Combo Bag filled with divine sweets and snacks to make your celebrations truly special. This exclusive jute bag includes the Crispiest Seedai, Sweet and crunchy Vella seedai, Crafty Butter Murukku, Crunchy Madras Mixture and ribbon Pakoda, Wheat Halwa, Sukku vellam (Dry Ginger and jaggery digestive), and more for 1,099 INR.
Order Online: Janmashtami Special Combo Bag
Website: https://sweetkaramcoffee.in
Email: care@sweetkaramcoffee.in
Contact: 7358068806 / 7358072807

Pettikadai – Krishna Jayanthi Sweets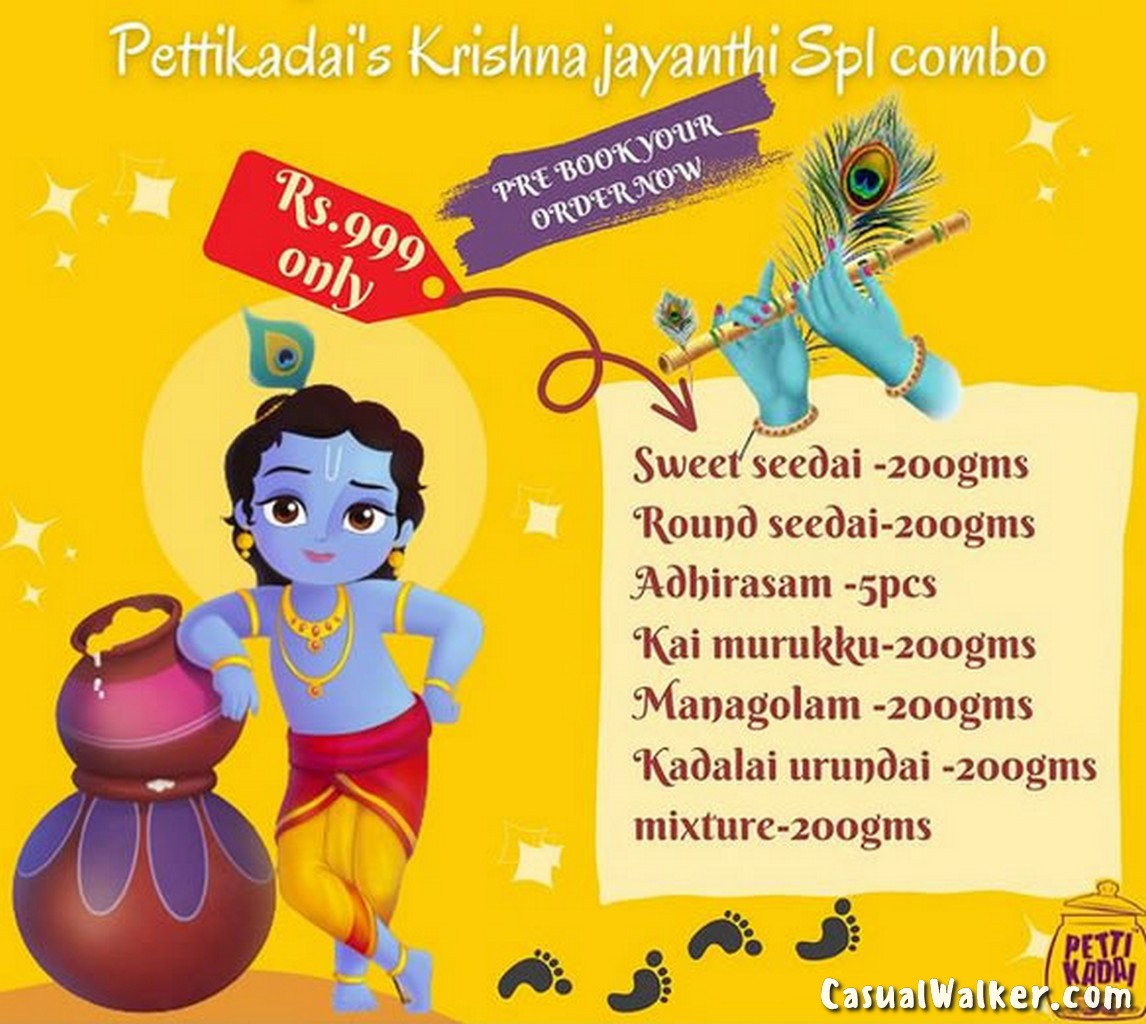 Pettikadai presents a Krishna Jayanthi sweets box combo that includes Sweet seedai, Round seedai, Adhirasam, Kai murukku, Managolam, Kadalai urundai, and Special mixture for 999 INR.
Order Online: Krishna Jayanthi Sweets & Snacks Box
Website: https://pettikadai.in
Contact: 8056676577

Girija Paati – Janmashtami Classic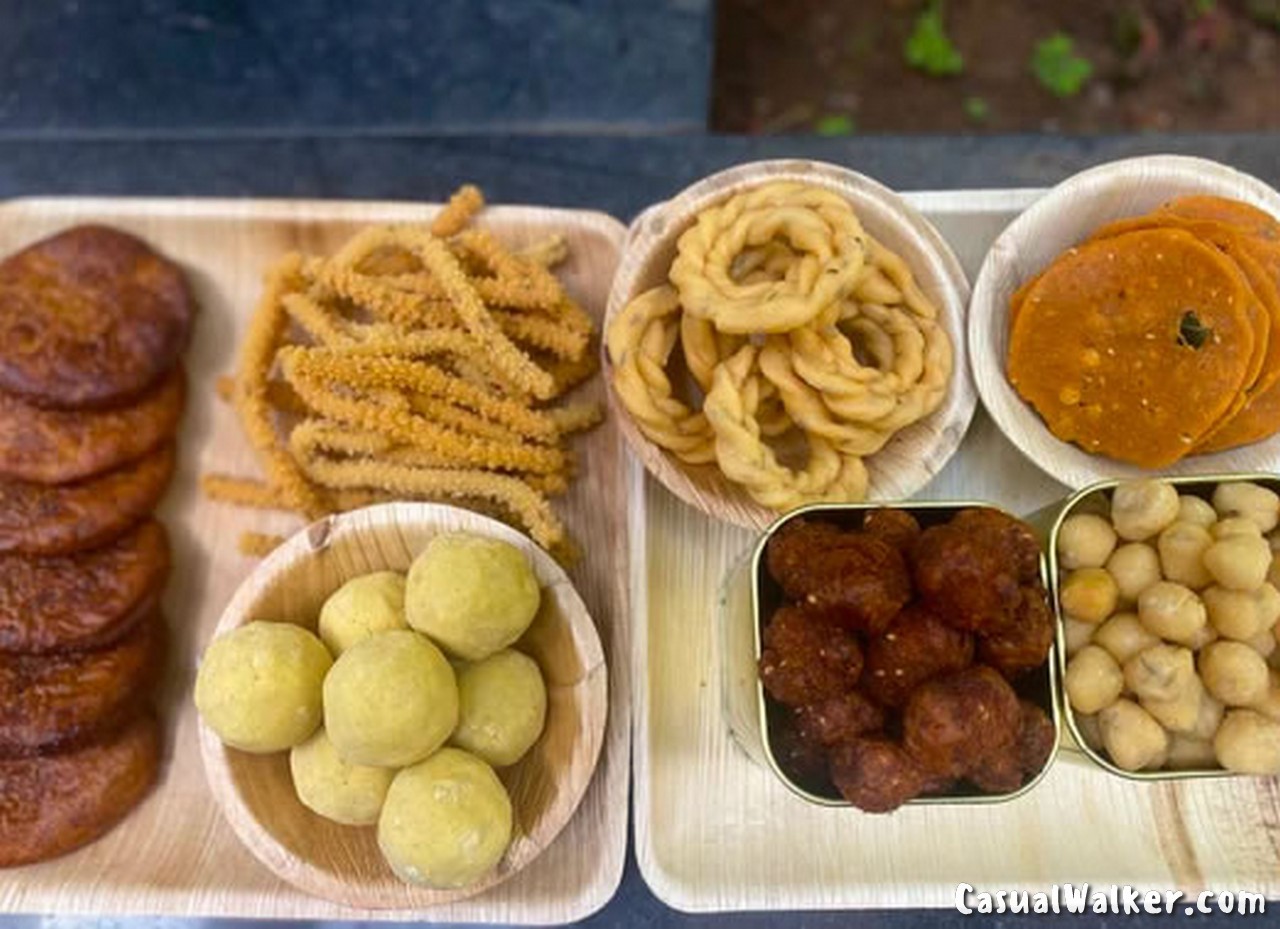 Girija Paati offers a Classic Janmashtami Combo that includes Uppu Cheedai, Vella Cheedai, Kai Murukku, Thattai, Adhirasam, Butter Maaladdu, and Butter Murukku for 1,799.00 INR. As Janmashtami approaches, indulge in these divine sweets and snacks from these trusted sources to celebrate Lord Krishna's birth with joy and tradition.

Website: https://girijapaati.com

Andhra Delicacy – Krishna Janmashtami Combo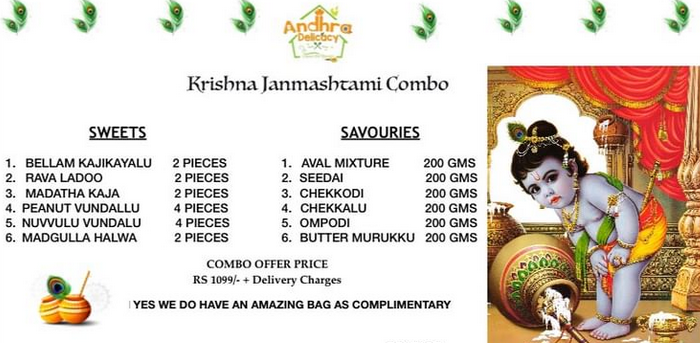 Andhra Delicacy offers a Krishna Janmashtami Combo that includes sweets like Bellam Kajikayalu, Rava Ladoo, Madatha Kaja, and more, along with savory delights. This delightful combo is available for 1099 INR.
Order Online: Krishna Janmashtami Combo Box
Website: https://www.andhradelicacy.com
Email: info@andhradelicacy.com
Contact: +919940084448 / +919940568884
Address: 947, Poonamallee High Rd, Purasaiwakkam, Chennai, Tamil Nadu 600084, India

The Grand Sweets and Snacks Adyar – Krishna Jayanthi / Janmashtami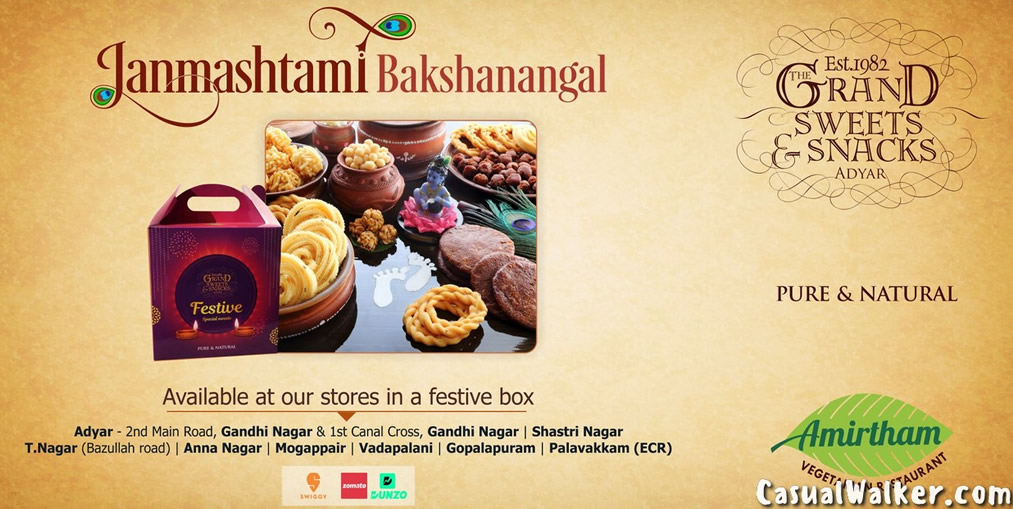 The Grand Sweets and Snacks Adyar invites you to celebrate Janmashtami with your favorite sweets. This joyous occasion is marked by 'raas-leela' and the Dahi Handi, and you can enhance your celebrations with their delicious offerings.
Order Online: Krishna Jayanthi Sweets
Website: https://thegrandsweets.com
For Orders: Call or WhatsApp +91 98410 52517
Address: No.24, II Main Road, Gandhi Nagar, Adyar, Chennai – 600 020
Email: order@grandsweets.com

BG Naidu Sweets – Krishna Jayanthi Gift Box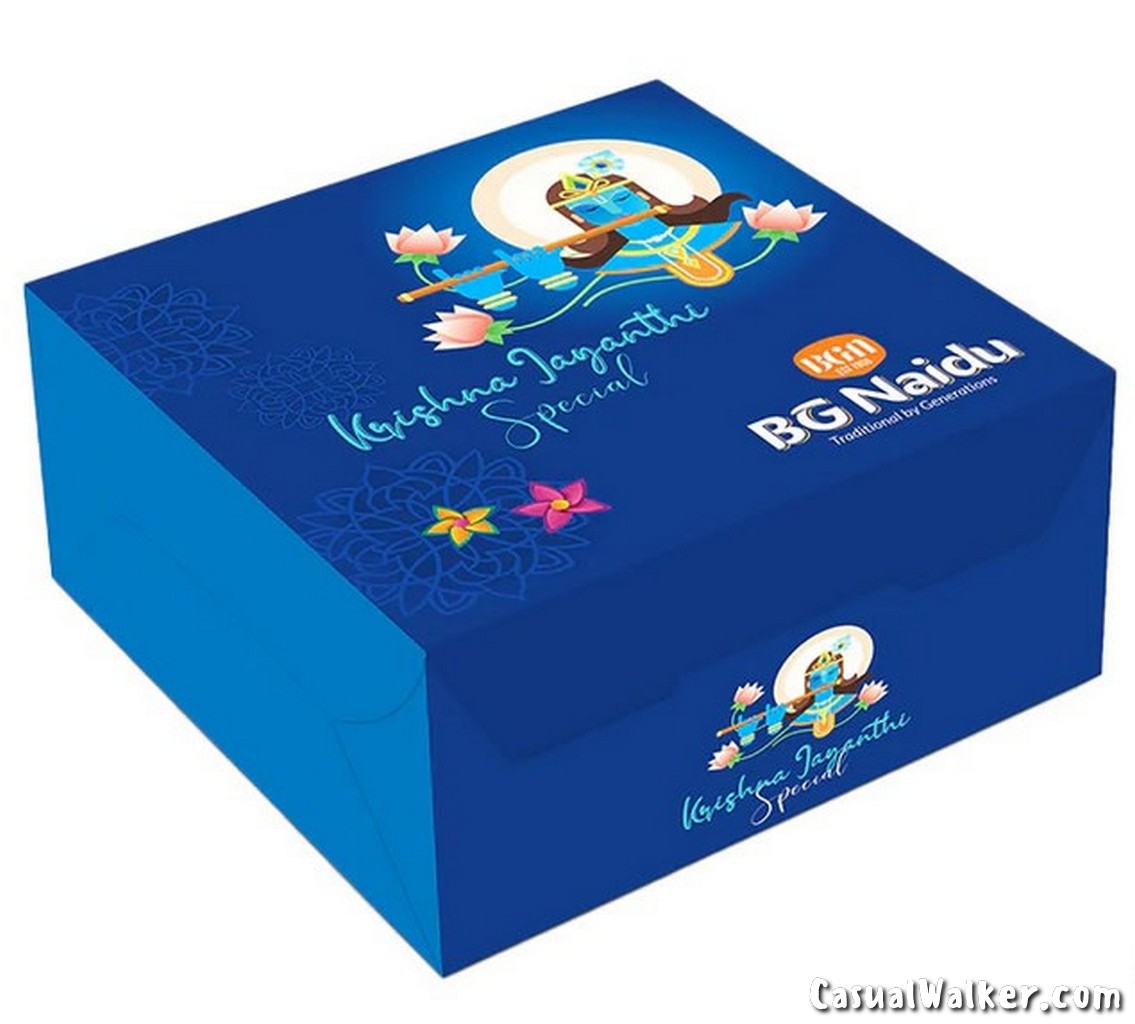 BG Naidu Sweets offers an exciting Krishna Jayanthi Gift Box packed with traditional treats. This delightful assortment includes Sweet Seedai, Salt Seedai, aromatic Adhirasam, crispy Thenkuzhal Murukku, Butter Murukku, flavorful Thattai, and delectable Kadalai urundai. Share the love and tradition with your loved ones by gifting them this irresistible box of festive delights, priced at just 300 INR.
Buy Online: Krishna Jayanthi Gift Box
Website: https://bgnaidusweets.com
Address: No 29, Elango Street, Sangliyandapuram, Trichy-620001.
Email: info@bgnaidusweets.com
Mobile: +91 96006 86868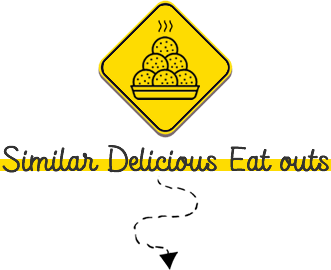 Similar Famous Delicious & Tasty Eat-outs Photo Stories:
Soundaram's Chettinad Sweets and Snacks, Karaikudi – Best Place To Buy Chettinad Sweets & Snacks – Visit, Travel Guide (Updated)
Iruttukadai Halwa Shop, Tirunelveli, Best & Famous Original Halwa Shop in the World – Travel Guide, Review
Food Walk in Triplicane organized by Tamilnadu Tourism Development Corporation (TTDC) & Madras Inherited: Discovering the Famous & Best Restaurant, Mess, Sweet & Snacks, Masala Milk Shop in Triplicane – Visit, Travel Guide
Bharathi Mess, Triplicane Chennai : Best Vegetarian Mess in Triplicane – Named after the Great Poet & Indian Independence Activist Shri Mahakavi Subramania Bharathi – Menu, Travel Guide, Review
Sri Annapoorani Sweets, Mylapore – Best Bajji, Bonda, Somosa, Sweets & Snacks Shops in Mylapore, Chennai – Travel Guide, Review
Thanigaivelan Inippagam – 45 Years Old Best Onion Pakoda Kadai & Traditional Sweets & Snacks Shop in Triplicane, Chennai – Travel Guide, Review
Mylapore Jannal Kadai – Window Mylapore Jannal Kadai, Window Bajji Stall – Best Bajji, Bonda, Somosa, Sweets & Snacks Shops in Mylapore – Travel Guide, Review
Sri Karpagambal Kapali Sweet Stall, Mylapore – Best Medhu bonda, Mini Samosa, Vazhakkai bhajji, Onion Pakoda, Samosa, Medhu Vadai, Masala Vadai, Sweets & Snacks Shops in Mylapore, Chennai – Travel Guide, Review
Chennai Food Festival – Oorum Unnavum organized by UNHCR & OFERR in Semmozhi Poonga, Chennai – To Taste the Famous Delicious Foods of Sri lanka, Myanmar (Burma), and Afghanistan in Chennai