Comedy Kalyanam, a Comedy Stage Drama at Bharatiya Vidya Bhavan in Mylapore, Chennai – An Tamil Stage Comedy Drama by Medai Nadaga Mandram Creations (MNM) from San Francisco Bay Area, USA
– an enthralling blend of comedy and drama, offering a delightful and engaging comical storyline
| | |
| --- | --- |
| CasualWalker's Rating for Comedy Kalyanam Stage drama by Medai Nadaga Mandram Creations (MNM) from San Francisco Bay Area, USA : | |
| 9.8 – Superb Awesome | |

Medai Nadaga Mandram Creations (MNM), an amateur drama group based in San Francisco Bay Area, USA staged a Tamil comedy drama titled "Comedy Kalyanam" at Bharatiya Vidya Bhavan in Mylapore, Chennai.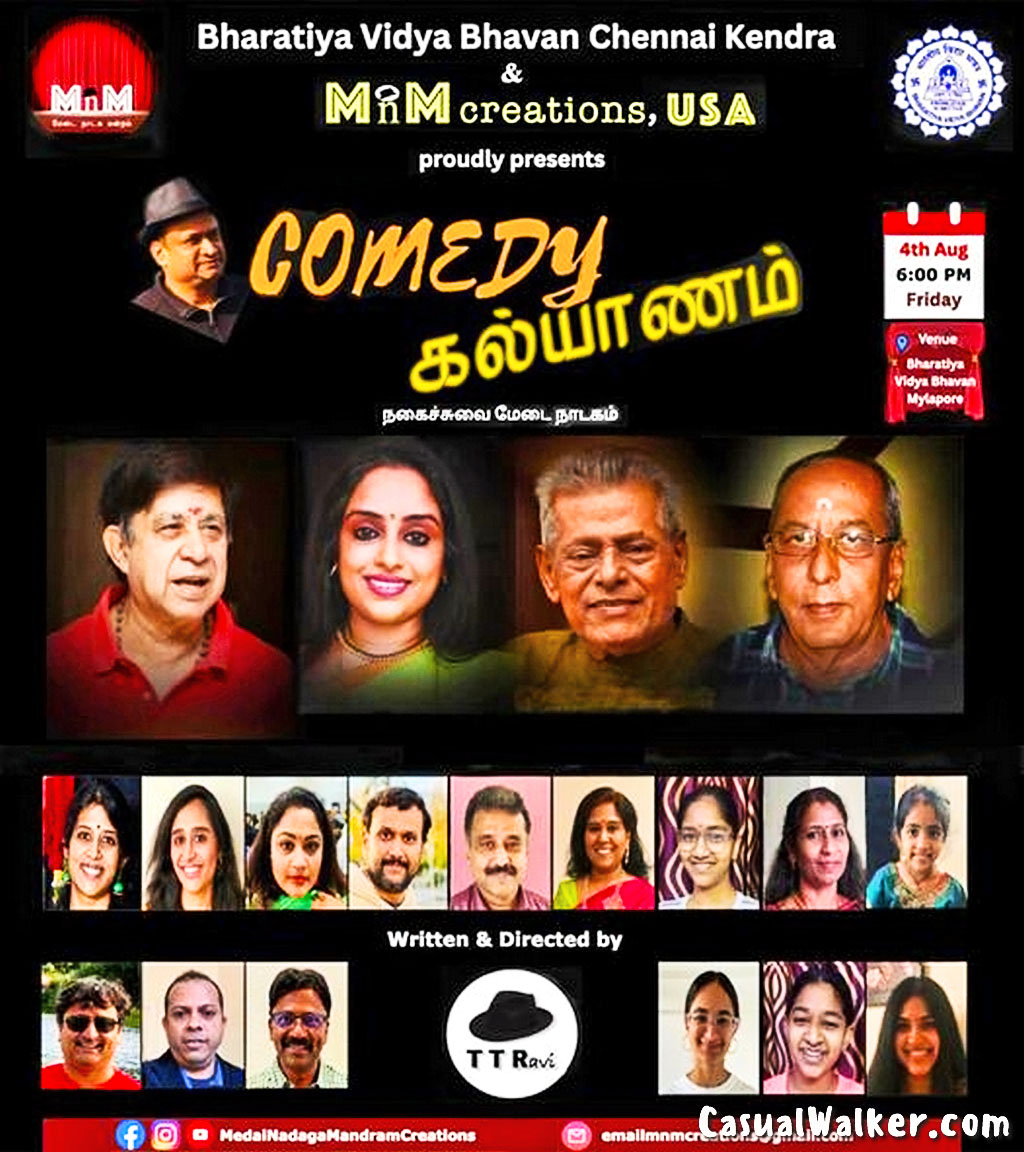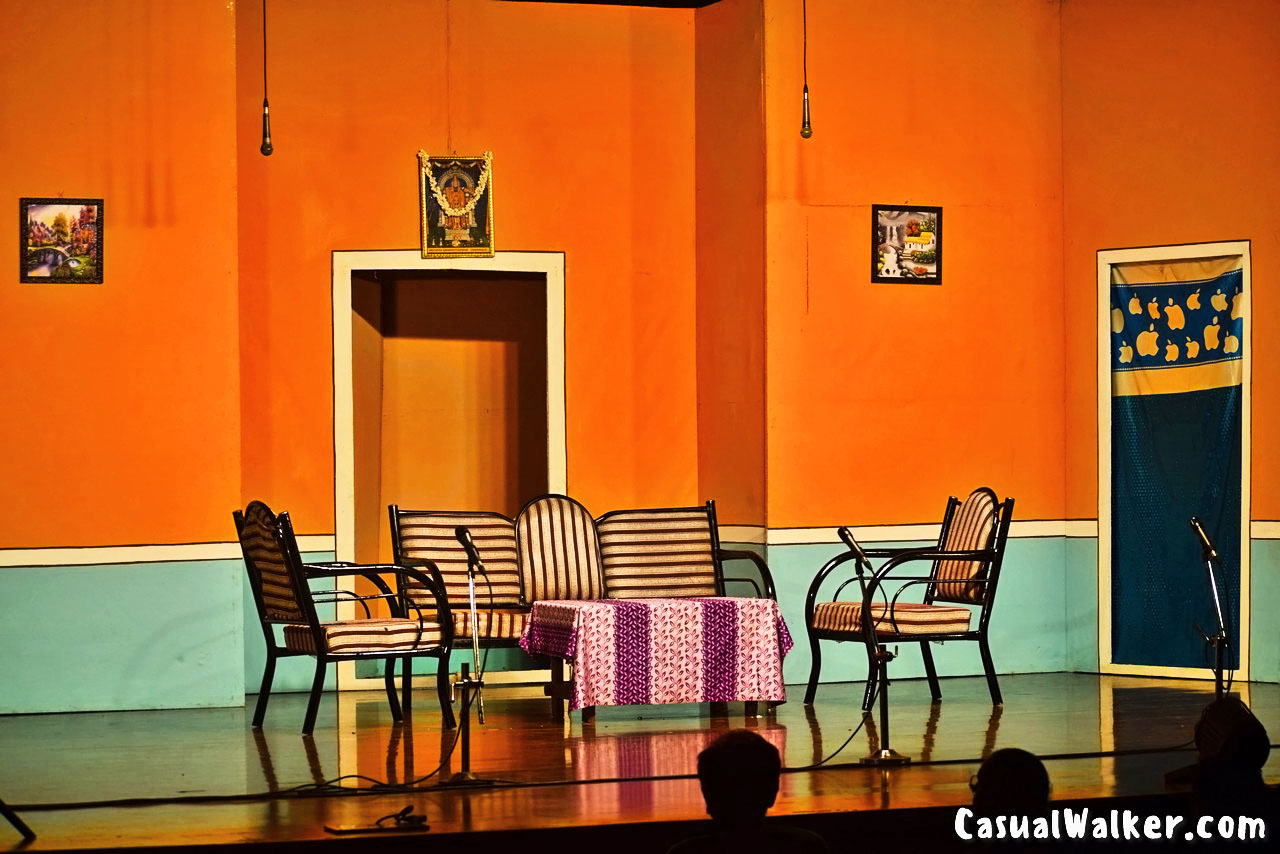 Comedy Kalyanam Comedy Stage Drama Artists
Director – TT Ravi, Raamkumaar Ganesan, Gopi Krishnamurthy, Sharanya Ganesan, Soumya Srikanth, Karthik Krishnamurthy, Shanmuga Ganesan, Kavitha Naidu, Srimathi Chandrasekaran, Muthuezhil Shanmugasundaram, Pratheepa, Karthika Thiruvallur, Maanvizhi Muthuezhil, Madhavi Muthuezhil, Nishita Gopi, Anagha Vivek
In the drama, legendary Tamil stage drama artists like Delhi Ganesh, Kathadi Ramamurthy, Lavanya Venugopal, and Varadharajan have also appeared in the dramas in guest roles.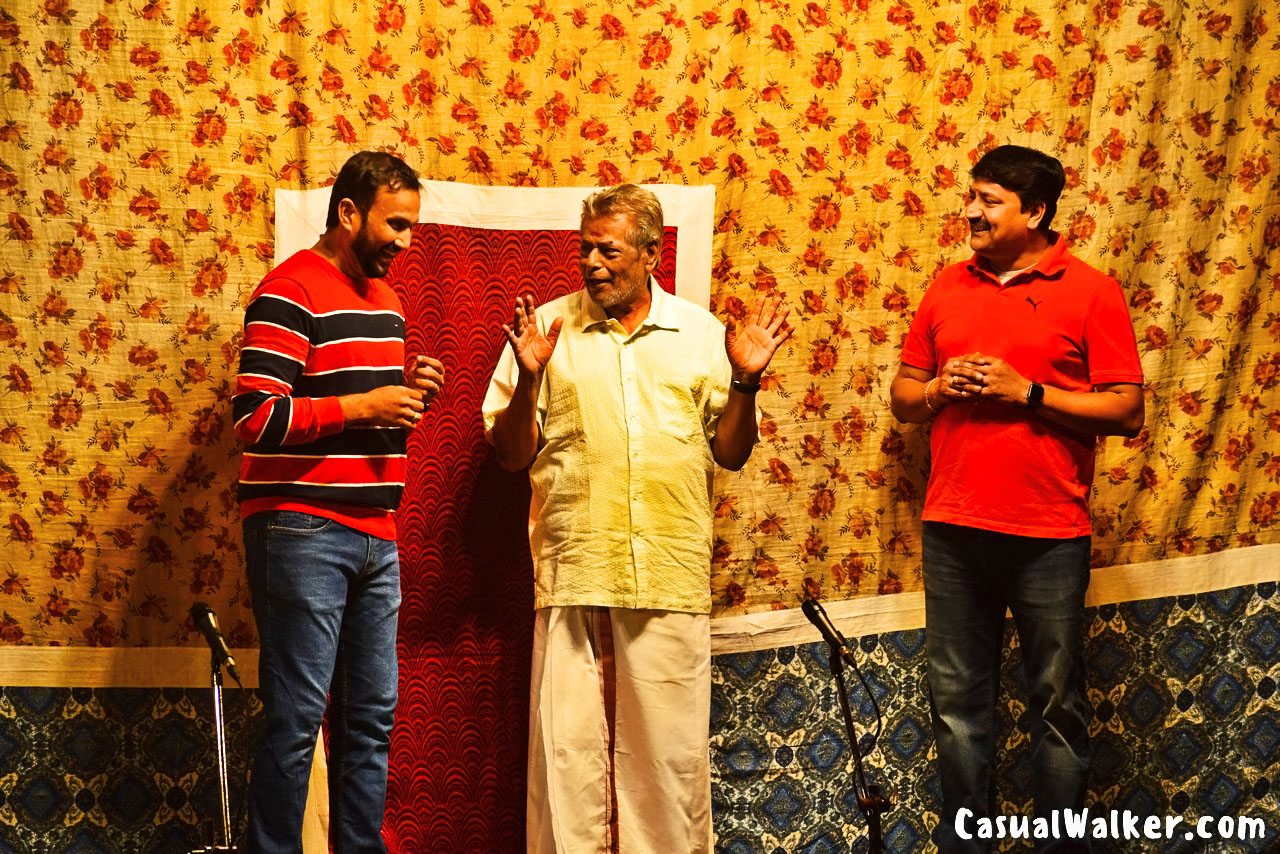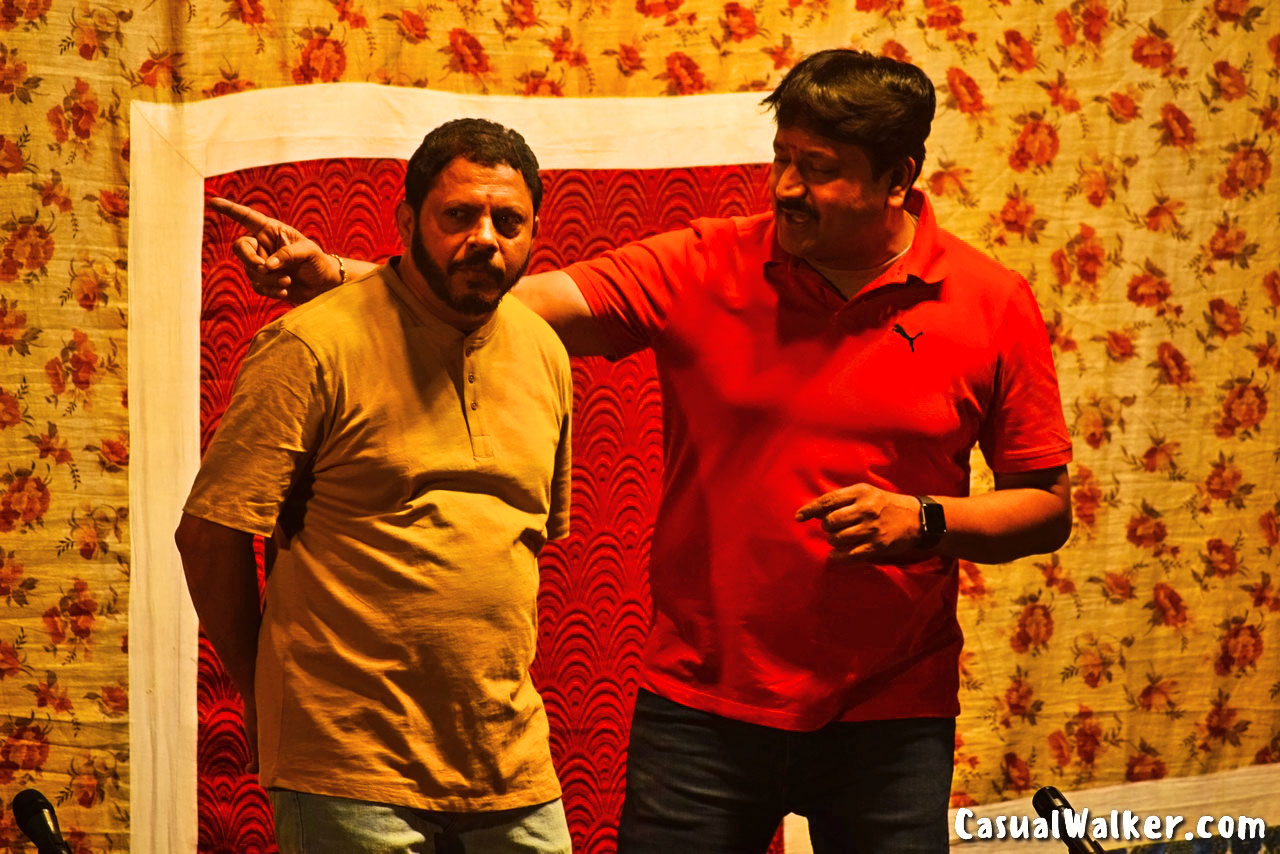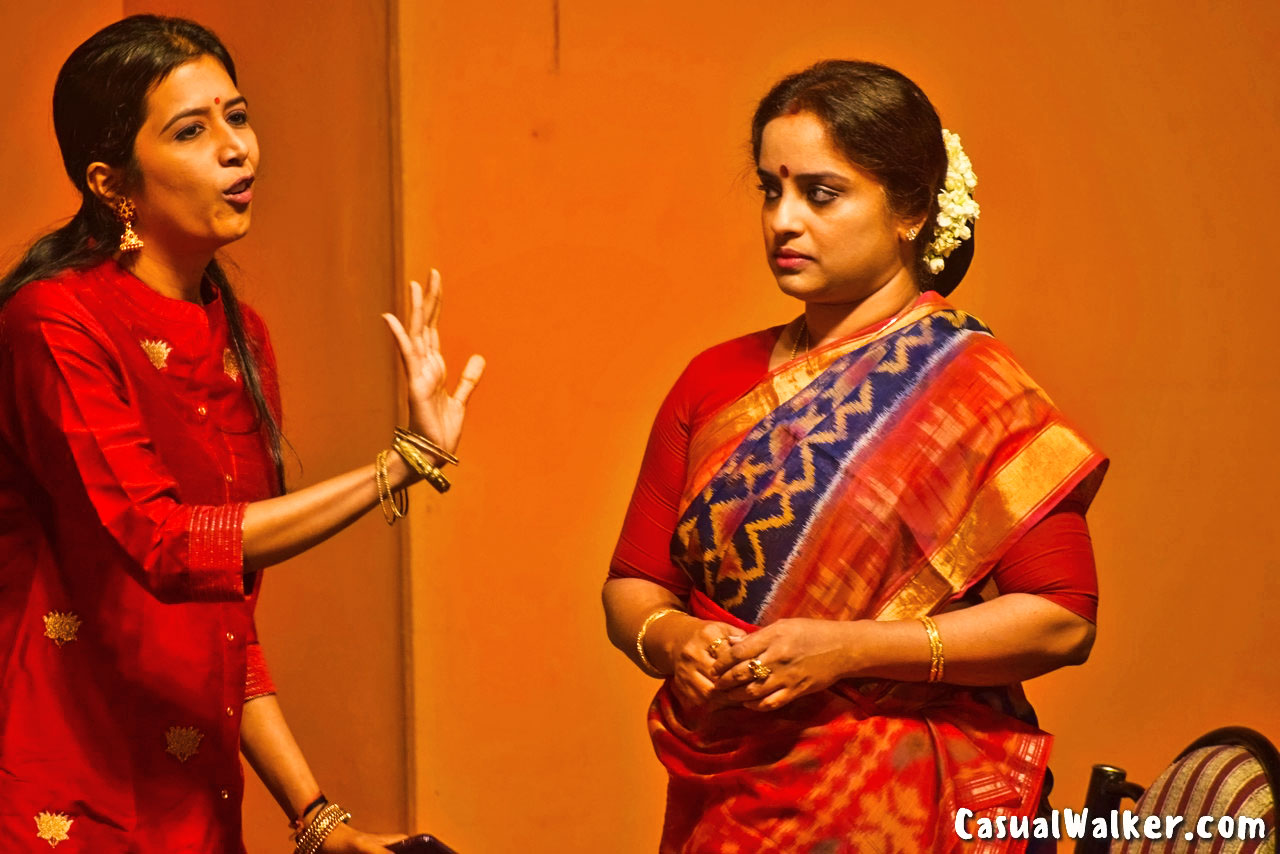 The performance of Medai Nadaga Mandram Creations (MNM) was an enthralling blend of comedy and drama, offering a delightful and engaging comical storyline that kept the audience thoroughly entertained. Every aspect of the play was executed with remarkable precision and finesse.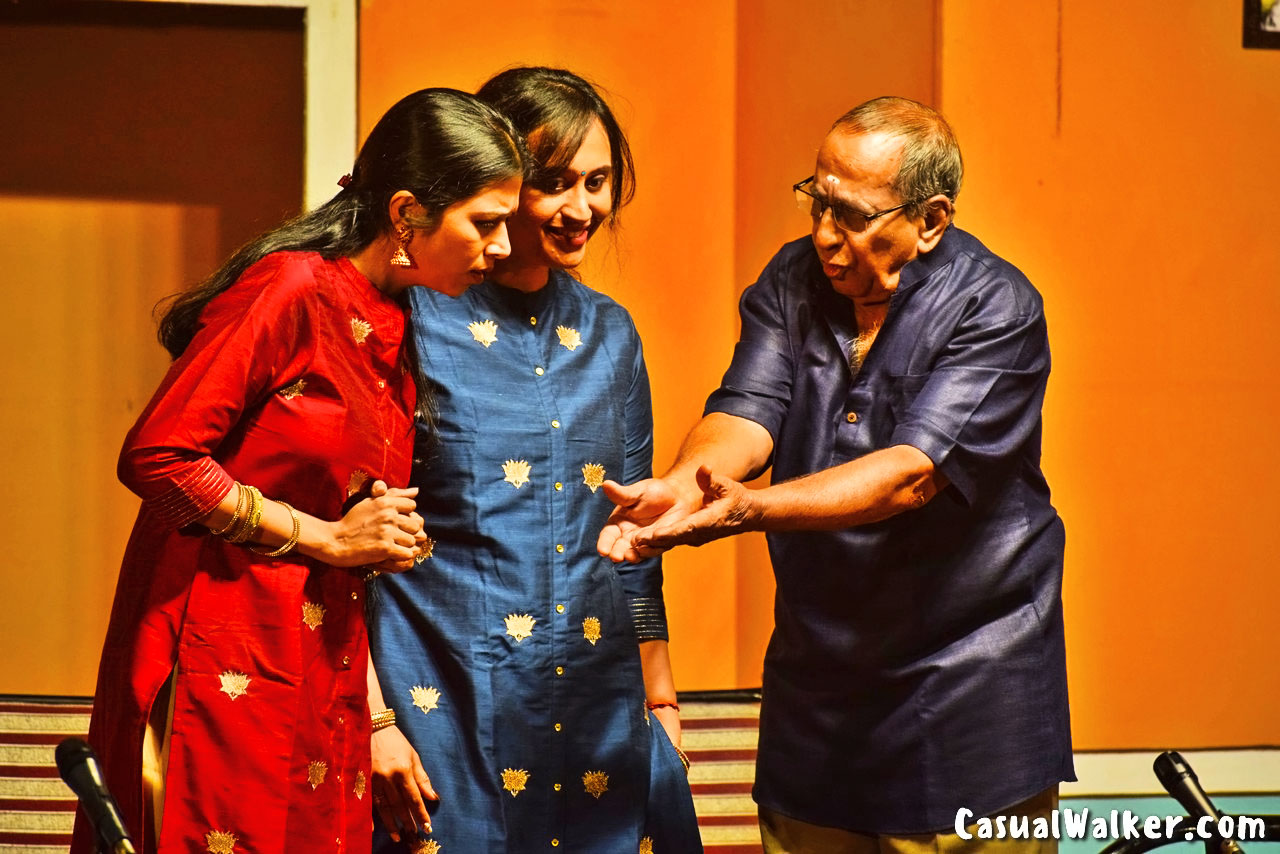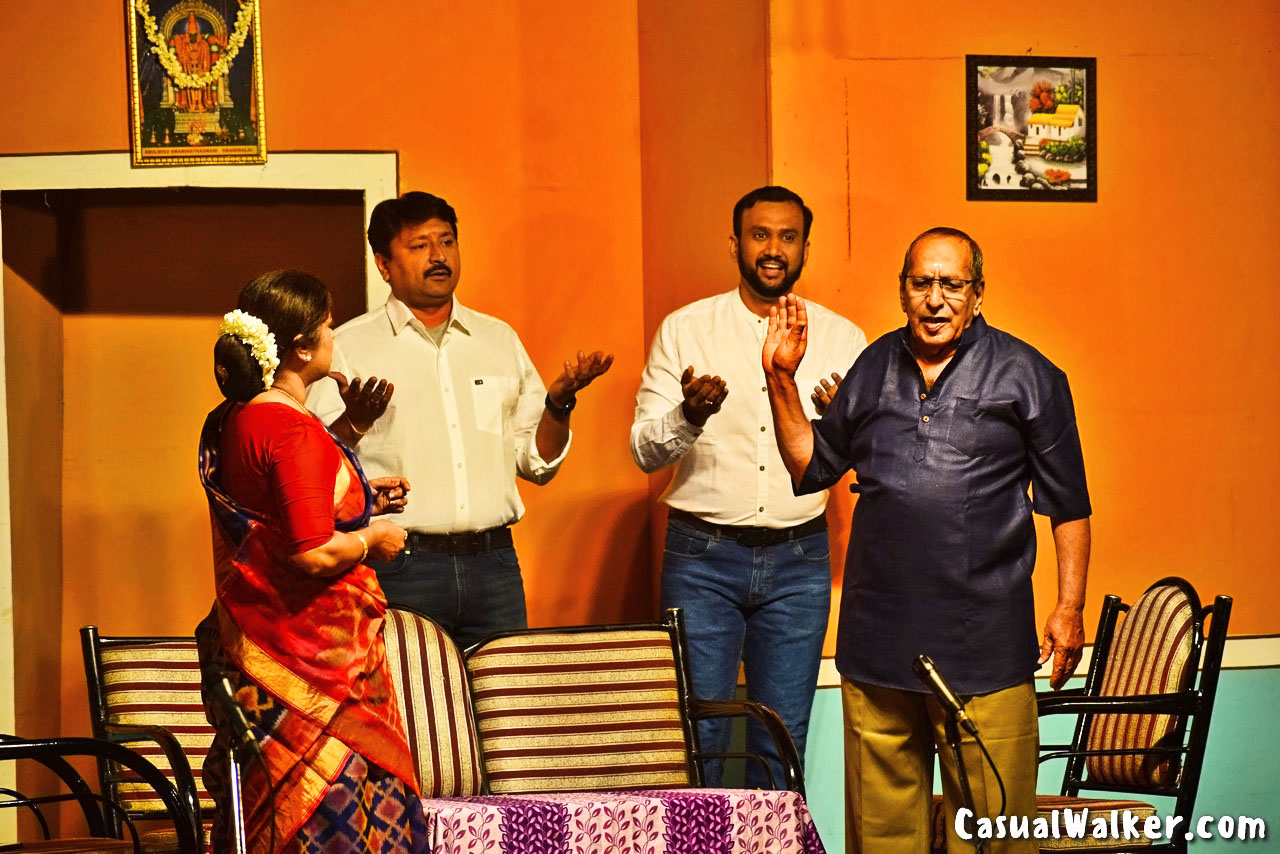 The drama cast, comprised of talented individuals who seamlessly embodied their respective roles, displayed an impressive level of commitment and preparation, akin to that of seasoned professional stage actors.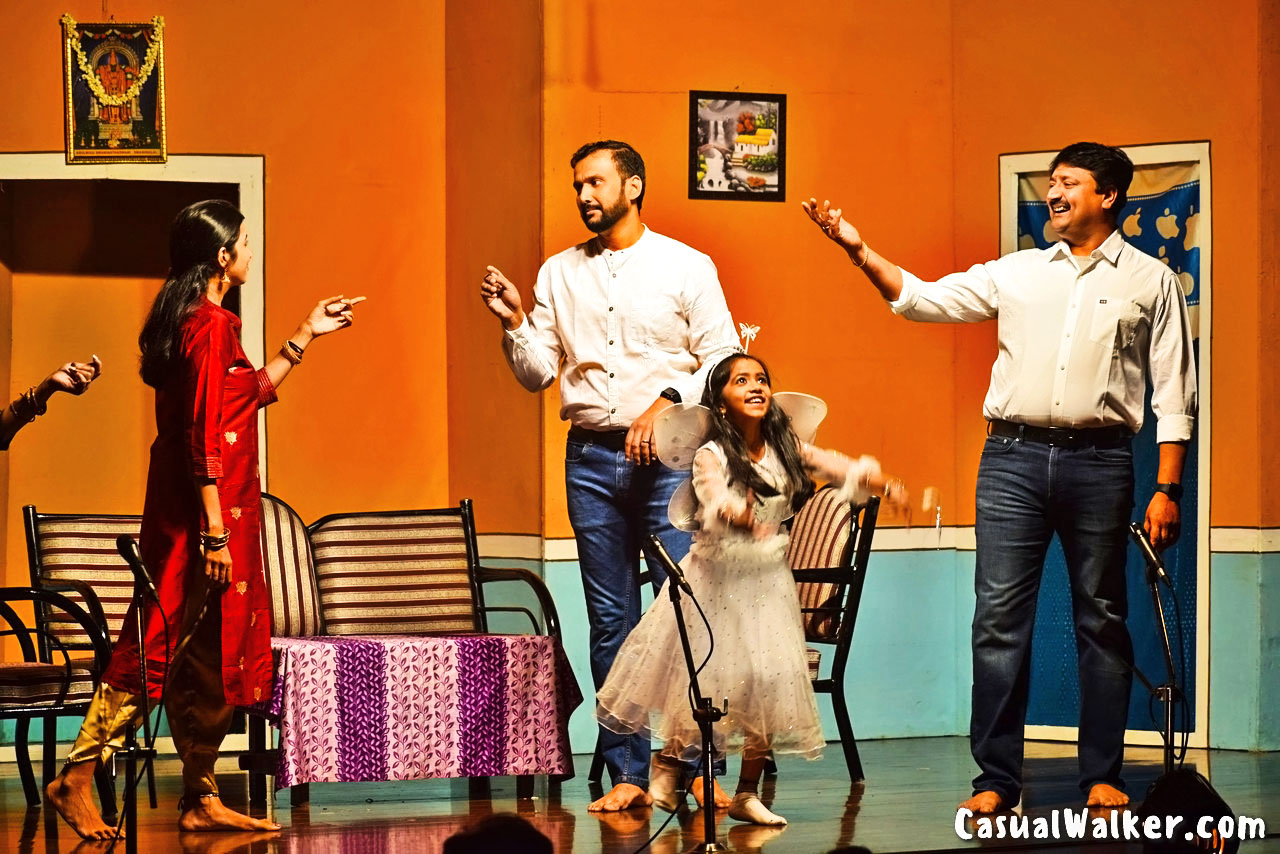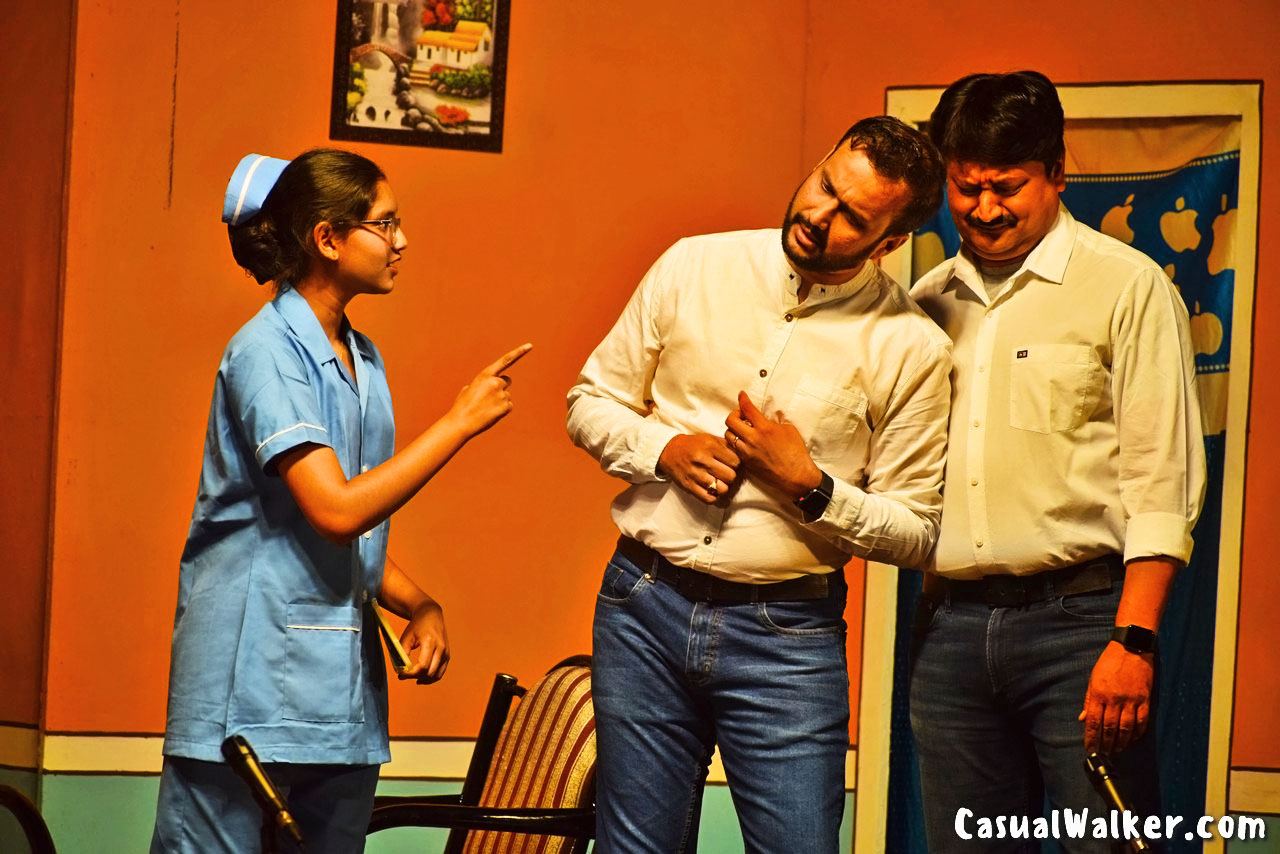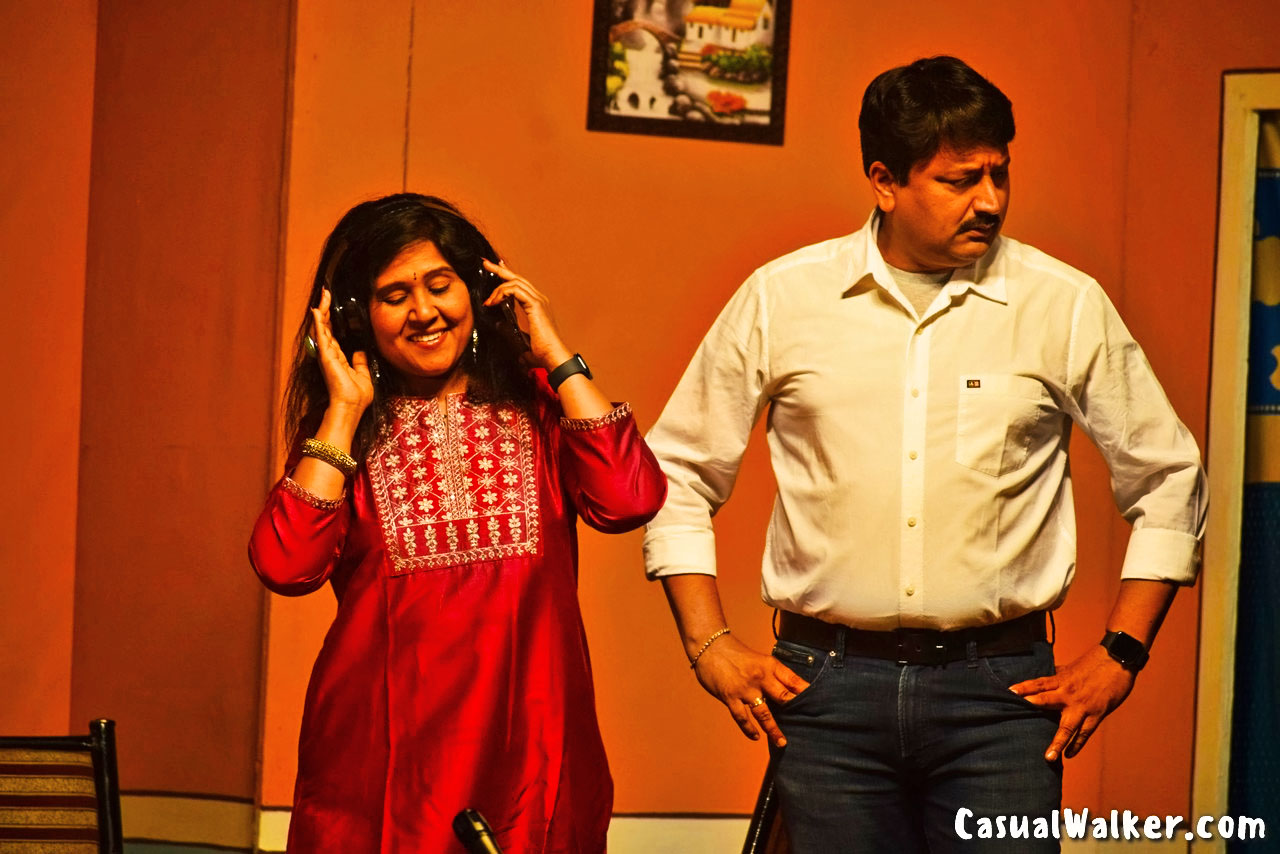 Their performances were a testament to their dedication and hard work, resulting in a truly memorable theatrical experience.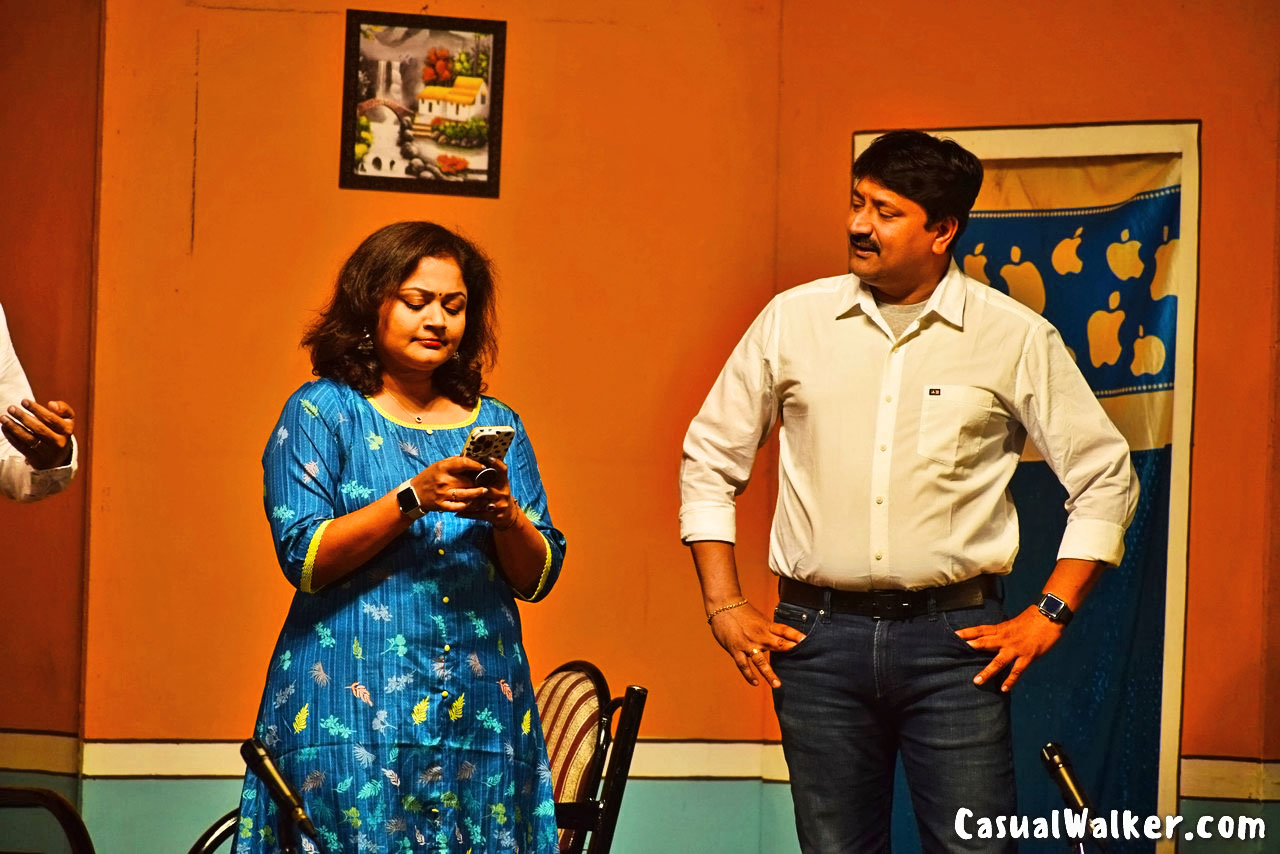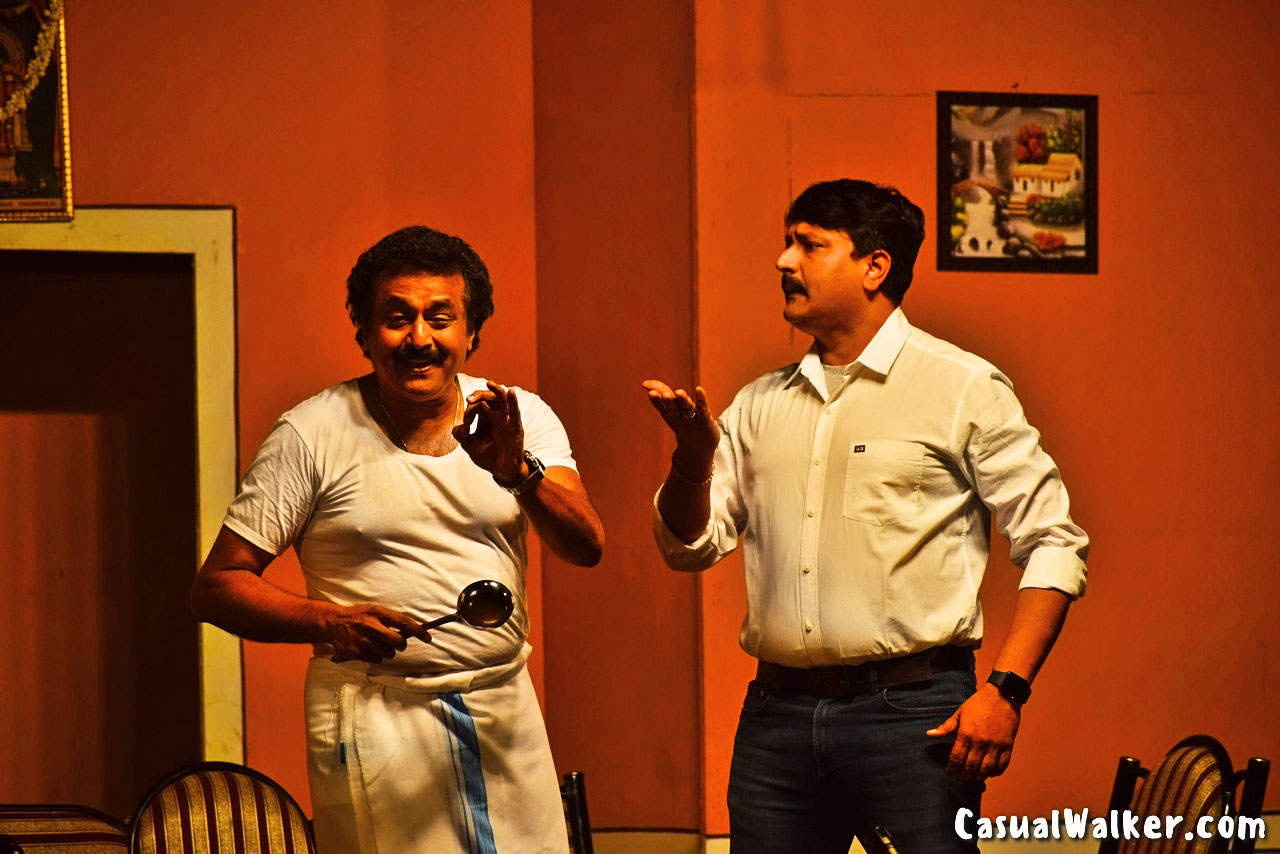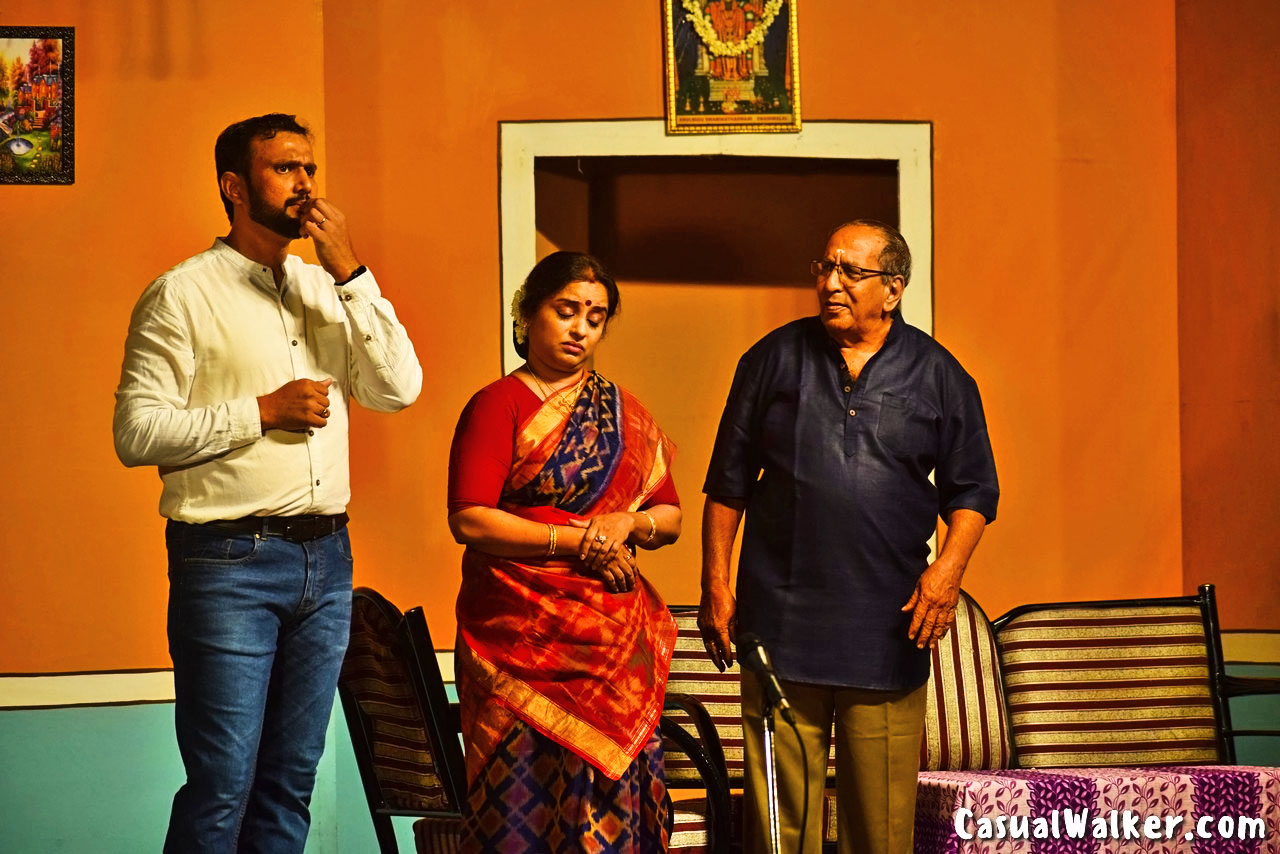 The atmosphere was filled with resounding applause and joyful laughter that echoed continuously throughout the delightful 90-minute performance. Overall the Media Nadaga Mandram – MnM Creations, delivered an exceptional and unforgettable show that left an indelible mark on the audience.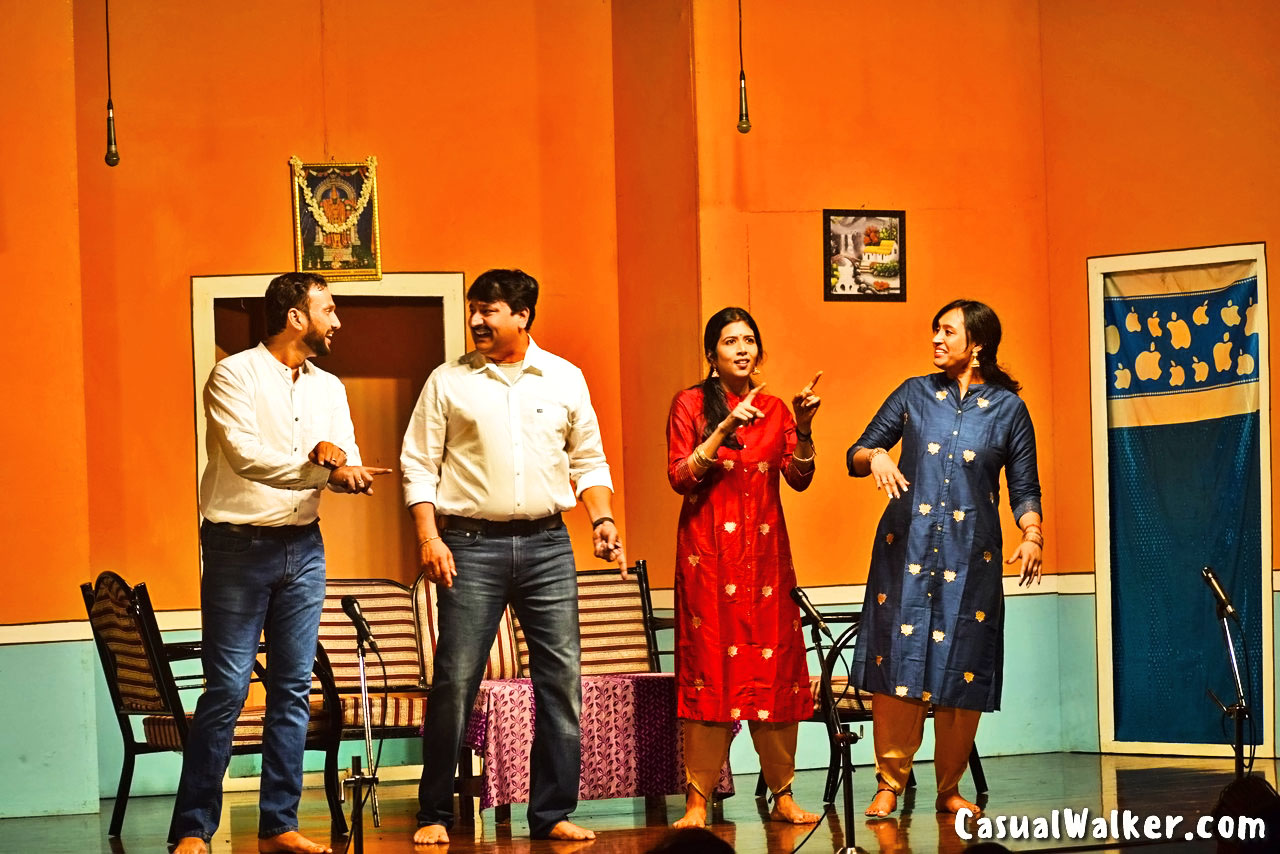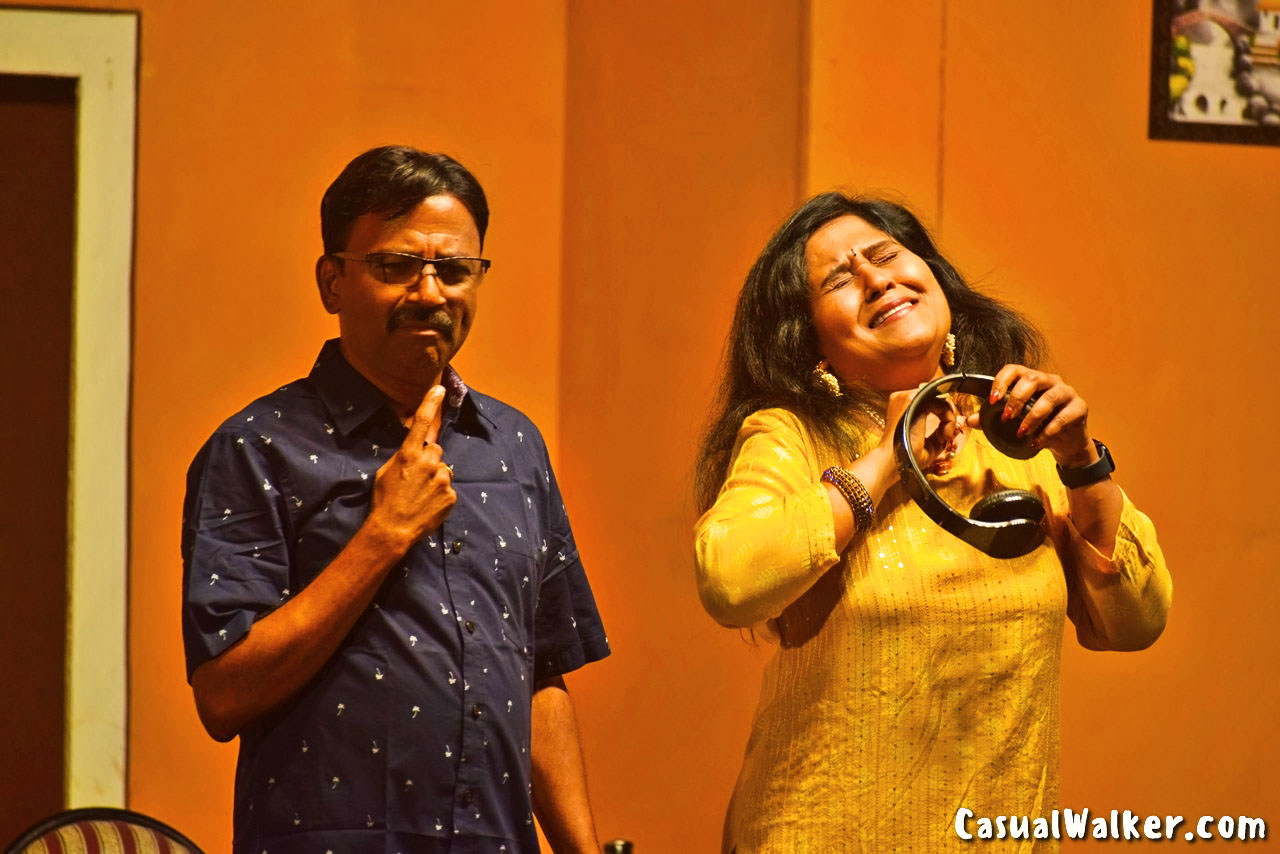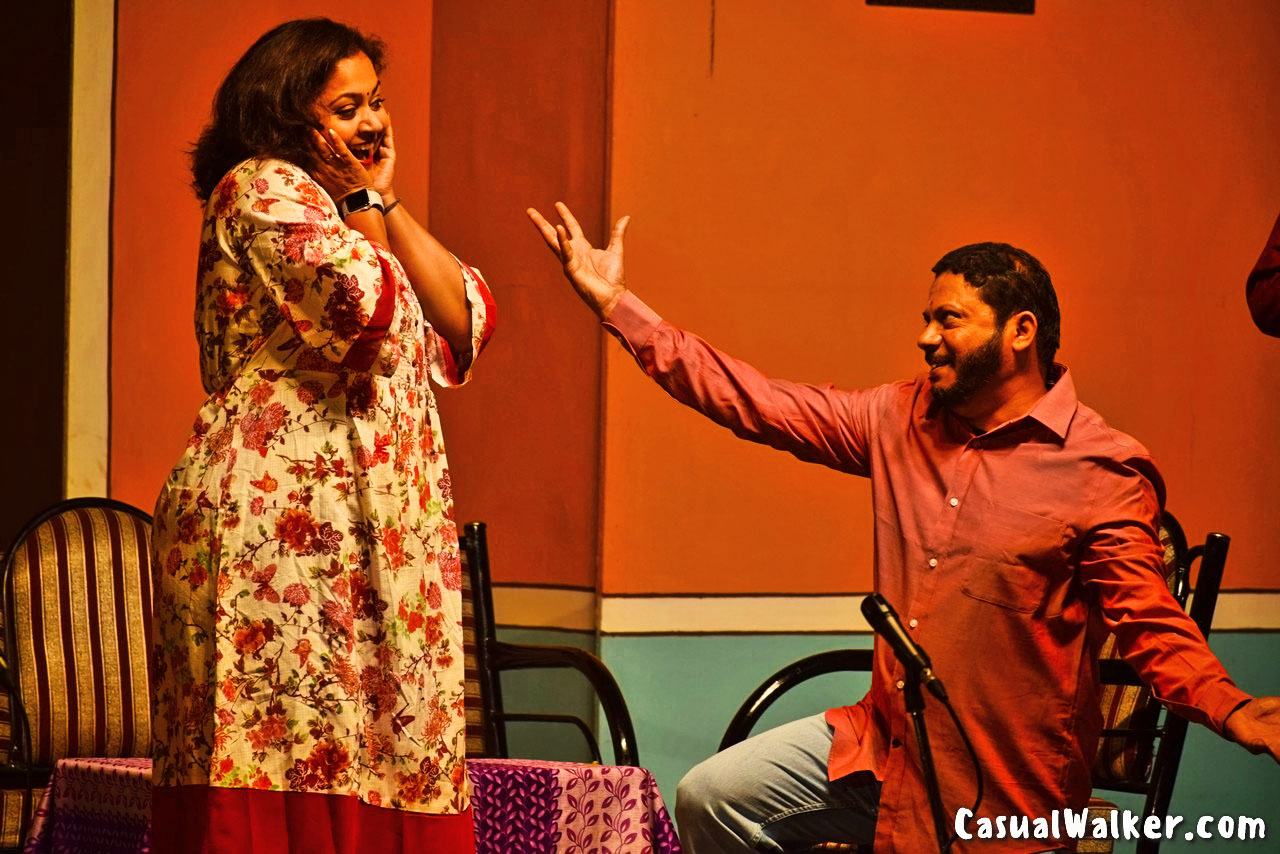 The event was also graced by an impressive array of distinguished personalities, including prominent VIPs, revered Tamil film and stage drama celebrities, members of the press, and avid drama enthusiasts.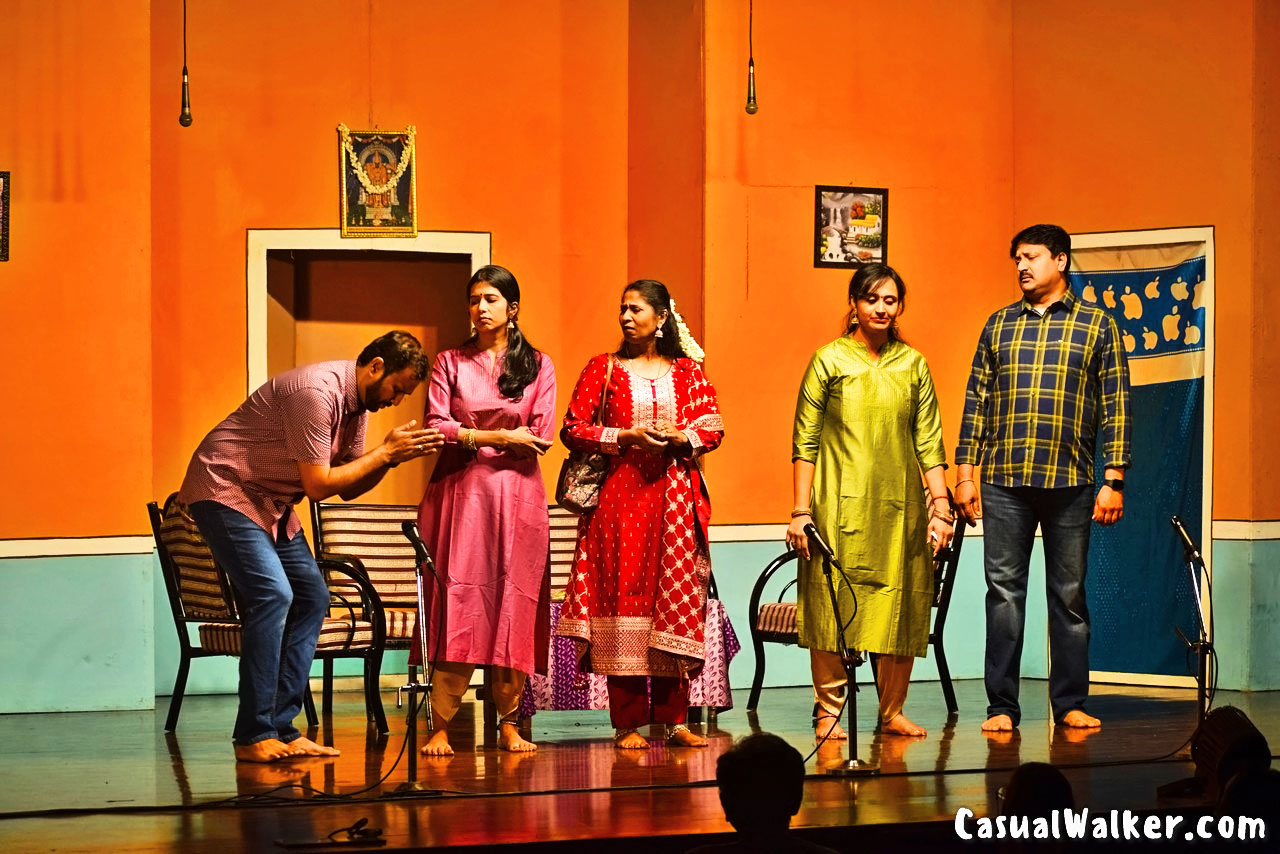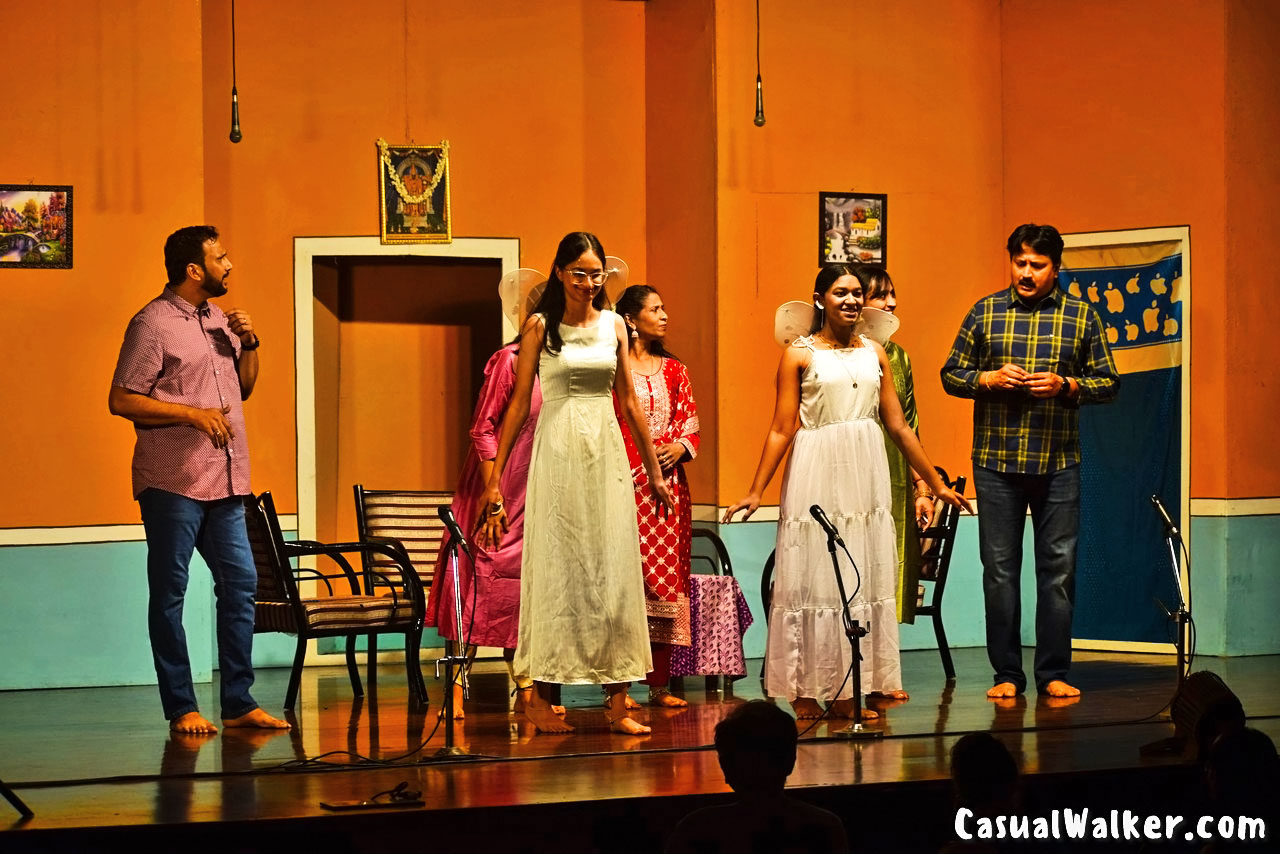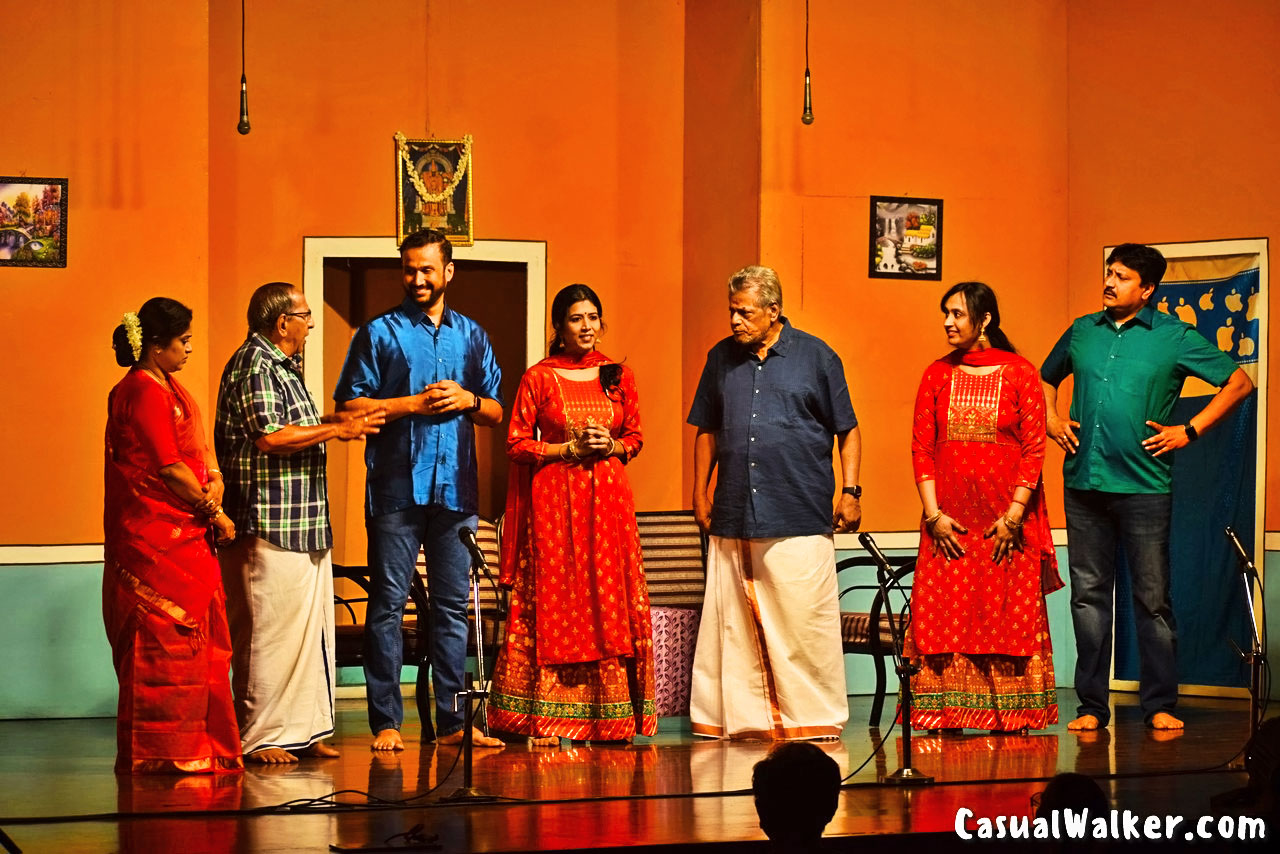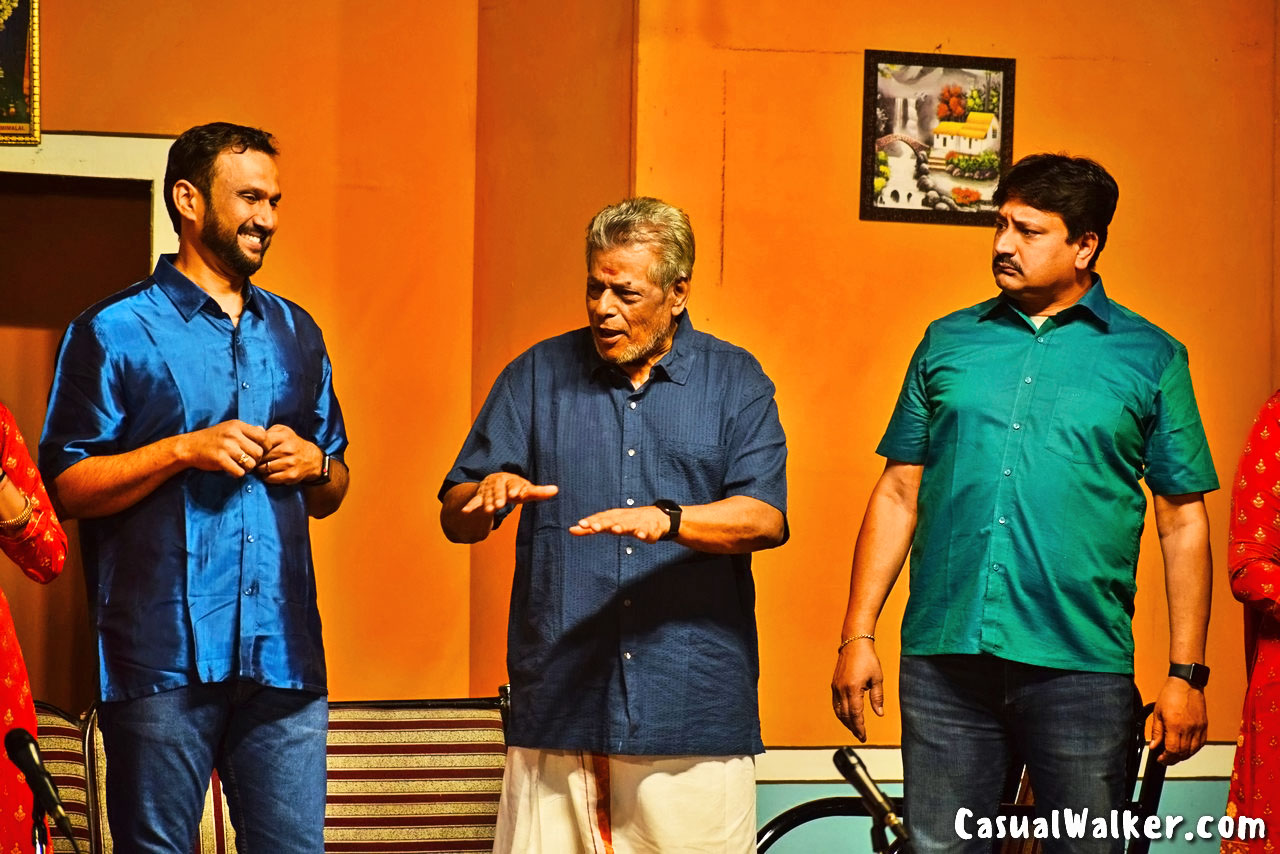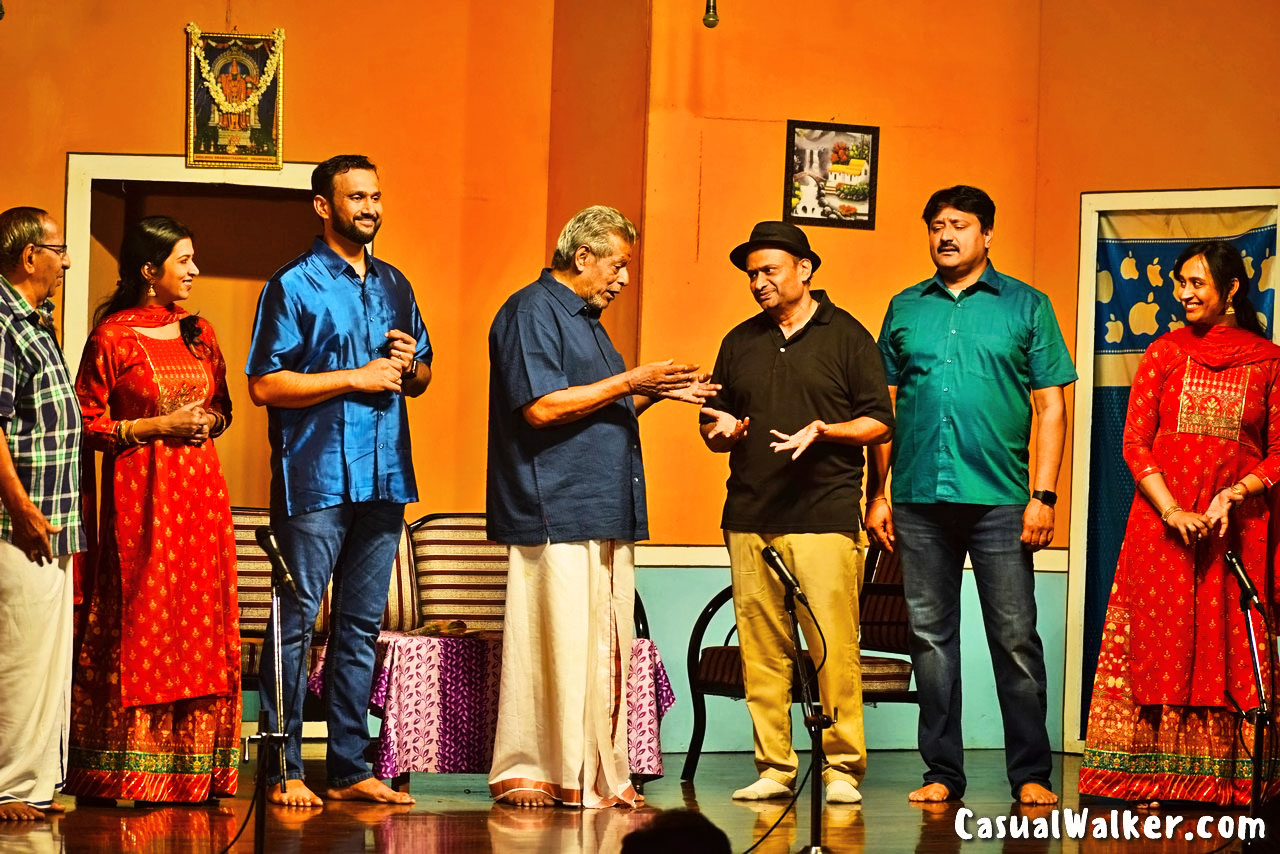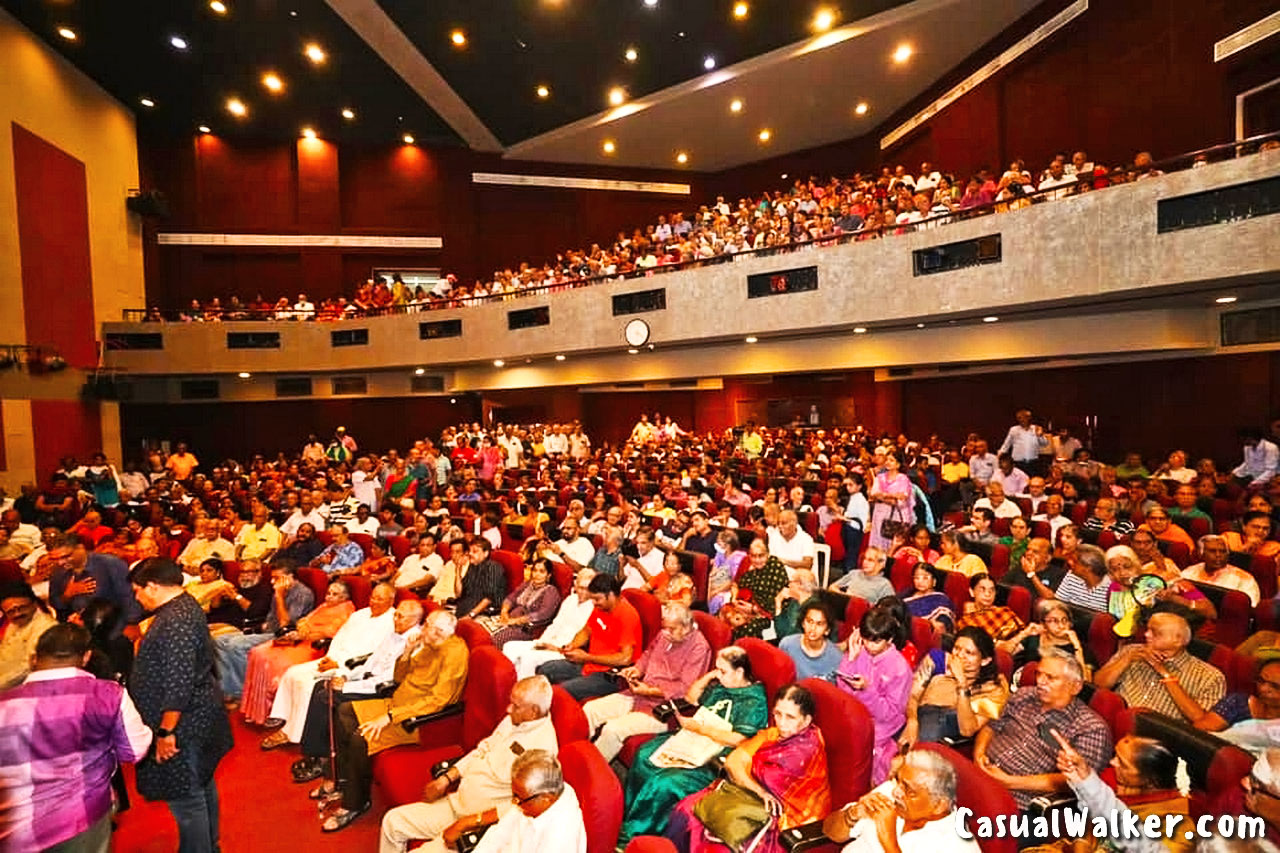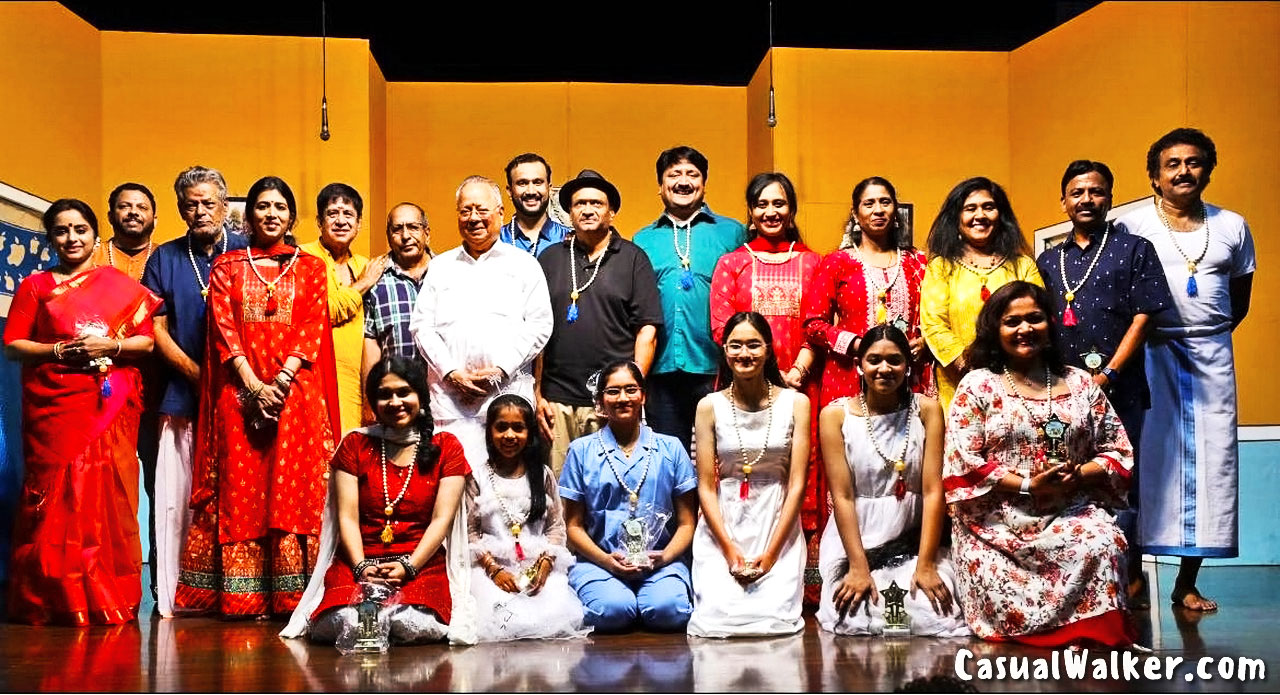 Medai Nadaga Mandram Creations (MNM) has staged many Tamil dramas in the USA and have also supported various community causes through their dramas.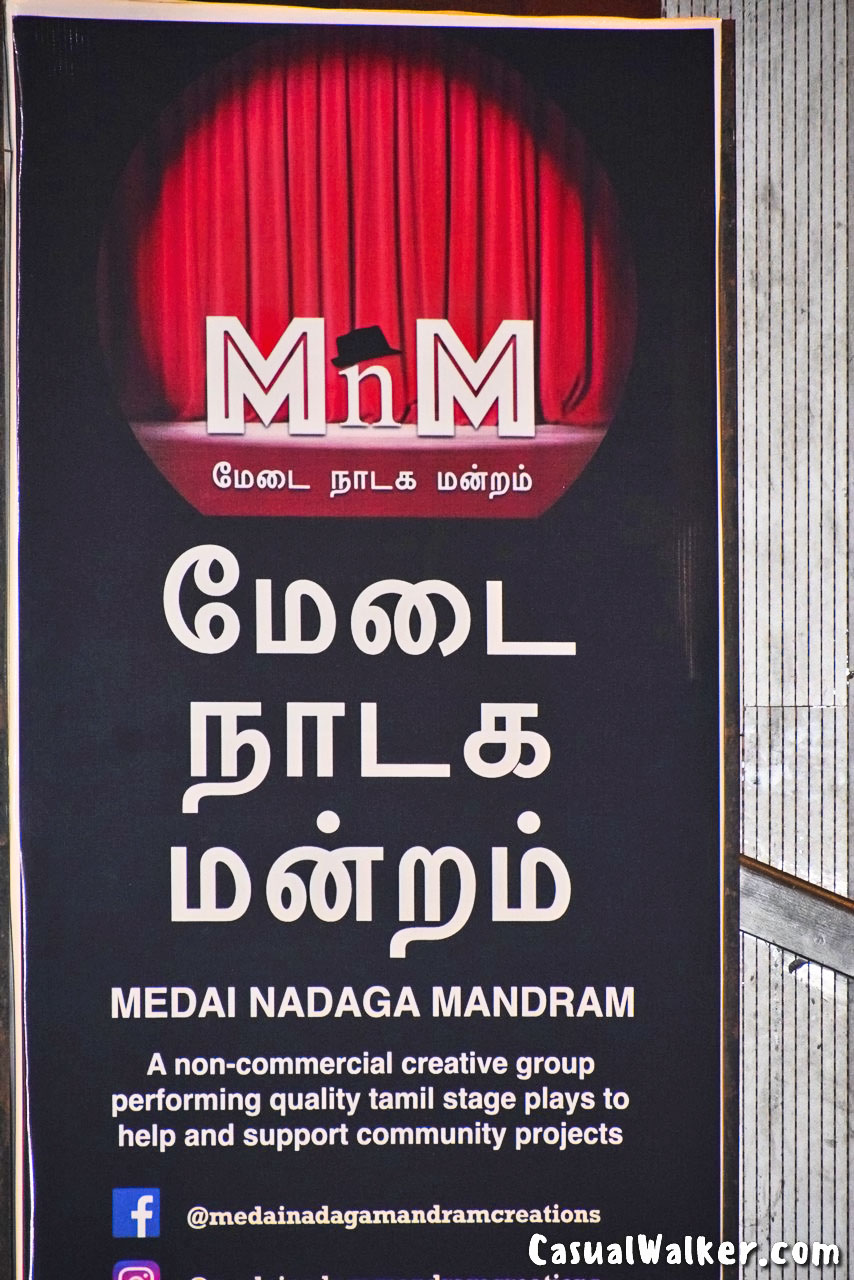 Also, check out Similar Interesting Culture events Photo Stories:
Kalakshetra Foundation – Kannappar Kuravanji – Story of Kannappa Nayanar, the greatest devotees of Lord Shiva – Dance Drama
Kathakali Festival 2019, Bhava Bhavanam – Rajasooyam (Thekkan), Kalakshetra Foundation, Chennai – Most Famous & Traditional dance from Kerala, India
DakshinaChitra Folk Dance Festival – South-Indian Traditional Folk Dance Performances of Karagattam, Kalai Attam, Oyilattam, Mayilattam, Thappattam, Poikalkuthirai, Silambattam at DakshinaChitra Heritage Museum, Chennai
Koothu Kottaai – Grand Folk Arts Show Of Tamil Nadu (Part 1)
Bharata Museum of Performing Arts at Bharata Ilango Foundation For Asian Culture (BIFAC) in Pattipulam, ECR, Chennai – Museum of Natyasastra, Bharatanatiyam – Visit, Travel Guide
Bharata Muni Temple at Bharata Ilango Foundation For Asian Culture (BIFAC) in Pattipulam, ECR, Chennai – Temple for the father of Natyasastra, Bharatanatiyam – Visit, Travel Guide
The Sundaram Finance Mylapore Festival 2020 : Largest Pulli Kolam Contest & Rangoli Contest at North Mada Street, Mylapore – Visit, Travel Guide