Sri Durga Peeli Amman Temple, an Goddess Durga Temple in IIT Madras Campus, Chennai – An 400 years old goddess temple in Chennai – Visit, Temple Timings, History, Travel Guide (Updated)
– guardian goddess durga of tharamani surrounding area

Sri Durga Peeli Amman Temple is located inside the greenery campus of IIT Madras. This powerful diety temple is dedicated to Goddess Durga. This 400 year old Sri Durga Peeli Amman Temple is located near the stadium of Delhi Avenue on the IIT Madras campus.
Lord Ganesha, Sri Valli Devasena along with Lord Muruga temples are added during the recent renovation of this temple and also the Navagraha gopuram is also present at this temple.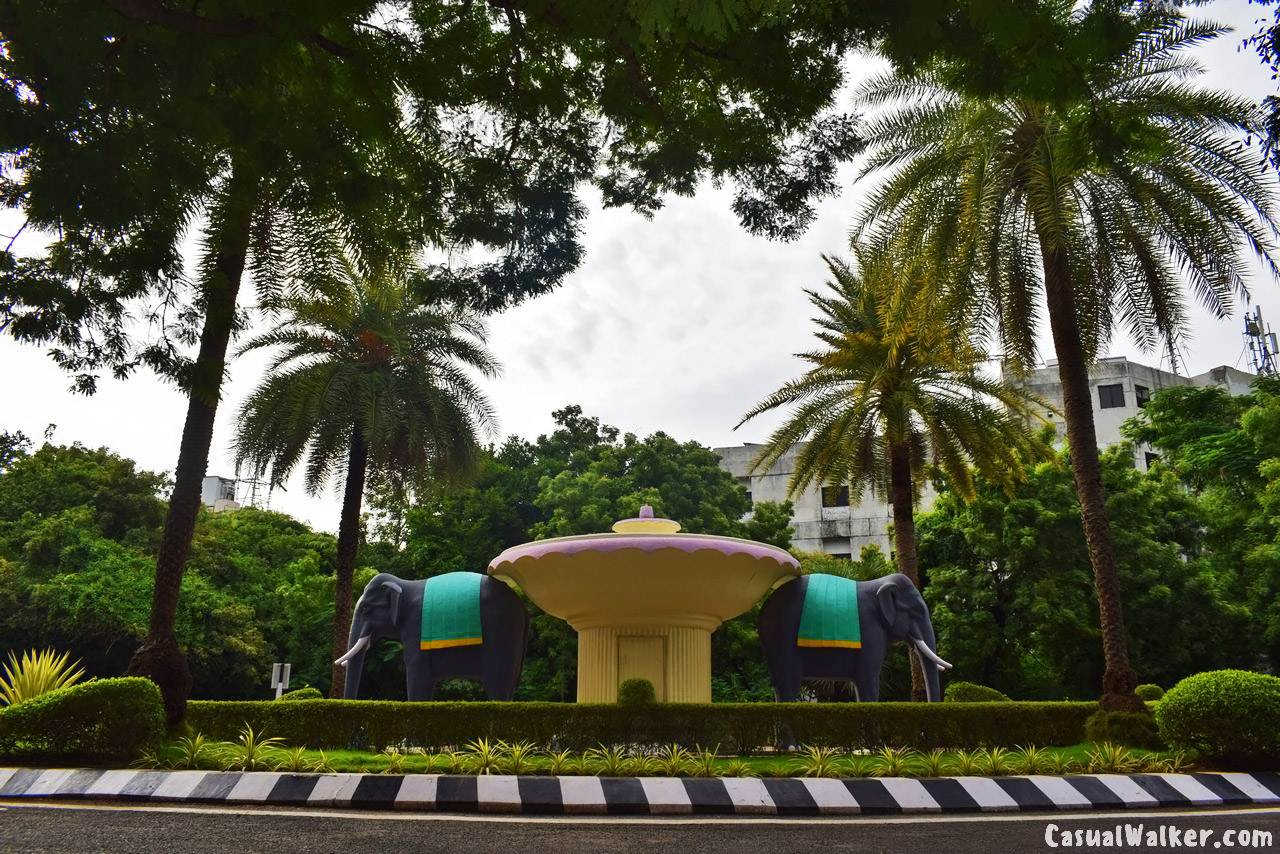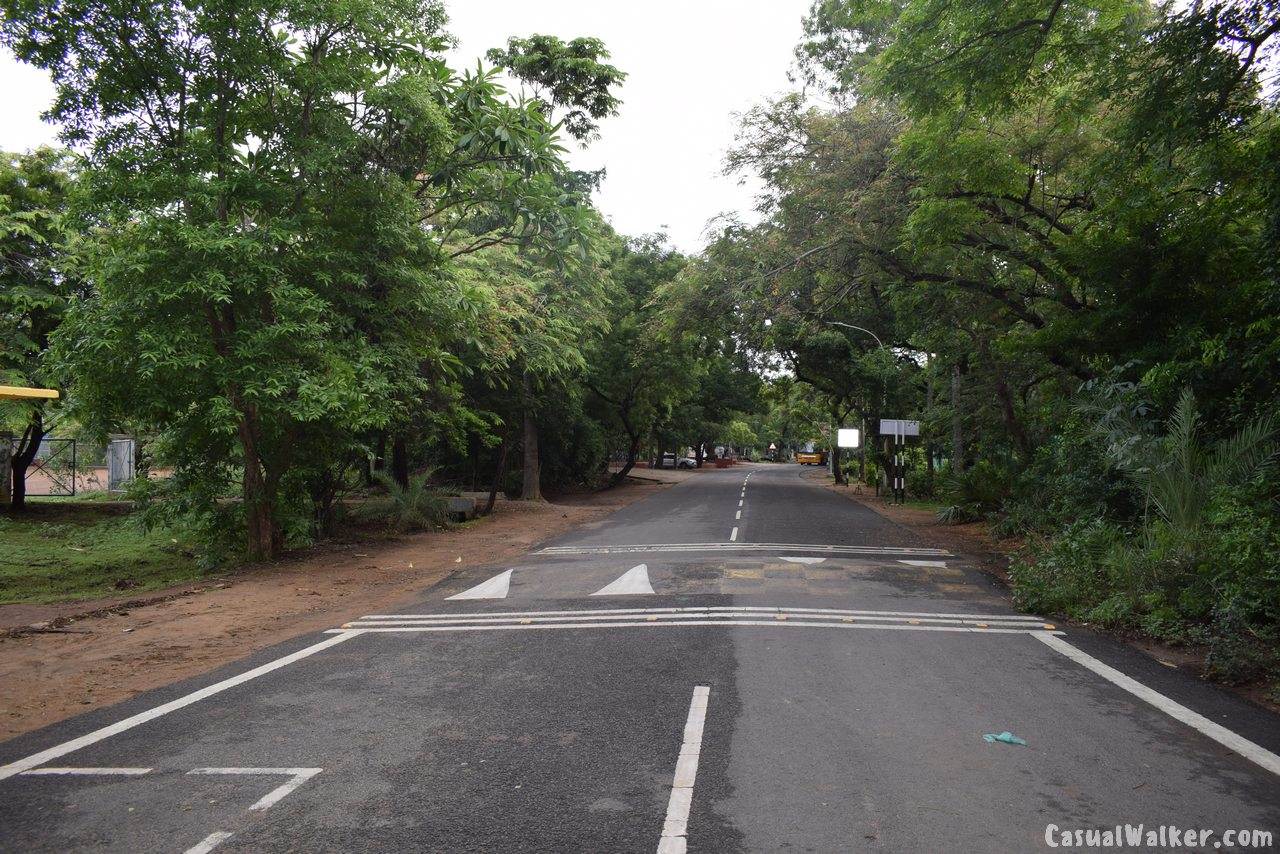 History of Sri Durga Peeli Amman Temple in IIT Madras Campus
The main deity of this temple is Durga Peliyamman, who is worshiped as the Village Goddess / Yellai Amman – the Guardian Goddess of this Tharamani surrounding area. As the Goddess's face looks yellow in color, it got the name Peeli Amman.
People follow the ritual "Kodaikalyanam", By having prayer with Pelliamman for their recovery from sick follows this ritual. It was believed that if people with health problems prayed to perform this ritual, it would cure their problems.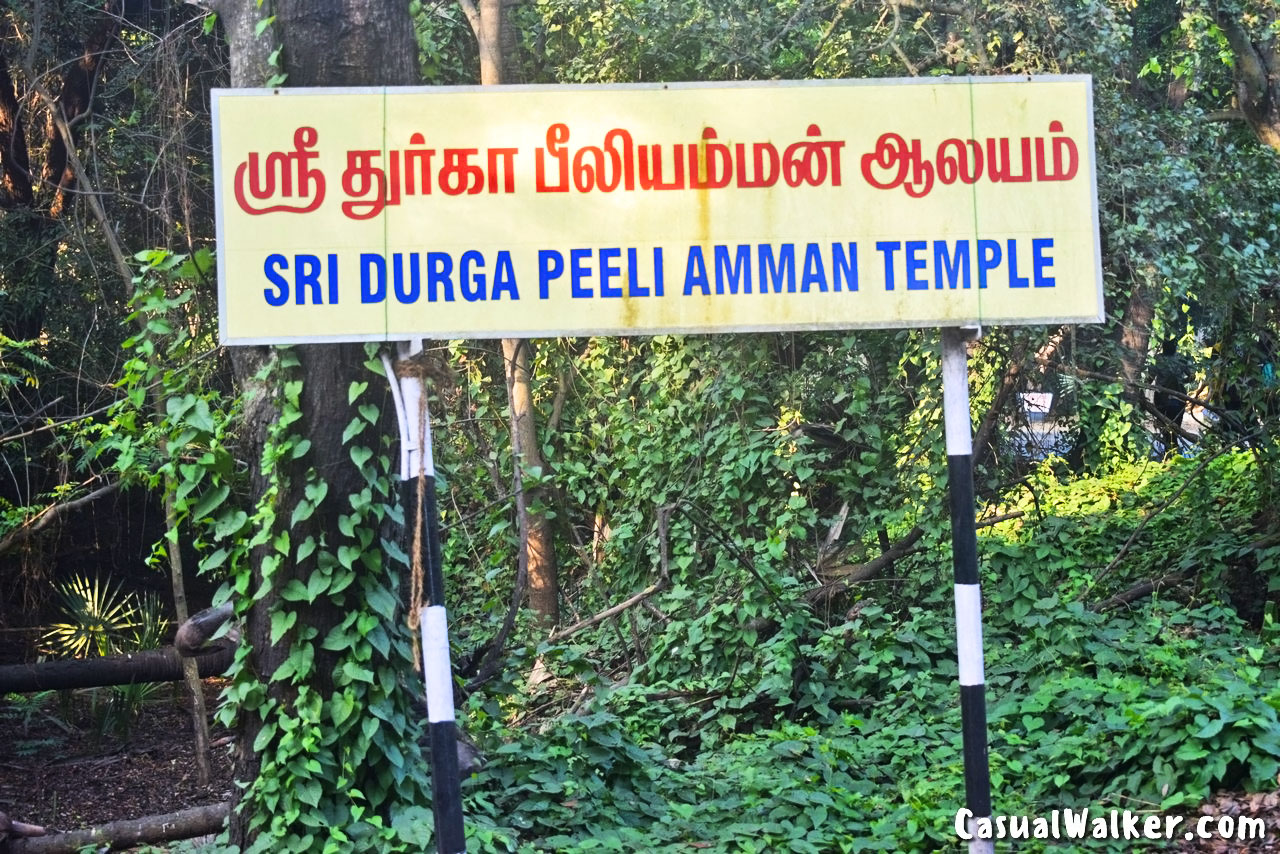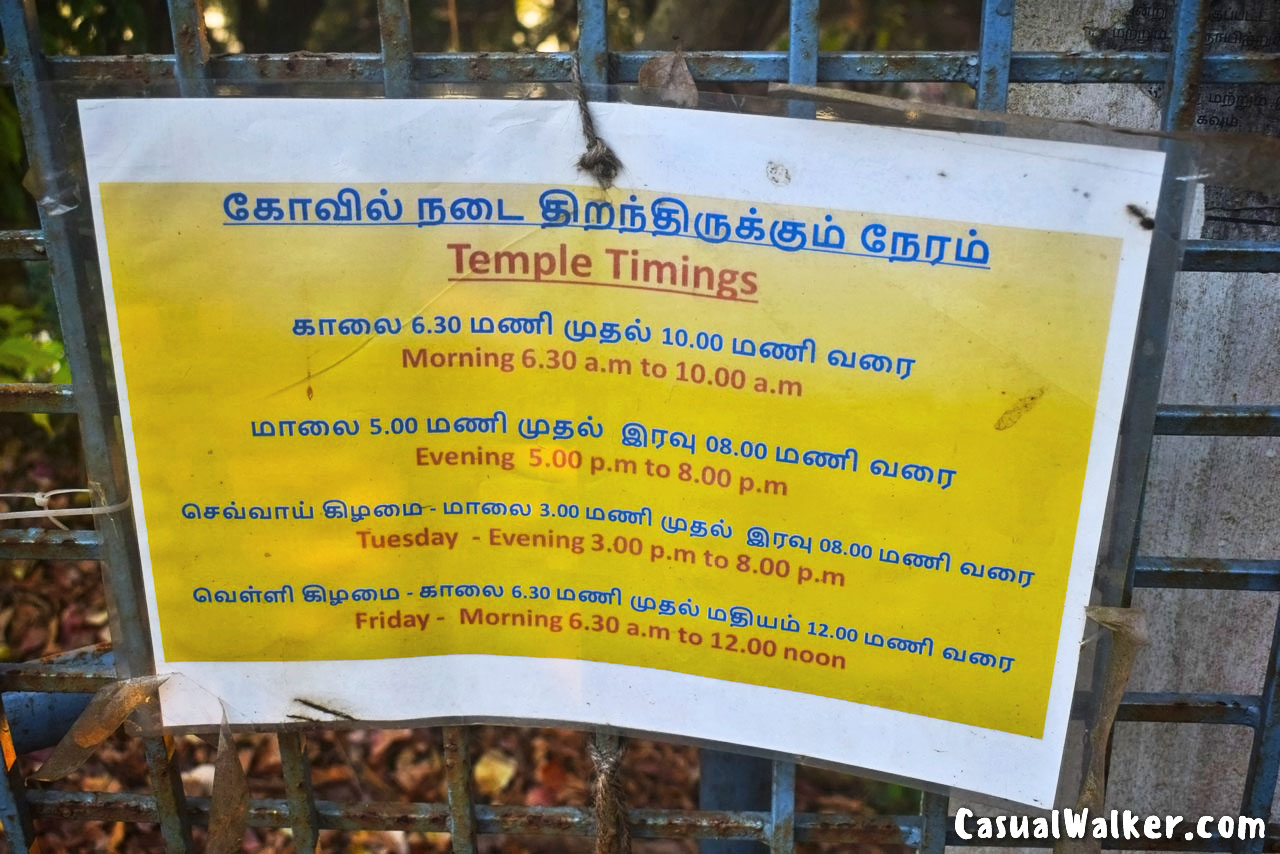 After recovery, they take "Sakthi Garaha" – a pot filled with water on his head and go around the boundaries of other villages near Tharamani. Their walk starts from Sri Durga Peliyamman Temple and passes through Thiruvanmiyur, Kottivakkam, Perungudi, Narayanapuram, Poozhidivakkam, Velachery, and other villages and finally ends at Sri Durga Peliyamman Temple.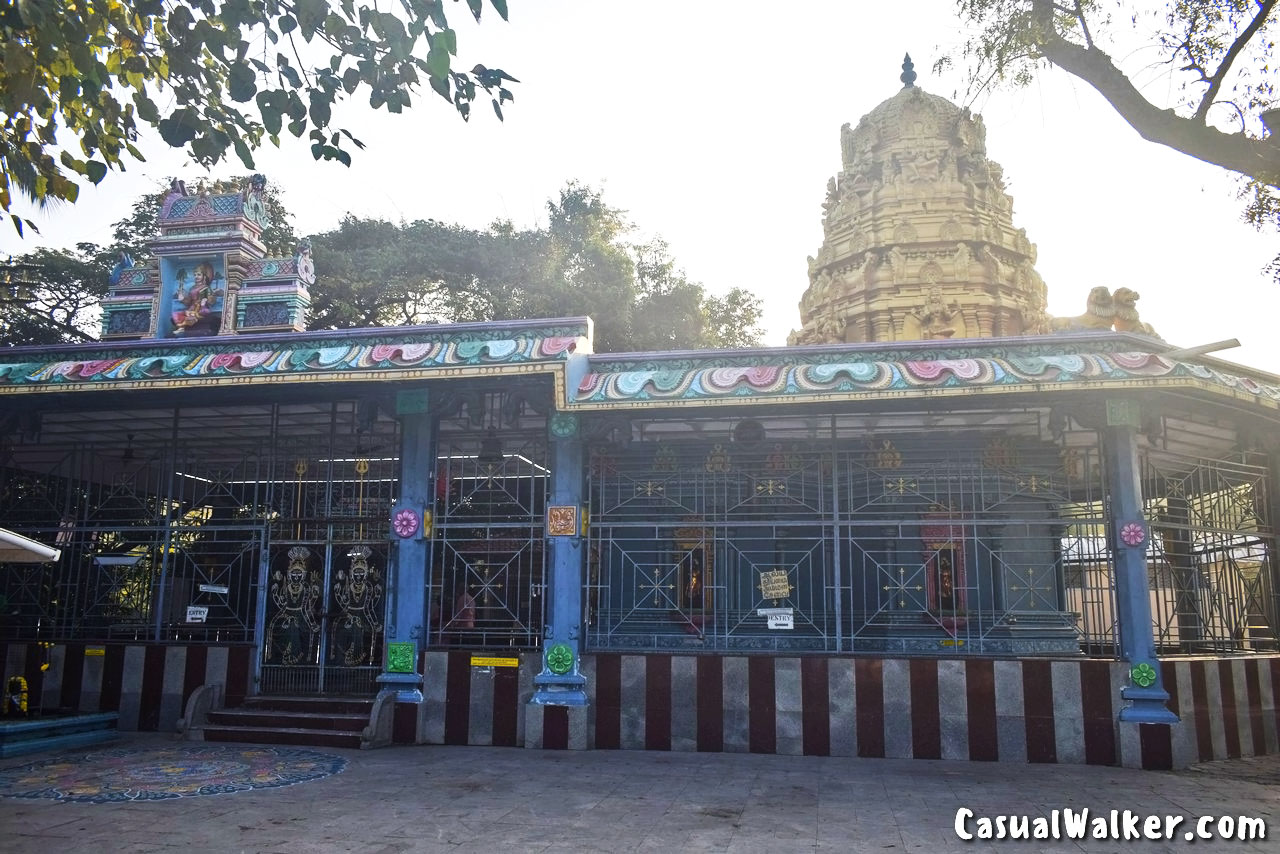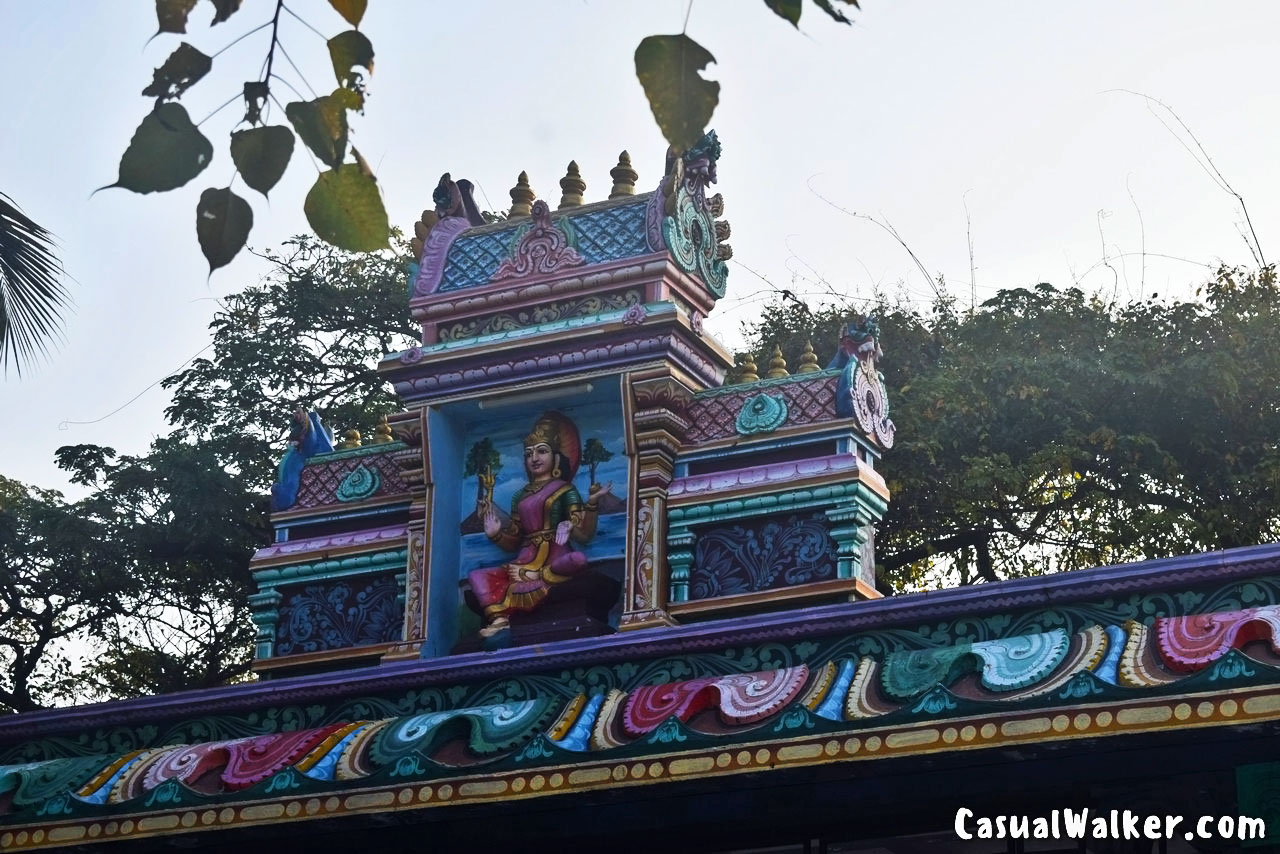 Festivals in Sri Durga Peeli Amman Temple in IIT Madras Campus
Navararthri festival during Dussehra in October month is very popular at this temple this very old goddess temple.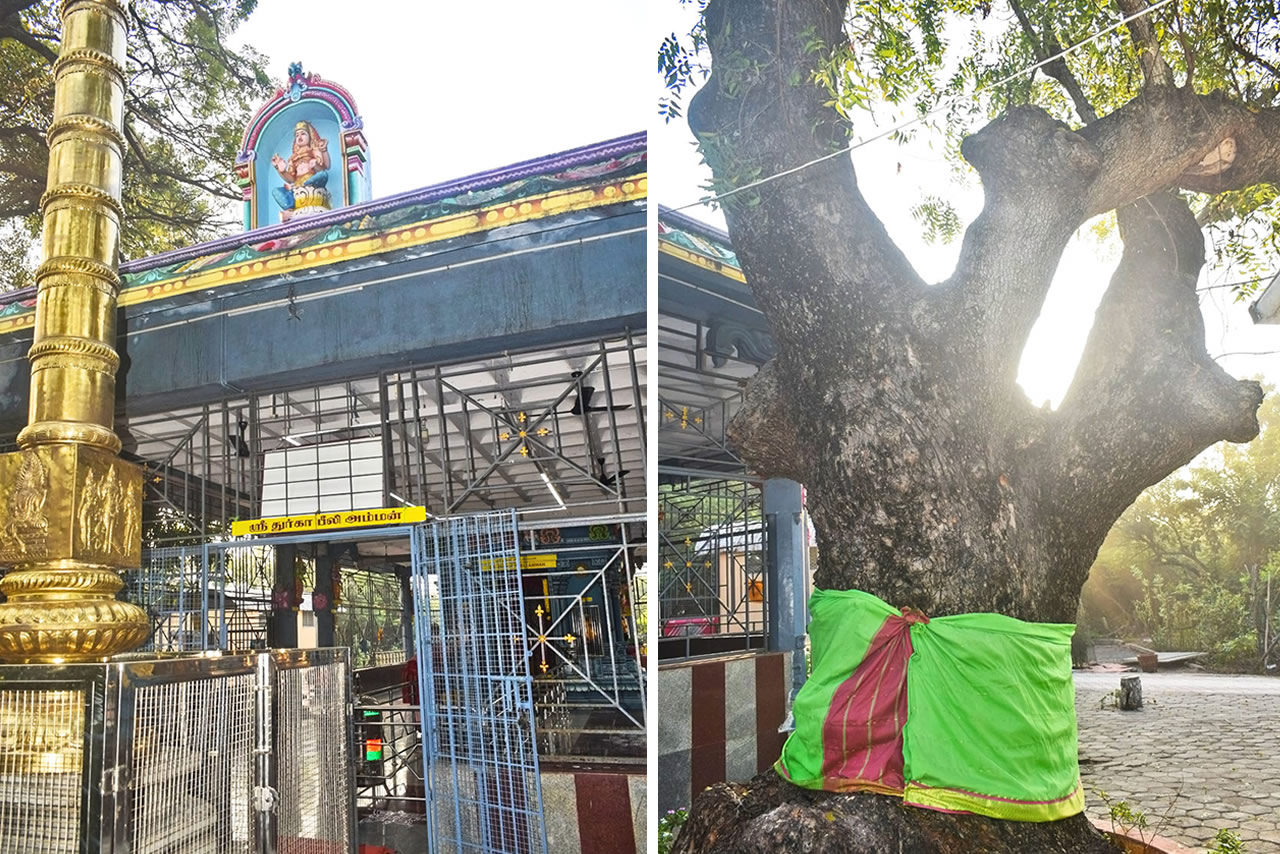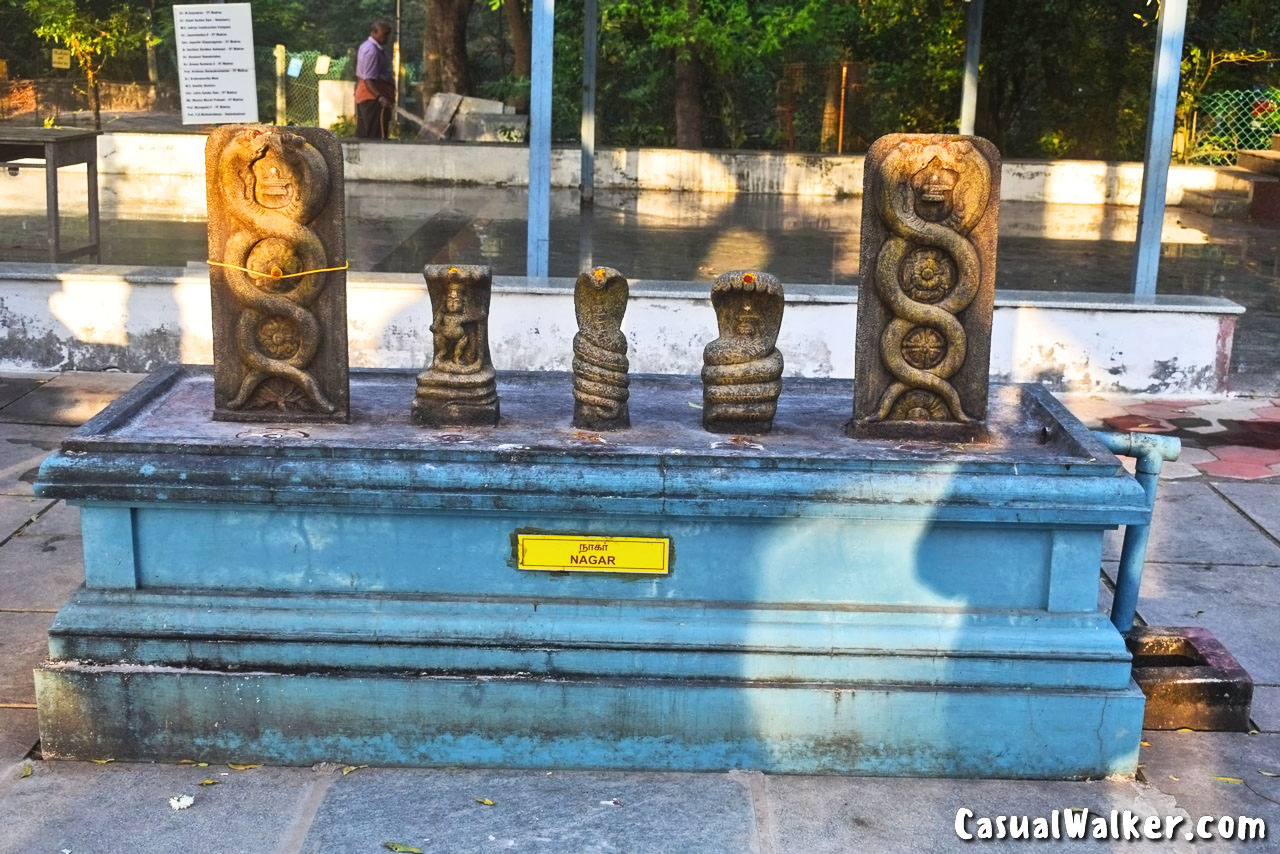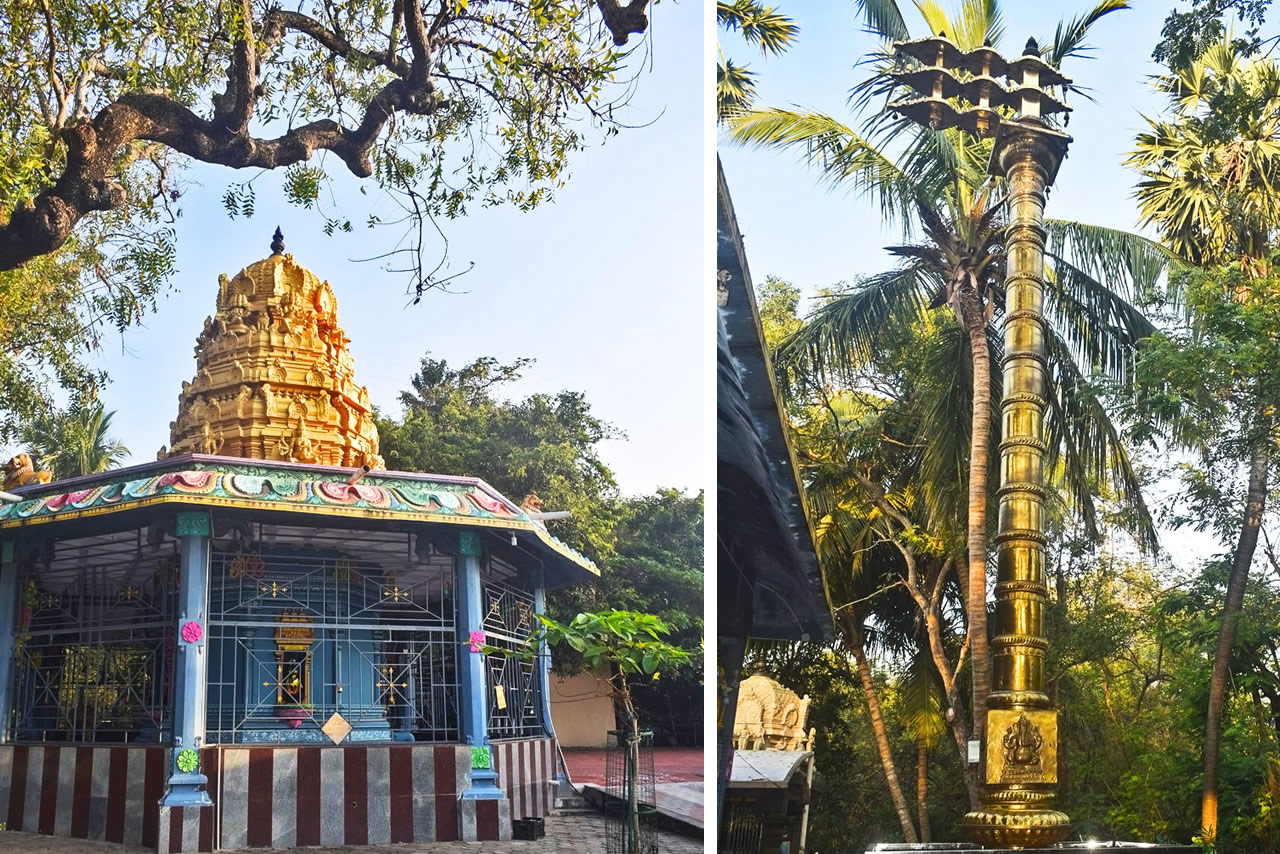 Travel Tips for Sri Durga Peeli Amman Temple in IIT Madras Campus:
Please Note: To visit IIT Madras Chennai Campus you have to get prior permission.
Sri Durga Peeli Amman Temple Address:
Arulmigu Sri Durga Peeli Amman Temple X6VP+9W3, Delhi Ave,
Indian Institute Of Technology, Chennai, Tamil Nadu 600036
Sri Durga Peeli Amman Temple Contact number: 044 2445 9482
Sri Durga Peeli Amman Temple Timings:
Tuesday: 6:30 AM to 10:00 AM and 3:00 PM to 8:00 PM
Friday: 6:30 AM to 12:00 noon and 5:00 PM to 8:00 PM
Other days: 6:30 AM to 10:00 AM and 5:00 PM to 8:00 PM
Transport for Indian Institute of Technology (IIT) Madras, Chennai Campus:

AFTER REACHING CHENNAI
The IIT Madras campus is located on Sardar Patel Road, halfway between the Raj Bhavan and the Adyar bus terminus, i.e. about 12 km from Chennai Central. The other landmarks are the Guindy Snake Park adjacent to the IIT main gate and the Central Leather Research Institute (CLRI) campus lying opposite ours. The travel time from the airport, railway stations or Koyambedu bus terminus is approximately 45mins.
AFTER REACHING IIT MADRAS
Once you reach the In-gate, there are buses to Gajendra Circle (near the administrative block and Central Library), the academic zone, and the hostels (they are around 3.8 km from the main gate) almost every 15 minutes from 6 a.m. to 10 p.m. The following are the ways to reach IIT from railway stations, airports, and bus terminus.
FROM CHENNAI CENTRAL RAILWAY STATION
Taxi
If you have heavy luggage or with a group of more than 3 persons, it would be convenient for you to hire an auto or a taxi. The Chennai Central Railway Station has a system of pre-paid autos and taxis. Else, you can travel by call taxi. There is a token booth for call taxis outside the station. Alternatively, you may also choose to hire an auto or taxi yourself. The fare to the campus from Chennai Central will be around Rs. 250- 300/- for a taxi, which will drop you at the hostels, which are about 3.2 kms from the IIT main gate.
Taxis can either be pre-paid (the facility is available just outside the Chennai Central railway station), or can be booked with any taxi operator like Ola or Uber.
Local Train
1. Use the subway and cross the street in front of the Chennai Central Railway Station, to reach Park Town station.
2. Get tickets for a train going to Kasturibai Nagar (Adyar). You can get a train every 20 minutes on weekdays from 4:20 am to 10:30 pm and every 30 minutes on weekends from 7 a.m. to 9 p.m.
3. On reaching Kasturibai Nagar, get down and ask for Sardar Patel Road or IIT Madras.
The In-gate of IIT Madras is at a walking distance of 5 minutes from the station.
City Bus
If you are traveling with light luggage, you can take a city bus to IIT. The bus stop is right opposite the Central Station. You could use the subway to cross the road which is perpetually busy. Your options are:
1. The direct buses to the campus are 19B and 5C. If you take any of them, get down to Gandhi Mandapam or CLRI, which is within walking distance from the IIT main gate.
2. You can also take any bus to Saidapet and from there, any bus heading for Adyar or Besant Nagar Adyar (5B, 47, 47A, 47D, 23C) which will drop you right in front of the IIT gate, the opposite side.
3. You could also take any bus to Adyar; there are frequent buses from Adyar Signal to the campus.
FROM CHENNAI EGMORE RAILWAY STATION
You can take 23C to IIT or a 23E, 23A, 23G to Adyar signal from where there are a number of buses to IIT. Current auto and taxi fares from Egmore are around Rs. 120/- and Rs. 180/- respectively. You can also make use of Call Taxi, Ola, or Uber. Alternatively, a local train to Guindy can be taken.
FROM CHENNAI INTERNATIONAL AIRPORT
If you arrive at the Chennai Meenambakkam Airport, you can make your way to the Institute in a Call Taxi, Ola, or Uber. PrePaid Taxis from the airport to inside the campus cost about Rs.250. Or take a bus, PP21.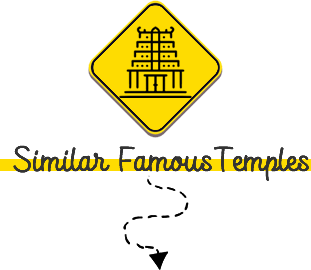 Similar Goddess Durga Temples you may like to Visit:
Sri Chamundeshwari Temple in Chamundi Hills Mysore – where Mahishasura was killed by Goddess Chamundeswari – Mahishasura Mardini & One of the 18 Maha Shakti Peethas / Shrines – Visit, Temple Timings, History, Travel Guide
Shri Kanchi Kamakoti Peetham / Kanchi Math, Goddess Kamakshi Amman Temple at Kanchipuram – One of Famous Hindu Monastery Established by Sri Adi Shankara – Visit, Timings, Travel Guide
Navarathri Golu / kolu Doll Shops, North Mada Street Mylapore, Chennai – Best Place to Buy Navarathiri Golu Dolls in Chennai, India – Part 1 (Updated)
Koppudaiya Nayaki Amman Temple / Koppudai Amman Temple at Karaikudi in Sivaganga District – Oldest & Famous Goddess Amman Temple in Karaikudi, Chettinadu – Temple Timings, Visit, Travel Guide
Kulasekharapatnam Sri Mutharamman Temple in Kulasai Village, Thiruchendur in Thoothukudi – Famous temple for Dussehra / Navarathiri Festival Celebrations – Visit, Timings, Travel Guide
Sri Oiyammai – Billudaiya Ayyanar / Aiyanar Temple, Kandanikarai Village, Kalaiyarkoil, Sivaganga District – Visit, Travel Guide
Sri Purakottai Kaliamman Temple in Sathanur / Sathanoor Village at Ilayangudi, Sivaganga District – Visit, Travel Guide
Navaratri Festival, Navadurga – the Nine forms & avatars of Goddess Maa Durga Mantras, Prayer/Puja Vidhi Stotras, favourite foods and colors (Updated)