Ramaswamy Temple in Kumbakonam, Tanjore: The Southern Ayodhya – 500 years old Famous Lord Sri Rama Temple with Epic Ramayana Wall Paintings – Visit, Temple Timings, History, Travel Guide (Updated)
– worshipping lord rama with his brothers, goddess sita & lord hanuman

Ramaswamy Temple in the Kumbakonam is dedicated to Lord Rama, one of the avatars of Lord Vishnu. The temple town of Kumbakonam is the abode of several deities each unique and distinct. Ramasamy temple is one of the prominent Vishnu temples in the heart of the holy town of Kumbakonam, just east of Aadhi Kumbeshwarar Temple.
History of the Ramaswamy Temple in Kumbakonam – Sthala Puranam:
The uniqueness of this temple is Lord Sri Rama blesses the devotees along with his brothers and Goddess Sita and Lord Hanuman.
The main deity Lord Rama is seated next to Goddess Sita Devi on the same Peeta – platform, beautiful idols of Lord Sri Rama and Lord Sita are depicted in coronation posture. Lord Sri Rama's brothers Lakshmana, Bharatha, and Shatrugna are seen in standing posture, and Lord Hanuman in worship posture. Lord Lakshmana stands behind Lord Rama holding a bow and arrows; Bharatha holding an Umbrella and Shatrughna holding a hand fan. Unlike other temples Rama in the temple is depicted with Vyakarna Mudra and Lord Hanuman is playing the Veena in the depiction of praising Lord Rama. Lord Hanuman is free here from his club and singing the glory of Lord Rama in a sitting posture. He is holding the Ramayana epic in one hand and is said that he is singing the Ramayana story. This also shows that Sri Hanuman is not only an erudite scholar, and warrior but also a good musician too.
The sculptures of all the deities are said to be made from original Saligrama monolith rock which is truly astounding. It is said that the deity's arrangements replicate Lord Rama's Pattabhishekam (Coronation). We can find all Lord Rama's Brothers appear together only in Ayodhya temple in Uttarpradesh, Ayodhyapattanam in Salem district, and in Kumbakonam.
This temple is in the coronation style, where we can see idols of Rama, Sita, and Lakshmana along with Bharatha and Shatrughna and so the temple is known as "South Ayodhya". This coronation scene attracts people from far-off places who are awe-struck at the divine sight of the celestial confluence.
Temple Architecture of Ramaswamy Temple in Kumbakonam:
The temple has beautiful architecture and has been built by the great Nayakar kings during the 16th century, which is around 350 to 450 years old. Govinda Dikshitar, the prime minister of the Nayaka kings, constructed the temple.
King Achutha Nayakar:
King Achutha Nayakar who ruled Tanjore from 1614-1640 CE built this Ramasamy Temple. King Achutha Nayakar, a devotee of Lord Rama dug a holy tank in Darasuram near Kumbakonam. During the digging, they found idols of Lord Sri Rama and Goddess Sita in the tank. The King decided to build a temple for Lord Sri Rama and called it Ramaswamy Temple. The Nayak king's Prime Minister Govinda Dikshitar, called Govinda Ayyan, was also involved in the construction works of this temple. Govinda Dikshitar added a commercial corridor between this new temple and the older Chakrapani Temple, here called "Kadai Theru" – the Commercial Street.
Ramayana / Ramayanam Mural seen around the Walls of Ramasamy temple:
On this temple's walls, the great Indian Itihasas – the Ramayana/Ramayanam are wonderfully depicted as a series of incidents in pictorial format – Murals. Ramayana scenes are beautifully drawn using various colorful natural inks. The temple has a 3-tiered Gopuram surrounded by walls.
If you are interested in getting the Ramayana Itihasas in picture form then this is the best place to visit. School Children are taken to this temple for learning the Ramayana. One can read through this beautiful Ramayana pictorially while walking around the temple.
Vamana Avatharam, Meenakshi Kalyanam, and Sukreeva Pattabisegam are some of the famous carving works of this temple. Lords Vinayaka and Bhoovarahaswami are in the wall around the sanctum sanctorum. There is also a shrine for Lord Perumal with Mothers Sridevi and Bhoodevi.
The temple looks majestic with a marvelous Gopuram with a huge complex with beautifully ornated pillars in the temple. The 64 pillars in the room close to the Gopuram are intricately carved to represent various scenes from the epic Ramayana. The carvings are sharp, and at the same time, they exude devotion. The outer Prakaram consists of 219 wall paintings, which explain the important incidents from the great Epic Ramayana.
The Temple is filled with intricate carvings in all its pillars representing the great Bharatanatyam dancing mudras. Alwar Sannathi, Sreenivasa Sannathi, and Gopalan Sannathi are the other temples located within the temple complex.
Five Vishnu temples of Kumbhakonam are connected with the local Mahamaham festival which happens once in 12 years in Kumbakonam. The other four temples are Sarangapani Temple, Chakrapani Temple, Ramaswamy Temple, Rajagopalaswamy Temple, and Varahaperumal Temple.
Main Festivals at Ramaswamy Templem, Kumbakonam:
Sri Rama Navami Festival with Special Pooja's in Panguni during the March – April season. Sri Rama Navami is celebrated in a grand manner on the 9th day after New Moon in March/April.
Masi Magam Festival during February – March: Lord Sri Rama and Mother Sita visit the Maga Magam Temple Tank for a bath and offer Theertha Prasad to devotees.
Pavitra Urchavam – five days in Adi during July – August

Travel Guide to visit Ramaswamy Temple, Kumbakonam, Tanjore
Address : Arulmigu Ramasamy Temple, kumbakonam-612001, Thanjavur.
Phone: +91 435 2401788
Entry Fee: Free
Timings: 6 AM – 12 PM and 5 PM – 9 PM
Moolavar : Raja Raman
Uthsavar : Kothandaraman
Thayar : Goddess Sita
Year : 350 years  – 450 years old.
How to Reach Sri Sarangapani Temple in Kumbakonam, Tanjore :

On-Road: The temple is at the southern end of Big Bazaar street in Kumbakonam. There are a lot of bus facilities available. The bus stops at Ramaswami temple itself. It is less than 2 km from Kumbakonam and the town is well connected by road networks. There are regular bus services from many important cities of south India Chennai, Coimbatore, Tiruchirapalli, Karaikal, Pudukkottai, Madurai, Tirunelveli, Mayiladudhurai, Pattukkottai, Bangalore, Ernakulam, Ooty, and Mysore.
Nearest Airport: The nearest airport is Tiruchirappalli International Airport (TRZ) which is 100 Km away from the temple.
Nearest Railway Station: The nearest railway station is the Kumbakonam railway station ( station code – KMU) at a distance of 2 km.
Check out and enjoy our photo captures of Sri Sarangapani Temple in Kumbakonam, Tanjore.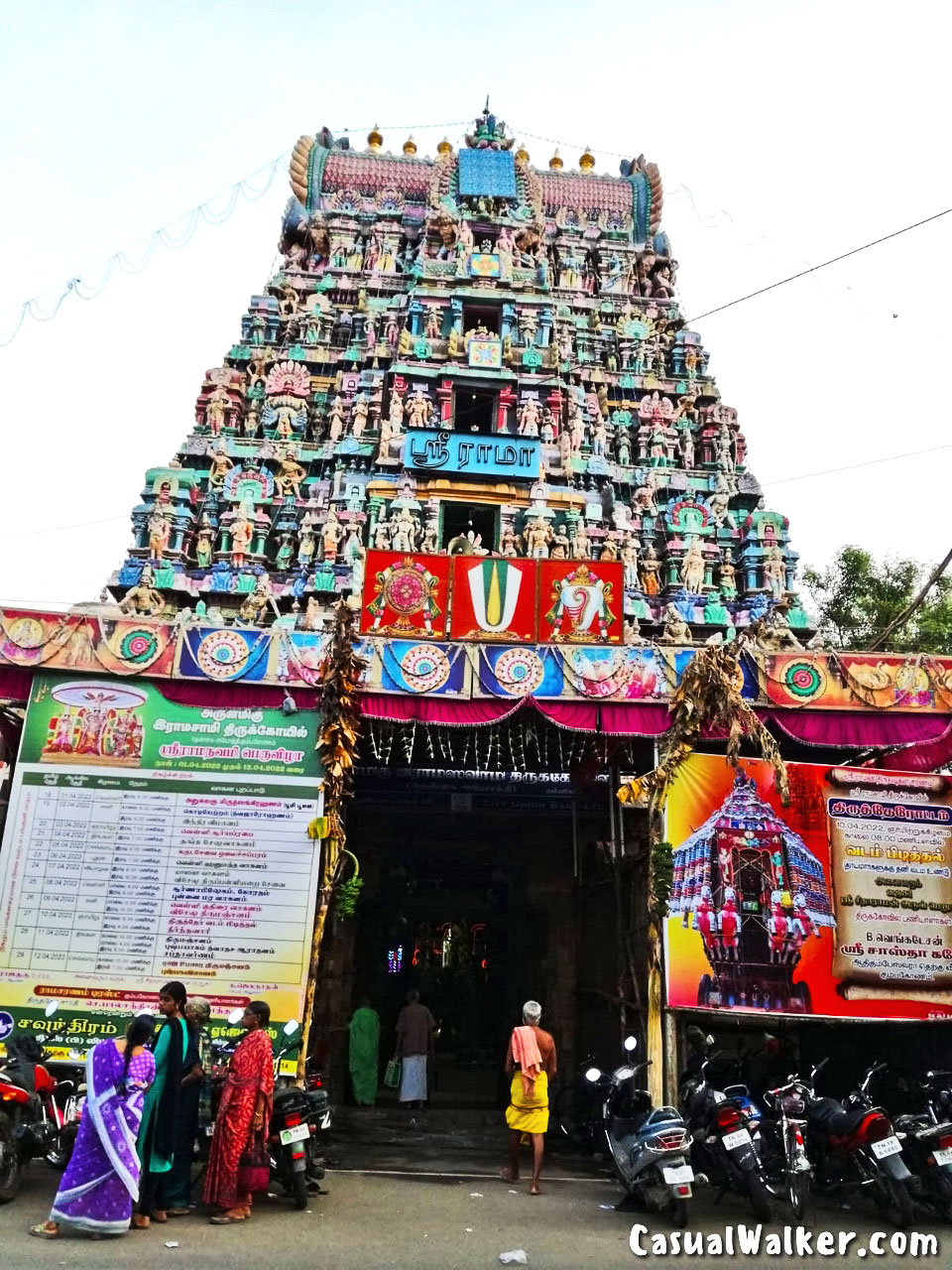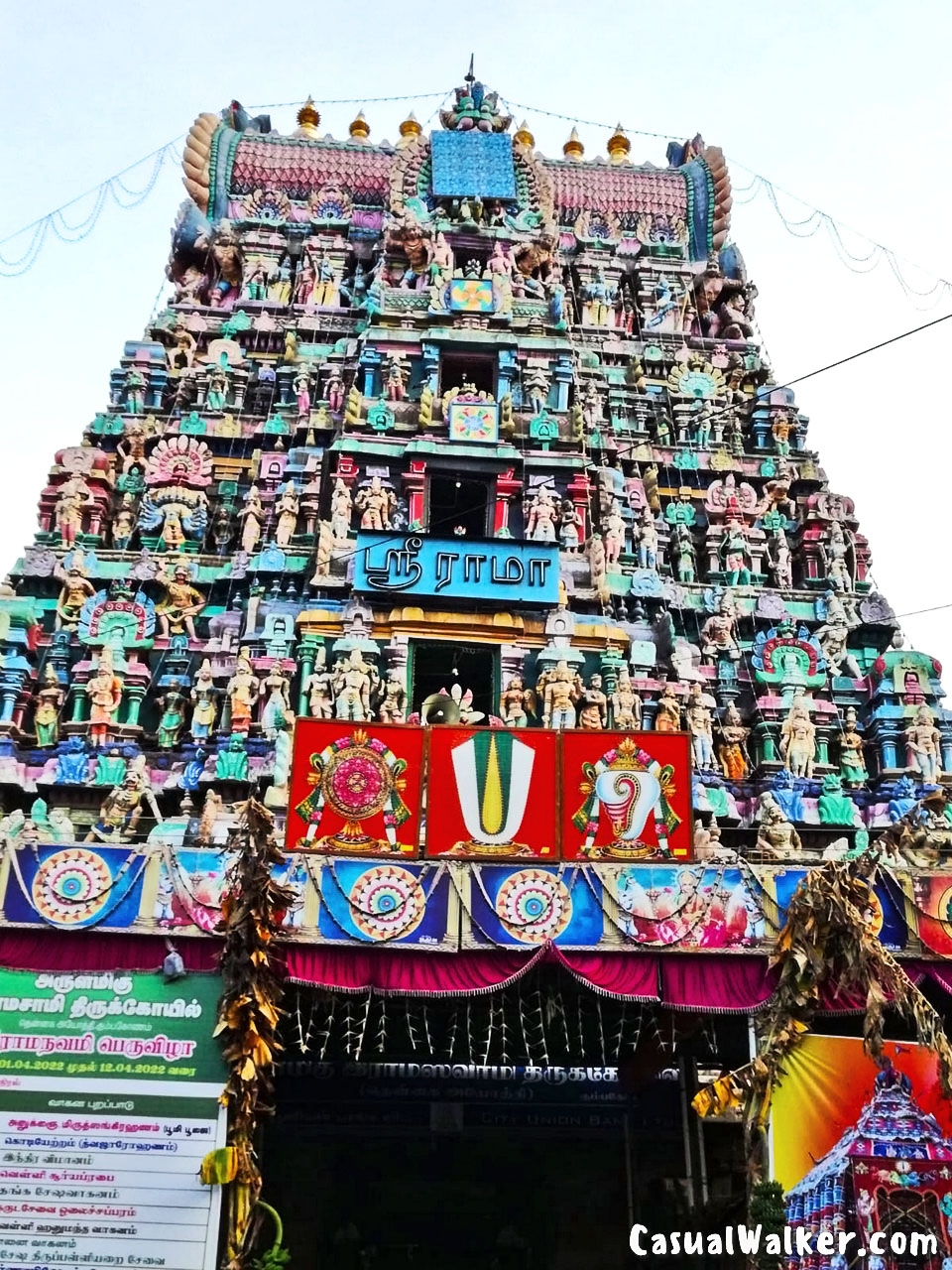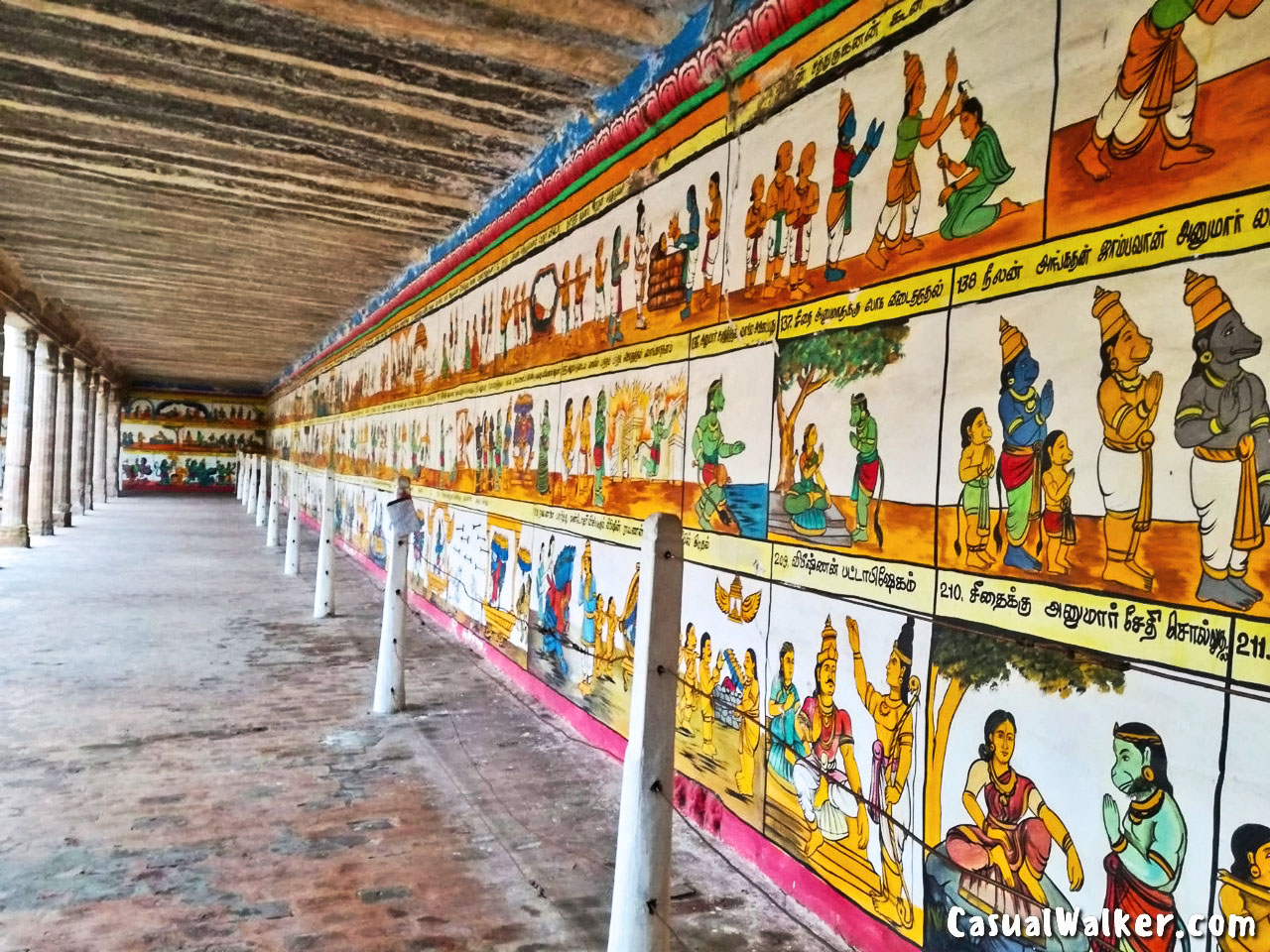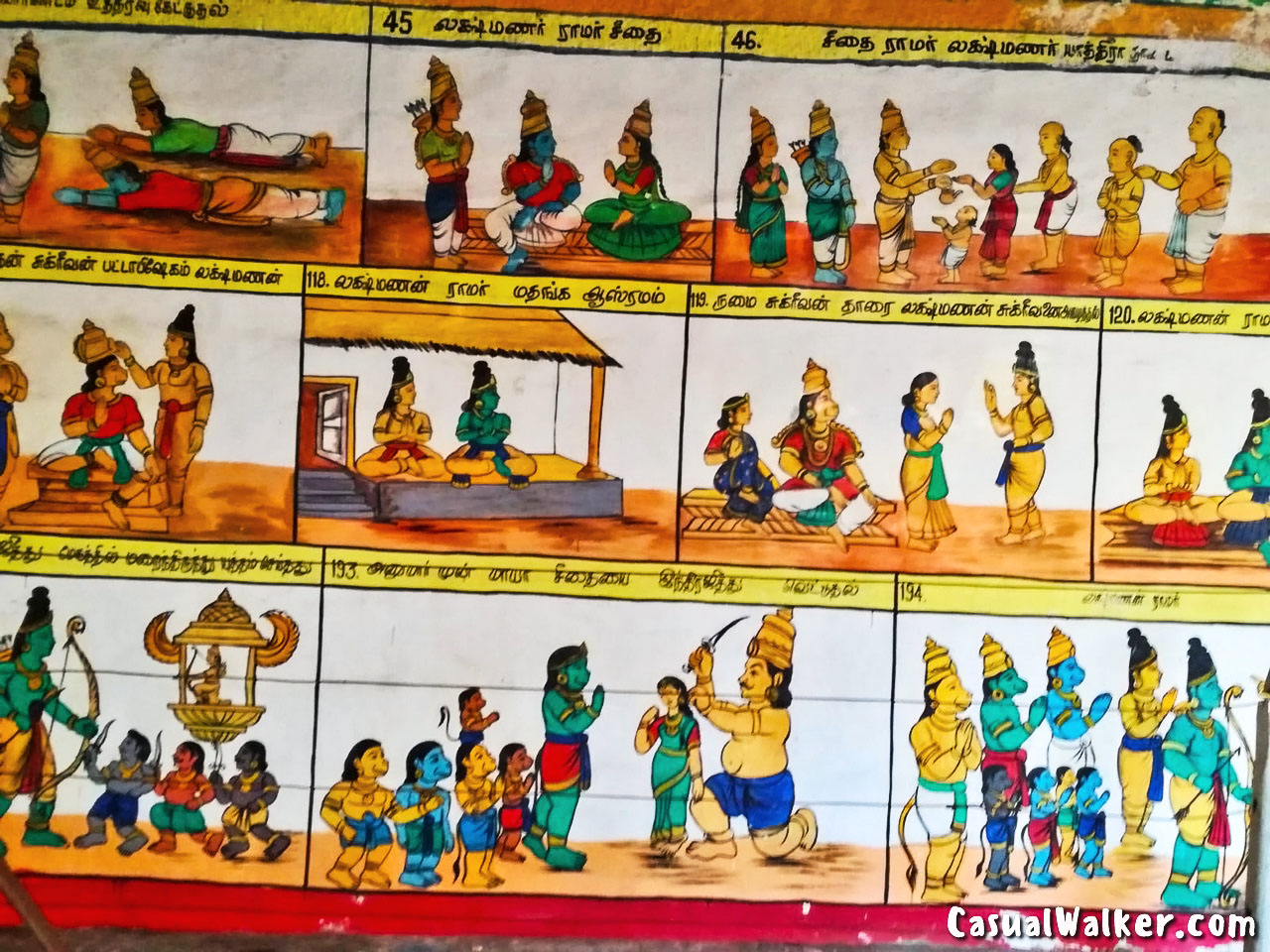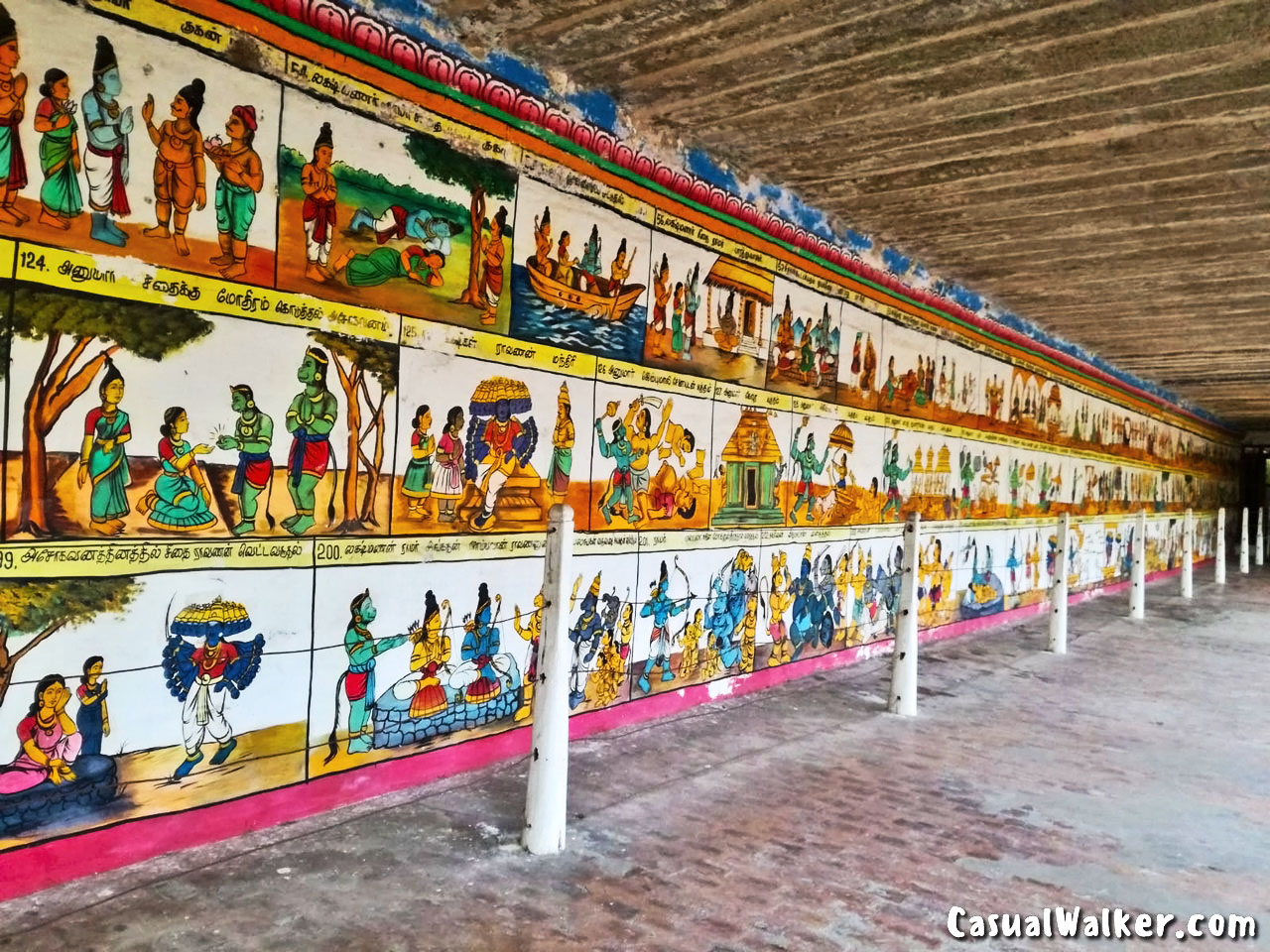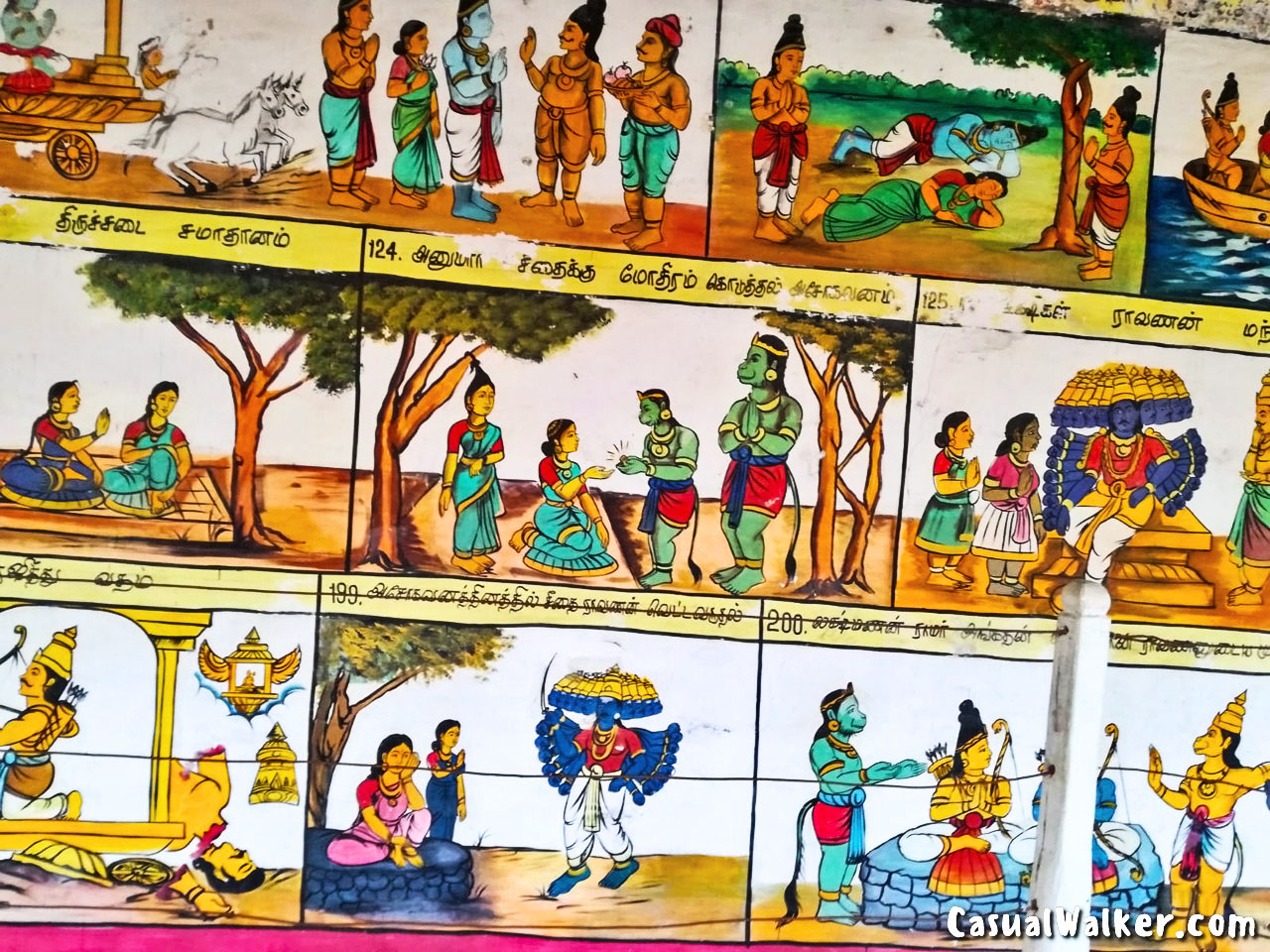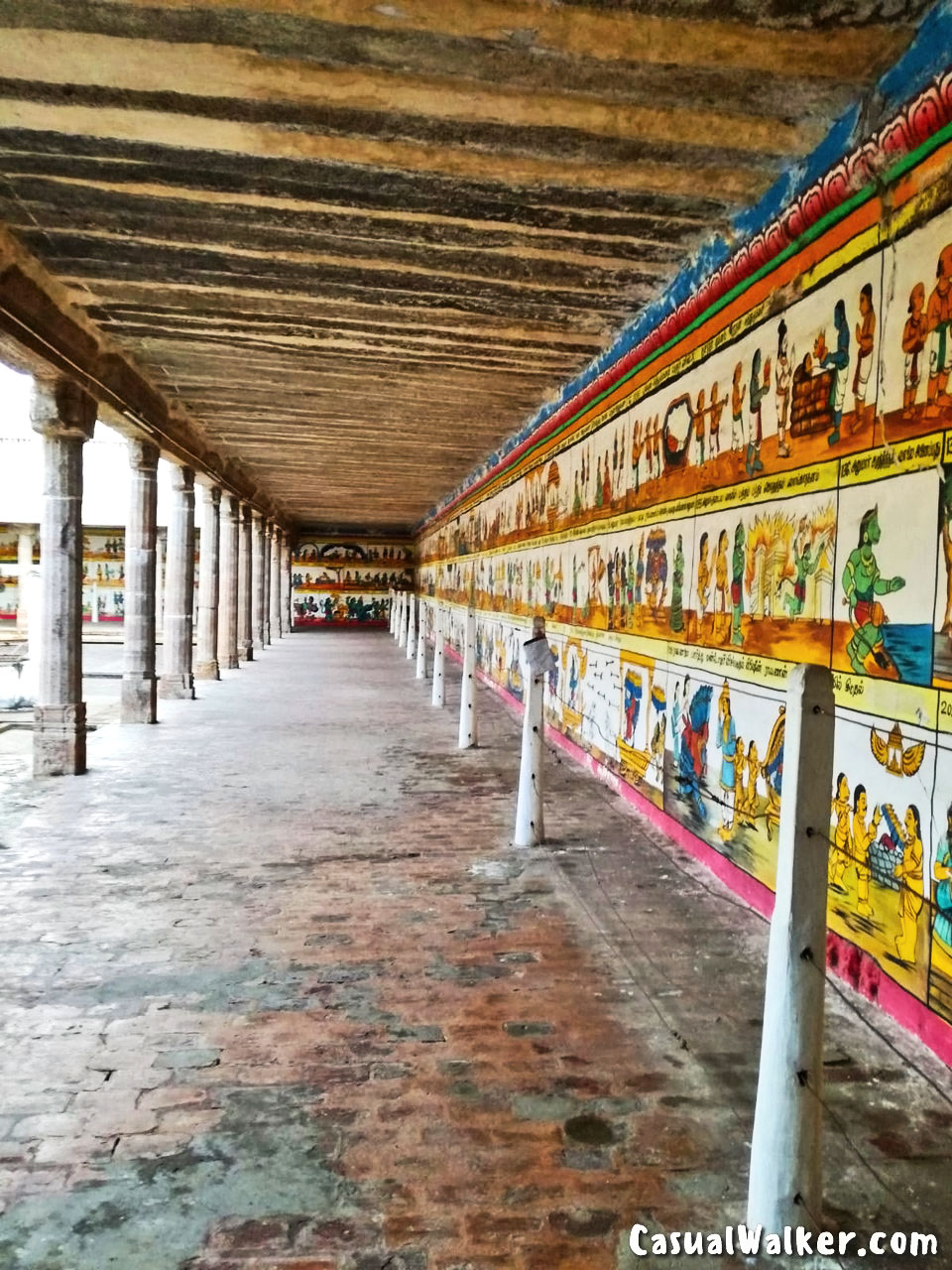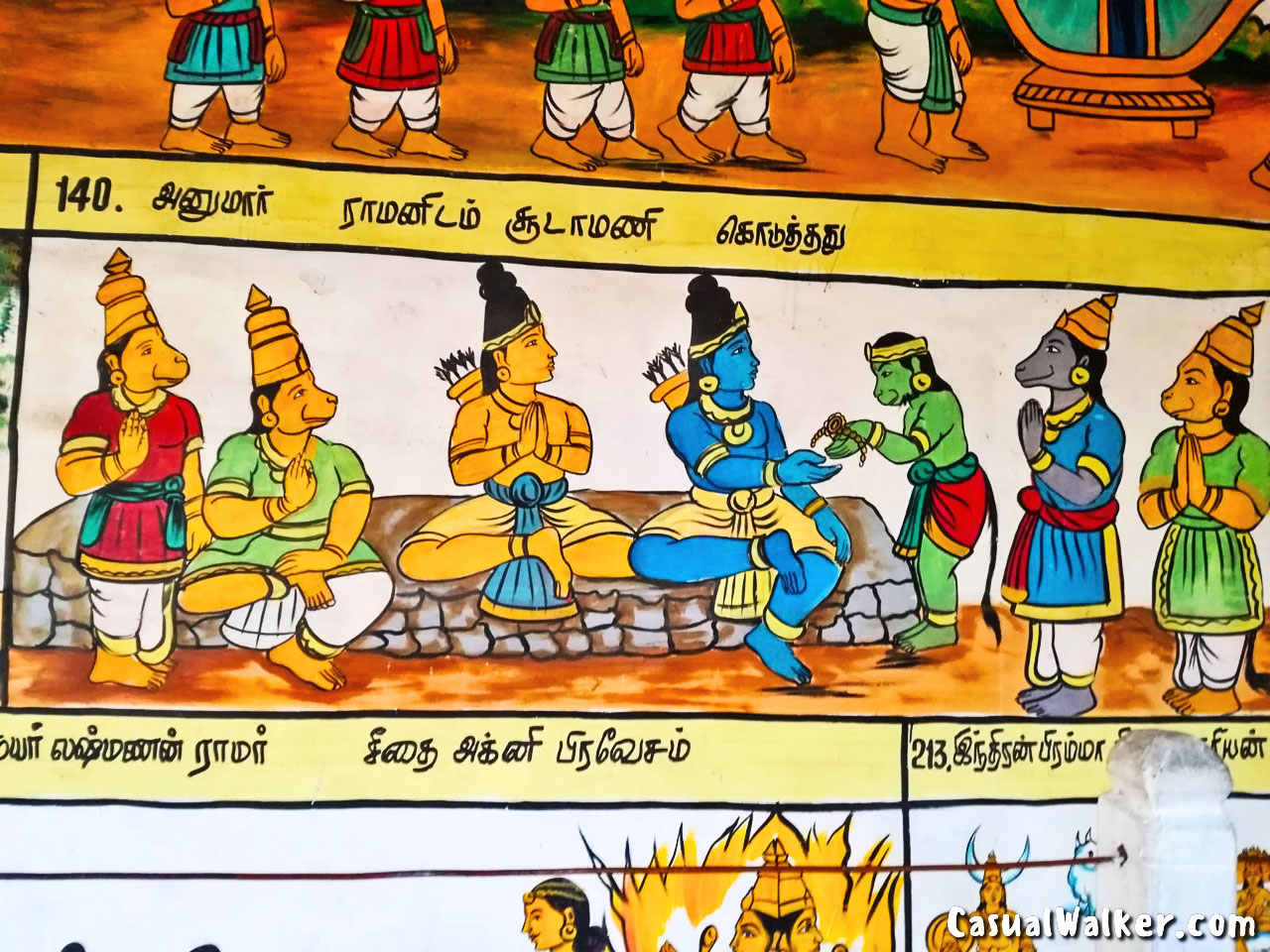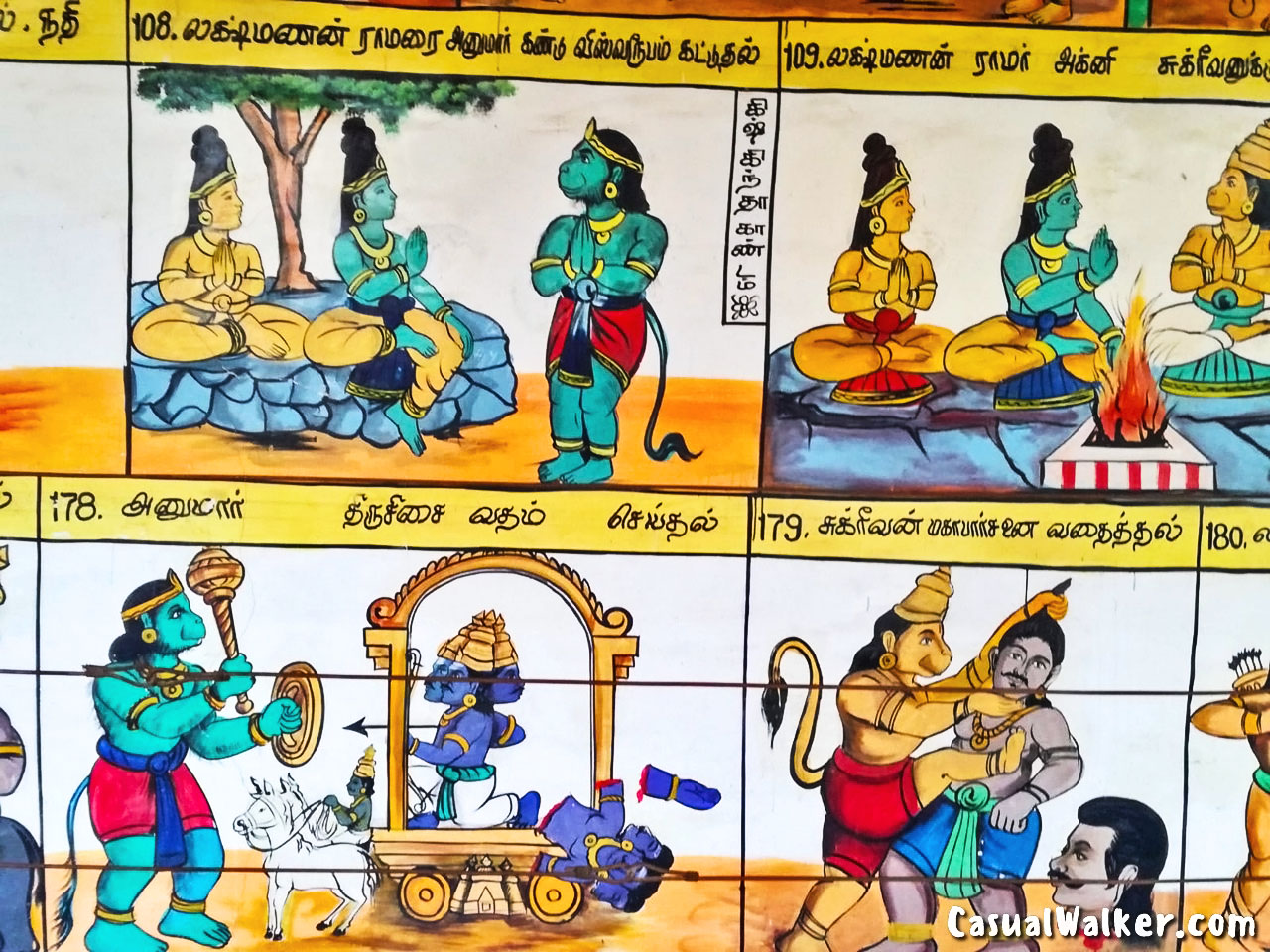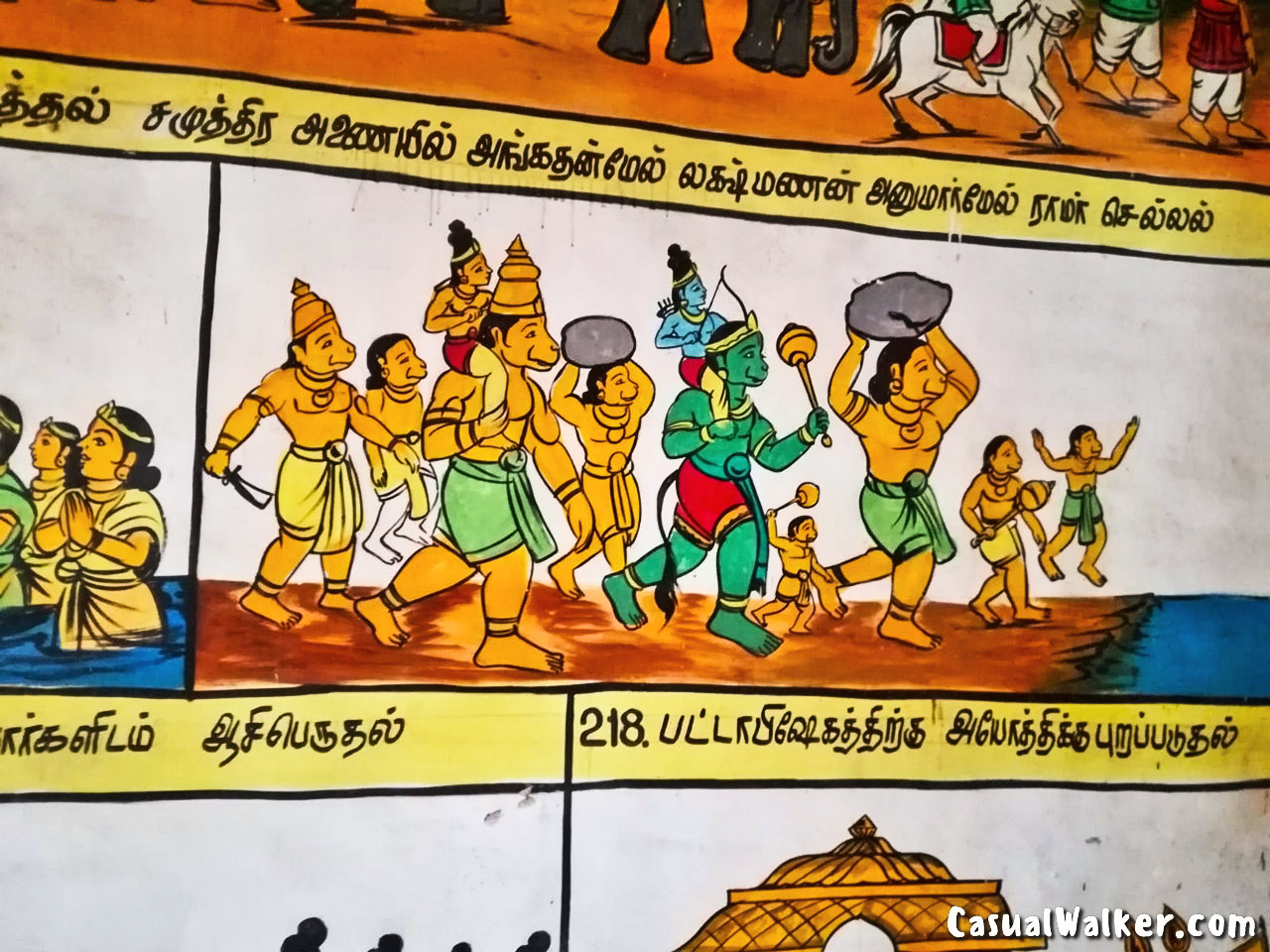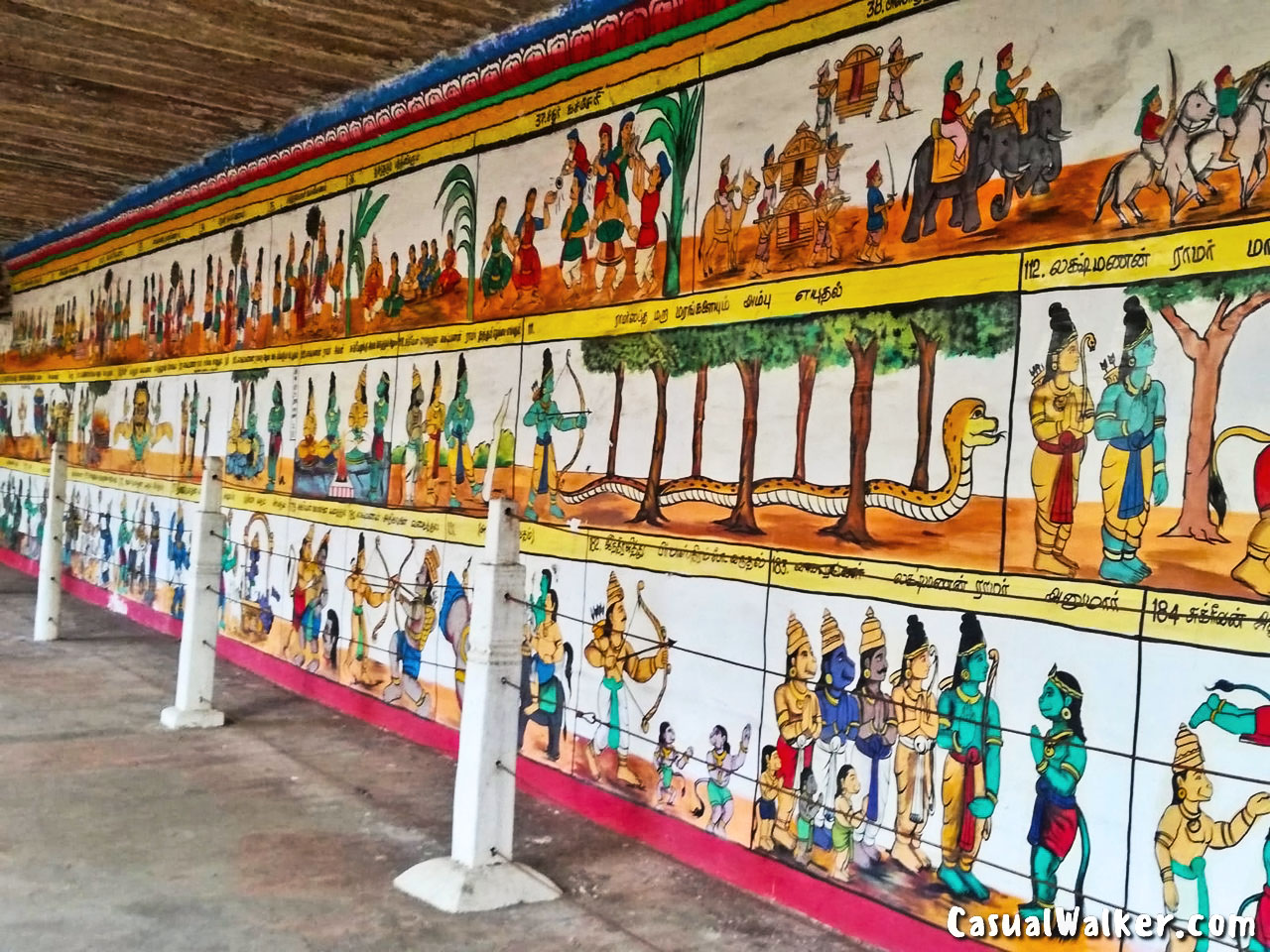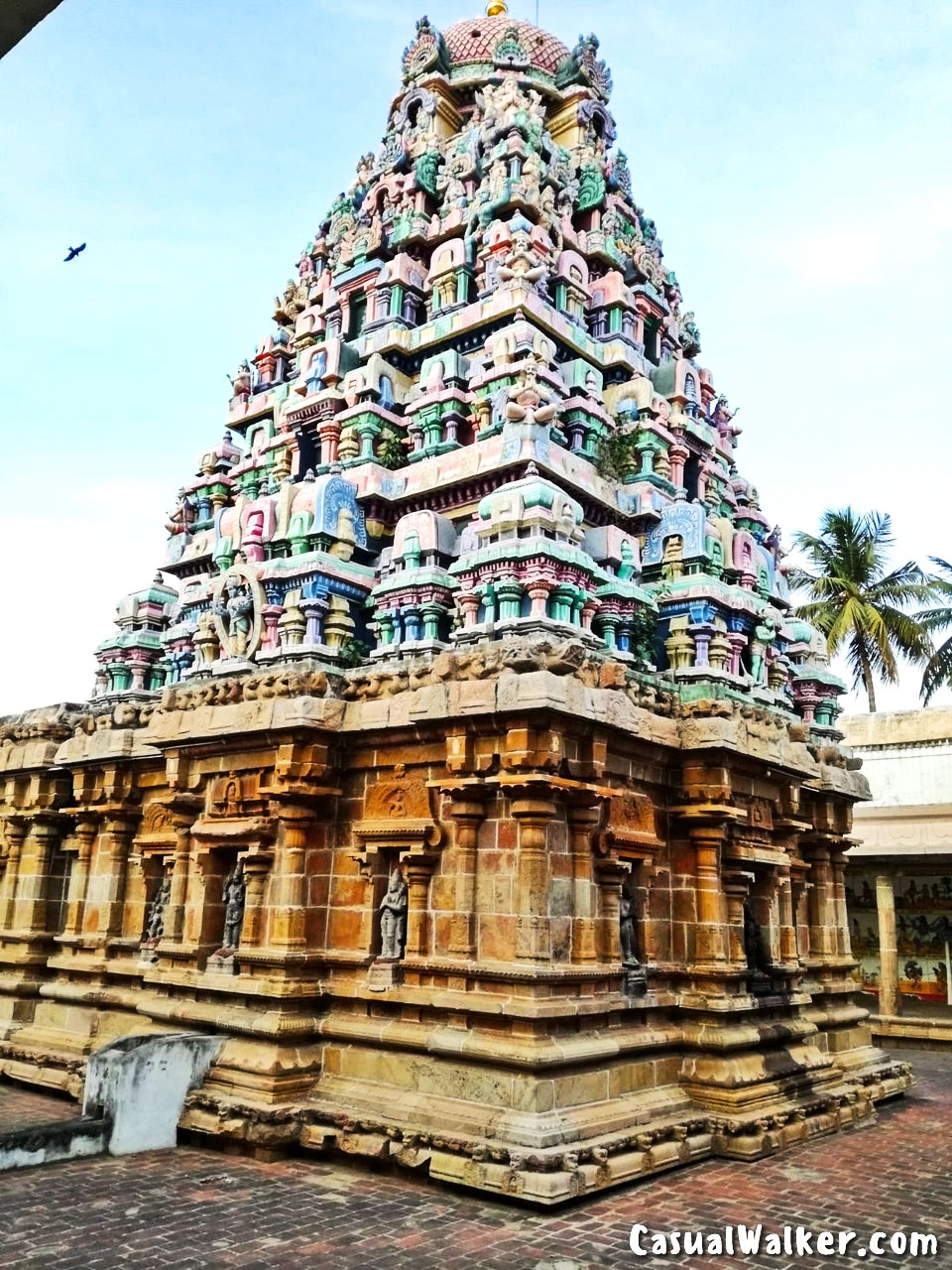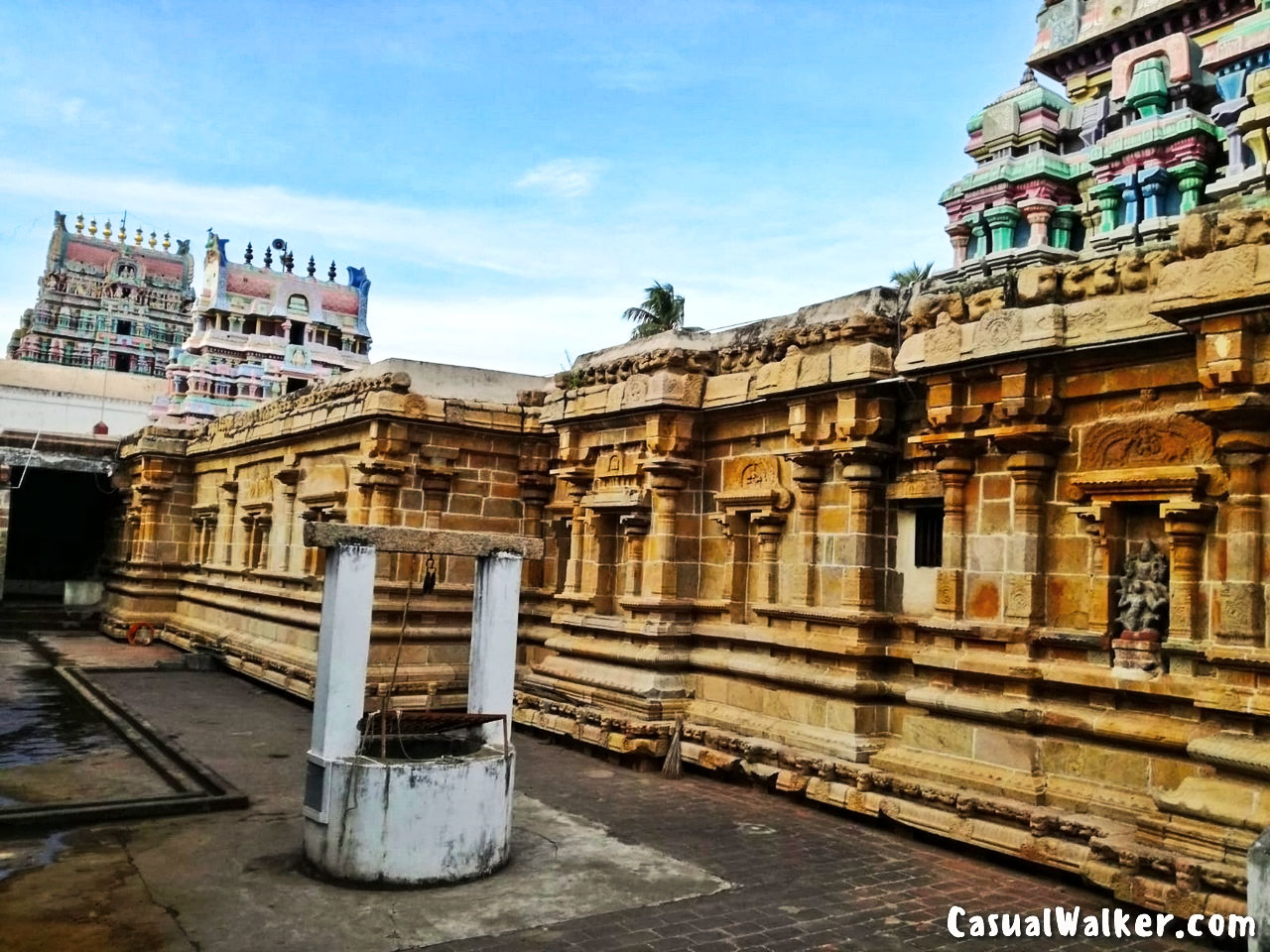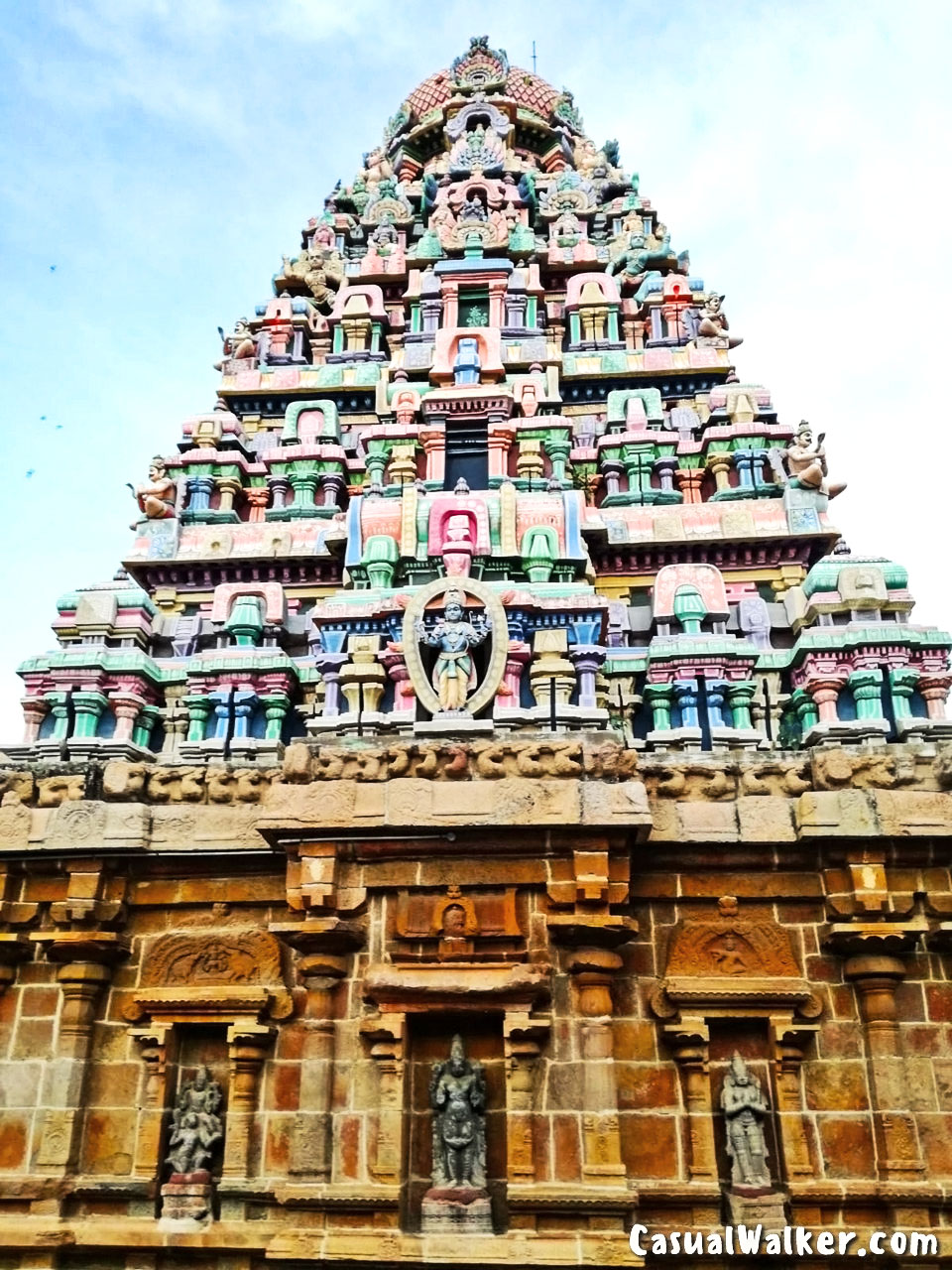 Similar Famous Temples you may like to Visit:
Kothandaramar Temple / Kothandaramaswamy Temple / Vibhishan Temple – Ancient Lord Sri Rama Temple in Dhanushkodi, Rameswaram – Visit, Travel Guide
Nellithope Perumal Temple in Kumbakonam, Thanjavur : Lord Vishnu Temple Where the Predecessor of Sri Ramanuja, Sri Ranganathamuni who compiled Naalayira Divya Prabandham Attained Moksha – Visit, History, Travel Guide
Ramar Patham Temple in Dhanushkodi, Gandha Madhana Parvatham, Kendhamana paruvatham in Rameswaram – Temple to see the feet imprint of Lord Sri Rama – Visit, Travel Guide
Sri Sarangapani Temple in Kumbakonam, Tanjore : Lord Vishnu with a Bow – one of the famous 108 Divya Desams, Lord Vishnu Temples – Visit, Temple Timings, History, Travel Guide
Srirangam Ranganathar Temple / Sri Ranganatha Swamy Temple, Srirangam in Trichy – Most Famous 108 Divyadesams Temples of Lord Vishnu – Visit, Travel Guide, Timings, History, Garuda Sevai Festival Video
Kallazhagar / Kallalagar Temple – Alagar Koyil, Madurai – Best & Famous Vishnu Temple In India – Visit, Timings, History, Travel Guide (Updated)
Lord Athi Varadar / Varadaraja Perumal Temple, Kanchipuram – Best & Famous Vishnu Temple In India – Visit, Travel Guide (Updated)
Thirunelli Temple – Lord Maha Vishnu Temple in Wayanad, Kalpetta, Kerala Hill Station Visit, Travel Guide
Sree Poornathrayeesa Temple – Famous Lord Vishnu temple in Tripunithura, Kochi / Cochin in Kerala – Visit, Travel Guide
Harigiri Varatharaja Perumal Kovil / Temple, Karumalai, Manapparai, Tiruchirappalli – Oldest Lord Vishnu Temple – Visit, Travel Guide